Best TomTom GPS Watches
In a Hurry? Editors choice: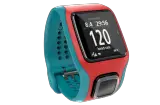 Test Winner: Runner cardio

GPS watches are fantastic when it comes to being able to follow directions hands-free while driving, running, or even walking. When it comes to durable and high-quality GPS watches, TomTom is always a name you will run into as it is a trendy brand. Many of these TomTom watch models have several different features, including recording your fitness goals and daily workouts or steps to keep you organized. For fitness and sports purposes, these
GPS watches
also help include calories burned, total distance, speed, swimming metrics, golf distances, pace, and heart rate readings. It is an all in one watch with
Bluetooth capabilities
as well as you can use many of them as smartwatches. Past this, of course, TomTom makes some of them be used as a music player.
Standout Picks
Criteria Used for Evaluation
Application
GPS watches live and die by their software and GPS capabilities. While it is not the only aspect that matters, it is the most important. When narrowing down which models are best for you, you need to know what you are looking for. No matter the brand, most TomTom watch models will adequately track running essentials such as speed, distance, calories burned, total time, and paces. But, what you can keep an eye out is what sports and activities they adequately accommodate for.
For example, golfers may want to prioritize the watches that are specifically designed to be used on the golf course. While swimmers will want to ensure it can track swimming essentials and work while submerged in water. Of course, for those who will use TomTom watch models for different kinds of sports, you can simply aim for the models that track multiple games. Besides this, make a note of how efficient the device is at receiving a GPS signal. One surefire way to know is if QuickGPSFix technology is implemented as it will lock on to messages at a more efficient rate.
Advanced Features
There are too many designs and software features present on TomTom watch models place in one section. As such, it is important to make a special note for the features passed the original intent of a TomTom watch. Probably TomTom's most famous design feature for their GPS watches is the built-in music capability. Not all brands have it, but the ones that do have a special edge over the competition. Yes, with most modern devices having Bluetooth technology and smartphones having music capabilities, there are other ways to listen to music. But, this is more beneficial in the sense that you do not need to carry around another device.
In addition to the ability to store music, TomTom also likes to build heart-rate monitors into the watches themselves. This not only gives you the ability to track and analyze your heart rate, but it does so without the need for an unnecessarily attached chest strap. Also, pay a good mind to the waterproof rating of each GPS watch. A majority of the GPS watches that TomTom will sell are waterproof, but just pay attention to make sure they are.
Watch Face
Whenever you are dealing with a technology device that sports a digital user interface, the display is always going to be important. However, it gets a little tricky with a watch. As you wear it on your wrist, you do not want the watch itself to be bulky and uncomfortable. Thus, no GPS TomTom watch is going to include a massive display as it will alter the wearability. The only true aspect you can ask and look for is if the interface and font are easy to navigate and view.
Throughout each entry on this list, you probably ended up noticing a theme with the display. Each specific GPS TomTom watch typically includes a bright white font and a high-resolution display. The white font is a nice design choice as it is appealing to the eyes and easy to see in darker environments. Plus, the high-resolution will allow easy viewing for multiple pieces of information on the screen. Most of the time, GPS TomTom watch that has a resolution and display that blows you away. In addition, make note of the versions that utilize a one-button operation as they are simple in nature.
Battery Life
GPS TomTom watch models are filled with a plethora of critically important criteria and there is no doubt that battery life is a contender for the most important. The amount of battery life that satisfies you will be dependent on how long you intend to use the GPS mode throughout the day or week. But, no matter, you do not want to be stuck with a watch that needs to be charged every day. However, the battery life is going to massively fluctuate depending on how often you use the GPS capabilities.
Activity training and using the watch as a standard watch will not kill the battery, but the GPS will. For TomTom, specifically, they usually range from 8 to 11 hours in terms of what you can expect on a single charge (when using the GPS). Unfortunately, with some of the fancier models that include a built-in music player and heart rate monitor, this can go done with other features. If you are listening to music and using the GPS, expect this to go down by a few hours.
Top Ten TOMTOM GPS Watches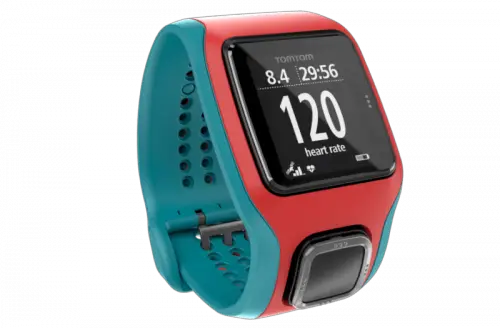 Though it is not their best, the Runner Cardio GPS TomTom watch is very close. While you can't store music on it, its software and additional capabilities give you more than anything to occupy your time. There are a few options at your disposal including white and red, black and red, and turquoise and red. The Runner Cardio is nothing short of stellar and even though it may not blow you away, the quality is undeniable. It is not perfect in every form, but it is more than worth an investment. This Runner Cardio is designed to be waterproof and ultra-slim for avid runners. It even features a heart rate monitor for you to be able to track your workouts that way you can log in your rates while you exercise. It is a great thing for people who have heart issues or even diabetes who are needing to know their heart rate at all times especially while doing physical activities.
Read more
Application
To assist the watch in finding your location as quickly as possible, TomTom utilized QuickGPSFix technology. To always match your training goals, you can select one of five separate training zones.
Advanced Features
With a built-in heart rate monitor to display for you accurate information, there is no need for you to invest in a separate chest strap. In addition, you can also sync this watch with MySports from TomTom and wear it in water (waterproof for up to 165 feet).
Watch Face
Even though the interface and font are basic, it allows for easy viewing at a quick glance. Again, the white font is bright and easy to see.
Battery Life
If you choose to solely use the GPS technology, it should last up to ten hours. However, if you use both the GPS and the heart monitor, it will last up to eight hours.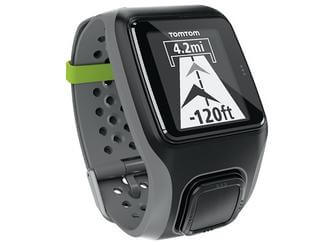 For runners, it does not get purer than the Runner GPS TomTom watch. While non-running aficionados can still reek the benefits of this watch, it is nearly perfect for runners looking for a basic model. Not too many color options to speak of but the choice is yours between gray, black and pink. While it may not have several other uses and fancy technology, the Runner GPS TomTom watch is perfect for people looking for a GPS watch, and that is it. Sure, it has its flaws but no one can deny the convenience that the Runner brings to the table. This TomTom watch comes with such great features including a heart rate monitor which you can use an external strap in order to maintain your intensity workouts and record your heart rate levels. It also comes with its own training program to help you stay focused and maintain a good regimen for your daily workouts. It will keep you organized and allow you to focus on certain types of training or even certain body muscles.
Read more
Application
It will not only measure your distance, calories burned, pace, and time while you go but it does so with implemented QuickGPSFix technology for faster signals. To improve your speed and overall fitness, you can set your own training programs and even race against your past performances.
Advanced Features
While it is not built-in, there are heart rate capabilities if you pair it with an external heart rate monitor strap. For sharing your data and stats to the world, you can upload your information to MySports and other fitness apps via Bluetooth.
Watch Face
Once again, the high-resolution and high-contrast display, while not amazing, allows for easy viewing. Plus, the one-button design makes operation a breeze.
Battery Life
You can expect the Runner to last up to 10 hours when you are using it for the GPS.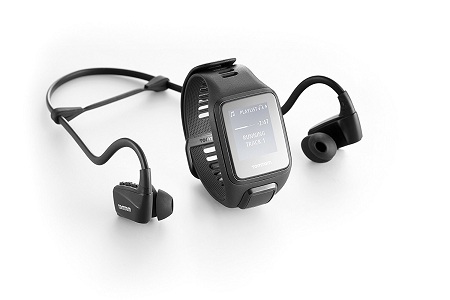 The first Spark Cardio is not the sole GPS TomTom watch to include music, as the Spark 3 Cardio does as well. While not quite as great as its predecessor, it still features a lot of the goods. Hopefully, you are not too picky as you can only choose between black and aqua. When you combine GPS technology with music in one device, it will always be worth your investment. But, there are some legitimate gripes that you may want to take into consideration. Here is a GPS TomTom watch that not only tracks location and fitness goals, but it also adds the fun of listening to music. With the storage capabilities of 500 songs, this watch means that you won't need to lug around an extra music device with you. As typical GPS watches do, this measures your speed, distance, calories, and paces when you are both indoors and outdoors. Also, there are five intensity zones that allow you to train harder and smarter. This watch offers great versatility in the sports tracking you can use it in. Not to mention, it can be stocked with a surplus of your favorite songs to keep you motivated during a long run. If you are looking for something sleek and fitness orientated, this is a great go-to. It also has the added bonus of coming with headphones.
Read more
Application
This is great for runners and sports enthusiasts alike, as it will properly track indoor cycling, treadmill runs, swims, bike rides runs, and gym workouts. While doing so, it will measure your heart rate, calories burned, speed, pace, and distance on the go. In addition, you can set-up custom goals for each workout session.
Advanced Features
Not only can you play music straight from this watch, with it holding roughly up to 500 songs, but it comes with Bluetooth headphones that are sweat and waterproof. With the included heart rate monitor, you also do not need a separate chest strap. Overall, it truly has a nice design with impressive capabilities. But, it is certainly not claiming to be the best in the world. For what it is worth, this watch does exactly what it is designed to do. Past this, it may not be of any use to you.
Watch Face
The white font and large display is a TomTom staple and it works as well for the Spark 3 Cardio as any of their other watches.
Battery Life
If you utilize your music, GPS, and heart rate monitor you may only be able to get around five hours of battery life. Note, this will increase based on what you do not use.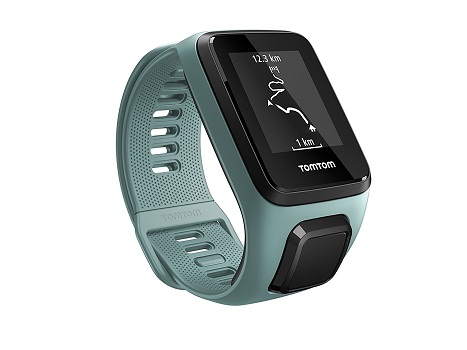 The Spark is very similar to the same GPS previously mentioned but without the capability of music. Past this, which is not a flaw, it still remains an excellent choice. As with the other Spark, there is the option for either black or aqua. TomTom is definitely consistent with their GPS watches and the Spark epitomes it to a tie. Not perfect or without its drawbacks, but enough quality to warrant an investment.
Read more
Application
This baby sports all the goods as it will measure your calories burned, pace, speed, distance, steps, active minutes, sleep and time all on the go. It also tracks all this data for bike rides, swims, treadmill runs, gym workouts and traditional runs.
Advanced Features
To test yourself and push yourself to further heights, you can race your previous times. In addition to this, you can also sync your data wirelessly with your favorite fitness apps. Plus, it is waterproof for up to 40 meters.
Watch Face
You know the drill by now, a large display with a white font that ensures easy viewing of the screen.
Battery Life
If you find the need to use it outside of its GPS mode, you can make this watch last up to three weeks. While using it, though, up to 11 hours.

5

. Spark cardio plus music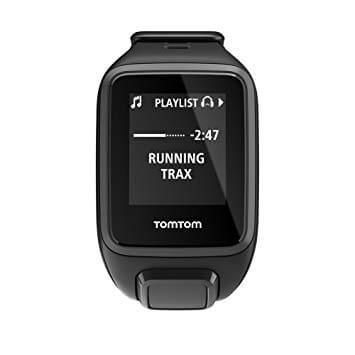 Is there anything much better than having a GPS TomTom watch that can store and play audio tracks? TomTom's Spark Cardio can achieve this and it does so with flying colors. Quite a few color options are available including black, dark blue, light blue, pink and purple haze. This is the best of the best from TomTom and it is an impressive model. Clearly, the music implementation is the most noteworthy feature but it also excels in GPS technology.
Read more
Application
Staying true to its design, this watch is GPS-enabled and an activity tracker. It will measure calories burned, sleep, distance, speed, and pace. All in the meanwhile, while you are working out, it will give you audio feedback on your current performance.
Advanced Features
No need to sync your smartphone with this TomTom watch, as you can store up to 500 songs (roughly, depending on the length) on the watch itself. In addition, there is a heart rate monitor that will display the appropriate information for you. Finally, the Spark Cardio is waterproof. One thing is for sure, this is great for anyone with its multiple sports modes. It can track, bike rides, swims, hikes, skis, and runs. On the go, you can also view real-time stats such as pace, total ascent, speed, 3D distance, altitude, and calories burned. The software and plethora of features are outstanding, but the overall feedback of this watch is not as great as it would initially appear. However, there is too much right with it to pass it up.
Watch Face
While nothing over the top, which you will soon find out is a TomTom staple, the interface is large and easy to see with a bright white font.
Battery Life
When you are using this watch for its GPS capabilities, it will run up to 11 hours on one charge. As a standalone watch with activity tracking, it will last up to three weeks.

6

. Golfer premium addition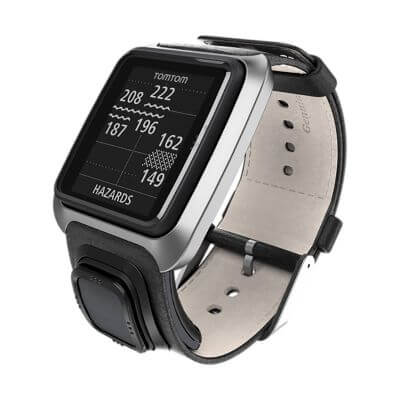 While the last GPS watch was perfect for runners, this one is for golfers. When golfing, it is nice to have a physical aid that will display all the necessary information you need. There are a good amount of color options including black, blue, white and dark gray. Because not many people will pay for a caddy, the Golfer Premium Edition GPS watch will have to do. For non-golfers, you may want to pass on this GPS watch as its main design caters towards golfers. While it does possess flaws that golfers should take note of, there is a lot of quality here.
Read more
Application
This Premium Edition will display all the golfing information you need including the distances from the front, middle, and back of the green. Also, it will display the hazards for each hole and also keep track of your score, time, and distance for your round of golf.
Advanced Features
In the case of nasty golfing conditions, this GPS watch is waterproof for up to 40 meters. Plus, you can receive course updates from your smartphone to ensure you have the most up-to-date course information as possible.
Watch Face
As with other GPS watches, the display is easy to see with a bright white font. The one-button operation only simplifies matters.
Battery Life
Using the GPS on the golf course, you should be able to get up to 10 hours on one charge; which should get you through several rounds of golf.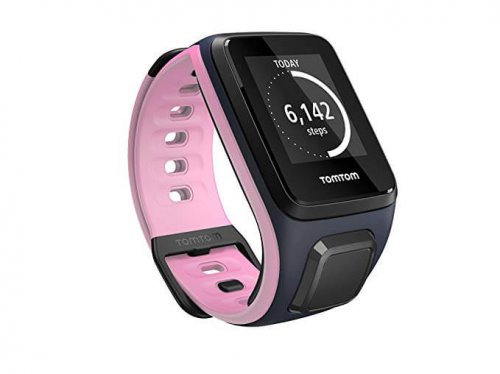 This GPS watch does not play any favorites and is great for runners, golfers, swimmers, and cyclists alike. It is not without its flaws, but the good definitely outweighs the bad. What you see is what you get and your sole option is a black and gray design. Thankfully, it will accommodate most people. This is a great watch for athletes and fitness gurus who like to do more than one activity. While it may not be amazing at tracking a particular activity, it is great at tracking multiple.
Read more
Application
With three different training modes, this watch helps you train more effectively. For swimmers, this will track all the swim metrics you need including strokes, stroke type, distance, speed, lengths, and efficiency. Also, with the Graphical Training Partner, you can easily achieve your goals.
Advanced Features
To allow you to train in all sorts of different weather conditions and to swim, it is rated to be waterproof for up to 165 feet. You can also have lap, interval and milestone alerts when you want to be informed of an upcoming event.
Watch Face
The display is stellar and is large enough for anyone to easily see it. To simplify matters, it is operated by only one button.
Battery Life
On one charge, when using the watches GPS capabilities, you can expect this to last up to 10 hours.

Subscribe to our Newsletter