Best Suunto GPS Watches
In a
Hurry? Editors choice: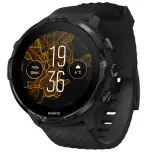 Test Winner: Suunto 7

If you are looking for a
GPS watch for hiking
, there is no better brand than Suunto. Suunto is a company from Finland and is known for manufacturing sports watches that not only are able to track your progress and fitness goals but also track your location as well. They have been around since the '40s and have been making quality sporting equipment ever since. The great thing about looking at investing in the best Suunto watch is that since they have been around for a number of years, their equipment has been tested and perfected from years of use in the field.
Below, we have listed the ten best Suunto GPS watches of 2020 and also explained what to look for when looking for the perfect watch for you, and what makes these watches the best over the rest.
Standout Picks
Criteria Used for Evaluation
Use
At the heart of every single GPS device, no matter if it is a watch, handheld, or mounting system, is the GPS technology.
This is what allows you to enjoy the convenience of it and without it, these watches would be nothing more than standard, hybrid smartwatches (for some of them). Plus, the personal GPS tracker is probably the entire reason why you want to invest in one in the first place. If there is one commonality between all the watches on this list it is that they all are highly capable in the GPS department.
Whether you are looking for a watch to display fitness metrics such as speed, cadence, heart rate, distance, and pace or for simple route navigation these watches will cater to your needs. If you are apprehensive about the GPS, then a good reference is to prioritize watches with both GPS and GLONASS technology; as this ensures a faster and more efficient satellite signaling. But, just keep a sharp eye out for anyone who complains about the response time of picking up signals from the satellites in the sky.
Battery Life
With a standard wristwatch, battery life is not a concern. However, when you start talking about watches that implement GPS technology it becomes paramount.
GPS has been known to consume a lot of juice when used on a device, whether, on your smartphone, handheld or watch. On a long journey, you may not want to constantly charge your watch over and over again. Thus, analyzing the battery life capacity on a single charge.
As you noticed, most of the Suunto watches on this list have a determining factor in battery life. Depending on how accurate you have the GPS, you can either increase or decrease the battery life. For example, if you set the GPS to update every five seconds as opposed to every minute, you will suck down the battery faster. In certain circumstances, say hiking or biking, it may not be necessary to have the GPS update as frequently as five seconds.
So, you could milk the battery for as long as possible by having the GPS update less frequently. No matter, though, some watches will have a poor battery life period. As such, keep it at the forefront of your mind.
Connectivity
Bluetooth has become as dominant a technology as any in this modern world.
It has reached the point where devices that can't wirelessly sync data with other devices are arbitrary. While, in all technicality, Bluetooth has nothing to do with the operation and functionality of a GPS. Instead, it is mostly used as an additional asset to add to the overall convenience of a watch. If you are familiar with smartwatches, GPS watches with Bluetooth are essentially the exact same thing.
For instance, Bluetooth technology could allow you to sync your GPS watch with your smartphone to see incoming notifications and alerts from your phone directly on the watch. Any device that has Bluetooth-enabled can be synced, so you can get pretty creative. Of course, there are a few models on this list that have something called ANT or ANT+ compatibility. For those unfamiliar with the term, it is also a wireless technology that allows compatible devices to monitor and talk to one another. Essentially, it works much as Bluetooth does.
Advanced Features
GPS watches typically will offer you more software features and functionality past the basic GPS installed.
This is going to vary from brand to brand and some features can become every day one's for you, while some you will never use more than once. Some examples would be the ability to see sunrise and sunset times, which could lead a helping hand if you want to witness a romantic sunset, receiving updates on any weather changes and upcoming storms so you can proceed to shelter, or being water-resistant for a certain number of meters to ensure it can be used in the water.
Sometimes, you will even see watches that are pre-installed with various modes for training purposes. Or, in other cases, some that allow you to create applications based on criteria that you desire. However, one staple with Suunto watches is the Suunto Movescount App. This application can give you the power and means to plan your upcoming workouts and even receive voice guidance during your exercises. Although they are small in nature, when you begin to operate a Suunto GPS watch you will start to understand that these babies are (depending on the model) loaded with features.
Top 10 Suunto GPS Watches
Subscribe to our Newsletter