Best Garmin GPS Watches
last updated:
Feb 07, 2020
If you have used a Garmin GPS before than you know they are one of the most reliable and top of the line units for accuracy on the market. They have been around since 1989 and have been making quality GPS systems ever since. Their GPS units have quickly become one of the best on the market and now with the times changing and technology getting more advanced, Garmin has moved their quality GPS system into a new more compact device, the watch. The GPS watch not only acts as a GPS that you can carry around with you comfortably but also comes with a variety of other features that a standard GPS just does not. If it is time to upgrade your ancient car GPS and get something more compact and stylish, the below guide was made for you.
In a Hurry? The test winner after 14 hrs of research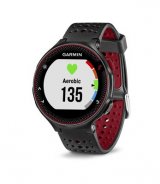 Forerunner 235
Why is it better?
Great battery life lasting six weeks in watch mode
Alerts you when you achieve a personal record
High-resolution color display with a lightweight design
In a
Hurry? Editors choice: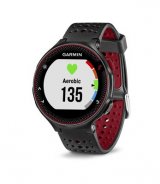 Test Winner: Forerunner 235

15
Researched Sources
1.3k
Reviews Considered
14
Hours Researching
16
Products Evaluated
Battery Life
Watch Face
Apps
Features
By Default
Top Ten GPS Watches from Garmin
Criteria Used for Evaluation


Battery Life
Yes, these types of watches are going to die after a certain amount of use. Their design mandates for them to use a lot of energy to work properly. But, much like with the display, this can also be a matter of user preference. It all comes down to this simple question: where are you intending on using your GPS watch and how long will you use it before you have access to a charger? First, let's address the where in this question.
Simply, where do you intend to go with this type of watch? If you are going for a short run, to do a quick nine holes or a swim in your local pool, you may not need to worry about battery life too much. But, on a camping trip or in the woods while going for a hike, it may be more of an issue. Then, there is the issue of how long you intend to use it. If you know, for a fact, that you will want to use the GPS mode for long instances without having access to a charger, then look for long battery life.
Typically, there are two forms of battery life with a GPS watch, using GPS and not using. When you are not using it, most on this list will last for weeks before needing a charge. It is when you use GPS that the battery will drain quickly. Keep a special eye on how long they will last when using this technology, as it can be a deal breaker.


Watch Face
Because they are watches, you must accept the fact that the display is not going to be enormous. Honestly, if it was, it would be a hindrance as it would be too bulky on your wrist. But, this small size actually enhances the importance of the display. As the screen is already small in size, it is naturally more difficult for your eyes to interpret what they are looking at. So, the display should have, if nothing else, a fairly high-resolution so you can easily see the data.
However, there are other factors that you can look for in the display. For starters, if the font is color-coated or black and white. Obviously, the former provides a more colorful interface and may be better for the eyes. With the black font, it can sometimes be difficult to differentiate the information you are viewing. Also, consider if you want a touchscreen display. Much like a computer or smartphone, this is a matter of personal preference. In the modern world, most technology has adapted to the touchscreen interface. Finally, some watches have an issue of brightness in low-light visibility. Without a backlight, some can be downright impossible to see in darkness or low-light.


Apps
Technology devices live and die by their software and GPS watches are no different. Thankfully, their software does not need to be as complex as the kind you will find installed on smartphones and computers. Thus, GPS watches with basic software can still suffice. But, when you are talking about GPS watches, the main criteria should be their GPS capabilities. That is, how well they utilize the technology to track essential running data such as speed, pace, distance, and ascent/descent? Any with high-sensitivity or pairing with EPO and GLONASS are a good way to go. However, all these specific watches from Garmin do that very well but keep a special eye out for the variations that include an accelerometer.
With this included, you will not need a separate foot pod to track data when you are running indoors or in any situation where GPS is not available. Besides this, look past the GPS capabilities and see what other kinds of conveniences they offer. This includes if it can be used as an activity tracker throughout the day, such as golf, or if they keep calories and steps for each day. For golfers, in specific, you could prioritize the models that are specifically designed for golf.


Features
The main function of a GPS watch is its GPS capabilities and how well they track and analyze essential running data. But, that does not mean there are no additional features that you can look for. With Garmin GPS's, there are two huge ones. This includes their waterproof capability and if it has Bluetooth.
As many swimmers, will want to utilize GPS watches, they need to be water rated for a certain amount. If you are a casual swimmer and do not work out in deep water, say in a pool, as long as it is water rated for up to a few meters you will be fine. In the rare instances where they fall off your wrist, a further water rating could come in handy. As far as Bluetooth goes, this gives you access to other devices. Just like other smartwatches, this could allow you to sync to your smartphone to have notifications go off on your watch.
Expert Interviews & Opinions
Most Important Criteria
(According to our experts opinion)
Experts Opinion
Editors Opinion
Users Opinion
By Default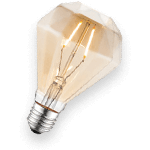 Importance of Battery Life
Throughout this list, you probably noticed a trend with the battery life of each model. While the battery life itself will vary from brand to brand, Garmin tends to split the battery life into separate categories. The first is when the watch has the GPS mode enabled, which can be turned on and off. No matter the brand, the battery life will always be lower in this mode. It makes no difference how you slice it, utilizing GPS technology drains the battery very quickly as opposed to when it is off.
When it is off, which is known as watch or activity mode, it is enhanced. In specific, when a GPS watch tracks your steps throughout the day it does not need GPS to do so. Thus, this activity will not kill your battery life and will fall under the "watch mode" battery life (which is generally up to several weeks on one charge).
Fit is key
When looking to invest in one of these GPS watches, you not only want to make sure that it will perform and accomplish the tasks you need it to depend on the activities you enjoy to do, but you also want to make sure it will fit comfortably. To ensure it will fit properly you want to take a closer look at the watch band to see what material it is made from and if it is adjustable. This way you will know if the watch is the right on for you and will fit great!
Check the customer reviews
When looking at any product, especially technology, you want to make sure that you check the customer reviews to get a first-hand look at how the watch performs before you purchase. The customer reviews will give you multiple accounts on how the watch performed for other customers who decided to go ahead with the watch. This ensures you will get a quality watch and that you will not have any unforeseen issues after buying.
Other Factors to Consider


Color
This is pretty self-explanatory and as watches are apparel that you wear, you may want a certain style or color. No matter how excellent the functions of a watch are, you may be uninterested to wear one with a purple interface and white band. Watches work the exact same, when it comes to style, like shorts, hats, shirts, and coats. Do not be ashamed if this is a high criterion for you!
Color is important as our watches usually match our outfit and personality and we want it to look stylish as it will be one of the first things people will see. The nice thing about these watches is that they have many colors to choose from and if not, many have the option to buy aftermarket bands in different colors if we change our minds in the future on the color we want our watch to be.


Bottom Line
Overall when looking for a GPS watch Garmin is an excellent brand to look into. They make quality products that are reliable and will have a top of the line GPS system. The first thing you want it ensures is that the watch you have your eye on will perform and allow you to complete the tasks and activities that you want it to. You also want to make sure it is comfortable and will look stylish to express your personality. If you have decided to invest in any Garmin product we are confident you will be happy with your decision and will have this product for many years to come.
Frequently Asked Questions
q:

Do GPS Running Watches Work Everywhere in the World?

a:

First off, this is not a stupid question so do not think it is if you were wondering. This answer to this question becomes clear when you realize how GPS works. Basically, there are satellites in space and they provide the means for GPS's to work properly on any sort of device. Thus, it does not matter where you are in the world, GPS will function properly. With some devices, you will need to have specific maps to use them in different countries. But, with GPS watches you do not typically run into that issue.

However, do know that when you travel to another country it may take more time than usual for the GPS to triangulate your position (as they have to locate the satellites from scratch). In short, GPS devices will work wherever you have a direct view of the sky above you.
q:

Can You Use a GPS Golf Watch Outside the Course?

a:

Before this question is answered, just be aware that if you have no interest to use a watch for golf do not invest in one that is designed to do so. But, there may be instances where you want to use a GPS watch beyond its intended use. So, can you do this? Technically, the answer to this question could be yes. However, there are not too many capabilities that Garmin GPS golf watches possess when not on the golf course.

Obviously, you can always use it as a standard watch to be aware of the current time (if they possess the capability). Past this, if there is an odometer function, you would still be able to utilize that; which is simply an instrument to measure the distance traveled by a vehicle.
q:

When Golfing, Will it Automatically Advance to the Next Hole?

a:

Note, this is intended for the GPS watches that are designed for golfers. There are general Garmin GPS devices that can be used for golf, but their capabilities will be significantly less than the variations designed for golfing. With these types of devices, you will not want to constantly program the GPS to advance to the next hole. Thankfully, most of the time they will automatically advance to the next hole.

Unfortunately, this cannot be guaranteed to happen every single time. There will be times where you come across the situation where the GPS will become confused and not advance to the next hole. Technology is not perfect and mistakes will happen, but it usually is kept to a minimum. However, most of the time, once you select your golf course the watch will do the rest and you can sit back and enjoy a day of golf.
q:

Does a GPS Watch Work on a Treadmill?

a:

Although this has been addressed in this guide, it is a common question so let's ensure that you are 100 percent clear on this matter. As mentioned earlier, GPS uses satellites in the sky to properly triangulate your position. Most of the time, a treadmill is located indoors. Well, GPS does not work well, or at all, indoors as the signal is hindered by roofs and walls. But, there are two ways to ensure that you can still use a GPS watch while on a treadmill.

Firstly, if the watch has a built-in accelerometer then it will function as normal when on a treadmill. Without this, you will need to invest in a foot pod. A foot pod is a device that is used to track measurements such as distance, pace, and speed (which is what the GPS watch will do outdoors). When using a treadmill, the foot pod goes directly on your foot and must be compatible with the GPS Garmin watch that you have.
q:

Does the GPS Work Correctly When Covered by a Long Sleeve Shirt or Jacket?

a:

You already are aware that GPS technology can be hindered indoors thanks to the walls and roofs. So, what if it is a cold afternoon and you are wearing a jacket that is covering your watch? Will it still function as it was designed to do so? Thankfully, although it is not perfect, the signal that is given from satellites is pretty strong. A small piece of cloth or material is not going to hinder the performance. So, if you have a piece of clothing covering the watch, the GPS functionality will not be altered.

If you think about it this way, GPS devices will work in your car and your car has a roof on it. Some objects will block the signal, but clothing is not one of them.