Best Garmin GPS Watches
In a
Hurry? Editors choice: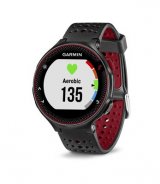 Test Winner: Forerunner 235

If you have used a Garmin GPS before than you know they are one of the most reliable and top of the line units for accuracy on the market. They have been around since 1989 and have been making quality GPS systems ever since. Their
GPS
units have quickly become one of the best on the market and now with the times changing and technology getting more advanced, Garmin has moved their quality GPS system into a new more compact device, the
watch
. The GPS watch not only acts as a GPS that you can carry around with you comfortably but also comes with a variety of other features that a standard GPS just does not. If it is time to upgrade your ancient car
GPS
and get something more compact and stylish, the below guide was made for you.
Standout Picks
Criteria Used for Evaluation
Battery Life
Yes, these types of watches are going to die after a certain amount of use. Their design mandates for them to use a lot of energy to work properly. But, much like with the display, this can also be a matter of user preference. It all comes down to this simple question: where are you intending on using your GPS watch and how long will you use it before you have access to a charger? First, let's address the where in this question.
Simply, where do you intend to go with this type of watch? If you are going for a short run, to do a quick nine holes or a swim in your local pool, you may not need to worry about battery life too much. But, on a camping trip or in the woods while going for a hike, it may be more of an issue. Then, there is the issue of how long you intend to use it. If you know, for a fact, that you will want to use the GPS mode for long instances without having access to a charger, then look for long battery life.
Typically, there are two forms of battery life with a GPS watch, using GPS and not using. When you are not using it, most on this list will last for weeks before needing a charge. It is when you use GPS that the battery will drain quickly. Keep a special eye on how long they will last when using this technology, as it can be a deal breaker.
Watch Face
Because they are watches, you must accept the fact that the display is not going to be enormous. Honestly, if it was, it would be a hindrance as it would be too bulky on your wrist. But, this small size actually enhances the importance of the display. As the screen is already small in size, it is naturally more difficult for your eyes to interpret what they are looking at. So, the display should have, if nothing else, a fairly high-resolution so you can easily see the data.
However, there are other factors that you can look for in the display. For starters, if the font is color-coated or black and white. Obviously, the former provides a more colorful interface and may be better for the eyes. With the black font, it can sometimes be difficult to differentiate the information you are viewing. Also, consider if you want a touchscreen display. Much like a computer or smartphone, this is a matter of personal preference. In the modern world, most technology has adapted to the touchscreen interface. Finally, some watches have an issue of brightness in low-light visibility. Without a backlight, some can be downright impossible to see in darkness or low-light.
Apps
Technology devices live and die by their software and GPS watches are no different. Thankfully, their software does not need to be as complex as the kind you will find installed on smartphones and computers. Thus, GPS watches with basic software can still suffice. But, when you are talking about GPS watches, the main criteria should be their GPS capabilities. That is, how well they utilize the technology to track essential running data such as speed, pace, distance, and ascent/descent? Any with high-sensitivity or pairing with EPO and GLONASS are a good way to go. However, all these specific watches from Garmin do that very well but keep a special eye out for the variations that include an accelerometer.
With this included, you will not need a separate foot pod to track data when you are running indoors or in any situation where GPS is not available. Besides this, look past the GPS capabilities and see what other kinds of conveniences they offer. This includes if it can be used as an activity tracker throughout the day, such as golf, or if they keep calories and steps for each day. For golfers, in specific, you could prioritize the models that are specifically designed for golf.
Features
The main function of a GPS watch is its GPS capabilities and how well they track and analyze essential running data. But, that does not mean there are no additional features that you can look for. With Garmin GPS's, there are two huge ones. This includes their waterproof capability and if it has Bluetooth.
As many swimmers, will want to utilize GPS watches, they need to be water rated for a certain amount. If you are a casual swimmer and do not work out in deep water, say in a pool, as long as it is water rated for up to a few meters you will be fine. In the rare instances where they fall off your wrist, a further water rating could come in handy. As far as Bluetooth goes, this gives you access to other devices. Just like other smartwatches, this could allow you to sync to your smartphone to have notifications go off on your watch.
Top Ten GPS Watches from Garmin
Subscribe to our Newsletter