Best Garmin GPS Watches
In a Hurry? Editors choice: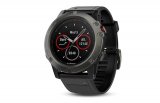 Test Winner: Fenix 5X

If you have used a Garmin GPS before than you know they are one of the most reliable and top of the line units for accuracy on the market. They have been around since 1989 and have been making quality GPS systems ever since. Their
GPS
units have quickly become one of the best on the market and now with the times changing and technology getting more advanced, Garmin has moved their quality GPS system into a new more compact device, the
watch
. The GPS watch not only acts as a GPS that you can carry around with you comfortably but also comes with a variety of other features that a standard GPS just does not. If it is time to upgrade your ancient car
GPS
and get something more compact and stylish, the below guide was made for you.
Standout Picks
Criteria Used for Evaluation
Battery Life
Yes, these types of watches are going to die after a certain amount of use. Their design mandates for them to use a lot of energy to work properly. But, much like with the display, this can also be a matter of user preference. It all comes down to this simple question: where are you intending on using your GPS watch and how long will you use it before you have access to a charger? First, let's address the where in this question.
Simply, where do you intend to go with this type of watch? If you are going for a short run, to do a quick nine holes or a swim in your local pool, you may not need to worry about battery life too much. But, on a camping trip or in the woods while going for a hike, it may be more of an issue. Then, there is the issue of how long you intend to use it. If you know, for a fact, that you will want to use the GPS mode for long instances without having access to a charger, then look for long battery life.
Typically, there are two forms of battery life with a GPS watch, using GPS and not using. When you are not using it, most on this list will last for weeks before needing a charge. It is when you use GPS that the battery will drain quickly. Keep a special eye on how long they will last when using this technology, as it can be a deal breaker.
Watch Face
Because they are watches, you must accept the fact that the display is not going to be enormous. Honestly, if it was, it would be a hindrance as it would be too bulky on your wrist. But, this small size actually enhances the importance of the display. As the screen is already small in size, it is naturally more difficult for your eyes to interpret what they are looking at. So, the display should have, if nothing else, a fairly high-resolution so you can easily see the data.
However, there are other factors that you can look for in the display. For starters, if the font is color-coated or black and white. Obviously, the former provides a more colorful interface and may be better for the eyes. With the black font, it can sometimes be difficult to differentiate the information you are viewing. Also, consider if you want a touchscreen display. Much like a computer or smartphone, this is a matter of personal preference. In the modern world, most technology has adapted to the touchscreen interface. Finally, some watches have an issue of brightness in low-light visibility. Without a backlight, some can be downright impossible to see in darkness or low-light.
Apps
Technology devices live and die by their software and GPS watches are no different. Thankfully, their software does not need to be as complex as the kind you will find installed on smartphones and computers. Thus, GPS watches with basic software can still suffice. But, when you are talking about GPS watches, the main criteria should be their GPS capabilities. That is, how well they utilize the technology to track essential running data such as speed, pace, distance, and ascent/descent? Any with high-sensitivity or pairing with EPO and GLONASS are a good way to go. However, all these specific watches from Garmin do that very well but keep a special eye out for the variations that include an accelerometer.
With this included, you will not need a separate foot pod to track data when you are running indoors or in any situation where GPS is not available. Besides this, look past the GPS capabilities and see what other kinds of conveniences they offer. This includes if it can be used as an activity tracker throughout the day, such as golf, or if they keep calories and steps for each day. For golfers, in specific, you could prioritize the models that are specifically designed for golf.
Features
The main function of a GPS watch is its GPS capabilities and how well they track and analyze essential running data. But, that does not mean there are no additional features that you can look for. With Garmin GPS's, there are two huge ones. This includes their waterproof capability and if it has Bluetooth.
As many swimmers, will want to utilize GPS watches, they need to be water rated for a certain amount. If you are a casual swimmer and do not work out in deep water, say in a pool, as long as it is water rated for up to a few meters you will be fine. In the rare instances where they fall off your wrist, a further water rating could come in handy. As far as Bluetooth goes, this gives you access to other devices. Just like other smartwatches, this could allow you to sync to your smartphone to have notifications go off on your watch.
Top Ten GPS Watches from Garmin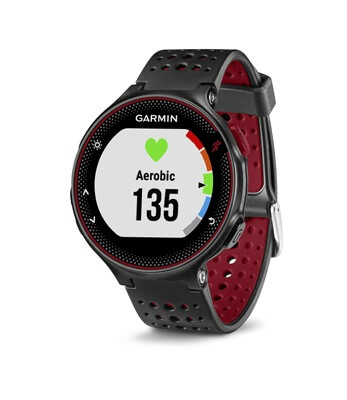 Probably the most popular brand of Garmin GPS watch is their Forerunner and there are several variations. With quality in every form of the word, their 235 model is up there with the best.
Read more
Battery life
When simply using the watch for non-GPS capabilities, it will last up to nine days. But, if you use the GPS straight without stopping it will last up to roughly nine hours.
Watch face
To make it simpler to interpret what you are looking at on the screen, the 235 has a color display with a high-resolution. Not to mention, the screen on this version is larger than the original (Forerunner 220).
Apps
Using GPS, the 235 measures essential running data such as heart rate, pace, and distance. For added convenience, it also includes a built-in accelerometer. This comes in handy in instances where you are running on a treadmill and when GPS is not available where you are (such as covered by something above).
Features
This watch comes in various color options depending on where you buy it from.
Not only can this watch automatically upload all your data to Garmin Connect without access to a computer, but it also features audible and vibration alerts. Furthermore, you can customize these alerts depending on your needs.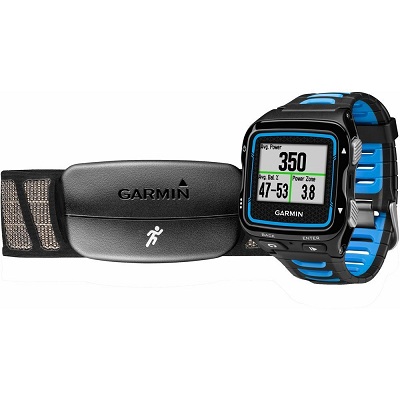 As is indicative be its similar rating, the Forerunner 920XT Watch from Garmin is just as good as the Fenix 3. It really is a toss-up between the two as the 920XT also excels in battery life, software capabilities and style.
Read more
Battery life
There is an included lithium-ion battery and the battery life is phenomenal. With the satellite turned on, it will last up to two weeks before dying.
Watch face
For viewing purposes, it boasts a high-resolution color display that will leave no question on what you are looking at.
Apps
Sports and fitness junkies can receive all the metrics that matter including speed, grade, ascent/descent, and distance. In addition, when paired with the HRM-RunTM monitor and ANT+ compatible sensors it can provide feedback on your running form and measure heart rate and cadence, respectively.
Features
Only two color options are available and they include black and blue and white and red.
Using Bluetooth, you can sync and compatible smartphone with this watch to see incoming calendar reminders, text messages, call alerts, and various other notifications.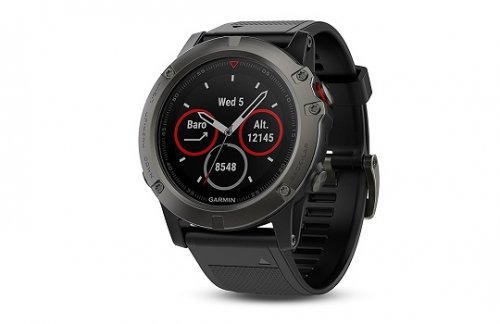 With excellent battery life, tremendous software capabilities and stellar design, the Fenix 5X takes its rightful place on this list. Nothing more than another fantastic GPS watch from Garmin.
Read more
Battery life
If used in GPS mode, it can last up to 20 hours; while it can last up to 12 days when strictly in smartwatch mode.
Watch face
The Fenix 5X is equipped with a stellar high-resolution, full-color Chroma display with LED backlighting.
Apps
The built-in navigation sensors include GLONASS and GPS capability that provides enhanced performance than just a GPS alone. At your fingertips, you can put key stats on the widget including your training status. In addition, also implemented is a 3-axis compass, barometric altimeter, and gyroscope.
Features
A strong selection of colors includes silver and black, rose sapphire and white, black, and champagne.
Having smart capabilities, it can automatically upload content and data to Garmin Connect. In addition, you can receive smart notifications from a compatible device.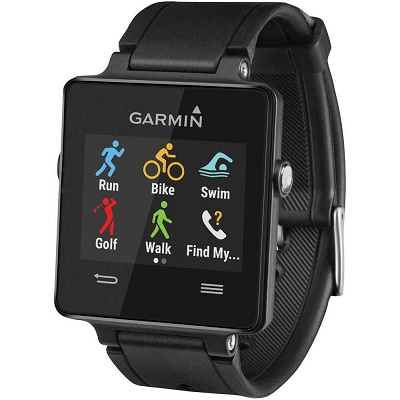 The Vivoactive is truly brought down by one major issue, but looking past that is still an incredible design. In fact, without the issue, it is as good as any on this list.
Read more
Battery life
It will last up to 10 hours while using GPS and up to three weeks when used as an activity tracker.
Watch face
An ultra-thin, color and high-resolution touchscreen display ensure an easy viewing (most of the time).
Apps
There is a built-in sports app which includes biking, golfing, swimming and GPS-enabled running. Plus, with an included accelerometer eliminates the need for you to buy a separate foot pod when running indoors. Finally, you can view your stats even while away from your phone and receive vibration alerts for walk intervals, pace, and heart rate.
Features
Just a few choices are available including a jet-black design and one with a white band.
With Bluetooth technology, it can pair with your smartphone and display notifications for you. Anything from incoming calls to calendar reminders.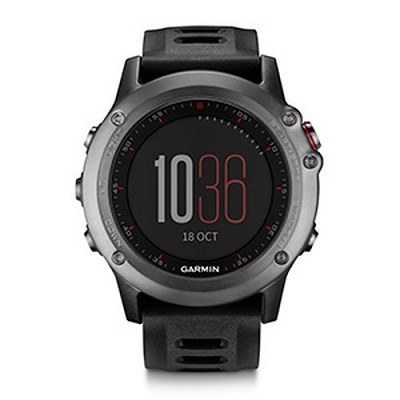 While it can be big and bulky for some, the Fenix 3 GPS is the best when it comes to design and performance. Once you get past the size, it is practically impeccable.
Read more
Battery life
The battery life is absolutely superb and it is rechargeable. When in GPS mode, on one charge, it will last up to 20 hours. However, in UltraTrac or watch mode it will last up to 50 hours and six weeks, respectively.
Watch face
While not perfect, the Chroma display is 1.2" wide with sunlight-visibility and a high-resolution.
Apps
It is sported with an omnidirectional steel EXO antenna and paired with EPO and GLONASS, provides an insanely faster fix and position for GPS. Plus, built-in sensors will inform you of elevation, heading, and weather changes. Finally, you can make locations, campsites, checkpoints, or vehicles.
Features
Quite a few selections are available which includes, just to name a few, silver and red, titanium, sapphire and leather, and gray and black.
For enhanced durability and visual appeal, this watch features a protective stainless steel bezel and buttons. Plus, reinforced housing adds even more toughness. Also, to make it suitable for swimming, it is water rated for up to 100 meters.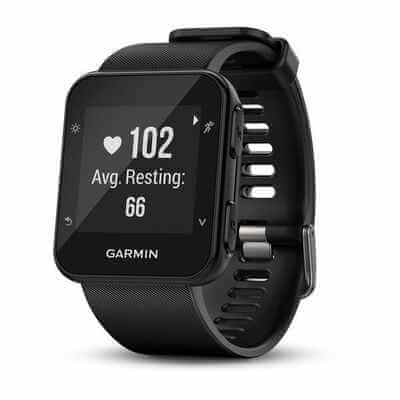 This Garmin GPS watch is an affordable and stylish watch and quality working GPS unit. It is not only known for its quality GPS but also is popular amongst the running and athletic community as it does an excellent job at tracking your fitness stats.
Read more
Battery life
This watch comes with a great battery life that will last seven full days on a full charge. It is recommended to charge your watch mid-week so you always have a charge and will never have your watch die on you while in use.
Watch face
This watch face is nice and big, which will allow you to see the screen clearly without issues. The fact that the screen has a square shape is also great as it allows you to see clearly that you would if you were looking at a circle screen. The touch screen is more accessible and accurate with the square screen as well as there is more surface area to work with.
Apps
This Garmin watch uses the Garmin interface and does not have the ability to download extra apps. But the features and apps that come pre-downloaded on the watch are great and will help you with your daily tasks.
Features
This watch not only has great GPS from Garmin. It also monitors your heart rate, live tracking, music control, and tracks steps and calories. Overall you can see why this watch is made for athletes and runners as the extra features are made for that community.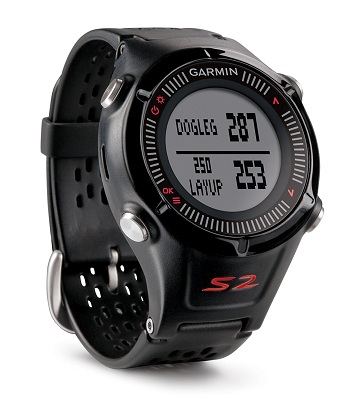 For any golfers, out there, this one is for you. Most GPS watches have capabilities to be used for golf, but the Approach S2 is specifically designed for it and it is tremendous.
Read more
Battery life
When used as a GPS, it will last up to eight hours. If used in watch mode, it can last up to three weeks.
Watch face
While there is nothing overly fancy about the display, it gets the job done and shows you all the information you need.
Apps
This is a golfer's dreams as this GPS watch provides precise yardages to the back, middle and front of the green. In addition, you can view dogleg and layup distances for specific holes. Also, it can measure your individual shot distances. For a wide number of courses around the world, there are over 30,000 preloaded courses and free lifetime course updates when the alterations are made.
Features
A few color options make their way on the Approach S2 including black and green, black and red, white and gray, and purple and white.
While mostly intended for golf purposes, it is water-resistant for up to 10 meters; in case you fall into the pond while shooting!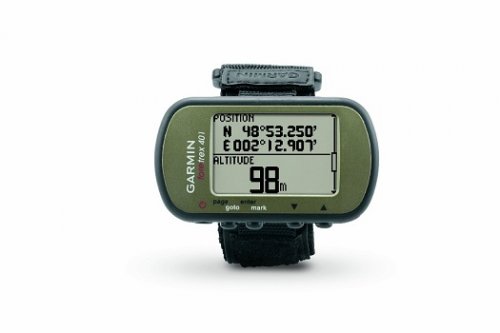 While this may not technically be advertised as a GPS watch, it is more than capable of acting like one. While it does not feature the traditional functions of a watch, as a GPS it is hard to argue with its excellence.
Read more
Battery life
Unlike standard GPS watches or devices, this GPS device will require two AAA batteries. While the battery life is not amazing, depending on the brand of batteries you use, it may last up to eight hours.
Watch face
The LCD display is fairly large and is very easy-to-read no matter the weather outside.
Apps
The Foretrex 401 features a high-sensitivity GPS receiver with HotFix to provide enhanced performance when isolated under heavy trees or deep canyons. In addition, it keeps track of routes, tracks, and waypoints. When paired with a heart rate monitor, it can also display heart rate. For added convenience, it also will retrace your steps on the display.
Features
With the Foretrex 401, what you see is what you get. There are no additional color options for you to select from.
Besides GPS capabilities, this also features hunting and fishing information, an electronic compass, barometric altimeter, sunrise and sunset times, and a trip computer.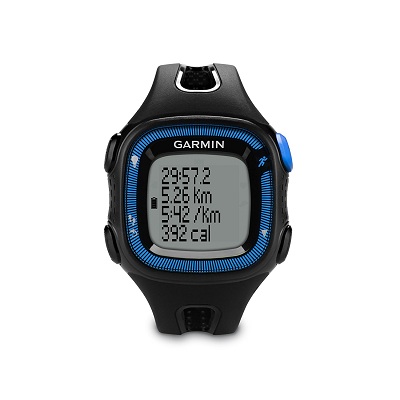 The Forerunner 15 is very basic, but that is not necessarily a bad thing. While it is not the fanciest GPS watch in the world, is sports a great design with above-average GPS capabilities.
Read more
Battery life
On a long day of strictly using the GPS mode, the Forerunner 15 will last up to eight hours. If not and used as an activity tracker, it should last you up to five weeks on one charge.
Watch face
While the display size is adequate, the display itself is as basic as it gets. It gets the job done, but there is no color.
Apps
Throughout the entirety of your day, this watch will keep a tally of your steps and calories. When it is time to get moving again, it will alert you to do so. However, when you are outside, it will also utilize GPS technology to accurately record your distance, time, and pace. If you are inside, you can pair it with an optional foot pod to track your data on a treadmill.
Features
There are a decent amount of color options including black and blue, black and green, red and black, violet and white, and teal and white.
Past running, it is also rated to be waterproof for up to 50 meters. Not only can you use it while swimming but rain and sweat will not affect the watch.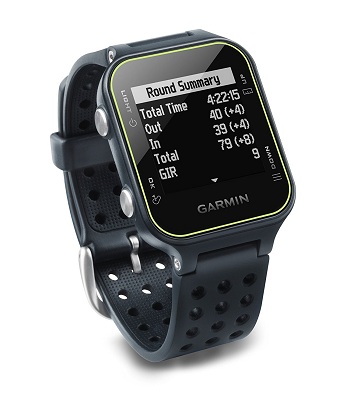 Garmin has made more than one watch specifically designed for golfers and their Approach S20, while not as good as their S2, will more than suffice.
Read more
Battery life
When the activity tracking and Bluetooth are turned off, you can expect around 30 percent of the battery to be consumed per 18 holes.
Watch face
The display is not going to blow you away, but it will adequately display the information that you need. But, it is a non-color display.
Apps
When on the golf course, there is an AutoShot feature that will analyze your shot distances, an auto-recording for post-round analysis with your Garmin Connect account and distance displays for your next shot. When not used on the course, it will display your steps, calories burned and time of day.
Features
Not a bad selection here with black, white, midnight teal and slate colors available. You can sync any Bluetooth-enabled device with this watch to receive smart notifications.

Subscribe to our Newsletter