Best Kids Sunglasses
In a
Hurry? Editors choice: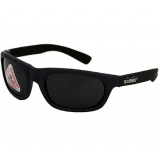 Test Winner: Kushies

It is nice to be out under the sun and enjoy the outdoors, particularly for the kids. However, the sun can be too bright to the point that it can potentially damage our eyesight in the long run. That is why wearing a sunglass when we go out on a sunny day is essentially important.

On the other hand, sunglasses are also for young children and even babies, too. It's more than just a cute fashion accessory, it is crucial for their eyes' protection. Children in particular need eye protection because they are at higher risk of damage due to harmful UV rays.

With that said, there are highly-recommended sunglasses for kids in the market today. The following are some of the best kids' sunglasses you can choose for your little ones.
Standout Picks
Criteria Used for Evaluation
Color
Colorful stuff can appeal a lot especially among young children.
No wonder most children's products are made to colorful to appease youngsters' eyes. As for kids' sunglasses, many brands offer colorful ones that can appeal both for boys and girls. However, the importance of color in choosing the ideal kid's sunglasses should be more than just its exteriors.
On the contrary, lenses with colors other than gray can affect a child's ability to differentiate color especially when they are wearing eye shades. Nonetheless, the more important thing is that the eye shade's lenses should provide utmost protection for your little one especially from harmful UV rays.
Features
Apart from its aesthetics, ideal kids' sunglasses should also offer important features.
For example, many sunglass manufacturers add polarization on the lenses. This feature helps reduce glade and makes your surroundings look sharper.
Size
Just like choosing the perfect clothes according to your size, so should be the ideal sunglasses.
As mentioned earlier, kids' comfort when wearing sunglasses matter. One way to achieve this is by finding sunglasses that fit snugly on your little one's face.
Style
As already mentioned, kids' sunglasses come in different colors, designs and styles, depending on the child's age.
For 2 years old and below, sunglasses with straps you can wrap around the child's head is more recommended. On the other hand, toddlers can use sunglasses the same style as the adult ones – only smaller. Some are made for specific gender, but there are also ones that are unisex – the options are endless.
Safety Hazards
It is also mentioned earlier that young children may tend to be careless with their things, even sunglasses.
With that said, it is important to choose sunglasses made with polycarbonate or plastic lenses instead of glass material to prevent major injuries in case it breaks.
Subscribe to our Newsletter