Best Winter Jackets For Kids
In a
Hurry? Editors choice: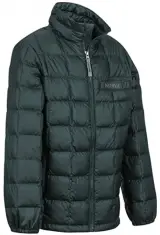 Test Winner: Marmot Ajax

When the air gets cooler and winter is right around the corner, it's usually the time when busy parents break out the winter gear to make sure it still fits their kids. And if it's time to size up to a new jacket, the search begins.

Instead of spending time in the stores, trying to keep your kid interested in trying on jackets, a little research will save you from all of that. Whether for casual wear or serious outdoor use, we looked into the best winter jackets for kids that hit out criteria points, then put together a list of our own. Take a look at our favorites and see if any might work for you.
Standout Picks
Criteria Used for Evaluation
Materials
High-quality outer shells on best winter jackets for kids can bring excellent weather protection to your child, keeping them warm and dry even when there is rain, snow, or sleet outside. Effective winter shells are usually made with some type of weatherproof material on them, like eVent, H2NO, or Gore-Tex, all of which do a great job of repelling wind and water on cold days.
The winter shell on the jacket, while designed to protect your child from the weather outside, doesn't typically work to provide a lot of insulation or warmth on the inside. So, if your child's jacket comes with a removable winter shell, remember you'll want that shell on them with the insulation if the weather is very cold. Some jackets have removable shells options with the interior area of the jacket providing insulation, while other jackets function as one-piece models.
If you want a winter jacket for kids that features a removable outer shell, you'll get a lot more versatility and use out of the jacket. For instance, your child could wear just the shell on warmer, rainy days, getting the protection from the water he or she needs without burning up if the weather is warmer. While these types of jackets typically cost more, they offer a lot more versatility and can be used throughout the year.
You do want to make sure, regardless of what type of winter jacket you purchase for the child, that the winter jacket for kids you select has water and weather repelling features on the shell. Some manufacturers coat their shells with two or three layers or use DWR, a durable water-repellant, on the outer shell. DWR coatings work well when it's snowing outside, but can wear off, and can make the outer shell-less breathable. Gore-Tex jackets is another jacket with the gore-tex fabric used to help make outer shells water-repellant and it is usually more breathable than some other fabrics used to keep water off your child's jacket.
Deciding what types of water and weather protection you need on your child's outer shell really depend on what you'll be doing while your outside and the weather you will encounter. If you know it will be very cold, you might not want to purchase a jacket that's extremely breathable. However, outer shells made with Gore-Tex tend to work better for year-round activities, although they also tend to be pricier. So, you need to weigh out your options, figure out exactly what you will be doing, and then you can make your decision about what might be best for your child's outer shell.
Insulation
When purchasing a winter jacket for your child, you'll also want to take a look at the different types of insulation offered on the jacket. There are typically three types of insulation that manufacturers use in kids winter jackets: down feathers, synthetic fibers, pile fabric, and hybrid insulation.
Insulation, no matter what type you find on the jacket you buy, is designed to trap in your body heat and keep you warm during the cold, outdoor weather. Usually, the thicker the insulation is in the jacket, the warmer you'll stay.
Down Insulation
Down, historically, is the first insulator we ever used to keep us warm, and it's still a very effective insulator. It compresses down so that the jacket is easy to pack and carry, and it can last a long time as well as long as you take care of the jacket.
Down does present a problem, however, for some kids winter jackets because it's known to perform badly when the weather gets wet. When down gets wet, it'll start balling up and clumping, and it also loses its ability to insulate when wet.
Some manufacturers still use down in their kids winter jackets and utilize creative ways to solve this problem with down. Since it is well-known that people buying winter jackets are probably going to get their jackets wet while outside, many manufacturers add an extra layer of weatherproofing in the foam area of the jacket, and also usually have some kind of waterproof coating on the outside of the jacket. Some even put a chemical treatment right into the down to make the down waterproof, which is known as hydrophobic down.
If you do decide to purchase a winter jacket for kids that uses down as the insulator, then you'll want to get acquainted with what "fill power" means with down. "Fill power" measures how good the quality of the down is when it's filled in the jacket, and is used to measure the volume of down in the jacket. When a jacket has a higher fill-power, that means the down is better and warmer overall compared to a jacket with a lower fill-power down. Also, hither-fill-power down tends to compress better, making it easier to pack down and bring along with you when the jacket isn't in use.
Synthetic Insulation
A jacket that uses synthetic insulation has plasticized fibers spun into the garment that works similar to the way down insulates, helping to keep your body warm. Many manufacturers that make these jackets using synthetic insulation use excellent technology and high-quality materials that often make this type of filler more attractive than down for warmth and weather protection.
Synthetic insulation has one attractive quality about it that makes it perform better than down on certain occasions, and that's the fact that synthetic insulation won't clump when it gets wet, although the insulation the jacket provides when the synthetic insulation gets wet can still falter.
However, the insulative properties used with synthetic materials are typically not as affected by water as down well, and still, work to insulate. Also, synthetic materials used for insulation will dry out more quickly than down.
Synthetic insulation still has a downside to it. The more you compress and expand a winter jackets for kids with synthetic insulation in it, the more the jacket will start to lose some of its insulative properties. Also, synthetic insulation tends not to provide as much warmth as down insulation.
Pile Fabric
Made to resemble the hide and wool of sheep, pile fabric comes as a woven fabric attached to one side of the jacket. The pile fabric on the jacket will look like a thick layer of fuzzy fibers, like a sheep's wool looks, found on the inside of the jacket.
Pile is an affordable material that is both water-repellents like synthetic insulation, and durable like down. However, pile insulation only offers a certain amount of thickness, so it can't insulate jackets as well as down or synthetic fibers can.
Hybrid Insulation
Jackets with hybrid insulation features tend to combine various materials used for insulation to focus on insulation on your child's torso. These kids' winter jackets are usually made for better performance and include an effective combination of insulative materials that help balance out all the positives with the negatives.
Features
The specific features of a kid's winter jacket can help to provide more warmth and comfort. For example, a hood will help to keep your child significantly warmer. If there isn't a hood, you may want to make sure that the collar of the jacket comes up high enough to keep your child's neck warm. Other features that a jacket may possess to boost warmth are elasticized wrist cuffs, drawcord hems, or removable layers.
There are many kids jackets on the market now that feature grow-fit sleeves. These jackets can be quite an investment, especially considering the rate at which kids grow. These grow-fit sleeves include a small seam inside that holds up (approximately) two extra inches of the sleeve!
Zippers and storage are other important features of a jacket, no matter how old you are. Zippered pockets are great for storing items, such as chapstick, a lift pass, or maybe even a couple of dollars for a hot chocolate. Whether the pockets are meant for storage or not, some feature fleece lining to help keep little hands warm! It's always good to research as well if the zippers are smooth or not.
Some jackets even feature reflective zipper overlays to help you keep a better eye on your child while they are playing in the snow. While some features can drive up the price of a jacket, they are well worth it.
Style
The style of a kid's jacket is also something that shouldn't be overlooked. You know how your child likes to wear the same shirt or shoes or even ski pants all of the time because they like the color? It's the same with a jacket. If your child feels comfortable and confident in the jacket, they will be more inclined to wear it and be happy about it. For the style of the jacket, we focused on the colors, sizes, and prints that the jacket is offered in.
10 Best Winter Jackets For Kids
Subscribe to our Newsletter