Best Baby Snow Suit
In a
Hurry? Editors choice: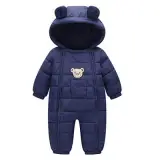 Test Winner: Happy Cherry

There are few things out there as adorable as a little baby all bundled up in a big and bulky snow suit. If you are excited to take your newest member of the
family
outside after the very first big snowfall of the year, you want to know that they will keep the chill and cold away from your little one's skin. Naturally, style is something that is important when shopping around for these products. However, warmth and functionality, as well as how easy it is to slide on and off a squirmy little tyke, are also very important. In this guide, you will find some of the best
baby
snowsuits out there on the market to ensure that your little one can experience all of the wonders of a good snowfall without any of the uncomfortable chill.
Standout Picks
Criteria Used for Evaluation
Ease of Use
If there is one thing to get your blood boiling, it's trying to dress a grumpy baby. And that frustration is compounded when it comes to bulky and possibly uncomfortable outdoor gear.
When selecting the best options out there on the market, we made sure to check out how users were to put them on. Anything that slipped over the head or that a series of complicated buttons were immediately rejected because that meant they were going to take too long to equip. As a parent, you know that you have a ticking clock when it comes to dressing your little one to head out into the elements, and every second that you go over that time limit means your baby is going to become frustrated. There were two zipper designs that parents were generally placed with, and that was the diagonal zipper, and the dual zippers that run along the front. From what we could gather, dual zippers are regarded as the more popular choice because it means that users can change diapers without the need of removing the entire unit. We also liked designs that had buttons on the inside of the legs, because it makes the task of changing diapers even easier.
Insulation
Hands down, this was the most important thing that we looked at. Keeping your little one warm when the temperature plummet is going to be your number one concern above all else- and it was the most important thing to use as well.
There are two things to consider when looking for excellent lining. The first thing is going to be the exterior shell that is holding in the lining. We liked units that had a polyester exterior for a myriad of reason. Polyester is great because it is easy to care for- you can just toss it into the washing machine when it's looking a little dirty. The other great thing about polyester is that it is often considered to be windproof and waterproof. This means that melting snow on this material will not penetrate any of the layers underneath. We also took into consideration what each design was lined with. For some, they would add multiple layers of polyester that were more form fitted to the body, so that your little one did not lose any range of motion. Other companies adopted the more puffy look and filled their designs with down cotton. Each method of maintaining warmth had advantages and disadvantages, so it will be up to you to determine which option is going to be right for your needs.
Size
To keep the cold away from your little on, you are going to want to ensure that you get the right size.
Finding the right size can feel like an impossible task, because it seems like in the time it takes you to pick out a design and have it show up in the mail- you little one has already grown by a few feet. While you will want to ensure that you leave enough room your them to grow throughout the season, you also don't want to get a size that is so big that it doesn't properly fit on the ankles and wrists. However, you also don't want to select a size that is too small because that means that you will not have enough room to layer clothes underneath, and it is also going to be very uncomfortable for your child. To try and make the dance of selecting the right size much easier, we made sure to keep a few things in mind when conducting our research. The first thing we looked at was all the of the size options that were offered. Companies that give parents a lot of different sizes to choose from generally received higher markets in the accuracy of fit department. Another thing that we looked at is what other users had to say about how well each design fit their little one. Just because a product runs a little big or small does not mean that it is a bad product, it just means that users are going to take the recommendations of past users to get a larger or smaller size.
Style
While you want your little one to be warm and happy, you also want them to look good!
We were drawn to companies that not only offered users a wide variety of color choices, but we also wanted to select fun and unique designs. If it looks fun and has whimsical patterns or bright colors on the exterior, your little one will be more than happy to climb inside when heading outside for a fun wintertime adventure. We were also drawn to options that had hoods that have animal ears or pom poms on the top to make your adorable little one look even cuter than they already are. One thing that we really liked that some companies did was to include mittens and booties. On some of the higher end options, companies had their mittens built right into the sleeve so that all parents had to do was fold them down, and there was never a risk of them becoming lost. Other companies included a matching pair of mittens and booties included with purchase, but not all of them came attached to the design. If you already have a set of mittens and booties that you already use, it may be in your best interest to save a little bit of money and opt for a design that does not come with them included.
Value
We always want to save you a little bit of money whenever we can.
While you most likely are willing to spare no expense when it comes to your little bundle of joy, you also know that they are going to grow out of their gear pretty fast. That's why we made a point of having the majority of our selecting fall in the mid-range in terms of price. We still selected high-end options from trusted companies such as London Fog, Columbia, and Carhartt, but we selected the more affordable options of these brands. We still selected designs that had innovative design features and were made from high-quality materials to keep your little one warm. We just didn't want you to spend more money then you needed to on brands that utilize the same types of material but just at a higher price point.
Subscribe to our Newsletter