Best Kids Hiking Boots
In a
Hurry? Editors choice: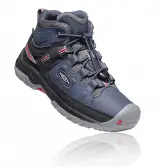 Test Winner: Keen Kids Targhee

Hiking is a very enjoyable way to spend time and pass the holidays across the globe. Not only do families embark on hiking trips for enjoyment and to spend some quality time together, but they also do it for the fact that it's healthy and they can experience nature. That being said, the comfort and quality of your boots can make or break your next hiking trip, and this will be even more true for your children. Hiking boots that are poor quality can lead to unpleasant experiences for your child, which is exactly the opposite of what you want or your children to experience when you're spending time outdoors.

The good news is that children's footwear exists for any kind of sport or activity there are, including hiking. We did the research and listed the top ten hiking boots for your child.
Standout Picks
Criteria Used for Evaluation
Comfort
As we have touched on several times in this article already, the first and foremost quality that your selected children's boot must meet is comfort.
If your child does not enjoy wearing their boots, then they are most likely not going to enjoy going out on hiking trips with you either. This is why the comfort of your boots of choice is so important. You'll want to make sure you select a quality pair of boots that your child loves wearing, so how your child feels when he or she wears the boots will be an important factor. Make sure you focus on your child's comfort and feel while wearing the boots, ask questions to your child to make sure the boots feel well, and allow your child to have some range of opinion with this choice.
It's very crucial that you research the comfort qualities for the hiking boots as much as possible, while also keeping in mind certain factors that your child may require, such as high arches, flat feet, or pronation. The best method to determine what the most quality pair are will be to have your child actually try them on physically to see what they like.
Many of the boots on our list offer many comfortable cushioning options, like EVA cushioning and other types of materials that can help with shock absorption. Make sure you take a look at the level of cushioning your child needs and remember, it's almost always best to take your child to the store and try the boots on.
Traction
As we have also discussed throughout this guide already, the traction of your boots cannot be called into question.
In fact, the primary point of difference between any normal footwear and hiking boots is specifically traction. Hiking boots are designed to be worn in rough environments consisting of uneven terrain and natural elements such as rain and wind. If a pair of boots are unable to grip slippery surfaces properly, you should reject them.
Depending on the type of hiking boots you buy, traction and grip can vary. When you're trying to assess how good the traction on a pair of boots might be, make sure to look at the sole on the boots. Good, grippy soles are usually made out of a rubber base and include features like lugs and other materials to help the boot grip well in any type of terrain. So, look for those good, hard rubber soles with strong lugs and a good grip system so that your child will feel comfortable on all types of terrain.
One of the best ways to test how the traction feels is to allow your child to try on the pairs of boots you are both interested in. Usually, by simply walking around in a store, you can assess a lot about traction and the overall feel of the boot. So, don't forget to go to the store, have your child try them on, walk around, and feel out the situation.
Breathability
Breathability may not be a quality you want in a pair of winter hiking boots where warmth and insulation will be the primary factors you want to look for instead.
That being said, for hiking boots intended for any other purpose, breathability should be a primary point of concern.
The breathability of the boot simpler refers to the amount of ventilation that they provide for the wearer, allowing the insides of the footwear to air our properly and reduce the impact of sweating. A good ventilation system helps to add extra comfort to your child's feet. He or she won't feel perspiration building up, and cutting back on odor as well, which is also a great benefit for healthy feet.
Breathability is a very important factor because it also helps to provide more comfort, and overall great feeling when on the move. So, find something that will keep your little one's feet comfortable, and make sure the ventilation system allows for the added comfort your child will want whenever he or she is active with you on the trails.
Materials
The build quality of any boot simply refers to the materials it is made out of and whether it is built to last.
You will never want to invest in a pair of hiking boots for your child that are not made to stand up to the tasks that they are intended to perform. You want to make sure you get something that is durable and stable and will keep your child happy and going for long periods of time. So, the quality will tell you a lot about how long the boots will last, as well as how well they will perform each time you use them.
Pay very close attention to the specific materials that the boot is made out of. Leather or nylon are two examples of high-quality materials that are often used for making hiking boots. They have proved to withstand adverse conditions for extended periods of time and you'll definitely get your money's worth out of them.
So, make sure you don't go too cheap with the quality of the boots because you want to make sure your child gets the stability and support he or she needs when out on the trails.
Subscribe to our Newsletter