Best Kids Hiking Boots
In a Hurry? Editors choice: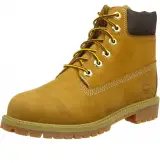 Test Winner: Timberland Kids Classic

Hiking is a very enjoyable way to spend time and pass the holidays across the globe. Not only do families embark on hiking trips for enjoyment and to spend some quality time together, but they also do it for the fact that it's healthy and they can experience nature. That being said, the comfort and quality of your boots can make or break your next hiking trip, and this will be even more true for your children. Hiking boots that are poor quality can lead to unpleasant experiences for your child, which is exactly the opposite of what you want or your children to experience when you're spending time outdoors.

The good news is that children's footwear exists for any kind of sport or activity there are, including hiking. We did the research and listed the top ten hiking boots for your child.
Standout Picks
Criteria Used for Evaluation
Comfort
As we have touched on several times in this article already, the first and foremost quality that your selected children's boot must meet is comfort.
If your child does not enjoy wearing their boots, then they are most likely not going to enjoy going out on hiking trips with you either. This is why the comfort of your boots of choice is so important. You'll want to make sure you select a quality pair of boots that your child loves wearing, so how your child feels when he or she wears the boots will be an important factor. Make sure you focus on your child's comfort and feel while wearing the boots, ask questions to your child to make sure the boots feel well, and allow your child to have some range of opinion with this choice.
It's very crucial that you research the comfort qualities for the hiking boots as much as possible, while also keeping in mind certain factors that your child may require, such as high arches, flat feet, or pronation. The best method to determine what the most quality pair are will be to have your child actually try them on physically to see what they like.
Many of the boots on our list offer many comfortable cushioning options, like EVA cushioning and other types of materials that can help with shock absorption. Make sure you take a look at the level of cushioning your child needs and remember, it's almost always best to take your child to the store and try the boots on.
Traction
As we have also discussed throughout this guide already, the traction of your boots cannot be called into question.
In fact, the primary point of difference between any normal footwear and hiking boots is specifically traction. Hiking boots are designed to be worn in rough environments consisting of uneven terrain and natural elements such as rain and wind. If a pair of boots are unable to grip slippery surfaces properly, you should reject them.
Depending on the type of hiking boots you buy, traction and grip can vary. When you're trying to assess how good the traction on a pair of boots might be, make sure to look at the sole on the boots. Good, grippy soles are usually made out of a rubber base and include features like lugs and other materials to help the boot grip well in any type of terrain. So, look for those good, hard rubber soles with strong lugs and a good grip system so that your child will feel comfortable on all types of terrain.
One of the best ways to test how the traction feels is to allow your child to try on the pairs of boots you are both interested in. Usually, by simply walking around in a store, you can assess a lot about traction and the overall feel of the boot. So, don't forget to go to the store, have your child try them on, walk around, and feel out the situation.
Breathability
Breathability may not be a quality you want in a pair of winter hiking boots where warmth and insulation will be the primary factors you want to look for instead.
That being said, for hiking boots intended for any other purpose, breathability should be a primary point of concern.
The breathability of the boot simpler refers to the amount of ventilation that they provide for the wearer, allowing the insides of the footwear to air our properly and reduce the impact of sweating. A good ventilation system helps to add extra comfort to your child's feet. He or she won't feel perspiration building up, and cutting back on odor as well, which is also a great benefit for healthy feet.
Breathability is a very important factor because it also helps to provide more comfort, and overall great feeling when on the move. So, find something that will keep your little one's feet comfortable, and make sure the ventilation system allows for the added comfort your child will want whenever he or she is active with you on the trails.
Materials
The build quality of any boot simply refers to the materials it is made out of and whether it is built to last.
You will never want to invest in a pair of hiking boots for your child that are not made to stand up to the tasks that they are intended to perform. You want to make sure you get something that is durable and stable and will keep your child happy and going for long periods of time. So, the quality will tell you a lot about how long the boots will last, as well as how well they will perform each time you use them.
Pay very close attention to the specific materials that the boot is made out of. Leather or nylon are two examples of high-quality materials that are often used for making hiking boots. They have proved to withstand adverse conditions for extended periods of time and you'll definitely get your money's worth out of them.
So, make sure you don't go too cheap with the quality of the boots because you want to make sure your child gets the stability and support he or she needs when out on the trails.
Top 10 Kids Hiking Boots
1

. Timberland Kids Classic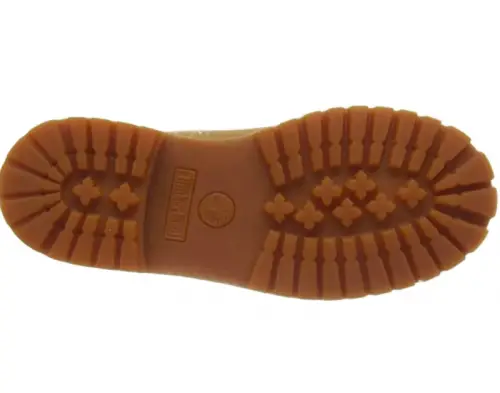 Timberland knows a thing or two about boots, and not just for adults! If you want something that is comfortable and stylish, this is an excellent choice. Don't let the casual appearance fool you. These waterproof boots are perfect to keep feet warm and dry and supported when scaling difficult trails. Plus, they come in toddler, little kid, and big kid sizing options.
Read more
What we love most about this design from Timberland is that it is made to keep your little one's feet protected and dry, even when the trail gets rough. The stylish upper is made from a thick layer of waterproof leather that prevents water from penetrating the surface, and a padded collar to keep ankles supported.
The non-marking thick rubber sole protects feel and lends a good deal of support when standing all day. It even boasts a steel shank that helps to support arches when you walk. We also love that these are fairly lightweight, making them ideal for casual wear as well.
If you love your Timberlands, it may be time to invest in a pair for your little one as well! What makes these perfect for the trails is the waterproof leather upper, padded collar, and reinforced sole that is responsive and protective.

2

. The North Face Hedgehog Hiker II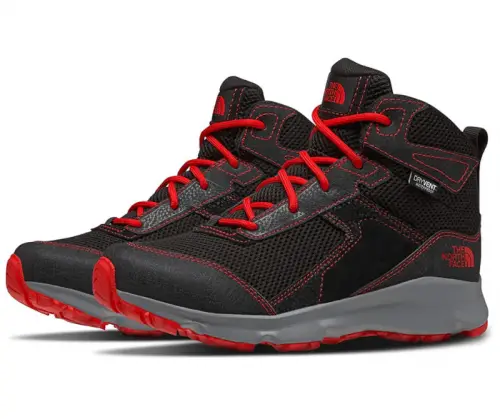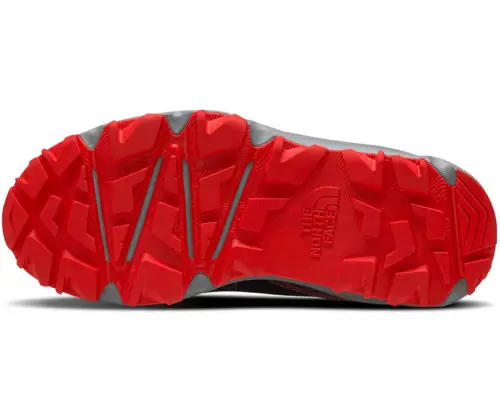 Looking for something that is both stylish and supportive? This option from The North Face blend style and function one compact package. While it clocks in at a price tag that is slightly higher than many of the other designs that we have seen, it is worth every penny for parents that want something versatile and effective.
Read more
The upper is composed of a blend of synthetic and mesh materials that provide a good deal of support while also allowing the foot to breathe. It boasts a HydroSeal membrane that works to lift hot air up and away from the foot while keeping water out to maintain dry socks on rainy or muddy hikes.
While maintaining a lightweight frame, it is packed with features that help to keep the foot protected. It has a reinforced toe cap protects toes on treacherous trails and deep and effective treads that grip the ground. All these supportive features keep the foot cushioned and protected, but aren't too heavy which makes it a great casual boot for playing on the playground as well.
The Hedgehog Hiker II is a wonderful choice for parents that need something that is effective on the trails, and versatile enough for everyday wear. It boasts a sleek and stylish frame that your little one will want to wear every day. While it cost a little bit more than most, the durability and design make it an excellent overall value.

3

. Timberland Pawtuckaway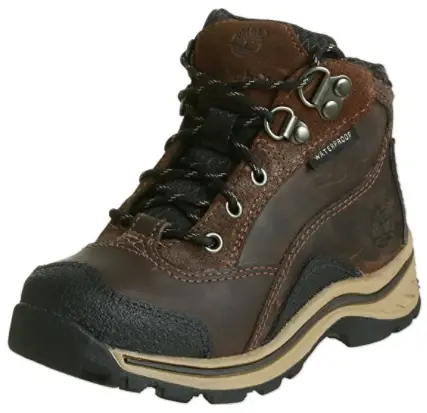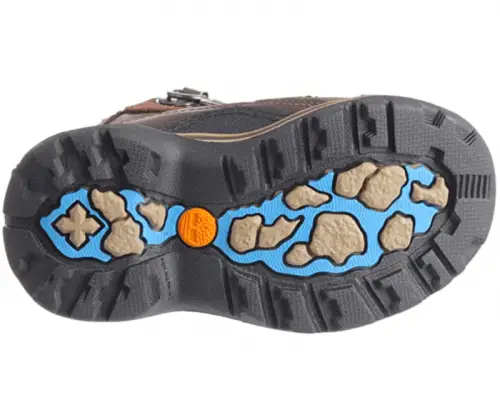 The Timberland Pawtuckaway is a lightweight, high-quality boot option that will get your child going to whatever destiny he or she plans. With great traction and rustproof material, you'll get a pair of boots that are very durable and will last for a long time.
Read more
First of all, these boots are highly comfortable thanks to their internal cushioning and adjustable laces to ensure a proper fit. This cushioning is also lightweight and the boot is a very breathable boot thanks to its breathable mesh system. This boot offers excellent traction and is easily one of its main selling points. These boots were tested in multiple different conditions and are even marketed as being for different environments.
The Timberland Pawtuckaway is a highly breathable boot with a good ventilation system in it. You won't have to worry about your child's feet feeling too sweaty or overheating whenever he or she wears the boots.
It has an overall excellent build quality thanks to its full grain leather material and hardware that is rustproof. However, it does lack an internal liner, meaning these boots are not fully waterproof. Even though the full grain leather on the outside will likely resist most of the water or moisture your child encounters, it's still something to think about.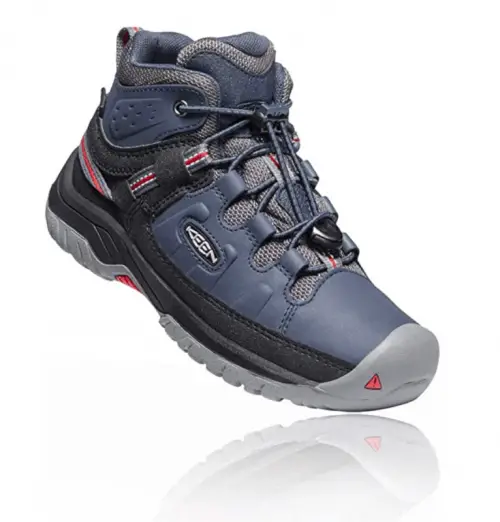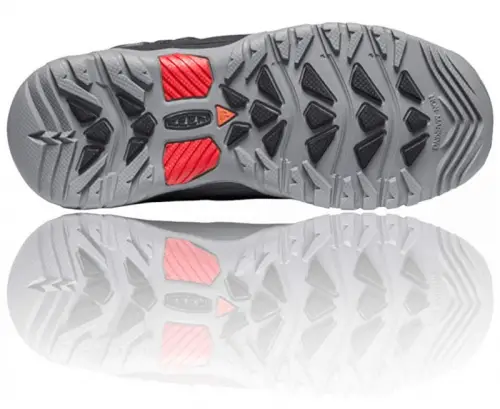 This design from Keen provides all of the supportive features to keep your child's feet protected while out on the trails, with a few bonus features that make them perfect for children. It is made from strong and durable material that is springy and supportive without being too heavy.
Read more
The upper of this design is made from a blend of synthetic materials and mesh to keep feet dry and protected from the road ahead. The faux-leather material works to wick away water from the surface, but it isn't completely waterproof. We also like that it has simple laces that are ideal for little hands.
We also like that it has a TPU heel-capture system that cradles the heel in place and allows for better balance when walking over uneven surfaces and jagged rocks. The Removable EVA footbed provides feet a nice and soft cushion to keep comfortable all day. Plus, the non-marking rubber outsole won't mark up your kitchen floors.
This design from Keen Kids is a great option for warm or cool weather hiking. It is packed with comfort features to all stability and comfort when walking on long trails, or even just as a great casual shoe. It may cost a little more than most, but we feel that it is well worth the extra cost.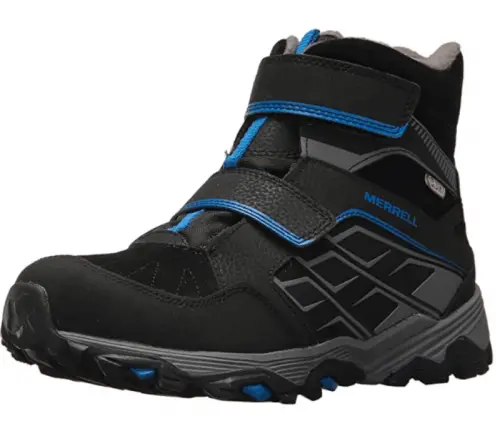 If you want to keep things light and easy, the Moab from Merrell is a great choice. It is made from lightweight and comfortable materials that allow your little ones to jump and play on the trails without being weighed down by heavy boots. It has a breathable upper and is built with interior fabrics to keep water out. Plus, it comes in fun colors that your little one is sure to love.
Read more
Many waterproof options out there on the market are composed of stiff and non-breathable materials, but the Moab maintains its breathability. The exterior of the upper is composed of breathable mesh panels, and inside is a waterproofed bootie that cradles the foot in place and keeps socks dry, even when splashing through puddles. It also ditches laces in lieu of a drawstring, which makes it easier for little hands to put on their gear all by themselves.
This design also has a soft and cushioned collar and insole to keep feet comfortable, even on long walks. The lugs are deep enough to grip the trails and provide additional support, but shallow enough to wear while out playing with friends or running errands with mom or dad.
If you are in the market for something from a trusted brand that can hold up to whatever your little one throws at it, this is an excellent choice. It is offered in sizes that range from little kids to big kids, with no size options for toddlers. The best part? It comes in at a price that won't break the bank.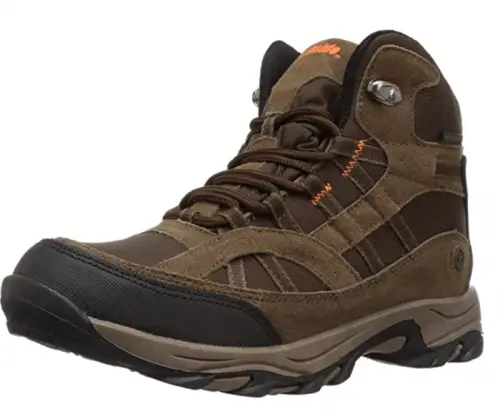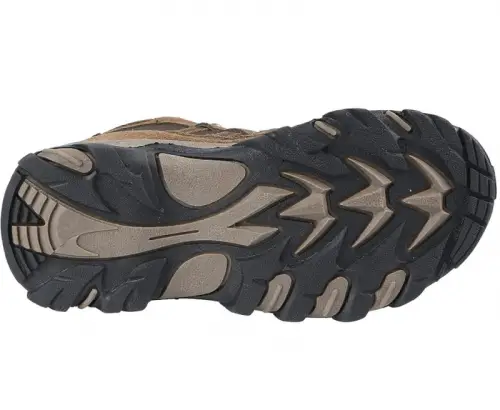 If your little one loves to get down in the mud, the Rampart from Northside is worth checking out. It is composed of strong and durable materials that not only keep socks dry, but it is also incredibly easy to clean. The Rampart uses all of the advanced technology as they do for their adult boots, and is offered in smaller sizes for your little ones.
Read more
The upper of this design is composed of ripstop nylon which is incredibly breathable and works to wick moisture and debris away from your foot without weighing it down. It also has a durable toe guard to protect little toes, and a heel stabilizer to keep them steady on their feet while on uneven trails.
We also love that this design boasts a soft and squishy EVA footbed that cradles your little one's foot and keeps it cushioned on long trails. The best part about this design is that you can remove the insert and wash it to keep them looking and smelling fresh.
It's hard to go wrong with an option from Northside. This design looks just like an adult style (which may be a negative feature for some children) and is packed with all of the advanced supportive features to keep your feet dry and comfortable on your next hike or camping trip.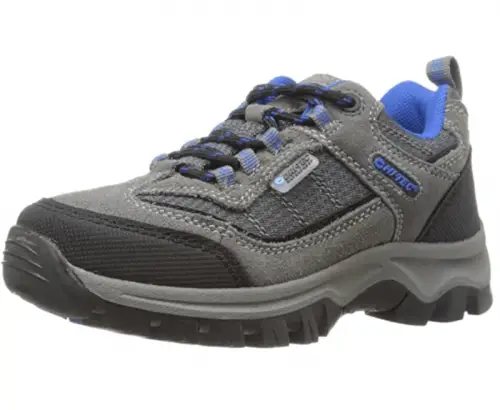 Hi-Tec brings you an incredibly durable design that comes in at an affordable price point. It is packed with features to help keep feet warm and dry, making it an ideal choice for cool weather outdoor adventures. We love that it helps to keep feet stable and supportive, and has deep treads that really grip the trails.
Read more
The very first thing that we noticed about this design is that it boasts deep treads that are composed of durable rubber. These treads make this design a little heavier than other more modest designs, but the extra weight is worth it when hiking rocky and difficult trails.
The upper is composed of a blend of leather and synthetic materials that work to wick away moisture and debris and offer padding to help keep feet stabilized on uneven surfaces. It even boasts a waterproof bootie that works to keep socks dry when hiking on rainy days or splashing through mud puddles.
Yes, these are a little heavier than some of the other designs that we have seen, but they are the perfect option for dedicated hikers. Parents love that they are incredibly durable, provide excellent support, and clock in at a price point that won't break the bank.

8

. Columbia Youth Newton Ridge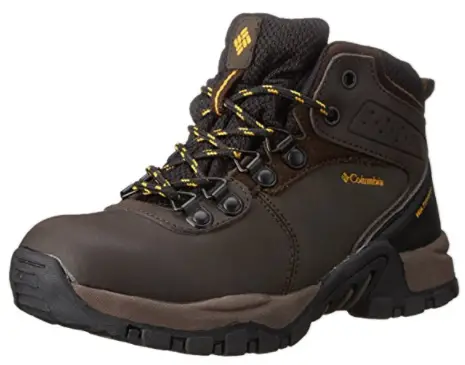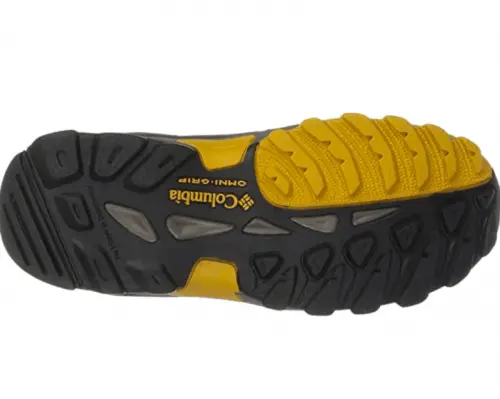 Columbia's Youth Newton Ridge Boots bring you a lightweight, comfortable boot option for your child's outdoor explorations. With a lot of great traction and a nice ventilation system, your child will love wearing these boots each time he or she puts them on.
Read more
As a whole, the Columbia Newton Ridge Hiking Boot is very lightweight, which many children who enjoy running are bound to enjoy. These boots also come equipped with a compression molded EVA insole for even added comfort. It will offer your child all the traction they need thanks to their durable and grippy rubber outsole. The excellent traction will always help your child get to where he or she needs to go.
These boots are equally as breathable as they are waterproof thanks to the textile mesh material that Columbia has installed in them. Your child's feet won't overheat from sweat, and there's a lot of great ventilation in this boot.
One of the selling points of these boots is their completely waterproof construction thanks to their PU coated leather. All in all, these are boots ready to tackle any kind of outdoor terrain.
This hiking shoe is made from 100% Leather and Textile and has a rubber sole to keep your kids comfortable and stable while hiking in them.

9

. Columbia Youth Firecamp 2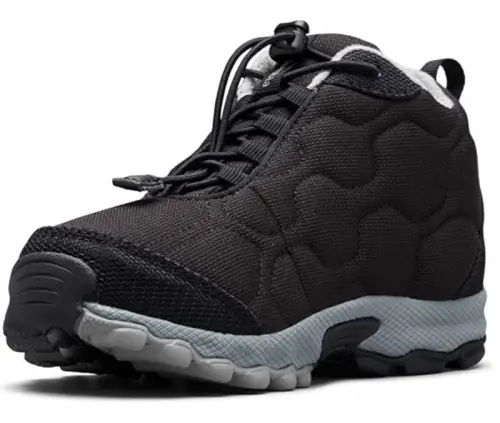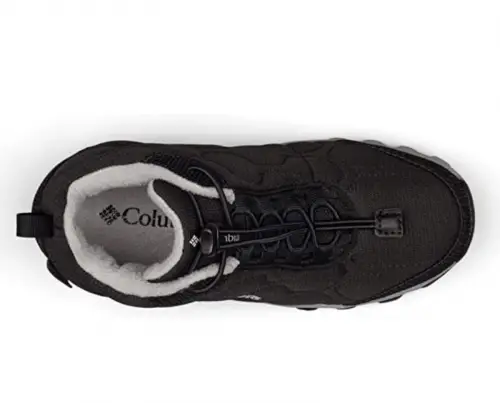 What we liked most about this design from Columbia is that it is incredibly lightweight and packed with supportive features that really grip the trail ahead. It uses all of the advanced technology found in adult Columbia boots for adults but wraps it up in a lightweight package that your little one will love.
Read more
The most notable feature of this design is that it boasts an Omni-Grip construction on the rubber outsole. It has a slightly tacky finish that is ideal for slick surfaces, such as trails covered in wet leaves. It also provides added support in the heel and toe box for enhanced durability. It's the perfect option for icy and snowy trails.
The upper is also designed to keep feet comfortable and warm. It boasts a waterproof construction to keep water out and socks dry. It also has a fleece-lined interior that is not only incredibly comfortable, but it also helps to retain heat in cooler climates. This best part is that this design is that it uses a drawstring in lieu of laces to make it easier to slip on and off.
If you are in the market for something that is perfect for cooler climates, this design is one of your best options. It may cost a little bit more than some of the other options out there on the market, but we feel that the quality of construction and its performance makes it worth every penny.

10

. Northside Kids' Renegade 400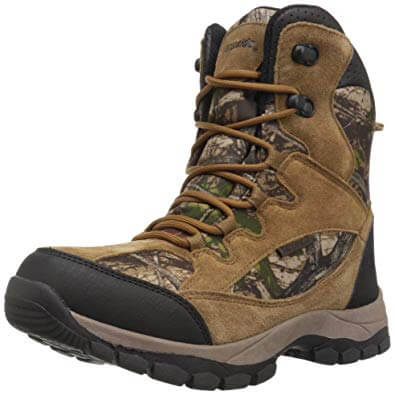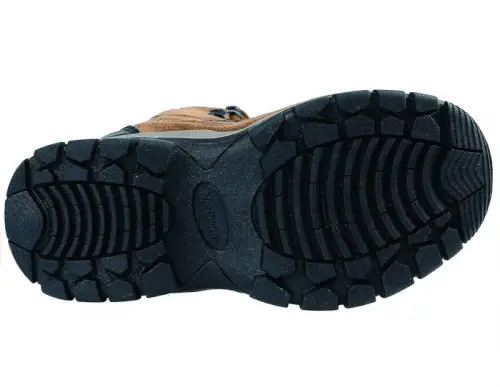 The Northside Kids' Renegade 400 is a popular affordable choice in a good all-around hiking boot your child will love. Made with a lot of comforts and great grip, your child will love taking hikes with you and lacing these boots up. These hiking boots have synthetic soles to improve your child's stability and go up mid-way past their calves for extra protection. These boots also have the ability to spray water protected to repel water from the outer shell.
Read more
These boots are great for absorbing shock and also include a waterproof outer coating to keep your child's feet dry. Also, these boots feature a waterproof suede upper mesh with nylon panels. The tractions is designed with synthetic soles. The grip technology helps assist your child on all types of terrain, which will come in handy no matter where you plan to hike.
The Northside Kids' Renegade 400 have a suede and mesh upper, which helps boost breathability in the boot. Also, the M-Select Dry membrane in these boots helps to ventilate sweat out of the boot so that your child's feet feel comfortable no matter how active he or she gets.
The bottom sole is made of rubber, and the extra waterproof features help make this an excellent boot option. The top of the shoes is made of leather and synthetic fabric. It has nylon panels and the upper mesh is made from waterproof suede. This boot is made with 400 grams of Thinsulate insulation which provides your children feet with warmth even in weather conditions such as 40 degrees.

Subscribe to our Newsletter