Best Dive Knives
In a Hurry? Editors choice: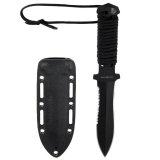 Test Winner: Aqua Lung Argonaut

Newer
divers
may be surprised when they are told that one of the pieces of equipment they need to consider when diving is a dive knife. From a novice's point of view, they may not understand why a knife would be useful or necessary while diving. Underwater, it is not going to necessarily be used as an all-purpose tool and is more of a precaution, yet it can be useful in instances where you need to cut
fishing
line or other surrounding obstacles. Of course, it should not be used to harm marine life and should not be considered a weapon unless a disaster strikes. Simply, just think of a diving
knife
as a
tool
you would rather have and not use than one you need and do not have. Check out our top picks below.
Standout Picks
Criteria Used for Evaluation
Style
Moving away from the blade and the handle for a second, it is time to give some much-needed love to this specific section. When it comes down to it, there are two primary manners in which you are going to store your knife. You are either going to get a folding knife or one that comes with a sheath (as most fixed blade knives will come with one). There are benefits and drawbacks to both options.
Folding knives are nice because you never have to worry about the blade snagging on the material of the sheath. Instead, you merely fold it and store it in your BCD pocket or other location. Yet, it can be a nuisance every time you want to use it as you have to manually unfold it; which could be difficult when wearing gloves. On the flipside, a fixed blade with a sheath is convenient as most sheaths will come with a quick-release mechanism that allows you to instantly gain access to the knife. But, the blade is always exposed this way.
Size
Both of the previous sections flow right into this one as the actual design of both the handle and the blade are important enough; but, you can't forget about the sizes of both of these design features. There is an old expression that goes, "does size really matter?" Well, for the blade and the handle of a knife it most certainly does. However, you also need to remember what the knife is being used for. If you are just a recreational diver, you really only need a medium-sized knife. In fact, most professional divers will need anything bigger than that as a diving knife is really only supposed to be used for obscure and once in a while occurrences.
Any blade between four to five inches should do fine as a larger blade may just end up becoming a nuisance for you as it constantly gets in the way. In addition, though, it is ideal if the handle is identical in size. As such, if you decided you wanted a five-inch blade you should also get a handle that is close to five inches in length.
Durability
We go from the end of the knife to the beginning of the knife. Of course, this is referring to the handle of the knife and it is a very critical portion for you to assess. Clearly, the main aspect you want to prioritize is the comfortability of the handle. Even though you probably will not use a diving knife for extended periods of time, a painful grip can instantaneously have ill effects. One surefire way to ensure it is comfortable in your hands is if it sports an ergonomic design. Small features like the shape of the handle and if it integrates finger grooves can make this happen.
Speaking of finger grooves, the amount of grip you have is also critical. The grip is important enough for a standard knife but when you take into account the underwater dynamic, which will naturally make things more slippery, it becomes even more important for a diving knife. Also, even though it is not mandatory, you can also look for handles that are designed with a lanyard hole as you can wrap rope inside of them to wrap around your wrist as an extra precaution in case the knife slips.
Materials
First and foremost on your quest to find the best diving knife is to address the blade. For now, let's just focus upon the physical makeup of the blade such as the materials they are made from. So, where do you begin? Probably the most important decision you have to make is whether or not you want a stainless steel blade or a titanium blade. As you saw throughout this guide, several of each made appearances. They are both tremendous blades but they do have specific differences. For example, stainless steel blades will generally require more maintenance than their titanium counterpart. The reason for this is titanium blades do not contain carbon, which stainless steel does, and therefore will not rust.
However, on the contrary, titanium is harder to sharpen than stainless steel. But, given the amount of use a diving knife will have, you should not have to sharpen it very often. The next major point of a blade is its edge and whether you want a serrated or straight edge. Thankfully, most designers make this choice very easy as they will integrate both a straight and a serrated edge on their diving knives.
Top 10 Picks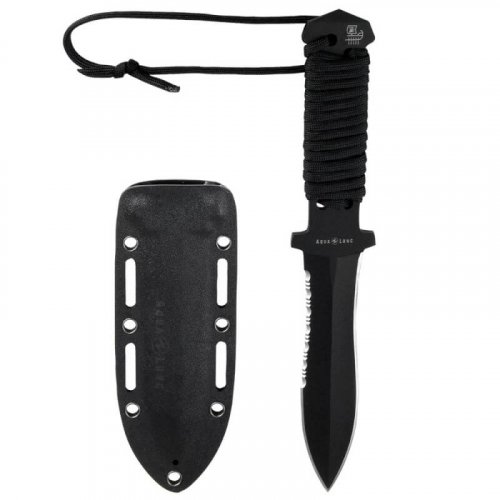 If you have spent extensive amounts of time researching scuba gear equipment, then it should not come as much of a surprise to you that Aqua Lung is the cream of the crop here. Their Argonaut Dive Knife sports one of the toughest blades out there, period.
Read more
Blade Design
Possibly the main reason this knife is at the top of the heap is that of its blade. Not only is it constructed with a one-piece 4mm-thick titanium, it has also been coated in black EDP, laser etched, and sharpened.
Handle Design
To deliver an extra grip for the sheath and a spot for your forefinger, the handle is wrapped from the hilt. Also, it is wrapped twice with 5mm paracord for enhanced grip and feel.
Size
All in all, the Argonaut dive knife is almost 10 inches in total length. Both the blade and the handle measure 4-7/8-inches so if you are looking for a smaller knife, this is probably not it.
Storage
Aqua Lung includes a sheath with their knife and they heated 2mm thick Kydex plastic around the knife to create it. In addition to this, two rubber leg straps come included.
Seller Options
There are actually two different styles available and they work in different ways. The first is the Spartan tip which features one side with rounded die-cut serrations that will all-but eliminate snagging rope. Then, there is the Blunt tip which has the same feature but has a chisel-like tip.
Overall
It really is tough to beat Aqua Lung's Argonaut dive knife when you get into the discussion of the best dive knives on the planet. The option to select which tip you want is just the icing on the proverbial cake.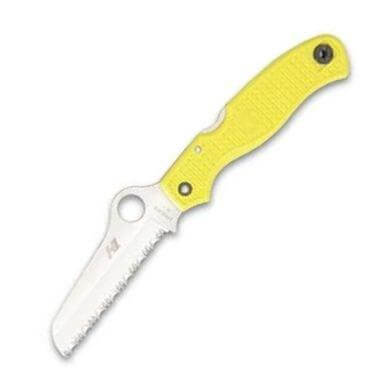 Consider this and the previous dive knife a toss-up for the best in the world. What makes this blade so special is it has been crafted with extraordinary Japanese steel that allows it to get tougher and harder with use.
Read more
Blade Design
The aforementioned Japanese steel blade actually uses nitrogen instead of carbon. This tiny switch actually results in a blade that gets harder and tougher as you use it and one that is all-but rustproof.
Handle Design
Possibly more impressive than the blade is the exceptional handle design. First off, it is made of fiberglass-reinforced-nylon with Volcano Grip texturing which results in a slip-free grip. Also, there is a lock mechanism on the back that provides a secure lock for the blade.
Size
While the blade is actually only 3.5 inches in length, the handle is 4.5 inches in length bringing the total length to eight inches.
Storage
Due to the reversible black titanium pocket clip, you can carry this knife left or right-side tip-up. But, there have been a few users who have actually felt the knife is too easy to open up.
Seller Options
There are two different seller options available and they each have their own handle. While the difference is only merely in their color, one is yellow which is optimal for high visibility.
Overall
If you are one of the people who refuse to own a non-titanium blade, your point-of-view may be altered if you ever pick this knife up. Some stripes do not change colors but if you give this one a chance, you may fall in love.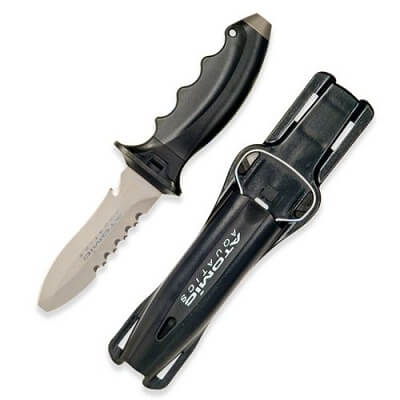 Next up, we have the Ti6 Titanium Dive Knife from world-renowned manufacturer Atomic Aquatics. With a blade that features both a serrated and a straight edge, in addition to a line cutter, this is a highly versatile tool.
Read more
Blade Design
Besides the fact that this blade is made of titanium, which is has a great resistance to corrosion and a lighter weight than steel, it is a honed full tang blade. Plus, it has both a serrated edge and straight edge.
Handle Design
The handle has been molded with plastic and there are finger grooves integrated to improve the overall grip. As a bonus, the handle is also removable which makes the cleaning process much easier.
Size
With a four-inch blade, which is going to be great for most people, you should have no problem cutting kelp, fishing line, and other materials that resemble them.
Storage
Being made of durable molded plastic, the included sheath is both built-to-last and light in weight. Additionally, there is a push button release that allows you to remove the knife with only two fingers.
Seller Options
Depending on your personal preference, you can either choose to go with a blunt tip or a drop point tip design.
Overall
Atomic Aquatics is no slouch when it comes to designing top-of-the-line scuba gear and their Ti6 Dive Knife is a strong example of why. The blade is absolutely tremendous and the ergonomic handle sure helps.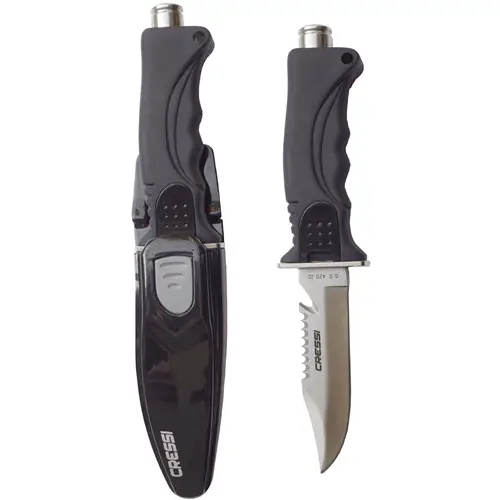 Even though it was mentioned earlier that dive knives are not necessarily all-purpose tools, the Skorpion proves that they can still be versatile. Due to its overall design, this is a knife that will work equally as efficient for both scuba divers and spear fishermen.
Read more
Blade Design
This is another top blade that is designed of Japanese 420 stainless steel. Besides being a tempered blade, it also is designed with a straight-edge on one side and a serrated edge on the other.
Handle Design
It is clear that Cressi optimized the handle on their Skorpion to be as comfortable as possible as it is engineered with a soft grip, non-slip material. Also, it comes with anatomical molding for your fingers.
Size
For its size, which is around 9.4 inches in total length with a blade of around 4.5 inches, one user noted how this knife did feel quite bulky and heavy.
Storage
Cressi includes a sheath with their dive knife and it is designed with an easy-release mechanism that allows you to release the knife with one hand. In addition, it comes with leg or arm straps.
Seller Options
There are two different tip designs that you can choose from. The first is a sharp drop tip and the other is a blunt tip.
Overall
Even though this is not the largest dive knives in the world, it is not the lightest version available. Still, despite this, one can't ignore how well-designed the blade, handle, and sheath are for the Skorpion.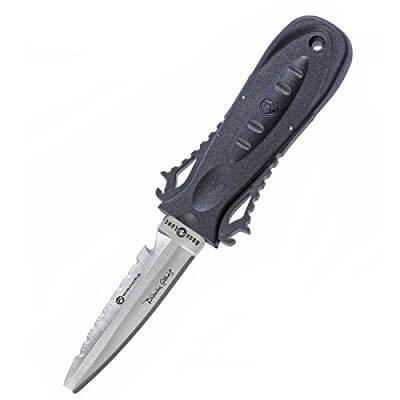 This is one of the more unique dive knives on this list and it is thanks to the patented Squeeze lock design. Essentially, this allows you an easier release when pulling the knife out of the sheath as you merely squeeze the handle.
Read more
Blade Design
While there are other options for the tip design, you can settle for the standard blunt tip. Either way, the blade is engineered with a serrated edge and is made up of 304 series stainless steel.
Handle Design
As one reviewer noted, this is not the largest handle out there and it may be too small for some people's hands. The handle's Squeeze lock design, which will be explained in a second, is worth mentioning, though.
Size
One user pointed out that this blade was larger than they had envisioned but just know, the blade measures around three inches and the overall length is about 6.5 inches.
Storage
The patented Squeeze lock design comes into play with the sheath. It not only allows it to be securely placed in the sheath but merely squeezing the handle allows for a quick release.
Seller Options
Outside of the fact that there are a few different color options available, you also have the choice for either a pointed tip, a tanto tip, or the standard blunt tip.
Overall
Truth be told, it is difficult to find many issues to gripe about when analyzing this knife from Aqua Lung. That, of course, is a really good sign and possibly the only reason you would not want this is because the blade is not titanium.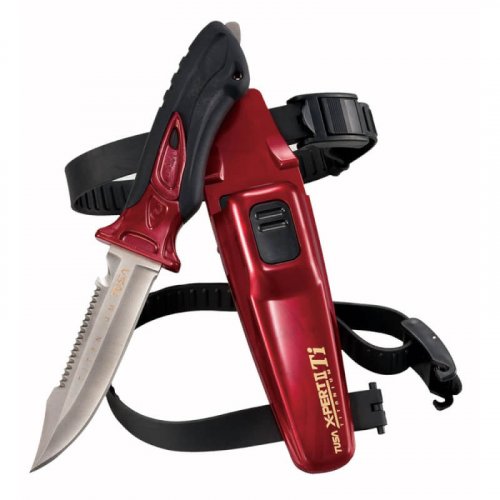 You would be hard-pressed to find a top 10 list of dive knives and not see a mention of this next knife. It truly is one of the all-around greatest dive knives of its kind and its ergonomic design and titanium blade are a few reasons why.
Read more
Blade Design
On one side of the blade there is a serrated edge and a line cutter and on the other side, there is a straight edge. But, the entire blade is made of corrosion-resistant titanium.
Handle Design
Besides the grip that has been ergonomically designed with durable rubber and plastic, what is nice about this handle is it integrates an eyelet which allows for additional attachments.
Size
As a whole, this measures 10 inches in length which is very large. The blade, though, accounts for only 4.5 inches which means the handle is around 5.5 inches in length.
Storage
The sheath itself is well-designed with adjustable buckles and straps to ensure a comfortable fit. It also sports a single button lock mechanism for security. Yet, as one user pointed out, actually inserting the knife inside of it can be a bit specific.
Seller Options
No matter which color option you choose, which is the extent of the seller options, they are both visually striking in your own way. The choice is yours from either sleek red or metallic silver.
Overall
Now you can see why this is one of the most acclaimed diving knives on the market. It is not a flawless design but all things considered, it sports enough of the goods to be recommended to anyone.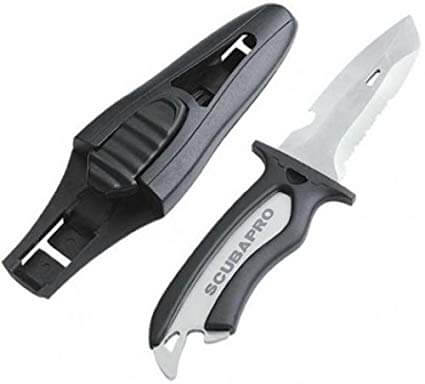 Thanks to the corrosion-resistant performance of titanium, very little maintenance is needed if you invest in the Mako Dive Knife from Scubapro. After a long diving trip, it also sports a convenient bottle opener so you can open up a cold one.
Read more
Blade Design
Being made of hardened titanium, you can rest assured that this blade is ready to perform up to your standards. However, its tanto tip and versatility with both a serrated and straight edge are also worthy of high praise.
Handle Design
For those with larger hands, per the review of one user, this handle may simply be too small for you. Yet, if it not, you will appreciate the durable over-molded plastic and extended thumb guard.
Size
As compared to some of the other versions on this list, the Mako's near 7.5-inch length is actually quite short. In fact, the blade itself is only around 3.5 inches in length.
Storage
As one would expect from a high-quality sheath, the included version is built with a locking mechanism that allows for a quick one-handed release. Also, it was manufactured with durable plastic.
Seller Options
It just so happens that what you see is what you get with this knife.
Overall
Worth noting is that the Mako Dive Knife is certainly far from the largest knife on this list. That does not necessarily insinuate it is incompetent as its design claims otherwise. However, it is a matter of your personal preference.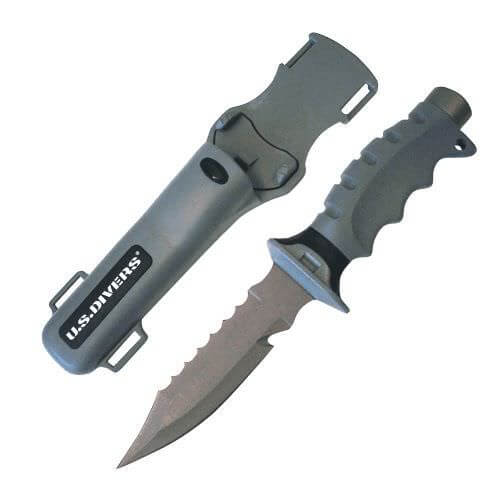 U.S. Driver's diving knife sports one of the largest and longest blades out there at five inches. Given that this is a one-piece tang blade made of titanium, U.S. Divers is not messing around with their design.
Read more
Blade Design
Let's say this; the blade on this knife completely elevates this from a subpar tool to an excellent one. It is a one-piece tang blade with both a serrated edge and a bottom surface that has a line cutter.
Handle Design
Now, there are individualized finger scoops on the handle that are designed to keep the blade in place while you are using it but more than one user has griped about the handle cracking over time.
Size
As previously mentioned, the blade itself measures five inches which makes it one of the longest blades out there. In total, though, the knife is 9.5-inches in length.
Storage
A few reasons make this sheath one of the better ones out there. For one, it unlocks quickly with no hassle and secondly, it features leg straps that are simple to adjust and secure.
Seller Options
Much like with the other knife, there does not appear to be any additional seller options to choose from.
Overall
It is rather unfortunate that some customers have had longevity issues with the handle as this is truly a remarkable design. A plus, though, is this is backed up by a two-year warranty.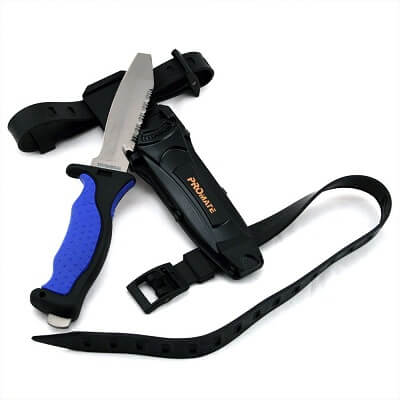 Nearly every design aspect of this next dive knife from Promate is top-notch. It is easy to tell that they know what they are doing but due to a slight issue with the release mechanism, their diving knife can only ascend this high.
Read more
Blade Design
Promate decided to go with a full tang titanium blade for their dive knife and the result could not be any sweeter. It also helps that the bottom has a blunted edge that can be used as a hammer.
Handle Design
It is quite clear that Promate designed the handle of their knife with professional scuba divers in mind. After all, the durable rubber grip that has been ergonomically shaped is proof for that.
Size
The size of this blade and handle place it right in the ballpark of what you would expect at this point. Its 4.45-inch blade is neither the largest nor the shortest blade on this list.
Storage
A sheath is included with your purchase to not only protect your investment but also yourself. In addition, an included strap also gives you enhanced versatility.
Seller Options
Do not get overwhelmed at the handful of options at your disposal as there are quite a few. While there are different color options available for the handle, there are also different tip designs. In particular, the blunt tip will double as a screwdriver.
Overall
Notwithstanding how impressive this dive knife is, one can't help to imagine what could have been had a superior release mechanism been integrated. With the current one, it can be difficult to release the knife from the sheath with one hand.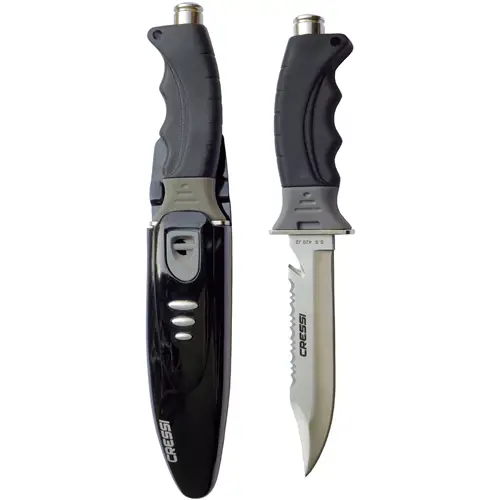 Despite the fact that this is one of the most impressive designs on this list, with an ergonomic handle for comfort and a durable impact-resistant sheath, it does sport a rather high-maintenance blade.
Read more
Blade Design
To ensure years of use, the blade has been made of tough and durable Japanese 420 stainless steel. However, as many users have reported, this will rust if you are not careful and a high level of maintenance is required.
Handle Design
Thanks to the finger grips and the overall ergonomically designed handle, it fits comfortably in your hand; along with the thumb tab.
Size
It is no joke why this is advertised as a long blade as it measures just over 5.5 inches. As a whole, this very long knife measures past 10 inches.
Storage
To reiterate, the sheath that comes with your purchase is extremely durable and impact-resistant. Even more so, it comes with two adjustable leg straps and a handy locking mechanism that is optimized for a one-handed release.
Seller Options
Besides the few different color choices that can improve the visibility of the knife, you can also choose from either a pointed or a blunt tip.
Overall
Some may feel that performing constant maintenance on a knife would make it expendable. If you can live with the fact that you need to be on top of your game when it comes to cleaning the blade, you can really enjoy this knife, though.

Subscribe to our Newsletter