Best Knife Blocks
In a Hurry? Editors choice: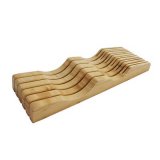 Test Winner: IN-DRAWER BAMBOO

Does it ever get under your skin that you have all these knives that are just scattered about randomly in your drawer? There has to be a better way, right? Well, thankfully there is and that is why you are here today. In addition to being more organized, what knife blocks can do is provide your knives with a safe and secure location for storage. Of course, not every single knife block out there will be the same as some will be designed to rest on your countertops while others will be designed to fit directly into your drawers. Also, some will be made out of bamboo while others will be made of stainless steel. And, quite frankly, this is not even the half of it. So, if you are ready, you better believe that we are.
Standout Picks
Criteria Used for Evaluation
Materials
There are actually quite a few materials to pick and choose from here.
Though the knife blocks you may see the most are made out of wood, not all of them in the market will be. But, if they are, it is a strong possibility that the wood that is used is bamboo. Now, there are those out there who do not classify this material as wood. But, in reality, bamboo is a giant woody grass that actually grows in the tropics. It is a sustainable and renewable source that is extremely environmentally-friendly. Of course, it is also known for its strength, durability, and appeal and this makes it as ideal a material as any. Even if the model is not made out of bamboo, though, there are plenty of other woods out there that are suitable.
Going back to what was mentioned at the beginning, not all models will be out of wood. Another highly popular material is stainless steel and, to be honest, this is a go-to metal in the world of kitchen appliances and tools. This type of steel is known for its combination of aesthetics, strength, impact resistance and durability.
Compatibility
When just buying a knife block, you need to ensure that it will work with your current kitchen knives.
To be completely honest, the different "styles" that are available on the market go hand-in-hand with this section. When we say "compatibility" this is merely referring to the fact that you need to ensure that the model you pick will fit the current knives you have in your kitchen. After all, there are a ton of different knives out there (pairing, serrated, boning, bread, carving, etc.) and they will come in different shapes and sizes. So, you can't just assume that the knife block you invest in will work with the current knives you have.
But, going back to the styles, you have different designs out there. The three most common are those with integrated slots, those with flex rods and also those with magnets. And, while all of these will only be able to accept blades of certain lengths, the width compatibility will differ a lot. With slots, they need to be wide enough to fit your knives. However, with flex rods, you can place your knives anywhere inside which means the width will not be as much of an issue.
Capacity
How many knives do you need to be stored? Answering this will come into play here.
Okay, so not only do you need to make sure that the model you buy fits the current knives you own but you also need to ensure that you account for all the knives you want accounted for. In order to do this, all you need to do is assess the general capacity of any given knife block out there. However, as before, the style will also affect this quite a bit. In regard to how so, it is actually simple. You see, with models that have integrated slots you will be able to fit a set amount of knives into them regardless. Yet, with models that incorporate magnets or flex rods, this will not be the case as the sizes of each individual knife will dictate how many you can account for.
To elaborate, with slots, if there are 20 of them, you will be able to fit 20 knives, period. With flex rods and magnets, there is only going to be a certain amount of surface area that you can work with. So, for example, you could possibly fit a few larger knives and a few small ones (or just three or four really large ones) on one particular model. Is this making sense to you? Also, remember that if you do like a particular model and require more room, you can always buy a couple of them.
Size
Not only is this about the physical size of any one model but you also need to pay attention to the style.
While you may think this section is simply a sub-section of the previous, it actually touches on something entirely different that you need to take into consideration. You see, not all knife blocks are going to be designed to rest on your kitchen countertops. Additionally, you may see models that need to be installed under one of your cabinets or ones that fit directly into your drawers. But, to start, let's talk about countertop models for a second. When it comes to their sizing, you need to look at their footprint. If you have a limited amount of countertop space to work with then you will not want an incredibly tall and bulky block. Instead, aim for smaller and more compact models (though this may affect the capacity).
As for options that need to be mounted under one of your cabinets, just ensure you find a model that is sized to fit correctly. And, lastly, in-drawer models are pretty easy because they need to be sized to actually properly fit into one of your drawers.
Features
The features you need to look for go back to the style you prefer, quite frankly.
Quite honestly, the features you will be looking for will differ based on the style you prefer. To start, let's look at blocks that utilize magnets. Perhaps you will want to use both sides of it and to do so, the magnets will need to be on both sides (though they typically will not be). And, if slots are used instead, some engineers will integrate them at an angle to make it easier for you to retrieve your knives when you need to use them. Yet, at the same time, you may want to look for slots that are spaced decently apart. Oh, and speaking of which, this can be an issue with flex rods as if they are not close enough together, your blades can wiggle around too much.
In addition, for countertop models, look for stable bases (typically that feature non-skid rubber feet) that are not going to slip as the last thing you want is for the entire unit to topple over when you go to remove one of the knives.
OUR TOP PICKS FOR THE BEST KNIFE BLOCKS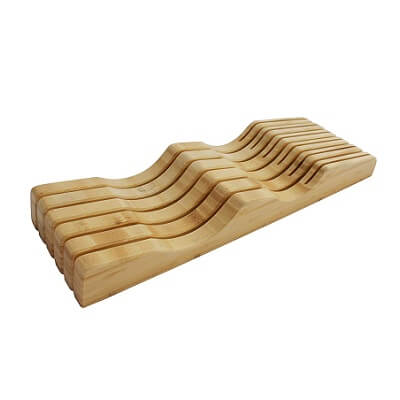 Indeed, the top model on this list is designed to fit directly into your kitchen cabinet drawers. This not only saves countertop space but also makes for an excellent drawer organizer.
Read more
Materials
Many of the top-end models on the market utilize bamboo and this happens to be one of them. One of the many reasons is due to the environmentally-friendly nature of this material.
Compatibility
To better account for larger and curved knife handles, the integrated slots here have been made deeper.
Capacity
It is noted that this is capable of holding anywhere from 10 to 15 knives. Yet, of course, this is going to depend a lot on the individual sizes of the knives that you have.
Size
This is going to fit inside most drawers that have standard depths. For the record, the actual size is 17 inches by 5.5 inches by 2 inches.
Features
As far as additional features are concerned, there are not too many present here. However, this is not too big of a deal due to the nature of the design and that it rests in your kitchen drawer.
Overall
If you want to display your knife collection and want them to be accessible on your countertop then you will not like this option. If you are the opposite, though, this is going to be perfect.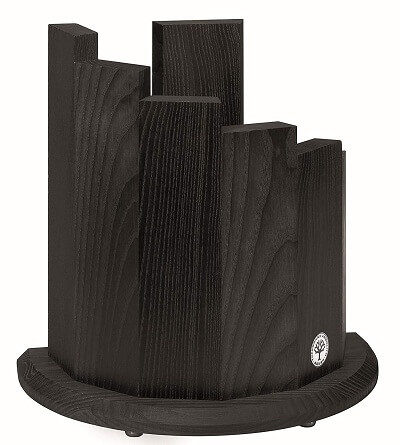 Yep, this introduces a different style of knife blocks as this bad boy is magnetic. Now, do note that the entire surface is not magnetic so you can't exactly place your knives anywhere on it.
Read more
Materials
Even though this is magnetic, it is still mainly comprised of wood. Also, though this specific option is in black, there are other finishes available.
Compatibility
Due to the fact that the implemented magnets are not the size of the entire width of each wood strip, extremely narrow knives may not work here. As for the length, each strip is different and will not fit the same sized blades.
Capacity
All in all, you can fit up to seven knives on this stand. While not an amazing capacity, you could always buy a couple of them if you need more room.
Size
This is designed to rest on your countertop but it is not going to take up much space when doing so. After all, it measures 11.25 inches by 10 inches by 6 inches.
Features
It is worth noting here that the magnets are actually not on both sides of the wood panels. What this means is you can't place knives on both sides.
Overall
Though some of you may think this is just a flashy choice, it actually is both convenient and stylish at the same time. At the end of the day, what is so wrong with that?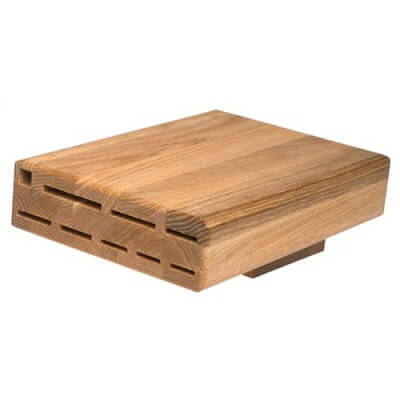 Understand that as great as this next model is, it will require some installation on your part. This is because it is designed to be placed under your kitchen cabinets. From a quality perspective, though, it is brilliant.
Read more
Materials
Not only is this made of solid oak but it is also finished. If you wanted to stain it a different color, though, you may be disappointed in this.
Compatibility
The slots that are integrated can hold blades that are up to 10 inches in length. However, it seems that the bottom row is better served for smaller sized knives.
Capacity
There are eight slots that can be used to store blades and the ninth slot can be used to store a sharpening steel rod (which is pretty nice).
Size
This is actually designed to be mounted underneath one of your kitchen cabinets. It is not too bulky but you will probably need some woodworking skills to properly install it.
Features
Probably the coolest feature here is the fact that this can be swiveled 360 degrees in instances where you do not want it to be protruding outward.
Overall
Granted you either possess the skills or know someone who does to actually install this bad boy, you will probably fall in love with it from the word go.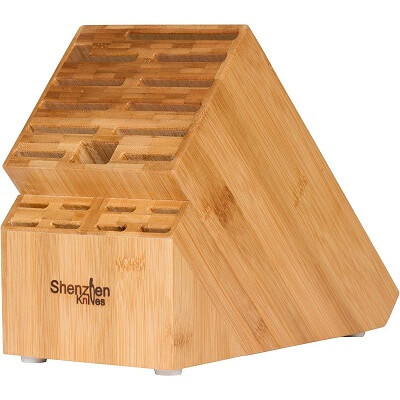 For most of you, this model right here may be what you are looking for. This is more of a traditional and prototypical model that is made of wood and designed to rest on countertops.
Read more
Materials
Though the inside is made of some sort of softwood, the exterior is made of bamboo.
Compatibility
In addition to the fact that there are slots available for you to fit scissors and a sharpening rod into this, all the slots, in general, are wider to account for larger blades.
Capacity
All in all, there are actually 20 different slots. While 19 of those 20 are going to hold your knives, the other one can also account for a sharpening rod.
Size
At 8 inches by 5 inches by 11 inches in size, this will fit compactly on your kitchen countertop.
Features
The slots themselves are actually spaced a bit too closely yet they are angled for convenience. Additionally, there are non-skid rubber feet that are integrated.
Overall
If you only need room for a few knives then there are better options out there as this is ideal for bulk users. With its 20 slots and quality construction, this is a great option.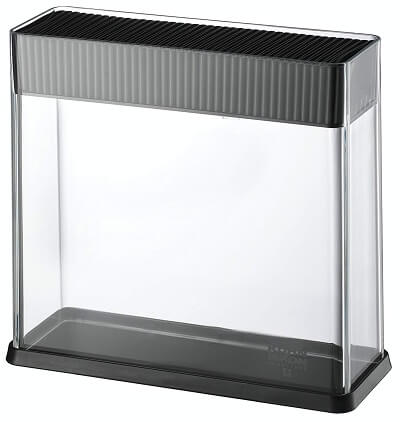 Okay, so this is just completely different. Props go to Kuhn Rikon as they used their skills and expertise to construct a completely unique and innovative knife block that mostly lives up to the hype.
Read more
Materials
Hey, we told you this was different. Instead of being made of bamboo, wood, or steel, this is actually made of heavy-duty plastic. Though you may not think it, the look is very sleek.
Compatibility
The larges knives that will fit comfortably into this model are those that measure eight inches in length and 2.5 inches in width. Also, in general, smaller blades do not fit that securely.
Capacity
Though it does depend on the size and the width, you could feasibly store up to 18 different knives in this bad boy.
Size
This is somewhat compact as it measures 9.2 inches by 3.4 inches by 8.6 inches. Oh yeah, it is also intended for countertop use if that was not already assumed.
Features
A few buyers have claimed that this can topple over a bit too easily. In spite of this issue, the blades will be visible through the plastic and this is a nice convenience.
Overall
Did you ever think you would see a high-quality, plastic knife block? It may be a shock to some of you but that is exactly what is presented to you with this model.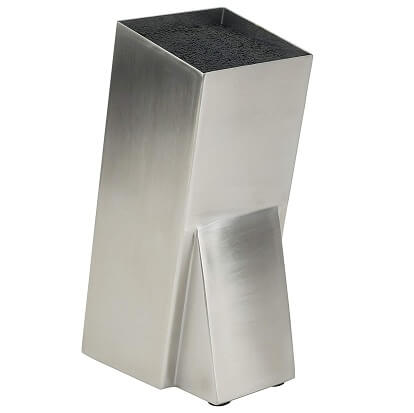 In addition to the fact that the exterior of this stand is made out of stainless steel, the implemented flex rods work to secure your blades. Once again, it is quite a unique design (though it is not uncommon).
Read more
Materials
The reason this will be such a compelling option is the stainless steel exterior, in addition to being durable, will easily match the current décor of your kitchen.
Compatibility
This is capable of holding knives with blades that are up to 7.5 inches in length. As for the girth, this has universal capability due to the flex rods that are utilized.
Capacity
The same flex rods that were just mentioned are also removable, for the record. As for how many blades you can get in this thing, you will only get a few (depending on the size).
Size
Overall, you can consider this a smaller knife block. This is thanks to the minimal interior spacing and also due to the footprint (as this is only 9.5 inches in height and 4.25 inches in width).
Features
To keep this in place on your countertop, it has been equipped with non-skid rubber feet.
Overall
Simply the allure of stainless steel may be enough to sell you here. However, you will only be able to get a few blades into this block, so keep that in mind.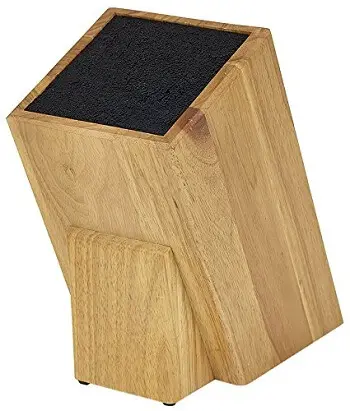 As opposed to the last model that was made of stainless steel and flex rods, this is made of light oak woodgrain and also incorporates flex rods. It can also fit blades up to eight inches in length, for the record.
Read more
Materials
While the outside is constructed from light oak woodgrain, the flex rods that are used utilize food-grade plastic do never chip or dull your blades.
Compatibility
If the blades of your knives measure longer than eight inches then they will not fit comfortably into this model. Of course, thanks to the flex rods, you can insert the blades anywhere you please.
Capacity
If you had a typical knife assortment, you could fit right around seven to nine of them in this. This could include some much larger knives, as well.
Size
For the type of knife block that this is, some previous buyers have felt that it is too small. At 10.5 inches by 5.5 inches by 7.5 inches, you can see their point. Of course, some others have also noted that it is too tall for them.
Features
In addition to the small rubber feet, this is also bottom-heavy and that means that it is not prone to tipping.
Overall
Though various buyers have been split down the middle in regard to whether this is too large or too small, the quality of the construction is pretty much universally celebrated.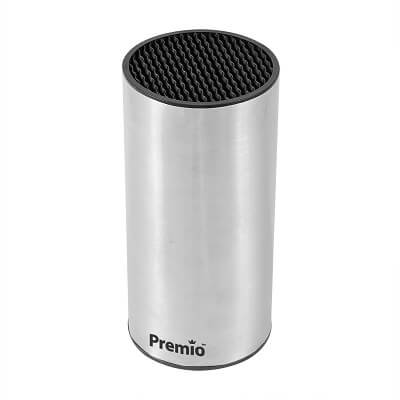 If you are a fan of something different then you may want to pay close attention here. As you can see from the photos, this is circular and is made of stainless steel (which lends its hand for aesthetics).
Read more
Materials
Yep, indeed, stainless steel is the main material of choice. Thanks to its superb combination of elegance and build quality, can you really go wrong?
Compatibility
What is so nice about this design is its versatility as it will accept a wide range of different knives. Anything from pairing to bread knives, this bad boy has you covered.
Capacity
It is noted that this can fit up to a dozen different knives at the same time. Clearly, this will depend on the size of each individual one, though, so be aware of that.
Size
As this is circular, it has a diameter and that diameter is 4.4 inches. Additionally, it stands nine inches tall. Really, this is not going to take up much countertop space at all.
Features
It seems to be that there is too much wiggle room with this design. The blades can slide around a bit as a result but at least they do not make contact with the sides of the block.
Overall
If you saw this in a store, you probably would not believe that it is a knife block, quite frankly. Its sleekness and stainless steel exterior certainly make it stand out (in a good way).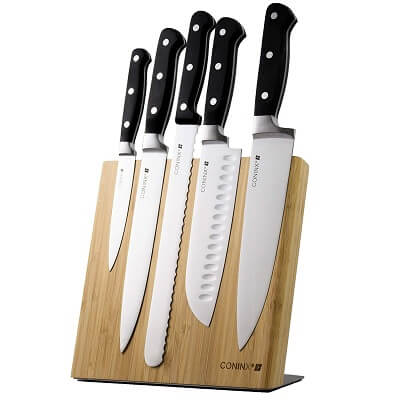 Though this is limited in how many knives it can store at once, it is another magnetic design and this eliminates the need to worry about your blades fitting in individual slots.
Read more
Materials
The bamboo that is used here is quite remarkable and not only is it very easy to clean and quite strong, but it is also appealing to the eyes.
Compatibility
Okay, so the maximum blade length here is nine inches. But, due to the hidden magnet that is built-in, there are no restrictions anywhere else.
Capacity
This is only going to realistically hold around four to five knives at once. For those of you who need to account for more knives, you may be disappointed to realize this.
Size
Though not enormous in size, this model is still quite a bit bigger than other countertop models on the market, just to know.
Features
The good news is the base is equipped with anti-skid felt pads for enhanced stability. Yet, the bad news is the same base is pretty light and may cause the entire unit to lift up when you go to remove the knives.
Overall
For the right people, this will be a very compelling option. If you need more space or literally do not like the magnetic concept, though, then you should look elsewhere.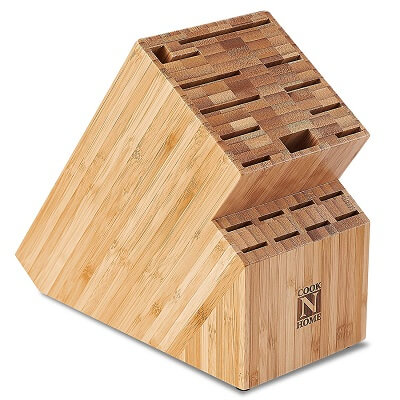 Why not cap this list off with the basics? If you have several knives that you need to be accounted for then you will appreciate the 19 different slots integrated here.
Read more
Materials
Okay, so this is made out of natural bamboo but the finish has been criticized for not being very good. Also, the bottom section appears as if it is made from another wood.
Compatibility
There are both wide and narrow slots available and they can hold blades that are nine inches in length (but nothing longer).
Capacity
One thing is for sure; you can't fault the capacity here. After all, there are 19 different slots in total
Size
For this type of design, the size is about what you would expect. At 10.2 inches by 9.2 inches by 4.8 inches, its footprint is not too large.
Features
Two main features add to the overall convenience of this model. First off, the slots are angled for easier knife retrieval and, secondly, the rubber feet prevent slipping.
Overall
A lot of buyers have used the old adage "you get what you pay for" here. However, that is not entirely fair because, for the price, this is better than it should be.

Subscribe to our Newsletter