Best Juicers
In a Hurry? Editors choice: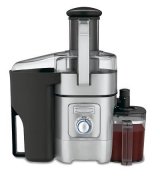 Test Winner: Cuisinart Die-Cast

In today's age, it is quite hard to make sure that you get the most nutritious meals and drinks available as everything seems to be processed in some way. That is why many are turning to juicing. Juicers enable you to make sure you get nothing but natural and nutritious juice that is handmade by you. These devices are easy to use and make a great addition to any
kitchens
arsenal. If you are interested in investing in a juicer for your home but do not quite know what kind of juicer you will need, you have come to the right place. Below we have listed the
top
ten juicers of 2019 that will be easy to use and ensure you get the freshest
juice
.
Standout Picks
Criteria Used for Evaluation
Use
While there are several factors that come into play in regard to the quality of juice that juicers provide, it really boils down to one simple question. Do you want the best juice quality imaginable or are you willing to settle for less? It seems like a rhetorical question but the big deciding factor will be the price. There is no doubting that masticating or cold press juicers deliver the most premium juice possible, as opposed to centrifugal juicers. But, they do so at a greater price than centrifugal juicers most of the time. Yet, why is the former so superior?
It all comes down to the lower speeds and gentle compression methods of cold press juicers. Because their augers oftentimes run at revolutions as low as 40 per minute, the natural nutrients and enzymes are preserved as the heat is reduced. Furthermore, they produce more juice as they waste less of the ingredients and the oxidation levels are also reduced. If you were to try the juice created by a cold press juicer and then the same drink produced by a centrifugal juicer, you would be able to tell the difference.
Features
Depending on the type of juicer you invest in, the design features you can look out for will vary just a little bit. However, let's start with the features that you need to assess regardless of the type of juicer. For example, the size and power of the motor will come into play. Now, juice quality is more important than the sheer power of the juicer but you still do not want a weak model. Considering the ingredients you are going to need to be reduced to pulp, it is going to take a considerable amount of power. A good reference is for the motor to have at least 1.1 horsepower.
But, let's say you are in the market for a cheaper centrifugal juicer. In this case, you may want to keep an eye on variable speeds as they will not operate as slow as cold press juicers, an external pulp ejection feature to prevent you from needing to clean out the basket constantly, and also the size of the pulp container to ensure it can hold a decent amount of pulp before you need to remove it.
Ease of Use
Never overlook this simple point of assessment when you are looking into a brand-new juicer. All you really need to do is remember what your juicer will be performing and you should then understand why this section is so vital. When shredding produce to a pulp, things are bound to get messy. Every single time you use a juicer, a mess will result and it is up to you to keep it looking brand spanking new. To do that, the juicer needs to play ball and should be easy to clean.
To ensure it is, check to see if it has some of the following features. Some of the newer models will be designed with a self-cleaning system and this is really handy. Also, some sellers will include a cleaning brush and other cleaning utensils. Oh yeah, it also matters how easy the system is to disassemble. If it is a hassle, it will be annoying to clean each portion and vice versa. Lastly, check to see what portions, if any, are dishwasher-safe. For people who have a dishwasher installed in their home, the more the merrier.
Durability
Answer this question real fast; have you ever dropped a bowl or kitchen utensil accidentally in the past? The answer is probably yes and the point of that question is for you to realize that humans make mistakes. It happens on a daily basis as humans are far from perfect. Why else do you think durability is such a key component when designing user products? For juicers, it all comes down to the quality of the parts. For instance, when you see stainless steel this is a plus as it can outperform other materials. Yet, at the same time, do not shy away from plastic. Several of the top models implement plastic, but not ordinary plastic.
Keep an eye out for Ultem plastic which is a high-strength semi-transparent material that is resistant to hot water. Top-end models may have the auger made out of Ultem and it is often advertised that this material is eight times stronger than regular plastic. Also, find out if a warranty comes with the juicer as some manufacturers will be confident enough to back their machine with a 10 or 15-year warranty.
Top Ten Juicers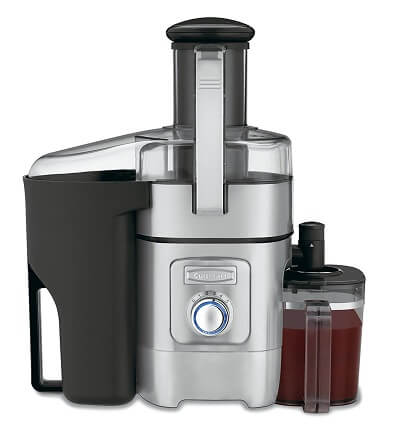 Probably the most notable aspect about Cuisinart's Die-Cast Juicer is its insanely powerful motor. One trade-off is this is not a cold press juicer and the juice will not be as extravagant, but it is not as if the juice produces is appalling.
Read more
Juice Quality
If you have owned a cold press juicer in the past, then you may be in for a shock with the flavor of this juicer. You may notice the slightly different taste and extra froth to be appalling, but only if you are really critical with your juice.
Design Features
With a 1000-watt motor, juicing is an easy task for this juicer. But, it is also equipped with five different speed options and also a quick-setting control dial for maximum functionality.
Ease of Cleaning
Granted you clean this unit right after you use it, clean-up is fairly straightforward and simple. Yet, if you leave the residue inside for too long it can become a pain to clean.
Build Quality
Being made with a combination of plastic and stainless steel, this juicer has a solid layout and construction.
Versatility
Although the wide-mouthed chute, which measures at three inches, is far from small, you still may need to do some pre-cutting for some of your larger fruits and vegetables.
Overall
With several different speed settings to utilize, a solid construction, and a crap ton of power, this is a suitable juicer. Now, for juicing devotees who require premium tasting juice, the results may be a little disappointing to you.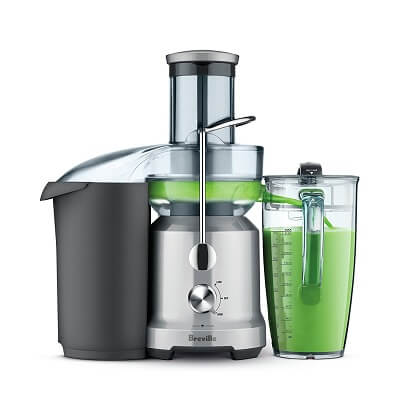 Breville is another manufacturer who knows a thing or two about producing high-quality juicers. Their Juice Fountain is a very convenient machine as you can store your juice inside the 70-ounce container for up to three days in the refrigerator.
Read more
Juice Quality
Thanks to the use of Cold Spin Technology, Breville was able to design their Juice Fountain to deliver juice transfers less than 1.8 degrees Fahrenheit. Delicate vitamins and minerals are not damaged because of this.
Design Features
With the seal and store juice jug, you can leave your juice in the refrigerator for up to three days and it will still maintain its freshness. Furthermore, there are two speeds to select from and each can account for different ingredients.
Ease of Cleaning
While some of the components, such as the juice jug and cover, are not dishwasher-safe, most of them are. Even without a dishwasher, though, you can wash the removable parts in soapy water.
Build Quality
You can tell how sturdy and reliable this machine is just by holding on to it. The cutting disc is made of stainless steel and is surrounded by a mesh filter that is Italian-made.
Versatility
Due to the larger feed chute, you do not have to worry about pre-cutting your fruits or vegetables unless the unit begins to jam constantly.
Overall
Breville is a high-quality manufacturer so you know what you are getting with them. Their Juice Fountain is certainly a convenient and useful machine that is sure to start your days off better.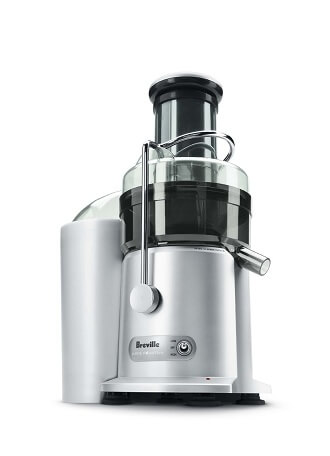 In the long haul, this next juicer is going to be better served for novices as it is a centrifugal juicer. Yet, one benefit of this specific model is it only generates 1.8 degrees Fahrenheit of heat to keep enzymes and antioxidants intact.
Read more
Juice Quality
Even though this is a centrifugal juicer, it is unique in that it only generates 1.8 degrees Fahrenheit of heat. This reduction of heat is able to keep the antioxidants and naturally-occurring enzymes intact.
Design Features
With both low and high-speed settings, you can change the speed depending on the ingredients you have inside the juicer. Either way, the 850-watt motor will extract juice in record speeds.
Ease of Cleaning
Cleaning is not going to be an issue as a majority of the components are dishwasher-safe. But, keep them on the top shelf for extra caution.
Build Quality
Both the cutting disc and the mesh filter basket are made of stainless steel. Meanwhile, the main core of the juicer is made of heavy-grade polymer to ensure years of reliability.
Versatility
Thanks to the dual speed controls, you can slice and dice both hard fruits and softer vegetables. Plus, the feed tube is large enough to fit most ingredients without cutting them.
Overall
Despite what you may feel about centrifugal juicers, know that the quality of juice that this machine outputs is above-average. This is due to the heat reduction technology that is integrated.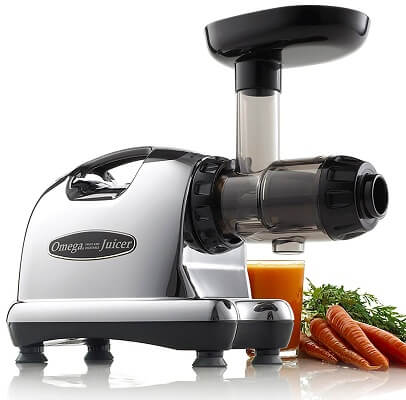 When it comes to juicers, Omega is on a whole other level. Their J8006 is not only a cold press juicer but it is also a full-fledged food processing machine. But, at its core, it delivers juice quality that is unprecedented.
Read more
Juice Quality
Being a cold press juicer, this machine operates via a two-stage process and does so at the low speed of 80 revolutions per minute (RPM). Plus, due to the minimal heat generated the enzymes and nutrients of the juice will stay intact.
Design Features
Not only does the dual-stage juicing system mimic the human mouth's chewing mechanism, the high-power auger has a gear reduction that is equivalent to a two-horsepower motor's power. Oh yeah, there is also an auto-pulp ejection function.
Ease of Cleaning
This is the one area where Omega did not hit it out of the park. Due to the complexity of disassembling all the parts of this machine, the cleaning process can be a bit of a nuisance.
Build Quality
Being both durable and tough, and backed by a 15-year warranty, this is guaranteed to deliver prime results for years to come. One reason why is the Ultem auger which is eight times stronger than ordinary plastic.
Versatility
Outside of being a juicer, this is also a multifunctional food processor. Because of this, it can handle hard-to-juice leafy greens, produce coffee to powder, churn butter out of nuts, and so on.
Overall
If you can deal with the cleaning process, then you can get your hands on a powerful, efficient, and highly-versatile machine. It will just not get much better than this, folks.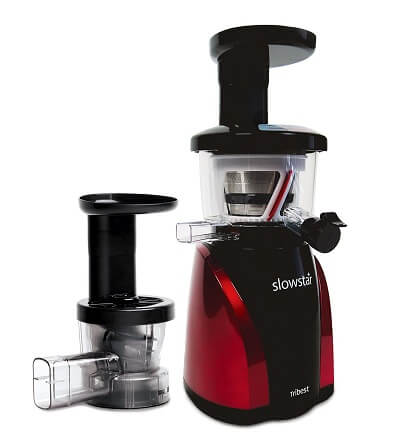 It seems you could label this juicer as the best non-Omega model in the world, huh? Anyway, what separates it from the other vertical masticating juicers is its 200-watt motor, three-stage reduction gears that produce enhanced torque, and duo-blade auger.
Read more
Juice Quality
An integrated duo-blade auger is able to produce the freshest juice possible as it operates at only 47 RPM. This minimizes the amount of oxidation and enhances the flavor.
Design Features
First off, you can control the juice flow during juicing with the convenient juice cap. Also, the 200-watt motor is able to provide three times the torque of other vertical cold press juicers.
Ease of Cleaning
Tribest does everything in their power to make their Slowstar easy to clean. They include several cleaning tools for you, the top portion is easy to disassemble and the internal portions can be easily washed in the sink.
Build Quality
All of the main parts of this juicer are made of high-quality plastics that are BPA-free and much stronger and more stain-resistant than other plastics. In fact, the auger is made of Ultem plastic.
Versatility
While you can increase the possibilities with the included mincing attachment, as it transforms this machine into a food homogenizer, the food chute could be bigger.
Overall
You know, if Omega was not a company this would have cracked the top of this list. This is simply because of the Slowstar's combination of its slow auger, powerful motor and ease of cleaning.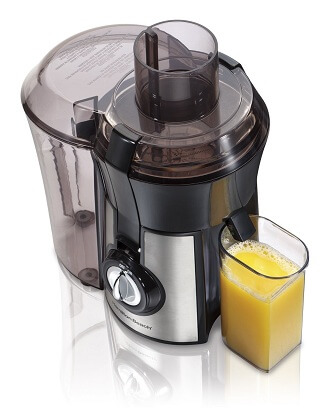 Ironically, perhaps the same design feature is both the best and worst feature of this next juicer. This is referring to the high-powered 800-watt motor that can produce juice at an alarming rate. Yet, there are a couple of key disadvantages to such a powerful motor.
Read more
Juice Quality
The motor affects the juice quality of this juicer in a few ways. One, there will be a bit more foam left on the top and two, the oxidation level of it will be higher.
Design Features
A large pulp container is integrated as it prevents the need of constant cleaning of the pulp bucket. Also, there are latches that lock the lid in place.
Ease of Cleaning
One huge benefit of this juicer is the strainer bowl, cover, strainer, pusher, and pulp bin are all removable and dishwasher-safe. Additionally, a cleaning brush is included.
Build Quality
The blade, micro-mesh cutter and strainer are all comprised of stainless steel. Overall, this is a very durable machine considering its price point.
Versatility
There are several different types of fruits and vegetables that this machine can easily handle. Also, the three-inch wide chute can account for larger produce.
Overall
At such a low price, this juicer could be considered a godsend by some users. It may suffer when it comes to the quality of the juice, but it does not suffer anywhere else.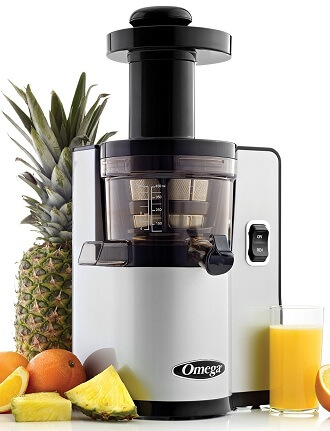 Right behind their J8006 Nutrition Center, Omega also has their vertical juicer with its technical model being the VSJ843QS. What is most stunning about this model is the augers rotate at a slow and methodical 43 RPM for superior juice quality.
Read more
Juice Quality
The methodical 43 RPM speed that the twin-winged auger operates at is beneficial for the quality of the juice. This slow speed leaves you with extremely dry pulp, flavorful juice and all the natural vitamins and enzymes from the ingredients.
Design Features
Outside of the one-fifth horsepower condensed motor, that will only use 150 watts of power, the integrated juice tap allows you to stir your juice before you pour it into a glass.
Ease of Cleaning
First off, the Automatic Wiping System reduces the amount of clean-up you need to perform which is a huge plus. What is nice, though, is it is very easy to clean and practically cleans itself.
Build Quality
Both the auger and the plastic portions of the juicing screen are made with Ultem plastic which is eight times stronger than other plastics. In addition, the juicing screen is also comprised of stainless steel.
Versatility
Much like their previous machine, this is another versatile unit. No matter the type of produce you place inside, such as leafy greens, nuts, beans, soft fruits, or hard vegetables, it can process them.
Overall
As great as this machine is, it can be prone to clogging if you are not careful. It is wise to cut your produce down into smaller chunks before inserting them inside. After which, sit back and enjoy the amazing juice that results.

8

. Aicok Slow Masticating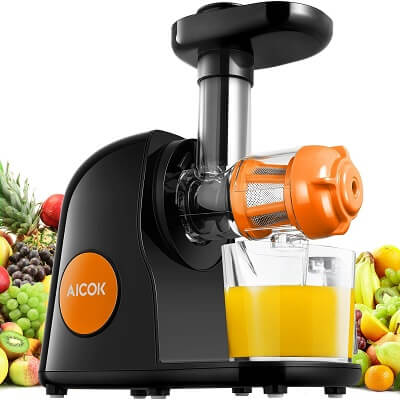 What this next juicer does best is deliver excellent juice. Being a cold press juicer, it operates at a very slow speed of 60 RPM. Unfortunately, the reason it is not higher on this list is it does not utilize Ultem plastic and durability can be a concern because of this.
Read more
Juice Quality
To reduce the amount of oxidation, basically resulting in none at all, the auger runs at only 60 RPM. As such, this is classified as a masticating juicer.
Design Features
One of the most convenient features of this model is the drip-free smart cap. Essentially, this is integrated to prevent messes as you can plug the juice below and allow the other juices to mix together.
Ease of Cleaning
On the plus side, a cleaning brush comes with your purchase. However, on the flipside, due to the bigger parts and the complexity of assembling the unit, thoroughly cleaning this machine can be tough.
Build Quality
Because non-Ultem plastic components are utilized throughout this machine, the durability is not going to be as great as other top-end juicers. In fact, certain components may end up cracking with hard enough ingredients.
Versatility
Conveniently, there are actually two chute openings on the top that are different sizes. The larger opening, which spans three inches in width, can be used for whole fruit and the smaller opening for small vegetables.
Overall
This is one of the cheapest cold press juicers you will ever find. Part of the reason is the questionable construction but granted you take good care of it, the resulting juice will be worth it.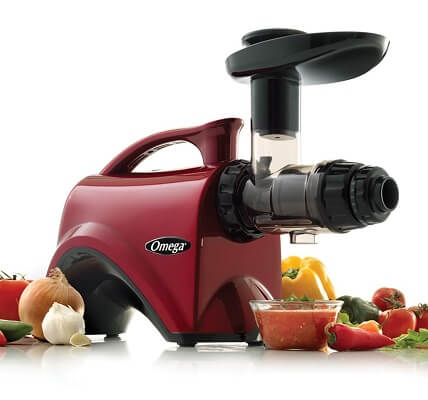 This list is not just going to be a parade for Omega; it just so happens that three of their juicers are the best in the world. Outside of being another masticating (or cold press) juicer, it is also well-known for its ease of cleaning.
Read more
Juice Quality
With a motor that will turn at 80 RPM, both the heat buildup and the oxidations will be eliminated and this is good as the enzymes will not be destroyed.
Design Features
Even though this does run at slower speeds, the motor is powerful enough to handle the hardest of foods you place inside. Because of this, you can be very creative with this machine.
Ease of Cleaning
One defining factor about the NC800 Juicer is its ease of cleaning. According to several buyers, it is not only extremely easy to clean but also easier to clean than the other juicers they own.
Build Quality
Being comprised of durable plastic, this can take a bump or two. In addition, the plastic utilized is BPA-free and free of any toxins that are often found in other plastic products.
Versatility
For the most part, this can handle anything you can imagine within common reasoning. As an example, it can break down vegetables with ease, soft fruits are not a problem, and different attachments can allow it to even make foods.
Overall
When it comes down to it, there is not much to dislike about the NC800 Juicer. It is Omega's third straight model on this list and it speaks to the brilliance put forth by the company.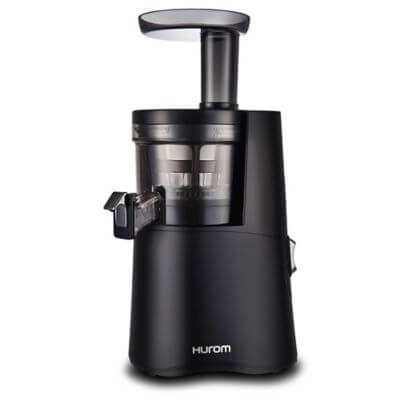 Kitchen appliances can also offer a sense of style into your home and perhaps no juicer accomplishes that better than Hurom's H-AA. With a rotating speed of only 43 RPM, though, it also holds up in the performance end of things.
Read more
Juice Quality
With the power of Slow Squeeze Technology and a rotating speed of just 43 RPM, the natural nutrients will stay intact in your juice. Plus, this will also result in pulp that is bone dry.
Design Features
Included with this machine are two different strainers and there is also a pulp control lever integrated. All this combines in allowing you to control the pulp and fiber content.
Ease of Cleaning
Not only does the self-cleaning system add convenience in its own right, this unit is easy to clean in the first place. For the most part, you can get away with rinsing it with water.
Build Quality
Outside of the sleek design presented by this machine, it is constructed with a combination of ABS, Tritan and strong Ultem plastics. Plus, the other strainers are built with stainless steel and BISEN plastic.
Versatility
Given that three additional attachments come with your purchase, including a fine strainer, coarse strainer, and ice cream strainer, this is a highly versatile machine. Thus, this can work on nuts, leafy greens, fruits, vegetables, and other produce.
Overall
Some may feel the price tag is just a little too high and to be honest if you do, you are correct. Still, you can see the quality of the construction and the overall design.

Subscribe to our Newsletter