Best Picnic Blankets
In a Hurry? Editors choice: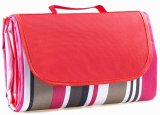 Test Winner: Natural Rays

It's that time of the year again when you are probably getting antsy to go
outside
and enjoy the fresh air. You have probably already started planning your new spring wardrobe and you're looking forward to all the fun activities ahead. You might anticipate the fun and excitement in the coming months; some beach time,
picnics
with your loved ones, late night movies in the park, and cheering on your favorite team at the ball field. Stay clean, comfy and dry through your summer leisure activities with our top choices for picnic and camping blankets below.
Standout Picks
Criteria Used for Evaluation
Portability
All the picnic blankets on our list are lightweight and compact, but that might not always be the case, so be sure and find ones that are. Be sure that the blanket you choose can be stored in a place that is convenient for you. If you are taking it on a picnic with you then choose one that can be easily carried or can be stowed away in the picnic basket or a larger tote bag. If you are headed to the beach, maybe you can find one that can hang from your beach chair. If you're planning a trip to the park with your toddler, consider one that will conveniently fit in the basket of the stroller. Whatever your needs, be sure and choose one that will be the most convenient and portable for your needs.
Ease of Use
Knowing how easy it is to use your picnic blanket is something that you will need to know beforehand. In most cases, the blanket will unfold without complications, but folding it can sometimes be a bit more difficult. For these reasons, be sure you understand how the blanket works. Some of the blankets have fold lines that are easy to follow and in most cases, the blankets are naturally easy to fold, but there is the rare occasion when it can be more of a chore causing unnecessary frustration. A blanket with fabric will probably be a little easier to fold than others, but that shouldn't be a deal breaker for you. Most of the blankets are easy you use and won't require a lot of effort.
Use
Before you stumbled upon this guide you might not have realized there were so many options for picnic blankets, and why are they called picnic blankets anyway? There are so many uses for these fun blankets. Yes, you can enjoy the blanket for its sole purpose, but what if you spread it out under a tree or umbrella and relax with a good book? These blankets can be spread out in the park for a concert or a midnight movie. Study groups can use them and there's nothing better than a fun day at the ball park. Using an ordinary blanket on the beach can become a hassle when it comes to the sand and shells, but with the proper picnic blanket, your hassle can become a more pleasant experience at the beach. Choose one that will easily throw off the sand when you shake it, and a completely waterproof blanket wouldn't be a bad idea in that situation.
Comfort
Comfort is a necessity. A picnic blanket should have a waterproof bottom that is somewhat comfortable. In some cases, you can use either side for sitting, so when that is an option you want to be sure that both sides are as equally comfortable. The top should always have an acceptable texture, preferably a soft one, because this is the side you will be sitting on, laying on, and your babies might be playing on. Make sure it isn't an itchy fabric, and something that has a noisy texture will be more annoying than comforting. Obviously, the most important feature of a picnic blanket is the waterproof backing. If you get wet in the damp grass then you are defeating the purpose and you might as well be using a regular blanket. When you find a picnic blanket that is completely waterproof consider that an added bonus. Most of the other features are personal preference, and others will depend on your intended uses for the blanket.
Top 10 Picks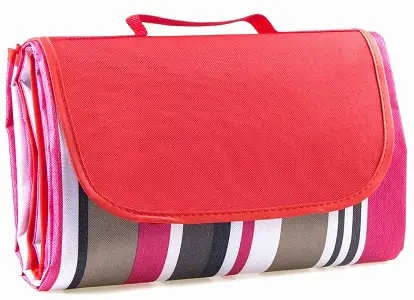 Of all the blankets we researched, this one became our number one choice for its overall features, size, and quality.
Read more
Features
This 80x60-inch foldable tote blanket is big enough for the entire family to enjoy an outdoor movie or sporting event. Unlike some of the others, this one is made of Denier polyester as opposed to plastic. The material is the same on both sides, making the whole blanket waterproof rather than just one side. Sand and dirt will easily fall off the blanket when you shake it, so you don't have to worry about carrying the debris with you in the car. When it's folded into a tote, it secures with Velcro and provides a convenient carrying handle, or it's small enough that you can toss it into your larger tote. Available in three color choices, this lightweight picnic blanket is a must-have for any outdoor event.
Comfort
Although it isn't a soft fleece, it is comfortable to sit on and will serve as the perfect barrier between you and the wet ground, keeping you dry and comfortable.
Portability
It's light and easy to tote in its folded form. You can store it under the seat of your car, keep it in the trunk, toss it in your backpack, or keep it in your golf cart. No matter where you store it, it's compact and easy to transport.
Ease of Use
This picnic blanket is easy to unfold and lay on the ground. When you're finished, it's simple to fold back to its original state and form it into an easy-to-carry tote.
Value
With so much to offer, you can see why this picnic blanket made it to the number one spot on our list. It's compact, waterproof, comfortable, and easy to tote; well worth every dime spent.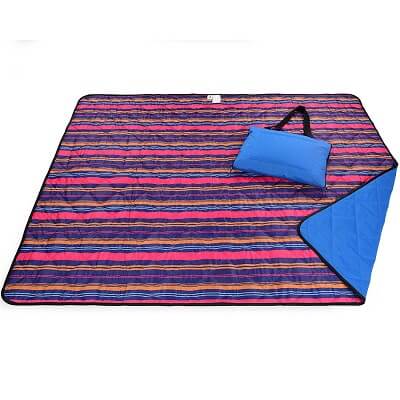 Another one of our favorites is this Roebury picnic blanket following in second place close behind the first.
Read more
Features
This one is a bit smaller than the first; it is 55x70-inches, just big enough to comfortably fit four people. It is made of a quilted waterproof material that folds up nicely to fit into the convenient zipper tote. It's well made and durable with material that resembles that of a nylon rain jacket. It's a fun blanket with bright colors and patterns. It is great to use as a beach blanket or the baseball field. Lay it under a shade tree and give your baby a chance to play outside without the worry of dirt, mud, or wet grass. When it's tucked inside the tote, you can easily use it as a pillow or seat cushion. The uses for this one is endless and every time you open it, you will be thrilled you made the purchase.
Comfort
The quilt fabric is soft, assuring you will always be dry and comfortable.
Portability
It's lightweight and easy to transport with the mid-length handle. Although it might seem a bit bulkier to carry than some, it's still easy to store in your car, RV, or boat.
Ease of Use
It's simple to unzip the bag and lay out the blanket. At the end of the day you can fold it up, stuff it back in the tote and be on your way, it's a cinch. When you get home, throw it in the machine and wash it and get it ready for the next time.
Value
A soft, waterproof blanket that can double as a pillow or cushion. You can't ask for anything more than this.

3

. Picnic Basket Accessories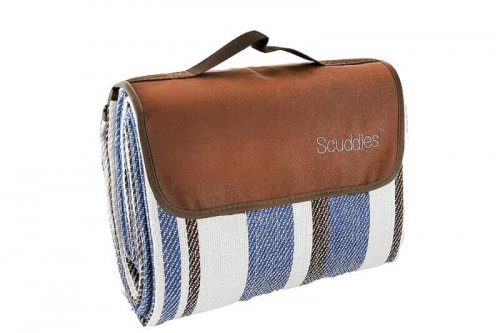 We like this blanket for its versatility and style. It might have made it to the number two spot if it offered more colors and style choices.
Read more
Features
At first glance, you might mistake this picnic blanket for a soft rug. It's made of high-quality material and provides a waterproof barrier between the ground and you, and the other side is soft for sitting. It folds up, making itself into a handy tote with a carrying handle and it closes securely with Velcro. It's the perfect size for two adults and two children to enjoy a snack while watching a ball game. If you want a blanket for the beach that doesn't hold in the sand, this is the one for you; just shake it and watch the sand slide right off. Although it calls itself a picnic blanket, you can use it for almost any outdoor event.
Comfort
It provides high-quality soft material that makes sitting for long hours tolerable. The material doesn't soak up the sun, so it won't get too hot to sit on. Overall, you won't be disappointed with the comfort level of this blanket.
Portability
It closes into a tote that makes it easy to carry and store. You can keep it snug in the trunk of your car, or keep it tucked away with your picnic basket.
Ease of Use
It opens smoothly and spreads out with ease. When you're finished, you can easily fold it into a convenient tote. If it gets wet, simply hang it to dry, or toss in the machine to make it smell fresh and new.
Value
Durable, lightweight, and it folds into a convenient tote, not to mention the amazing price tag that comes with this one makes it hold amazing value.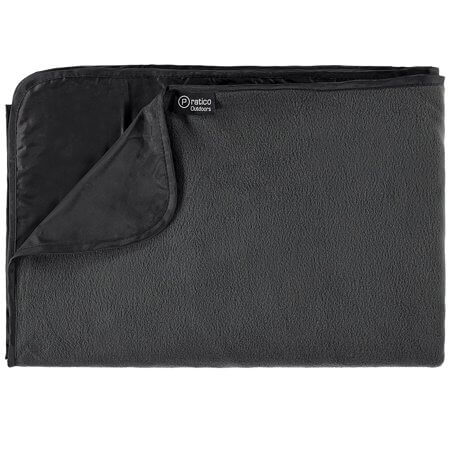 If you're looking for a lightweight blanket with space to spare that you can tote to your kid's baseball game, this might be the answer for your needs.
Read more
Features
If it wasn't for the waterproof backing, this blanket could easily be mistaken for a couch blanket. The underside is designed as a barrier against the wet ground while you enjoy the comfort you will get from the fleece top. It folds conveniently into its own carrying tote with a handle that is just right to fit in your hand. It seals closed with a Velcro flap to keep the blanket intact until the next use. It comes in various colors and the 60x80-inches is the right size to fit four adults comfortably. You can use this as a play blanket for your toddler too.
Comfort
You probably have experienced the comfort you get from a fleece material and this picnic blanket is no different. The waterproof backing provides additional comfort against moisture, so you won't walk away feeling wet after sitting on the damp grass.
Portability
It folds down small providing easy portability and it will conveniently store under the seat of your car, truck, boat, or RV. Store it nicely in your closet, so it's handy to lay on the floor for toddler playtime.
Ease of Use
It's soft, not stiff, so unfolding it is a breeze. Folding it takes little effort and will fold perfectly into a tote every time. It's lightweight and extremely easy to carry. It cannot be machine washed but is recommended hand washing and hang drying.
Value
It offers so much versatility at such an affordable price that you can feel the value every time you open this picnic blanket.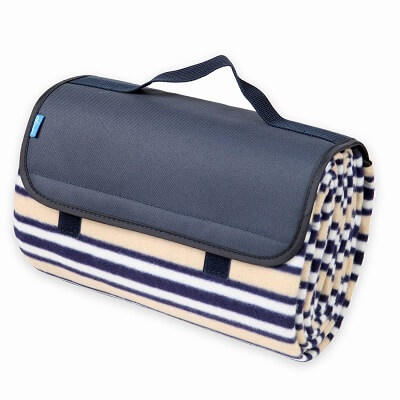 If you have a toddler who loves to feed the floor at dinnertime, then you might want to consider using this picnic blanket as a catch-all under the highchair.
Read more
Features
The waterproof side of this 59x53-inch picnic blanket tote is ideal to slide under a baby's highchair. You can comfortably seat two people on the blanket for a picnic in the park or use it at the beach to watch the stars at night while the waves beat against the shore. Lay the waterproof side against the wet ground and allow the soft fleece side to keep you dry. It comes in an array of colors, styles, and sizes for you to choose from. When you're finished, fold it back up into itself for toting.
Comfort
The comfortable fleece is soft enough that you could spread the blanket out on your concrete or brick patio and enjoy a picnic. You will appreciate the comfort and dryness so much that you will want to put one of these blankets in each car.
Portability
It's easy to tote and store this blanket. Stash it away in the trunk of your car or hook it onto the back of your beach chair. It's so portable you will want to take it with you everyplace you go.
Ease of Use
Simply on attach the Velcro flap, spread it on the ground and enjoy! When you're ready to pack up, it easily folds like a tote and you will be on your way before you blink an eye. Spot clean it when it's dirty and lay it out to dry.
Value
A lot of value goes into the quality of this picnic blanket. It's portable and lightweight with a price that can't be beaten. It can't get any better than this.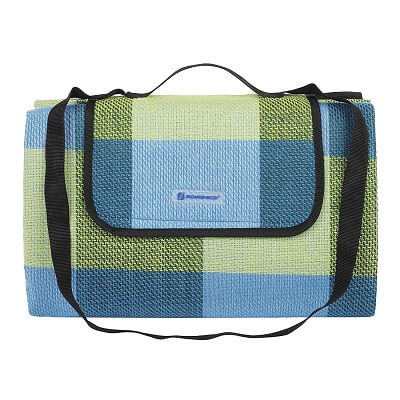 This multi-purpose picnic blanket is heavier than you would expect and is the perfect choice for sporting events and picnics in the park.
Read more
Features
This blanket is designed of a soft nylon top and a waterproof bottom that will assure your dryness when the ground is wet. It's 77x59-inches and is big enough for four people to sit comfortably. It folds up nicely and forms into its own tote with a Velcro flap. It provides an easy carry handle and a shoulder strap to best suit your needs. It works great as a play mat for babies and toddlers and it is available in the choice of five different colors.
Comfort
The nylon top is soft and will keep you dry for added comfort. It's the perfect size to keep everyone on the blanket and not hanging off the edge.
Portability
It's small. Compact, and it doesn't take up a lot of space. You can stow it away in any camping kit or keep it in the cupboard of your small camper, it's that portable.
Ease of Use
It's easy to unfold, but unlike the others, it might be a bit harder to fold up. Once it's folded, it easily tucks into itself forming a handy tote.
Value
You will save money by having one blanket that does it all, and imagine, you won't have the need to find a bag to store it in. All this, with its quality, size, and low price makes it worth every dollar spent.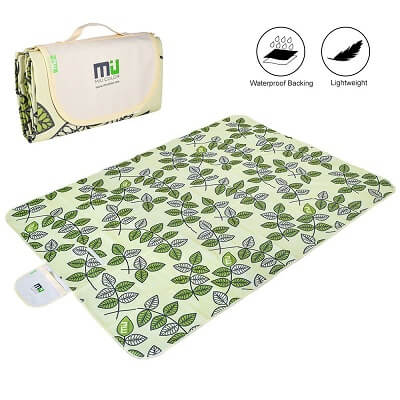 If you have a need for a picnic blanket that is easy to clean in an instant when something is spilled, you will want to check out this one.
Read more
Features
This 78x57-inch picnic blanket is more like a mat than a blanket. The entire blanket is waterproof and will keep you dry and protected from the ground beneath it. At least four adults can rest comfortably on it while you play cards under a tree in the park. You can easily brush off the dirt at the campsite and the sand will slide off after a day on the beach. It folds nicely into itself forming a tote with a sturdy nylon handle. It's durable enough that it won't tear or puncture when it comes in contact with rocks and debris. It's well-made and lightweight, but it's durable enough to stay in place during a gush of wind. Pick your favorite colors out of the eight different choices offered.
Comfort
Not as comfortable as a standard bed blanket, but it's not the same as sitting on a stiff tarp either. It's more comfortable to sit on than you would expect from a picnic blanket.
Portability
So easy and lightweight, toting this blanket is easy no matter where you want to take it. It won't take up much space on a closet shelf and you can easily stow it away with your camping gear. It's the perfect size to tuck away in a large beach bag, freeing your hands for other things.
Ease of Use
It folds out nicely and re-folds and forms a tote just the same when you're finished. You can't put this one in the washing machine, but it does wipe off as good as new when it gets dirty.
Value
There is a lot of value in a blanket with this much quality and versatility. The price is right, so you won't feel guilty spending your hard-earned money on this one.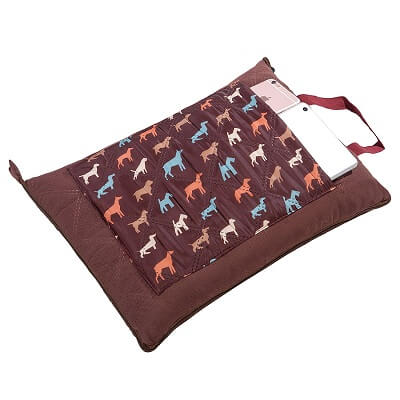 The unique design of this blanket is convenient enough to go with you anywhere; the park, picnics, the beach, and camping are just a few of the places it can go.
Read more
Features
With its quilted design, this 80x90-inch blanket will provide you with a waterproof bottom and a soft, comfortable top. It's large enough to accommodate four people with room to spare for food, coolers, and fun games. It can be used indoors or out, so it's functional for any activity you have planned. It's the perfect toddler blanket and it will work great at the park, the beach, and outdoor concerts. It is a little heavier than most, so it probably wouldn't work as well for hiking. There is a convenient storage pocket on the outside of this one that can hold your cell phone, tablet, or book. When it's folded into the tote you can use it as a pillow in your tent or a seat cushion at the stadium. With the various colors and designs it offers, there is something to please everyone's taste.
Comfort
It is made of soft materials quilted neatly for added cushion. The waterproof bottom will keep you dry and protect you from what lurks beneath.
Portability
Not as small as the others, this bag is still quite portable when it comes to toting around. The strap is a bit longer making it easy to carry using your arm rather than your hand like most. You can easily keep it tucked away in the trunk of your car and it won't take up much room on a shelf.
Ease of Use
It is easy to lay out on the ground and it's not difficult to fold it into a tote. When it's folded, you can easily zip it around itself. The outside pocket is easy to access, and the strap is simple to use. This design is not machine washable, but it will spot clean without worry or hassle.
Value
This blanket offers a lot with its quilted design, the zipper closure, the waterproof backing, the storage pocket, and the excellent price. You can watch the value racking up with this one.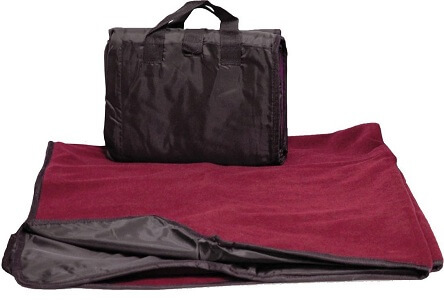 For a cozy evening at the ballgame, this blanket is just what you need. It offers a perfect size and plenty of protection from the wet ground.
Read more
Features
With the design and features of this 50x60-inch blanket, you will find it provides many uses. Similar to what you would get from a fleece wind jacket, this blanket offers nylon on one side and fleece on the other. While the nylon side serves as a barrier between your bottom and the wet ground you will stay warm and dry while sitting atop the comfortable fleece. You and three of your friends can sit comfortably on the blanket while enjoying a concert in the park or a game at the ball field. It folds up in the form of a tote, so it won't get in your way while you're walking through a busy stadium. This blanket is the perfect barrier between your car seats and your dog, or simply keep it on your couch, so your pooch can rest. It's available in several different colors and designs.
Comfort
As comfortable as a jacket, you will find yourself easily curled up with the comfort of this blanket. Not only will it keep your bottom dry, but you will find yourself warming up on the cozy fleece.
Portability
With as much portability as the others, this one also finds a place easily tucked in the corner of the trunk. You can incorporate it into any beach bag or hang it from the handle of the baby's stroller for toddler time. It's portable, compact, and easy to take-a-long anyplace.
Ease of Use
Easy to unfold and place on the ground, you will be sitting comfortably in no time. When you're finished, just fold it up and secure it to itself molding it into the handy tote. When it gets dirty, throw it in the machine and it will be just like new for the next time.
Value
It offers comfort, warmth, and it will keep you dry all at an incredibly low price. It's durable enough to wash in the machine which means it's constructed of heavy-duty quality that will last.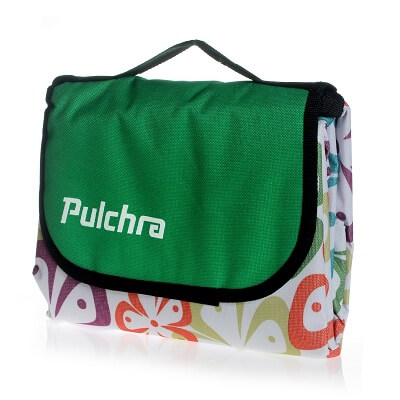 This blanket would be the perfect barrier between the wet dirt floor of the campsite and you. The top of the blanket is comfortable and inviting despite the plastic odor this blanket does sometimes hold. A large family can enjoy the comfort of this blanket and there will probably be some room to spare.
Read more
Features
This 80x60-inch picnic blanket is designed with oxford material on the top and waterproof plastic on the bottom. It is large enough for a family of five and provides plenty of protection from the wet ground and debris. It's lightweight, so it would be perfect for hiking and fishing. Toss it in your picnic basket and it will be ready to provide a table for you when you're ready to eat. It offers seven, bright and attractive colors to suit everyone's tastes.
Portability
Although this blanket is one of the largest, it folds up quite small into a compact case. It's easy to tote with the carrying handle, so you can take it everyplace you go. It will stow away nicely in your car and it will fit inside other large bags.
Ease of Use
Opening this blanket is so simple you will be sitting comfortably within minutes. Folding it back into the tote shape is a breeze and it will securely close with the Velcro flap. The handle is raised and easy to grip.
Value
There's something to be said of a blanket that can be used anywhere you go. This one is large enough for the whole family and it's simple to tote. It's comfortable, it keeps you dry, and the price is the best of all them, what more could you ask for?

Subscribe to our Newsletter