Best Blenders
In a Hurry? Editors choice: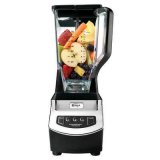 Test Winner: Ninja Professional

Blenders are a necessity in most peoples lives as everyone enjoys a
healthy
smoothie or the occasional milkshake. They allow us to keep and maintain a
healthy
lifestyle by making nutritious smoothies that we can make quickly and get out of the door and into the world. They are such a handy tool in the
kitchen
and some recipes call for the use of a blender to make certain meals. If you do not have one of these tools in the kitchen and are thinking about adding one to your kitchen arsenal than you have come to the right place as below we have listed the top ten blenders of 2019 and explained why they are the best of the best.
Standout Picks
Criteria Used for Evaluation
Use
There is one very important question you need to ask yourself right from the get-go and that is how you intend to use your product. At the beginning of this guide, it was briefly mentioned that some machines have the performance capabilities to match what food processors can perform. But, this typically comes at a price and if you know right away that all you want to do is make casual smoothies a few times a week, you may not need a high-end motor or model. Of course, on the other hand, if you really do not want to buy a food processor combo then you may be interested in a heavy-duty model.
One way to analyze how much a solid option can handle is via its motor. For instance, the highest product on this list (the Blendtec 725) sports a 3.8-peak horsepower motor which is quite insane (and works out to almost 3000 watts). Meanwhile, a 500 or 600-watt motor may not be able to handle the same amount of sheer power. It also matters how it is designed, in terms of its blade, but this can also be important.
Features
Many people understand what the purpose of a blender is as, at their core, they are machines designed to mix certain ingredients you place inside into a liquid substance. But, to perform with the utmost efficiency, they will oftentimes sport multiple design features that allow you to control how your ingredients are blended together. As an example, more advanced models may have preprogrammed modes specific for certain foods. To elaborate, there may be a mode for smoothies or one for soup. Basically, this takes the guessing game out as you can simply press the preprogrammed function and allow the product to do the rest.
Another key integration that most products will have is multiple speed settings. In fact, certain ones are designed with a variable speed dial and this is nice as you can manually control the speed at any given time. Along with this, you will also typically see a pulse function. When you hit this button, it will perform at its highest speed but once you release it, the machine will stop running. This is ideal for chopping larger ingredients.
Durability
A really good product will most likely sport all the bells and whistles of a top-end model and have a high-wattage motor but if the housing and foundation that encases it are cheaply made, you are wasting your money. When analyzing how well it is made, you need to first assess the container (which is what you will be putting your ingredients inside). Generally speaking, these containers are either made of plastic, glass, or stainless steel. In terms of which one is superior, that would probably go to stainless steel due to its durability. However, glass and plastic can be durable in their own right but no matter the material, treat your it with respect as they are not designed to withstand abuse.
But, you also need to pay close attention to the interior components such as the blade, drive socket, and blade drive shaft. You should probably settle for nothing less than stainless steel for these types of features as plastic will simply wear out too quickly.
Visibility
Even with a machine as simple as a blender, the interface can play a major role in the type you want to get. What exactly is the interface? Well, for the most part, this is going to consist of the control panel that is on the front. Basically, this is the portion of the machine that you are going to interact with to function. You should see the power switch there and any speed and preprogrammed functions that are present on the machine. The interface that appeals to you may vary from someone else but if you want something "tech-looking", integrated LED lighting and a touchscreen interface may be what you desire.
However, some of you may just want to keep it as simple as possible. As such, you would be happy with a few easy-to-read buttons and perhaps a dial to change the speed. Much like other technology devices and machines, the user interface is often a matter of preference but everyone can agree that it should at least be logically designed and mapped out.
Top Ten Blenders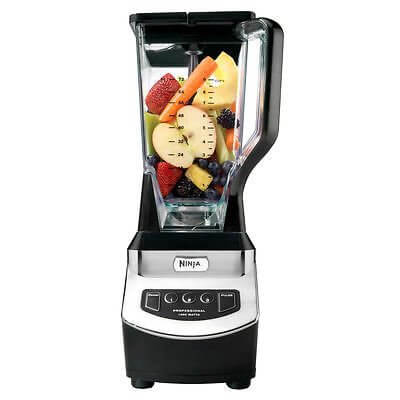 One of the more popular models on this list is the Ninja Professional. Given its impressive sleek design and total crushing technology to tackle whole fruits and ice, it is not surprising to see why.
Read more
Performance
While there have been a few reviewers to state that this is best used for smoothies, the total crushing technology and 1000 watts of power will deliver professional-grade power and results.
Design Features
Depending on what you are blending, there are multiple modes of speeds. Present on the interface is modes for pulse, low, medium and high.
Overall Construction
The Ninja sports one of the sleekest and most impressive visual designs. Also, its housing is made of a durable plastic and remains virtually shatterproof.
The Interface
Much like the design as a whole, the interface is very sleek. While it is pretty basic in nature, this could be seen as an upside.
Convenience
Each part of this product is both BPA-free and dishwasher safe. That is, each section that needs to be cleaned after each use (which would not include the housing or electrical components).
Overall
If you want to "fit in with the crowd", then you may want to think long and hard about investing in the Ninja Professional. It still may not have the power to compete with the higher-end models but it certainly boasts the design.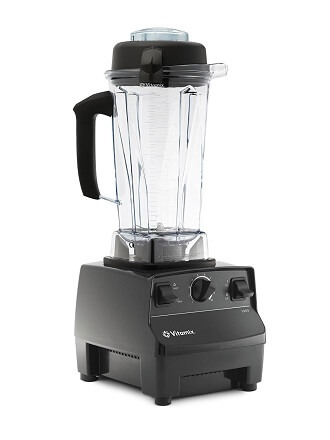 The Vitamix 5200 was so very close to securing the top spot on this list. However, a common complaint amongst some users prevented it from doing so. Still, the sheer power and performance of this one warrants some consideration.
Read more
Performance
Vitamix designed the motor on their 5200 to maintain even torque and cool temperatures while still delivering the power you need. In fact, due to the friction heat caused by the electric speed of the blades, you can even heat up cold soup.
Design Features
To give you complete control of the power, there is a variable speed control dial integrated on the interface of this blender. Because you can rotate it at any time during your blend, you do not have to worry about stopping it each time.
Overall Construction
With an extra-large 64-ounce container, you can blend medium to large batches of ingredients. As for the blades, they are designed of hardened aircraft-grade stainless steel; making them able to handle the toughest of ingredients.
The Interface
Even though the interface appears to be bland and lacking in substance, it is actually well-thought out. The aforementioned dial is located in the center between the on/off toggle and the variable/high-speed control toggle.
Convenience
One of the best features of this blender is its self-cleaning mode. All you need to do is add a drop of dish soap and warm water, and the blender will do the rest of the work. It will clean itself in 30 to 60 seconds.
Overall
Perhaps the only reason this fell short is that of the claims of a burning sensation after prolonged use by various users. In spite of this, this is one the most awe-inspiring blenders on the market, period.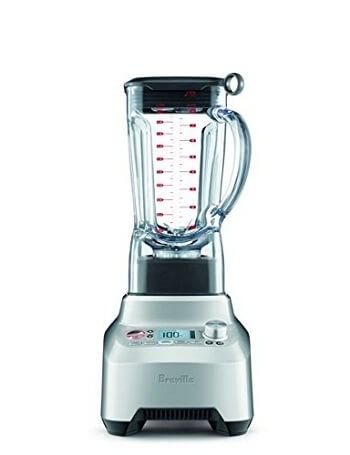 The second of the three juggernauts on this list is from Breville. They dubbed their product the Superblender and this is a very poetic name. No matter the ingredients you place inside, the 2-peak horsepower motor and stainless steel blades will tear it to shreds.
Read more
Performance
While this motor is not quite as impressive as Blendtec's, its 2-peak horsepower will still get the job done when it comes to pulverizing the ingredients that you place inside this Superblender.
Design Features
Possessing the capability of manually controlling up to 12 speeds, you are allowed to adapt this blender to fit the needs you have. Additionally, there are five preset one-touch programs to take the guessing game out.
Overall Construction
Longtime Breville users may be a bit disappointed that the exterior housing is plastic and not stainless steel; but, it remains durable either way. Of course, it is difficult to complain about the three powerful stainless steel blades that are contoured to the base.
The Interface
The interface is complete with a large, backlit LCD display. On top of this, all of the functions and operations are easy to control and program.
Convenience
If you crank the power up on this machine, your eardrums will be screaming at you. Some users have even reported that they had to use ear plugs due to the deafening noise outputted by the Superblender.
Overall
Some customers will prefer this over the previous blender as it really is a toss-up. Much like the Blendtec 725, the Superblender sports an impressive performance combined with top-of-the-line technology.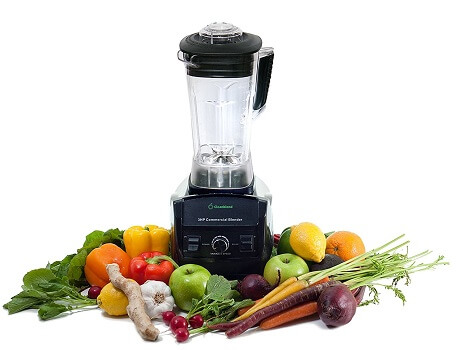 There may not be too many features that stick out to you but as a total package, Cleanblend has engineered quite the impressive appliance. It also helps that they spend a considerable amount of time perfecting the construction and performance of their product.
Read more
Performance
Cleanblend understands that the blade is crucial for the product's performance and that is why their six-blade system is made of high-end stainless steel. Top this with the 1800-watt motor and you have a recipe for blending success.
Design Features
This design is not overflowing with functionality but the variable speed dial does put the speed control in your hands. Adding to this is the pulse function that can be used for more stubborn ingredients.
Overall Construction
To ensure your investment is protected for years to come, Cleanblend opted for a stainless steel housing and stainless steel bearings. Plus, the BPA-free 64-ounce plastic container does not emit toxic chemicals
The Interface
The main thing about this control panel is it is easy-to-view and operate. Will it wow you with excellence? Probably not; but, all one can be thankful for is its simplicity.
Convenience
If you are wary of buying this product for any reason at all, the included five-year warranty should give you a little piece of mind.
Overall
Cleanblend has designed one of the best all-around blenders that you will find. There are slight issues here and there that may veer you off this path but know this, this is a high-quality machine from top to bottom.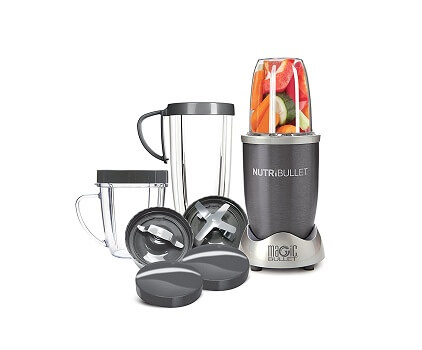 There will be those of you out there who are not interested in a machine that is loaded with technology and functionality. Sometimes, all you need it to do is make you a smoothie. Let's just say the NutriBullet is perfect at doing just that.
Read more
Performance
What makes the NutriBullet both a sufficient product and mixer is it's a combination of its patented extractor blades and 600-watt motor. It has its limitations but for its size it is impressive.
Design Features
This is dubbed as a combo but past some included extra features, this is as basic as a product gets. For the most part, it performs the same way every time.
Overall Construction
Both the housing and blade are designed with high-quality. The blade is actually made with a patented stainless steel with cyclonic action; which delivers performance benefits.
The Interface
To be honest, this lacks much of an interface at all. There is no control panel and you merely operate it, in the same manner, every single time you utilize it.
Convenience
If there is one major griping point with the Nutribullet, it would have to be the hassle of cleaning it. Because the blades are fixed in the base, you can't separate them when they need cleaned and cleaning them inside the base can be a chore.
Overall
The NutriBullet is a nice product for anyone looking for simplicity. It lacks the functionality to be recommended for blending junkies but if you understand what you are getting, you can appreciate this design.

6

. Black Decker Fusionblade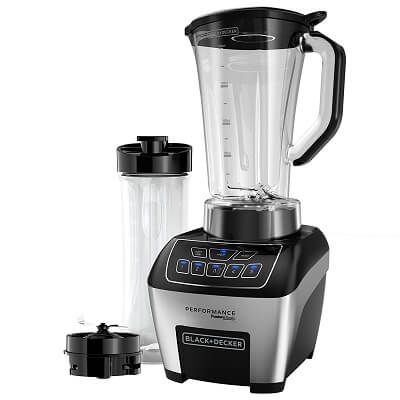 Truth be told, this is one the best looking and functioning options on the market. It just so happens that it may not be powerful enough for some of you but if it is, this is ideal as it gets.
Read more
Performance
The 1100-watt motor is not too shabby but when it comes to blending frozen foods, this model struggles a bit. Eventually, though, it will create a very appetizing smoothie.
Design Features
The choice is yours when you are blending as there are five different speed functions, a pulse function and also five preprogrammed settings for specific creations.
Overall Construction
Due to the shape of the 64-ounce plastic jar, a powerful vortex is created and the performance is enhanced. Additionally, the FusionBlade is made of stainless steel and designed to pulverize ice.
The Interface
While the motor may be lacking a bit, the control panel is certainly not. Not only is it easy-to-clean and wipe down, the Blue LED lights and overall design create an incredibly sleek interface.
Convenience
Because the FusionBlade is integrated with the jar, they can both be safely placed inside of your dishwasher. Also, BLACK+DECKER includes an additional BPA-free personal-size jar.
Overall
If you are looking for a workhorse, you are probably not going to get it with Black Decker. However, what you will get is an eloquently designed product that is designed to last you a significant amount of time.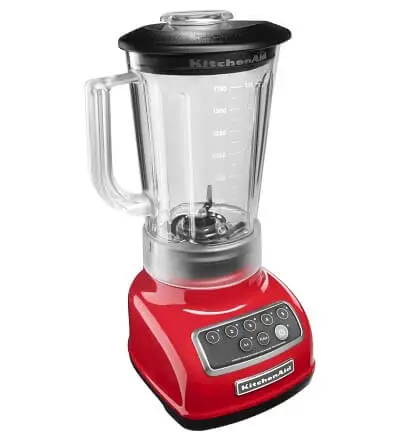 KitchenAid is a manufacturer that you have probably heard about from time to time. No doubt, this is because of their impressive track record and their 5-Speed option is proof enough of that.
Read more
Performance
At approximately 550 watts, KitchenAid does not integrate the most powerful motor you will ever see. Yet, the intelli-speed motor control maintains optimal speeds through all ingredients for increased efficiency.
Design Features
Besides the integration of five-speed modes and a mode for crush ice and pulse, this has a unique feature known as the Soft Start. Essentially, this purposely starts the motor at a slower speed to pull the food into the blade.
Overall Construction
While the steel-reinforced coupler delivers an efficient transfer of power from the motor to the blade, the BPA-free pitcher is 56 ounces and sits on an extremely sturdy die-cast metal base.
The Interface
Thanks to the backlit blue LED lights and clean-touch operation, the control panel on this KitchenAid is very appealing and easy-to-use.
Convenience
To minimize the amount of noise it makes while in operation, KitchenAid ensured the coupler was coated. While it does not eliminate all the noise, clearly, it does help.
Overall
If KitchenAid is slapped on a product than at the very least, you can expect a high-quality product. The KitchenAid 5 may not be your first choice but it happens to be one the best, affordable models out there.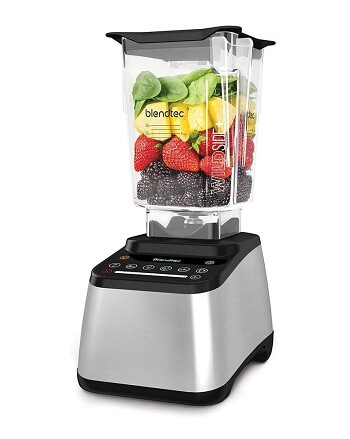 The top three on this list are often debated between and are all highly-popular in their own right. However, while it was a close-call, the Blendtec 725 edged out the competition by a hair.
Read more
Performance
When Blendtec informs you that their 725 can blend through anything, you know they are telling the truth because of their 3.8-peak horsepower motor. Simply put, the power this machine can achieve is insane.
Design Features
There are six different preprogrammed cycles that you can choose from that accommodate a wide range of foods. Yet, truly noteworthy is the 100-speed control feature.
Overall Construction
Right out of the box, you will notice the classic stainless steel look that should blend well with your other décor. In terms of its durability, this blender is built-to-last you years to come.
The Interface
Due to the touchscreen interface, you really feel like you are programming a modern device. What is also convenient is the interface is operable with wet hands because of the capacitive touch.
Convenience
As you might expect with a blender of its size and power, it can be quite noisy. Although, a nice bonus with your purchase is that you receive Blendtec's recipe book and starter guide.
Overall
Wow is about the only word that sums up the Blendtec 725. Until you own one and try it out for yourself, it is tough to appreciate the sheer amount of power that is delivered from this superbly-built appliance.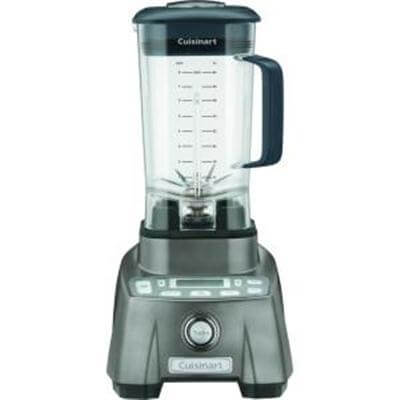 The first three products on this list are in a class all by themselves. Yet, there are still mightily impressive models if you do not want to shell out that kind of money. Take the Hurricane from Cuisinart as an example.
Read more
Performance
There are two key components that make the Hurricane from Cuisinart a high-performance machine. Firstly, is the 2.25-peak HP motor and secondly is the automatic load sensing technology that provides even blending.
Design Features
All sorts of functions are available for you and this includes a programmable countdown timer, preprogrammed modes for ice crush and smoothie, and low and high-speed settings.
Overall Construction
Inside of the jar contains a four-prong stainless steel blade and this is designed with commercial quality. Also, the jar itself is 60 ounces and built with a soft grip handle for easy pouring.
The Interface
The Hurricane is controllable via the touchpad LCD interface. In terms of size, it is not a very large interface but it is mapped out logically.
Convenience
Even though Cuisinart designed the Hurricane to sit inside a heavy-duty plastic base with a double housing to minimize the noise, it has still been reported as an excessively loud by some.
Overall
For being a slight step down as compared to the first three products, this is actually quite remarkable. This is one of the more complete blenders out there and more than worth the price of admission.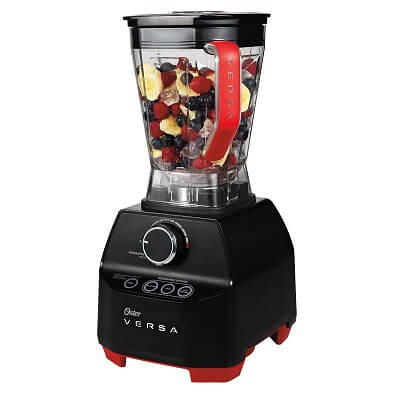 No one is going to question the power and performance of this next product. If you do not want to settle for an everyday product that can only handle liquids, then you may be interested in the Pro Series from Oster Versa.
Read more
Performance
This is not your grandfather's kitchen gear; let's just say that. With a 1400-watt motor and a stainless steel blade that can spin over 250 miles per hour, this can handle most everything you put inside it.
Design Features
Preprogrammed into the Oster Versa are three settings for smoothie, soup, and dips and spread. In addition to this is the variable speed dial which gives you full control of the motor's speed at all times.
Overall Construction
To ensure a longer lifespan, the drive has been designed with metal instead of plastic. Also, the six-point blade is made of stainless steel and the plastic jar measures 64 ounces and features a non-slip handle.
The Interface
What is nice about the interface is that the variable speed dial is isolated from the other functions; with it being on above the other functions.
Convenience
Per one user's feedback, they thought the Oster Versa was impossible to clean due to the extrusions near the top constantly catching the food. Past this potential issue, there is a tamper that comes included to help move large ingredients down into the blade.
Overall
Even though you can see how impressive this design is in the first place, even more so is that a seven-year warranty is included with your purchase. Because of this, what do you really have to lose in trying this blender?

Subscribe to our Newsletter