Best Butane Lighter
In a
Hurry? Editors choice: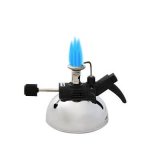 Test Winner: Alec Bradley

Have you ever been in a situation where you badly needed a
flame
and your match or lighter failed you? You tried flicking your lighter or striking the match but it would simply not produce an ember? The problem could be because you do not know the right technique to do it, but most of the time; it is the flame that gets the
blame
. In situations like these having a dependable butane lighter could come in handy.
A butane lighter is capable of producing a much hotter, more intense, and much steadier
flame
. But how do you pick the best butane lighter out of the vast assortment available in the market today? Check out the product review section and see that each product is presented in details to help you choose the one that best fits your needs or your preferences.
Standout Picks
Criteria Used for Evaluation
Accessories
It's always good to know what to expect when you're expecting... a package in the mail.
Accessories aren't the first things that come to mind when looking at lighters, right? Honestly, we don't expect much more than the lighter and butane from any of these products, but some of them don't even include the butane. On our list, the two products that do not include butane are Mrs. Brog and GiBot. For this reason, it is always a good idea to research and find out exactly what is included with each purchase.
Our most impressive full-package deal here comes from Dremmel. This lighter includes a soldering sponge, a blower, a flame diffuser, a deflector, soldering tip, soldering tin, a wrench, and a storage case. This is really the ideal lighter for home repairs and projects.
Depending on which projects you plan to use the lighter, some of these accessories may be unnecessary for you. Unless you're a happy hoarder, you may be better off with one of the more simple lighters on this list. And if you're looking for a lighter to give as a gift, Mrs.Brog's lighter is sold with a gift box!
Features
Aside from safety features, these lighters bring you other marvels such as wind resistance and ease of use.
The features of butane lighters range from safety, to convenience, to ignition. Safety features, such as automatic turn off, child locks, and finger protection are arguably the most important features. While we assume that these devices will only be handled by adults and kept out of reach of children, having these features is a great back up.
Some other features that we looked into were how the lighter ignites, how easy it is to refill, and the capacity of the tank. The capacity of the tank is important to know before investing in the lighter and/or going on an outing with it. Can you imagine running out of fuel on day 2 of your week-long camping trip?
Blazer lighters also bring us a few interesting features with their products such as wind resistance with the CG model and anti-corrosion materials with the Stingrays.
Style
We all have our personal style and so do lighters. Off the bat, you'll notice the style of the Alec Bradley. This one looks a bit like a tea kettle and isn't great for travel. On the other hand, you'll find a few sleek designs on our list such as Mrs. Brog's Tripple Torch. Not only is this one a very attractive lighter, but it is also very comfortable in the hand and easy to use. Somewhere in the middle of these categories, you'll find the Blazer CG-001. This lighter isn't exactly ugly, odd shaped, or sleek. The Blazer features ridges on it which makes it easier to hold securely in your hand and it is incredibly durable. This lighter can withstand bumps and falls with ease.
All of these lighters more or less work the same and the style of the lighter is more of a personal preference. One more style of lighter we think is important to list is the lighters that have a detachable base. Some of these types can be set on the floor or counter and you can have the flame blaring while using both hands for other jobs.
Size
If you plan to travel with the lighter, the size may make or break your purchase.
Butane lighters come in all shapes an sizes. Depending on how you plan to use it, the shape and size may be of concern to you. If you are keeping the butane lighter in the garage at home for welding or repairs around the house, this won't matter much to you. However, keep in mind that a larger lighter will be more difficult to maneuver in small spaces (behind the toilet, for example).
If you plan to use the lighter for camping trips or long hikes, you should take note of the shape and size and pack accordingly. The Alec Bradley lighter, for example, would not be one that you would want to travel or hike with. Its odd shape would be difficult to pack. Perhaps a better option would be the compact Lotus Cyclone Vertigo. Even better, this lighter is sold in a pack of 3 so you can have backups or gift one to each family member.
Subscribe to our Newsletter