Best Cocktail Shakers
In a Hurry? Editors choice: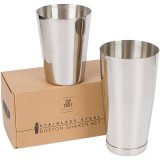 Test Winner: Top Shelf Boston

While this device is not necessarily a necessity for making well-tasting alcoholic beverages, it can certainly make things a lot easier as it can be used to mix ingredients together beforehand. But, typically, the shaker alone will not be enough and you will see a lot of sellers include several other accessories. There are different variations available with different materials used for construction. With the help of this guide, our hope is that you can feel much more confident in the buying process. So, if you are willing to go along for the journey, keep on reading so you can educate yourself on this fancy tool.
Standout Picks
Criteria Used for Evaluation
Durability
Ensuring your product lasts as long as possible is key and most certainly, it is no different here.
As you could no doubt tell throughout this guide, a majority of cocktail shakers are made of stainless steel. Now, there are models that will be made of plastic or glass but for the most part, stainless steel is typically the go to. It is not much of a coincidence why as on top of being naturally durable and resistant to rust, it is also very easy to clean (which will be addressed later). But, there are also different grades of stainless steel that you need to be aware of.
The most common grade is 18/8 and 18/10. It is worth noting, for the record, that this grade is also known as 304. For food preparation and dining purposes, this is the grade of stainless steel that you will see most often. Now, the 18 and the eight do serve a purpose. The first number, which in this case is 18, refers to the amount of chromium present in the steel. Meanwhile, the second number refers to the amount of nickel that is present. For the most part, you will be good to go with 18/8 grade but also remember that different models may have differing thicknesses (which also can increase the durability).
Effectiveness
The overall effectiveness and performance of a cocktail shaker can make or break your purchase, period.
Even though it is close, this is arguably the most important section of this entire guide. With any product that you invest in, its effectiveness will be important, clearly. But, in the case of cocktail shakers, it is literally everything. When it boils down to it, there are several key features that you need to keep a keen eye on. Firstly, an effective model needs to have a tight seal. Given the fact that you literally have to shake these tools for them to do what they are designed to do, the lid needs to stay firmly in place to prevent leakage.
Secondly, the lid also needs to be easy to remove and attach. Believe it or not, this can be an issue with some models and this can be very annoying if you plan to use the shaker continually. Thirdly, the last thing you would want to happen is for the entire tool to slip from your hands. So, looking for a design that has an optimal amount of grip is recommended. Lastly, how about if the main unit is insulated? If it is not, your hands may become freezing very quickly when shaking one with ice inside.
Versatility
Most of these units are pretty versatile but you also need to know your skill level.
For the most part, most cocktail shakers are going to be versatile just due to the nature of their design. In regard to making different kinds of recipes and drinks, all of them should be able to do so. This does not even have to be limited to alcoholic beverages, either, as these can be used to make any type of drink you can think of. For example, fruit juices and milkshakes. While machines such as a blender and food processor can do the same, it is nice that cocktail shakers have this versatility.
However, and this is where you as the buyer come into play, not all designs will be optimized for the right consumer. To elaborate, if you are a novice and really do not know what you are doing, you may want to go with a simple shaker. On the contrary, if you are a bartender then you may be looking for a style that is more in-depth and advanced.
Accessories
Speaking of skill level, this is what it is all about here. The amount of accessories you crave is really up to you and your intentions.
This next section pretty much epitomizes why it is important to establish your skill level with this particular craft and yes, making cocktails is a craft. The reason for this is there are different types and, without question, two of the more popular ones are the Cobbler Shaker and the Boston Shaker. Due to its design and engineering method, the former is much better for beginners and users just starting out. Yet, that means that for more advanced skill levels, a style such as the latter may be in order. In fact, most bars and lounges will incorporate the Boston Shaker.
Now, as far as additional accessories are concerned, this also goes back to your skill level. Some sellers, as was seen on this list, will sell their model in a set and can sometimes include tools such as strainers, jiggers, muddlers, spoons, and others. But, this will only be necessary if you want to make cocktails like a pro and lack the extra items that are provided by the seller. For casual use, though, excessive accessories may not be necessary.
Ease of Use
The ease of use, and in this case the ease of cleaning, can make your life easier once you are done making your cocktails.
Alright, because most models you invest in will be made of stainless steel, this is a great time to address an extremely common question. That being if the metal can be placed in a dishwasher. For the record, the best way to determine this is to see what the manufacturer recommends. If they give you the all-clear then you are good to go.
Yet, there are some dishwasher manufacturers out there who do claim that some detergents are harsh; even to the point where they can corrode stainless steel and cause it to discolor. Of course, there are also claims to the contrary by the same manufacturers who design detergents for dishwashers. It can get real messy if you listen to too many "experts". So, stick to the words of the designer of the cocktail shaker themselves. But, for the most part, stainless steel will be dishwasher safe.
OUR TOP PICKS FOR THE BEST COCKTAIL SHAKERS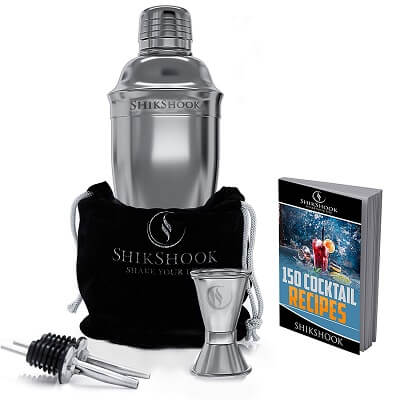 One of the most notable aspects to this option is the fact that it is a full set. The seller includes just about every accessory you will ever need to create cocktails that you can be proud of.
Read more
Durability
To ensure this lasts you a long time, it was designed with 18/8 grade stainless steel. Also, this has enhanced thickness for even more durability.
Effectiveness
The good news is the general consensus amongst reviewers is that the seal here is tremendous. However, the actual fit of the top is questionable and can be finicky at times.
Versatility
No matter what type of drink you want to create, whether a margarita, Americano, long island iced tea, or even a mojito, this tool can be used to do so.
Accessories
As was mentioned, this is a kit and you receive a ton of accessories. These include the shaker itself, two liquor pourers, a built-in strainer, a double jigger, an eBook and a black velvet bag to keep everything intact.
Ease of Cleaning
Here is the good news for the cleanup process; all the components that come with your purchase are both FDA approved and dishwasher safe.
Overall
Without question, this is the epitome of bang for your buck. With what you receive with your investment, how could this have ever been bad?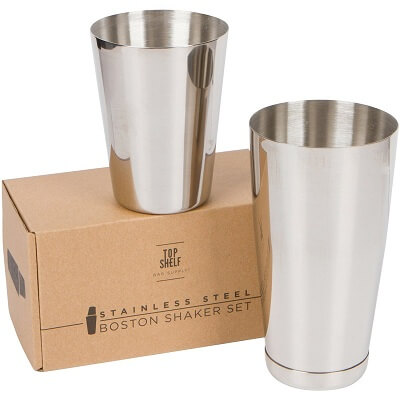 The number one model on this list is known as a Boston Shaker and it consists of two main cups that nest inside each other. This particular device is one of the best in the world and most users will concur.
Read more
Durability
As opposed to models that are made of glass, this is made of 304 stainless steel and is not going to break quite as easily. In fact, this is professional food-grade steel.
Effectiveness
What is really nice about this Boston Shaker is that it is engineered with a water-tight seal. However, when both cups are inside of each other, ironically, they seal too well and can be tough to separate after shaking.
Versatility
Even if you are a professional bartender, this model can be of great use to you. Of course, it is also versatile enough to make several drinks such as martinis and margaritas.
Accessories
This is consisted of two main cups, as was mentioned earlier. The interior of the larger one measures 65 millimeters at the base (just as a reference for you).
Ease of Cleaning
When you have concluded your use with this device and all the alcohol is poured into your glass, you can then place this in your dishwasher (if you have on installed in your home).
Overall
In all honesty, you will be hard-pressed to find a better overall package than this. No matter for bartenders or casual users, this is a great device that can do wonders for your alcoholic drinks.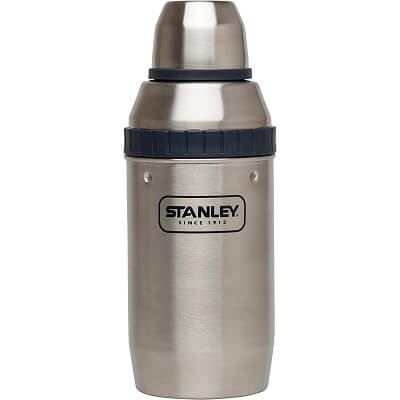 This is a good example of a design that may not provide overwhelmingly amazing features but one that remains elite because of its performance. Stanley nailed this one, let's just say that.
Read more
Durability
Due to the fact that Stanley crafted this out of 18/8 grade stainless steel, it maintains a durable and rugged core and will not rust if you treat it properly.
Effectiveness
Thanks to both the locking mechanism and the rubber O-ring, this is able to achieve a super tight seal. It is interesting to note, though, that the main shaker is not insulated but the rock glasses are double walled.
Versatility
You can really get creative with this device. As one user noted, per their experience, you can even use this for your protein shakes as it is designed so well.
Accessories
In addition to the main unit, which does have a built-in juice reamer and a 30-ounce capacity, you also have the option of receiving either two or four glasses.
Ease of Cleaning
As is noted in the product description, this is dishwasher safe. It can only be assumed, then, that the glasses are also safe for dishwasher use.
Overall
Probably the only aspect that could have improved this overall design is if the main unit was insulated. Yet, that is just a mere blip on the radar.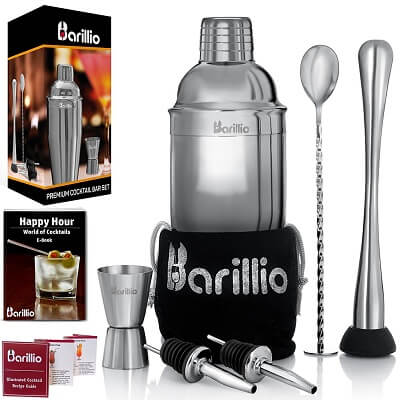 This kit is very similar in design to the previous kit. Among other accessories, you receive a mojito muddler (which is not made of wood like other muddlers) and this can maximize the flavor of natural ingredients.
Read more
Durability
As with most of the other designs on this list, this is comprised of premium stainless steel (18/8 grade, as a matter of fact).
Effectiveness
Barillio ensured that their design would be up-to-par as it passed restricted inspection in the United States. The high-grade inner will not leach harmful chemicals but, admittedly, the lid can be tricky to seal.
Versatility
Because you receive a muddler with your investment, it makes this system even better for all types of cocktails as you can maximize the flavors of fruits and herbs.
Accessories
Wow, does Barillio ever provide the goods here? In addition to the main 24-ounce unit, you also receive a muddler, mixing spoon, double jigger, velvet bag, and two liquor pourers.
Ease of Cleaning
In addition to the fact that the smooth velvet bag keeps all the parts clean in between uses, you can easily dish wash most of the included items.
Overall
Much like the last option, this is a brilliant kit. Even though the main shaker may not be the best that you will ever find, but the total package is fantastic.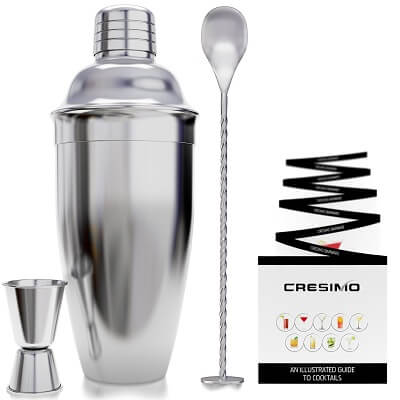 A lot of buyers concur that Cresimo's martini kit is a high-quality product. However, there are a few features here and there that could have been better but still, they do not hinder the quality too badly.
Read more
Durability
On top of the fact that the 18/8 grade stainless steel of this model is durable, it is also extremely attractive and is guaranteed not to rust.
Effectiveness
Overall, the effectiveness could have been improved. Some users have commented on the top coming off during shaking and also that the base could use more grip.
Versatility
The only real aspect that is going to hinder the versatility of this model is your imagination. It can make a wide range of drinks so go wild and experiment.
Accessories
Cresimo does their consumer base a solace by including a ton of accessories including a built-in strainer, premium double size jigger tool, twisted bar spoon, and illustrated guide.
Ease of Cleaning
There were a number of users who did not recommend placing these components in a dishwasher. With that said, they are pretty easy to hand wash.
Overall
If Cresimo could do it over perhaps they would enhance the grip of their base and also improve their top design. But, all things considered, they did a great job designing their unit.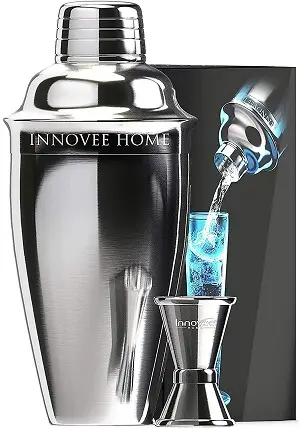 If this was designed with a superior lid, it probably would have been one of the more acclaimed options on this list. As it sits, though, this bar set is mostly high in quality, with the one detriment of the lid.
Read more
Durability
Per the product description, this is guaranteed not to rust or lose its quality over time. Given it is made of stainless steel and granted it stays indoors, this guarantee is probably accurate.
Effectiveness
Yep, there is no way to sugarcoat this, the lid needs improving. Due to its fitting, you will probably need to shake this with two hands (one of them securing the lid).
Versatility
Though the lid can make it more of a hassle to make drinks with, there really is no limit to your choices here. Plus, this can even be used as a Boston Shaker.
Accessories
Most of the accessories you need are included with your purchase here. This includes a built-in strainer, a jigger, and an eBook. As for the jigger, it has measurements of one-ounce and half-an-ounce.
Ease of Cleaning
Consider yourself fortunate if you have a dishwasher installed in your home as the parts you receive here are dishwasher safe.
Overall
In spite of the one big flaw of this design, you can appreciate most of the other features and the overall design. Just be aware of the issue with the lid, though.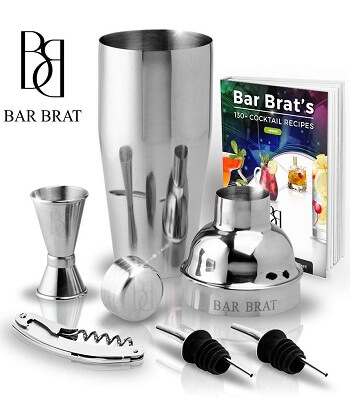 This shares the same two issues as the last model did but you know what, it can still be a suitable option for the right consumers. For bartenders, though, there are better options available on the market.
Read more
Durability
It is marketed that this is made of 304 stainless steel that will last over 15 years. But, the thin nature of the steel is noticeable when you squeeze too hard.
Effectiveness
While this is overall an effective model, taking off the tiny lid can prove to be more of a challenge than it should be. After shaking, it can almost become glued on.
Versatility
Not only is this versatile enough to be used to make so many different types of drinks, it can also be used as a Boston Shaker.
Accessories
As a bonus for your purchase of the 24-ounce main unit, you will also receive a jigger, corkscrew, two pour spouts, and an eBook.
Ease of Cleaning
All you need to do to clean this bad boy is to place the stainless steel parts in the dishwasher; simple as that.
Overall
While the thinness of the metal is a bit surprising, this is still a highly effective model overall and definitely worth the price of admission.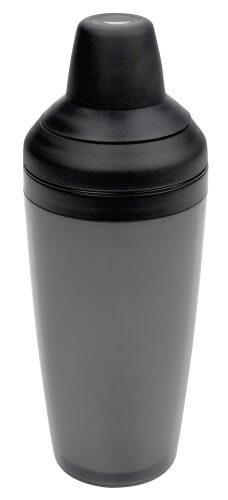 Almost all the entries on this list are made of stainless steel but not this one. Instead, it is made of high-impact plastic and what is nice is the base is engineered with a non-slip grip.
Read more
Durability
Indeed, this is actually not made out of stainless steel. Instead, it is made of plastic. But, do not be concerned, it is a high-impact plastic that is also BPA-free.
Effectiveness
There is both good and bad here. On the plus side, leaking is not an issue with this shaker and the non-slip grip is fantastic. Yet, because it is plastic, a lot of effort needs to be expended to thoroughly mix the ingredients inside.
Versatility
Due to the effort that is needed with this model, it may not be ideal for drinks that require a ton of ingredients as shaking this vigorously can get tiring after a while.
Accessories
The main unit will hold 16 ounces of substances but it also comes with a built-in strainer. Plus, there are measurements inside the included jigger for easier measuring.
Ease of Cleaning
Here is the issue if you place the jigger inside of the dishwasher. It will not harm the tool but the interior markings will eventually fade away. So, you may want to stick to hand washing.
Overall
Given the fact that this is plastic, it may scare some of you off. While stainless steel is probably preferred, this does sport a leakproof design and a terrific non-slip design.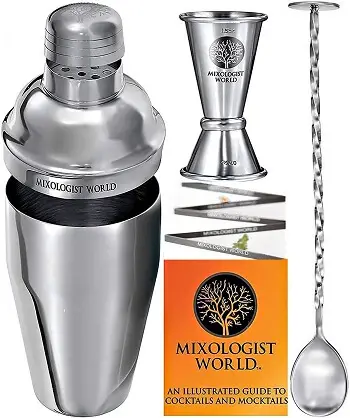 Even though this is thicker and uses more substantial stainless steel than other models out there, it still may not be the best for people who have a built-in bar in their home. It is better for casual use.
Read more
Durability
Now, even though this is comprised of 18/8 grade stainless steel, it could have been engineered with a thicker composition.
Effectiveness
Though it is claimed in the description that no leaks or spills will ever persist with this shaker, there have been reports of leaks from buyers.
Versatility
When it comes to being able to make and create a ton of different ice cold recipes, this bad boy really shines.
Accessories
This is what is included with your purchase. You get a premium double-sided measurement jigger, built-in strainer, twisted mixing spoon and an illustrated guide to cocktails.
Ease of Cleaning
A few users advised that if you were to place the stainless steel components in the dishwasher, do so in the top rack.
Overall
There may be a few consumers out there, who are looking for professional-caliber tools, that scoff at this. For what it is, though, it gets the job done nicely.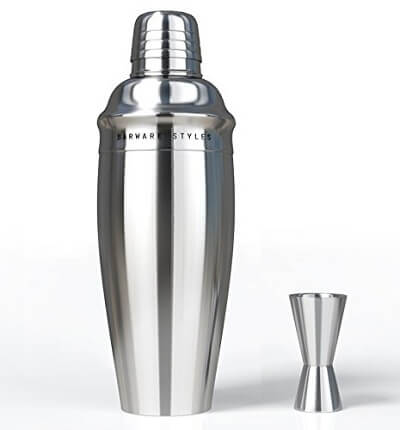 To be honest, this might as well be considered a one-piece set because the jigger that comes with this has received harsh criticism from reviewers. The shaker itself, however, has been met with high praise.
Read more
Durability
Barware Styles did what most designers do and chose 18/8 grade stainless steel to comprise their three-piece martini set.
Effectiveness
When you shake this unit, it is not going to leak granted you have the top on tight. However, it is not insulated so your hands will get really cold if ice is inside.
Versatility
Whether you want to use this professionally or casually, it can really handle both. Of course, if used professionally, you may want to wear gloves if you use ice consistently.
Accessories
Okay, so you do get a jigger with your purchase here. Although, as alluded to, it has not been met with acceptance. Instead, it has been criticized for being too flimsy and thin.
Ease of Cleaning
Overall, there are no harmful toxins or chemicals that you need to worry about and this is both FDA approved and dishwasher safe.
Overall
If you are simply assessing the shaker itself, it is very impressive. If you are solely looking at the jigger, save your money. So, as a total package, it is good but could be better.

Subscribe to our Newsletter