Best Cocktail Shakers
last updated:
Feb 11, 2019
While this device is not necessarily a necessity for making well-tasting alcoholic beverages, it can certainly make things a lot easier as it can be used to mix ingredients together beforehand. But, typically, the shaker alone will not be enough and you will see a lot of sellers include several other accessories. There are different variations available with different materials used for construction. With the help of this guide, our hope is that you can feel much more confident in the buying process. So, if you are willing to go along for the journey, keep on reading so you can educate yourself on this fancy tool.
This is the best product on our list that is currently in stock: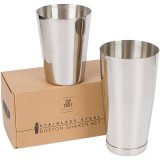 Top Shelf Boston
Why is it better?
Has a water-tight seal
The tins will nest inside of each other
Made of durable 304 stainless steel
In a
Hurry? Editors choice: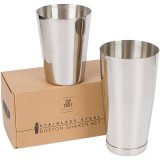 Test Winner: Top Shelf Boston

7
Researched Sources
21
Reviews Considered
2.75
Hours Researching
16
Products Evaluated
Durability
Effectiveness
Versatility
Accessories
Ease of Use
By Default
OUR TOP PICKS FOR THE BEST COCKTAIL SHAKERS
Criteria Used for Evaluation


Durability
Ensuring your product lasts as long as possible is key and most certainly, it is no different here.
As you could no doubt tell throughout this guide, a majority of cocktail shakers are made of stainless steel. Now, there are models that will be made of plastic or glass but for the most part, stainless steel is typically the go to. It is not much of a coincidence why as on top of being naturally durable and resistant to rust, it is also very easy to clean (which will be addressed later). But, there are also different grades of stainless steel that you need to be aware of.
The most common grade is 18/8 and 18/10. It is worth noting, for the record, that this grade is also known as 304. For food preparation and dining purposes, this is the grade of stainless steel that you will see most often. Now, the 18 and the eight do serve a purpose. The first number, which in this case is 18, refers to the amount of chromium present in the steel. Meanwhile, the second number refers to the amount of nickel that is present. For the most part, you will be good to go with 18/8 grade but also remember that different models may have differing thicknesses (which also can increase the durability).


Effectiveness
The overall effectiveness and performance of a cocktail shaker can make or break your purchase, period.
Even though it is close, this is arguably the most important section of this entire guide. With any product that you invest in, its effectiveness will be important, clearly. But, in the case of cocktail shakers, it is literally everything. When it boils down to it, there are several key features that you need to keep a keen eye on. Firstly, an effective model needs to have a tight seal. Given the fact that you literally have to shake these tools for them to do what they are designed to do, the lid needs to stay firmly in place to prevent leakage.
Secondly, the lid also needs to be easy to remove and attach. Believe it or not, this can be an issue with some models and this can be very annoying if you plan to use the shaker continually. Thirdly, the last thing you would want to happen is for the entire tool to slip from your hands. So, looking for a design that has an optimal amount of grip is recommended. Lastly, how about if the main unit is insulated? If it is not, your hands may become freezing very quickly when shaking one with ice inside.


Versatility
Most of these units are pretty versatile but you also need to know your skill level.
For the most part, most cocktail shakers are going to be versatile just due to the nature of their design. In regard to making different kinds of recipes and drinks, all of them should be able to do so. This does not even have to be limited to alcoholic beverages, either, as these can be used to make any type of drink you can think of. For example, fruit juices and milkshakes. While machines such as a blender and food processor can do the same, it is nice that cocktail shakers have this versatility.
However, and this is where you as the buyer come into play, not all designs will be optimized for the right consumer. To elaborate, if you are a novice and really do not know what you are doing, you may want to go with a simple shaker. On the contrary, if you are a bartender then you may be looking for a style that is more in-depth and advanced.


Accessories
Speaking of skill level, this is what it is all about here. The amount of accessories you crave is really up to you and your intentions.
This next section pretty much epitomizes why it is important to establish your skill level with this particular craft and yes, making cocktails is a craft. The reason for this is there are different types and, without question, two of the more popular ones are the Cobbler Shaker and the Boston Shaker. Due to its design and engineering method, the former is much better for beginners and users just starting out. Yet, that means that for more advanced skill levels, a style such as the latter may be in order. In fact, most bars and lounges will incorporate the Boston Shaker.
Now, as far as additional accessories are concerned, this also goes back to your skill level. Some sellers, as was seen on this list, will sell their model in a set and can sometimes include tools such as strainers, jiggers, muddlers, spoons, and others. But, this will only be necessary if you want to make cocktails like a pro and lack the extra items that are provided by the seller. For casual use, though, excessive accessories may not be necessary.


Ease of Use
The ease of use, and in this case the ease of cleaning, can make your life easier once you are done making your cocktails.
Alright, because most models you invest in will be made of stainless steel, this is a great time to address an extremely common question. That being if the metal can be placed in a dishwasher. For the record, the best way to determine this is to see what the manufacturer recommends. If they give you the all-clear then you are good to go.
Yet, there are some dishwasher manufacturers out there who do claim that some detergents are harsh; even to the point where they can corrode stainless steel and cause it to discolor. Of course, there are also claims to the contrary by the same manufacturers who design detergents for dishwashers. It can get real messy if you listen to too many "experts". So, stick to the words of the designer of the cocktail shaker themselves. But, for the most part, stainless steel will be dishwasher safe.
Frequently Asked Questions
q:

Is one even necessary?

a:

It is pretty ironic to ask this question because if the answer happens to be no, then there is really no purpose to this guide and we just wasted your and our time. However, to rid ourselves of that embarrassment, let's just say that these shakers (while not mandatory) are necessary. The reason they cannot be deemed mandatory is that you can still make cocktails without the assistance of them.
Yet, the primary reason why they are necessary is they integrate all of the ingredients much better than other methods out there. Rigorously shaking all the ingredients is the most thorough way to mix all of them and without question, will yield the best results.
q:

How do you remove a lid that is stuck?

a:

This right here is actually a common issue that you can run into. In fact, with certain designs, it may happen more frequently than you want it to. So, becoming knowledgeable on how to remedy this issue is of importance to you. But, first, you should know how a lid can become stuck, in the first place. Here is the deal; with a standard three-piece design, the strainer can become stuck to the cup. This can be caused by contraction, mismatched parts or even a sticky residue on the inside of the strainer.
Either way, when this happens, here are some tips that can help loosen the stranglehold that the strainer has on the lid. Arguably the easiest method is to soak the entire unit in hot water. This hot water can dissolve any residue or even loosen up the strainer.
q:

How do you properly shake one?

a:

Wait; is there an actual manner in which you should shake? This is probably the question that just came across your mind and yes, there actually is a so-called science to this art. From the get-go, though, do know that this is not a complicated and convoluted process. While the amount of time you need to shake will be addressed in a little bit, let's take a look at how you should shake one, in the first place.
First off, place all the ingredients inside (including the ice). Then, ensure the lid is tightly secured so it does not come off. Now, with each hand on each piece of the unit, shake it vigorously over your shoulder. That is about all there is to it folks.
q:

Can you clean rust off of one?

a:

It is now time to address a common misconception with stainless steel. No matter what anyone tells you, it is not rustproof. It certainly can rust because the chromium that is in the steel can form what is known as chromium oxide if it is exposed to oxygen in the atmosphere. Now, with this type of device, it is not as likely to rust as you will probably leave it indoors at all time.
Yet, because it can actually rust, you may want to know if you can clean the rust off if this occurs. The good news is, you can but you need to create a paste to do so. This paste needs to consist of baking soda and water (or you can buy a specific cleaner that contains oxalic acid). With a custom paste of baking soda and water, take a non-abrasive brush and begin to scrub the rust off. When finished, apply a special stainless steel cleaner.
q:

Where can you find recipes?

a:

The first step to this overall process is investing in the right cocktail shaker and the final step is developing the skill to use it properly. Yet, the second step is actually knowing what ingredients to place inside. To do this, you may want to access common and popular recipes. Here is the cool thing; some sellers will actually provide you access to their recipe book. Most of the time, it will merely be an eBook which means you do not get a physical copy of it.
However, even without access to this, you can always search recipes on the infinite universe known as the World Wide Web.
q:

How long should you shake a cocktail?

a:

From person to person, the time they spend shaking their cocktail may differ. No matter what, though, you will never need to shake it for longer than several seconds. Most of the time, intensely shaking the unit for 10 to 15 seconds will yield the results you are looking for. A good benchmark to shoot for is to shake until the unit is so cold that your hands literally can't hold it any longer. For those of you who are looking for a more in-depth answer, there is scientific data out there to reference.
Subscribe to our Newsletter