Best Portable Ice Makers
In a Hurry? Editors choice: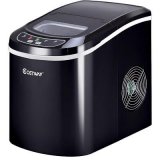 Test Winner: Costway Counter Top

When it comes to wanting a
cold drink
or needing ice to cool something down a portable ice maker for your home is necessary. In the long run, many machines more than pay for themselves after a couple uses rather than picking up bags of ice. When considering portable
ice
makers it is important to pay attention to the weight of the machine. When the weight is reported this is before any water has been added or ice has been made. Ice and water actually weigh the same amount, they have the same amount of molecules they are just arranged differently. All of the products on this list are portable, yet a few are much heavier than the others and far more likely to see counter time rather than
RV
time.
Standout Picks
Criteria Used for Evaluation
Top 10 Picks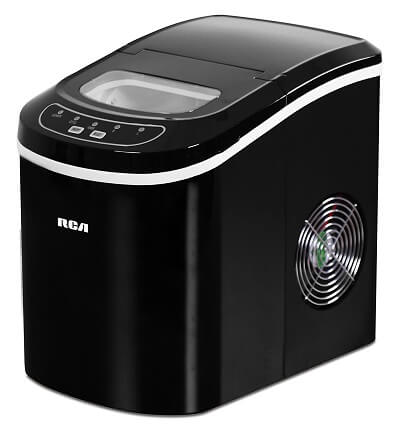 RCA has the reviews! A company that most know well with electronics, this ice machine is hefty in capabilities while being light on the price, possibly the lightest! If you want style and reliability, this is the ice maker for you! Having been reviewed in the thousands this product will have all the feedback that you are craving!
Read more
Have a party raging but you ran out of ice? Make some faster than it takes on average to run to the store! 2.3 quarts of water can be held in the tank at one time, while it doesn't hold the most of other models, this is sufficient in most cases.
Weight/Size
Weighs a generous 20 pounds and measures in at 13" in Long x 9" in Wide x 13" in High.
Capacity
1.5 pounds of produced ice at one time with a water tank of 2.3 quarts.
Features
Can produce up to 26 pounds of ice in 24 hours- typical. Choose between 2 cube sizes and makeup to 1.5 pounds of ice at a time at around 6 minutes a tray. The unit is built with LED electronic controls so that it is as user-friendly as possible. It is easy to clean with a simple wipe down every once in a while. The only downside we have seen here is some reviewers don't find it to be reliable.
Value
This machine is not much money, it is one of the cheapest. It produces ice quickly, but if you are looking for dependability then keep on shopping.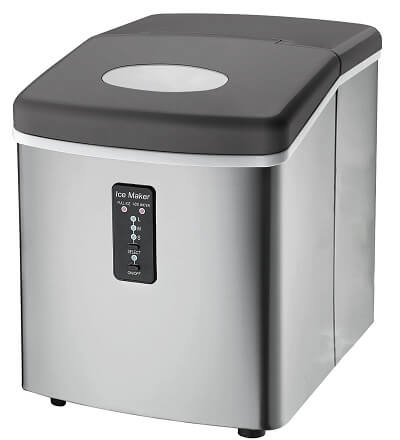 Think Gizmo has been making electronics for a long time now- with their ice machine that can make up to 26 pounds in 2.22 pounds increments, this machine is well worth the money. Don't fret with clean up on this one, it is easier than most if you consume a lot of ice than this is a great addition to your house.
Read more
While it is heavier than most, this ice machine is worth the money. It can make and hold up to 2.2 pounds of ice at one time, and upwards of 26 pounds of ice in 24 hours- that's nonstop work!
Weight/Size
Hefty in weight at 25.2 pounds it measures in at 17" in Long x 16" in Wide x 13.8" in High.
Capacity
The maximum amount of ice this ice tray could make is 2.2 pounds of cubes.
Features
Make up to 26 pounds of ice in 24 hours- but have ice within 6 minutes. You can choose between 3 cube sizes. This machine couldn't be easier or more straightforward to use. This was built with the long term in mind- it will last. It even comes with a 12 months warranty! Even better, it's a breeze to clean.
Value
Most of the models of ice makers in this list were right around the same price- while this is far from the most expensive, it is more expensive than other models. It's easy to clean and it has a 12 months warranty- this is a solid purchase.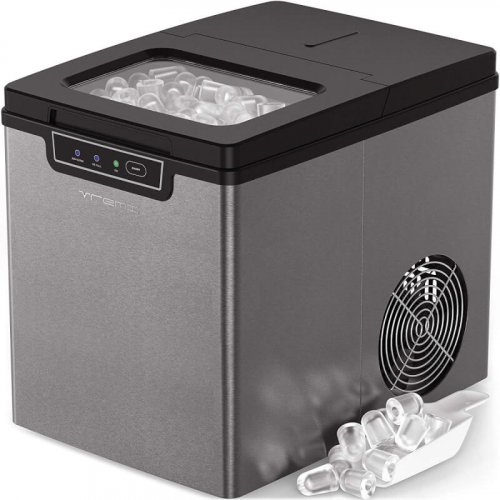 Get the party started with ice cold drinks- 2 pounds in 15 minutes! No party will lag behind schedule with this miracle worker! Consumers love this reliable little ice maker. Gourmia will produce up to 26 pounds of ice in 24 hours so you will always have ice-cold drinks!
Read more
The water tank on this puppy is only 3 quarts, although it also claimed it was only 2.5 quarts in the same product page, so you will likely have to be refilling this constantly, but it is polite enough to let you know everytime it needs your assistance with the convenient digital timer.
Weight/Size
Weighs 16.9 pounds and measures in at 14.5" in Long x 9.8" in Wide x 13" in High
Capacity
This machine has a small 3 quart water tank so you will have to be more attentive to it than with the competition.
Speed Of Production
On the slower side- 10 minutes before the first cube is produced. It does have 3 cube sizes though. Will produce 26 pounds in 24 hours if attended to.
Usability
If this machine needs you for any reason the digital display with built-in alarm will get your attention.
Reliability
Comes highly recommended by consumers!
Cleaning
This machine includes a cleaning mode! It should be used upon installation for best results with cube flavor.
Value
While it isn't the cheapest, it isn't that much more expensive than the competition, but it is a little pricier.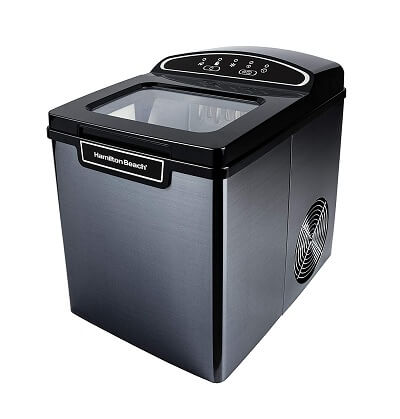 If you aren't necessarily interested in the most innovative or pricey products, but you want a solid purchase- this is it. Hamilton Beach delivers 9 pieces of ice in as little as 7 minutes, that's pretty fast folks. Coming in a classy black stainless steel coating- it'll find a home wherever you bring it!
Read more
Consumers had very few negative aspects to report at the time of this publishing. Consumers can be hard to please, but this 2 pounds of ice tray will win over the pickiest buyers.
Weight/Size
Weighs 19 pounds and is 12.5" in High.
Capacity
The water tank holds 0.7 gallons worth of liquid and can hold up to 2 pounds of ice at a time.
Features
Every seven minutes 9 ice cubes are produced- 26 pounds in 24 hours. You will want to use this all the time- doesn't leave your ice tasting like a plastic bottle! You will use this all the time, but the ice doesn't get as 'hard' as traditional ice does. This puppy is designed for a long and quiet life. To clean the machine, simply drain and wipe.
Value
Coming in mid-price range, this is a solid purchase.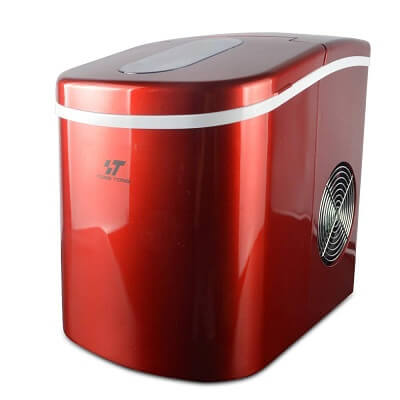 Ice makers don't get cheaper than this- not to mention they can't produce more ice than this one can in the same amount of time! 2 different cube sizes allows you to be in control of your iced beverage needs. Stainless steel so you know it is tough- Yongtong delivers!
Read more
Faster than it takes to run to the store, you will have ice within 6 minutes with this baby. On average most machines take 8 minutes, so this one is performing above average. Stylish red stainless steel will compliment many different outings while giving you the reliability of steel.
Weight/Size
On the lighter side this weighs 17.5 pounds and measures in at 9.5" in Long x 13.8" in Wide x 12.7" in High.
Capacity
Can hold 2.2 liters of ice at any one time- that is plenty!
Features
Depending on the size of the ice cubes that you choose- 2 choices are your options- it can produce up to 26 pounds of ice a day! You will have your first ice cubes in 6 minutes. This machine is very easy to use, straightforward. One great feature of this machine is that it has a see-through window so you can observe the process without interfering or slowing it down. While you will get it's money's worth, this may not last as long as the competition.
Some machines are hard to clean, this one is not. Use a dry paper towel to clean this puppy up.
Value
You couldn't ask for a better price- for the amount of less than 50 bags of ice this machine has paid for itself. Get it for the summer but find a use for it throughout the winter.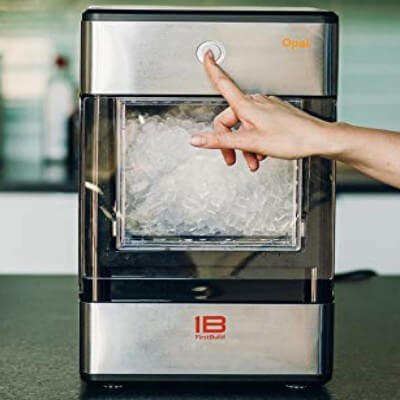 Watch as the ice drops! Produces 1 pound an hour, yet holds 3 pounds worth at anyone time! This is the kind of ice that people go to the hospital for… not like they injure themselves simply to get ice- I mean they drive themselves to the hospital to 'visit a friend' only they're there to get a cup full of nugget ice.
Read more
Okay, this is expensive, but it is reliable and dependable. Make ice that all your friends will crave when they think of partying with you. It maybe more expensive than the competition, but it can hold 3 pounds of ice at one time- never run out during a party again. Another thing to note is that it is heavy, but it has to be said that it delivers every time!
Weight/Size
Ok, we are sad to report this- but we have to, this machine weighs 44 pounds… why?! It measures in at 15.5" in Long x 10.5" in Wide x 17.2" High.
Capacity
This machine holds more than all the other competition- at one time it can hold 3 pounds of ice- never worry about running out of ice again!
Speed Of Production
This can make the first ice cubes within 15 minutes- not the fastest production time. Once it gets up to speed it can make a pound of ice an hour.
Usability
Guess what, this is Bluetooth capable! Schedule when to make ice from the convenience of wherever you are- simply have active wifi wherever the machine is plugged in. Don't plan on lugging this with you every time you go out tailgating, this puppy weighs an incredible 44 pounds! Is that even necessary?!
Reliability
Ice stays insulated, so it won't start melting as soon as it is made. Melted ice will be recycled for future ice though.
Cleaning
Cleaning is reported to be easy with quick draining.
Value
We won't brush over the fact that these machines are expensive, they are. However, Opal Nugget machines are often far more expensive. It doesn't produce ice the fastest, in fact, it is likely the slowest of all the competition, but this is cravable ice that will have the neighborhood talking all summer, every summer. With bluetooth capabilities even if you forget to schedule ice to be made, you can do it right from your phone!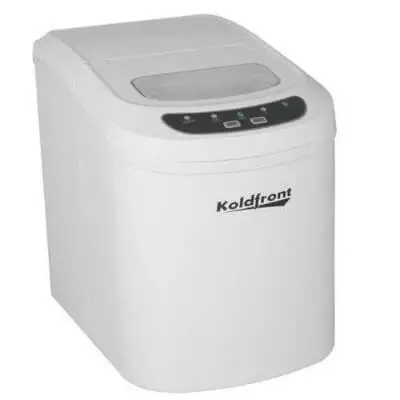 Up to 26 pounds of ice per day! This Koldfront can stand the demands of even small business owners- so if you are just buying this for a party know that it can handle it! This machine can produce 1.5-pounds in just 10 minutes, keeping you prepared for anything.
Read more
While this ice machine is heavy, basically 20 pounds before you ever add water to it, it may not be the most portable of portable machines- but it will be your trusty sidekick wherever you decide to use it! Great for parties, travel in RVs, and even for small business owners looking to invest in a reasonably priced machine!
Weight/Size
This stylish machine weighs in at a pretty heavy 20.3 pounds and measures in at 14.1" Long x 9.5" Wide x 12.9" High.
Capacity
Can make-up to 26 pounds of ice in any given 24 hours! That pays for itself in one day practically.
Features
This ice maker has a holding tray that can keep 1.5 pounds of ice ready to go. The only thing you need to use the machine, besides water, is an outlet. Lights on the top indicate to you whether you need to add more water to the tank, or if the ice bucket is full. Any ice that melts will be recycled and used to make future ice.
This product comes highly recommended by customers. The only complaint we have found is the size of the ice. Some say that the ice is very small, even on the largest setting, and because of this, it melts quickly.
Cleaning is pretty much as you expect it would be. Everyone cleans theirs differently, but we would suggest cleaning it once a week if it is heavily used, or as little as once a month if it isn't used that much. Some users swear by running a vinegar/water mixture through it while others hand scrub it with mild detergent.
Value
This ice maker is cost-efficient and can make over a pound of ice in ten minutes. While it does weigh about 20-pounds, we don't see this as much of an issue as long as you move the machine to the desired area before adding the water.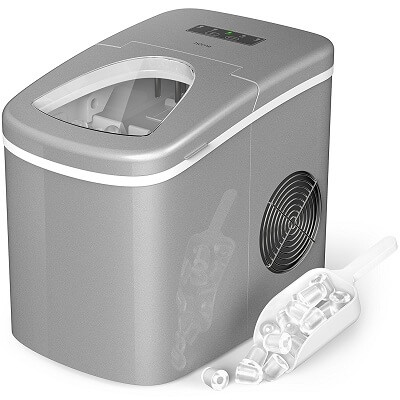 Homelabs has done it, they have won the hearts of consumers winning a spot on Amazon's Choice list- ice can be ready in as little as 6 minutes and can make up to 26 pounds in 24 hours! Back in the day ice wasn't available for half the year or more for some people, now we can change a warm brew to an ice-cold brew in less than 10 minutes!
Read more
No longer do we have to wait for hours for the ice to freeze in a freezer that isn't energy efficient. Wherever you go, this ice machine can go with you, just don't forget the car adaptor! No need to spend a fortune on ice that melts in a matter of hours anyway- this ice machine will pay for itself in no time!
Weight/Size
This Amazon Choice list winner weighs in at a heavy 19.4 pounds and measures in at 9.5" in Long x 12.9" in Wide x 14" in Hight
Capacity
Is capable of producing 26 pounds of ice in 24 hours- holding 1.5 pounds of ice at any one point with a water tank capable of holding up to 1 gallon of liquid.
Features
Produces ice in an unbelievable 6 minutes! Also, it automatically shuts itself off when the ice tray is full. Comes with a BPA-Free ice scoop. Has a quiet air compressor that keeps it cool and doesn't make a lot of noise. No installation needed, it's ready to use right out of the box. Fast and reliable, you can you this machine every day. It will save you money in buying ice if you use a lot of ice for various reasons! The sensor that keeps the machine on and making ice may get jammed and turn itself off prematurely. This ice machine should be cleaned a minimum of once a month, but it is difficult to clean. The first couple times will be the hardest but you should figure out your own rhythm for cleaning.
Value
With little negative feedback, this ice machine seems like a great purchase- produces ice quickly and reliably!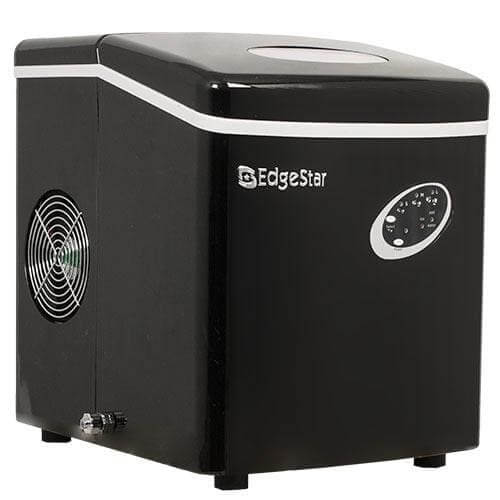 If you love ice and you want it now- this is the best portable ice maker to purchase. Plug it in and within 8 minutes you can choose between 2 sizes of ice cubes. Throwing a party but you want to spend money on booze and not ice- but you still want ice cold drinks? EdgeStar IP210BL is the party buddy you need.
Read more
There are several reasons why you would want to purchase an ice maker, and if you are in the market for one, this is a company that many consumers enjoy. Choose between 2 size ice cubes to make and have them within 8 minutes, that's fast when you consider the process of water freezing to ice! This machine is noted to be louder than the competition, so if you are looking for a machine you can plug in and forget it is there- this isn't the one for you. But if you want ice- quickly- this is a great model.
Weight/Size
This machine weighs in at 17.2 pounds- before any water is added or turned to ice- and measures in at 11.5" in Long x 8.8" in Wide x 12.5" in Hight.
Capacity
This machine can make up to 26 pounds in 24 hours. It doesn't specify how much it can hold at any one time- but you can make about 15 pounds in 6 hours if you are attentive.
Features
Produces ice within 8 minutes- and you can actually choose between two sizes of ice cubes!
The top is see-through so that you can easily regulate how much ice is in the hopper without letting out the cold air. However, It is rather noisy while it makes ice. If your freezer doesn't make ice but you don't want to purchase a whole new fridge this is the perfect purchase to keep you supplied with ice at all times. Consumers really love this product. As for keeping the machine clean, cleaning seems to be pretty straightforward and easy with this one.
Value
This machine is rather expensive- definitely on the pricier side of this list- but it also includes a 30 Day full money back guarantee! That speaks volumes for how willing a company is to back their own products.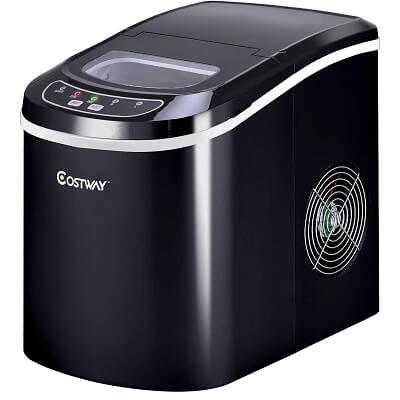 Hundreds have already discovered the joys of owning a portable ice maker. If summertime is your jam, and you only drink ice cold beverages, and you have lots of friends, then this is the perfect addition to your summer packing list. Costway does it right, customers love this portable ice maker.
Read more
There is almost nothing like sitting next to moving water sipping an ice-cold beverage while the sun beats down on you. Just the thought brings the visual to mind and I think we can all agree it's a pretty great one. If you like to go out on long camping trips and pack your own food, having the right amount of ice is vital. Getting ice is the issue. Not anymore, now you can bring a portable ice maker and make ice anywhere you have water and an electric hookup for this machine- just don't forget the car adaptor for those long trip excursions!
Weight/Size
This machine weighs 17.5 pounds- on its own before water is added- and measures in at 9.5" in Long x 14" Wide x 12.9" in Hight.
Capacity
This machine can make an incredible 26 pounds in 24 hours- it can hold 1.5 pounds of ice at any one time. The water tank capacity is up to 0.58 gallons.
Features
Never wait for ice again- it's ready in a matter of 8 minutes! This machine is made for the consumer- Light indicators for low water; for full ice bucket; and the panel is easy to use and understand. Additionally, this machine is highly reliable until all of the sudden it seems that some consumers have issues around the 6th-month mark. Unfortunately, if you have problems customer service is not reported to be great with this company.
Cleaning the ice bucket, where the ice falls after it is made, is very easy to clean. Cleaning where the ice is made is nearly impossible to clean- even with tools- and a film will develop over time. Running lemon juice or vinegar with water through the machine for several cycles and using a small and flexible cleaning tool afterward will probably be your best bet on maintaining a clean product.
Value
This machine is well received by nearly all of its consumers. It is reasonable in price and comes in 4 styles- even while you are roughing it you can bring a little bit of your kitchen out with you. The ice making is no louder than your freezer at home, so chances are you won't even notice it.

Subscribe to our Newsletter