Best Waffle Maker
In a Hurry? Editors choice:
Test Winner: Dash Mini Maker

A waffle maker, also called a waffle iron, is a tiny
electric
countertop appliance used to make waffles. These breakfast treats are somewhat similar to pancakes but sweeter and lighter, and with a look that visually makes it all the more appealing. What makes the waffles delicate and
light
is the eggs. Having a good waffle making
tool
helps you create a presentation that will surely be a hit among your
family,
thanks to its amazing shapes and grid-like designs. Check out our top picks below and take yourself to breakfast bliss
Standout Picks
Criteria Used for Evaluation
Model
Brands are critical to a buyer. In most cases, the more popular brands are, the more likely buyers are to trust them regardless of the hefty price tag that this may have, especially with those designer brands.
In the world of an electrical appliance, there are a handful of reputable and trust-worthy brands that you are likely to trust to deliver you amazing waffle results. If you have a specific brand in mind that you love and personally know, it is best to research first the brand's different range of their waffle tools. That is actually a tough job but there is certainly one type that will suit your needs. So start doing your waffle machine hunting by researching with the particular electric brands you already have at home. Chances are, your most reliable brand may also have an amazing waffle making tool!
Advanced Features
For those who are willing to go the extra mile into finding waffle tools with added features, there are a lot of modern options available these days.
More and more users prefer to have the say of their waffles, in terms of softness or crispiness. With that, finding the right waffle iron that suits your needs is just as important. If you feel like making your homemade waffles dark brown or barely golden, it's best to find a machine equipped with temperature control.
There are also waffle machines with multi-functional designs. Some machines are designed with plates that you can flip so they become flat; creating a perfect surface for pancakes, eggs, or bacon. Multifunctional waffle machines are actually practical options especially if you don't have that much space in your kitchen.
Drip trays are also great additions. This will help keep your countertops clean and avoid getting it covered in waffle batter. These days, there are a lot of waffle machine manufacturers that feature drip trays in their products that can also be easily removed and are dishwasher safe.
Ease of Use
Most waffle tool manufacturers claim how easy to use their products are. This factor is quite tricky because what may be easy for one user may not be the same for another. In essence, the conventional and standard waffle machines are the ones that are generally easy to use. The more complicated ones are those that come with added features like temperature control. Others also have removable plates or are equipped with alert systems that may not help especially to a novice user. If you think you can't have a hold with the more modern and sophisticated waffle machines, it's better to stick with the traditional ones that have long been proven to efficiently work.
Easy Cleaning
With this criteria, it is best to go for waffle machines with removable or non-stick plates. These are the types where you can simply wipe off any excess batter instead of scraping the whole waffles off. Furthermore, those machines with removable plates, as its name implies, have plates you can remove so you can clean them in your sink or in your dishwasher. No worries about wipes and sponges!
Size
The size of a waffle maker is especially important if you have a small kitchen or not enough counter space!
Even though most waffles come at a similar size, there are those that are intended for larger families as well as waffle makers for two persons only. These are referred to as mini waffle makers.
Accessories
Indicators and Alerts
In conventional machines, you can never tell if you're waffle is already done not unless you lift the lid and check it yourself. This can be pretty risky as lifting the lid can ruin the cooking process of the waffle. That is why we can find more modern waffle machines these days with audio or visual alerts that indicates when your waffle is already good to go.
Visual alerts are perfect add-ons but then you can possibly miss the light change especially when you are preoccupied with something else in the kitchen. Audible alert, on the other hand, is a perfect feature if you intend to make waffles and do other things on the side, simultaneously. A simple beep signals you that your waffles are ready.
Flip Functionality
In the more conventional waffle tools, most users end up having waffles where the bottom part is crispier than that of the top. The reason? Gravity. Thankfully, you can now achieve evenly made waffles, thanks to a flip feature found in most modern waffle machines today. You can easily achieve evenly-cooked and perfect waffles, every time! When choosing, go for those machines that flip 180 degrees. They give better results than the ones who rotate horizontally on a hinge.
Best Waffle Maker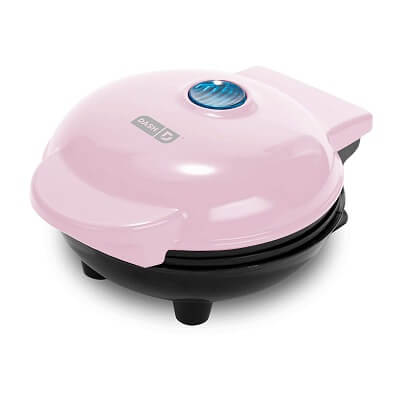 This waffle tool is not only perfect for making breakfast waffles but also ideal for making hash browns, paninis, and biscuit pizza. This can go well with any wet batter, perfect for snacks and treats in serving portions. If you have kids, this is an amazing investment.
Read more
Build Quality
This product is very small and compact, perfect for tiny homes or apartments. It won't take a lot of space on your kitchen counter and stores very easily. Weighing roughly 1lb only, this waffle tool has a dual non-stick surface to help you achieve consistent cooking results.
Product Features
Using this product is very quick and easy. Plug the maker in, wait for it to heat up in a few minutes, and you are good to go. It is very to store, and it looks very pretty too! And because it is PFOA free, it makes cleaning this maker very easy.
Overall Components
It is very small and takes so little space on your counter. The product has a very fashionable color and sleek that can match your kitchen décor. The waffle tool comes with a 1-year manufacturer warranty and includes a recipe database access and a recipe book.
Product Size
This has a product dimension of 5x6x2.8 inches and weighs 1.4 pounds. A recipe book is included upon purchase, and users are also given access to Dash's database of recipes for free.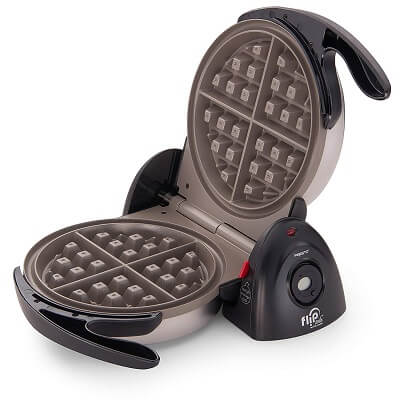 This is a two-pack waffle making tool designed with a professional-style rotating feature. It has an extra-thick grid that can bake a waffle seven inches in diameter and can cut these in four sections. You can easily achieve the most perfect Belgian waffles, complete with deep wells and pockets for that delicious syrup.
Read more
Build Quality
This product has a non-stick interior that easily wipes clean. It has a base that allows you to easily rotate this kitchen tool. The exterior is made from brushed steel exterior.
Product Features
This Belgian waffle making machine is equipped with a countdown timer. Its digital display indicator tells you when the baking time is complete. To spread the waffle batter evenly, this product flips 180 degrees, thus giving you a crispy from the outside, tender on the inside waffles.
Overall Components
This waffle tool can easily rotate. And because you can store it vertically, this makes a great space saver in the kitchen. It has a nonstick interior; brushed exterior made from stainless steel, 1100 Watts and runs on 120 Volts AC.
Product Size
The exact size of the product was not mentioned, however, this can produce 7-inch diameter waffle.

3

. Cuisinart WMR-CA Round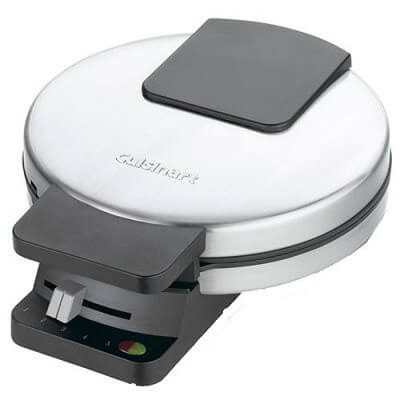 This stainless steel kitchen appliance is perfect for baking delicious and homemade waffles. It has a regulating thermostat and indicator lights that help you with an easier waffle-making experience.
Read more
Build Quality
This waffle making tool has a non-stick plate and the covers are made from brushed stainless steel. It also has rubber feet that keep the unit steady and avoids countertop markings. The weighted lid also makes a good feature as it doesn't rise as the waffle bakes.
Product Features
This waffle tool features a five-setting browning control and a regulating thermostat. It bakes a 7-inch diameter traditional waffle. The housing is brushed stainless steel, the baking plates are non-stick, and it has the red and green indicator lights to tell you when the waffles are ready to be baked or ready to be eaten.
Overall Components
This product has a five-setting browning control that allows choosing how you want your waffles to look; achieving light waffles to golden browns. The plates have four quarters and are guaranteed non-stick. This can also be easily stored and is BPA-free. It runs on 120V and comes with a three-year warranty.
Product Size
The kitchen tool weighs 3.86 pounds and measures 11x8.5x4 inches.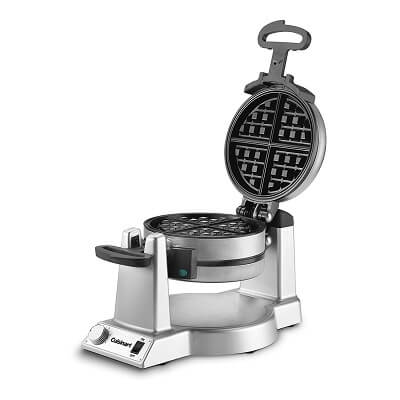 For those who love to make home-made Belgian waffles in numbers, then this kitchen tool is right for you. This product can cook two one-inch thick, round Belgian waffles both at the same time.
Read more
Build Quality
This waffle making tool has a non-stick coated plate for better food release. The LED indicators light when your waffles are done, along with three audio beep signals. This product runs on 1400 watts of power.
Product Features
This product can expertly help you with your waffle baking. Its two, 1-inch deep, baking plate will surely give you that perfect restaurant-style Belgian waffles you've been dreaming about. Since it has an easy-to-hold feature, you can easily flip your waffle 180 degrees so you get to achieve even cooking.
Overall Components
The Cuisinart Double Belgian Waffle Kitchen tool features a browning control knob with six different settings to ensure that both the waffles are cooked according to your preferences—whether they be light, fluffy, crisp or brown. Audio beep tones and LED lights are also great helps to tell you when your waffles are cooked. And since the material is non-stick, you can simply wipe them clean easily.
Product Size
Cuisinart's WAF-F20 has a dimension of 10.6 x 16.5 x 10.2 inches. It weighs thirteen pounds.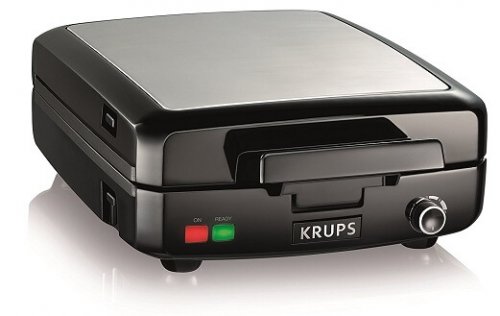 This waffle tool allows you to prepare four Belgian waffles at the same time. It has five different adjustable browning levels that help you achieve waffles according to your preferences.
Read more
Build Quality
This product has a stainless steel casing to ensure quality, and its removable, non-stick plates made from die-cast gives you effortless waffle release and easy cleanup. This also has a cord wrap feature to help the cords intact when the unit is not in use, and its handle lock helps it to be conveniently stored.
Product Features
This Belgian waffle tool comes with five variable browning levels, running from light to dark. The green and red light indicators tell you when the unit is ready for use and when the waffles are done, alongside the "ready" audible beep to keep you at pace with your baking.
Overall Components
The makers of this waffle tool have been awarded the Good Housekeeping Seal by the Good Housekeeping Institute. It runs on standard USA 100V; 1200 W. Materials are made of stainless steel; the removable plates are non-stick and dishwasher-friendly.
Product Size
This kitchen tool weighs 9.1 pounds and measures 12.6 x 6.7 x 16.5 inches. Apart from the basic technical specifications, the manual also comes with easy to make waffle recipes.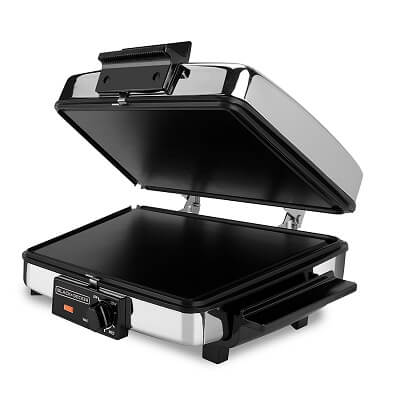 As its name implies, this is a three-appliance kitchen tool in one. You can toast sandwiches, fry eggs, and bacon, and make large and fluffy waffles on this versatile kitchen tool. All you have to do is simply switch its reversible cooking plates and you are on the way to making amazing breakfast for your family.
Read more
Build Quality
This product has a non-stick surface and its plates are removable. Temperature indicator lights are featured, and it also has different temperature controls. It also has a runoff channel on the edge to get those excess oil and grease away. The maker also opens flat, thus giving resulting to even cooking.
Product Features
This is a three-in-one kitchen appliance: a waffle baker, a griddle, and a grill. It has a two square cooking plates, both eight inches; one secured on the bottom of the product, while the other hinged on top. One side of the cooking plates create grids and allows you to make four waffles at a time. When you flip it over, it gives you the flat side of the appliance where you either grill a steak or sandwich. When opened flat, a griddle space is achieved, forming two surfaces ideal for griddling. You can make hash browns or pancakes on this side, or even fry eggs.
Overall Components
This multipurpose kitchen tool opens flat to help you cook more of your favorites breakfast staples. It has different temperature controls so you can choose the amount of heat you want for your meal. You are in complete control of your cooking, thanks to its reliable and accurate temperature feature. The removable non-stick grill plates ensure you of a hassle-free clean up as well.
Product Size
This 3in1 waffle tool measures 14 x 13.1 x 6.2 inches and weighs 8.57 pounds.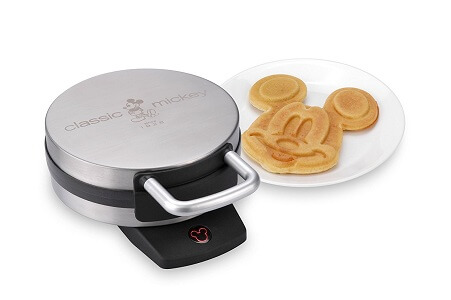 Perfect for both kids and the kids at heart. What better way to increase the fun at home than making waffles that will surely be a huge hit? This Mickey Mouse waffle tool bakes a 7-inch waffle in the most lovable Mickey Mouse shape.
Read more
Build Quality
This waffle tool has a nonstick baking plate, making it easier for clean-up. It is 800 Watts and has an indicator light shaped like Mickey Mouse. The finish is brushed stainless steel, and its laser etched emblem brings more elegance to your cooking space.
Product Features
This product features a power indicator light that is both cute and charming. It tells you when this kitchen tool is plugged in and ready to use. The non-stick baking plates make your breakfast preparation a great hit for Disney fans. When a waffle is done, simply wipe the plate with a damp cloth and you are good to go to making waffles again in no time.
Overall Components
The waffle machine is made from brushed stainless steel. It has a non-stick, non-removable plate that can product a seven-inch waffle at a time. It has a Mickey Mouse shaped light indicator, non-skid rubber feet.
Product Size
The classic Mickey Mouse kitchen tool weighs 3.3 pounds and has a product dimension of 7.5 x 10.6 x 3.9 inches.

8

. Disney DCM-9 Mickey Mini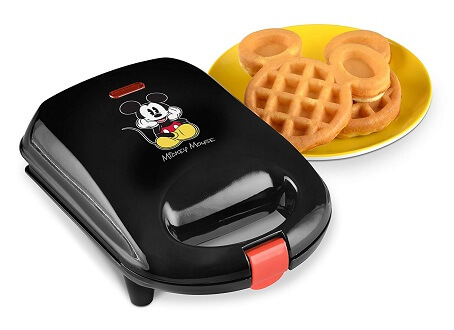 Level up your breakfast experience with this Disney's most loved Mickey Mouse mini waffle tool. The product makes one waffle per batch, shaped that of Mickey Mouse but it will only take you about two minutes of cooking time per waffle. This is perfect for mickey mouse fans in your home.
Read more
Build Quality
The product has brushed stainless steel finish, the plates are non-stick and it comes with a power light. The cord wrap can be conveniently secured when waffle tool is not in use, and its non-skid rubber feet keeps the product sturdy on your kitchen countertop.
Product Features
This kitchen tool has the iconic Mickey Mouse griddle design so you can achieve the perfect waffles for all the Disney fans at home. It comes with a power indicator light to help you easily know when your waffle is good to go. The non-stick baking plate also makes it easy for you to make one waffle after the after, as you only need to wipe the plate with a cloth before making another waffle.
Overall Features
All in all, the DCM-9 mini waffle tool features anon-skid rubber feet for a sturdier grip, a non-stick baking plate, a power light indicator, and a baking plate that is non-stick.
Product Size
This waffle tool is very light, at 1.85 pounds, and measures 6.8 x 4.3 x 9.6 inches.

9

. Hamilton Beach Flip Belgian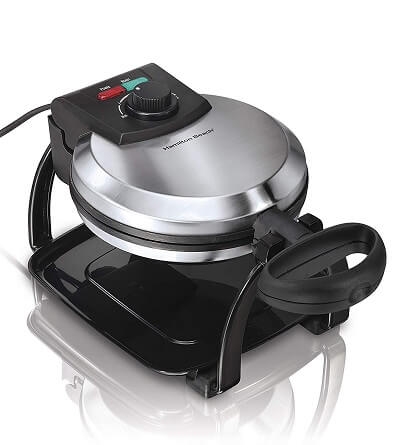 This product helps you expertly bake fluffy and golden brown waffles. It gives you complete flipping control for you to obtain diner-quality results. In just minutes, you can have your waffles just the most ideal way you want it to be—darker or lighter.
Read more
Build Quality
This Belgian waffle machine is designed to bake even the most complicated waffle and thickest batter. The Belgian-style grids are very well-defined, thus achieving a waffle with deep pockets where you can add your most favorite toppings, has never been this easy. The non-stick grids are dishwasher-safe and removable.
Product Features
This product is specifically perfect for thick and fluffy waffles. It has easy-flip and cool-to-the-touch handles for easy storage. The exterior is made of brushed stainless steel, and to ensure consistent browning and baking, this waffle tool features a modern heating technology.
Overall Components
The product has a regulating browning control to help you accomplish the most golden brown waffles that are meltingly tender inside and crispy outside. And because the finish is nonstick, you get to have a trouble-free and effortless clean-up after every use. The drip tray and removable grids are both dishwasher-safe. Adding the batter is also easier because of its "ready" and "on" lights indicator.
Product Size
This product weighs 6.3 pounds and measures 14.9 x 9.9 x 9.1 inches.

10

. Hamilton Beach Belgian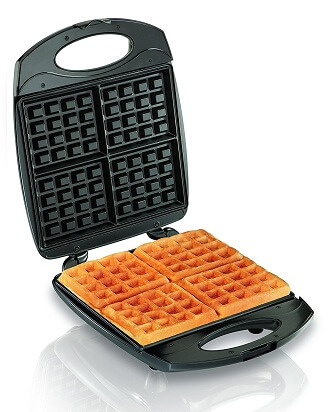 Achieve fluffy, light, and restaurant-quality Belgian waffles in a matter of minutes with the 4-Piece waffle making tool from Hamilton Beach. Create 4 thick waffles per batch for this waffle iron.
Read more
Build Quality
This product has nonstick grids that make 4 waffles at a time. The indicator lights will guide you when you can add your batter and when they are done. The classic stainless steel design that comes in black is compact and sturdy and is designed for upright storage.
Product Features
This waffle tool is designed for easy cleanup. The batter channel and covered hinges are created to keep away from messy spills. Its nonstick surface and plates are very easy to clean. It also features preheat and power on lights to guide you when to add your waffle batter. The compact design allows easy storage in an upright position.
Overall Components
All in all, this waffle iron has easy clean nonstick grids. The indicators lights are designed to keep you on track with your baking. For every batch, you can make four waffles. It can also store in your cupboard or pantry easily because of its easy upright position design for compact storage.
Product Size
This 4-piece waffle tool weighs 6.79 pounds and has a product dimension of 5.5 x 12.5 x 14.9 inches.

Subscribe to our Newsletter