Best Food Dehydrators
In a Hurry? Editors choice: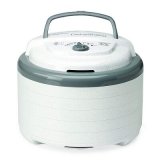 Test Winner: Nesco Snackmaster

There are several amazing and ingenious
kitchen
appliances in the world and food dehydrators happen to be one of them. For those unaware, this machine uses both a heating source and adequate airflow to reduce the moisture content of foods. With excess moisture present, mold and other bacteria are allowed to grow and stripping this
water
away from the food is key to preserving its shelf life. But, not all units will perform with the same efficiency and
power
. By the same token, some can hold more
food
than others and some are more advanced in general. The ultimate decision is up to you, but we are here to guide you along the way.
Standout Picks
Criteria Used for Evaluation
Capacity
Dehydrating your food is a process that can take some time. Depending on the model you invest in, some will work faster than others. No matter, though, if you constantly do not have enough room for all your dehydration needs then you have an issue. The size and capacity you need really come down to how you are going to use your machine. Will you casually dry your foods once or twice a week? Or, is this something you plan on utilizing on a daily basis or utilizing to dehydrate large batches at a time?
If you fall into the former category, then a smaller model with just a few trays is probably going to suffice. Yet, some models will amplify the size and the tray compartments and this allows you to dehydrate more food per each batch. Also remember, though, there is a good chance that the higher capacity models will be larger and more cumbersome. If you are looking to save counter space, you may have to sacrifice the capacity a little.
Effectiveness
No matter what type of appliance or machine you are looking into, their performance will always be one of the most prominent and vital factors. Well, food dehydrators are certainly no exception. But, due to the general simplicity of their design, how could these machines possibly screw up drying food? The issue more so lies in how well the heat is distributed. One of the most vitally important design features of these appliances is their airflow. In specific, ensuring that there are no hotspots and cold spots.
Doing some research to understand what the manufacturer has implemented to improve the consistency of the airflow is essential. One such way is to assess the position of the fan. It can either be mounted on the top, bottom or in the back. In terms of which position is superior, a fan in the back is ideal as rotating the trays will never be necessary. The other two mounting methods are fine but more needs to be done to distribute the heat.
Advanced Features
Outside of everything that has been documented thus far, there are also some key design features that every consumer should be kept in mind. While none of these will be mandatory, as some of the entries on this list do not integrate them, they offer convenience and safety. First up, and this has been mentioned an infinite amount of times, the simple addition of a timer can pay significant dividends. Because food dehydration can be such a long process, a timer can prevent you from forgetting about your food as the last thing you want to do is overheat it. While you may assume an ordinary kitchen timer would do the trick, integrated timers can actually work in conjunction with the unit and shut it down after the time has been reached.
In addition to this, some models will sport an auto shut-off feature. This is an ideal feature if you plan to leave the area for several hours and want the unit to stop running after a set time.
Use
Up until this point, you may have been proceeding under the assumption that food dehydrators are only used for food. Would it surprise you to know that this assumption is utterly inaccurate? If it does, then you are indeed in for a surprise. Believe it or not, this type of kitchen appliance is suitable for a plethora of items outside of food. For example, they can be used to dry flowers, preserve old cine film, dry roots and other herbs, and even to dry something as obscure as clay and metal jewelry.
If you can think of something that can go inside to become dry, under the realm of realism, it will probably work wonders. Heck, try some new stuff out and experiment with it. You never know what you may stumble upon.
Top 10 Picks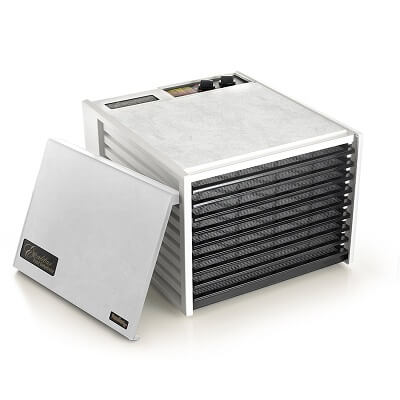 While the saying is not always accurate, more is definitely better in this case. This model from Excalibur sports all the goodies including nine slide-out trays, temperature control and an adjustable timer.
Read more
Food Capacity
Not only does the 3926TW model sport nine individual trays, but they can be removed when you want to insert larger and taller foods inside. Overall, you are given around 15 square feet of space.
Performance
Because the heating elements and the fan are located in the back of this unit, the temperature is allowed to disperse evenly. Plus, this is a 600-watt unit.
Temperature Control
If you have different types of food you want dehydrated, this machine can account for them as the temperature can be controlled from 105 degrees Fahrenheit to 165 degrees Fahrenheit.
Design Features
On top of this appliance, you will notice that there is a timer dial. What this allows you to do is adjust the timer up to 26 hours. This can be ideal to ensure you do not forget about your food.
Convenience
All the trays are made of polypropylene and are BPA-free. Yet, if you do not have a dishwasher, cleaning them can be slightly difficult due to their size.
Overall
What is so amazing is despite all the fantastic features and performance, it is still backed by a 10-year limited warranty. Talk about an immeasurable security for an appliance that is already superb.

2

. Open Country Gardenmaster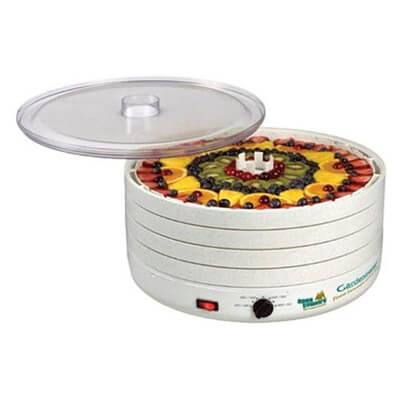 Open Country's Gardenmaster Dehydrator rivals the previous Excalibur model very well but it sports a 1000-watt motor. Plus, if you are not satisfied with the four starter trays, you can buy additional trays for more space.
Read more
Food Capacity
While the Gardenmaster only comes with four trays out of the box, you can actually expand this to a massive 30 trays. But, the more trays you receive the higher the price will be, clearly.
Performance
With the combination of the 4.5-inch fan and the 1000-watt motor, this bad boy is able to deliver finished results around four times quicker than other models. In addition, the air flows horizontally across all trays.
Temperature Control
From 95 degrees Fahrenheit all the way up to 155 degrees Fahrenheit, the temperature of the Gardenmaster can be adjusted. This is able to adapt to a wide range of foods.
Design Features
Based on the number of trays that are in use, this machine will automatically adjust the drying pressure accordingly. Additionally, the Vita-Save Exterior blocks out light to retain even more vitamins and nutrients.
Convenience
On top of the fact that the trays do not need to be rotated, you can dehydrate different types of foods without the worry of one flavor ruining another one.
Overall
Few food dehydrators out there can match the performance and design of the Gardenmaster. Plus, even if four trays is not sufficient enough for you, you can always invest in more.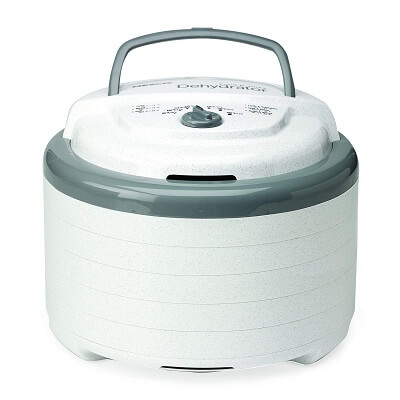 This is one the most acclaimed and popular food dehydrators in the world. So many buyers and consumers have raved about the design of the Snackmaster and you will soon realize why.
Read more
Food Capacity
If you are willing to invest in some additional trays, this unit can be expanded to 12. Yet, as it sits right now, the Snackmaster comes with five trays that are around 13 inches in diameter.
Performance
Everything works together, including the top-mounted fan and the 600-watt motor, to circulate the warm air evenly throughout the entirety of the interior.
Temperature Control
As with most of the best models on the market, you can adjust the temperature of the Snackmaster. From 95 degrees Fahrenheit to 160 degrees Fahrenheit, the temperature can be altered.
Design Features
In addition to the Snackmaster, you also receive two flexible screens as well as two fruit roll sheets that help dry semi-liquids.
Convenience
Either on the top rack of your dishwasher or with warm and soapy water, you can easily clean the trays. Plus, due to the technology, you never need to worry about rotating them when they are holding your food.
Overall
What more could you really ask for in a food dehydrator? If your response is more trays from the beginning and perhaps a timer, then that is understandable and respectable. Still, the Snackmaster delivers the goods.

4

. Tribest Sedona Express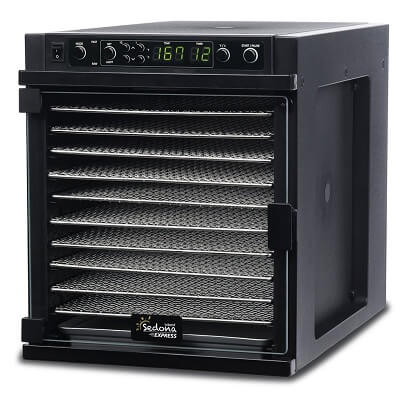 If you are into advanced appliances that take everything to the next level, perhaps you need to look into the Sedona Express? With 11 trays, a two-stage dehydration process, and a glass hinged door with an internal LED light, you get your money's worth.
Read more
Food Capacity
Because the Sedona Express sports an impressive 11 full-sized trays, you should never run out of room when dehydrating unless you are attempting to salvage food for a military family.
Performance
No matter what types of foods you want dehydrated, the central fan of this unit is going to provide even airflow and rapid dehydration times regardless.
Temperature Control
With a massive temperature control from 77 degrees Fahrenheit to 167 degrees Fahrenheit, there is seemingly no end to the types of foods you can correctly dehydrate.
Design Features
In addition to the two-stage dehydration process that enhances the quality of the operation, this also is designed with an overheat protection mode to prevent enzyme degradation.
Convenience
Thanks to the glass hinged door and the internal LED light (while somewhat dim), you can see directly inside this unit to gauge your food. Also, the side-hinged configuration allows you to easily extract the trays.
Overall
There is no doubt about it; the Sedona Express is a top-end model that delivers uncompromised results. But, due to its advanced nature, it can be a lot to take in for newcomers.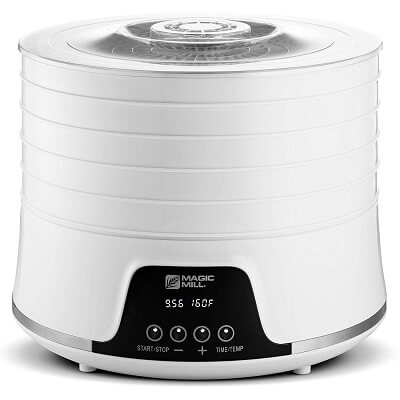 One of the nicest features of Magic Mill's drying system is it sports an auto shut-off feature to prevent accidental overheating. On top of this, the trays are dishwasher safe and easy to clean.
Read more
Food Capacity
While not an abundance of capacity available, the five full trays still provide you with an adequate amount of space for a plethora of different foods.
Performance
Due to the integration of the bottom-mounted fan, constant airflow is delivered and also eliminates the need for you to rotate the trays.
Temperature Control
To account for a variety of different foods, you can adjust the temperature on this unit from 105 degrees Fahrenheit to 158 degrees Fahrenheit.
Design Features
Not only does an integrated auto shut-off feature come with this unit to prevent overheating but you can also set a timer to alert you when your food has finished dehydrating.
Convenience
It is clearly advertised that the trays are dishwasher safe but be careful as not all parts are. Clearly, placing non-dishwasher safe components in a dishwasher is a no-no.
Overall
Even though this seems basic at its core, it actually features integrations that would be present on a high-end model. For the price point, it is tough to argue with the design here.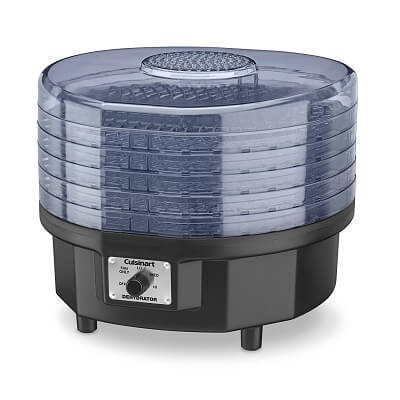 Cuisinart is a manufacturer that comes up time and time again when reviewing the best kitchen appliances in the world. Their DHR-20 proves that when it comes to designing a superb food dehydrator, they can achieve that too.
Read more
Food Capacity
In addition to the nine interlocking trays that come with the DHR-20 (if you invest in additional trays), you also receive a special fruit roll-up sheet. All in all, space should not be a concern.
Performance
Thanks to the 620-watt motor and the fact that this is designed with a top vent, it is able to dehydrate your foods with great efficiency and evenness.
Temperature Control
On the face of this unit, you will see a dial that is used to adjust the temperature. Instead of set temperatures, though, you merely have the option for low, medium, high, and fan only.
Design Features
When it comes down to it, this machine sort of lacks additional features. It is able to get the job done effectively, but other models have it beat in terms of design features.
Convenience
Probably the most convenient aspect about the DHR-20 is the motor is backed by a five-year warranty. But, what is not convenient is the non-removable base as cleaning can be a chore.
Overall
Despite some minor limitations and shortcomings, the DHR-20 stands tall because of its exceptional performance and temperature control. It is certainly a model worthy of your recognition.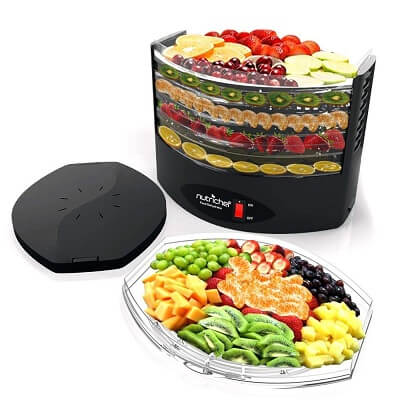 Not all machines will allow you to manually control the temperature and such is the case with this next model. Even though this limits the types of foods you can dehydrate, this appliance proves that it can still be beneficial.
Read more
Food Capacity
Granted, five trays do limit the amount of food you can dehydrate at once, the trays can also be used outside of this machine so that is a nice touch.
Performance
NutriChef ensured that their model was scientifically tested and proven to increase the shelf life of food by removing their moisture. All in all, this machine will do so but also retain 97 percent of vitamins and minerals.
Temperature Control
While this does have a temperature control system, you can't physically control the temperature. Instead, there is just a basic on and off switch for operation.
Design Features
Again, the extent of this design is with an on/off switch. While there is not anything necessarily wrong with this, it does severely limit the unit as a whole.
Convenience
No matter the kitchen countertop or table, this is safe to use on all of them. In addition, it is easy to clean and one of the reasons why is it is stain-resistant.
Overall
For food dehydrating devotees, this model will end up being a little disappointing. Due to the lack of programmability, this is better suited to beginners who will only need it for specific situations.

8

. Nesco FD-1040 Gardenmaster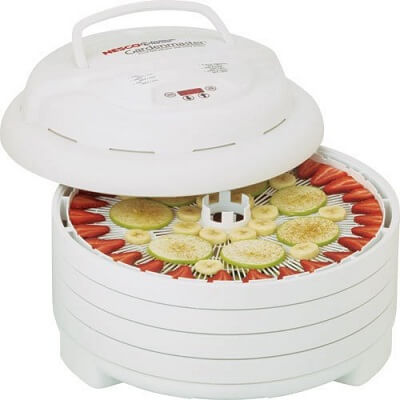 There are a lot of reasons why you could fall in love with Nesco's FD-1040. Two main reasons are because of its fast and powerful fan and also its wide temperature control. Yet, some buyers have reported performance issues from time to time.
Read more
Food Capacity
Thanks to the add-on accessory known as Add-A-Trays, you can expand this four-tray unit all the way up to a 20-tray unit. Think of the possibilities with 20 trays?
Performance
In addition to the fast and powerful fan, the 1000-watt motor and the patented Converga-Flow technology (which covers the top, bottom and center evenly) ensure an excellent performance.
Temperature Control
Nesco provides you with the flexibility that is necessary if you want to dehydrate a plethora of different foods. Their FD-1040 model can be adjusted from 90 degrees Fahrenheit to 160 degrees Fahrenheit.
Design Features
While the timer is programmable up to 48 hours, the Vita-Save exterior manages to block light to retain the vitamins and nutrients in your foods.
Convenience
Due to the excellent efficiency of this model, there is no need to rotate the trays as the heat and air will be dispersed evenly.
Overall
Looking at the specifications, one would assume this should be higher. As impressive as this model is, more than a few buyers have commented on performance issues from time to time.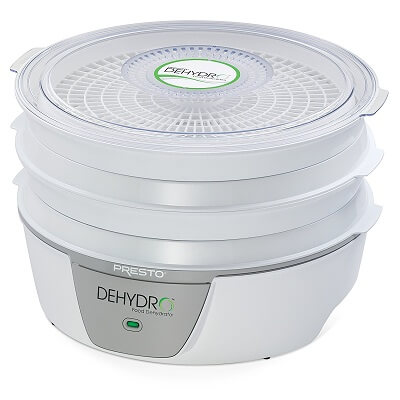 If you can cope with the fact that the Dehydro does not allow you to adjust the temperature or set a timer, then you can enjoy an appliance that performs very well for appropriate foods.
Read more
Food Capacity
In the same light as other manufacturers, Presto offers their Dehydro with additional trays. Yet, as it rests, you receive this model with four trays.
Performance
Presto designed their food dehydrator with a bottom-mounted fan and a heating element. This efficient combination delivers consistent airflow.
Temperature Control
One of the biggest limitations of this unit is indeed the fact that you can't change the temperature. Instead, it operates at a pre-set temperature of around 165 degrees Fahrenheit.
Design Features
While this is lacking many design features, it is nice that there is an indicator light that informs you when this unit is plugged in and functioning.
Convenience
A multitude of convenience is present here and this includes a base that is easy to store, trays that are dishwasher safe and a see-through cover that allows you to monitor the progress.
Overall
Understand what you are getting here as this is far from an advanced model. Yet, its limitations do not prevent it from being highly recommended to the right people.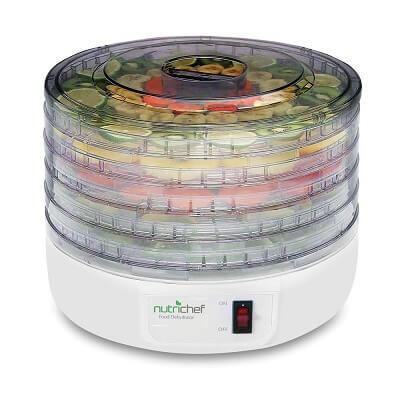 Much like the last food dehydrator, the PKFD12 is a bit limited in operation. Thus, this model is a good starter model for those who are just looking to get their feet wet with food dehydration.
Read more
Food Capacity
Even without the use of the dehydrator, the five trays that come included can be utilized. No matter, this provides you with a solid amount of space.
Performance
This is another NutriChef model and because of this, the design has been scientifically tested to properly remove moisture while retaining precious vitamins and minerals.
Temperature Control
As with their other model, you are not in control of the temperature for this model. Still, it is designed with a temperature control system.
Design Features
As to be expected from a model that lacks top-end features, there is no timer present. Nope, all you need to do is turn the on/off switch on and watch it work.
Convenience
Because the entire unit is stain-resistant, the clean-up process is made that much easier.
Overall
At this point, you are fully aware why this appliance is both beneficial and limited. In fact, you probably already know if you are interested in it or not.

Subscribe to our Newsletter