Best Humidifiers
In a
Hurry? Editors choice: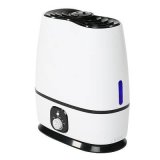 Test Winner: Everlasting Comfort

Humidifiers can be useful in all different indoor
climates
. Some only think of them for cold weather, but they can be lifesavers in the hotter months as well. In warmer climates, a humidifier can help to keep the air more comfortable and clean. Depending on where you
live
, the heat may be very dry. A humidifier is also ideal for keeping a bit of moisture in the air in the dry-heat. On the other hand, being comfortable in cooler climates can sometimes seem impossible. Cold and dry air can not only dry out your skin, but it can also dry your sinuses which can cause irritation. Nothing is worse than being cooped up in your home during the winter but also breathing in that dry stale air, this is why many have turned to the humidifier.
Standout Picks
Criteria Used for Evaluation
Brand
This was an important feature when selecting the best humidifiers. Brands such as Honeywell, Vicks, and Vornado are the most recognized names on this list, and users know that they are receiving the best product in terms of quality of materials used, and effectiveness. Vicks literally invented the first electric vaporizer in 1926 and has been perfecting their product over the years. It's also important not to discount newer companies such as KOIOS that are relatively new but have made a big impact. Many of the users that have tried the new KOIOS have been consistently impressed not only be the modern design, but also the great job it does add moisture into the air. Many of the brand named companies come at a higher price point, and users could benefit from the more affordable models of the lesser known brands.
Size
Various tank sizes serve different purposes. The smaller the tank, the smaller the room it is able to moisturize, and the more that it needs to be refilled. Larger tanks- 4L and higher- are for larger rooms and require to be refilled less. Additionally, we looked at how easy the tanks are to refill. Tanks that are difficult to refill can result in spillage or leakage, which can hinder how well the unit can work.
Features
Some units come with a simple on/off switch, and other come with a myriad of other features. We looked at a lot of the features that were offered and determined if they were a benefit or unnecessary. A great feature to any humidifier is the ability to change the speed of the fan. Lower fan speeds allow you to run your unit for longer, they don't emit as much moisture into the room, and they run quieter. Another great feature that we looked at is the ability to adjust the moisture content. This feature was only available in some of the higher end and expensive models, but it is a great tool for having control over the amount of moisture being pumped out of the unit. One feature that was only available in certain models, was the ability to add essential oils. This is a fantastic feature as the benefits of essential oils become more widely known. If you are suffering from a cold, the pairing of a humidifier with a few drops of eucalyptus essential oil is a fantastic way to help clear nasal passageways to promote a great night's sleep.
Style
Style may not have an impact on how effective that the unit is, but it does help it stand out from the others. Humidifiers are going to take up space on your nightstand or on a table in the living room, and you don't want it to be a blight on the decor. Many of the units on this list are sleek and stylish as well as compact and practical.
Top Ten Humidifiers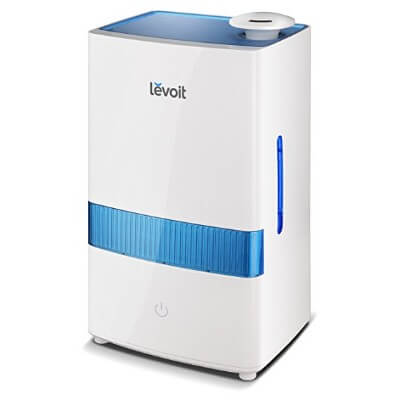 The Levoit humidifier is incredibly stylish and modern and will look great in any space. It has a larger capacity than most humidifiers and comes from a company that focuses on wellness and style products, so you know that you are getting a modern and sleek product that also offers fantastic health benefits.
Read more
Brand Recognition:
Levoit is generally an unknown company to those who have bought humidifiers in the past. The company focuses on making products for the home that are not only functional but are also stylish. Past users who have purchased their products have been incredibly satisfied by their use.
Features:
The humidifier is a rectangle shape and made from a white shiny plastic that has curved edges and electric blue accents. Users can rest assured that the moisturized air being released from the top of the unit is clean because activated carbon and ceramic filters purify the water even before the diffusion. It runs very quietly and most users don't even know that it is on. Additionally, it doesn't use expensive filters that come at an extra cost and can affect how the unit wears over time. Even better, this humidifier will automatically shut off if the water level gets too low.
Price:
This is a very affordable humidifier. Given the modern and contemporary design, and it's simple and effective use, this is an excellent bargain for a product such as this one. Not to mention, it also comes with a two-year warranty.
Capacity:
The tank on this product is slightly larger than some of the other units making this list. It holds 4.5L, giving it the ability to run continuously for 40 hours on the lowest setting without having to refill the water container.
Summary:
For the user that doesn't want to sacrifice style for utility, and isn't willing to pay a lot for a humidifier, this product will not disappoint. It's simple, and sleek, and fits the needs of those that just want to add some moisture to a particular room in their home.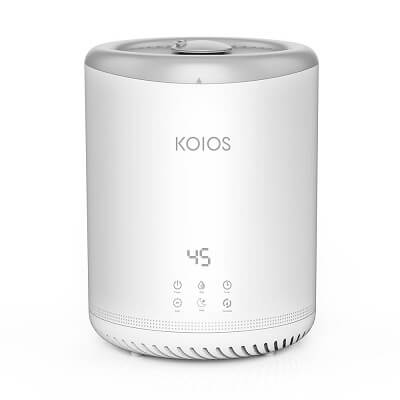 Not only does this humidifier look sleek and sharp, but it also provides many additional features. The simple design makes it easy to clean, and it's quickly surpassing many of the bigger companies as the industries favorite humidifier.
Read more
Brand Recognition:
KOIOS is relatively new to the scene, and they're making quite an impact. Users that have taken a chance on this unknown company that makes this trendy humidifier are quite pleased with not only the design but also its functionality.
Features:
The unit is cylindrical shaped and is offered in a pure white. Almost silently, it emits a cool mist. The front of the unit has simple buttons along the bottom that turn the unit on, adjust the humidity sensor, program a 12-hour sleep timer, and adjust the mist. The multiple filtration systems ensure that the humidifier mist is comprised of the cleanest air, and an internal sensor can notice when water levels have diminished and will automatically turn off the humidifying mechanism. It's incredibly easy to clean and doesn't require any harsh chemicals to be flushed through the system like other models.
Price:
This humidifier falls slightly above average in terms of price. It's a little more expensive than some of the other humidifiers on the market, but for all the additional features, not to mention it's sleek design, this product is well worth the price tag.
Capacity:
The KOIOS holds 4 liters or 1.1 gallons of water, and the top-down tank makes it a cinch to refill.
Summary:
If you were looking for a humidifier that not only looks sharp to set on a table or a nightstand that compliments your decor, as well provides a cool adjustable mist, and are willing to take a chance on a relatively unknown company, this humidifier will be the perfect addition to your home.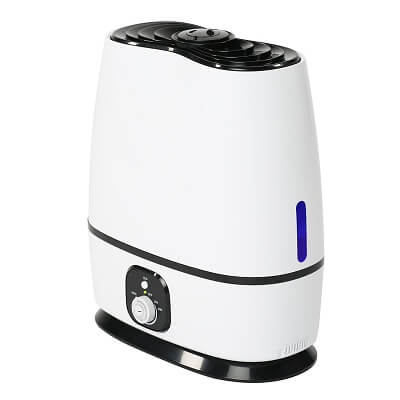 If you wanted to purchase a higher capacity humidifier, but you were reluctant to pay a higher price tag, the Everlasting Comfort Ultrasonic Humidifier would be a great option. It has almost double the water capacity as some of the other brands, and it comes in a sleek white design with black accents.
Read more
Brand Recognition:
Everlasting Comfort is not one of the more known brands on this list. In fact, there isn't much known about this company in general. However, many of their products that are available for sale are offered at affordable and competitive prices, and the users that purchase their products are pleased with the final results.
Features:
This model is a sharp, solid white with black accents, and produces a steady stream of moisture from the top of the unit. It doesn't have the visible water tank like much of the other brands, and it also doesn't require the hassle of buying additional filters. What makes this model stand out from the others is it's higher capacity tank that can run longer without running out of water and its special compartment for essential oils. Utilizing essential oils is a great way to improve emotional well-being through the air.
Price:
If this was a 3L model, the price would be considered to be a little high for an unknown brand. But because this unit holds double the water over some of the other leading brands, it makes the price incredibly affordable, and it is an excellent deal.
Capacity:
The tank holds 6 liters of water, and the unit offers an automatic shut-off for when water levels become low. This feature helps prevent moisture being removed from the air, and it also serves to protect the unit from damage.
Summary:
If you have especially larger rooms in your home and wanted to try a higher capacity humidifier without paying the high price for the more recognized brands, this product would be an excellent choice for you and your home.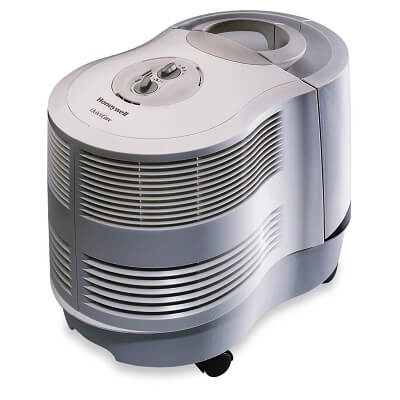 If you've done your research, you have come across the Honeywell name. Some of their products flounder, while others flourish. The Honeywell Cool is one of their best. It doesn't exactly have the same sleek design as some other Honeywell products, but despite its utilitarian features, it can provide an excellent amount of moisture to any dry room in your home.
Read more
Brand Recognition:
Honeywell has been heating, cooling, and now moisturizing homes since their humble beginnings in 1906. To buy a Honeywell product is to buy a product that has years of expertise in the field, a long line of happy customers, and a 3-year warranty on their products.
Features:
The unit comes in a slate grey and doesn't look as visually appealing as some of the other models. Much like the Honeywell HCM350W model, this model also provides evaporating invisible moisture- meaning that there isn't a moisture stream like some of the other products. It has 3-speed controls- low, medium, and high, and they can be adjusted via the top of the unit. The moisture levels can also be adjusted via a dial on the top of the unit. Additionally, it provides a wicking filter that serves to remove minerals from hard water for reduced white dust.
Price:
This unit is substantially more expensive than some of the other humidifiers that are on this list. However, if you are looking to buy a product for a larger room, or that can run for longer periods of time. This product is well worth the money.
Capacity:
Via a dual tank, this unit holds 3.4 gallons of water- making it one of the larger humidifiers to make this list. The wide opening dual tank makes it simple and easy to clean.
Summary:
For buyers that want a humidifier that is suited for larger rooms, and that has a job and does it extraordinarily well- this tank is a perfect fit. You are going to pay a little more than you would for other products, but one can not go wrong when purchasing a Honeywell product.

5

. Pure Enrichment MistAire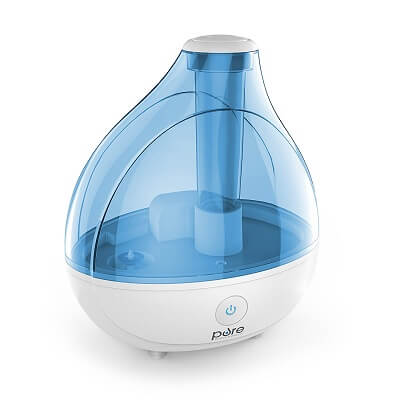 This unit has a fun water drop design and would be a great accent to any office or bedroom. It's quiet, offers a lot of moisture to any space, and comes with a 2-year warranty.
Read more
Brand Recognition:
Pure Enrichment is a relatively newer company that makes quality home products that they offer at affordable prices. They may not have the same brand impact as a company such as Honeywell, but users of their products are consistently pleased with quality and price.
Features:
The unit is cleverly designed to look like a water droplet. It has a white base that has one simple button to turn the unit on, and an aqua blue water tank. When powered on, a steady 360-degree mist stream emitted from the top of the unit. Where this product shines is in its simplicity. The user can take this product right out of the box, fill it with water and use it immediately. The unit comes apart in 2 places, making it a cinch to clean and reassemble. It makes almost no sounds, and has a cool blue backlight provides a sleek nightlight for overnight operation in a bedroom.
Price:
The MistAir Ultrasonic Cool Mist Humidifier is offered at an extremely reasonable price. It's sharp, simple, and offers a lot of moisture at a very modest price point.
Capacity:
The tank holds 1.5 liters of water and has an automatic shut off when the water level becomes low. Some models do not have this feature, and running a humidifier on an empty tank cannot only remove moisture from the air but sometimes it can also damage the unit itself.
Summary:
This is a great product for those that want a good quality humidifier. If you are in the market for a simple and easy to maintain humidifier that is offered at a reasonable price, this unit is the perfect addition to any bedroom or office.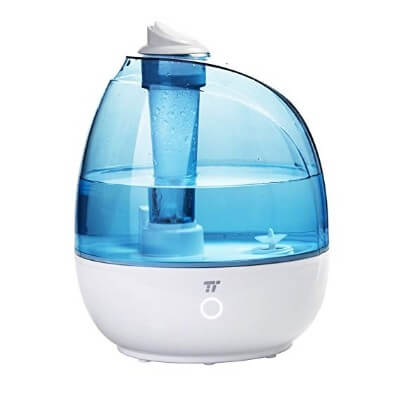 This is a great product that delivers everything that you would want from a humidifier- it has a sleek design, it's easy to use and clean, and offers clean moisture to the air in your home or office without a high price tag.
Read more
Brand Recognition:
TaoTronics is a US-based company that has their hand in a myriad of different products. They are relatively unknown to the casual consumer, but users of their products are impressed by their functionality, reliability, and quality of products used. If you are willing to give an unknown company a try, this company would be the one to go with.
Features:
The design of this humidifier is a bit different than the other products on this list. It still has the common blue and white color scheme but it only has one button. Press the button once for on and off, or hold down the button to access sleep mode. The top is composed of an aqua blue holding tank that is a cinch to remove and refill. The nozzle at the top emits a steady stream of moisture and has the ability to be rotated 360 degrees to focus moisture stream in any direction.
Price:
The price of this product is modest and is a little bit less expensive than some of the other products on this list. If you are willing to take a chance on a relatively unknown company, the price is a great deal for the quality that you will receive in this humidifier.
Capacity:
The easy to remove and refill tank holds just over a half gallon (.53 gallon, to be precise) making it one of the smaller tanks on this list. On the low setting, this machine lets out 80mL of mist per hour, allowing the machine to run for a full 24 hours.
Summary:
If you are in the market for a new humidifier, or just want to try something different, this unit is an excellent option. It does all of the things that one would want from a quality humidifier, and doesn't break the bank.

7

. Fancii Personal Mini Humidifier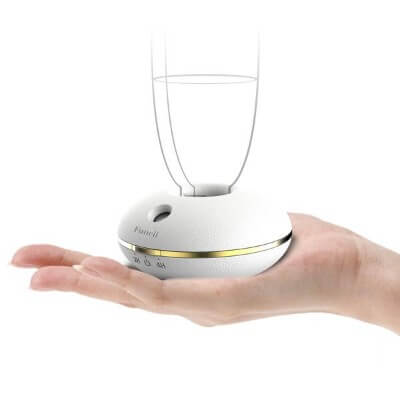 One of the most unique humidifiers on our list is this personal mini humidifier. It is small, lightweight, and portable. While traveling, it can be difficult to avoid sickness and keep the air quality in your hotel room up to par. This portable humidifier will turn your worries to mist.
Read more
Brand Recognition:
If you have heard of Fancii before, I'm sure you are surprised to see them on our list of humidifiers. Prominently a beauty and skincare line, they have recently started producing humidifiers. One may wonder how beauty and humidifiers go hand and hand, but it's quite simple! If the air in your room is stiff and dry, you will wake up less well-rested and with dry skin. In the end, this can lead to using more products, such as under eye creams and moisturizers. However, this humidifier isn't just for women.
Features:
This portable humidifier can be used with 3 AA batteries or you can charge it with a USB cord. There is a timer function with options of 2,4, or 6 hours, along with an automatic 8 hours shut off. This humidifier only weighs 3.68-ounces and is small enough to fit in a purse or briefcase. However, it does require filters that will need to be changed every 1-2 months, depending on usage.
Price:
Fancii's personal mini humidifier runs about the same price as the cheaper humidifiers on our list. If you choose to run the device on batteries, you will need to buy those and also the replacement filters. The only other investment for this tiny machine is your water bottle. Any standard sized water bottle will screw into the humidifier and keep your air clean. We recommend buying one bottle and refilling it as you go. This is better for the environment and your wallet.
Capacity:
This humidifier's water tank is whichever water bottle you provide, depending on the mouth of the bottle and what fits is the capacity. Typically users stick to the normal 16.9-ounce water bottles. Depending on the output setting and size of the water bottle, one bottle can typically last you 1-3 nights.
Summary:
This is a unique product at an affordable price. It's perfect for your office, traveling, camping, or even when flying. If you're already accustomed to sleeping with a humidifier, this will be the perfect addition to your life.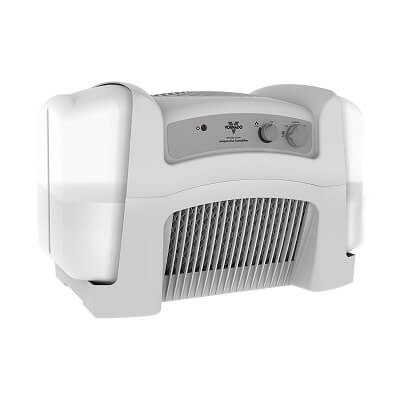 Vornado has a long history of making the top of the line products for many years. This humidifier is excellent a bring moisture to small to modest spaces, and from a brand such as Vornado, consumers know that they are receiving the very in quality and performance.
Read more
Brand Recognition:
Vornado was founded in the 1920's and made his humble beginning making fans. Vornado has become a trusted name in the fan industry and has crossed over to other types of products such as this humidifier. Vornado comes at a cost, but the quality of materials and performance make this a brand that consumers have relied on for almost 100 years.
Features:
The design of this humidifier is more utilitarian than stylish. It comes in grey and resembles an old-time desk radio. It can humidify an impressive 1,000 square feet- which surpasses any other humidifier on this list. Knobs located on the front can adjust the fan speed from low to medium to high, and the other knob adjusts the level of humidity the units puts out. It's simple to clean, simple to refill and comes with an incredibly impressive 5-year warranty.
Price:
This premium product comes with a catch, and that catch is the price. This is one of the most expensive humidifiers to land on this list. Users will dish out a pretty to bring this item home. If you are willing to spend the additional cash, you can rest assured that you are getting the very best that money can buy.
Capacity:
The dual tanks hold a combined total of 4L, and on the lowest setting can bring moisture to the air for approximately 24 hours on the lowest setting- which is quite impressive for a 1,000 square foot operational radius.
Summary:
This is a really great humidifier that packs a powerful punch to operate in larger rooms or to heat a smaller house or cabin. If you are serious about your humidifying needs and cost isn't an issue to you, then this humidifier is a perfect choice.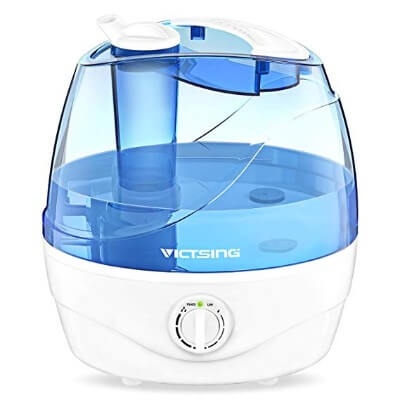 VicTsing has made it their priority to make quality household appliances and products with the users well being in mind. This product offers everything that one would want from a humidifier- it has an interesting design, it's easy to use and to clean, and it offers superior, germ-free moisture to any modest side room in your home.
Read more
Brand Recognition:
A newer brand on the market, VicTsing has been producing quality products since 2012. They started out with audio products and mobile accessories and later found their niche in humidifiers. They are an international brand who is constantly progressing and releasing more and more quality products.
Features:
This model is an oval shape and has an aqua blue water container at the top of the unit. There is a knob at the top of the unit with a 45-degree tilt making it easy for you to adjust where the mist will blow. The unit is quieter than your average computer, making it silent enough to be used in a bedroom or nursery. It has an arc-shaped handle at the top with anti-slip grooves that makes it easy to refill when needed (approximately every 10 hours), doesn't require the purchase of any additional filters, and is incredibly easy to clean. This humidifier also features a turn knob, making it easy to choose exactly which setting you would like to set it at.
Price:
This humidifier is one of the cheapest on our list. While some customers claim that it is difficult to clean, may leak, and sometimes lets out too much mist, we still believe it is a great product. A small cleaning brush is included with the humidifier, it is relatively silent, and some reviewers claim that it can even double as a nebulizer.
Capacity:
This tank holds 2L of water and lets out 180mL of mist per hour. It is a bottom filling tank, which is great for some people and a hassle for others.
Summary:
We believe that this is just the beginning for VicTsing. The company has only been around for six years but they are already turning heads. VicTsing provides a 45-day money back and 12-month worry-free guarantee.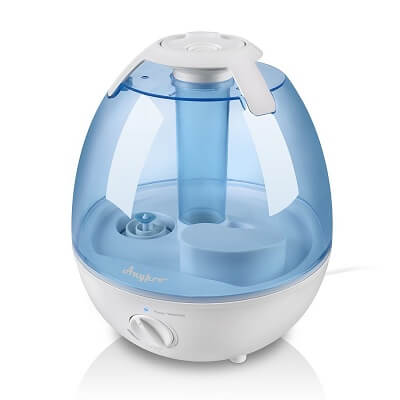 This is another great humidifier that provides basic room moisture needs without any of the expensive bells and whistles. If you are in the market for a simple and easy to use a humidifier for a modestly sized room, and you are not willing to pay for one of the higher end models, this product is an excellent choice.
Read more
Brand Recognition:
Anypro is a company that makes home, health, and beauty products. Generally speaking, they are relatively unknown in this particular market. However, users that purchase their products are pleased with their performance and style that is provided at a reasonable price point.
Features:
The features of this product are similar to that of the TaoTonics model. It has a solid white base that is used to adjust the power and moisture. Atop the white base is the aqua blue water tank that has a stationary nozzle that shoots moisture right out of the top of the unit. A higher mist stream ensures that condensation will not gather around the base of the unit. Unlike a lot of the previous units that have lights, the nightlight on this unit is able to be turned off and on. Users also have reported that this model is extremely quiet and an excellent addition to any bedroom.
Price:
The price of this unit is similar to that of the TaoTonics unit. It sits at a reasonable price point for those that are looking to purchase a new humidifier but don't want to spend money on some of the higher end models.
Capacity:
This unit holds just under 1 gallon of water (approximate .90 gallon). However, users report that when running at a lower setting, this unit can run for 20 to 36 hours on one single tank of water.
Summary:
For users that want a simple and easy to use a humidifier that doesn't come with a lot of the unnecessary features of some of the higher end models, and aren't looking to spend a lot- this product is the perfect solution.

Subscribe to our Newsletter