10 Best Cold Weather Sleeping Bags Reviewed in 2021
In a
Hurry? Editors choice: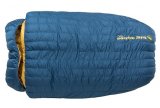 Test Winner: King Solomon

They say that sleep is
the best meditation
. Pair that with outdoors and you've reached pure zen. No matter the season, climate, or weather, a great sleeping bag is the key to success. When the climate gets cooler and the nights turn frigid, you need a sleeping bag that will keep you
warm and toasty
throughout the night. When you are camping in the winter months you want to make sure you stay cozy and warm throughout the night to get a good sleep. Maintaining your energy will help you
climb any mountain
or keep you ready for outdoor cold adventures. Thankfully, after you read this buying guide, you will begin to learn what the most important factors are when investing in cold weather sleeping bags.
Standout Picks
Criteria Used for Evaluation
Insulation
It should not surprise you that when breaking down the best cold weather sleeping bags, the first criterion (and probably most important) alludes to the insulation and warmth that they provide. For insulation, you typically either see down or synthetic. Synthetic insulation actually mimics the properties of down but retains them while wet. Of course, even though down does not insulate when it is wet, this is why it is treated with a repellent to resist moisture and dampness. As far as how to judge the performance of the insulation, the higher the fill the more insulating ability the down (which comes from either goose or duck) has.
Also, besides the basic insulation, the sleeping bag needs to be able to retain the heat and prevent it from escaping. This can be achieved with the type of thread, interlocking draft tubes and also a full draft collar. At the end of the day, though, temperature rating may be the most important factor of all. This rating is to inform you of how cold the climate can be outdoors until the sleeping bag will stop keeping you warm. Clearly, the lower the better.
Breathability
The manner in which sleeping bags are designed makes the zipper location, and overall design, critically important. This is because they cocoon you inside of them. If you have full-length, or even ¾-length, zippers on the side it can make the entry and the exit significantly easier.
The same can be said about the center zipper, if there is one, as the size of the opening can aid in the simplicity of access. But, side and center zippers also provide more conveniences, such as ventilation. Just because you intend on using a sleeping bag in cold weather, does not mean you will not overheat from time to time. In these situations, it is nice to be able to zip the side of the bag open for breathability. As a side note, a lot of sellers give you the option for the zipper to be located on either the right or left side of the bag.
Unfortunately, snagging can be a real issue when it comes to zippers. While it is hard to avoid it all the time, look out for design integrations that lend a helping hand (such as anti-snag webbing tape).
Comfort
Warmth and comfort truly do go hand-in-hand. However, because of how important warmth and insulation are, noteworthy comfort features would have been lost in the shuffle if they were included in that specific section. Thus, it deserves its own special recognition. When analyzing pure comfort, ignoring warmth for a second, it really comes down to the feel of the fabric and the form of the sleeping bag.
For example, fabrics such as nylon and polyester are soft to the skin and feel terrific. You may treasure a specific type of material over another, especially with your clothing. But, the form also comes into play. Most specifically with the foot box. In order to ensure your feet, have plenty of breathing room, you will want either a natural or trapezoidal foot box. Of course, you may prefer sleeping with extra-layering and if you do, pay attention to how wide the shoulder girth is as the wider it is the more clothes you can layer.
Portability
It is not a bad assumption to assume that you plan on traveling with your sleeping bag. Granted, you could strictly use it for backyard camping or around the home. However, most will use it for activities such as camping and hiking. Thus, it must be transported to those locations. Now, depending on what you are doing, you may either have a short or long distance to travel with the sleeping bag. If long, then the simplicity of transporting it becomes vitally important.
No matter what, as you were witnessed to in this guide, typically, manufacturers will provide you with either a compression sack, stuff sack, or dry bag to carry around the sleeping bag. But, the weight and bulkiness of the bag can either make it a huge hassle to get inside or a piece of cake. If overly bulky or heavy, it can fit awkwardly in your backpack making for an uncomfortable experience. Also, if you prefer carrying as little weight as possible to ease the stress of your back, you do not want a sleeping bag that is over 10 pounds.
Top Ten Cold Weather Sleeping Bags
Subscribe to our Newsletter