Best Space Heaters
In a
Hurry? Editors choice: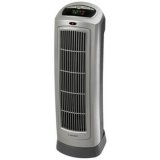 Test Winner: Lasko 755320

Space heaters are designed to conserve energy and cost far less than what your central
heating
costs to run; they are also fantastic for cottages and camping as they can provide a source of heat where you do not have any central heat available. Space heaters come in two options: one is a ceramic plate that is heated and blows the hot air into your desired room, or you can get an oil-filled space heater which heats the oil and blows the heat around the room. Space heaters are a cost-effective way to conserve energy and keep your electric bill low in the colder months. While they are a great option to heat your
home
while saving money, there are a lot of different products on the market so it can be hard to know which one will best fit your needs and home. Below we bring you the top ten space heaters of 2018.
Standout Picks
Criteria Used for Evaluation
Effectiveness
The design of a heater can impact many things, like how much heat you'll get from the system, how quickly it can warm up a room, and how big of a space it can keep warm. Many heaters come with very different material designs depending on the manufacturer, and they also offer a wide variety of features. Depending on what you need with materials and features, you'll get a wide variety of styles, appearances, and sizes.
Many space heaters use either ceramic or steel materials to add to their durability. Ceramic heaters tend to be more affordable, mainly because ceramic, as a material, is cheaper than steel. However, even though ceramic is a less expensive option for a heater's design, it is still quite durable, and the other nice thing about it is that using ceramic means the heater will still feel cold, usually, when you touch it. That's a huge bonus, because one of the worst experiences you can have is changing your settings and feeling like your hand got a burn.
Steel is more durable than ceramic, and also generally costs more. Steel heaters often still offer a lot of the same features and benefits as ceramic heaters. So, in many ways, whether you should purchase a ceramic heater or a steel heater is up to personal preference. While steel will be more durable, a lot of the ceramic heaters we listed come with two and three-year warranties and are much more affordable.
Also, the watts the heater uses is going to make a huge difference in how quickly the heater heats up a room, and also how big of a space the heater can handle. So, if you want something that can heat up a larger space, then you want to buy something with at least 1500 watts of power in it. Smaller sized rooms typically require something between 500 and 1000 watts, depending on overall size.
Ease of Use
The ease of use of these products depends on where the controls are located, how many controls you need to learn, and whether or not the product comes with a remote control. While remote controls are not necessary, they do make the heating system easier to use. However, many of the products on our list offer control systems at the top of the unit, or on its side, depending on its design.
Having easy access to controls does help make the usage of the unit more simple, but how the controls operate is also important. Having settings that are easy to use and digital displays that let you set automatic temperature controls is going to make your unit much easier to use on a daily basis.
Typically, products with more features can be more difficult to use, but even if you buy a unit like that, you'll get a nice set of instructions to help you out. So, there is still some simplicity there. Some people prefer fewer features, while others want more. Really, that is up to you to decide.
Durability
You can often tell how durable your unit will be based on depending on the design, the materials, and the warranty that comes with the product, or even if it includes a warranty. Ceramic heaters are usually designed with either ceramics or steel parts.
While steel is the more durable option, it will cost you more. Ceramic is still pretty strong, and comes with more affordable price options. Also, many of these products offer very good warranties that last as long as two or three years. So, if you aren't sure about how durable a ceramic heater might be, if it comes with a nice warranty, you should be covered.
Safety Hazards
Most heaters offer two safety features that are standard, and all of the products on our list do offer this. However, if you go off our list to purchase a product, you do need to make sure that product has these two safety features. First, the heaters we provided on our list are all designed with automatic shut off features if they get tipped over. That's important because if the heater does not shut off, it can create a burn in a carpet or even a fire. With that feature, you won't need to worry about any issues if it gets tipped over.
Second, most heaters will automatically shut off if they are getting to a point where they might overheat. Since overheating is going to burn out the heater, that helps to make the unit more durable. Also, if the heater overheats, it can short out and start a fire. With an automatic shut off you won't need to worry about that.
Subscribe to our Newsletter