Best Climbing Shoes
In a
Hurry? Editors choice: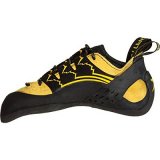 Test Winner: La Sportiva Katana Lace Up

Climbing can be such an exhilarating and challenging
outdoor or indoor activity.
For many people climbing may sound like a very hard and scary activity but it gives you such an amazing adrenaline rush it is very fun for many adventure seekers. Whether you are a beginner who is hitting the rock climbing gym for the first time or a climbing profession who absolutely loves challenging sports such as bouldering or inclined climbing you still need to make sure you have the proper footwear to keep you safe while climbing. Depending on the type of climbing you will be doing such as
indoor or outdoor
there are different shoes that you would need to purchase. Making sure your shoes have plenty of grips and are lightweight for you to climb easily is crucial. Below we have listed the top ten best climbing shoes in the market today.
Standout Picks
Criteria Used for Evaluation
Ease of Use
The last thing you want as a climber is to have to deal with the rock gear that is a hassle to care for. The shoes you choose are really no exception to that. So it pays to look for shoes that are not only easy on your feet and help your climbing but also are fairly easy to care for. This is where shoes made with natural materials may fall a little short, since they often require regular conditioning and cleaning. Synthetic shoes, however, are often good to go after a simple wipe down with a damp cloth and get them to air dry. In either case, however, the rock climbing shoes presented here are some of the easiest to care for overall.
Versatility
Some of the best climbing shoes available are extremely specialized in their design. They are made specifically for bouldering, or sports climbing. Others, like the Five Ten Anazasi Lace-Up Climbing Shoe, are a bit more generalized and can be used in multiple climbing arenas. If you're starting out in climbing and exploring your options, you'll want something that is a bit more versatile. After all, there are so many different types of climbing techniques to explore. Why let your shoes limit what you can do? If you were to look at some shoes for climbing on this list, you would notice that quite a few of them have an "aggressive" downturn at the toe area. This gives the shoe an almost hooked appearance. While it may look strange, it does have a purpose. A more aggressive shoe makes it easier to hook onto certain footholds and can give your core muscles a rest for a time.
Materials
The type of material used in making the best rock climbing shoes often plays an important role in their performance. First, all shoes will stretch over time, but ones made with natural materials like suede or leather often stretch more. Since you want a snug fit over time, that is certainly something to consider. However, synthetic materials, although they often stay truer to size longer, may be irritating to some people and offer little ability for your feet to breathe properly. The climbing shoes that you chose to wear is no exception to this rule. If you enjoy sports climbing which often has more extreme footholds or challenging footwork, a more aggressive climbing shoe may be a better option. However, if you enjoy bouldering, or more of where you're climbing over a variety of surfaces and levels, a less aggressive, and more versatile shoe is probably the way to go.
Fit
In order to be an effective connection to the rock climbing surface, your climbing shoes need to fit properly. They should be tight and snug, but not uncomfortably so. The term "fit likes a glove" comes to mind most of the time. However, most quality shoes for rock climbing have a hardened sole to protect your sensitive feet, so finding one that truly fits you well can be a challenge. Thankfully, the climbing shoes on this list are often very true to fit and come in a wide array of sizes. So finding the right pair may be easier than you think. Look into which rock climbing shoes have certain fits for your shoe or foot size. It is important to fit perfectly to make sure you can keep your balance and have a better grip which climbing.
Top 10 Rock Climbing Shoes
Subscribe to our Newsletter