Best Outdoor Motion Sensor Lights
last updated:
Apr 06, 2020
Whether you are looking to deter potential burglars, provide yourself light when you walk on your patio at night, or save on your energy bill, there are a lot of reasons to why you would want to install best outdoor motion sensor lights.
But, how do you buy them and what do you need to look out for? Well, over the course of this guide, you will learn the answer to both of those crucial questions. Along the way, you will also be witnessed by some of the best options that are currently available on the market. And, as you will see, the choices at your disposal do vary quite a bit.
In a Hurry? The test winner after 8.5 hrs of research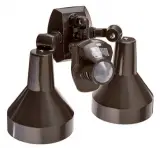 RAB LIGHTING STL360H
Why is it better?
Can stay on up to eight hours
Designed with surge protection
Sports wide sensitivity control
In a
Hurry? Editors choice: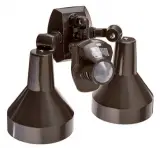 Test Winner: RAB LIGHTING STL360H

36
Researched Sources
32k
Reviews Considered
8.5
Hours Researching
18
Products Evaluated
Effectiveness
Power Source
Features
Ease of Use
Durability
By Default
OUR TOP PICKS FOR THE BEST OUTDOOR MOTION SENSOR LIGHTS
Criteria Used for Evaluation

Effectiveness
You want the lights you buy to be able to perform, right?
There is a lot to cover in this section so buckle your seatbelts. To start, be aware that outdoor motion sensor lights will come equipped with different types of motion sensors. There are really all sorts of types out there (such as microwave, passive infrared, ultrasonic sounds and vibration sensors) and each of them will work a little differently. For the record, the most common sensor you will see is passive infrared and this detects body heat. Past this, though, you will need to assess the specifications. This mostly entails assessing the types of bulbs used, brightness levels of said bulbs and motion sensing capabilities.
To start with the type, most generally you will want to stick with LEDs. They can often be much dimmer than other models but they are extremely energy-efficient and long-lasting. Of course, speaking of dim, all you need to do to ensure this is not an issue is to buy lights that emit enough brightness. And, the best way to assess this is to reference the lumen rating of any given model (as lumens equate to brightness). Oh, and as for the motion sensing capabilities, this will come down to how far away the sensor can detect motion and at what angle. If you want full coverage, you will want to look for nothing less than 40-foot coverage at 270 degrees.

Power Source
You need to be aware that different models will be powered in different ways.
When it comes down to it, there is one of three types of outdoor motion sensor lights that you can buy. They can either be powered via rechargeable or regular batteries, via solar energy or via hardwiring. The question becomes, though, which one is best? Well, only you can answer that question as it really comes down to personal preference. But, to give you a better idea of what each power source entails, let's break this down for you real quick.
For starters, you have models that can utilize batteries. The advantage here is really the convenience in regard to the fact that no hardwiring will be necessary (more on that later). At the same time, ironically, these models are inconvenient as you will need to either recharge or change the batteries when they have no juice remaining. Secondly, you have solar outdoor motion sensor lights and these are very similar. The only difference is they gather energy from the sun which is then stored in their internal batteries. While these can operate when the power goes out, they will require direct access to sunlight in order to charge. And, lastly, you have the most common power method (hardwiring). This is the most reliable as you will never need to worry about recharging any batteries. At the same time, though, if the power goes out then you are out of luck.

Features
It is up to you as you can either get a model that is packed with features or not.
Here is where everything can change. Only you can decide how much control you want for the outdoor motion sensor lights that you end up buying. But, what you need to know is that not all models will be optimized to provide you with such control. Some models will be fairly basic in their designs and will be devoid of any features. On the contrary, however, other lights will be packed with specific features that will allow you to tailor their performance (in some way) to your liking.
For example, there are some motion sensor lights that will allow you to alter the duration that the light emits after it detects motion. Such systems may allow the light to be on anywhere from 10 seconds to a few minutes. Additionally, some units will come with heads that can be rotated. This can allow you to direct the light where you want it. Furthermore, there are motion sensor lights out there that will be equipped with multiple operation modes. Oh, and speaking for hardwired models exclusively for this last point, they will sometimes be engineered with surge protection technology (which is important as power surges will affect them as they will be hardwired to your home).

Ease of Use
This is all about the installation and how easy it is going to be.
Yes, this section plays directly off of the previous section that discussed power sources. But, they are both important enough to justify them each having their own separate sections. So, let's talk about the installation (which is what this is all about) for a minute. Going back to what was mentioned earlier, there are three different types of outdoor motion sensor lights. And, out of the three of them, solar-powered and battery-powered models are the easiest to install. Most of the time, this will be as simple as mounting them with the included hardware in a suitable place. But, a quick note about models that are solar-powered, they will need to be installed in a location that is exposed to direct sunlight for optimal performance.
Moving on to hardwire lights, these can get tricky. As the name of them suggests, you will need to literally hardwire these types of lights into your home. Now, doing so can be complicated without good directions or prior knowledge. So, if you have neither one of those at your disposal, you may want to seek assistance from an outside source.

Durability
The option you go with should be durable and possibly even weatherproof.
First and foremost, you need to analyze the housing of any model that you are looking at. This is basically in reference to the outer shell and it is the portion that protects all the internal components. For the most part, housings on outdoor motion sensor lights will be made out of plastic or metal. If they are made out of metal, typically it will be some type of aluminum alloy as aluminum is known for its corrosion-resistant properties (and it will not rust). As for plastic, do not be afraid of it. While some plastic can be extremely cheap, most motion sensor lights that sport plastic shells will utilize some sort of high-quality plastic (such as ABS, polyethylene or polypropylene).
Looking past this, you also need to worry about inclement weather. After all, you are looking for outdoor lights and these may be exposed to rain and other such forms of precipitation. And, the best way to assess the weather resistance of any model is to look at its IP rating. This consists of two numbers with the first representing the object's resistance to solids and the second water. The higher the numbers (with six, seven and eight being the best), the more weather-resistant a model is going to be.
Expert Interviews & Opinions
Most Important Criteria
(According to our experts opinion)
Experts Opinion
Editors Opinion
Users Opinion
By Default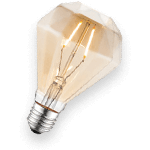 Effectiveness
Assessing how well outdoor motion sensor lights perform comes down to a number of variables. With so many of them at play, this section can, admittedly, be a little overwhelming. However, always keep in mind that you need to buy according to your needs. This means you can prioritize specific performance specifications over others if you so choose.
Power Source
What you need to know is that outdoor motion sensor lights will be powered in several different ways and it can vary from brand to brand. The three most common power sources that you will see are via a battery, solar energy and hardwiring. All three of them, quite frankly, do have their distinct advantages and disadvantages. Selecting the style you want really comes down to your own personal preferences.
Features
There are actually some models on the market that will be very simple in their designs and there is nothing wrong with that. However, at the same time, this just is not going to fly with some of you. As such, if you know that you will settle for nothing less than a model that offers you with a ton of control and customization options, you need to prioritize this section.
Frequently Asked Questions
q:

Will power outages affect motion sensor lighting?

a:

For the record, power outages are not going to affect your motion sensor lights unless they are hardwired to your home. After all, battery-operated models will not depend on your home's electricity. Anyway, when a power outage or power surge happens, outside of losing power with hardwired models, your motion sensor lights may accidentally be activated to stay on all the time. All you need to do is reset them, though.
q:

Are there models that will activate in the daylight?

a:

Yes, there are models that will turn on during daylight hours. In fact, there is one on this list that does that. However, you may not want this to happen as you do not really need security lighting or motion lighting during the day. With that said, for whatever reason you want to do so, you may be able to remove the light sensor from your model that prevents daytime activation (you will need to watch a tutorial video on how to do so).
q:

Can these units account for nuisance activations?

a:

The problem with some motion detectors is they will be signaled due to nuisances (this can include the wind blowing, vehicles that drive by, etc.). This can be a flaw in their designs and if you get one that will not stop being triggered by false alarms, you can adjust where the sensor is directed and also its field of vision (if the model you have allows for such changes, obviously).
q:

How can you test your model?

a:

Testing the model you buy is really as easy as it sounds. But, before you do so, if it is powered via batteries, ensure that it is fully charged. If it is, place it in an area that it will be able to detect your motion as you walk toward it. From there, walk away from it so the light turns off. Then, walk toward it until the light emits. If this happens and does so at the advertised range then you are good to install it (you can't do this with hardwired models as they need to be wired to work at all).
q:

Can motion sensor lights stay on all the time?

a:

It all depends on the specific design of the model but it is worth mentioning that most outdoor motion sensor lights will be equipped with override modes. It is typically as easy as turning this mode on and, when you do so, it will override the motion detection.
q:

Will cold weather negatively affect them?

a:

Once again, it all depends on the model but most of them will be designed to handle cold and inclement weather. Of course, if you are using a battery-operated light, the possibility is there that the batteries will not perform at their peak in colder weather. As such, the light may appear to be dimmer than it should be. If you can get ahold of lithium-ion batteries, they can help with this situation.
Subscribe to our Newsletter