Best Bouldering Shoes
In a
Hurry? Editors choice: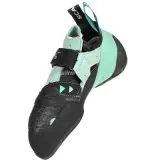 Test Winner: Scarpa Instinct VS

Rock climbing is a tremendous recreational activity to pick up and learn, and there are many different variations of it. Bouldering is just one form and is typically performed (as the name suggests) on large boulders and small rock formations without any supporting
climbing rope
. For any aspiring boulderers out there or any long-time boulderers that are looking for an upgrade, one of the essential pieces of
rock climbing gear
to equip yourself with is your shoes. Bouldering shoes can make a significant impact on how you perform and the grip you will have while climbing. If you plan on going bouldering do not use a regular pair of
running shoes
, invest in a great pair of bouldering shoes.
Standout Picks
Criteria Used for Evaluation
Traction
As opposed to other shoes (such as running or walking shoes) the importance of grip and traction is important in different ways. For shoes such as running shoes, traction is vital to ensure you have control when running over uneven or slippery terrain. But, with bouldering shoes, the grip is important when you are climbing very steep rock fixtures.
A couple of factors come into play to ensure you are provided with this grip, and the first is the outsole. This is the portion of the shoe that will be performing most of the workload, and just like cleats in sports, it is required for maximum grip.
But, what also plays a role is the amount of gripping you have when toe hooking (which is used on very steep climbs when you need to contour your body to mimic a monkey). This, more or less, will be guaranteed if the shoe has an aggressive downturned profile.
You may wonder why the shape of these shoes is curved and it is because that allows you to toe hook when you need to. And even if you could perform toe hooking with other shoes, the downturned profile provides more power and grip.
Ground Feel
Power is significant when you are bouldering, and your shoes will play a vital role in ensuring that you are provided with this power. However, it may not work exactly as you think. It is not as if there are AA batteries integrated into the shoes that will enable the shoes to do all the work for you.
No, this is not the power at play. Instead, the shoes need to bring all the power to the front of your toe. This will come in handy when you start performing specific climbing techniques, such as edging and smearing.
Edging is a technique that you will, most likely, have to perform eventually. It takes place when you are climbing on a foothold that is too narrow. In this instance, you can't place your entire foot on the hold so you must place your inside edge (which is from the big toe down) on the foothold.
Thus, having an ample amount of power at the front toe area will give you the extra ingredient that you need. However, this same power can also play a role when you smear.
Think of smearing as walking up a flight of stairs as you press the sole of your shoe on the rock and use friction to pull yourself up. Directing all the power to the front of the shoe can make this technique significantly easier as well.
Adjustability
These next two sections are vital for the actual performance end of bouldering. But, now we turn into the realm of comfortability and adjustability. Just like with every other shoe on the planet, bouldering shoes will have some adjustment system to allow you to tailor the tightness to your needs. However, from shoe to shoe, this will vary quite a bit.
Sometimes designers will choose to go with a hook-and-loop strap design (with either one or multiple straps) and other times they will resort to the classic lace-up design.
To be honest, the style in which you prefer is mainly your preference. It is difficult to sit here and state that one is vastly superior to the other as that is just not true. Some people do not like dealing with laces as straps are easier to secure. However, on the flip side, many may prefer laces as achieving the proper tightness may be easier for you. Either way, choose your preference.
Size
When it comes down to it, this may just be the single most important detail that you get right. As opposed to traditional walking and running shoes, the sizing of bouldering shoes can be rather finicky. As you probably gathered right away, most bouldering shoes are not sized accurately (at least, in terms of people's actual shoe sizes).
While it will vary from designer to designer, you should automatically expect that a pair of bouldering shoes will not fit as your sneakers do. As a matter of fact, some will be multiple sizes off of what you typically wear.
So, what can you do about this? Unfortunately, this is one of the biggest caveats to online shopping in that you can't physically try the shoes on yourself before investing in them. Though, what you can do is to look up as many customer reviews as you can to see what others state about the size. Also, always reference seller's size charts as these could help as well.
Durability
Your bouldering shoes are going to go through abuse. But, they are specifically designed for a sport that does not exactly have the smoothest of terrain. Most of the time, the portion that will go first in these shoes is the outsole.
More specifically, the rubber that is integrated on the outsole. No matter what you do, you can't prevent this from occurring. With that being said, some rubber outsoles are more durable and long-lasting than others.
However, it is not just the outsole, though, as the interior soles will also not last forever. But, most of the time, you can get away with replacing the soles when they begin to deteriorate.
Subscribe to our Newsletter