Best Water Purifiers
In a Hurry? Editors choice: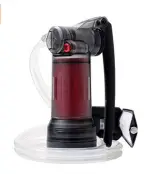 Test Winner: MSR GUARDIAN

Right off the bat, let's clarify that this guide is going to be focused on water purifiers that are ideal for camping and other like-minded activities. This is important to note because you can get a full-fledged water purification system for your home but this will not do you much good on the go. And, on the go is where you may need one the most. So, with that "disclaimer" out of the way, let's talk about this.

To ensure that you are drinking water that is free of any viruses, protozoa or bacteria you need to have a water purification system handy. However, these come in many different shapes and sizes so finding the style you want is going to be crucial. From there, you can then assess different factors and then at the very end, you can make a logical and educated selection.
Standout Picks
Criteria Used for Evaluation
Effectiveness
This is mandatory here. The model you pick needs to be able to effectively make the water you drink safe.
The purpose of buying any sort of water purifier is to purify contaminated water. While this sounds utterly redundant and obvious, it leads to the most important buying consideration of all. Now, in general, these tools are designed to remove bacteria, protozoa, viruses, and other parasites from contaminated water. Yet, there are a few factors that separate certain models from others. And, one of the most important is the filters that are utilized. In specific, look to see what size of bacteria and parasites that they will filter. This is measured in microns and, most generally, you will see filters with the capability to filter bacteria and protozoa that are no smaller than 0.1 or 0.2 microns in size.
The good news is that most bacteria and protozoa will not be that small. This is why you will see certain models claim that they can remove nearly 100 percent of them. Also, another feature to look out for is certification. For example, you may see some models meet certain NSF standards. The NSF (National Sanitation Foundation) is a foundation that standardizes sanitation requirements for drinking water.
Style
Due to the wide variety of styles that are out there, this can change everything.
As you have seen on this list, water purifiers and filters come in all different shapes and sizes (and styles). There are actually quite a few and all of them will differ in their design. For this section, let's take a look at and analyze the major types that you may see. To begin, you have your classic straw filters. These are about as simple as it gets and are ideal for portability. Of course, you literally are required to suck water through them and this means you will need to get close to a water source. After a while, these can get tiresome. A different action you can take is to get models that are driven via a pump. These are also simple but also incorporate lead lines to draw the dirty water inside to purify it.
An entirely different design is known as a gravity water filter. With this style, you typically have two different reservoirs and they need to be placed above each other. From there, you simply pour water into the "dirty" bag and the act of gravity passes the water through the filter. Of course, you also have bottle filters and these will come with their own pouches. What is nice about these is you can actually drink directly from them (if you do not have a container or bottle).
Portability
This is the entire purpose of this guide so it clearly has to be important, right?
If you were in the market for a home water purification system, then this section right here would be utterly useless. However, if you are still reading this guide then you probably are more concerned about getting models that you can use on the go. So, in order for this to be possible (or at least feasible), the model you invest in needs to be portable. But, what does this consist of? First off, you need to take the weight into consideration. This is especially important if you need a water purifier for backpacking. You see, if you tag along one of these tools then you will need to carry it the entire time. And, as all backpackers know, small weights can add up very quickly.
The second factor is the actual physical size. This is going to be most influenced by the style you pick, to be honest. For instance, as you saw in the last section, straw and bottle filters only consist of a few small parts. Meanwhile, other styles will require multiple bags and also lead lines and hoses.
Accessories
In addition to the items you recieve, pay attention to the filters here.
Clearly, the most important accessory that needs to be assessed here is the filter and filters themselves. If you know anything about them then you know that they will not last forever. And, even though various factors can come into play, some filters are simply superior to others. Some will even be rated to clean up to 100,000 gallons of dirty water. Though, understand that most will not reach this capacity and will be good for anywhere from 100 to 1000 gallons.
As for other accessories, this once again goes back to the design style. The more complicated designs may require more components and if they do, then you better make sure that the seller includes them for you. Most of the time they will but it is always advised to be 100 percent sure.
Capacity
Not only do you need to look at the capacity but also how fast the water can be filtered.
Most of the time, you will be in control of the capacity. Why is this so? The reason is due to the fact that most models out there will simply allow you to transfer the filtered water into a bottle or container of your own. On the flipside, if any reservoirs are included then you may want them to be of adequate size for your convenience. But, in all reality, what you should really prioritize here is the speed at which any given model works.
This is all about your needs but nobody wants to wait several minutes for a few ounces of water. More powerful designs will even be capable of delivering one to two liters of water per minute (which is insanely good). Because you can carry as much water as you can physically hold with containers and bottles, it is a good idea to prioritize speed if you want to store a bunch of fresh water for future use.
OUR TOP PICKS FOR THE BEST WATER PURIFIERS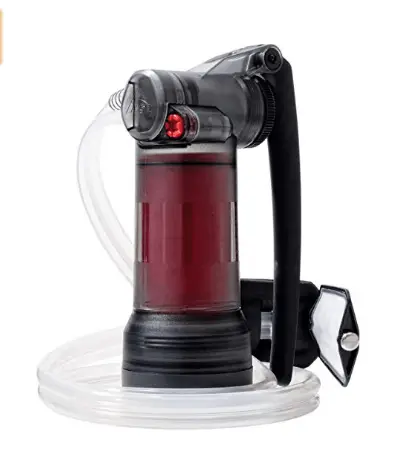 This is about as borderline as it gets because anything larger than the Guardian would probably not be considered ideal for camping. It is just the right size and as for its performance, it speaks for itself.
Read more
Effectiveness
Not only does this sport a military-grade pump but it also sports medical-grade fibers. It also meets NSF Protocol P248 and will remove viruses, bacteria and protozoa from contaminated water.
Design Style
For certain, this is a top-of-the-line design here. It all comes down to the pump as it will self-clean on every single stroke. This will provide consistently quick flow rates all the time.
Portability
As mentioned, this is right on the brink of being a little too large for transport (for backpackers anyway). However, it still is just over one pound and also comes with a storage bag.
Accessories
Though this does not really come with additional accessories, the system is rated to treat up to 10,000 liters of water.
Capacity
There is an integrated hose and you can use it to direct the filtered water into a container or bottle of your choosing. For the record, this can treat 2.5 liters of water per minute.
Overall
Yes, the price is a steep here and there are other high-quality models on the market at half (or even a third or fourth) of this price. But, none of them are quite as good as this.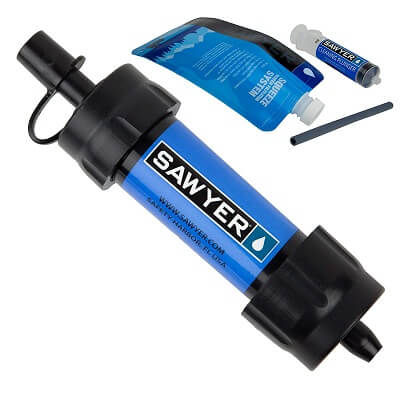 In many ways, you could consider this the standard bearer of this technology and even though it did not secure the top spot on this list, second place is certainly nothing to scoff about.
Read more
Effectiveness
The 0.1-micron inline filter is engineered to remove 99.99999 percent of all bacteria and 99.9999 percent of all protozoa. Not bad, not bad at all.
Design Style
You merely attach the included drinking pouch onto the main mechanism and extract water from any source. After this, you can drink straight from it or transfer the filtered results to a bottle or container. Of course, either way, it will take some effort to extract water.
Portability
This is literally as ideal as it gets for portability as it weighs just two ounces and will fit into the palm of your hand.
Accessories
First off, the included filter is rated for 100,000 gallons until it needs to be replaced. Additionally, you receive a squeeze pouch, drinking straw, and cleaning plunger with your purchase.
Capacity
The included pouch is 16 ounces but, again, you can transfer the results into a container or bottle of your choosing.
Overall
It certainly is not too hard to understand why so many buyers have raved about this water purifier, is it? About the only downside is, with extended use, your mouth will be very sore.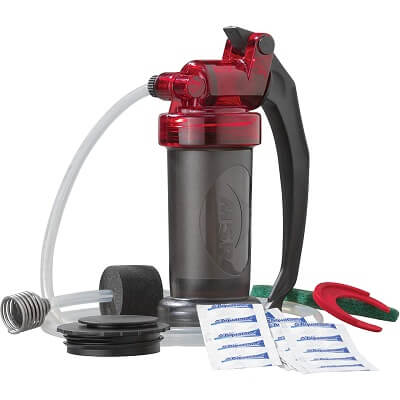 This is another model from MSR and it is actually much more affordable than their Guardian. It certainly does not show this on the quality end of things, however.
Read more
Effectiveness
The MiniWorks EX meets NSF protocol P231 for removal of both bacteria and protozoa. And, for both of those, it will remove nearly 100 percent (99.9999 and 99.9, respectively).
Design Style
As you can see, this is built with a pumping mechanism which means you will need to expend some effort here. What is really nice, however, is that a cleanable ceramic filter is included. Of course, this has been known to get plugged from time to time.
Portability
MSR once again includes a storage bag with their water purifier. And, although this weighs one pound, it is very compact and measures 7.5 by 2.75 inches.
Accessories
Now, the replaceable filter cartridge can treat up to 2000 liters of water and a water bottle adapter is included with your purchase. But, the hydration bladders are sold separately.
Capacity
This will pump one liter per minute but as far as the external source, you can buy your own bottles (any that will fit the included adapter) or the hydration bladders that are sold separately.
Overall
Granted you will not be annoyed with the possibility of the filter plugging every now and then, you should get a ton of use out of this innovative and spectacular design.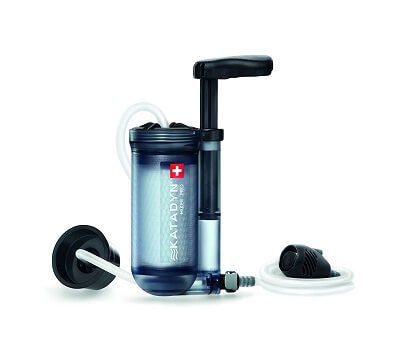 The thing about the Hiker Pro is due to its pump-action design, it is going to require some effort on your part. But, its 0.2-micron filter is a proven and tested design that delivers the goods.
Read more
Effectiveness
The Hiker Pro sports a 0.2-micron filter and it is going to remove all types of nasty and harmful organisms such as protozoa and bacteria.
Design Style
Thanks to the easy pump-action design, you can filter water from a stream or river in no time. Also, the Hiker Pro is transparent which allows you to see the process firsthand.
Portability
Even if you plan to go backpacking and need a tool such as this, this will work wonders thanks to its compact size and 11-ounce weight.
Accessories
All in all, the included filter is rated to handle 300 gallons (which is over 1100 liters). An included protector screen enhances its life in challenging conditions, as well. But, when you need to replace it, the replacements can be expensive.
Capacity
You are in control of the capacity because a bladder does not come with your purchase. For the record, you can choose anything to transfer the water into.
Overall
The Hiker Pro is a fan favorite for obvious reasons and mostly stands out because of its efficiency, simplicity, portability and convenience.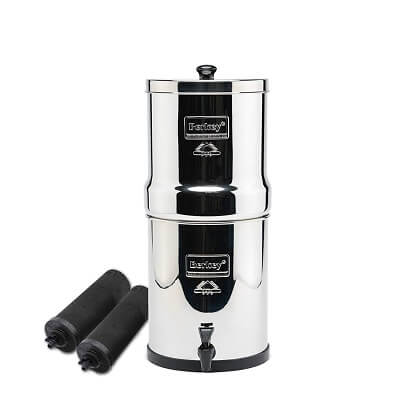 Though this model is a bit on the steeper side, in regard to the price, it is a more user-friendly design that pretty much does all the hard labor for you.
Read more
Effectiveness
If there is any doubt in your mind about how safe this is, know that it has been tested by State and EPA accredited laboratories. These same laboratories exceed NSF and ANSI Standard 53.
Design Style
Now, this is much different than the entries that have preceded it on this list. With this, you simply fill the container with the water that needs to be treated. From there, the filter will perform most of the work. Of course, the lid handle is low in quality and this is mildly disappointing.
Portability
There are other sizes available but this is the "compact" version. It still stands up 19 inches, though, and may take up too much room if you are backpacking.
Accessories
You may feel a little spoiled with this purchase as you receive two Black Berkey filters and also two PF2 filters.
Capacity
Again, this is the compact option and it holds 1.5 gallons of water. This will serve anywhere from one to three people, which is pretty good.
Overall
Backpackers beware; this may not be for you. If you are camping in a campground, though, look no further as this may have been the model you were looking for all along.

6

. SAWYER PRODUCTS POINTONE SQUEEZE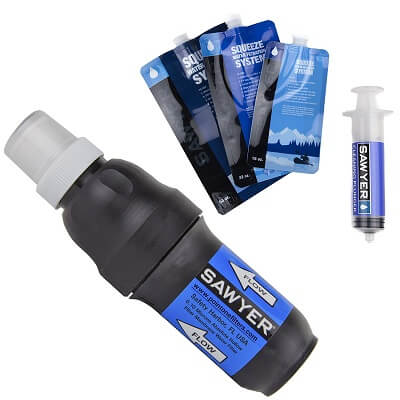 Much like the previous option from Sawyer Products, this system perfectly exemplifies portability. At the same time, it is able to remove greater than 99.99999 percent of all bacteria.
Read more
Effectiveness
As is claimed, this sports the highest level of filtration on the market as its 0.1 absolute micron filter will remove greater than 99.99999 and 99.9999 percent of bacteria and protozoa, respectively.
Design Style
From the included pouch, you can spray water straight into a shaker bottle or straight into your mouth. The latter is possible thanks to the built-in (and removable) push/pull cap.
Portability
Yep, this is about as portable as the other one and as portable as it gets. If you require a model that is extremely light in weight, this will be right up your alley.
Accessories
Though this comes with three different collapsible pouches, they have received some criticism for being prone to leaking.
Capacity
The aforementioned pouches come in three different sizes for your convenience. What you receive are sizes of 16, 32 and 64 ounces.
Overall
It is a bit unfortunate that the included pouches have had documented quality control issues because other than that, this model is darned near perfect.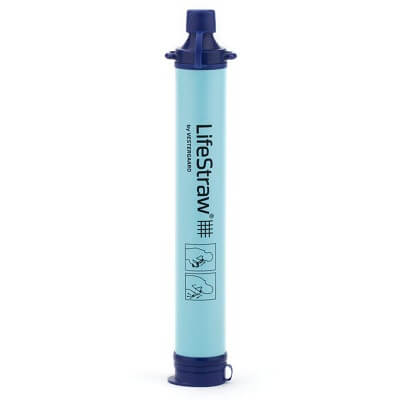 If this was a popularity contest, here would be your winner by a landslide. But, that is not the case. Of course, for the most part, this warrants nearly all the acclaim it receives.
Read more
Effectiveness
In addition to the extremely high percentage of bacteria and waterborne parasites that this will remove, it also rids the water of microplastics down to one micron in size.
Design Style
This is not the best model when it comes to practicality. As many previous users have reported, you have to exert a fair amount of suction power each time you want more water.
Portability
You literally will forget that this is in your backpack or carrying bag due to its ridiculously compact size and two-ounce weight.
Accessories
Being very simple in nature, no additional travel kettle accessories come with your purchase. As for the included filter, however, it is rated to provide 1000 gallons of clean water.
Capacity
The little bottle you get is not very large and after you are done the sucking, it appears you can transfer the end result to a container or bottle of your choosing.
Overall
Look, this just may be the most potent model (in terms of its filter) on the market. At the same time, it can't be deemed a go-to option due to its design style. Instead, it is a superb option for casual use.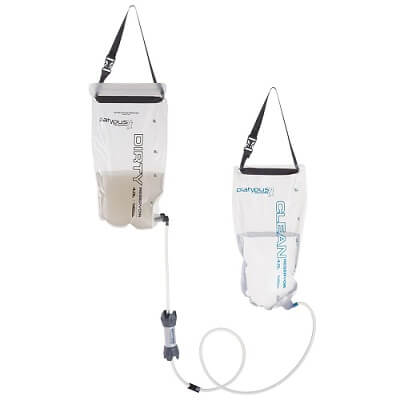 What is most interesting about the GravityWorks is the fact that it is indeed gravity-driven. So, this means you must hang it from a tree to deliver filtered water.
Read more
Effectiveness
This is up-to-par with other models in the world when it comes to the design of its filter. It meets all EPA and NSF guidelines for removal of protozoa (99.9 percent) and bacteria (99.9999 percent).
Design Style
Now, this is a gravity-driven design and comes with two bags (with one of them being clearly labeled as the "dirty" one). No pumping will be required and each bag can be hung from a tree. Unfortunately, a few buyers have noted that the grommets can break a little too easily.
Portability
All in all, this kit weighs 11.5 ounces and while there are different pieces that you need to carry, it is nothing overly large.
Accessories
In addition to the two reservoirs, also included with your purchase is a hollow-fiber microfilter, shutoff clamp, storage sack, and also hoses.
Capacity
Each of the reservoirs is four liters in size, for the record. This does not mean you will get eight liters in total, however, as the four liters of water will merely be transferred over.
Overall
Due to the unique nature of this kit, it certainly is a compelling option. It is not going to be an ideal purifier for everyone because of the gravity-driven design, though.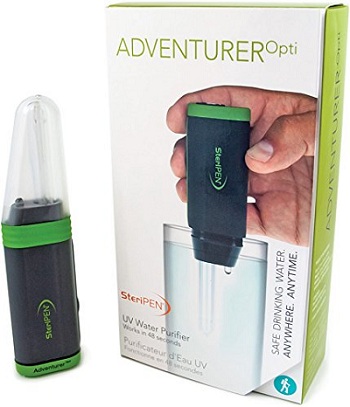 Talk about unique; this is a completely different design here. Not the least of which is the fact that it actually requires batteries for operation. It is also one of the simplest concepts out there, though.
Read more
Effectiveness
This little pen is going to destroy more than 99.9 percent of all sorts of harmful microorganisms. This includes viruses, bacteria, and protozoa, among others.
Design Style
As mentioned, this will require batteries (two CR123 batteries that are included with your purchase) for operation. As for the actual operation, you stick the pen in the contaminated water and it treats it (it takes roughly 90 seconds for it to treat one liter).
Portability
The actual device itself will fit into the palm of your hand and it is the only accessory you need to carry around, making it an extremely portable option.
Accessories
Past the included batteries, your purchase is also complete with a neoprene case that sports a belt loop. This is nice for transportation reasons.
Capacity
You will need a separate container filled with dirty water in order for this to work. Yet, for whatever reason, the engineers did not think it through and made the pen too large to fit inside traditional water bottles.
Overall
It can actually be a little hard to summarize this particular system. When on-the-go, it is extremely portable so that is nice. But, other options offer superior practicality.

10

. AQUAMIRA WATER TREATMENT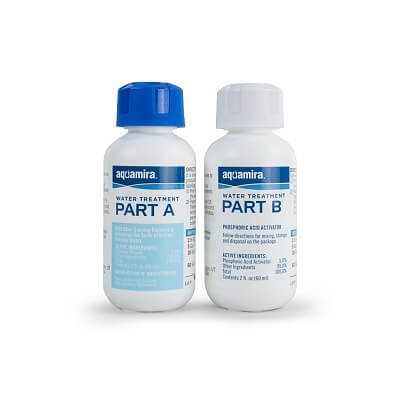 To offer a little bit of something for everyone, here is a water treatment "system" that uses the power of chlorine dioxide to kill germs and bacteria. But, it sometimes is not the most practical solution.
Read more
Effectiveness
Yep, this is a treatment formula that utilizes the power of chlorine dioxide. This will kill odors that cause bacteria and, for the record, it is free of chlorine and iodine.
Design Style
As these are merely drops, you have to carry both the bottles (they are different formulas) with you and use several drops to purify your water (which can take a few minutes).
Portability
It is not as if these bottles (as you do get two) are cumbersome to carry but they are a little bulky.
Accessories
All you need is both bottles for this to serve its designed purpose. So, you actually do not receive any additional accessories.
Capacity
There are two size options available. The one-ounce bottles will treat up to 30 gallons and the two-ounce bottles will double this.
Overall
For various purposes, this is a nice entry on this list. This is not the only reason it was included as it really is a potent formula that will effectively purify your water.

Subscribe to our Newsletter