Best Water Purifiers
last updated:
Feb 07, 2020
Right off the bat, let's clarify that this guide is going to be focused on water purifiers that are ideal for camping and other like-minded activities. This is important to note because you can get a full-fledged water purification system for your home but this will not do you much good on the go. And, on the go is where you may need one the most. So, with that "disclaimer" out of the way, let's talk about this.
To ensure that you are drinking water that is free of any viruses, protozoa or bacteria you need to have a water purification system handy. However, these come in many different shapes and sizes so finding the style you want is going to be crucial. From there, you can then assess different factors and then at the very end, you can make a logical and educated selection.
In a Hurry? The test winner after 3.25 hrs of research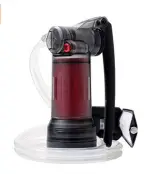 MSR GUARDIAN
Why is it better?
It meets NSF Protocol P248
It self-cleans on every stroke
Can treat 2.5 liters of water per minute
In a
Hurry? Editors choice: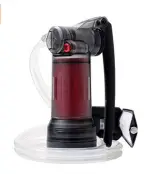 Test Winner: MSR GUARDIAN

5
Researched Sources
22
Reviews Considered
3.25
Hours Researching
16
Products Evaluated
Effectiveness
Style
Portability
Accessories
Capacity
By Default
OUR TOP PICKS FOR THE BEST WATER PURIFIERS
Criteria Used for Evaluation


Effectiveness
This is mandatory here. The model you pick needs to be able to effectively make the water you drink safe.
The purpose of buying any sort of water purifier is to purify contaminated water. While this sounds utterly redundant and obvious, it leads to the most important buying consideration of all. Now, in general, these tools are designed to remove bacteria, protozoa, viruses, and other parasites from contaminated water. Yet, there are a few factors that separate certain models from others. And, one of the most important is the filters that are utilized. In specific, look to see what size of bacteria and parasites that they will filter. This is measured in microns and, most generally, you will see filters with the capability to filter bacteria and protozoa that are no smaller than 0.1 or 0.2 microns in size.
The good news is that most bacteria and protozoa will not be that small. This is why you will see certain models claim that they can remove nearly 100 percent of them. Also, another feature to look out for is certification. For example, you may see some models meet certain NSF standards. The NSF (National Sanitation Foundation) is a foundation that standardizes sanitation requirements for drinking water.


Style
Due to the wide variety of styles that are out there, this can change everything.
As you have seen on this list, water purifiers and filters come in all different shapes and sizes (and styles). There are actually quite a few and all of them will differ in their design. For this section, let's take a look at and analyze the major types that you may see. To begin, you have your classic straw filters. These are about as simple as it gets and are ideal for portability. Of course, you literally are required to suck water through them and this means you will need to get close to a water source. After a while, these can get tiresome. A different action you can take is to get models that are driven via a pump. These are also simple but also incorporate lead lines to draw the dirty water inside to purify it.
An entirely different design is known as a gravity water filter. With this style, you typically have two different reservoirs and they need to be placed above each other. From there, you simply pour water into the "dirty" bag and the act of gravity passes the water through the filter. Of course, you also have bottle filters and these will come with their own pouches. What is nice about these is you can actually drink directly from them (if you do not have a container or bottle).


Portability
This is the entire purpose of this guide so it clearly has to be important, right?
If you were in the market for a home water purification system, then this section right here would be utterly useless. However, if you are still reading this guide then you probably are more concerned about getting models that you can use on the go. So, in order for this to be possible (or at least feasible), the model you invest in needs to be portable. But, what does this consist of? First off, you need to take the weight into consideration. This is especially important if you need a water purifier for backpacking. You see, if you tag along one of these tools then you will need to carry it the entire time. And, as all backpackers know, small weights can add up very quickly.
The second factor is the actual physical size. This is going to be most influenced by the style you pick, to be honest. For instance, as you saw in the last section, straw and bottle filters only consist of a few small parts. Meanwhile, other styles will require multiple bags and also lead lines and hoses.


Accessories
In addition to the items you recieve, pay attention to the filters here.
Clearly, the most important accessory that needs to be assessed here is the filter and filters themselves. If you know anything about them then you know that they will not last forever. And, even though various factors can come into play, some filters are simply superior to others. Some will even be rated to clean up to 100,000 gallons of dirty water. Though, understand that most will not reach this capacity and will be good for anywhere from 100 to 1000 gallons.
As for other accessories, this once again goes back to the design style. The more complicated designs may require more components and if they do, then you better make sure that the seller includes them for you. Most of the time they will but it is always advised to be 100 percent sure.


Capacity
Not only do you need to look at the capacity but also how fast the water can be filtered.
Most of the time, you will be in control of the capacity. Why is this so? The reason is due to the fact that most models out there will simply allow you to transfer the filtered water into a bottle or container of your own. On the flipside, if any reservoirs are included then you may want them to be of adequate size for your convenience. But, in all reality, what you should really prioritize here is the speed at which any given model works.
This is all about your needs but nobody wants to wait several minutes for a few ounces of water. More powerful designs will even be capable of delivering one to two liters of water per minute (which is insanely good). Because you can carry as much water as you can physically hold with containers and bottles, it is a good idea to prioritize speed if you want to store a bunch of fresh water for future use.
Expert Interviews & Opinions
Most Important Criteria
(According to our experts opinion)
Experts Opinion
Editors Opinion
Users Opinion
By Default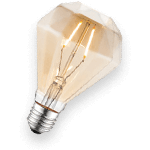 Effectiveness
This one is pretty simple, ladies and gentlemen. For any type of filter or purifier to be effective, it needs to be able to remove all sorts of bacteria, viruses, and protozoa. This is actually dictated by the size of the parasites and the size in which the filter will remove. Of course, it is also never a bad idea to look for models that meet specific standards and protocols set out by the NSF.
Style
There are actually quite a few different design styles on the market. And, while all of them can be seen as effective, they do differ quite a bit. A lot of choosing the type you prefer comes down to your personal preferences, honestly. But, to help you out, take a look at the various different designs as we break them down for you. This is critical because this could change everything for you.
Portability
The so-called "premise" of this guide is to focus on models that you could use for camping and other such activities. So, this must mean that the portability of any one given model will be a priority for you, right? Correct; and what is sort of ironic is a lot of it goes back to the style. Depending on how many parts and components are required, you may need to carry more items. Oh yeah, also do not forget about the weight.
Frequently Asked Questions
q:

What is meant by 0.1-micron absolute?

a:

This is something that you may seem some sellers advertise their model as. The problem is some filters are listed for average pore sizes and what this does is leave the possibility of pathogens passing through. This is eliminated when you see absolute microns as there will be no variances on the pore sizes on the filter membranes. It is just another example of how top-end models and filters separate themselves from the rest of the pack.
q:

Why do you need them, anyway?

a:

You may be someone who believes that you can merely just drink water from any source and be fine. Well, even though it is not guaranteed that you will become sick or ill after drinking water from a particular source (say a river or a stream) it is a chance that you really should not take. Here is the deal; nearly all surface waters will be contaminated with one of the three types of microorganisms that can create disease (viruses, bacteria and protozoa). Clearly, these will be invisible to the naked eye and if you happen to digest them, the consequences could be disastrous.
q:

How do you prevent the pouches from leaking water?

a:

For the record, this question is in reference to bottle filters that come with pouches. Due to the manner in which they are designed, you will be using the pouches during the filtration process. But, a common issue is these becoming damaged to the point where they begin to leak. The question is how can you avoid this? First off, when you begin, the fibers will not be wet and this means that you need to squeeze the bottle slowly to prevent too much pressure. Also, ensure that the filter is cleaned regularly and that you do not overtighten it on the pouch itself.
q:

On certain models, why are the handles so hard to push?

a:

From one model to the next, this question is in reference to designs that utilize the power of a pump handle to progress through the filtration process. There are actually a few common reasons why this can occur with the most common being that the microfilters are clogged. When this happens, you need to clear out all the gunk and residue that is present. If this still does not solve the issue, it is possible that the O-ring has become dry. To resolve this issue, lubricate the ring with special silicone lubricant.
q:

How often should you backwash the filters?

a:

This is actually an easy process, for the record, as it involves you rinsing off all dirt and debris out of the filters. But, how often should you backwash (which is the actual term for this) them? A lot of it depends on the water that you are extracting. If it is very murky and muddy water and it is this type consistently, then you may need to do so every 10 gallons or so. Of course, this can skyrocket to every 1000 gallons if you are extracting clearer water. Basically, you should backwash them when the flow rate diminishes and also after they have been stored for a while.
q:

Do filters and purifiers remove chemical contaminants, as well?

a:

For the most part, no they will not. You can take MSR, as an example, as they point out that their purifiers and filters will not protect you from heavy metal contamination. This is not really what water purifiers, in regard to portable ones, are designed to do. So, avoid using water that is close to agricultural operations.
Subscribe to our Newsletter