Best Survival Food
In a Hurry? Editors choice: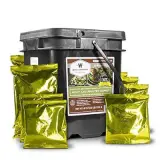 Test Winner: Wise Company Meat Variety

Whether you are planning to pack a
survival kit
in your home in case a natural disaster occurs, or you need nourishment when you are in the great outdoors, you'll want to make sure you are prepared with some of the best survival food.
Whether you are packing it to go camping, or you want to be super prepared in case of a storm, you'll want to make sure you purchase food that will last a long time and still give you the
nutrition you need
.
There are many brands and product options for survival on the market today. To help make your research easier, we've compiled a list of the best options available, and we'll also review some criteria points you'll want to consider before you make your purchase.
Standout Picks
Criteria Used for Evaluation
Flavors
While you can purchase a bucket of emergency food that is all one flavor, that can certainly make things complicated and tedious if you are stuck in a survival situation for many days. You don't want to wind up with a miserable family when times get tough.
So yes, if you do want just one flavor and a lot of it, you can certainly purchase that, but it's almost always better to give people a variety of options. Most of the companies on our list offer you packets of food that feature a variety, which will undoubtedly make things a bit easier when you're experiencing a stressful survival situation.
Ease of Use
When you're looking around for your best options in food for survival, you want to make sure you purchase something that's easy to use and make. Whether you are purchasing your food for survival or for camping, or simply to stock up in case of an emergency, you'll need to make sure you buy food that's easy for you to whip up in a hurry without a lot of supplies. So, the easier the product is to make, the better.
The products we've included on our list are all very simple to make. Most of them require that you add water or boiling water. Some food packs you can even eat dry. Of course, if you're stocking up for emergency storage, or even if you are camping, you need to make sure you also stockpile plenty of water you can use to cook the food. For most types of food for survival, even if you can eat them dry, adding water can make them significantly better when you eat them.
Also, some brands pack their food up into small pouches, included in the larger boxes or buckets they sell. Not all companies do this, but many do. Having a pouch to grab that's labeled with the flavor and can be made by simply adding water does make things significantly easier to make. So, if you want something that's more of a grab-and-go style food, try to go for a brand that prepackages its meals so that you can carry them along with you more easily, instead of having to measure the food out before you eat it.
Durability
When we talk about the durability of food on our product list, we're referring to the shelf-life of the food, or how long it takes for the food to expire and no longer be edible. Most types of food for survival are incredibly long-lasting, but some have a longer shelf life than others. How long of a shelf life do you need? That's actually up to you and the purposes you intend to use the food for.
If you are purchasing food to take out with you on regular camping trips and other outdoor excursions, then you know you'll be using the food up more often. If that's the case, then you'll be fine purchasing food products that have a seven to twelve-year shelf life. If you are taking the food for survival out with you every time you camp, and you are a frequent camper, then you'll most likely use the food up much faster than that.
However, if you are buying foods for survival so that you can stock up in case of a natural disaster and you don't plan to take the food out camping with you, or you don't camp that often, then you'll want a product that has a longer shelf life. That way, you know you'll have it for the next twenty-five years or so before it expires, and you'll be ready to go in case of a natural disaster.
This is especially important if you wind up buying a large case of food for survival. Then, of course, you are going to wind up paying a bit more money and you'll want to make sure you get the most out of your food. In that case, stick with something that has a longer shelf-life so you get more for your money.
Again, this is just advice about how to approach making a decision about the product's shelf life. The decision is really up to a matter of personal preference, and how long you think it will be before you actually use the food.
Capacity
It is essential to take note of how many meals are included in each package. When we discussed food options on our product list, we covered points like the taste and calorie count. Both of these concepts are going to be important because if you are spending the money on these products, then you want to make sure you buy something that you'll want to eat when the time is right.
So, if you're looking for particular flavors or a kit that contains breakfast, lunch, and dinner, then make sure you purchase flavors you know you'll enjoy. There are so many selections out there on the market today that this shouldn't be too difficult. Also, if you wind up spending the money on a larger kit, you want to make sure you'll eat and use the food up at some point.
Calorie content of the food is also another critical factor to consider. Some brands base their meals on a 2,000 calorie diet, and others do not. If you're eating the food under any survival circumstance, you do need the proper amount of calories daily. So, make sure you purchase food that will help provide you with the caloric intake you need.
Value
When we covered value on our best survival food reviews, we tried to discuss what you would get for the price of each product. Of course, if you're shopping on a budget, then you can save some money and buy a smaller kit with food products you like. Some of the larger kits are actually cheaper overall if you want to buy in bulk, so again, it all depends on what you really need to get out of your food pack.
Top Ten Survival Foods
1

. Mountain House Essential Bucket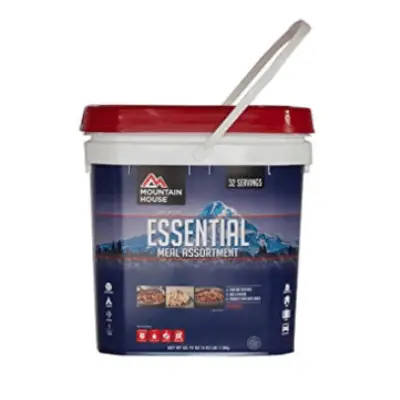 Mountain house is well-known in the prepper's and camper's world. They are known as one of the best survival food brands, for producing great tasting and easy to prepare meals. The essentials bucket comes with 32 servings of three different flavored meals.
Read more
Flavor
Many reviewers have been impressed by the great flavor of these meals. In this package, you'll find three flavors: Rice and Chicken, Chili Mac with Beef, and Spaghetti with Meat Sauce. Some customers who ate these while camping said that they would consider cooking these meals at home for a great dinner.
Ease of Use
Making these meals couldn't be easier. All you need to do is read the directions to see how much water it calls for, boil the water, and add it to the pouch. If you are short on plates and bowls, you can eat directly from the pouch.
Durability
From the date of packaging, these meals have a shelf-life of 30 years. With that being said, you should check the expiry date of the pouches when you receive them. Some customers said that they received pouches that were packaged 16 years ago, leaving them with only 14 more years of shelf life.
Capacity
Per bucket, you'll receive twelve pouches total. Of each entree, there are four pouches. In total, there are about thirty servings. Each pouch should feed two to three people, depending on age and appetite.
Value
The price of this bucket is quite affordable, especially considering the great taste of the entrees. Another great feature is the bucket itself. It is BPA-free and can be used for a number of things afterward, such as storage, or collecting rainwater.

2

. Northwest Fork Gluten Free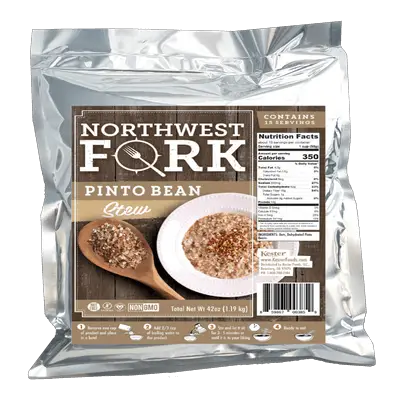 Northwest Fork's 30 Day Emergency Food Supply provides you with a pack of great survival food with a long shelf life. You'll get a lot of flavor options that will make things easy each time you want to spend the night outside camping.
Read more
Flavor
Made in a bevy of flavors, you get a lot of food choices with this food supply kit. You'll get stews, soups, fruit oatmeal, and a wide variety of excellent menu options you'll enjoy eating.
Ease of Use
This kit is made to be easy to use and comes as a ready-packed health food that is also gluten-free. It's easy and simple to make, and you should be able to prepare it quickly.
Durability
NorthWest Fork's kit comes with a shelf life of ten years, so you know that your survival food kits will last for quite some time when you purchase them. By purchasing this survival kit, you know you'll be prepared for any emergencies you might encounter, while also covering your outdoor camping needs.
Capacity
There is enough food for one person for thirty days.
Value
30 Day Food Supply's Kit is best survival food that is relatively affordable, considering its long shelf-life and is priced, so it is quite cost-effective. You will get a lot of value if you decide to purchase this product.

3

. Wise Company Meat Variety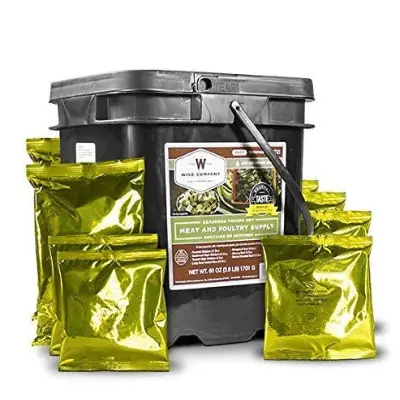 This next addition is not vegetarian-friendly, but it is a great investment. This meat variety pack includes beef and poultry and can be prepared on their own, with rice, or in conjunction with other Wise Company buckets. Although the included flavors are quite interesting, many reviewers say that they still need some spicing up.
Read more
Flavor
This is the meat variety pack and includes six different flavors of beef and poultry. In this bucket, you'll find Roasted Chicken, Southwest Style Chicken, Teriyaki Style Chicken, Stroganoff Beef, Cheesy Ground Beef, and Savory Roasted Ground Beef. As a bonus, there are also twenty servings of long-grain rice included as well. The majority of reviewers say that the flavors are slightly bland but can easily be spiced up to your liking.
Ease of Use
Rehydrating these meats is simple. You mix the contents into the bag with water (preferably hot water) and wait about ten to fifteen minutes until it is ready to eat.
Durability
Each pouch is vacuum sealed and has a shelf-life of fifteen years.
Capacity
In total, this bucket comes with 60 servings of meat, plus the bonus of twenty servings of rice. There is fifteen pouches total, each carrying four portions. One thing to note is that the packages are not resealable. Once you open a package, you will need to cook all of it.
Value
This bucket is priced quite affordable, especially for being meat. With sixty servings of meat, twenty servings of rice, and fifteen-year shelf life, you'll be set for quite a while. While we do wish the flavors were enhanced and the bags were resealable, this is still a great option.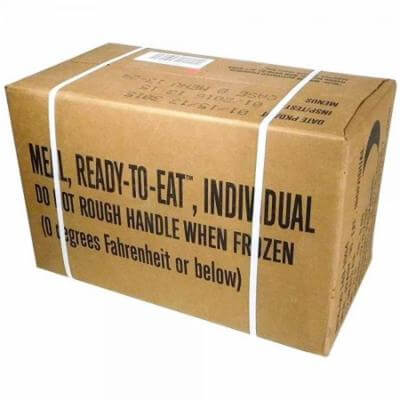 MRE in a Box provides you with a genuine U.S. military surplus product that's simple to make and good-tasting. Developed to provide meals to the U.S. military, you'll like the products and options you get packed into this box.
Read more
Flavor
The food options in this pack come with 1250 calorie serving packets, which provides you with several healthy portions. The food is great-tasting and excellent for any survival task.
Ease of Use
To make the meals, all you need to do is add water. So, you'll be able to quickly eat and take these along with you while you are on the go.
Durability
You get a 25-year shelf life with this product, so you'll have a lot of survival food for quite a while if you purchase this pack. You'll have food whenever you camp, or whenever you have an emergency.
Capacity
There are twelve meals per case.
Value
This is one of the most affordable options on our list for the amount of food you get with this product. You'll be surprised how much food you get considering the price. Additionally, flameless heaters are included with each box.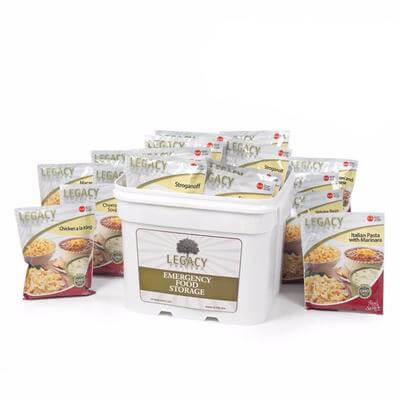 If you're looking for an emergency kit that's stacked with breakfast, lunch, and dinner options, then you'll love what the Legacy Emergency Food Sample Pack offers. Made to be GMO-free and with a 25-year shelf life, you'll get everything you need this kit.
Read more
Flavor
This food pack comes with a wide variety of breakfast, lunch, and dinner options, so there's plenty of choices for the whole family. Plus, it also offers a large serving size based on a 2000 calorie diet. Some examples of the meals included are Enchiladas, Potato Soup, and Pancakes.
Ease of Use
Legacy's food is straightforward to make, and all you need to do is boil water and add it. That means it's perfect for taking along with you on your camping trips, and also a practical item to have in case of an emergency.
Durability
Legacy's food pack lasts up to 25 years, meaning it'll always be there when you need it. You'll know you'll be safe and well-fed, no matter what happens.
Capacity
There are 183 servings total in the kit.
Value
This kit is about twice the size of many of the other kits in our review, so it seems like it costs more based on price. However, considering how much food you get, it is still a good price.

6

. Wise Foods Company 72H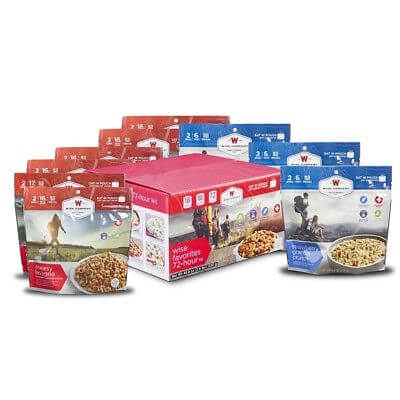 If you are looking for an affordable backpacking meal kit that gives you just the right amount of food, then you'll like the options that come with this pack. This pack gives you 72 hours of survival food and has excellent choices for breakfast, lunch, and dinner.
Read more
Flavor
With this food pack, you get two servings of chili mac with beef, pasta alfredo with chicken, and gluten-free Teriyaki chicken. You'll have just the right choices and the right amount of food.
Ease of Use
Making the Wise Foods Company food product is easy, and all you need to do is add water. You'll be set to go anytime you go camping, or anytime you find yourself in the middle of an emergency.
Durability
You get a seven-year shelf life with this product, which is fairly decent, but not as long as some other competitor's options. Still, considering the pack of food is not large, this is probably long enough.
Capacity
There is enough food in this pack for one person, for 72 hours.
Value
This is a very affordable and best emergency food that offers what you need to get through three days. So, if you are just looking for something small, this could be the right amount for you.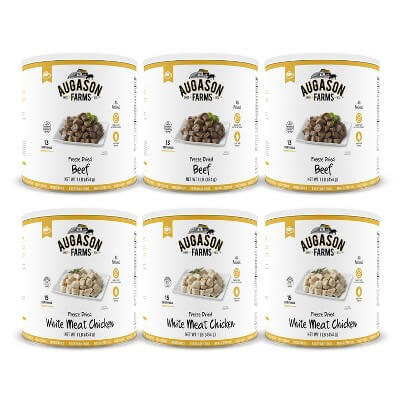 The Augason Farms #10 Can Freeze Dried meat Variety Kit comes with 3 cans of chicken breast chunks and 3 cans of beef chunks. The pack is designed to make things simple when you need long-lasting meet, and the kid will last you several years.
Read more
Flavor
This variety pack comes in beef and chicken flavors, and both flavor choices are tasty and delicious.
Ease of Use
These meats are precooked. While you may want to add seasonings or heat them up, you could eat them right out of the can.
Durability
The unopened shelf life of this product is 30 years, so you'll get long-lasting emergency food kits you can use if there is an emergency, or if you decide to go camping.
Capacity
Augason Farms' #10 Kit is prepared to be used in daily meals or for emergency storage. There are 84 servings of meat products which can help you out whenever you camp, or whenever you need a backup food supply.
Value
You won't need to worry about this food going bad for many years. You'll love having this kit around each time you need food. This food kit runs on the expensive end, but that could have something to do with the fact it is freeze-dried meat. So, although the cost might seem higher when compared to other products on our list, it's not horrible considering what you get.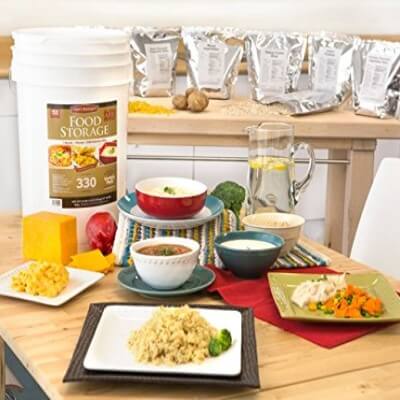 The Chef's Banquet 30-day kit is sold in a weatherproof and durable 6-gallon bucket with eight resealable pouches inside. While some reviewers don't like the fact that you need to measure out each meal from the pouch, it's a great feature for others. The flavors seem to be decent on their own, or much better when you add a personal touch of spices.
Read more
Flavor
This kit includes eight different pouches, allowing you to mix and match your meals. The food options included are Oatmeal, Potato Soup, Chicken Flavored Vegetable Stew, Instant Potatoes, Mixed Vegetables, Macaroni and Cheese, Beef-Flavored Vegetable Stew, and Cheddar Broccoli Rice. For the overall flavor of the pouches, some reviewers are impressed with the characteristics, and others say they're quite bland and need more seasoning.
Ease of Use
Like many of these products, these meals are easy to make. You measure and take out how much you want and add hot water. Depending on the food item, the rehydration time is different, but none take longer than twenty minutes. One thing that is different about these pouches is that they are not portioned out. The one sealable pouch has thirty (or sixty) servings of the same food.
Durability
The bucket that houses all the pouches is BPA-free and weatherproof. The food comes in metalite pouches that have high oxygen and moisture barrier. Additionally, there is an oxygen absorber in each pouch. Depending on the temperature that you store the bucket, the shelf life changes. When stored at 60-degrees, the shelf life is 20 years from the packaged date. When stored at 70 degrees, the shelf life is ten years from the packaged date.
Capacity
In total, there are 330 servings. With 2,100 calories per day, this bucket could last one person for thirty days. The bucket itself can hold up to six-gallons and is an excellent accessory for storage or water collection.
Value
This is a great value. For one person, it only costs about half of what you may typically pay for one month of groceries. The weatherproof BPA-free bucket also adds to its overall value.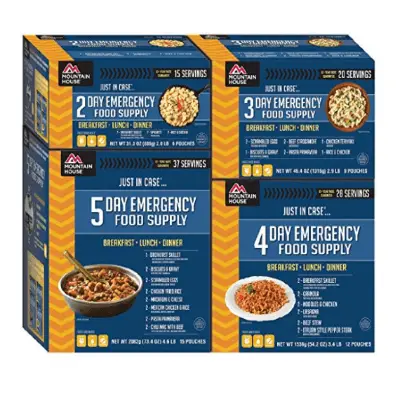 This 14-day kit is full of flavor and variety. One person could survive on these 40 pouches with 1,800 calories per day for two weeks. While the price of this kit is almost double of comparable others, you just can't beat these flavors.
Read more
Flavor
As you can expect from Mountain House, the flavor of these foods is quite impressive! Packed into this small 14-day kit, you'll find a lot of versatility in the 40 pouches. Included meal options include five breakfast meals, including biscuits and gravy and a breakfast skillet, and thirteen other meals, including Indian Style Pepper Steak, Pasta Primavera, and Lasagna with Meat Sauce.
Ease of Use
These meals are effortless to prepare. All you need to do is measure out the water, heat it, and rehydrate the meal. This whole kit together weighs about 19-pounds, making it light enough to travel with.
Durability
These products come with a shelf life of 30 years from the packaging date. However, many reviewers have pointed out that there is no way to know how long the product has been at the Amazon warehouse, and it is recommended to check the expiry dates upon arrival.
Capacity
This kit supplies one person with enough food for 14-days, at 1,800 calories per day. There are 100 total servings among the 40 pouches.
Value
Considering that this 14-day kit costs more than others on our list that last for a month, it is quite expensive. However, as with most Mountain House products, the flavors are quite remarkable. If the flavor is an essential factor to you, this is a great choice.

10

. Augason Farms Lunch & Dinner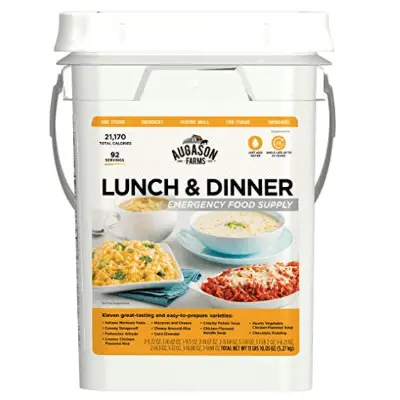 This lunch and dinner kit is great to have on hand. It has a total of 92 servings and the meals are surprisingly delicious. One of the main downsides, in an emergency situation, to these meals is the fact that many of them need to simmer, meaning that you will need fire, water, and a pot.
Read more
Flavor
There are eleven lunch and dinner items included. You will have your choice of, Vegetable Chicken Soup, Creamy Chicken Rice, Creamy Stroganoff, Alfredo, Marinara, and Cheese Sauces, Elbow Macaroni, Creamy Potato Soup, Chicken Noodle Soup, Corn Chowder, Cheesy Broccoli Rice, and Chocolate Pudding. Many reviewers have been impressed by the flavors of this kit.
Ease of Use
The cooking instructions vary from meal to meal. However, some of them need to simmer, meaning that you need a pot, water, and heat. These aren't as easy to make as many of our other options. Also, some pouches have eight portions of the same food and are not easily resealable. It would be smart to have some zip-locks on hand if you don't plan on cooking the entire pouch.
Durability
These products have a shelf life up to 20-years from their original packing date. However, as with many of these products, you won't know when it was packaged until you receive it. It is always a good idea to check the packaging date to know how much longer the foods are good for.
Capacity
In this four-gallon bucket, you'll find 92 total servings with 21,020 calories. Depending on how many people you will be sharing it with, measures the amount of time that these meals will last you.
Value
This is a great deal, especially considering the impressive flavors of the meals. However, what you don't pay for here, you may pay for in terms of gas or pots and pans.

Subscribe to our Newsletter