Best Mountain House Meals
In a
Hurry? Editors choice: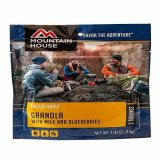 Test Winner: Granola with Milk & Blueberries

One of the trickier aspects of activities such as
camping
, backpacking, and hiking can be what kinds of foods to pack for yourself, especially if you have limited space. Mountain House is a powerhouse when it comes to providing camping, backpacking, and
dehydrated
, lightweight meals. They are constructed and made for campers and backpackers, which make them ideal for travel. These quick convenience meals that can be easily prepared in the
wilderness
. They sell everything from beef stew to scrambled eggs with bacon. Enjoy the top 10 of what they have to offer below.
Standout Picks
Criteria Used for Evaluation
Product Purity
To start off, what exactly is a Mountain House meal? Well, it is a meal that is made by Mountain House. Okay, the sarcasm aside, it is a meal that is intended to be made in situations where your resources are limited. For all of the meals, all you will need to do is simply add hot water to the contents. After which, you can indulge. It really is as simple as that but do not worry, as the ingredients and contents inside are real. The meals themselves are freeze-dried and actually made for the United States Special Forces. Because of this, you can expect the meals to taste somewhat close to the real deal.
But, what exactly do you like to eat? See, you will never like their beef stew meal if you do not like a beef stew, to begin with. So, the most critical aspect of choosing one of these meals is to decide what sounds good to you. Thankfully, as you have seen, there is a strong variety. They make popular breakfast meals (such as scrambled eggs and bacon), dinners (such as chicken with noodles and beef stroganoff) and even snacks (such as granola with blueberries).
Taste and Texture
One of the more important facts to realize is that these types of meals will never taste as terrific as they would if they were made fresh by a professional chef. However, in situations where you are trying to pack as little as possible, they can deliver an exceptional amount of flavor. It is all about how you perceive the flavor as if you go in expecting a flawless meal, you will probably be disappointed with the results. Yet, some of these meals have been known to taste quite wonderfully. No matter, see what others have to say about the flavor to gauge its effectiveness.
Okay, but what about the texture? Here is where things get a little dicey as these meals are designed to be made with the addition of hot water. As such, the texture of some meals can be a little hard to handle. For example, with bacon, the normal crisp will not be present and that may be enough to prevent you from eating it. The texture is nearly just as critical as flavor and there are just some items that you will need to be crunchy and/or not mushy.
Nutrition
When you go shopping, how much mind do you pay to the nutritional label that is mandated for foods? You will not be judged based on your answer but the reason that is being asked is it is the best means to determine the nutritional value of any food. Then again, if you blindly assess the label without any prior knowledge of what you should be looking for, you are all-but wasting your time anyway. As such, let's dive into the briefing of sorts when it comes to nutrition.
Before we begin, note that the following recommendations are based on the findings of the American Heart Association. They provide essential information on what should be your daily intake of fat, sodium, fiber, sugar, and cholesterol. For fats, it should actually be 25 to 35 percent of your total calories. Yet, stay away from the bad fats (such as trans and saturated) as much as possible. For sodium (which can be high with these meals), keep it under 2300 milligrams daily. In terms of sugar, it should be kept under 100 calories for women and 150 calories for men.
Value
For the most part, the pricing of these meals is fairly consistent. Because of this, you need to pay attention more to the overall value you are receiving. To gather up this information, you need to assess the serving size of the meal and how many servings you are provided with. If you are aiming to feed several people for several days, you will need more servings and a larger portion of the meal. This is actually where it becomes essential to decide on which style you want. See, Mountain House typically sells their meals in a plethora of styles. Two of which are either in a pouch or a (for example, the granola) can.
Out of these two, the #10 can contain more servings and will feed a larger amount of people. Of course, the price jumps up considerably when you switch from a pouch to a can. As such, determine beforehand how much you will need because as you will learn later, once you open up the contents they need to be consumed shortly after.
Side Effects
Count yourself lucky if you never have to deal with food allergies. For those less fortunate who do suffer from common food allergies, such as lactose intolerance and Celiac disease, you need to be careful when you invest in any types of foods. Even items you would never expect to have milk or wheat (or modified food starch) could have it. Well, Mountain House makes it abundantly clear what specific food ingredients (that are associated with food allergies) are in their meals.
For those with lactose intolerance, the issue is with milk. More specifically, the issue is with lactose which is the main sugar in milk and various other dairy products. However, the issue turns to wheat with people who suffer from Celiac disease or gluten intolerance. Wheat and other ingredients, in short, might as well be poison as when digested, the body will mount an immune response and attack the small intestine.
Subscribe to our Newsletter