Best BBQ Tools
In a Hurry? Editors choice: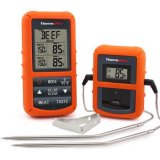 Test Winner: ThermoPro TP20 Wireless Meat Thermometer

With summer right around the corner, you are probably already mentally preparing the menu for all of your outdoor BBQ parties. When you fire up that grill, you are most likely cooking with the intention of impressing all of your party guests with your tantalizing cooking skills. To make sure that you are getting the
most out of your grill,
it's important to be equipped with the best tools. In addition to tools that are used to keep your grill clean, there are also tools that will help you be a better cook. Every chef of the outdoors has a fear, and that biggest fear is to serve up meat that is under-cooked.
Grill thermometers
are a growing trend in recent years and can take all of the worries out of under-cooking your meat.
Standout Picks
Criteria Used for Evaluation
Durability
You work hard for your money, and the last thing that you want to do is buy a product that constantly breaks down and needs to be replaced every few years. We tried to keep the price of these products down without sacrificing durability. If the products don't hold up over time, you wind up spending more money than you needed to. These tools need to be made out of high-quality materials because they are going to be subjected to high heats. It was important to select items that were constructed out of sturdy materials (such as stainless steel that will last for many years under high temperatures). Additionally, items that are more durable will last for years and years. You want to be able to spend your money on buying the perfect gear and the best cuts of meat. The last thing that you want to do is replace your BBQ gear often because your old tools keep breaking.
Features
If you are using your grill on a camping trip, the more versatile an item means the less that you have to pack. The TomCare Grill Light is a perfect example of this because it's great for cooking, but it can also be used as a book light, a light on the handlebars of your bike, or as a nightlight in your tent. It was also important to select items that could be used in more than one way of cooking. The Cave Tools Smoker Box is able to hold a myriad of different types of wood chips to create any number of different flavors of the meat. When you have more options to cook different types of meat, you will be sure to impress all of your summer party guests.
Ease of Use
You want to be able to reserve all of your energy on making the best marinade or the mix for the best spice rubs for a rack of ribs. The last thing that you want to fumble with when cooking for a hungry group is accessories that are difficult to use, or that flat out don't work. Sometimes, the products that sport a simple design are the ones that are the most effective. Ideally, you want to spend your time researching new recipes and planning meals for your next party. The last thing you want to do in your free time is figuring out how to use your latest purchase. More money saved means more money that you have left for prime cuts of meat. We selected products that were both innovative and affordable. The more techie tools often come at a higher price tag than some of the other options, but the more expensive tools on this list are not too overly priced. It was important to select items that were priced reasonably.
Style
As we make our way out of winter, fantasies of amazing summer parties are beginning to take shape at the forefront of our minds. Being prepared is not something that is just reserved for the boy scouts, outdoor cooks also benefit from this advice. Stocking yourself with all of the gear that you need to create the best summer party is a great way to ensure that your burgers are the best on the block. When selecting tools for your BBQ, we looked for tools that completed two distinct functions (making better food and keeping your grill clean). These two features essentially go hand in hand, because a clean grill is an effective grill. We were drawn to products that were unique and solved problems that the outdoor cook often runs into, such as difficulty cleaning grates or hovering over food to constantly check the temperature. We also love products that transform a traditional BBQ into something different- such as the Cave Tools Smoker Box.
Top 10 Picks
1

. ThermoPro TP20 Wireless Meat Thermometer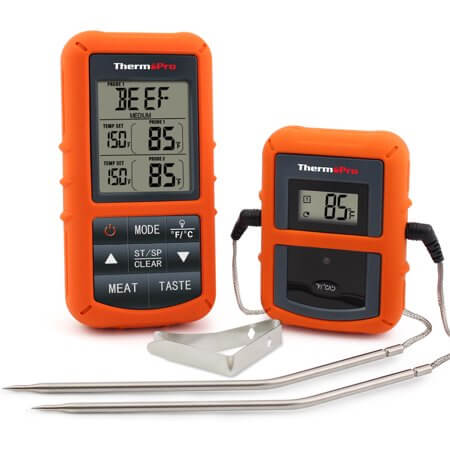 There's nothing worse than missing all of the great party conversations because you are a slave to the cook-top. With this thermal meat thermometer, you can ensure that your meat is cooked to perfection without feeling the need to hover over the food. For grillers that wish to utilize the best tech products out there, this is a great accessory.
Read more
Function:
The way this works is that is has a base unit and a receiver. The base unit has two rods that are punctured into the meat while it is cooking. The receiver displays the temperature of the meat. This allows you to mingle with party guests while the food cooks, or if you are just grilling for yourself, you can go back inside and watch TV while your food cooks.
Price:
Tech gadgets can typically run up a pretty high price tag, but the ThermoPro is offered at a pretty reasonable price. It's not the least expensive item on this list but is set at a reasonable price point that will aid in all of your BBQ parties without breaking the bank.
Added Benefits:
In addition to keeping you updated on the temperature of your meat, it also comes with a timer that can count up or down. The timer is great because it allows you to cook vegetables or potatoes with your meat and ensuring that everything is cooked perfectly. It has preset for 9 different types of meat and has pre-programmed the levels of doneness that is recommended by the USDA.
Durability:
This thermometer runs off of two AA batteries. The rubber case sleeve makes this unit incredibly durable and protected if it is accidentally dropped. The probes that are inserted into the meat are made from stainless steel and are able to withstand temperatures over 700 degrees.
Summary:
If you are a tech junkie and didn't think that there were any good gadgets to use on your outdoor grill, you are certainly mistaken. With the help of this thermometer, not only can you ensure that all of your meat is cooked perfectly, but you will also have the freedom to mingle with party guests without feeling the need to hover over the food.

2

. Grillbot Automatic Grill Scrubber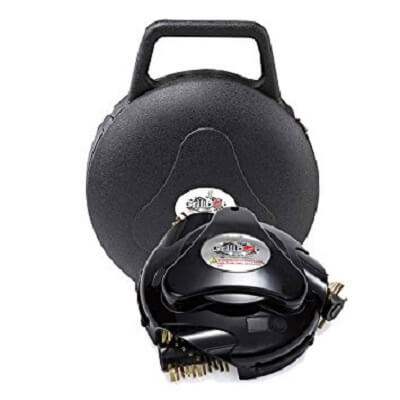 Grilling outside is great, but no one likes to clean the grates after dinner. It's such a discouraging sight to open up the lid with a plate full of hamburger patties to find that you didn't scrub down the grates the time before. Plus, using those traditional scrubbers never really seems to get the grates clean enough, no matter how much to break your back trying to get them clean. The Grillbot Automatic Grill Scrubber does all of the unpleasant work for you.
Read more
Function:
Think of this scrubber like a Roomba for your BBQ. After dinner and everyone is cleaning up, take this item out of the carrying case and place it onto the cooking surface. With the press of a button, the stiff metal bristles clean all of the gunk off of the grates of your grill, while you sit back and have a second serving of blueberry pie.
Price:
Hiring robots to do the work for you often comes at a price. The Grillbot is rather expensive for a cooktop cleaner, but for all of those tech junkies out there it is very reasonably priced.
Added benefits:
With Grillbot, you have the option of selecting a 10, 20, or 30-minute cycle based upon the size of your BBQ. The steel scrubbers are easily detached and are able to be thrown into the dishwasher when they need to be cleaned. It is able to be turned on with the press of a button so that you can turn it on and go about the rest of your evening.
Durability:
The heat and weather-resistant casting are able to withstand high temperatures and various weather conditions. It comes in a sleek carrying case with a handle so that you can take it with you wherever there is a grill in need of a good cleaning.
Summary:
No one likes cleaning grill grates; that black stuff feels like it will never come off, no matter how much to sweat and scrub. The Grillbot takes all of that work off of your hands for you, and it is available for hire at a one-time price that is tad expensive but won't completely break the bank.

3

. Grill Armor Heat Resistant Gloves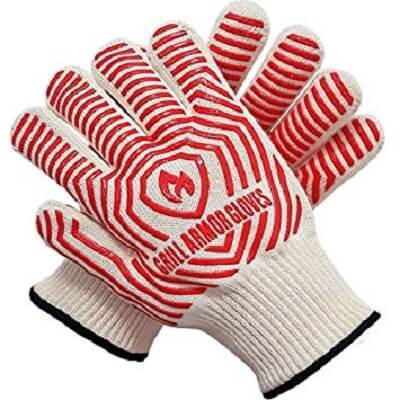 When hosting a great BBQ this summer, you know from past experience that sometimes the cooking becomes a little overwhelming. You often have pies in the oven and burgers on the grill, all while you are trying to entertain guests. With all of that chaos, sometimes you can overlook important details such as not touching hot surfaces. The Grill Armor Heat Resistant Gloves make it so that you can lift the lid to the BBQ and pull pies out of the oven wearing these gloves.
Read more
Function:
The function of these gloves is simple -- keep your hands protected from burns. These gloves excel in this task because they are insulated with M-ARAMID and P-ARAMID materials that will not catch fire, even when exposed to an open flame. If you are a Clumsy Clara that just can't seem to cook without somehow burning your hands somehow, these gloves will ensure that your hands will stay protected.
Price:
These gloves come at a pretty reasonable price point. They are a little bit more expensive than the cost of normal gloves or oven mitts, but the heavy-duty materials that sharp design makes them well worth the price point.
Added Benefits:
In addition to keeping hands safe and protected from burns, these gloves also come in many colors, such as black, red, blue, and grey. The silicone rubber grips ensure that while reaching for hot pie tins or loading up a hot plate full of burgers that your hand will not slip and commit the ultimate party foul, dropping food on the ground.
Durability:
As stated earlier, these gloves can be exposed to some really high temperatures, approximately 932 degrees to be exact. These gloves are so durable that you can remove burgers right off of the grates with just these gloves. If you do intend on doing this, you will be happy to know that these gloves are easy to clean. Just pop them into the washing machine when they need to be cleaned.
Summary:
If you have a history of accidentally burning your hands while cooking for a party, these gloves are perfect to keep your hands protected. The material is lightweight enough that you will not sacrifice the flexibility of your fingers while wearing these.

4

. Grillaholics Meat Claws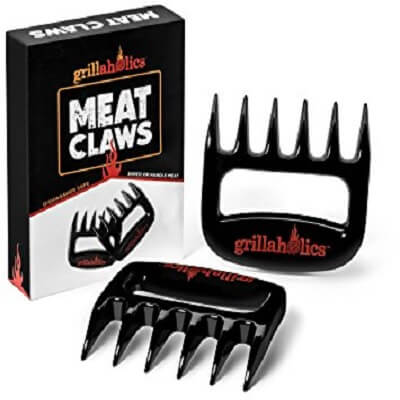 This is a great tool for those that want to make any type of pulled meat, such as shredded chicken, pulled pork, or pulled beef for sandwiches. Meat that is smoked or grilled outside tastes so much better and the Grillaholics Meat Claws make shredding meat simple and fun, especially for those that have limited work surfaces.
Read more
Function:
The idea behind these tools is that they fit over your hands like a set of brass knuckles. The forks on the end of these are used easily shred meat hot off of the BBQ. You can use one hand to stabilize the hunk of meat, and the other hand to shred.
Price:
The price of these claws is so reasonable that there really is no reason not to give them a try. They cost about the same as you would spend on a great pork roast.
Added benefits:
When handling meat off of the cooktop, you often have to utilize a myriad of utensils that you will ultimately have to clean. The design of these claws is simple, and will likely be the only utensil that you will have to utilize when cooking up a great pork shoulder. Additionally, they can be used for other grill and kitchen needs such as handling hot food or even tossing a salad. Not to mention, you will look like Wolverine while doing so.
Durability:
The Grillaholics Meat Claws are made out of superior BPA-free plastic that is available in two different colors, black and red. The sturdy plastic is able to withstand temperatures up to in impressive 450 degrees, and when you are done you can simply pop them into the dishwasher.
Summary:
If you love grilling or smoking pork shoulder with vinegar and hot sauce, the Grillaholics Meat Claws will be a welcome addition to help make shredding meat as hassle-free as possible. Coming in at a great price, they will be sure not to disappoint, and party-goers are sure to get a kick out of how you shred the pork shoulder that you are going to serve up for dinner.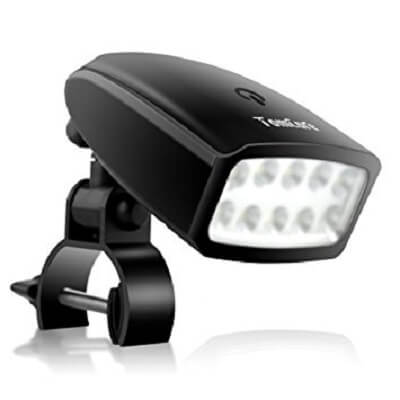 Sometimes when you are out on the lake having fun, you don't get back to camp until after the sun goes down. Grilling in the dark isn't as fun; we have all been there. You open the lid with one hand, hold a flashlight in your mouth and flip burgers with your other hand. The TomCare Grill Light, however, makes cooking outside just as fun and easy as it is during the day.
Read more
Function:
This light easily clips onto the lid of the grill using an adjustable screw clamp, making it an ideal design to fit on almost any model. It has 10 LED lights that offer 120 lumens, and it is sure to brightly illuminate the entire surface. The design is also weather-resistant, so if you are ever in the precarious predicament where you are cooking not only in the dark but also in the rain, this light will not let you down.
Price:
The price of this light is an incredible deal and is one of the least expensive items on this list. It costs about the same amount that you would spend on a nice porterhouse steak.
Additional benefits:
Because the clamp is so easy to affix, this light can be used for other things than just the BBQ. After dinner, it can be unscrewed and used as a great book light. Also, it can be screwed onto the front of your bike so that you can go for a nice ride at night to try and burn off dinner. When it's time to retire into your tent for the evening, it can also be used as a nightlight.
Durability:
As stated earlier, this light is able to withstand the elements, whether it be the rain or cold. It is also able to withstand temperatures up to approximately 175 degrees, so it is important that you don't get this light too close to the open flame.
Summary:
If you are the type of cook that doesn't like to make dinner until the sun goes down, this light is an excellent feature to add to make all of your outdoor cookery simple and easy, even in the middle of the night in the rain.

6

. Cuisinart Grilling Tool Set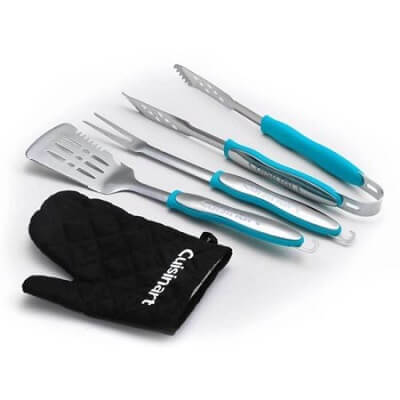 Every serious outdoor cook needs a set of special outdoor cooking utensils. Utensils from the kitchen aren't designed the same way that grill tools are designed. The Cuisinart Tool Set provides everything that you will need to cook on a BBQ, and it comes from the trusted brand of Cuisinart that has been making tools for cooks since founded in 1971.
Read more
Function:
This kit comes with the essentials that any outdoor chef would need, such as tongs, a grill fork, and a spatula. These tools are made from heavy-duty stainless steel and are very long. They measure approximately 18.6 inches an keep your face and body further away from the open flames. The handles of the utensils are coated in a bright red, blue, black, or green rubber to ensure that they will always fit securely in your hand.
Price:
The price of these utensils is what makes them so great; they are offered at an incredibly affordable price. They cost about the same price that you would spend to purchase a really nice porterhouse steak.
Added benefits:
The purchase of this set comes with the addition of a black oven mitt to further protect your hands from the flames. The well-designed spatula has serrated edges to keep the grates clean, and along the edge is a lip that serves as a bottle opener. This set also comes with an impressive one year warranty if you find that you are not pleased with this product.
Durability:
The stainless steel design is able to hold up to extremely high heats, and the rubber grips prevent the handle from getting hot, leaving it constantly cool to the touch. These tools are very easy to clean and will last you for many years of outdoor parties and BBQs.
Summary:
Any grill lover knows that to make the best food, you have to use the best tools. A good set of utensils will make all the difference when cooking for a big group of people. The elongated design also serves to keep a safe distance from you and the open flame in the instance of any spontaneous flare-ups.

7

. Ultimate Cleaning BBQ Tool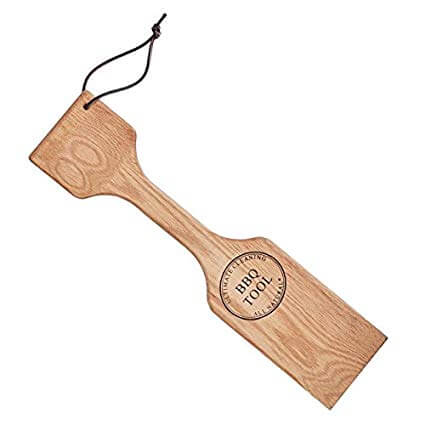 If you don't want to spend the money for a Grillbot, and using grill mats doesn't seem ideal for your cooking needs, the Ultimate Cleaning BBQ tool is an excellent option to keep grates clean. Sometimes traditional wire brush cleaners can break off or just push things around, and this tool offers an innovative and effective alternative.
Read more
Function:
This tool is simply a wooden paddle that you use to scrape all of the excess gunk off of the grates of your BBQ. Many times, wire bristles can rust and break off, leaving little metal bits and wires on the rack where you grill your food. The simple wooden design is actually it's number one benefit. When you clean your grill with this tool, you know that no bits of metal will even end on your food.
Price:
At such a low price point, there is really no reason not to purchase this product to help keep your grill safe and clean. It cost about the same amount as a pack of hot dogs with buns, and it one of the least expensive items to make this list.
Added Benefits:
Over time, the wood will develop indentations to accommodate the shape of your grille, which means that this tool just gets more effective the more that you use it. It is also coated in a natural butcher block oil that is food-safe. Everything about this cleaner is meant to be all-natural and easy to use.
Durability:
With this cleaner, you don't run the risk of it breaking down over time. It is made of sturdy wood, which means that there is a reduced risk of breaking. And the solid paddle means that there is no risk of bristles breaking for rusting. In fact, the more that you use this cleaner, the better it will become at cleaning your grill.
Summary:
If you are looking for something that is affordable, safe, and all-natural to keep your BBQ looking like new for years to come, the Ultimate Cleaning BBQ Tool is a great investment.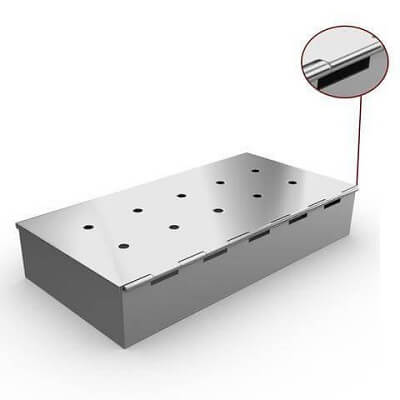 Everyone knows that smoked meats just taste better. They have this indescribable quality that just tastes like summer. You may think that you need to invest in an expensive smoker to instill that unique flavor to your meats, but you would be wrong. The Cave Tools Smoker Box affixes to your traditional BBQ to offer that premium smoked flavor to whatever you cook.
Read more
Function:
You may think it would be complicated to get that rich smoked flavor out of a traditional grill, but the use of this smoker box is actually pretty simple. All you need to do is load up the box with your favorite type of wood chips. Once it is loaded, place the box under the grate and over the flavor bars. Cook as you normally would, and watch as a rich smoke escapes the holds on the smoker box.
Price:
Considering that traditional smokers can set you back a substantial chunk of change, this smoker box is offered at an incredible price. This box will cost you about the same amount of money that you would spend on a good rack of ribs.
Additional Benefits:
The way that this smoker box is designed makes it easy to replenish diminished wood chips on those long and slow cooks without having to turn off the heat. The purchase of this smoker box also comes with a recipe book on how to make the best-smoked meat for cooks that want to try out something new.
Durability:
Made from heavy-duty stainless steel, this smoker box is able to withstand the heat that comes from direct flames. The hinged top makes it easy to load and reload wood chips and can hold approximately two cups of wood chips, making reloading something that you shouldn't have to do very frequently.
Summary:
For those that love smoked meats but can't afford to buy a traditional smoker, this smoker box is the next best thing. It is offered at an affordable price and is incredibly easy to use. Impress your party guests this summer by offering amazing smoked meats on your traditional gas or charcoal BBQ.

9

. BBQ-Aid Ultimate 5-in-1 Grilling Accessory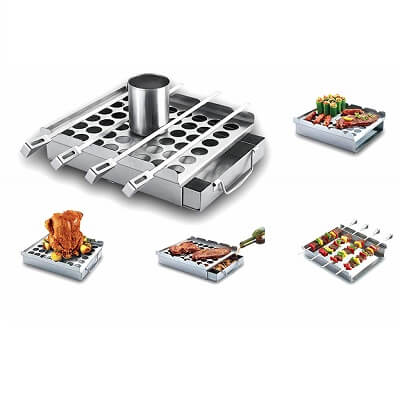 This accessory can enable your BBQ to cook up just about anything. Sometimes when cooking on a grill you lose a lot of juices from marinades, or you simply cannot cook foods in a sauce. The BBQ-Aid 5-in-1 cooking accessory makes it possible to cook foods in a myriad of ways under the same flame.
Read more
Function:
Something that is gaining popularity is cooking a whole chicken that is hoisted onto a tin can. The center calendar is specifically designed to cook chicken in this manner. Plus, it is able to hold more liquid and has a wider opened to help steam the inside of the chicken with the flavored juices. The bottom tray is able to cook vegetables in sauce, and the upper tray is able to hold kabobs and pieces of meat.
Price:
This unit is offered at a reasonable price, but it is not the least expensive item to make this list. It runs about mid-road in terms of the average price for BBQ tools.
Added benefits:
Each piece of this unit is able to be disassembled to allow you to be able to store it easily when not in use. Also, each unit is able to be used along on the grill so that you don't have to wash pieces that you do not use.
Durability:
This unit is made from heavy-duty stainless steel that holds heat evenly and is able to withstand high heats. It is also able to throw into the dishwasher, making cleanup a snap.
Summary:
This is a great tool for those cooks that like to experiment with different ways of cooking. If you want to break out of the traditional burgers and hot dogs, this product is an excellent value for the adventurous and innovative outdoor cooks.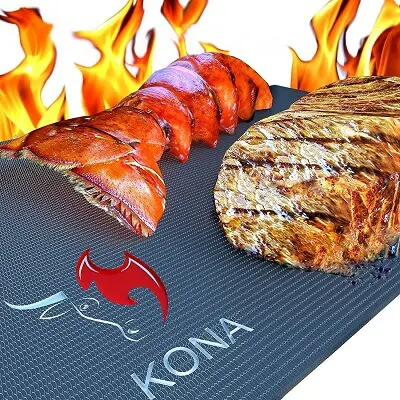 Not all grill mats are made equal, and Kona's BBQ Grill Mat is one of the champions in this regard. Top chefs and grill masters speak very highly of it because it's durable, thick, and you can cook almost anything on it.
Read more
Function
Grill mats are designed to lay over the grates when cooking. This is great because food won't get stuck on the grates or fall between it, making cleanup easy. No scrubbing grates or dealing with cooked-on food, just wash it off in the sink like you would any other dish.
Price:
Kona's grill mat is priced similarly to most other grill mats of its size while being in a caliber of its own. Designed to last 50 (that's right, fifty) times longer than the average grill mat, this one will last you year after year. Who knew $20 could protect your expensive grill so well?
Added Benefits:
This mat comes with Kona's seven-year warranty, which even covers accidental overheating. Simply reach out to Kona and they'll replace it free of charge.
Durability:
Kona claims that their grill mats will last 50 times longer than the average mat, and while we ourselves haven't tested that theory, it's nice to know that sort of durability is available for a low price. This mat is thicker than most on the market while being thin enough to be able to use and clean with ease.
Summary:
Scrubbing cooked-on food off of grates is probably one of the worst things you can have to do when grilling. Save yourself the elbow grease and get the Kona BBQ Grill Mat. Its durability and seven-year warranty will last you year after year, and you'll be making some of the best BBQ in the neighborhood.

Subscribe to our Newsletter