Best Grill Thermometers
In a Hurry? Editors choice: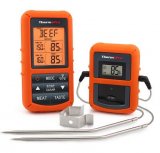 Test Winner: Thermopro TP20

One of the most convenient tools that a griller can own is a thermometer. Sure, practice makes perfect and over time many grillers will know exactly when their
meat is perfectly cooked.
Still, the use of a thermometer is always there as a precaution, if for no other reason. Hence, this is why we wanted to present consumers of the world with the best grill thermometers available on the market. As you will quickly find out, the most elite models go far and beyond a simple tool used to measure the internal temperature of meats and foods. In fact, most of the best models implement modern technology to make them more convenient for your
grilling adventures.
Check out our top picks, fully reviewed, below.
Standout Picks
Criteria Used for Evaluation
Top 10 Picks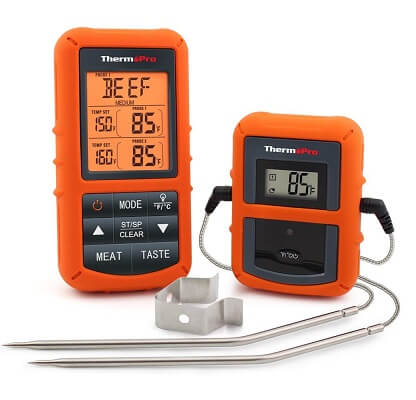 This is the first of two ThermoPro grill thermometers that will make their way onto this list. However, their TP20 Digital Thermometer is probably the company's most refined model and sports a masterful design with fantastic performance.
Read more
Overall Efficiency
There have been a few users who have reported slight issues with the accuracy at times but overall, ThermoPro rates their TP20 Thermometer with an accuracy of plus or minus 1.8 degrees Fahrenheit.
User Interface
Each TP model from ThermoPro sports an impressive display and the TP20 is no different. Both monitors integrate a large LCD display and operating them is very intuitive.
Programmability
While all the preset temperatures can be reset to adapt to your preferences, there are nine preprogrammed temperatures for various types of meats based on the level of doneness recommended by the USDA.
Probe Design
To receive the temperature quicker and with more precision, the stainless steel probe has been designed with a step-down tip design. In addition to that, the probe wires are rated to 716 degrees Fahrenheit.
Wireless Technology
The base unit connects with the wires of the probes and then you can use the additional unit as a wireless device. The devices stay synced within 300 feet with one another, which is very impressive.
Overall
It is no surprise why the majority of users and reviewers have raved about the TP20. ThermoPro manages to integrate top-of-the-line functionality with an easy-to-use interface and modern wireless technology.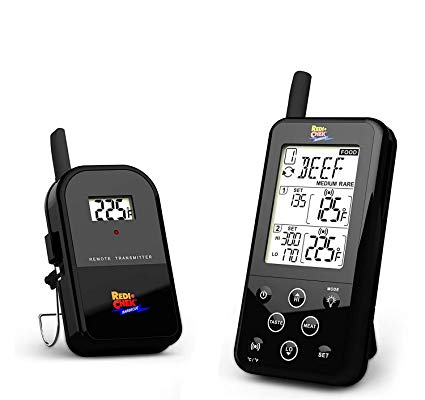 If not for the confusing, albeit large and easy to see, and hard to operate interface, the ET-733 Meat Thermometer could have easily taken the top spot. In terms of performance, the accuracy has been raved by consumers and the wireless receiver has an impressive range of 300 feet.
Read more
Overall Efficiency
If there is one thing that everyone can agree on it is that the ET-733 Grill Thermometer is spot-on with its accuracy and precision.
User Interface
Despite the fact that the interface and LCD display are easy-to-view, a few more buttons should have been integrated to mitigate the confusion of operation on this device. As it sits, you need to remember specific sequences to perform specific tasks.
Programmability
Amazingly, there are 15 preset modes that you can choose from that accommodate a wide range of meats. Additionally, there are programmable alerts that will prevent you from overcooking your meat.
Probe Design
Each hybrid probe, as this comes with two of them, is designed to function up to 716 degrees Fahrenheit.
Wireless Technology
Much like the previous grill thermometer, Maverick designed their model with a wireless receiver that can be utilized up to 300 feet away from the base unit.
Overall
It is going to take you a decent amount of time to learn the software and programming of this device as it is not intuitive enough to simply pick up and master. Still, when you do, you mask the one major issue with this thermometer.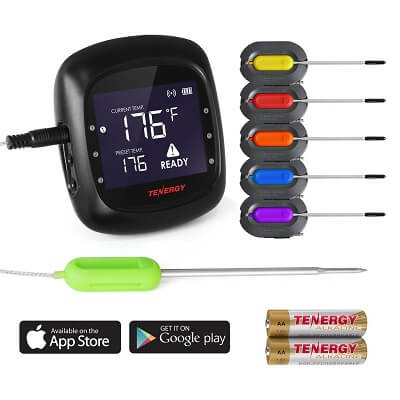 Speaking of an impressive design, it does not get much better than this meat thermometer. What is unique about this design is it works in conjunction with your smart device as you can utilize a specific application to operate and function the meat thermometer.
Read more
Overall Efficiency
Tenergy designed their grill thermometer to deliver accurate and precise readings within plus or minus one percent which is fairly impressive all things considered.
User Interface
A majority of the functionality is utilized through the incorporated app but the interface on the actual monitor is quite beautiful. It displays the battery life and the current temperature and preset temperature of your intended meat.
Programmability
With the app, you can choose from 11 preset temperatures based on various meats. In addition to this, you can customize the temperatures based on your preferences. However, a preset must be made to set a specific temperature which can be a bit annoying.
Probe Design
The probe itself is FDA-approved and made of stainless steel and also heat-resistant. But, the wire on the probe is also impressive as it is metal-braided and made of Teflon to allow it to withstand temperatures up to 716 degrees Fahrenheit.
Wireless Technology
As opposed to the other units that have preceded this on this list, the range is a bit limited at 100 feet. Given that it is Bluetooth, this makes sense as it typically does not possess the range of Wi-Fi technology.
Overall
Provided the Bluetooth range is not an issue for you, this is utterly fantastic and will make a fantastic addition to your grilling accessories bucket list. A few aspects that do separate it from the rest of the pack are its probe design and accurate performance.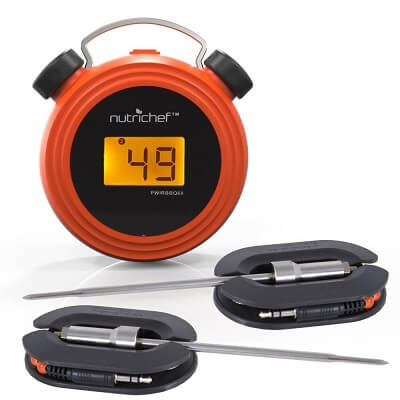 This is yet another meat thermometer that has integrated Bluetooth technology that allows you to use it in conjunction with your smart device. Outside of some potential minor issues reported by various users, this is one of the better designs out there.
Read more
Overall Efficiency
A number of users have commented on the accuracy of this device and the general consensus seems to be that it is extremely precise and accurate.
User Interface
While you can control this device with the included application, the interface on the monitor itself sports a large, electric-backlit LCD display that will automatically cycle between each probe's readings.
Programmability
With the app, you can save your cooking presets for future use and also receive alerts for multiple types of meats. In addition, you can monitor the temperature of your meat in either Celsius or Fahrenheit.
Probe Design
Thanks to the upgraded design of the stainless steel probes, you can safely leave them inside your grill as they can withstand temperatures up to 482 degrees Fahrenheit.
Wireless Technology
As the name of this device points out, it does feature Bluetooth technology. When using it outdoors, you get a 200-foot wireless range but this is cut in half when the signal is traveling indoors.
Overall
This is a functional grill thermometer without a Bluetooth device but without a doubt, the utmost convenience comes out of this when you use it with your smart device. Utilizing the app with this thermometer can make life so much easier.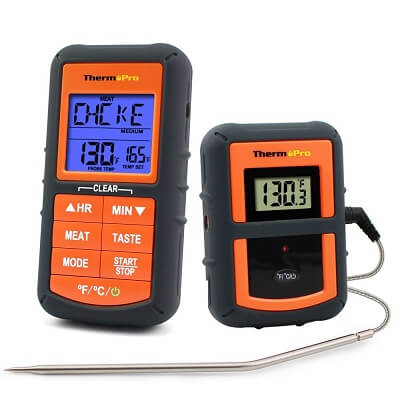 While the TP-07 is not quite as good as ThermoPro's TP-20 model, it is still one of the best in the business thanks to its high efficiency, a smart digital interface that alters the backlit color based on the temperature of your meat, and 300-foot wireless reception.
Read more
Overall Efficiency
Per the product description, ThermoPro has rated their TP-07 Grill Thermometer with an accuracy of plus or minus 1.5 degrees Fahrenheit.
User Interface
The main monitor has a fairly basic interface but the true glory comes in the interface of the wireless receiver. ThermoPro implemented smart technology that allows the LCD backlit screen to change colors based on the temperature of your meat.
Programmability
If you have no idea what you are doing, you can still function this device. After all, it comes preprogrammed with six doneness levels and several cooking levels for various meats recommended by the USDA.
Probe Design
Both the probe and its included wire are designed with the utmost efficiency. The probe sports a 6.5-inch length with a stainless steel exterior topped off with a step-down tip design. Meanwhile, the cable length ensures the transmitter is safe from splashing liquid.
Wireless Technology
Much like their TP20 model, ThermoPro's TP-07 has a wireless range of 300 feet. After which, the receiver will struggle to communicate with the base unit.
Overall
There are probably not too many reasons why one would choose ThermoPro's TP-07 model over their TP20 but truth be told, it is still a noteworthy and fantastic grill thermometer.

6

. Lavatools PT12 Javelin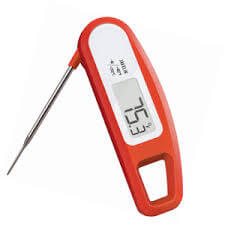 Unlike the other grill thermometers on this list, this next one does not integrate wireless technology. For those who are simply looking for a reliable and simple means of checking the internal temperature of their grilled meats, the PT12 Javelin is an ideal choice.
Read more
Overall Efficiency
This is an instant-read grill thermometer and is rated with an accuracy of plus or minus 0.9 degrees Fahrenheit with a response time of three to four seconds.
User Interface
The user interface is as straight-forward as it gets with the large LCD display making up a majority of it. While it will not wow you, the display is specific down to the decimal point.
Programmability
Users seeking complicated and in-depth software will be severely disappointed. However, Lavatools goal was to design their Javelin to be as simple as possible with the elimination of any exterior buttons.
Probe Design
Besides the integration of an 18/8 stainless tapered probe to minimize the puncture footprint of the probe, it has been designed with an anti-microbial coating to prevent bacterial growth.
Wireless Technology
Just as you guessed, this is not a wireless grill thermometer. Once you insert the probe into your meat, you receive the temperature reading and that is the extent of the design.
Overall
Look, not everyone is going to marvel at modern grill thermometers that implement fancy and convenient technology. Sometimes, grillers want a simple device to measure the internal temperature of their meat and this accomplishes just that.



There is one true issue that prevents the iGrill 2 from ascending any higher on this list and it is the inconsistency of the Bluetooth reception. However, every other design feature is top-of-the-line making this one of the most complete models on this list.
Read more
Overall Efficiency
Looking through various consumer feedback, the accuracy of the iGrill 2 has been commended. As users have noted, the iGrill 2 even checked out with other professional meat thermometers.
User Interface
While the incorporated app has an interface all on its own, the interface on the iGrill 2 monitors is pretty basic overall. But, it does sport an LED temperature display that is easy-to-read.
Programmability
In conjunction with Weber's app for their iGrill 2, you can set times for food resting, grill preheat, and other various reminders. Additionally, there are preset doneness settings for your convenience.
Probe Design
There are two probes included and they are heat-resistant up to 716 degrees Fahrenheit. Thus, this makes them ideal for searing and all-day grilling.
Wireless Technology
Everything until this point has been masterfully designed. Yet, there always seems to be one caveat and the wireless technology is iGrill 2's. As several reviewers have griped about, the Bluetooth connection often drops even at a semi-close range.
Overall
Despite the potential issues with the Bluetooth technology, one factor that may entice some grillers is the unbelievable heat-resistance of the included probes. For all-day grillers, this is one of the best grill thermometers out there.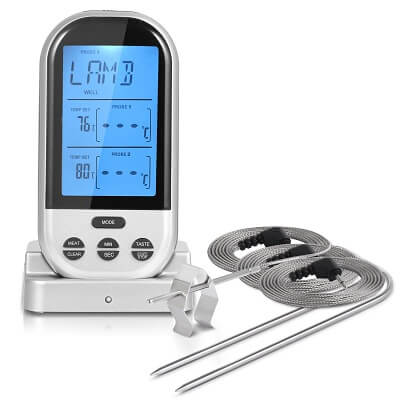 Among everything else, arguably the most notable feature of this grill thermometer is the probe design. In fact, you receive three waterproof and heat-resistant probes with your purchase.
Read more
Overall Efficiency
iHomy actually rates the accuracy of their meat thermometer in Celsius with a plus or minus 2-degree accuracy. However, there have been users that have questioned the accuracy.
User Interface
The blue backlight, LCD display makes viewing it a breeze and all the necessary information is clearly displayed. While it can take you a bit to learn the button configuration, it is an excellent interface as a whole.
Programmability
Not only is there a timer mode that allows you to countdown (or count up) from nearly 10 hours, there are also integrated preset food programs (eight) and doneness levels (five).
Probe Design
In total, you receive three probes that are both waterproof per IPX7 standards and heat-resistant. In addition to that, they have been made of food-grade stainless steel for ultimate quality.
Wireless Technology
With a signal transmission range of up to 230 feet, you can monitor the temperature of your grill meats from a reasonable distance. This provides you with an exceptional amount of convenient while grilling.
Overall
The fact that the included probes are waterproof is definitely a nice touch as you do not have to worry about splashing liquids or water. Possible issues with precision are the only aspect holding this back from being amongst the elite.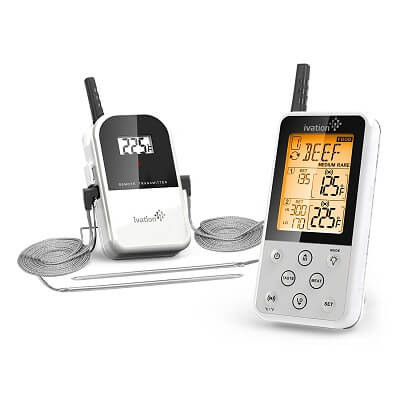 As soon as you grab ahold of this thermometer, it definitely feels like a modern device. As several reviewers have alluded to, though, the user interface could use improvement and is not very intuitive to operate.
Read more
Overall Efficiency
Users seem to be back and forth with the efficiency of this wireless thermometer. While some claim it is extremely accurate, others report that it has been inaccurate at times.
User Interface
The bright, backlit LCD screen on both the wireless receiver and the main unit is not the issue. Instead, the receiver's interface is not intuitive at all and navigating through it can prove a tedious task.
Programmability
With 15 preset meat and poultry temperatures programmed into this device, you can take all the guesswork out of your experience. But, you can always reprogram the temperatures to adapt to your personal preferences.
Probe Design
Both of the included probes are heat-resistant and the three feet wires that are attached to them are also heat-resistant and rated to handle temperatures up to 716 degrees Fahrenheit.
Wireless Technology
Ivation's wireless thermometer actually sports one of the most impressive wireless ranges of any grill thermometer on the market. At 325 feet, you are provided with a lot of leeways.
Overall
It sure would help if the user interface of this device was aimed for simplicity. The programmability is excellent but the average person will not want to deal with this clunky interface. If you can tolerate it, though, plenty of good comes with this thermometer.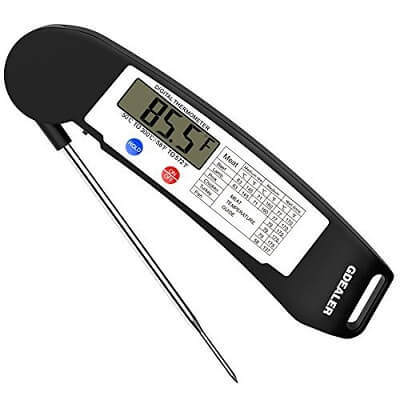 Perhaps, you feel as if all the wireless technology that is implemented in modern grill thermometers is unnecessary. If this is how you feel, then this is the grill thermometer that you need as it is as basic as it gets.
Read more
Overall Efficiency
Again, this is another instant-read thermometer that can achieve internal temperatures of meat within four to six seconds within plus or minus 0.1-degree Fahrenheit.
User Interface
Besides the LCD display which displays the temperature and nothing else, a convenient meat chart label is located on the interface that will come in handy more often than not.
Programmability
While you can't physically program this grill thermometer, the aforementioned meat temperature chart displays for you the ideal temperatures for all types of meat including steak, chicken, and fish.
Probe Design
This is not a thermometer that you can leave in your grill but using the stainless tapered 11-centimeter probe, you can easily gauge the internal temperature of the meats cooking on your grill.
Wireless Technology
GDEALER designed their meat thermometer to be as simple as possible and no, it does not feature wireless technology. There is no receiver that allows you to monitor this device from a distance.
Overall
If something is basic, does that insinuate that it is incompetent? Given its placement on this list, you probably already know the answer to that. Yet, understand what you are getting here; a basic thermometer that is designed to gauge internal temperatures of meat and nothing else.

Subscribe to our Newsletter