Best Meat Thermometers
last updated:
Feb 07, 2020
Have you ever dreamed of cooking the perfect piece of meat, and every time you bbq or grill meat you just can't quite get the perfect cook on your meat? This is because you do not have a meat thermometer in your grilling arsenal. With a meat thermometer, you will be able to check your piece of meat as it cooks and take it off when it is at the perfect outer temperature and inner temperature to ensure when you bite into that piece of meat all the juices and taste are there. Once you taste that beautiful piece of meat you will never able to not cook without a meat thermometer again. Below we have listed the top ten meat thermometer of 2019, and why you will be grilling in no time making perfect pieces of meat every time.
In a Hurry? The test winner after 13 hrs of research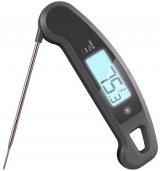 Lavatools Javelin
Why is it better?
The digital interface is very impressive
Will deliver temperature readouts within two to three seconds
Is splash-resistant per IP65 standards
In a
Hurry? Editors choice: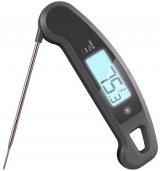 Test Winner: Lavatools Javelin

15
Researched Sources
1.2k
Reviews Considered
13
Hours Researching
15
Products Evaluated
Effectiveness
Features
Visibility
Style
By Default
Top Ten Meat Thermometers
Criteria Used for Evaluation


Effectiveness
Meat thermometers live and die with their performance; that is something you need to understand right from the get-go. Messing around with unsafe meat is not intelligent as serious food illnesses such as Salmonella can result. There are two major assessment points for a meat thermometers' performance; that being its speed and accuracy. The speed is a little less important and is more of a convenient feature. When you stick the probe inside of your meat, especially if the meat is on a grill, you do not want to wait several seconds to get a readout. Not only is it a nuisance to wait this long but it allows the device to generate heat. Looking for readout times within four to five seconds could be beneficial.
However, accuracy is essentially mandatory. Per the United States Department of Agriculture (USDA), bacteria growth tends to happen when meat is between 40 degrees Fahrenheit and 140 degrees Fahrenheit. This is known as the danger zone and needs to be avoided at all costs. Given that most meats have a safe cooked temperature of 145 degrees to 165 degrees Fahrenheit (depending on the meat), there is a bit of leeway. Yet, you do not want a meat thermometer that is 10 degrees off as that could be catastrophic.


Features
At their core, meat thermometers are devices that are designed to provide you with an internal temperature of your meat. Yet, several of them may feature additional functionality for different reasons. First and foremost, more advanced models will sometimes feature preprogrammed modes for various meats. In this case, you can simply select the type of meat you are measuring and the unit will know the exact temperature it is looking for. Of course, outside of the basic models, most will allow you to set your own desired temperature.
In addition to this, some models will have dual-functionality. For example, you may see some with integrated timers on them or others that can measure different types of temperatures. These features are not necessary but can add to the unit as a whole. Finally, there are even some thermometers with Bluetooth or Wi-Fi technology. What is nice about this is if there was an instance where you wanted to monitor your meat's temperature from a distance, you could with this type of functionality.


Visibility
For those of you who are familiar with computer lingo, you know what the user interface is. For those who are not, it is exactly as it sounds. This is the part of a device that you interact with and it is what you physically see on the front. The two major portions of a meat thermometers interface would be its screen and button layout (if it exists). In terms of the button layout, you will not find this to be too large of an obstacle as given they are easy-to-push and logically placed, they should be fine.
But, the screen is another ballgame. If you honestly could not care less and only want to be able to see the temperature, then prioritize a thermometer with a backlit display and a large font. For others seeking a more advanced interface, perhaps you would be interested in a touchscreen or a screen that illuminates intelligently? As an example, one that illuminates when you get close or one that alters colors based on the temperature of your meat? It really is up to you.


Style
While the interface is certainly important, the probe may be the most crucial aspect of a meat thermometer. After all, this is the actual portion being inserted into your meats. Clearly, you want to first assess how long the probe is. Measuring meat is best done by inserting the probe into the thickest portion while avoiding the bones. If this is the correct temperature than you know the rest of the meat will be, as well. So, depending on the thickness of your meats, you may need a longer probe.
Also, look for probes with a step-down tip design as this greatly increases their precision and efficiency. But, you also want the probe to last a decent amount of time. Without a doubt, the probe is usually the design feature users struggle the most with in terms of longevity. With most models, you need to treat them diligently as they are not designed to withstand much abuse. Thus, this is why it is nice when a sheath is included to protect it when you are not using it.
Expert Interviews & Opinions
Most Important Criteria
(According to our experts opinion)
Experts Opinion
Editors Opinion
Users Opinion
By Default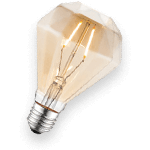 Use the thermometer correctly
When you place the thermometer in your piece of meat to test the wellness, make sure you put the thermometer in a chunk of meat and avoid hitting the bone. If you hit the bone it could give you a different reading and you could take out your piece of meat to early.
Other Factors to Consider


Advanced Features
To be honest, there are quite a few convenient features to look for past the ones already alluded to. For instance, it is always nice when a model has an auto shut-off feature as this can save battery life over time. Also, a water-resistant body can be beneficial as you never know when a splash of water may accidentally land on your device.
But, perhaps even more noteworthy are the manners in which you can mount and store meat thermometers. Depending on the model, it may come with magnets on the back giving you additional mounting options. Of course, most all will be generous in the storage department, as well. Some may be designed with a probe that folds inside of the unit; while others being able to be folded completely.
Frequently Asked Questions
q:

How Often Do You Need to Calibrate a Thermometer?

a:

This is a great example of a question that several people automatically assume they know but are actually wrong. Here is the reality of the situation, there is no set time when you need to calibrate your thermometer. The reason for calibration in the first place is to ensure that your thermometer is providing you with accurate results. Manufacturers will provide an accuracy range with their thermometers and if it continues to stay within that range, then there is no reason for you to calibrate it.

Other types of thermometers, such as a dial or mechanical, will require much more frequent calibration. But, you may find yourself only needing to calibrate a digital model once a year.
q:

How Do You Calibrate a Thermometer?

a:

So, with all this talk about when to calibrate your thermometer, you may be interested in knowing how to do so in the first place. There are two very well-known methods and both are recommended by the USDA. Perhaps the more common one is the ice water method but the one we are going to look at is the boiling water method. As the USDA points out, you first need to bring a pot of clean tap water to a boil (or distilled water for even enhanced accuracy). Once you have done this, go ahead and insert the stem of the probe inside of the water.

Ensure that at least two inches of the probe is inside of the water and wait for at least 30 seconds. You want the probe to read 212 degrees Fahrenheit as this is the temperature of boiling water. The ice water method is very similar and you can reference USDA's website if you prefer that method.
q:

Is It Normal To Receive Different Readings in Different Places of the Same Meat?

a:

Remember when we said that the most accurate way to measure the internal temperature of meat, to ensure it is safe, is via the thickest portion (while avoiding the bones)? The reason for this is at the thickest spot of a piece of meat, the internal temperature will be the coldest. Because of this, once that section reaches a safe temperature you know that all the other sections are either the same or hotter. So, to answer this question; yes, it is normal when different parts of the same meat and different temperatures.

In actuality, you may notice a 20 to 30-degree difference on some pieces of meat which can make it very confusing at times. As you move the probe from the center of the meat outward, you will notice the temperature drastically change.
q:

How Should You Handle a Thermometer Near a Grill?

a:

Just because the probe of a meat thermometer is designed to be inserted into a hot piece of meat does not mean the entire device is designed to be heatproof. There is a real danger of damaging a meat thermometer if you do not handle it carefully while near a grill (or oven for that matter). First off, unless the device is specifically designed for it, you should avoid leaving the thermometer inside of a grill, oven, microwave, or any other heat-gathering appliance.

Also, avoid leaving it close to an open flame as this can cause damage. The main components you need to worry about are all electrical. Even though the probe itself may be designed to withstand excessive amounts of heat, the electrical components will be more sensitive.
q:

How Do You Sanitize a Meat Thermometer?

a:

There is a strong probability that you will insert your probe into a meat that is not fully cooked and when you do this, you need to be cognizant of it. Now that the bacteria is on your probe, it is best if you sanitize it. For the most part, you will want to clean and sanitize it after each use as you do not want to mess around with deadly bacteria. To begin, wash off the probe with cool and soapy water and then rinse it off with cold water. Avoid submerging the whole unit in water as, once again, you want to protect the electrical components as meat thermometers are not waterproof (generally speaking).

Now that the cleaning is done, boil a pot of water and allow the stem to sit inside for at least 30 seconds. As bacteria will begin to die at 171 degrees Fahrenheit and boiling water is 212 degrees, this will kill any bacteria that are still on the probe.
q:

Can You Check the Doneness of Meat with an Infrared Thermometer?

a:

There was a mention on this guide of a meat thermometer that also acts as an infrared thermometer. However, the purpose of this device has not been documented so you may be wondering if it can be used for meats. As infrared thermometers are designed to measure surface temperatures, they are not suitable to gauge the doneness of meats. Using one would be very unsafe and not recommended at all.

But, you can use them with other foods such as soups and sauces. Yet, when it comes to meats, stick with a meat thermometer.