Best Meat Thermometers
In a Hurry? Editors choice: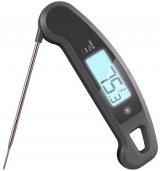 Test Winner: Lavatools Javelin

Have you ever dreamed of
cooking
the perfect piece of meat, and every time you bbq or
grill
meat you just can't quite get the perfect cook on your meat? This is because you do not have a meat thermometer in your grilling arsenal. With a meat thermometer, you will be able to check your piece of meat as it cooks and take it off when it is at the perfect outer
temperature
and inner temperature to ensure when you bite into that piece of meat all the juices and taste are there. Once you taste that beautiful piece of meat you will never able to not cook without a meat thermometer again. Below we have listed the top ten meat thermometer of 2019, and why you will be grilling in no time making perfect pieces of meat every time.
Standout Picks
Criteria Used for Evaluation
Effectiveness
Meat thermometers live and die with their performance; that is something you need to understand right from the get-go. Messing around with unsafe meat is not intelligent as serious food illnesses such as Salmonella can result. There are two major assessment points for a meat thermometers' performance; that being its speed and accuracy. The speed is a little less important and is more of a convenient feature. When you stick the probe inside of your meat, especially if the meat is on a grill, you do not want to wait several seconds to get a readout. Not only is it a nuisance to wait this long but it allows the device to generate heat. Looking for readout times within four to five seconds could be beneficial.
However, accuracy is essentially mandatory. Per the United States Department of Agriculture (USDA), bacteria growth tends to happen when meat is between 40 degrees Fahrenheit and 140 degrees Fahrenheit. This is known as the danger zone and needs to be avoided at all costs. Given that most meats have a safe cooked temperature of 145 degrees to 165 degrees Fahrenheit (depending on the meat), there is a bit of leeway. Yet, you do not want a meat thermometer that is 10 degrees off as that could be catastrophic.
Features
At their core, meat thermometers are devices that are designed to provide you with an internal temperature of your meat. Yet, several of them may feature additional functionality for different reasons. First and foremost, more advanced models will sometimes feature preprogrammed modes for various meats. In this case, you can simply select the type of meat you are measuring and the unit will know the exact temperature it is looking for. Of course, outside of the basic models, most will allow you to set your own desired temperature.
In addition to this, some models will have dual-functionality. For example, you may see some with integrated timers on them or others that can measure different types of temperatures. These features are not necessary but can add to the unit as a whole. Finally, there are even some thermometers with Bluetooth or Wi-Fi technology. What is nice about this is if there was an instance where you wanted to monitor your meat's temperature from a distance, you could with this type of functionality.
Visibility
For those of you who are familiar with computer lingo, you know what the user interface is. For those who are not, it is exactly as it sounds. This is the part of a device that you interact with and it is what you physically see on the front. The two major portions of a meat thermometers interface would be its screen and button layout (if it exists). In terms of the button layout, you will not find this to be too large of an obstacle as given they are easy-to-push and logically placed, they should be fine.
But, the screen is another ballgame. If you honestly could not care less and only want to be able to see the temperature, then prioritize a thermometer with a backlit display and a large font. For others seeking a more advanced interface, perhaps you would be interested in a touchscreen or a screen that illuminates intelligently? As an example, one that illuminates when you get close or one that alters colors based on the temperature of your meat? It really is up to you.
Style
While the interface is certainly important, the probe may be the most crucial aspect of a meat thermometer. After all, this is the actual portion being inserted into your meats. Clearly, you want to first assess how long the probe is. Measuring meat is best done by inserting the probe into the thickest portion while avoiding the bones. If this is the correct temperature than you know the rest of the meat will be, as well. So, depending on the thickness of your meats, you may need a longer probe.
Also, look for probes with a step-down tip design as this greatly increases their precision and efficiency. But, you also want the probe to last a decent amount of time. Without a doubt, the probe is usually the design feature users struggle the most with in terms of longevity. With most models, you need to treat them diligently as they are not designed to withstand much abuse. Thus, this is why it is nice when a sheath is included to protect it when you are not using it.
Top Ten Meat Thermometers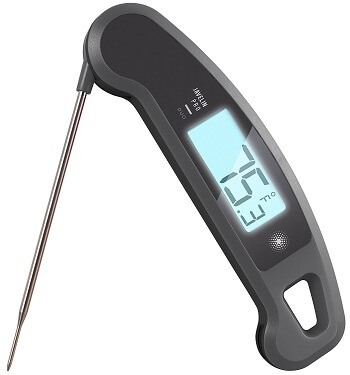 We begin our list with one of the most efficient meat thermometers on the planet and that alone propels it high on this list. Add on to that its impressive digital interface and splash-resistant construction and you have yourself a near-impeccable design.
Read more
Efficiency
Thanks to the improved design of the Javelin Pro, it is able to achieve blazing fast readout times of two to three seconds. Additionally, it is rated to be accurate within plus or minus 0.9 degrees Fahrenheit.
Functionality
With the integration of an intelligent stabilization alert system, you will be informed when the desired temperature has been reached and it will freeze the readout for you.
Digital Interface
The display is crystal clear and even when moisture gets inside, the anti-fog coating prevents it from becoming an issue. One noteworthy feature is that the buttons are actually touch sensors, as well.
Probe Design
The probe measures 4.5 inches and this allows you to reach the center of the thickest of meats. In addition to this, the aforementioned intelligent stabilization allows you to pull the probe out and retain the readout.
Convenience
To save battery life, there is an auto-off function that detects when the thermometer is not in use. Plus, with its IP65 splash-resistance construction, you can afford to get it wet from time to time.
Overall
Lavatools has made impressive meat thermometers in the past but their Javelin Pro improves on everything they have done. It is the culmination of all their hard work and it comes to show how far they have come.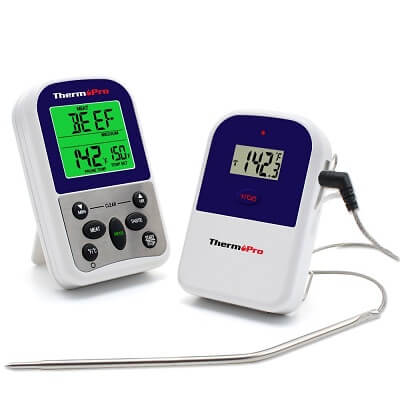 In the modern world that is dominated by technology comes the TP11 Meat Thermometer that sports a wireless design. As such, the probe is plugged into the base unit and an additional unit is used to monitor the information you need.
Read more
Efficiency
ThermoPro rates their TP11 with an accuracy rating of plus or minus 1.8. However, if the probe ever begins to malfunction ThermoPro will provide you with a brand-new model free-of-charge.
Functionality
This unit has been preprogrammed with nine different types of meat and poultry. However, for your convenience, all of these functions can be reprogrammed to suit your preferences.
Digital Interface
While the smart screen is backlit for easy viewing, it is quite intuitive as it is programmed with three different colors. These colors will indicate how cooked your meat is in comparison with your set temperature.
Probe Design
To receive the readouts more precisely and efficiently, the probe has a step-down tip design. In addition to this, the probe itself is 6.5 inches in length which makes it easy to penetrate thick meats.
Convenience
Thanks to the wireless design of this thermometer, you can monitor the temperature of your meats from up to 300 feet away. Thus, allowing you to do other things instead of needing to watch over your meat like a hawk.
Overall
This is the cliché 21st-century meat thermometer as it sports all the bells and whistles you would expect from a modern device. Yet, it is actually an efficient and accurate thermometer at its core.

3

. Taylor Precision Products Splash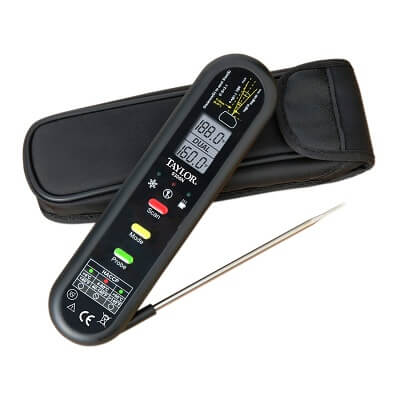 What is rather unique about this next model is it doubles as an infrared temperature. Of course, at its core, it functions as a meat thermometer and while a few users have griped about its readout speed, most agree that it is a great device.
Read more
Efficiency
One of the very few downsides of this thermometer, as noted by a few users, is its relatively slow readout time. Some have claimed it took up to 10 seconds for the probe to register a reading.
Functionality
Sporting dual-functionality, the infrared thermometer can read up to 482 degrees Fahrenheit while the probe can reach up to 626 degrees. Bottom line, it is nice to have the ability to utilize both.
Digital Interface
For the most part, the interface is pretty straightforward; albeit, some people may think it is a bit too clumsy. Another thing, there is no backlight on the screen itself which makes it hard to see at times.
Probe Design
To retain the juices of your meat, this probe will only puncture a small hole inside of your meat. At five inches long, as well, it can penetrate the thickest of cuts.
Convenience
There are both auto shut-off and hold settings for your convenience. The former is self-explanatory but the latter is nice as it allows you to freeze the last displayed temperature on the screen.
Overall
Looking past the issues some have experienced with the readout times, this is an impressive meat thermometer that sports dual-functionality and all sorts of handy features.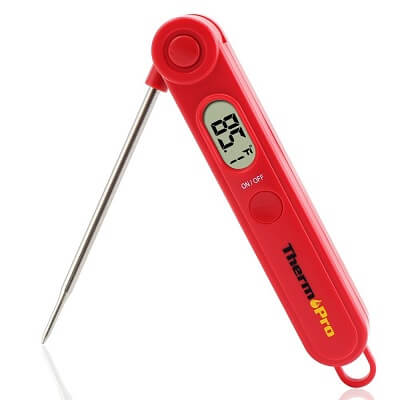 ThermoPro understands how to design efficient meat thermometers. Unfortunately, they did not put the same effort into the build quality of their TP03A. While it will deliver a fast and accurate reading, you need to be gentle with it as it can't withstand very much abuse.
Read more
Efficiency
For being such a cheap price, it is quite amazing how efficient this thermometer is at delivering quick and precise measurements. In fact, ThermoPro rates it with a plus or minus 0.9-degree Fahrenheit accuracy and a four to seven-second readout time.
Functionality
Depending on your preference, you can switch from either Celsius or Fahrenheit at any given time. Besides this, this device can measure temperatures up to 572 degrees Fahrenheit.
Digital Interface
At first glance, you can tell what kind of interface you are getting. It is as simple as simple can be and the only function on the front is the on/off button (with the Celsius/Fahrenheit toggle on the back).
Probe Design
The TP03A's 3.8-inch stainless steel probe is not the longest probe out there but thanks to the step-down tip design, is highly efficient and will display temperatures quicker.
Convenience
When you are done using your thermometer, the probe easily folds into the base unit for storage purposes. In terms of portability, this is one of the most compact models on the planet.
Overall
Perhaps the build quality is indicative of its cheap price but if you are meticulous with how you handle it, the performance will speak for itself. It just does not get much more basic and simplistic than this; which could be a huge upside.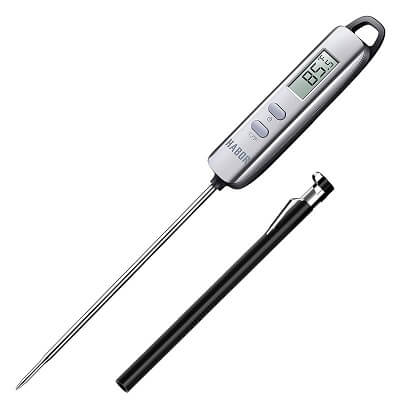 When this meat thermometer is functioning, it is one of the best in the business for a very affordable price; as can be seen by its various customer reviews. The only issue is many consumers have griped that it quit working after only a few months.
Read more
Efficiency
This is rated at plus or minus two degrees Fahrenheit; which is solid but not as precise as others. Additionally, Habor promises it will deliver a readout within four to six seconds.
Functionality
Those who are seeking a multi-purpose design may not be impressed but Habor designed their meat thermometer to read temperatures up to 572 degrees Fahrenheit, and basically nothing more.
Digital Interface
While it is not going to rival the interface on iPhone X, the LCD display is clearly visible and the two buttons are clearly labeled on the base of the unit; there should be no issues here.
Probe Design
As the probe measures 4.7 inches in length, it is ideal for large and thick meats such as lamb, turkey, chicken, and beef.
Convenience
To extend the battery life, if this device has been running for 10 minutes without operation it will automatically shut down. Also, because a protective sheath comes with your purchase you can easily carry this and store it away.
Overall
One trip to Amazon will prove to you how acclaimed this thermometer is. The reason that it is lower on our list is due to the users who did not experience the glitz and glamour that others did.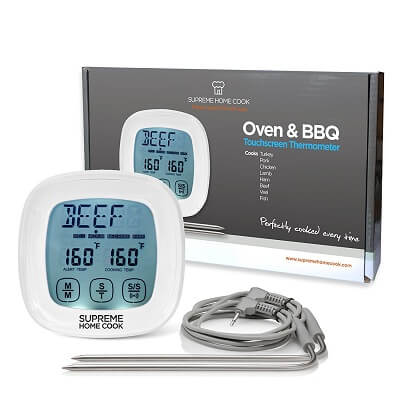 We go from one of the most basic thermometers on this list to arguably the most advanced due to the touchscreen interface. Ironically, its best and worst aspect may be its interface as some consumers have been back and forth with it.
Read more
Efficiency
According to several testers and users, this device performs what it sets out to do quite well and with admirable efficiency.
Functionality
There is a programmable mode that allows you to set your own desired temperature; or, you can merely select one of the several preprogrammed functions. Also, there is an on/off switch on the back that can be used as a timer.
Digital Interface
Indeed, the touchscreen interface is the most notable feature of this device. As such, you do not have to deal with clunky buttons. Although, some reviewers have had issues with it and one, in particular, claimed it to be a non-intuitive experience.
Probe Design
Instead of just one probe, there is actually two stainless steel silicone coated probes and both them and the wire can handle up to 472 degrees Fahrenheit of heat.
Convenience
On the back are two magnets for mounting and a separate clip is even integrated. Because of this, there are many different ways you can operate this device.
Overall
Some may deem it unnecessary to have a touchscreen meat thermometer and there is nothing wrong with that. If you are obsessed with modern technology, though, this will appeal to you more than a basic thermometer.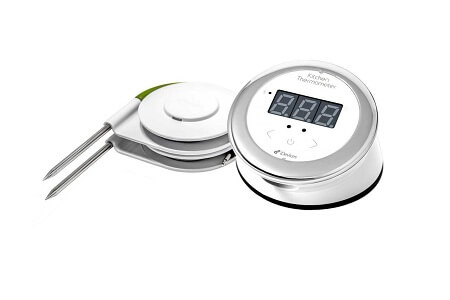 How could a list of this caliber be complete without one mention of a Bluetooth device? Indeed, iDevices Kitchen Thermometer sports a Bluetooth range of 150 feet that allows you to entertain your guests while you monitor your meat temperature from a range.
Read more
Efficiency
There have been a few customers who have reported that their thermometer from iDevices was a tad inaccurate at times; with some claiming it to be several degrees off.
Functionality
Using the iDevices Connected app, you can easily monitor both probes at once in conjunction with your smart device. At its core, it can measure temperatures between -22 degrees and 572 degrees Fahrenheit.
Digital Interface
When you enter close proximity with the LED display, it will illuminate and this allows you to glance at the temperature from a distance. But, because it shuts off when you are not close, it saves battery.
Probe Design
Much like with the accuracy, a few users have experienced durability issues with their probe. Thankfully, both times the seller sent them a replacement so you can count on that happening if you experience the same.
Convenience
Not only can you mount this device via the magnets on the back but with Bluetooth technology integrated, you can see the temperature of your meats up to 150 feet away.
Overall
Despite the tremendous technology integrated throughout this device, there are some legitimate concerns that may cause you to stray. More often than not, though, consumers have more good to say than bad.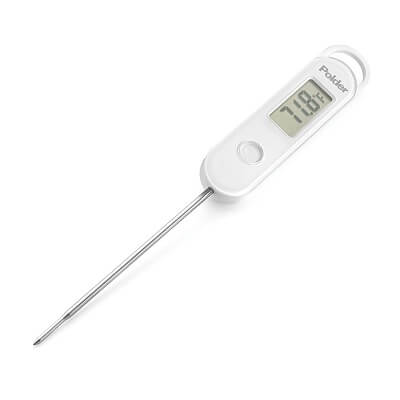 Polder's kitchen thermometer may not be able to hold up to the stiff competition because of some shortcomings but for what it is worth, most people will get great use out of this device.
Read more
Efficiency
While there have been various users who have questioned both the speed and accuracy of this device, new integrated technology is claimed to deliver accurate readings in just four seconds.
Functionality
When your desired temperature has been reached, programed audible alert sounds will go off to inform you of so.
Digital Interface
This is another classic example of an easy-to-read digital interface that is not going to wow you. However, you can switch the readout from Celsius to Fahrenheit which is a nice touch.
Probe Design
Polder designed their probe to be extra thin and while this creates smaller punctures in your meat to reduce the amount of lost juice, it makes the probe more susceptible to damage; so be wary of that.
Convenience
Due to the implemented hold option, you can freeze the current temperature and this enables you to read it after the probe has been removed from the meat.
Overall
When compared to the other models on this list, it becomes apparent that this is a step behind the rest of the class. Now, that does not make it a bad device as it did secure a spot on this list because of its above-average design.

9

. Taylor Precision Products Digital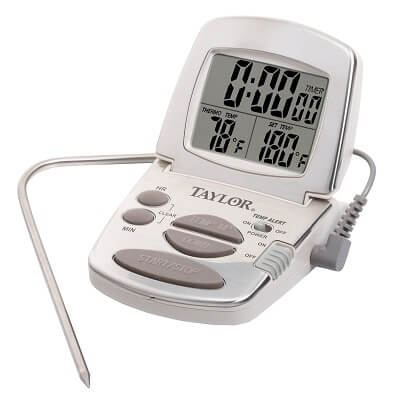 This is the second meat thermometer from Taylor Precision Products on this list and this one is a bit different than their previously documented model. It is designed in the same manner an old flip phone would be; with the interface on the top screen and buttons on the bottom.
Read more
Efficiency
Looking through various customer feedback, it does not appear as if the efficiency of this device is brought into question. In fact, a few users praised the accuracy.
Functionality
There is an integrated timer and a temperature alarm but outside of that, this allows you to set the desired temperature and caps off at 392 degrees Fahrenheit.
Digital Interface
For any gamers out there, this really looks like an old-school Nintendo handheld system. The top screen is easy-to-see and each section is clearly marked; while the buttons are large and also easy to distinguish.
Probe Design
The probe itself is not an issue as it measures four-foot and is made of durable stainless steel. However, it features a plastic shielding and as many users agree, it is much too easy to break.
Convenience
The manner in which this is designed easily allows it to be used on a countertop. In addition, it will fold down when you need to store it for later use.
Overall
On one hand, there is a lot to appreciate about this thermometer. Of course, nitpickers out there will point to the lackluster probe shielding. Justifiably so, there is a bit of a risk involved if you decide to go with this device.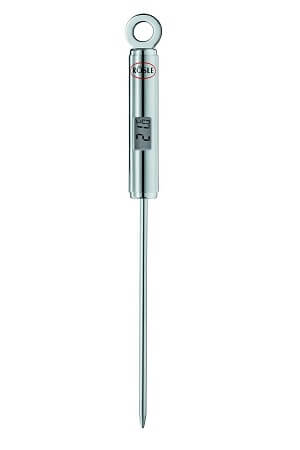 If you are merely seeking a rather basic but highly accurate meat thermometer then look no further than the model from Rosle. The design and interface are about as old-school as it can be but consumers have raved about its accuracy and quick reading capabilities.
Read more
Efficiency
It seems to be a general consensus that this thermometer is both accurate and fast in action. If there is one thing that is certain, Rosle does not fail their customers in terms of performance.
Functionality
This has the capability of reading both your oven temperature and the internal temperature of your meats. Even more so, you can use pre-set temperatures or set a manual temperature up to 482 degrees Fahrenheit.
Digital Interface
In terms of its digital interface, this is as simple as it gets. Depending on your preferences, this could either be a good or bad thing. But, one thing is certain; the font could have been larger.
Probe Design
While it would have been nice if the probe came with a protective sheath or cover for storage, the 18/10 stainless steel body proves to be of quality build.
Convenience
Because the metal stand folds out from the back, you can operate this device at whatever angle you desire. Additionally, there are magnets on the back making it ideal for your refrigerator.
Overall
No matter what a product looks like, if it performs masterfully then it is always going to be a thumbs up. While it may lack the digital interface of a more advanced model, few can compete with its efficiency.

Subscribe to our Newsletter