Best LED Lanterns
In a
Hurry? Editors choice: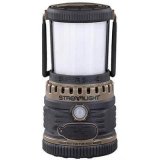 Test Winner: Streamlight Siege

The days of fuel-burning lanterns and unscented candles are long gone. Step out of the darkness and into the light with a LED lantern. LED lanterns can be beneficial, and sometimes even necessary, in a number of situations. Be it a power outage caused by weather, a downed cable line, or
camping in the wilderness
.
Some people think that light is just a light, but you will soon learn, with our list, of all the innovative and techy workings of modern-day lanterns. Of course, each LED lantern will possess differing lighting capabilities, battery life, and compactness. As such, there are several that stand out and the following ten exuberate that very well. If you still find yourself feeling in the dark after checking out our list of the ten best LED lanterns, take a look at the Criteria section and FAQ.
Standout Picks
Criteria Used for Evaluation
Use
Depending on your needs, the single most important design aspect for a LED lantern just might be the maximum amount of light it can emit. But, what indicates this amount and what do you need to know about it? Several people may have been confused about why there was no mention of wattage in this guide. The reality is, as LED lights such as bicycle lights become more popular it makes more sense to analyze them based on their lumens. A lumen is defined as a measure of the total quantity of light that is released from a source. As such, this is the unit you want to become knowledgeable of.
But, what does 150, 200, 60, or 400 lumens mean to the average person? Could they not just tell you how much space it will cover? Well, they may even do this for you but just know, if you are looking for a ton of light than this number needs to be high. A good reference is to take around 30 to 50 lumens per square feet that you wish to be lit up. If you are seeking a lantern to read in your tent at night and want it to light your entire tent up, figure out the square footage and assume you need around 30 lumens per each foot.
Durability
While this section does not pertain to the lighting capabilities of best LED lanterns in any way, it glances at the bigger picture. No matter how great a light source is, if the housing that conceals it is vulnerable to damage, it may not last as long as it should. To no one's surprise, this means that the construction is as important a design factor as any. Look for LED lanterns that possess a tough and rugged housing. For example, sturdy rubber and plastic molding. If it is capable of withstanding average-sized drops and bumps, this will pay off in the long run.
However, it is a safe assumption to believe that you will be utilizing the best LED camping lantern outdoors. They are not really designed to be used as a household item, even though there is no reason they can't be. Therefore, it may also be worth your while to assess the water-resistance rating (if it is water-resistant). Most will simply be designed to withstand small splashes and light rainfall. In a downpour, these same lanterns may be vulnerable.
Features
LED lanterns are not just designed to output one type of light. Instead, most will come with a plethora of alternate lighting modes. Of course, this all starts with low, medium, and high lighting modes. Now, not every lantern will possess each of these modes but if they do, they allow you to fine-tune the light to fit your needs. But, modes such as SOS and night-vision can lead a helping hand in times of an emergency. Typically, a night-vision mode will consume less battery and an SOS flashing mode will indicate your position.
It does not stop there as sometimes, you can get LED lanterns lights that have special features such as an integrated flashlight and removable panels that act as individual light sources. If you had several people who needed light, having a lantern with removable panels would be ideal. Even with a flashlight, this would allow you to ditch your old one and use the lantern as one for convenience.
Battery Life
There is no debating the fact that some people will feel that the battery life of their LED lantern is the most important aspect. Admittedly so, this is not a bad mindset as you may not always be in a situation where you can recharge the lantern or may not have any other batteries. But, when it pertains to battery life a lot of it is under your control. Clearly, you can only run it for so long before the battery dies. Though the longer you run it on its maximum setting the quicker you will deplete the battery.
Hence, utilizing the low setting whenever you can is ideal to maximize the battery life. From lantern to lantern, no matter, this time will differ so choose a lifespan that better suits your needs. In addition to this, also assess how the lantern is powered. Some will utilize disposable batteries while others will simply need to be charged via USB. This can be important as you may not have the means of charging it a specific way in the wilderness.
Subscribe to our Newsletter