Best Pedometers
In a
Hurry? Editors choice: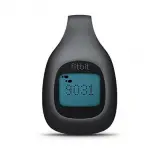 Test Winner: Fitbit Zip

Walking is one of the best workouts you can do. This is because it doesn't necessarily feel like
exercise
, but when you get a great walk in, you can burn just as many calories as if you were on a run. Another great thing about walking is the fact that you can work out almost without even knowing it and if you wear a pedometer you can
track
your steps throughout the entire day. Often from the time you get up in the morning until you go to sleep at night, you take a lot more steps than you think you did. Pedometers can link to your social media or other electronic
devices
to make walking a more interactive experience. Check out our top picks for the best pedometers on the market today so that you can track your walking activity and stay motivated.
Standout Picks
Criteria Used for Evaluation
Use
In the beginning, it was described what exactly a pedometer is. In general, it is a device that is designed to monitor the number of steps that you are taking in a specific day, over a week, etc. But, as you quickly realized throughout this list, many pedometers allow functionality past just steps taken. Even if they are basic, most should also keep track of the calories that you have burned and the amount of time you have been active. But, more advanced models may also allow you to set personal goals for yourself and even monitor your sleeping to see if there is room for improvement.
However, at the end of the day, pedometers live and die with how accurately they track your steps. All will do so, but some may not do so with great precision. If you take 1000 steps in one day and the device only registers around 700 of them, you are not getting an accurate interpretation of how much you are walking which can defeat the purpose of owning the pedometer in the first place.
Ease of Use
This is the primary reason why some people may prefer pedometers without additional functionality and features. In general, these are not meant to be full-fledged computers and smartphones with a complex and in-depth operating system. Instead, they are supposed to be simple devices that should do the work for you. However, some are and some are not. At least, when it comes to the initial set-up. Several times throughout this list, you saw a reference to a pedometer that many users had issues with in terms of the set-up. Clearly, it is nice when the manufacturer includes a user manual as a point of reference.
Past the set-up, the display and overall complexity of the device are factors to look out for. Those that are not designed to be used alongside an application should sport an interface that is easy to navigate through and see without squinting constantly. Of course, this also means that those that use apps in conjunction with their pedometer, need to use apps that are user-friendly. No need to be confused with a device that is supposed to be as simple as it gets.
Battery Life
In terms of batteries, there are two types (speaking in general) that normal pedometers will sport. One that either needs to be charged after it dies or one that is designed to last for a certain time before needing to be replaced. Typically, the pedometers that feature Bluetooth technology and advanced features are the versions that utilize the former battery. With these, you want to know how long they will last on one charge. In will quickly become a nuisance if you need to recharge the battery every few days. Instead, shoot for a model that will last one or two weeks without needing to be charged.
Then, the other type of battery, which is commonly used for classic pedometers, can be seen as more convenient as you do not need to charge them. They will simply last a certain amount of time, whether six months, eight months, one year, etc. before they end up dying. At this point, you simply need to replace the battery.
Connectivity
This is what transforms a classic pedometer into a modern piece of technology. However, this may not be something that you are interested in. Bluetooth technology is something that is not required for a pedometer to perform well, but, instead, is used to add convenience and extra functionality for them. So, what exactly will Bluetooth on a pedometer allows you to do? For starters, when you are able to sync the device to your smartphone or tablet, you then have the capability of uploading the data on any platform you wish. Thus, this allows you to log your fitness data and this may help you strive to do better.
Subscribe to our Newsletter