Best Camping Utensils
In a Hurry? Editors choice: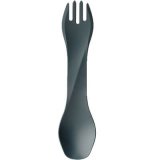 Test Winner: Humangear GoBites Uno

If you've ever packed for a
family weekend
trip in the
woods
, solo hiking adventure, or business trip that takes you hotel hoping you understand the convenience of having camping utensils. Whether in the wild unknown of nature, or the urban setting of your office chair - with take-out salad in hand, being able to depend on your utensils is a necessity. Forgotten, flimsy, or unreliable utensils won't ruin a trip or your day, but it can greatly impact it! We have scoured the internet for the best camping utensils on the market today; you can rest assured that this fine detail has been covered for you.
Standout Picks
Criteria Used for Evaluation
Versatility
Versatility matters a lot to minimalist hikers or those that just don't want to do many dishes. We are all familiar with the pain of being heavily active all day, looking forward to the meal to come, but dreading the clean-up. No one should skip a meal just because of the dishwashing that follows. Can a single camping utensil act as spoon, fork, and knife? Or how close can it get to that ideal? Even if it does manage to get all three - or close enough - can it perform well on all fronts?
Size
The size was a big consideration in the metrics of the list. It has to be something that is long enough to do its job, stirring pasta in your deep camping pot, or extending all the way down to the corners of your dehydrated meal bag, all the while remaining practical in weight. In addition to the length of the spoon, and its overall weight, how big is the spoon bowl? Those that love cereal and soups know the frustration of having to eat slowly, and repetitively because the spoon bowl is too shallow. The question of which size is the best ultimately comes down to you. Do you eat a lot of soups? If not, maybe you can compromise in spoon bowl to allow for better fork tines. Or maybe you are going on a long distance trip and you need as little weight in your bag as possible. The choice is yours.
Durability
Durability was right up there with size. It almost doesn't matter what size it is if you can't depend on the material that you are trusting to get you 500 miles through various terrain, or months on a tight college budget. The issue then becomes plastic or metal, with good arguments able for both. Beyond that is the decision about which kind of metal or plastic. Titanium is a major player, but by far not the only material on the market; aluminum and stainless steel both make an appearance on the list. Stainless steel is stronger and less likely to stain than titanium, with lower prices as well. What are the demands of your soon-to-be-trusty spork? What you require of it will determine what kind of material you are shopping for.
Ease of Use
Grip was also a big game-changer in whether consumers enjoyed their camping utensil experience or not. This one is harder to gauge as it is subjective to the users. Options include curved or uncurved handles; flat forks or short, sharp tines; spoons that are deep or shallow. Some consumers want a seamless flow from eating at home with their silverware to dining in the woods with their reliable utensils. Grip depends a lot on you, but we did our best to narrow it down to only the most comfortable eating experience possible.
Top 10 Picks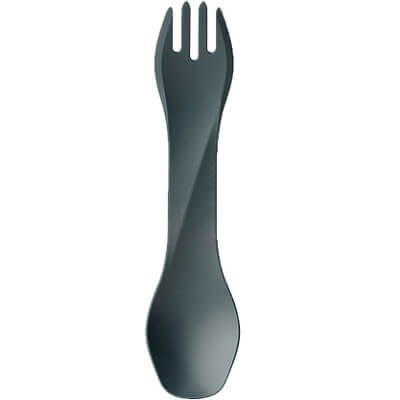 More durable than some metals, a camping utensils tried and tested for real humans by real humans, half the price of your favorite bar drink, and stylish to boot? This product may not have seen a lot of light yet, but it deserves first pick on our top 10 list!
Read more
This fairly new camping utensils, made of highly durable nylon is already making headway, winning many awards in its competition class; with durability beyond that of some of its metal counterparts. Humangear believes in their spork so much that they backed it with a lifetime warranty - it won't break!
Plastic doesn't appeal to everyone, but it is BPA-Free and phthalate-free, FDA food-safe, dishwasher safe, and it won't break! Can the metal competitors claim that? You may not have heard of Humangear before this, but you'll be hearing about it shortly.
Size:
8.5 in. Long weighing in at .64 oz. It is light but long - even minimalists can't complain about this one! Deep, 'true' spoon bowl, acts as if you are using your favorite utensils at home while in wild nature. Full fork with deep tines allows for everything from a salad to steak to be eaten with ease.
Durability:
Can withstand temperatures up to 450 degrees Fahrenheit, or very frozen ice cream that you just have to have right now. It won't break! As we mentioned, Humangear is so confident your spork won't break that they back it up with a lifetime warranty!
Grip:
Ergonomically designed for real humans by real humans. Those are the words they use, and live by.
Versatility:
This utensil set is a fork and spoon only, no true knife, however, it is designed with "splitter tines" that won't chafe your mouth but enable you to cut up most all of your food, soft and hard alike. Doesn't include a bottle opener.
Hygiene:
This product doesn't include a carrying case, but it is dishwasher safe and designed so that food tastes don't linger from one garlic pasta dinner to tomorrows hemp milk and granola.
Style:
3 styles to choose from is nothing to laugh at in the camping utensil game, not when many metal competitors "stylized" sporks end up fading or simply sliding off in your mouth. Choose between blue, grey, and red.
Value:
Nothing beats the price of this product, and with a lifetime warranty, you'll be buying one for everyone you know!

2

. Polished Bowl by FinesseCity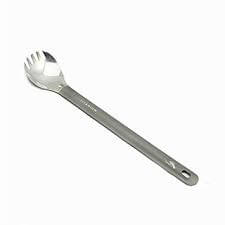 Long, long enough to stir to the bottom in all your camping pots or to reach the bottom of your dehydrated meal bag. 100% Titanium makes them lightweight, strong, and resistant to corrosion. FinesseCity is the finest in Titanium products. Also includes a waterproof case! This product earned its spot in the top 3!
Read more
All of FinesseCity's products are made out of 100% titanium, a metal they know so well that they are winning awards for the finest titanium camping utensils on the markets today. Not only that, they love their customers. They want all their customers to feel the same amount of love and appreciation as the next, and they want everyone to have an a++ customer satisfaction.
Size:
At 9.65 in. This is the longest notable spork on the market today. 24.1 grams makes this extremely light, minimalists rejoice! The spoon bowl is 1.57 in. So nothing was compromised on the ability to eat, soup or salad alike.
Durability: Its 100% Titanium, its going to last for years!
Grip:
Fits well in your hand, the grip wasn't compromised while trying to cut back on weight. The polished bowl makes eating a more pleasant experience, no awkward rub from unpolished metal.
Versatility:
Doesn't include knife or bottle opener.
Hygiene:
Easy clean fork tines and a waterproof case making hygiene topnotch
Style:
Just the one glorious polished bowl style
Value:
Pricier than some of the competition, but has a 180 day money back guarantee makes this an easy risk to take with high pay out potential.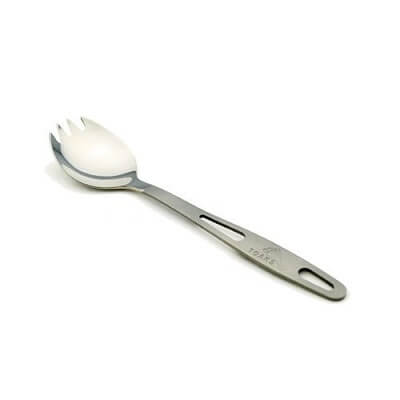 A spork designed by people that know titanium, this spork is strong and lightweight, yet feels as reliable as your typical household utensil. A young company, but one that deserves a spot on the top 3 list. They can only go up from here.
Read more
TOAKS is a newer company on the market, but there is nothing new about their experience in titanium metal working. Committed to designing the best products, their camping utensils stand out on the market today.
Size:
6 5/8th in. Weighing .6 oz also has a good depth to its spoon bowl, more ideal for soups and cereals.
Durability:
100% Titanium, the most effective metal for your outdoor equipment this spork is strong and sturdy yet ultralight.
Grip:
Fits in your hand just like the equivalent household utensil, matte finished metal, this spoon won't leave your mouth tasting uncomfortable.
Versatility:
The bowl on this spoon is very good, the fork tines while they may be stubbier, are also very sharp without endangering your mouth. No knife or bottle opener.
Hygiene:
Two additional holes in the handle, along with the tines, make this a slightly tougher product to clean. No carrying case is included.
Value:
On the cheaper side for single metal camping utensils, coupled with the reliability of titanium's durability this spork earns its spot at the top 3 best camping utensils picks list.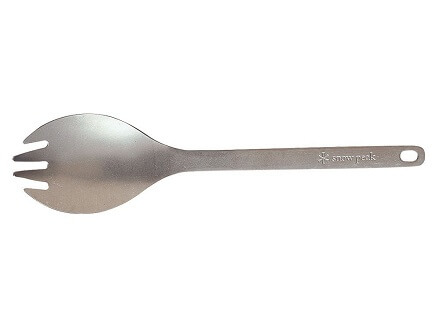 If your looking for decently priced metal camping utensils then this is the spork for you. 4 styles to choose from, a color for everyone. Its durable and lightweight with big fork tines. You'll have it for years.
Read more
Snow Peak is a company that started during Japan's 1950's mountain climbing influx. Celebrating 60 years of business, this company has been around.
Size:
6.5 in. Long and weighing .64 oz this is small enough for even the biggest minimalist.
Durability:
This titanium spork is durable and lightweight.
Grip:
This grip is smaller than some of the competitors and has a skinner hold than others as well. Spoon bowl isn't too deep.
Versatility:
Both the spoon and the fork function well as how they were intended to be used. Deep bowl and good fork tines allow for optimal use of either. No knife or bottle opener.
Hygiene:
Doesn't come with a carrying case, but has big tines so as to allow for easy cleanup.
Style:
4 different colors are available, Blue, Green, Pink, and Titanium
Value:
Mid-range price bracket, those concerned with weight and size limits will likely love this purchase.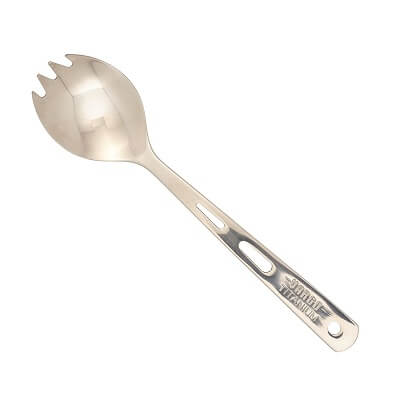 This spork delivers! If you're looking for a great spoon bowl, with the comfortable-in-your-mouth polished titanium feel, that's light and sturdy with four colors to choose from, then look no further, this utensil is for everyone! One man's question led to this great utensil.
Read more
Vargo started off after one man started asking how he could find lighten-ment in his backpack while climbing the Appalachian Trail. Others sought his advice and skills, and he developed his passion of hiking and the outdoors to a company that specializes in titanium.
Size:
6.5 in. Long weighing in at acclaimed .5 oz but more true to .6 oz this is a spork that minimalists will love. It doesn't lack on spoon bowl though, eat your soup or cereal without working out your wrists.
Durability:
Titanium construction its lightweight enough for everyone, yet strong enough to stand up to your rigorous demands.
Grip:
This has a wider grip than many of its competitors, polished titanium makes it feel good on your fingers and in your mouth.
Versatility:
No knife and no bottle opener. The fork tines are short but sharp. And as mentioned above, the spoon bowl is great.
Hygiene:
This has some of the most knocks and crannies to clean out of all the other camping utensils on this list. No bag is included.
Style:
4 color options are available, lavender, blue, yellow, or the classic 'no color'.
Value:
This spork is in the mid-range of the price bracket, built by a minimalist, meant for minimalists.

6

. TOAKS Titanium 3-Piece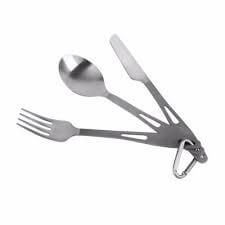 Eat like royalty even while knee deep in nature! Fork in one hand, knife in another, you are ready to feast like a monarch. This is a set of 'silverware' that out-competes even your mothers best set. All three are lightweight making it easy to stow on all your future getaways. A set you can really rely on.
Read more
TOAKS knows titanium, they know the outdoors, and they know the appeal of eating well even while you are covered in two days of sweat and whatever you stepped in back there. Who says you can't eat with separate fork and knife while weight watching and maintaining durability?
Size:
The forks and spoons measure in at 6.6 in. While the knife measures out to 7.1 in. With a total weight of .32 oz. The spoon bowl is decent.
Durability:
Titanium yet there is some flex in the spoons, but more so in the forks.
Grip:
Has a polished grip that many like, but the grip is on the smaller side which not all consumers liked.
Versatility:
Full and separate fork, spoon, and knife, but no bottle opener.
Hygiene:
There are several small areas to clean on this product making saucy dishes less than ideal to clean up from. Doesn't include a carrying pouch.
Style: 1 style
Value:
This is the most expensive camping utensil set on the list, but with that comes assurance that you are going to get your moneys worth out of it.

7

. Sea To Summit Alpha Light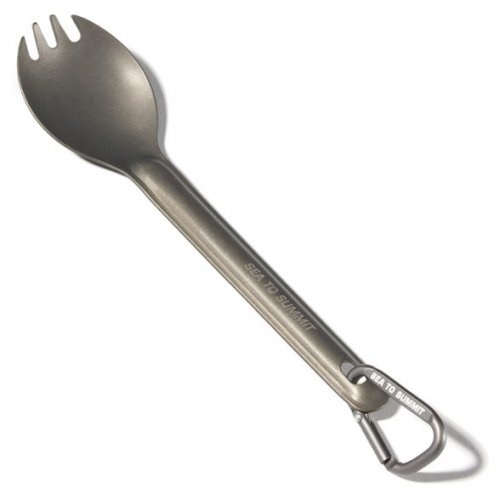 Not sure what you are buying for? A hiking trip, or a month on a river excursion? This spork was designed to aid people from Sea to Summit, it's in their name, its what they do. Longer than most other sporks, its made from anodized aluminum which is a super light metal. It's almost like you aren't holding anything.
Read more
Sea to Summit started as a challenge to have gear that was good from sea level all the way to the tallest point on earth, the peak of Mount Everest. Lightweight gear, that is reliable and dependable from the sea ll the way to the summit.
Size:
8.5 in. Long with a bowl that measures out to 1.5 in. In diameter.
Durability:
Aircraft-grade aluminum alloy makes this one of the lightest sporks on the market, yet you know it won't let you down.
Grip:
Long handle makes for reaching an easy task, no longer will you have to get your hands dirty with food, or your dirty hands on the food! Smaller grip than competitors. The aluminum handle heats fast when left against the side of a pot or pan, be careful when cooking.
Versatility:
No knife, no bottle opener, but the fork tines work better than most of the competition.
Hygiene: Minimal cleaning as there is only one hole intended for a caribeaner. No carry case is included.
Style: 1 Style.
Value:
On the lower end of the price bracket with its metal competitors, lightweight but can be used practically in daily life as well, not a bad option.

8

. Light My Fire Titanium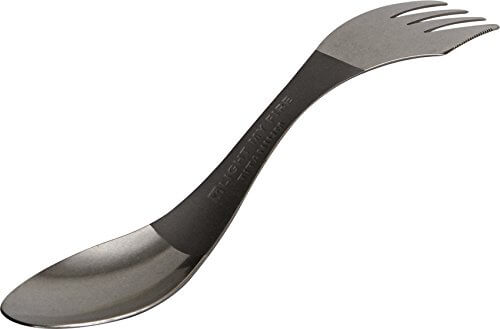 The brand that has set themselves part with their unique grip known to Light My Fire combined with the durability of titanium. This 'spork' has a full spoon and full fork for a more pleasurable eating experience. Customers love this Swedish brand!
Read more
Size:
6.75 in. Long weighing a total of .7 oz, full spoon bowl makes slurping soup that much easier.
Durability:
Highly durable but bends easily, yet maintains a fairly light weight
Grip:
LMF has designed a spork with a unique grip, it contours with the hands to try and allow better grip while giving the fork and spoon the right about of bend that utensils need to function properly. Switching between soup and salad is an issue on this one as you have to hold one while using the other. Many users comment on how much their kids love using them.
Versatility:
Has full spoon and fork, and even has one end of the fork tine as a serrated edge acting as a knife.
Hygiene:
Minimal cleaning, although the full utensil will need to be cleaned after almost every meal, no carrying case is included.
Style: 1 style.
Value:
On the more expensive side of the price bracket, some consumers may find that the price is too high to pay for this particular product.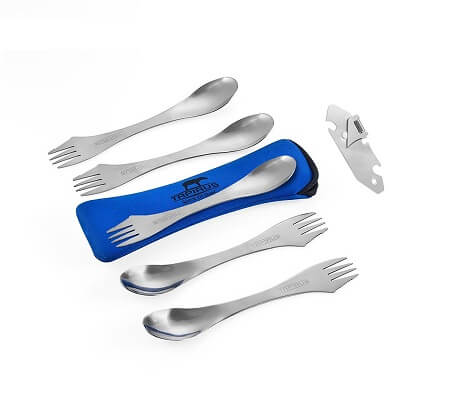 A set of 5, one for everyone on your camping trip and very reasonably priced! Made with stainless steel so you know your camping utensils won't rust or corrode as other utensils will. No matter what your trip destination might be, you and your friends are covered. It also includes a bottle/can opener!
Read more
Size:
8 in. Long a-piece weighing individually 4.18 g, the spoon bowl is rather shallow.
Durability:
Made with high quality stainless steel this spork is known to bend a little more than desired.
Grip:
Not a true spork, has full fork and full spoon on separate ends, bends slightly to personal use
Versatility:
The fork and tines are flatter than usual making some food hard to eat, the spoon bowl is not as deep as some consumers would prefer
Hygiene:
Cleaning up is easy with this set, no small knocks and crannies, and it comes with a waterproof neoprene carrying case, good for keeping dirt and germs out, and sanitation in.
Style: 1 style.
Value:
5 for the price of what 2 of these usually go for, the value on this one is high.

10

. Light My Fire BPA-Free Tritan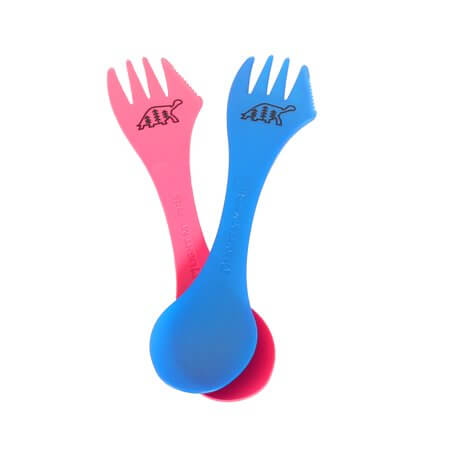 With a wide range of colors, and material you can count on, who says camping and style are mutually exclusive? Light My Fire is a company with great customer satisfaction. You'll be shopping with them time and again. With four in this set, and many colors to choose from you and your friends can all have separate colors!
Read more
When you do something right, you do it right. Light My Fire is a brand that many have come to know and love. You can share that love with your family, where the Titanium spork is a one style goes with all, this 4 pack is meant for those trying to personalize their camping trips.
Size:
6.75 in. In length weighing in at .3 oz. This isn't the minimal size of all the products, but then again a four pack isn't likely to be found in a minimalists backpack. While not a 'true' spork, it has a complete spoon and a full fork with a tine on the side with serrated edge acting as a knife.
Durability:
Feedback has been somewhat inconsistent with customer reviews on this one, some use and abuse their sporks, while others break them in bags in between hikes (or college classes). Storage is important with these sporks.
Grip:
Not a true spork, it has a full spoon bowl unburdened by fork tines, and complete fork not limited by spoon bowl. Has the unique curve known to LMF between the spoon and fork/knife.
Versatility:
Full sippable spoon, full tined fork, this pack doesn't come with a bottle opener, but it does utilize slight serration to act as a knife with cooked vegetables and more tender meats.
Hygiene:
BPA-Free plastic and dishwasher safe, this product is easy to clean. The fine serrations of the knife may make some saucy pastas a bit of a trick however. Doesn't include a carrying pouch.
Style:
6 styles all of varying shades of color this pack wins the most stylish award!
Value:
4 sporks for under 10 bucks means you can finally stop sharing your utensils with your toddlers, you each get your own color!

Subscribe to our Newsletter