Best Camping Utensils
In a
Hurry? Editors choice: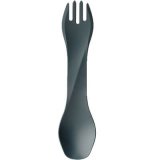 Test Winner: Humangear GoBites Uno

If you've ever packed for a
family weekend
trip in the
woods
, solo hiking adventure, or business trip that takes you hotel hoping you understand the convenience of having camping utensils. Whether in the wild unknown of nature, or the urban setting of your office chair - with take-out salad in hand, being able to depend on your utensils is a necessity. Forgotten, flimsy, or unreliable utensils won't ruin a trip or your day, but it can greatly impact it! We have scoured the internet for the best camping utensils on the market today; you can rest assured that this fine detail has been covered for you.
Standout Picks
Criteria Used for Evaluation
Versatility
Versatility matters a lot to minimalist hikers or those that just don't want to do many dishes. We are all familiar with the pain of being heavily active all day, looking forward to the meal to come, but dreading the clean-up. No one should skip a meal just because of the dishwashing that follows. Can a single camping utensil act as spoon, fork, and knife? Or how close can it get to that ideal? Even if it does manage to get all three - or close enough - can it perform well on all fronts?
Size
The size was a big consideration in the metrics of the list. It has to be something that is long enough to do its job, stirring pasta in your deep camping pot, or extending all the way down to the corners of your dehydrated meal bag, all the while remaining practical in weight. In addition to the length of the spoon, and its overall weight, how big is the spoon bowl? Those that love cereal and soups know the frustration of having to eat slowly, and repetitively because the spoon bowl is too shallow. The question of which size is the best ultimately comes down to you. Do you eat a lot of soups? If not, maybe you can compromise in spoon bowl to allow for better fork tines. Or maybe you are going on a long distance trip and you need as little weight in your bag as possible. The choice is yours.
Durability
Durability was right up there with size. It almost doesn't matter what size it is if you can't depend on the material that you are trusting to get you 500 miles through various terrain, or months on a tight college budget. The issue then becomes plastic or metal, with good arguments able for both. Beyond that is the decision about which kind of metal or plastic. Titanium is a major player, but by far not the only material on the market; aluminum and stainless steel both make an appearance on the list. Stainless steel is stronger and less likely to stain than titanium, with lower prices as well. What are the demands of your soon-to-be-trusty spork? What you require of it will determine what kind of material you are shopping for.
Ease of Use
Grip was also a big game-changer in whether consumers enjoyed their camping utensil experience or not. This one is harder to gauge as it is subjective to the users. Options include curved or uncurved handles; flat forks or short, sharp tines; spoons that are deep or shallow. Some consumers want a seamless flow from eating at home with their silverware to dining in the woods with their reliable utensils. Grip depends a lot on you, but we did our best to narrow it down to only the most comfortable eating experience possible.
Subscribe to our Newsletter