Best Wood Burning Stoves
In a Hurry? Editors choice: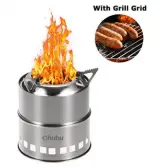 Test Winner: Ohuhu Camping

Open campfires are not always a good idea. Even though they are a great source of heat, they aren't easy to contain and can be quite hazardous. Camping
stoves
have proven to offer the benefits of open fires but in a more manageable way. There are several camping stoves to choose from; however, our main focus is going to be on wood burning stoves.
As the name suggests, wood burning stoves use wood as their fuel source. These are some of the best camping stoves because their fuel is readily available. You wouldn't get stranded in an
emergency situation
since all you'd have to do is gather some twigs and light it up. As such, you would be able to survive by having a source of warmth and a place to cook your food. Every camper needs to own at least one wood burning stove.
Standout Picks
Criteria Used for Evaluation
Capacity
Can the stove meet your camping needs?
It's important to know the capacity of the wood burning stove you want to buy. How fast does it burn? And how much food can be prepared using the stove?
If you often go camping alone, then you should choose a small burning stove. It's not logical to get a large stove because of a number of reasons. For one, your pots and other camping cookware will be too small to fit. Secondly, a larger stove will just occupy more space than necessary. You will be carrying around extra weight for no reason.
For large groups of campers, a small stove might not be stable enough to accommodate large cookware. The cooking capacity of the stove might also be questionable. Knowing how fast the wood burning stove cooks, will also help you plan better. You could start preparing meals earlier or even avoid slow stoves in general.
Durability
A durable wood burning stove is worth every penny
If you often go camping, you want to choose a wood burning stove that will stand the test of time. The stove's construction should be sturdy enough to offer sufficient support. You should make sure that it's also stable so that you can cook without worrying if it will crumble. A weak stove is risky, and you may end up in harm's way. If its parts are flimsy, it might not even last as long. The material making up the camping stove should be of high quality as well. It should not be easily prone to corrosion or wear and tear.
Ease of Use
A user-friendly camping stove is a convenient camping stove
The camping stove you chose should not give you a hard time. You should pick one, which has an easy assembly or installation process. If you are planning to buy one in person, you should request for help at the store and get as much information as you can. If you are making an online purchase, check if the seller has listed the instructions. You will be able to gauge whether it will give you a hard time. Customer feedback and reviews are always valuable because they will give you a clue as to what you should expect.
Features
Get to know the value you are getting for your purchase
Wood burning stoves each have their differences. Their features should help determine which option will be more beneficial to you. Some of them have prongs and crossbars to enable them to support different cookware sizes. Such options come in handy whether you're out camping alone or have some company. Other camping stoves have excellent support mechanisms and can withstand continuous usage.
You will find that some brands focus on fuel-saving aspects. Such stoves perform exceptionally on very little fuel. Similarly, thermal-efficient stoves also don't use up much fuel. Other features you should look are accessories. Some wood burning stoves come with extra items and even carry bags for storage purposes. The features mentioned are just but a few of what you can get with each purchase. Remember to settle for an option that is tailored to meet your camping needs.
Best Wood Burning Stoves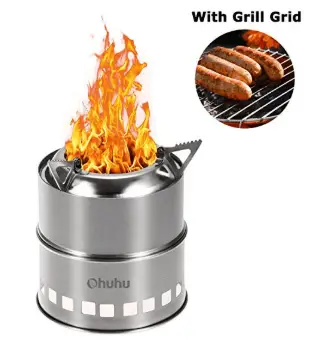 Ohuhu has one of the highest rated wood burning stoves. It is a favorite among backpackers and campers in general. The camping stove has an eco-friendly mechanism, making it safe for the environment. If you are looking for an efficient and affordable alternative, consider this stove your perfect match. It is definitely an upgrade when compared to traditional camping stoves.
Read more
Capacity:
The speed at which you can boil some water will depend on several factors. The amount and type of wood you use will matter. Additionally, the size of your pot and amount of water will also play a role in this. On average, it will take ten to fifteen minutes for you to get some boiled water.
Durability:
Ohuhu uses stainless steel of the highest quality to make this line of camping stoves. The entire construction is sturdy. As a result, it can carry weighty pots and withstand high temperatures.
Ease of use:
Cooking using this stove is not complicated. You need to assemble it first by putting together the stove chamber, bottom vent, and the base plate. Afterward, you need to gather some dry twigs, branches, or kindling and place them inside the pot rack. The last step is to light up the wood and start cooking. If you are in a position where you can't get any wood, you can opt to use some alcohol tablets.
Features:
One of the features that contribute to the stove's efficiency is its design. The stove design allows for even heat distribution. You are guaranteed to get well-cooked food, without any cold spot problems.
The cooking platform is stable and safe to use. Reason being, it has a three-arm support mechanism, to hold up your pot properly. The wood burning stove is foldable. Its size gets reduced to 5.3 inches by 5.3 inches by 3 inches. Reducing it to such a size makes it easy to carry. It also helps save on packing space.
Overall:
Most campers find this wood stove to be a highly reliable option. You can use it on different surfaces; it holds up nicely even on grassy areas. The same applies to extremely windy areas. Nothing will interfere with your cooking.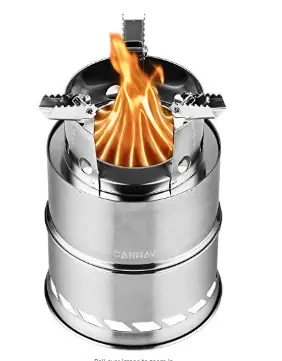 Canway offers a versatile wood burning stove for outdoor lovers. There is no limit to the type of meals you could prepare with it. It's an excellent option for people who are tired of using alcohol or fuel canisters whenever they go camping. So, if you're a serious backpacker, camper, hiker, or survivalist, you should grab yourself one of these stoves.
Read more
Capacity:
The camping stove can light for over twenty minutes and longer. If you were to set 8oz of water, you would only need to wait for about two minutes before it boils. Overall, the stove will take close to two hours before it starts to die down. The coal bed will still be hot at that time.
You will be able to prepare enough food for yourself. If you have another person with you, the stove is still more than enough to cater to your needs.
Durability:
Canway wood burning stoves comprise of stainless steel. It also has a three-arm support structure for increased stability. Depending on how you care for it, you may end up using it for several years.
Ease of use:
There are two variations of this stove. It comes in style one and style two options. Style 1 is smaller and would fit a single camper's needs. Style 2 is larger and has a higher design. It is a good option for at least two campers. With style 2, campers can add firewood to the stove, without having to lift the pan or pot.
To set up the wood burning stove, you will need to put the combustion chamber on the inlet ring. Next, you need to place the ash box inside the chamber. The final step is to put the stove hob on top. Once you're done with these three steps, you'll then be able to prepare whatever meal you want.
Features:
When you make this purchase, the items you get will include; a user manual, the camping stove, and a storage bag. The company also offers two years' worth of free protection. The stove is able to operate for a reasonable amount of time because of its high thermal efficiency. It has an exceptional ventilation system, which makes it easy to light up.
Overall:
The wood burning stove does not produce unnecessary smoke. As a result, you will even be able to use it under a tarp if you wanted to.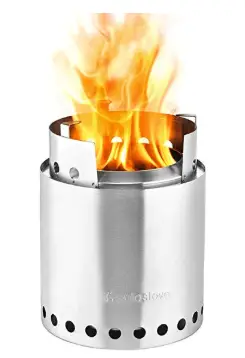 If you are a big Discovery Channel fan, and often follow Matt Graham, you will love this solo stove. Such respected survivalists have recommended this wood burning stove as one of the best in the industry. Even the Backpacker magazine recognizes it as a must-have for campers. If this is your first time purchasing a camping stove, then you can be confident that you've made the right decision.
Read more
Capacity:
The wood burning stove can handle enough food for more than four people. You will be able to boil 34oz of water in under four minutes.
Durability:
Solo used nichrome wire and 304 stainless steel, to make this stove. The company boasts that the wood burning stove does not have any defects. You will be impressed by the level of workmanship that was put into it.
Ease of use:
You will be amazed at how little fuel the stove consumes. It has a design that makes it use much less wood. That is what makes it more efficient compared to a regular campfire. You can use pine cones, twigs, sticks and other types of biomass.
Features:
The stove's airflow properties are quite unique. Its bottom section has holes, which drive air to the flames. They simultaneously keep the air in the stove walls warm. The overall circulation of the pre-heated air leads to second combustion. In the end, the fire burns in a thorough manner emitting the least smoke possible. The solo stove has a patent on this design and takes pride in its ultra-clean gasification process.
Overall:
If you buy this wood burning stove, you will be the proud owner of a Gear of the year award winner. 50 Campfires & Section Hiker gives out the award to gears that stand out and are certain to meet people's outdoor needs.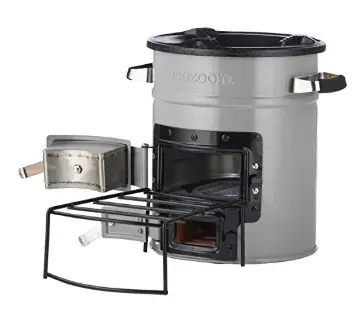 There is no such thing as being too prepared. Technology and electricity can fail you but having the right tools will easily get you through it all. Ecozoom offers one of the most sought after survival wood burning stoves. It will come in handy whether you find yourself in a blackout situation or the most remote area. The company claims to offer the best back up plan for several survival needs.
Read more
Capacity:
The wood burning stove is 17lbs large. It can easily support heavy pots and large meal quantities. Users can boil four qts of water efficiently, in a very short time. What's even more amazing is that the stove can produce about 23000BTU with so little wood. You will regret ever spending money on propane when you can get such output from free fuel sources.
Durability:
For durability, the company used a refractory metal to line the combustion chamber and the insulation at the top door. The metal frames at the chamber and damper doors are reinforced. They also have highly secure hinges for air regulation and closure.
Ease of use:
Accidents happen all the time when people are cooking. It's not uncommon to hear of people getting burnt while preparing meals. For safety, the stove's steel handles have silicone grips. So even when you're cooking, the stove handles will remain cool.
What also makes it worth buying, is the fact that it is compatible with all types of cookware. So whether you prefer stainless steel or cast iron, you will not face any restrictions.
Features:
The wood burning stove has a stovetop that features three prongs. They help reduce the risk of the cast iron top getting chipped. Nonetheless, the prongs won't limit the kind of cookware you can use. You will be able to make use of a rounded or flat-bottom pot perfectly.
Overall:
This Ecozoom Versa stove has some innovative and thoughtful concepts behind it. The company even incorporated stick support into the stove's design. Thanks to this feature, you will have the easiest time feeding wood or biomass into the stove.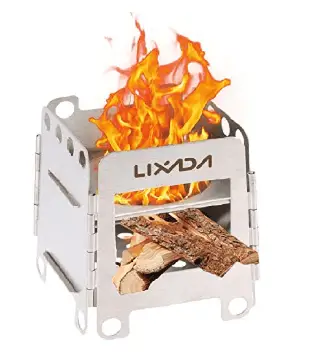 Lixada offers camping stoves in several designs. You can get them in; rectangle, triangle, and round shapes. They also have wood-burning stoves in silver and gold. All you need to do is choose the one that appeals most to you. Lixada assures its customer base that their products are of premium quality. No matter which stove you use, you will still get what you paid for.
Read more
Capacity:
Users can boil water in less than five minutes. So, if you have company, it won't take long until you get to stuff yourselves and enjoy the rest of your day together.
Durability:
What sets this stove apart from the rest is its construction. The company combines stainless steel and aluminum alloy, to make the wood burning stove.
The end result is a bearing capacity much greater than that of its competitors. Such stoves can tolerate several environments, including the highest altitudes.
Ease of use:
You will love the piezo ignition that comes with this stove. It helps jumpstart your cooking process with a single switch. You'll just need to press it, and the flames will start up. To ensure that you don't burn yourself unintentionally, Lixada makes the stands resistant to heat. The stands can also fold. You will find this convenient whenever you need to create space.
Features:
The wood burning stove has a fuel-saving design. Its rotary flame ensures full burning, making the process efficient. Another feature that stands out about this stove is its stability. The reason why it's stable is that it has a low center of gravity.
The stove also has excellent traction so that it can handle cookware appropriately. The company uses serrated stands to provide the additional friction needed.
Overall:
Not just any kind of gear can withstand rugged backpacking. You need a stove that won't fail you, and this is one of the best purchases you could make.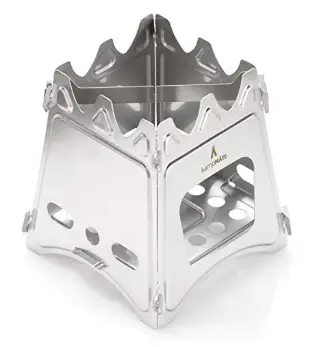 KampMate wood burning stoves have solidified their place in the market for forty years. The company is reputable and the creators of the main WoodFlame stove. They offer the stove in five different sizes, while continuously improving the stove design over the years. If you have used other KampMate camping stoves before, you will love the improvements in this variation.
Read more
Capacity:
As mentioned earlier, you can choose between several KampMate stove sizes based on your needs. This particular variation is just large enough to cater to two people. The stove has the capacity to boil water in under twelve minutes.
Durability:
Before it gets to you, the company ensures that it's packaged with care. The wood burning stove comes covered in a film to protect it during the shipping process. As such, you will get in good condition, without a single scratch. The stove has a sturdy build and consists of quality parts. You won't have to worry about the stove warping when there's extreme heat.
Ease of use:
Unlike some camping stoves, the KampMate's construction enables it to hold coal. This is thanks to its partial ventilation, where the holes are only in certain areas of the base plate. You also won't have to worry about getting burnt, whenever you try to add more wood. The stove's opening is neither too wide nor too small; it's just right.
You will be able to use it with Esbit tablets, cedar pucks, charcoal, stereo fuel, and wood, to mention a few.
Features:
The wood burning stove can accommodate different sized cooking pans and pots. The top of the stove has crossbars that make that possible. The side plates of this model have some embossing. They have also been re-enforced, and are thinner in size. The stove also has large holes for enhanced ventilation.
Overall:
Your money is safe with this purchase. It comes complete with a money back guarantee. What this means is that the company concerns itself with customer satisfaction. They care about you and your camping needs.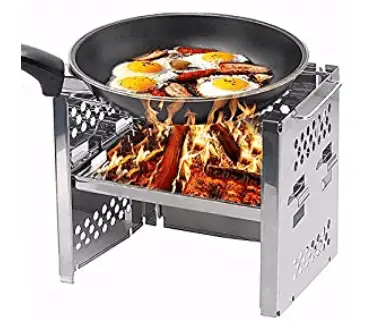 Unigear is also another brand that focuses on customer satisfaction. The company stands behind their stove and aims to live up to user expectations. You can contact the company with any complaint, as long as you find the camping stove unsatisfactory. However, Unigear advises that buyers do so within sixty days of the purchase. If you follow the instructions, you can get a refund as soon as possible.
Read more
Capacity:
The stove can easily handle 10-inch pots. It is versatile and can work with different kinds of cookware. You can use the wood burning stove when camping out with another party.
Durability:
Users claim that the camping stove's quality is great for its price range. It is stainless steel and built for the most rugged experiences. You can use it for several camping trips since it's not as flimsy as some of its competitors.
Ease of use:
The Unigear camp stove is easy to put together. You'll first need to unfold it to begin assembling it. Once you do this, you need to put in the ash plate. The third piece to put in the stove is the coal grill. Once you do that, you just need to add the pot stand, and you're done. The stove's ash plate has two functions. You can also use it as a fuel stand if need be.
Features:
Since the stove has four parts, it won't take you long to put it together. In fact, some users claim that it took them about a minute to do so. The wood burning stove utilizes natural fuel. It is also set up to allow the use of gas as well.
Unlike the cylindrical version, this camping stove is easier to fold. When folded down, it takes a book-like compact form that is easy to pack.
Overall:
The assembly process is unique and set to stabilize the camping stove. You can be sure that the stove won't fall apart as you cook.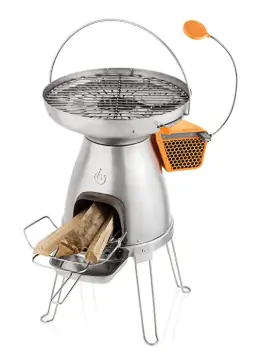 BioLite has global recognition when it comes to introducing clean cooking and energy, to families in India and Sub-Sahara Africa. If you believe in being a part of a good cause, then this purchase should pique your interest. For every wood burning stove sale, BioLite re-invests a portion of the proceeds into the initiative. You won't only benefit from a quality stove, but you will indirectly make a difference in other people's lives.
Read more
Capacity:
The wood burning stove is large enough to serve several people. Depending on what you are making, you could even serve six to eight people. On average, it can boil a six-quart water pot in less than fifteen minutes. It also has a 138 square-inch grill. With such a surface, making eight burgers will be effortless.
Durability:
Biolite's camping stove is sturdy. It is the kind of wood burning stove that will last for several years. You could use it on a daily basis, and the stove would still not succumb to wear and tear. The company's design enables it to burn for approximately 5000 cycles.
Ease of use:
The stove has high burning power, thanks to its internal fan. The fan improves combustion by injecting air back to the chamber. As a result, the stove produces smokeless flames and clean energy. You will enjoy cooking on it thanks to its surface. It's so versatile and is ideal when it comes to making pizza outdoors. You will also have extra lighting when eating your food, thanks to the included USB light.
The wood burning stove also has a switch. You can alternate between direct heat and dissipated heat. The two modes will make it easy for you to try out different cooking methods; from boiling to grilling.
Features:
BioLite has a patent on the stove's core technology. Its technology is such that it is capable of capturing heat waste. The stove has a heat probe attachment, which makes this possible. This probe is located in the orange power pack at the side of the stove.
Among its advanced features, is the stove's thermoelectric generator. The generator is responsible for the stove's ability to convert heat to electricity. A fan is then powered up as a result, and electricity is sent to a USB charging port. If there is a production of excess power, it is stored in the integrated internal battery.
You can use the stored power later, even when there is no fire. The battery capacity is 2200 mAh and recharges itself automatically when the fire is on. The power bank has a 5v USB output. You can use it to charge your phone and devices. It also has a Smart LED dashboard. The dashboard is helpful when it comes to checking the battery level and generation of power.
Overall:
Your purchase will get you; a gooseneck USB light, a fuel rack, ashtray, fire starter, the BioLite BaseCamp, and a set of instructions.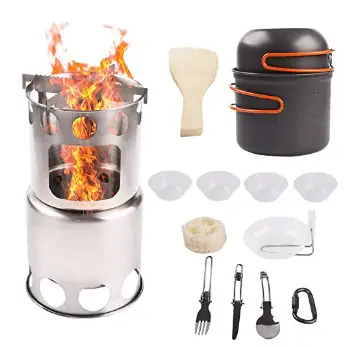 The Nulipam wood burning stove is another high-value purchase. It comes with a variety of items, just like the BioLite alternative. However, there's a difference in the amount of money you are going to spend. Although they are both camping stoves, they are not alike, and each of them has their appeal and strengths.
Read more
Capacity:
The stove can handle food for a number of people. It produces a lot of heat and can boil 34oz of water in about five minutes. You will find it invaluable during your camping trips.
Durability:
According to customer feedback, it is correct to say that the stove's durability depends on the user. It will depend on how you handle it and the frequency in which you use it as well. All in all, it's an excellent purchase for its price.
Ease of use:
The wood burning stove has a multi-hole design to avoid pollution and for user-friendliness. The purchase will include non-stick pots. You will have an easy time when cleaning up after meals.
To assemble the stove, you need to start with the inlet ring. The pot stand is the next piece that follows. Afterward, place the ash box inside the stand. Once all the pieces are together, finish by placing the hob at the top.
Features:
You will get a cookware set with your purchase. The set includes two pots; one being deeper than the other. You can use the smaller one as the top lid for the deeper pot. It also comes with utensils, which include a knife, a cooking stick, spoons, and side plates.
The handles are heat resistant, so you can cook confidently without the fear of burning your hands. They are also flexible, and you can fold them to minimize further on space.
Overall:
After you purchase the wood burning stove, you have a 30-day window of contacting the company. If the product is not up to standard or you find it unsatisfactory, you should return it during that time period. You will thereafter be eligible for a refund or replacement.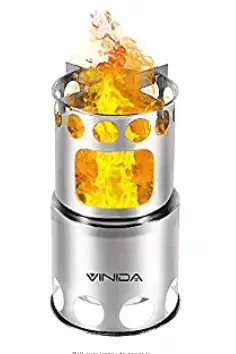 Vinida claims to offer the best wood burning stove for several applications. According to the company, the stove is reliable for camping survival and emergency situations. You can also use it for bush crafting, disaster preparation, motor cycle, and bicycle touring, river running, wilderness survival, canoeing, and backpacking.
Read more
Capacity:
The stove will serve you well if you have a camping buddy with you. It is not a good fit for large crowds. You will also be able to boil 34oz of water in under ten minutes. The stove works well with 8-inch skillets and 8-cup pasta pots.
Durability:
Vinida wood burning stoves consist of premium grade stainless steel. It is quite stable and works well even in the windiest conditions. The build quality will not let you down.
Ease of use:
The stoves are easy to light up. If you don't have any paper near you, you could gather some leaves and put them in the stove. Afterward, put in some wood or twigs. All that will be left to do is start the fire, and you can start cooking. The company also provides installation steps; in case you find it difficult to assemble the stove.
Features:
The entire stove comprises of four easily collapsible parts. These are the air inlet base, pot stand, ash box, and the cross bracket. Continuously removing a pot or pan can disrupt your cooking process. To avoid this, Vinida created enough space for the top wood entrance. You will be able to add some extra wood and sticks as the food is cooking.
Overall:
Its mechanism leads to clean gasification. As a result, there won't be smoke, thanks to a third combustion. Aside from the wood burning stove, you will also get a sack for convenient travel.

Subscribe to our Newsletter