Best Wood Burning Stoves
In a
Hurry? Editors choice: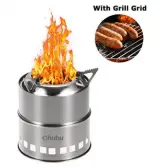 Test Winner: Ohuhu Camping

Open campfires are not always a good idea. Even though they are a great source of heat, they aren't easy to contain and can be quite hazardous. Camping
stoves
have proven to offer the benefits of open fires but in a more manageable way. There are several camping stoves to choose from; however, our main focus is going to be on wood burning stoves.
As the name suggests, wood burning stoves use wood as their fuel source. These are some of the best camping stoves because their fuel is readily available. You wouldn't get stranded in an
emergency situation
since all you'd have to do is gather some twigs and light it up. As such, you would be able to survive by having a source of warmth and a place to cook your food. Every camper needs to own at least one wood burning stove.
Standout Picks
Criteria Used for Evaluation
Capacity
Can the stove meet your camping needs?
It's important to know the capacity of the wood burning stove you want to buy. How fast does it burn? And how much food can be prepared using the stove?
If you often go camping alone, then you should choose a small burning stove. It's not logical to get a large stove because of a number of reasons. For one, your pots and other camping cookware will be too small to fit. Secondly, a larger stove will just occupy more space than necessary. You will be carrying around extra weight for no reason.
For large groups of campers, a small stove might not be stable enough to accommodate large cookware. The cooking capacity of the stove might also be questionable. Knowing how fast the wood burning stove cooks, will also help you plan better. You could start preparing meals earlier or even avoid slow stoves in general.
Durability
A durable wood burning stove is worth every penny
If you often go camping, you want to choose a wood burning stove that will stand the test of time. The stove's construction should be sturdy enough to offer sufficient support. You should make sure that it's also stable so that you can cook without worrying if it will crumble. A weak stove is risky, and you may end up in harm's way. If its parts are flimsy, it might not even last as long. The material making up the camping stove should be of high quality as well. It should not be easily prone to corrosion or wear and tear.
Ease of Use
A user-friendly camping stove is a convenient camping stove
The camping stove you chose should not give you a hard time. You should pick one, which has an easy assembly or installation process. If you are planning to buy one in person, you should request for help at the store and get as much information as you can. If you are making an online purchase, check if the seller has listed the instructions. You will be able to gauge whether it will give you a hard time. Customer feedback and reviews are always valuable because they will give you a clue as to what you should expect.
Features
Get to know the value you are getting for your purchase
Wood burning stoves each have their differences. Their features should help determine which option will be more beneficial to you. Some of them have prongs and crossbars to enable them to support different cookware sizes. Such options come in handy whether you're out camping alone or have some company. Other camping stoves have excellent support mechanisms and can withstand continuous usage.
You will find that some brands focus on fuel-saving aspects. Such stoves perform exceptionally on very little fuel. Similarly, thermal-efficient stoves also don't use up much fuel. Other features you should look are accessories. Some wood burning stoves come with extra items and even carry bags for storage purposes. The features mentioned are just but a few of what you can get with each purchase. Remember to settle for an option that is tailored to meet your camping needs.
Subscribe to our Newsletter