Best Pasta Makers
In a Hurry? Editors choice: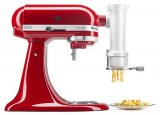 Test Winner: KitchenAid Roller

Cajun chicken pasta, artichoke spinach lasagna and creamy pesto shrimp are just few of the many pasta recipes that you should readily have in your arsenal. Eating it is the best part, while preparing its pasta will surely be the most tedious part. Making your own pasta at home will give you more control over its quality, taste and type. Creating your own pasta could be time consuming but if you are lucky to have the best pasta producer at home then chances are huge that pasta dishes will often come in a breeze!

Keep in mind that although it is indeed a real time-saver to just toss out a dry pasta into a pot of hot water but the thought of freshly made pasta would never fail to satisfy even the person with the most discriminating taste for pasta dishes.

But, if you haven't got any pasta making device yet then it is high time that you should start looking for one that perfectly suits your needs and preferences. When you're checking it online, prepare yourself to get overwhelmed by the wide array of choices for pasta making machines. This is why you have to make sure that you do not forget to check out its pros and cons, as well as the reviews submitted by those who already have purchased the product. The following is a list of ten of the best pasta making machines that you can find online.
Standout Picks
Criteria Used for Evaluation
Top 10 Picks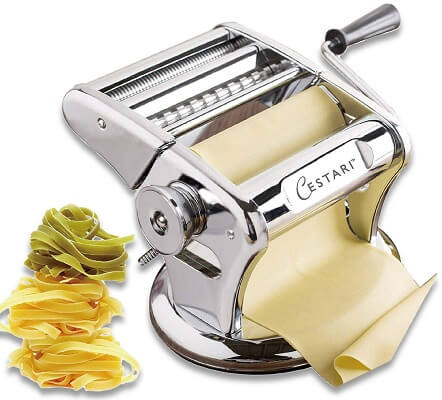 This device produces professional grade pasta made from polished chrome plated steel. Its cutters and rollers were made from anodized aluminum.
Read more
Convenience/User Friendly
The thickness of your pasta can be adjusted from 3.5mm to .7 mm. It has a unique suction base that allows the device to roll out pasta without wobbling or shaking thereby giving you smoothly rolled pasta.
Versatility
It has wide rollers so you can produce pasta sheets for your ravioli or lasagna recipes.
Upkeep and Maintenance
The most ideal way to clean this is to use a damp cloth when clearing its entire residue. If there are leftovers, avoid submerging the device into the water. Instead, let these pasta residues to dry first. Then, start wiping them off with the use of a microfiber cloth.
Added Features/Recipe Book
It comes with an instruction manual that also includes delicious pasta recipes.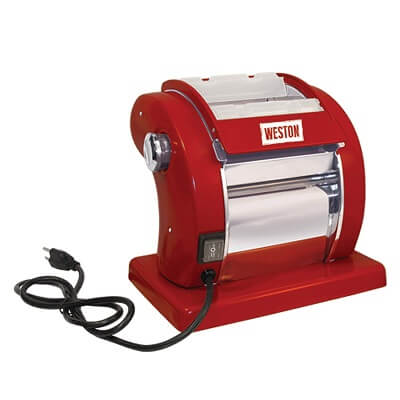 This pasta-making device is available in red with steel accent, with a 90-watt motor and has to be plugged into a standard 120-volt outlet. It weighs 18 lbs, small enough to fit in your regular sized kitchen cabinet.
Read more
Convenience/User Friendly
Using this machine would need you to hand feed the dough into it. However, if your dough does not have the right thickness, the machine will clog. When clearing the jams, the device will automatically stop the moment you lift the safety cover. This way, you can clear the jam without hurting your hands.
Versatility
This is an electric pasta making device that lets you choose between nine different thickness levels. It has both slow and fast settings which enables you to control the speed of the dough that comes out of the machine. This fast and slow option ensures you get exactly the right evenness or smoothness of each pasta cut.
Upkeep and Maintenance
It comes with a cleaning brush that you can use for cleaning those areas within the grooves. The device can be difficult to clean and its electrical mechanism prohibits one from submerging it into the water. To avoid damaging the device, it is best to clean it with the use of dry cloth. You may run an additional dough through it so you will be able to remove any oil and flour leftovers.
Added Features/Recipe Book
This device comes with a manual for its care directions and other information about general usage. Its booklet also features different recipes for ravioli and soba noodles. The information provided in this booklet is so helpful especially for those who are not yet certain where and how to start with pasta making.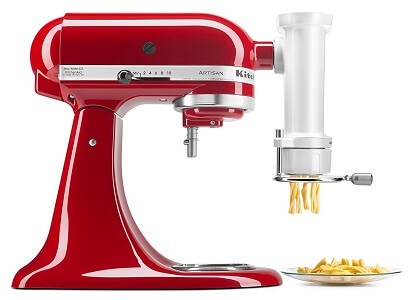 This device only works if you already have the KitchenAid Stand Mixer. You have to attach this pasta-making device to its power hub so you can create several pasta sheets that are 6 inches wide and with uniform thickness. It comes in an all-metal durable housing with stainless finish.
Read more
Convenience/ User Friendly
Just mix the dough into your mixer. Once your dough is ready, attach this pasta roller device and then roll the dough with it instead of just using your bare hands when rolling.
Versatility
You can choose from its eight settings for your preferred thickness. If you want to make lasagna noodles, you can set the device into a thick setting. Its thickness would also be enough if you plan to cut them into square pasta for your ravioli recipes. Its medium thick setting is ideal for spaghetti noodles. You can also make capellini pasta just by putting it into its thinnest setting.
Upkeep and Maintenance
The device comes with a small brush that allows you to keep it clean. Its gears have to be oiled at least once a year. It has a compact design that will make it easier for you to store it in your kitchen drawer.
Added Features/Recipe Book
This device does not come with other add-ons.

4

. CucinaPro Imperia Machine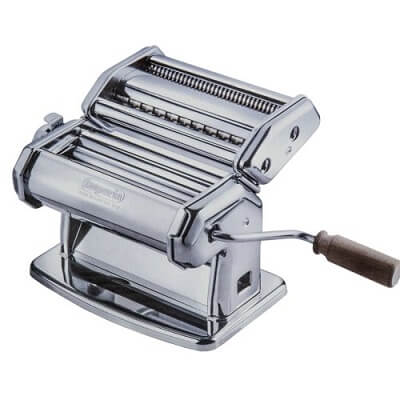 This is a hand crank machine, made from solid-metal and with a wooden handle that is capable of producing 6-inch wide pasta.
Read more
Convenience/User Friendly
The machine has a specific dial which you can turn when making adjustments to the thickness of the dough. Its wooden handle is designed to make it comfortable for your grip. But, you can also use its dual cutter accessory if you want to produce fettuccine or spaghetti pasta. Rest assured that all the pasta that will come out are sleek-looking and without clumping.
Versatility
Its 6-inch wide pasta produced can be cut so that you can have something for ravioli. If you do not want to operate this machine manually, you can buy an electric motor, as well as other accessories so you can create just about any pasta you like. If you do not buy other accessories, the base machine is only able to produce spaghetti and fettuccine pasta.
Upkeep and Maintenance
You have to clamp the machine to the edge of your counter to secure it. The machine is also small enough for you to store it in your kitchen cabinet. You only need to use a dry cloth and soft brush when cleaning this device.
Added Features/ Recipe Book
The device also comes with a recipe book and a booklet that will prove to be very helpful especially to those who are still new to making pasta.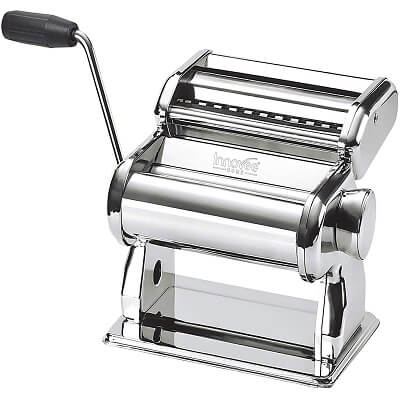 This pasta -making device is made from chrome-plated steel while its rollers are nickel-plated.
Read more
Convenience/ User-Friendly
Its adjustable rollers are so easy to operate so you can have thicker or thinner pasta like a pro.
Versatility
With this device, pasta recipes are made easier as it gives you nine different levels of thickness. So you can adjust its thickness according to your planned pasta recipe.
Upkeep and Maintenance
Clean the device using a pastry brush. Keep in mind that the cutters can slide on and off so there is no need for you to disassemble them while cleaning.
Added Features/Recipe Book
This best pasta-maker comes with a recipe book as well as a manual for instructions on how to clean the device.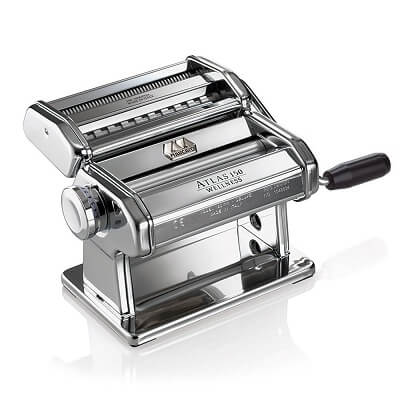 This pasta machine is available in different colors such as light blue, red, black, pink, green, copper, gold, silver and blue. You may choose from any of these colors to ensure it matches with the color of your other kitchen appliances or your kitchen interior decoration.
Read more
Convenience/User Friendly
Each batch of pasta will be produced by manually turning the hand crank on the right side of this device. This manual turning wil give you enough time to adjust the speed of the dough coming out of the device so you can still correct any imperfections all throughout the process of pasta production.
Although this machine has to be powered manually for it to work, it is created with a bayonet fitting on the other end of the hand crank. A motor has been attached at the end to enable quick production of pasta. So, you can focus on these methods when pushing the dough into its combing mechanism. Since it is made from anodized aluminum the pasta is less likely to stick into it thus reducing any tendency for breaks and tears. The result would be high-quality pasta.
Versatility
This only allows you to make three shapes of pasta. If you want fettuccine and lasagna pasta, you can have it at 6mm wide sections. If you want tagliolini pasta, then set it at 1.5 mm sections.
Upkeep and Maintenance
This device is not safe to be washed in your dishwasher. You may need either a toothpick or a small brush to be able to remove the pasta leftovers.
Added Features/Recipe Book
If you need to create other pasta shapes, its manufacturing company created 12 other accessories that are compatible with this device. However, these accessories are not sold with the package at your initial purchase.

7

. Ovente Stainless Steel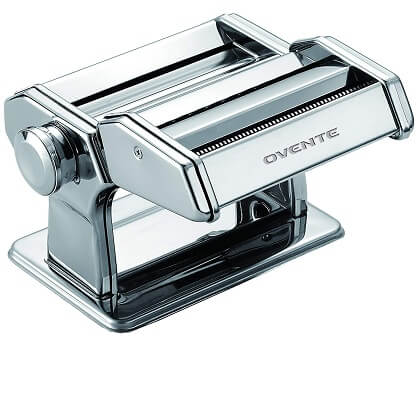 This is made from high grade stainless steel and food grade carbon so you can be assured that the product will last a lifetime.
Read more
Convenience/ User Friendly
You can easily adjust its clamp so that it is properly secured on your countertop. Its hand crank makes it easier for you to roll out the dough so that you can have quality pasta coming out of this device.
Versatility
You can choose from its 7 dials so that you will be able to achieve the right level of thickness for your pasta, according to your desired pasta recipe. Its double cutter attachment enables you to produce fettuccine or spaghetti pasta.
Upkeep and Maintenance
You can either use a wooden rod or a brush when cleaning this device. Avoid using water when cleaning it. It is a must that you apply oil on the edges of the rollers on a regular basis.
Added Features/Recipe Book
The product also comes with adjustable countertop clamp. It also comes with double pasta cutter accessory.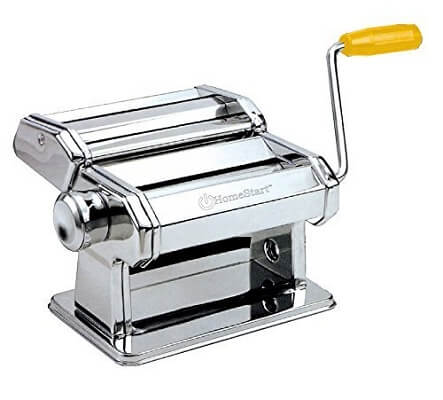 This device makes use of crank handle that is made from ABS plastic. The overall casing is made from chrome-plated metal that resists oxidation and corrosion.
Read more
Convenience/ User Friendly
You have to make your own dough and then put it into this pasta-making device. It will then produce flat, long pasta dough. It comes with a C-clamp so that you can secure it in its place.
Versatility
Its attachable cutters allow you to produce either a wide fettuccine or thin spaghetti pasta. If you are not satisfied with its thickness, you may have to repeat the process and set its dial according to your desired thickness.
Upkeep and Maintenance
Its instruction manual provides information on how to clean and maintain the device. Since it is made from metal, using water and soap when cleaning it is not advised. Instead, use only dry cloth and brush.
Added Features/Recipe Book
The manufacturing company does not provide any other add-ons for people to buy so they can cut different types and shapes of pasta. But, it does have a recipe booklet for people still learning how to make pasta dough. The booklet also provides directions for preparing other types of pasta dishes.

9

. Philips and Pasta Disc Kit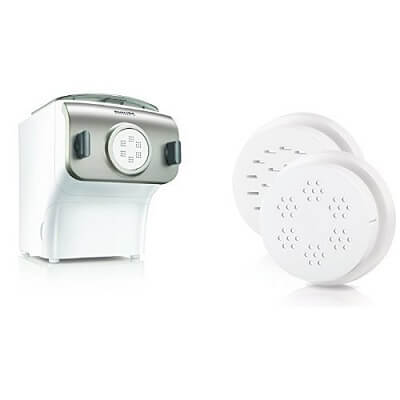 This is an electric-powered pasta-making machine, powered by a 200-watt motor making it capable of generating 1, 600 lbs. of extrusion force.
Read more
Convenience/User Friendly
Just put the eggs, water, flour, and oil into the machine. Place the pasta-creating disk over the opening, close its lid and press the button. Then the machine will immediately start mixing all the ingredients. Its die-cast aluminum mixing paddle will do the job of mixing and kneading the dough. After 15 minutes, the newly-created pasta will now be extruded through the disk so you can have your spaghetti or lasagna noodles. If you want other types of pasta, you may buy other disks for attachments.
Versatility
You can create different types of pasta but then you need to buy extra disks for that. At the lower back part of the machine, there is a pull-out drawer that serves as a place for storing your pasta-making disks and other accessories so you do not have to put them elsewhere in your kitchen.
Upkeep and Maintenance
This best pasta machine needs more in-depth cleaning. The moist dough will make it too difficult for the machine to be cleaned. But, it comes with a specialized brush that is capable of cleaning those hard-to-reach areas. The machine is colored silver which means it has to be cleaned thoroughly on a regular basis to avoid it from showing smudges.
Added Features/Recipe Book
It comes with a recipe book with new pasta dishes to try, different topping and sauce combinations and other ingredients that give new flavors.

10

. Williams-Sonoma Imperia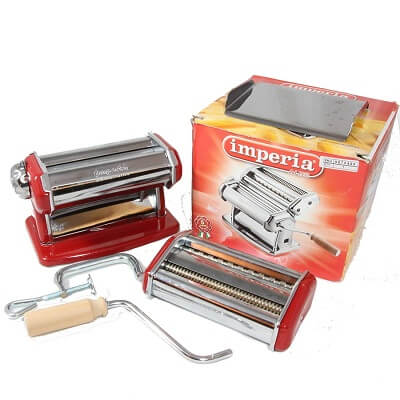 This is another hand-driven pasta machine that is available in two colors. Its design is compact making it easier for you to fit it on top of your countertop and in your kitchen cabinets. Its rollers are made of chromed steel and are nickel-plated to reduce the likelihood of the pasta sticking into it. Its bottom has rubber grips to avoid the machine from moving while you are manually operating it.
Read more
Convenience/ User Friendly
This device requires one to make slow yet steady rotation to allow the pasta to come out evenly from it. You have to manage your speed and see to it that the newly-formed pasta does not pile up.
Versatility
This device comes with two types of rollers, one is for creating flat pieces of pasta and the other serves as a combing technique so that it would be easier for you to produce streams of pasta. So, by using this you can now produce linguine, fettuccine or any other pasta with a similar shaped.
Upkeep and Maintenance
This device requires thorough and in-depth cleaning. You have to apply oil on an occasional basis and then manually rotate the handle to ensure everything is oiled well.
Added Features/Recipe Book
The kit also includes a C-clamp so you can further secure the device in place. Attachment that enables the production of pasta for ravioli is sold separately.

Subscribe to our Newsletter