Best Ice Cream Maker
In a Hurry? Editors choice: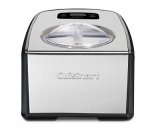 Test Winner: Cuisinart ICE-100

On a hot afternoon or even warm day, a scoop of homemade ice cream is the best cure to make your day even better. Sometimes, it is the simple joys in life that can
improve
your day. Instead of merely relying on the stock ice cream at the market, why not invest in your own personal machine that creates it for you? After all, this puts the
power
in your hands and the recipes you can create are nearly endless. By making your own ice cream you are also able to know exactly what ingredients are going in it and get the
fresh
taste each time.
Standout Picks
Criteria Used for Evaluation
Capacity
One of the first legitimate questions you need to ask yourself is who is going to be using the ice cream maker? Or, in other words, how many mouths are you planning to feed? The reason this is important is if you need to supply dessert for a family of five, you may not want to settle for a smaller bowl. Instead, aim for a unit that can produce four or more quarts within a half-an-hour. Speaking of which, this leads to something else that needs to be considered.
Within a set time, ice cream makers will be able to churn out a specific amount of content. But, from model to model, this capacity is going to change. However, what can affect the speed of a given model? Well, for starters, let's go with the motor size and the make of the machine. The more powerful the motor is, the better it is in this case. As for the latter, though, this is where compression models truly shine as they can generally make up to four quarts within 20 to 40 minutes.
Features
Design Features
Even kitchen appliances are starting to become consumed with technology. It is not uncommon in this modern world to see these types of machines come equipped with advanced design features. Truth be told, they may even weigh enough on your mind to sway your decision one way or another. For starters, how about an intuitive LCD display? Even digital controls can be complicated to function so look for a system that is user-friendly to utilize. Along the same line as this, you can also look for key functions such as a cool down function, hardness options, and a stay-cool function.
Both a cool down function and a stay cool function can be convenient as this can allow you to start your ice cream faster and save you the trouble of having to transfer your final product right away, respectively. Then, with the option to alter the hardness, you can dictate the thickness of your final treat.
The Overall Performance
Some people will eat any kind of ice cream no matter the flavor or the texture. But, there are also pickier people in the universe that will need a perfect amount of smoothness. Well, this is where the importance of compression models comes back into play. Did you ever wonder why these machines can cost so much money? Essentially, and this is not always true, the higher the price the more smooth your ice cream will be and the better the result it will be.
Materials
At the end of the day, an ice cream maker can have absolutely everything going for it and then be completely deemed irrelevant if it is constructed with quality in mind. This is yet another factor that will determine the price point of a model as the heavy-duty models will probably cost you a little more. But, in the long run, the extra expense will be more than worth it. In general, stainless steel is the king of materials for kitchen appliances. Not only does it have a brilliant appearance but it is also a very durable material and also does a superb job of retaining cold temperatures with its insulation.
Top 10 Picks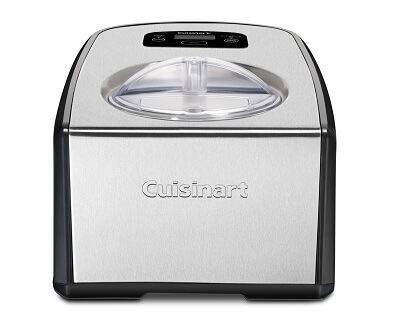 When performance is what you crave, performance is what you get with the ICE-100. For top-of-the-line texture and flavor, this system is equipped with a commercial-style compressor.
Read more
Capacity
The bowl of this beast has a capacity of 1.5 quarts.
Features
First off, the commercial-quality compressor of this model is top-notch and can make batches and batches of desserts. In addition to this, the paddle perfectly airs the ingredients and creates intense flavors. What is nice about the ICE-100 is that it sports a countdown timer that can be set from 10 minutes to 60 minutes. Also, there is a start and stop button that can be pressed at any point during the mixing cycle.
Materials
Due to the anodized aluminum mixing bowl, pre-chilling is not necessary. Also, the main makeup of this model is steel but as one buyer alluded to, cleaning the unit can be a nightmare.
If weight is a priority for you, then this model may need to be scratched. At 32 pounds in total weight, this will take up a lot of counter space and could be considered bulky.
Overall
Cuisinart designs loads and loads of amazing kitchen appliances so it is no surprise to see them top this list. Given the design of their ICE-100, it should not be a surprise to you, either.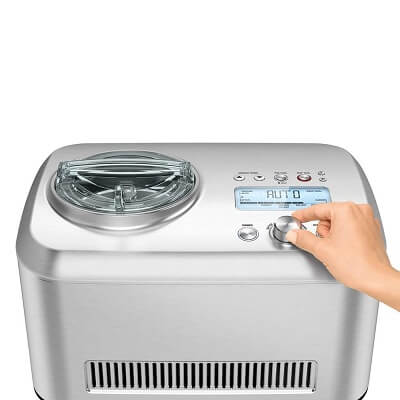 While the previous model excelled at performance, this next one is engineered with smart programming and masterful features. After all, it is dubbed the Smart Scoop and smart it is.
Read more
Capacity
Much like the previous model, the Smart Scoop from Breville also incorporates a 1.5-quart bowl capacity.
Features
With its compressor-driven motor, this is able to produce unforgettable results. What also does not hurt is the high-quality paddle. Lastly, there is functionality for both manual and automatic operation. Here is where the Smart Scoop shines brightest. The plethora of design features include 12 different settings (from extra soft to extra firm), a hold feature for consistency and also smart programming.
Materials
In spite of the stainless steel and plastic housing, which is both durable and easy to clean, the compressor of this machine is actually quite delicate. Power and efficiency come at a cost and even though the size is not always indicative of this, the Smart Scoop does sport a large footprint and is over 30 pounds in total weight.
Overall
If you are looking for all the bells and whistles, then you need to seriously consider the Smart Scoop. Then again, if you only plan to use it once or twice a year, this may be over extravagant.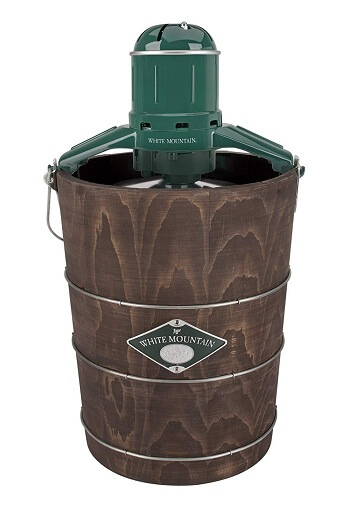 To say this machine is a beautiful work of art is a vast understatement. Being constructed of handcrafted New England pine wood, it comes with a touch of elegance that is basically unmatched.
Read more
Capacity
In around 20 to 40 minutes, this bad boy can produce up to six quarts of delicious and delectable ice cream.
Performance
Optimal performance is delivered from this system as it combines a powerful 12,000 rpm electric motor with a triple-motion action dasher system. The result is creamier and smoother ice cream.
Design Features
Really, there are not too many design features to speak of here. In fact, there is not even an on and off switch which is not uncommon given its construction.
Construction
Wow, this is where things get even more impressive. In addition to the handcrafted New England pine wood, the canister and lid are made of stainless steel. Oh yeah, and the dasher system is made of heavy-duty cast iron.
Size and Weight
As compared to the two other entries on this list, this only weighs around 19 pounds which is significantly lower. But, do note that it measures around 20 inches tall.
Overall
Both the construction and the overall performance of White Mountain's ice cream maker makes it worth the price of admission alone. But, the lack of features could be an issue for some of you.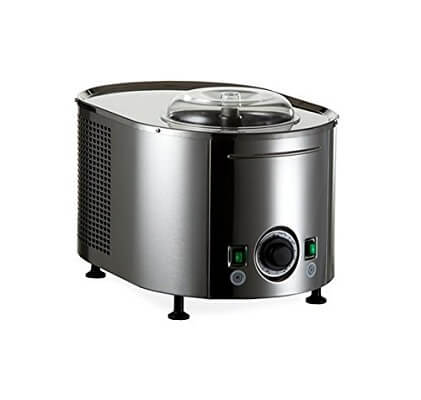 What is nice about this model, as opposed to other models, is that the bowl does not need to be pre-chilled before using it. Plus, the housing, bowl, and paddle are all made of stainless steel.
Read more
Capacity
The Musso Lussino is another entry that sports a 1.5-quart capacity. In around one hour, though, you could easily squeeze out three quarts of goodness.
Features
100 watts of power drive this machine to perform at the level that it does. Another huge perk, though, is that the bowl of this system does not need to be frozen before it is used. All you need to do is pour your ingredients into the bowl and the machine will do the rest. Yet, the timer controls also allow you to account for different frozen concoctions.
Materials
Given the price point of this model, it is no surprise that it is overflowing with stainless steel. In fact, the bowl, paddle, and housing are all comprised of this material.
Alright, let's just say that the Musso Lussino is a beast. At 12 inches by 11 inches by 18 inches and with a weight of 38 pounds, you will need a ton of counter space for this appliance.
Overall
Not everyone will be jumping up and down at the thought of spending so much money on this type of a kitchen appliance. However, though it is steep, the price is worth it, for the most part.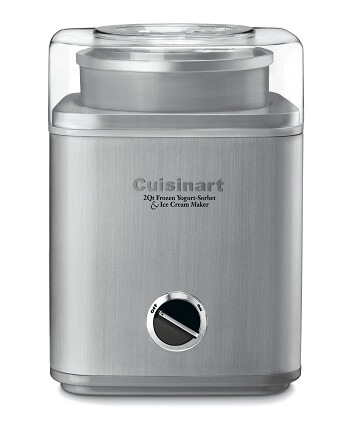 Now, this happens to be one of those models that do require you to freeze the bowl beforehand. Given the fact that it is double wall insulated, it will maintain its temperature well, though.
Read more
Capacity
The ICE-30BC is designed with a bowl that sports a two-quart capacity. Provided it can deliver results in as little as 25 minutes, you could get upward of four quarts in an hour.
Features
For a more efficient approach, Cuisinart designed their ICE-30BC so the motor would rotate the bowl while the dasher remained still. So, the bowl and the mixture inside are actually moving.
About the extent of the design features present here are the transparent lid and the manual on/off switch. Outside of this, there is not much to speak of.
Materials
Even though you will need to pre-chill this bowl before using it, it is double wall insulated and will retain its temperature. Also, the body is comprised of brushed stainless steel. It is important that this bowl is able to fit in your freezer so if the 7.8-inch by 6.4-inch dimensions are too big, you may need to look elsewhere.
Overall
If you can live with the earth-shattering noise produced by this machine, you can enjoy a system that can deliver fantastic results in under a half-an-hour.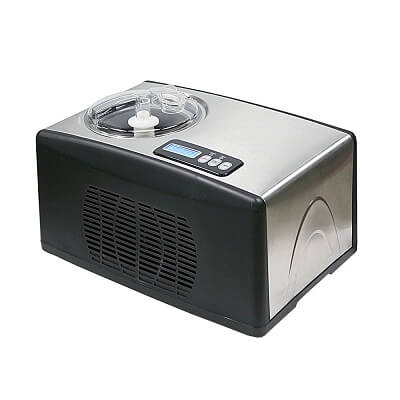 There is a lot to like about the ICM-15LS including its self-contained design that does not require pre-freezing and upgraded motor drive that shuts off to prevent accidental damage.
Read more
Capacity
In around 30 to 40 minutes with this system, you can make around 1.6 quarts of ice cream with this bowl's capacity.
Features
If the mixture happens to freeze solid, the newly designed motor of this model will shut off to prevent potential damage. Plus, the self-contained design, as mentioned, requires no pre-freezing. In addition to the digital temperature display, there is a reliable built-in audible timer that you can utilize. This becomes convenient with different types of recipes.
Materials
This is labeled as a stainless steel machine but that is simply referring to the exterior. The removable bowl and churn blade, in fact, are made with aluminum. Again, this is another top model that sports a large footprint. Get ready to free up a lot of countertop space as you will need it with this unit.
Overall
The ICM-15LS is a model of consistency and its specifications and design feature prove it. If you are still a non-believer, try it out for yourself.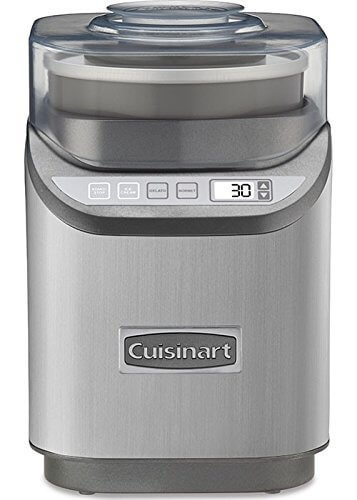 Cuisinart has made a name for themselves on this list alone. It goes without saying that they are an elite company and considering this next model is their worst on this list that is amazingly impressive.
Read more
Capacity
At the simple touch of a button, in no more than 20 minutes, you can make upward of two quarts of your favorite ice cream recipes.
Features
The general consensus amongst the consumer base is that the ICE-70 delivers high-quality results every single time. One of the primary reasons why is the improved paddle design.
While the addition of the LCD time programming is certainly a nice touch, the three settings with multiple speeds are a bit misleading. In reality, there are only two speeds to select from.
Materials
To say that this unit looks the part is selling it short, quite frankly. Its brushed metal housing is both durable and a true site to look at. Plus, the components are BPA-free. One of the advantages of the ICE-70 is that it is designed with an average-sized footprint. Additionally, it only weighs around 13 pounds, which is not too overbearing at all.
Overall
Despite the tad bit misleading advertising and the laughably bad user guide, the ICE-70 is one of the best ice cream makers in the world because of its performance and overall design.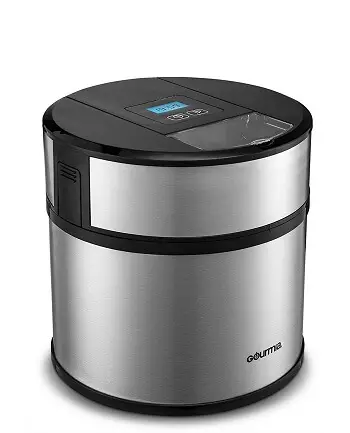 Some small caveats aside, this is yet another highly acclaimed model. But, do note that this system does take a little longer to create the ice cream as opposed to various other models out there.
Read more
Capacity
While the 1.5-quart size is fairly standard, it is a bit disappointing that you need to wait around 40 minutes for the ingredients to reach the desired creaminess.
Features
To save time, which is a bit shocking considering what was just claimed, and ensure enhanced smoothness, this bowl simultaneously churns and freezes. Also, no artificial preservatives or stabilizers are required. In spite of the LCD display which allows for digital control, the timer system integrated can be a little confusing to wrap your head around.
Materials
Each of the removable parts can be washed individually by hand. Furthermore, the exterior of this unit is comprised of stunning stainless steel. This is one of the more compact units on this list and at 8.8 inches by 9 inches by 9.2 inches (with a weight of nearly eight pounds), you should have little to no issues with it.
Overall
Here is the deal; you may have to wait a while to get the finished product but the result will be worth it. Of course, some users will also appreciate the smaller footprint.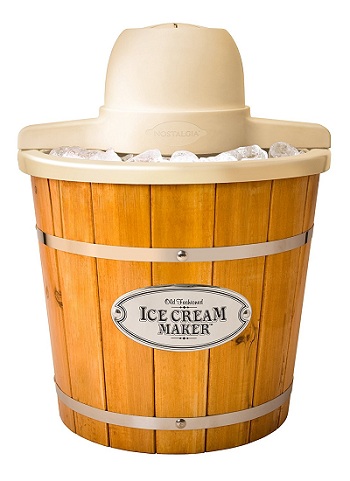 Let's just be honest for a second; this next model does not possess the power of high-end models. But, with a glorious aesthetic and the real wood construction, this is also a great decorative piece.
Read more
Capacity
Inside of this wooden bucket, you can produce up to four quarts of premium old-fashioned yogurt.
Features
As noted in the product description, this actually works best with Nostalgia ice cream mixes. All in all, the motor performs all the work for you but as others have noted, it can struggle when the hardening process begins. For the most part, this is essentially devoid of any design features. It is basically just a wooden bucket but one nice integration is the see-through lid.
Materials
Some buyers will feel that there is too much plastic integrated into this design. But, the non-faux wood construction is reminiscent of old-school models that you would see in classic movies.
With a weight of only 6.6 pounds, this is one of the easier models to lug around. Heck, it could even be considered portable.
Overall
Fans of old-school aesthetics will probably be chomping at the bit to get ahold of this machine. Then again, its lack of power and features could be seen as detriments.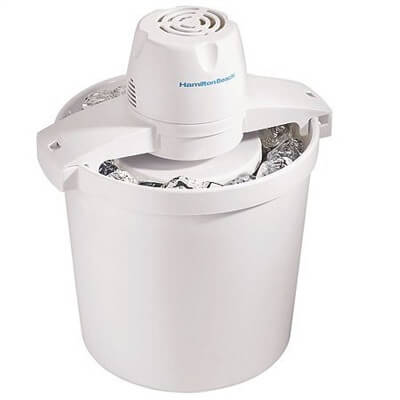 Not everyone is looking for a top-of-the-line model that will make delectable desserts. Sometimes, a simple machine that can produce four quarts of ice cream in 20 to 40 minutes will suffice.
Read more
Capacity
This neat little machine can actually churn out a solid amount of ice cream in around 20 to 40 minutes. As mentioned, expect around four quarts.
Features
Unlike some ice cream makers, Hamilton Beach ensured that their machine would perform all of the work. Indeed, there is no excessive stirring that will be required. Overall, this is a fairly basic model. Then again, this is not much of a shock given its substantially lower price. But, the easy-lock lid is a convenient feature, all things considered.
Materials
Let's just say that this model is not intended for the long haul. After all, the paddles are plastic and the overall construction is made of thin metal. At the end of the day, this is ideal simply because it is arguably the most compact unit on this entire list.
Overall
There is no doubt about it; Hamilton Beach's kitchen appliance is not intended for hardcore users. However, what it is suitable for is a delectable dessert every now and again.

Subscribe to our Newsletter