Best Mini Slow Cookers
In a Hurry? Editors choice: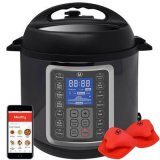 Test Winner: Mealthy 9-In-1

Slow
cooker
, also termed as a crock pot, is a great
kitchen
tool
that can help with your cooking needs. It is specially designed to create delectable one-pot recipes and is excellent in making meats tender. Portable ones save so much space which is perfect for homemakers who only have small areas at
home
. Though limited in size, mini slow cookers can make meals good for at least 3 to 4 people. This amazing cooking appliance has become more and more popular since its invention. According to Consumer Reports, over 80% of families now own a slow cooker. Though variations and features changed over the years, these cooking appliances are improving and becoming more convenient for users.It is definitely budget-friendly and easy to use. There are also mini crock pots with features such as manual, automatic and multi-cooker.
Standout Picks
Criteria Used for Evaluation
Versatility
Slow cookers come with different features. Some are simple and uses manual operation while others are programmable. Choose a unit that will serve your needs well. If it's just basic food preparation for a small group, no need to purchase one that is feature filled. But if you intend to use a slow cooker often and to serve a larger group, programmable and more modern cooking pots and slow cookers will give you more convenience. In checking for features, make sure to prioritize safety. Choose a model that has cool-touch handles as much as possible and tight lids that will not come off easily. Be sure as well that the cooking pot of your choice follows the current safety standards to avoid dangerous and injury-causing incidents.
Style
You have to consider where you will put your cooking item. If you have a spacious kitchen, picking the size won't be a problem. However, if you want a slow cooker that is portable for traveling purposes or one that is compact enough to fit your kitchen space, check the dimensions of the product before purchasing. Aesthetics could be another thing too. Some homeowners have a certain look that they want to follow so it would mesh well with their kitchen. You can go for slow cookers with simple designs. There are slow cookers that come in different colors too, so you may want to check them out if it matches your kitchen tiles.
Materials
Most slow cookers have a stainless steel interior while others use ceramic. Stainless steel slow cookers are known for being better quality as they cook much faster and have a longer life span. Materials used to create the outer layer differ as well. Identify how you would like to use your cooking appliance. Look into which materials they are made from and be sure to read which parts of the slow cookers are certain materials. If you want one that you can reheat using an oven or microwave, choose a model that has ceramic inserts. Ceramic is also much easier to maintain and clean when cooking a meal for a longer period of time it will be hard to clean but with ceramic material, you have better ease of maintenance.
Features
You might get stunned by the many choices of cooking appliance available in the market nowadays but fret no more. Assessing the different features of the product and reading product reviews will help you greatly with this feat.  Slow cookers come in different forms, sizes, shapes, prices, and features. The best way to know which one fits you best is to identify first what your cooking needs are and why you opt to buy one. You will be spending good money for a slow cooker so might as well pick one that will last long. Some slow cookers may seem great at first because of its features only to find out that you can no longer use it after two years or so. Make sure to research about the product's durability and it is always best to spend money on a model that comes with a warranty.
Top 10 Picks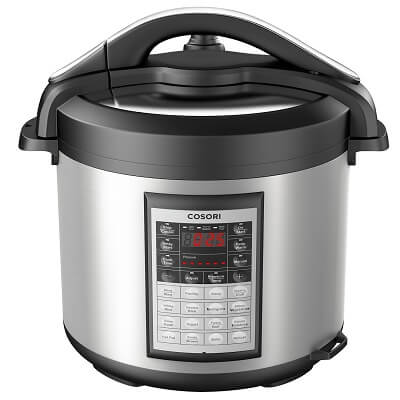 This cooking item is one cooking appliance that can be used in 6 different ways. This isn't your ordinary cookware because it can be a slow cooker, pressure cooker, rice cooker, yogurt maker, steamer, and sauté pan.
Read more
Material make
It's cooking pot and thickened steam rack are made from stainless steel. It boasts a simple but classy design that has quality brushed stainless steel housing that is guaranteed to be fingerprint resistant.
Usability/Versatility
This product has 6 pressure levels and 2 manual pressure cooking modes. The temperature is adjustable and has Fahrenheit or Celcius reading options. The product package includes stainless steel steam rack, tempered glass lid, ladle, measuring cup, rice spoon, and recipe book.
Durability
This product is FDA, CETL and ETL approved which means it adheres to standard safety measures. This is also equipped with additional safety features such as pressure limiter, lid lock safety, anti-clog protection, lid position monitor, pressure auto-control guard, electrical current monitor, excessive pressure protection, temperature controller and excess temperature monitor.
Customer Feedback
This wonderful cooking appliance has been rated 4.1 stars overall by its users. It is well commended for its safety features and is given a thumbs up because it is easy to operate.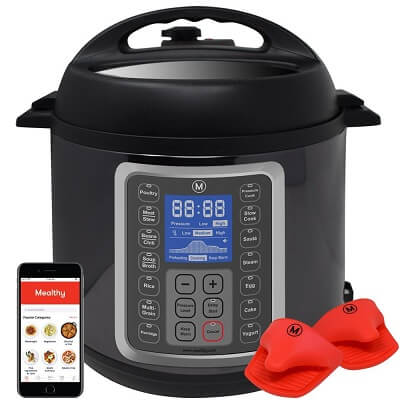 This multi-functional cookware allows you to prepare meals easily without using several different cooking tools and traditional stovetop cooking system. It has 9 programmable settings namely Slow Cook, Pressure Cook, Steam, Sauté, Bake, Yoghurt Maker, Pasteurize, Rice Cooker, and Warm.
Read more
Material make
This wonderful 6-quart multi-purpose cooking appliance has a steamer basket and cooking pot that are made from quality stainless steel.
Usability/Versatility
This item boasts an easy to touch control panel with built-in programmable cooking settings. The pre-set programs may be customized and LCD panel that has progress indicator and intuitive icons. The package also comes with cheat sheets, quick reference manual and a useful recipe booklet for you to enjoy. Other accessories include 4 cm raised trivet, stainless steel steamer basket, extra silicone gasket, rice paddle, ladle, measuring cup and silicone mitts. In addition, there is a bright red float that indicates when the pressure is already reached and a wide vent handle for safety. Upon purchase, you will also get instructions on how to use the Mealthy site and mobile app wherein you can enjoy several healthy recipes and tutorial videos.
Durability
This multi-pot is known to its satisfied customers for its durability. Upon purchase, Mealthy will grant you with a 1-year warranty and free access to its site and mobile app wherein you can check out special healthy recipes and step-by-step cooking videos so you can maximize the use of your Multi-Pot. Mealthy also guarantees that this product went through rigorous safety testing to give its users peace of mind.
Customer Feedback
Mealthy 9-in-1 Programmable Multi-Pot gained an impressive overall rating of 4.8 stars in Amazon. The product is praised by its users for its top quality and multiple cooking features.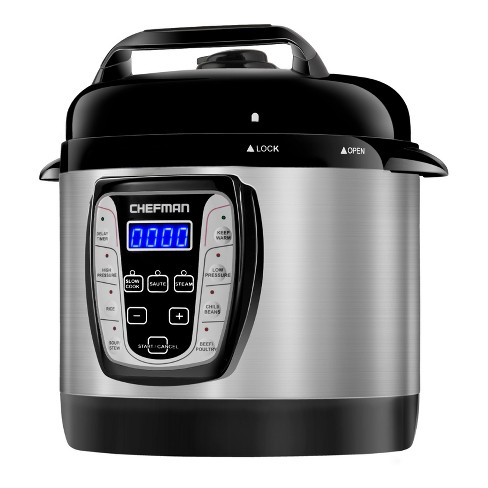 This is a multi-function cooking appliance that allows you to cook meals 70% faster than the traditional cooking system of stovetops. With just one cookware, you can enjoy preparing different dishes at home and with its built-in smart cooking system, this can serve not just as a slow cooker but also a pressure cooker, soup/stew cooker, sauté, rice cooker, steamer, beef/poultry cooker, chili maker, and food warmer.
Read more
Material make
Its cooking pot is made from quality aluminum material and is 100% dishwasher safe. It is also equipped with an easy to lift carry handle while the pot's lid is made from stainless steel with stay-cool finish making it safe to handle and transfer.
Usability/Versatility
This 9-in-1 cookware has built-in programmable feature: Rice, Chili/Beans, High Pressure, Low Pressure, Soup/Stew, Slow Cook, Beef/Poultry, Sauté, and Steam. It also has a Keep Warm option and a 24-hour delay timer making it flexible for different cooking purposes. Accessories that come in the package include measuring cup and rice paddle. It is powered by 1,000 watts and has a maximum capacity of 6 quarts.
Durability
It's cooking pot is non-stick which makes it last longer compared to other cookware. This product is also CETL approved and is equipped with advanced safety technology. Upon purchase, a 30-Day Money Back Guarantee and 1 Year Warranty will be granted by Chefman. You will also have free access to Club Chefman wherein you can enjoy a wide array of easy to create healthy recipes and tutorial videos.
Customer Feedback
This product has been given an overall rating of 4.4 stars. Several users recommend this product for its 9 built-in programmable features and its value for money.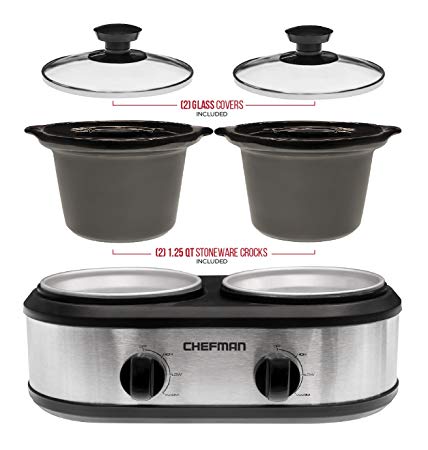 Chefman Double Slow Cooker and Buffet Server can be an excellent appliance for dual cooking. It is equipped with two removable crocks with a total capacity of 2.5 quarts. With these features, you can create two delectable recipes at the same time.
Read more
Material make
Chefman Double Slow Cooker and Buffet Server are made from quality stainless steel material. The glass lids and removable cooking pot insets are 100% dishwasher safe. It also has cool touch handles that will make it easy for users to transport it anywhere.
If you are about to host a small party or just a gathering at home with your family and friends, you will surely benefit from this cookware. With this cooker, you can use 3 heat settings (High, Low and Warm), preparing mouth-watering dishes will now be more convenient without the use of the stove and spending so much time in the kitchen.
Usability/Versatility
This well commended slow cooker is multi-functional making it an excellent addition to your cooking appliances. Each has its own temperature control which makes it easy to cook different types of recipes at once without worrying about following different heat requirements. Its 3 heat settings will enable you as well to create dips, dishes, and soups. Upon purchase, the product comes with Club Chefman access that includes tutorial videos, hundreds of tasty and healthy recipes and personalized guide from a professional chef.
Durability
Chefman Double Slow Cooker and Buffet Server is CETL approved and is guaranteed to have advanced safety technology. It also gives its consumers a 30-Day Money Back Guarantee and 1-year warranty.
Customer Feedback
Chefman Double Slow Cooker and Buffet Server are rated 4.6 stars overall. This product is known and praised for its dual cooking feature and durability.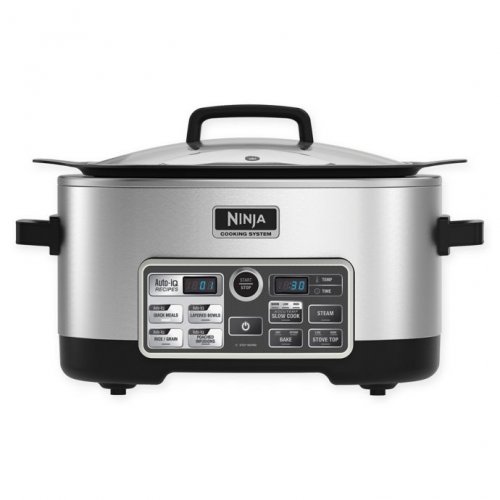 This cooking appliance can work also as a stove top for sautéing and searing, an oven for baking and a steamer. This amazing cookware is best for homemakers who love to cook stews, prepare easy to create meals, roast seafood and bake desserts.
Read more
Material make
The dimensions are 12.5 x 10.25 x 17 inches. It also boasts a slick design with a silver exterior and is made from a high-quality plastic material.
Usability/Versatility
Ninja Auto-iQ Multi/Slow Cooker CS960 has a maximum capacity of 6 quarts with a smart cooking system that allows users to easily cook meals through pre-programmed recipes. It has an automatic stay-warm feature, a steaming and roasting rack, and a digital timer. For precise cooking, you can conveniently program the time and temperature as you cook.
This item's cooking system is equipped with top of the line Auto iQ technology that enables the user to easily choose a recipe, simply add ingredients and the multi-purpose slow cooker will do the rest. There are a total of 80 pre-set recipes from layered bowls, poached infusions, quick meals, and grains. If you have so much to do in a day and would like to have more time to sit and relax, this could be the best solutions for you because of the quick meal option. Layered bowls, on the other hand, are two-step recipes that are flavorful just as much as multi-layered meals and are very easy to follow. If you love quinoa and oats, the Grains feature will work well for you. The last option, poached infusions, are perfect for poached dishes.
Durability
This wonderful cooking appliance is equipped with Accutemp technology that provides calibration on a specific temperature to keep the pot safe. With this feature, rest assured that the cooking system will not get too hot preventing possible accidents and your food will not get burned and it will not over boil.
Customer Feedback
It has been rated 4.6 stars overall on Amazon and is liked for its Auto-iQ system and easy cleaning feature.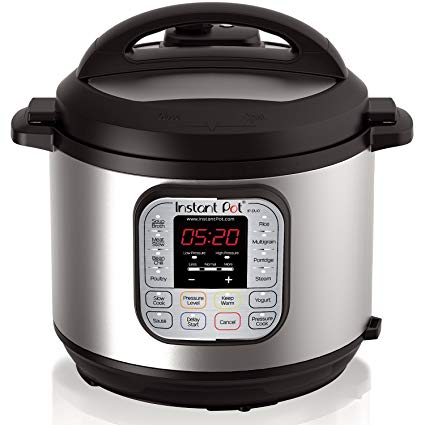 This combines 6 cookware in 1 appliance – slow cooker, pressure cooker, sauté, rice cooker, warmer and steamer. This state of the art cooking monster has 10 built-in programs that you can choose from – meat/stew, egg, soup/broth, sauté, steam, porridge, rice, pressure cook, slow cook and keep warm.
Read more
Material make
Instant Pot Lux Mini 3 QT 6-in-1 has a steam rack, cooking pot, and lid that are made from 304 (18/8) grade stainless steel. It boasts a 3-ply bottom to ensure that heat is distributed evenly. The exterior, on the other hand, contains a large display panel and is made from brushed stainless steel which is also fingerprint resistant.
Usability/Versatility
Instant Pot Lux Mini 3 QT 6-in-1 features a 24-hour delay start timer. This feature will be best enjoyed by families who would like to come home to a delicious warm home-cooked meal after a busy workday. Its Keep Warm feature allows the food to stay in the desired temperature until it is ready to be served and consumed. This multi-purpose programmable slow cooker, pressure cooker, sauté, rice cooker, warmer and steamer can serve at least 2 to 3 persons. The detachable power cord is about 33 inches long which makes it perfect in the kitchen countertop. Other amazing features include pressure cooking up to 240 minutes, automatic keep warm maximum of 10 hours, delay start of up to 24 hours, and sauté in 3 available temperatures. The package comes with the following items upon order: measuring cup, rice paddle, soup spoon, stainless steel steam rack with handles, timetable and recipe booklet.
Durability
This 6-in-1 cooking appliance is guaranteed to be safe as it is designed to alleviate common cooking errors that can cause injury or any harm. It has a steam release feature, safety lid lock, automatic temperature control, anti-block shield, a lid position detector, automatic pressure control, electric and thermal fuse, overheat protection, and leaky lid detection.
With this smart feature, you can easily cook meals with just one button. Instant Pot Lux Mini 3 QT 6-in-1 can accommodate as much as 12 cups of cooked rice. This product's dimensions are 11.50 x 10.51 x 10.50 inches. With its portability, you can bring it with you when having a picnic, traveling, or camping, and enjoy mouthwatering meals with your friends and family.
Customer Feedback
This is rated 4.5 stars overall. Most satisfied users commend this product for its multi-purpose feature and value for money.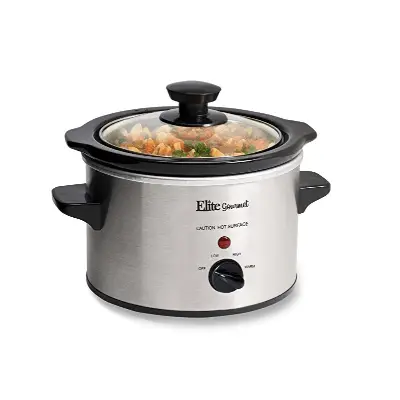 This is great for easy to prepare recipes such as stews, dips, sauces, soups, and meatballs. Its overall size is 11.8 W x 9.6 L inches and has a total weight of 5.2 lbs. This oval shaped pot has a maximum capacity of 1.5 quarts. Although small in size, you will be surprised at the amazing things that it can do to your kitchen especially if you love to create one-pot recipes.
Read more
Material make
This is made from brushed stainless steel with a tempered glass lid. It also has a cool touch knob to keep your hands safe from burning.
Usability/Versatility
This awesome cookware is dishwasher safe so you do not need to worry too much about cleaning after preparing delicious meals. It has three easy to use settings (High, Low and Keep Warm) with an indicator that tells you whether it is turned on.
Durability
Its interior and exterior are made from stainless steel. This also made from quality materials with a lid made of tempered glass.
Customer Feedback
Customers like this product as it is rated 4.5 stars overall on Amazon. Satisfied customers recommend the product for its simple design and reliability.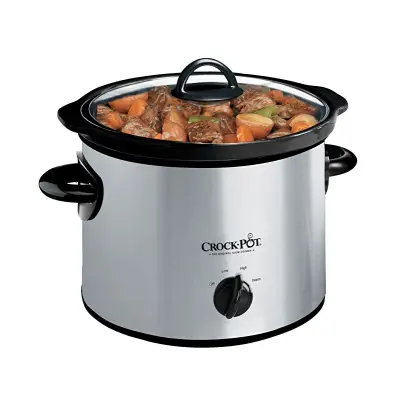 This allows you to cook a delectable meal early and keep it warm all day. Busy people nowadays tend to eat a lot of fast food so if you and your family are craving some amazing home-cooked meals, this is the best mini pot for you. Having this round shaped cookware will provide you the convenience to prepare recipes that are healthy and easy to create.
Read more
Material make
Its exterior is made from stainless steel with polished silver and black accents. It also comes with plastic handles, ceramic inserts and glass lid. Equipped with manual High, Low and Warm settings, coming home to a delicious meal that is served at its ideal temperature will now be a breeze. Its dimensions are 9.8 x 11.4 x 10.4 inches and the product weighs 7 pounds which make it easy to store and clean.
Usability/Versatility
This high-rated slow cooker has the maximum capacity of 3 quarts which can ideally serve 3 or more people. Its stoneware is removable and guaranteed to be dishwasher safe. Upon purchase, the package comes with a recipe book that you can use whenever you want to try cooking meals for your family and friends. It has 3 manual heat settings (High, Low and Warm) and has removable stoneware that you can use as a serving dish.
Durability
The material used for this product is reliable and the brand itself can live up to its reputation. This is very popular for its quality and durability.
Customer Feedback
This has been rated 4.3 stars overall by its users. It is best known for its slick design and value for money.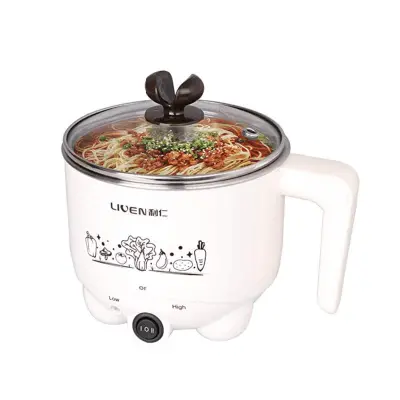 If you want a small cooking pot that you can literally bring anywhere anytime, this could be a great choice for you. This cookware is great for shabu-shabu, noodles, and boiling eggs and water.
Read more
Material make
This product has an interior and steam rack that is made from 304-grade stainless steel and comes with a separate tempered glass lid.
Usability/Versatility
No kitchen and gas? No problem. This slow cooker is going to help you cook with ease. This is a multi-purpose pot that is great for traveling. Basic cooking and boiling is made easy and to top it all off, this cookware can be cleaned conveniently.
Durability
Since this cooking pot is made from good quality stainless steel, it is assured that the product will last long. However, the manufacturer warned about its bottom part becoming rusty over time but it may be cleaned easily using vinegar.
Customer Feedback
It has pretty good customer feedback. It is rated 4.3 stars overall on Amazon. Most users raved over its travel-size built and affordability.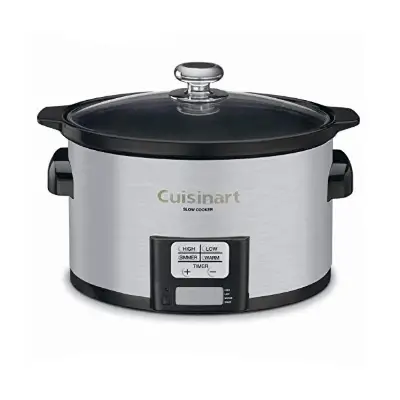 This is an oval-shaped slow cooker that is programmable and comes with 3 ½-quart capacity ceramic pot and 24-hour LCD countdown timer. Its user-friendly touchpad control panel features different cooking modes (warm, simmer, low and high) that are perfect for soup, curries, pot roast, and casseroles. Dimensions are 14.25 by 16.5 by 11.75 inch.
Read more
Material make
The housing is stainless steel while the lid is made from glass which makes it easier for you to keep an eye on your food while you are cooking. It has non-slip rubber feet and side handles that are stay-cool. It is designed according to North American Electrical Standards and is BPA free. The product also comes with a 3-year warranty.
Usability/Versatility
This amazing oval-shaped slow cooker boasts a lot of features that will surely be beneficial for homemakers that want easy cooking. Ingredients are guaranteed to be always moist because of its glass lid. The ceramic pot is stick resistant and will not give you a hard time cleaning because it is dishwasher safe.
Durability
It adheres to North American Electrical Standards and is BPA free. Upon purchase, the product comes with a 3-year warranty. Since it is made of ceramic it is equipped with an efficient heat transfer with a non-stick property.
Customer Feedback
It has been rated 4.2 stars overall on Amazon. Amazingly this cooking product is well commended for its portable size and programmable features.

Subscribe to our Newsletter