Best Mini Slow Cookers
In a
Hurry? Editors choice: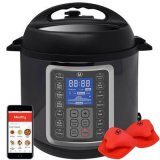 Test Winner: Mealthy 9-In-1

Slow
cooker
, also termed as a crock pot, is a great
kitchen
tool
that can help with your cooking needs. It is specially designed to create delectable one-pot recipes and is excellent in making meats tender. Portable ones save so much space which is perfect for homemakers who only have small areas at
home
. Though limited in size, mini slow cookers can make meals good for at least 3 to 4 people. This amazing cooking appliance has become more and more popular since its invention. According to Consumer Reports, over 80% of families now own a slow cooker. Though variations and features changed over the years, these cooking appliances are improving and becoming more convenient for users.It is definitely budget-friendly and easy to use. There are also mini crock pots with features such as manual, automatic and multi-cooker.
Standout Picks
Criteria Used for Evaluation
Versatility
Slow cookers come with different features. Some are simple and uses manual operation while others are programmable. Choose a unit that will serve your needs well. If it's just basic food preparation for a small group, no need to purchase one that is feature filled. But if you intend to use a slow cooker often and to serve a larger group, programmable and more modern cooking pots and slow cookers will give you more convenience. In checking for features, make sure to prioritize safety. Choose a model that has cool-touch handles as much as possible and tight lids that will not come off easily. Be sure as well that the cooking pot of your choice follows the current safety standards to avoid dangerous and injury-causing incidents.
Style
You have to consider where you will put your cooking item. If you have a spacious kitchen, picking the size won't be a problem. However, if you want a slow cooker that is portable for traveling purposes or one that is compact enough to fit your kitchen space, check the dimensions of the product before purchasing. Aesthetics could be another thing too. Some homeowners have a certain look that they want to follow so it would mesh well with their kitchen. You can go for slow cookers with simple designs. There are slow cookers that come in different colors too, so you may want to check them out if it matches your kitchen tiles.
Materials
Most slow cookers have a stainless steel interior while others use ceramic. Stainless steel slow cookers are known for being better quality as they cook much faster and have a longer life span. Materials used to create the outer layer differ as well. Identify how you would like to use your cooking appliance. Look into which materials they are made from and be sure to read which parts of the slow cookers are certain materials. If you want one that you can reheat using an oven or microwave, choose a model that has ceramic inserts. Ceramic is also much easier to maintain and clean when cooking a meal for a longer period of time it will be hard to clean but with ceramic material, you have better ease of maintenance.
Features
You might get stunned by the many choices of cooking appliance available in the market nowadays but fret no more. Assessing the different features of the product and reading product reviews will help you greatly with this feat.  Slow cookers come in different forms, sizes, shapes, prices, and features. The best way to know which one fits you best is to identify first what your cooking needs are and why you opt to buy one. You will be spending good money for a slow cooker so might as well pick one that will last long. Some slow cookers may seem great at first because of its features only to find out that you can no longer use it after two years or so. Make sure to research about the product's durability and it is always best to spend money on a model that comes with a warranty.
Subscribe to our Newsletter