Best Electric Grills
In a Hurry? Editors choice: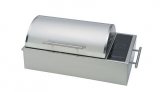 Test Winner: Kenyon All Seasons

When propane and
gas
are just not viable options for you, does that mean you can't have a grill out? Clearly, you already know the answer to this question as that is why you are here today. Some grills do not need gasoline or propane to cook up and seer fresh meats and delicate meals. Indeed, another
power
source is via electricity. Now,
electric
grilling has its advantages and disadvantages. On one hand, they can be used indoors as they do not emit gaseous fumes. Of course, many people will prefer the finished product on a propane grill due to their superior performance. Either way, let's dive into the wonder of electric
grills.
Standout Picks
Criteria Used for Evaluation
Size
There are a plethora of features that come into play when you are looking for the best electric grills on the market. Yet, it only seems fitting to start with the overall size as this can make or break everything. While the girth and cumbersome nature of some grills can make them unsuitable for you, it is more so the size of the cooking surface that you want to focus on. In specific, you need to figure out right away who you plan on cooking for and how many people will be depending on food from it.
If the grilling surface only allows for around 100 square inches of space, you may be able to feed you and a friend tops. For larger families, though, aim for surfaces that can handle over 200 square inches of meats and foods. Without a shadow of a doubt, you would rather have leftover space than constantly requiring more space. The reality is, the smaller space the fewer items you can cook simultaneously and the longer your food preparation will take.
Advanced Features
In addition to the size of the grilling surface, there are also a plethora of design features that are prominent in an electric grill. For starters, it is almost mandatory that a grill sport an adjustable temperature control system. With a fixed setting, the manner in which you cook your food becomes severely limited. Yet, when you can adjust the temperature from 250 to 500 degrees, you can opt to slow cook your meats or sear them. Past this, also keep an eye out for integrated timers and shut off features. Both of these integrations will come in handy if you accidentally forget about your food.
Of course, another vital feature is the addition of a drip pan or splash guards. When you cook meats, juices, fats, oils, blood, and grease will all build-up on the surface and it needs to go somewhere. In the same light, you may also see grills that are designed with a sloped surface and this can allow the aforementioned oils and fats to be transported into the drip tray.
Power Source
It has become a common theme so far and this section will continue it. This "theme" is that a majority of the design elements to look for depending on your preferences. Even though you may not think it at first, the same applies to the power output of an electric grill. While it would seem that the more wattage it draws in the better, it can be unnecessary and just be adding to your electric bill for no reason. If you know that you will be consistently using your grill and will oftentimes be frying up thicker cuts of meat, it is not a bad idea to narrow your search to more powerful motors that can handle upwards of 1800 watts.
Then again, those of you who plan on using it rarely (possibly for camping) to make light dinners and snacks will probably not need to worry about an extensive amount of power. In fact, in this case, less power may be more beneficial to cut down on the energy the grill is consuming. As with size, though, you would rather have too much power than not enough.
Style
While the overall size of the plates is one aspect, the actual design of them is an entirely different dynamic. Not all grilling plates are designed with the same material as some are constructed of aluminum while others from cast iron. No matter, just look for plates that will evenly distribute the heat to prevent both hotspots and cold spots on the surface. In addition, analyze how they are coated and ensure that they are nonstick. Most electric grills will come with this design feature and it is a huge convenience.
However, there are also different styles of plates that will cook your meats in different manners. For example, some models may have two or even five different cooking methods. Examples of such would be a contact grill, full grill, griddle, half-grill or even a Panini press. These different types of surfaces can have an impact on your food's flavor and texture and can make all the difference in the world, quite honestly.
Top 10 Picks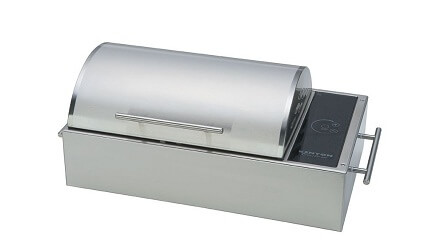 If you are willing to pay a pretty penny, you can invest in the best all-around model on the market. While this is an audacious claim, just let the specifications and design speak for themselves.
Read more
Grill Size
For its price, some may feel the 155 square inches of grilling surface available is underwhelming. But, it can still cook a good amount of meats at once.
Design Features
After 90 minutes of being unattended, this grill will automatically shut itself off. In addition, there is a disposal drip pan and the grill can reach searing temperatures up to 500 degrees.
Grate Design
Not only is the grill plate made from cast aluminum but it has also been double coated to provide nonstick protection.
Power Output
This grill runs off of 11 amps and is UL approved. Additionally, it uses 1300 watts of power.
Ease of Cleaning
For an easy cleanup, both the grill plate and the lid are both removable. On top of this, they can both be placed in your dishwasher safely.
Overall
It may seem asinine to pay so much for an electric grill but know this, you will not regret the purchase if you are serious about grilling and are tired of dealing with propane.

2

. Waring Countertop Griddle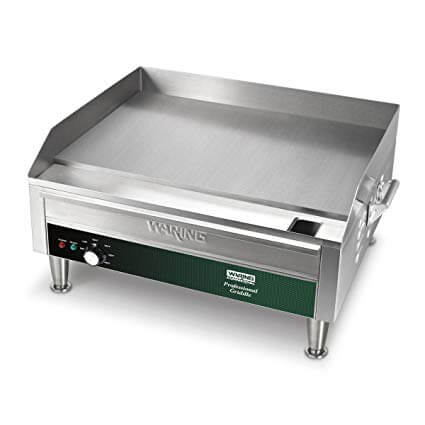 Just by glancing at the actual photos of the WGR140, you can tell that this is a unique grill. What stands out is the metallic plate that is used as the surface as this evenly distributes heat.
Read more
Grill Size
The grill itself measures 9.75 inches by 17 inches but the surface itself is 11 inches in width. All in all, it is small enough to carry around and large enough to make dinner for the family.
Design Features
While the integrated dial allows the temperature to shift from 280 degrees to 570 degrees at will, there are splash guards on the side and also a grease tray.
Grate Design
Unlike a normal outdoor grill, the countertop is constructed with a metallic plate for cooking. Because of this material, it allows for even heat distribution.
Power Output
This is rated with a 120-volt AC, 15 amps and 1800 watts of power. But, because this is designed for home cooking, it should not have too drastic an impact on your electricity bill.
Ease of Cleaning
The cooking surface is completely removable and this aids in the cleaning process. You can merely wash it in the same manner you would your ordinary dishes.
Overall
Without a doubt, you would be hard-pressed to find another model that is able to compete with what Waring has presented. If you do not believe this, try it out for yourself.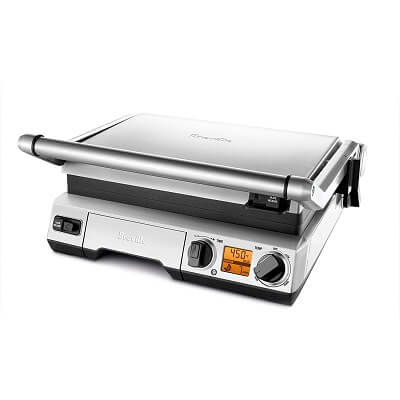 Given that this is dubbed a Smart Grill, it is easy to assume that it is loaded with advanced technology. Well, it can adjust to six different heights and sports a digital display.
Read more
Grill Size
Breville amps up their grill size and provides you with 260 square inches of space. Given that there are two surfaces to cook on when unfolded, space should not be an issue.
Design Features
There are control dials for both the temperature and the time. However, what is convenient is there is an integrated digital display that informs you of the settings.
Grate Design
The plates themselves are made from cast aluminum and are coated with titanium infused Quantanium. Also, the top plate features six different heights.
Power Output
Breville's 1800-watt heating system also sports Element IQ technology to detect when heat has been lost so it can provide rapid heat recovery.
Ease of Cleaning
In order to facilitate the cleaning process, Breville ensured that their plates be removable.
Overall
It is quite possible that this Smart Grill could be your early favorite. Due to the cooking space, design of the plates, and the Element IQ technology, nobody would blame you if it is.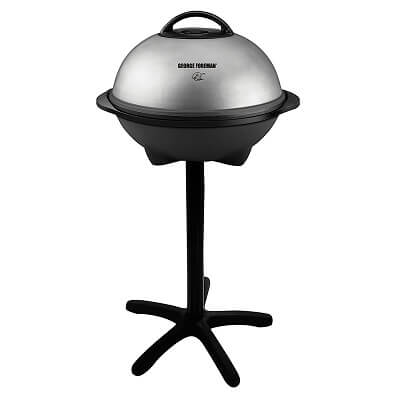 Chances are, you have heard of a George Foreman grill in the past. Well, it just so happens that all the hubbub about George Foreman grills is spot-on and so is this specific model.
Read more
Grill Size
It is claimed that the 240 square inches of cooking space can make over 15 servings for a large number of people. Even if this is exaggerated, it still should be sufficient.
Design Features
With the adjustable temperature probe, you can choose from five different heat settings. In addition to this, the removable stand allows this to easily be used outdoors.
Grate Design
Outside of the fact that the surface of this grill is sloped to help remove fats and oils from meats, it has also been finished with a nonstick coating.
Power Output
This is rated by the manufacturer with a wattage of 1600 and a voltage of 120.
Ease of Cleaning
The drip tray that is designed into this grill is dishwasher-safe and can be easily cleaned after it collects the grease from the grill. Plus, the durable plate is removable.
Overall
While this may work better as an outdoor grill due to its large footprint when used on your counters, it is nice that you have both options available. All in all, few will be complaining about this grill.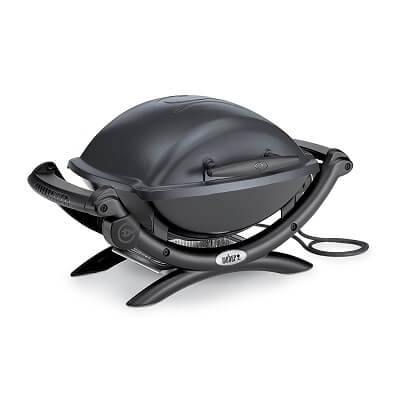 Arguably the aspect that stands out the most when discussing the Weber Q1400 Grill is its construction. With porcelain-enameled cast-iron cooking grates and an aluminum body, attention to detail is there.
Read more
Grill Size
The Q1400 is a small grill that only sports a cooking surface of 189 square inches. While this aids in its compact nature, it can create longer cooking times.
Design Features
Inside the Q1400 are two aluminum heat retention liners that will prevent heat from escaping. Because of this, searing temperatures of up to 500 degrees can be achieved.
Grate Design
As was mentioned, this is designed with porcelain-enameled cast-iron cooking grates. The conductive properties of these grates will significantly aid in searing.
Power Output
1560 watts of power is used to power this unit and for such a small cooking surface, this could be seen as a bit high. But, it will cook your meat in no time.
Ease of Cleaning
While one user raved about the ease of cleaning, a few others agreed to disagree. Of course, even the individual who felt it was easy to clean admitted it takes some time to get used to.
Overall
The scale can be tipped a number of ways when you analyze this grill. For instance, the construction is superb, but the smaller cooking surface could be seen as a concern.

6

. Cuisinart 5-in-1 Griddle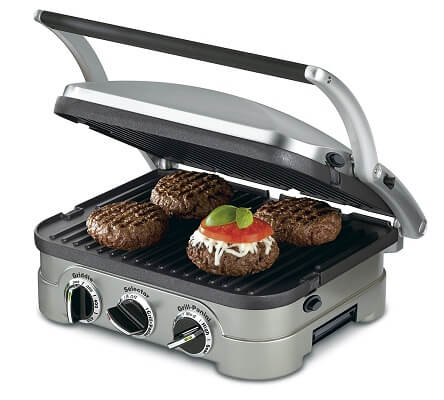 As the name so eloquently indicates, this next griddle has a plethora of uses. With so many styles and manners to cook your meats and foods, the versatility of this model can't be ignored.
Read more
Grill Size
When you feel the need to, you can expand this into the open position for enhanced cooking surface. Speaking of which, the cooking plates measure 11 by nine inches.
Design Features
A plethora of design features make this griddle fantastic including adjustable temperature controls, a floating cover to adjust to food thicknesses and an integrated drip tray.
Grate Design
The plates themselves are coated to be nonstick but the true glory is that they can be converted to cook in five different methods.
Power Output
Cuisinart rates this with a power output of 1500 watts which is pretty darn impressive considering the overall size of this grill.
Ease of Cleaning
Outside of the fact that both the cooking plates and the drip tray are dishwasher-safe, a scraping tool is included for your convenience.
Overall
When one cooking option is simply not enough for your needs, this bad boy will become your best friend. Plus, it can pack a powerful punch for its size.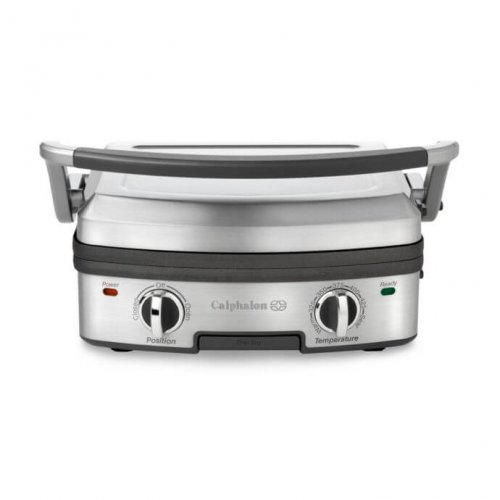 This is yet another grill that features a variety of different cooking options. When you are finished cooking, the clean-up is also made easier with dishwasher-safe components.
Read more
Grill Size
On both the top and the bottom of this grill are cooking plates and when closed, you can get around 10 pieces of meat on it. Yet, this almost doubles when you open it up.
Design Features
The drip tray can be accessed from the front and there is also a temperature range dial that allows you to choose the temperature from 225 degrees to 450 degrees Fahrenheit.
Grate Design
Whether you want to utilize this unit as a Panini press, full grill, contact grill, or half-grill it really does not matter as it is suitable to handle five different cooking methods.
Power Output
This 5-in-1 grill can output 1500 watts of power and is powered with 120 volts of electricity and 60 Hertz.
Ease of Cleaning
When all of the cooking has been finished, you can remove both the drip tray and the nonstick cooking plates and place them directly inside your dishwasher for an easier cleanup.
Overall
Based on user feedback, it seems you may have to be patient with this model as it tends to heat up slowly. Still, if you can acquire that patience the rest of the grill speaks for itself.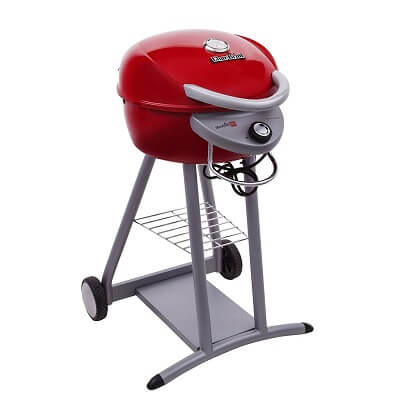 While the positives of this next grill do vastly outweigh the negatives, there are several reasons to love this infrared grill and a few reasons to be disappointed by it.
Read more
Grill Size
On top of the 240 square inches of space provided by the grilling surface, an additional 80 square inches is provided by the secondary grilling rack.
Design Features
With the use of infrared technology, this grill is able to efficiently distribute heat throughout the surface.
Grate Design
The main plate that is used in this grill is coated with porcelain. However, to ensure it does not stick on you, you may have to coat it will oil from time to time.
Power Output
Even though this runs off of a standard 110-volt outlet, it delivers 1750 watts of power. For the output this grill runs off of, the power generated is quite impressive.
Ease of Cleaning
One buyer constructed an in-depth review of this grill and they noted that if you keep up with the oil coating over time, cleaning it should be a snap.
Overall
By looking at this grill, you would probably end up being a bit surprised that it is run off of electricity. While the overall construction is a bit flimsy, the enlarged cooking surface will be worth it.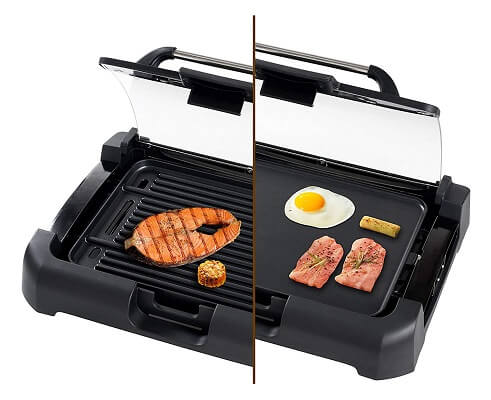 Despite a couple of inconveniences with Secura's grill, the overall design will leave most people satisfied with their purchase.
Read more
Grill Size
Even though this is advertised with a super large cooking surface, the reality is it sports 180 square inches of space which is far from large. Still, it is not minuscule, either.
Design Features
While the grease channels help drain the excess oils and fats away from your meats, the cool-touch handles allow you to open the lid without burning yourself. Also, there is an adjustable thermostat.
Grate Design
This is actually a 2-in-1 design that features a grill and a griddle. Due to the versatility, you can cook a larger variety of meats, foods, and breakfasts.
Power Output
Secura designed their model to run off of a 120-volt outlet and when it is up and running, it will generate up to 1700 watts of pure power.
Ease of Cleaning
Even though the drip tray removes for easier cleaning, there is one big issue present here. Because the glass does not encase the back of the grill, it will splash out the back and create large messes on countertops.
Overall
The 2-in-1 factor of this grill is fantastic and the power generated is very impressive. Yet, some slight caveats may end up scaring you off and that is completely understandable.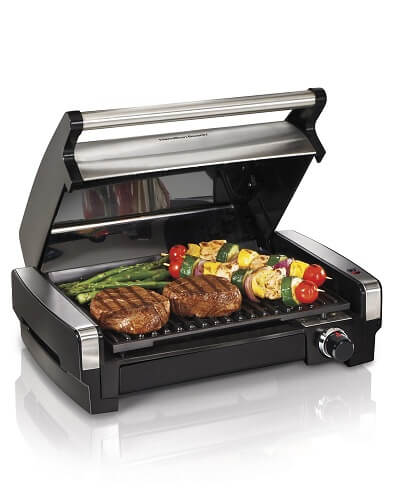 Understand this; this indoor grill is very small and not very powerful. If compactness is your biggest concern, this can still deliver the goods but the cooking surface is quite small.
Read more
Grill Size
At only 118 square inches, this is one the smallest models on this list. As such, this is an ideal compact grill for feeding just a few people at once.
Design Features
Hamilton Beach designed their model to operate from temperatures of 200 degrees all the way up to 450 degrees. In addition, there is an indicator light when it is officially preheated.
Grate Design
One of the benefits of this grill is it is designed with removable and nonstick cooking grids.
Power Output
When the unit is powered, it will get hot but it actually only generates up to 1200 watts of power. This is almost perfect for a camper or an RV but may prove insufficient for a home.
Ease of Cleaning
Again, because the plates are removable they can be cleaned with much less hassle. Furthermore, they can be placed in the dishwasher if you did not want to manually clean them.
Overall
If you can live with the limitations of this grill, you can enjoy a model that really does not have any glaring issues. To be honest, though, it is better suited for camping.

Subscribe to our Newsletter