Best Gas Leak Detectors
In a Hurry? Editors choice:
Test Winner: Kidde Nighthawk

It does not take a master's degree to understand that gas leaks in your
home
can be dangerous. However, with some of them (such as natural
gas
) they will be both
odorless
and invisible and therefore nearly impossible to detect. That is the premise of this guide, more or less, as you need a reliable way to know if one is occurring in your home. You really do not want to screw around with this stuff because outside of being hazardous to your health, it can also lead to a house
fire
. The moral of the story is it may be in your best interest to invest in a gas leak detector (and down below we will document how to).
Standout Picks
Criteria Used for Evaluation
Effectiveness
The performance of a detector will play a direct role in determining its worth that much is for sure.
The entire purpose of a gas leak detector is to detect when a gas leak is present in your home so you can take the appropriate action to fix it to prevent injury, illness and possible death. Now, in order to do this, the device itself needs to perform (as obvious as that sounds). This is not going to be news to you but not all devices will perform with the same efficiency. The question is, how do you (as the buyer) determine which models outperform others? Well, you can look at a variety of different factors to help determine this.
For example, you can assess the type of sensors that are used in each model. There are a variety of different types that can be used such as electrochemical and semiconductor sensors. The former sensors are very selective to the refrigerant and the latter type of sensors are extremely reliable and have a long lifespan. Also, you can assess both the warm-up time and the response time. Both of these are important as the longer the times, the less efficient the model will be. Oh yeah, and lastly, it is always nice when a model has self-calibration to ensure optimal accuracy each time you use it.
Features
Not all models will detect all types of gases so you need to invest in the design that detects what you desire.
Would it surprise you to know that not all gas leak detectors you buy will be able to detect the same types of gases? And, if you know anything about gases, then you know that there are a plethora of different ones that are out there in the universe. But, did you know that each gas is classified into one of three groups? You have inert types which are not combustible at all, oxidizers which are not flammable on their own and also flammable gases which can be explosive when they are mixed with air.
In regard to the types that you should be looking for, there are a few that are common. For example, butane, methane, natural gas, propane, and carbon monoxide (which is produced by the burning of fuels such as some of the ones listed). Just looking at a few of those, you will commonly find methane in both commercial and residential heating fuels. The same can be said about butane and it is sometimes even blended with propane and sold commercially. But, you also need to be cautious of models that are oversensitive to random gases such as water vapor.
Advanced Features
There are a few features to look for that can increase the efficiency of the overall design.
Now that the performance and the functionality are out of the way, let's talk about the actual features. It is important to note that right off of the bat, these devices are not typically versatile. But, with that said, there are a few features to look for that can help with the overall efficiency and convenience. For starters, this is a good time to talk about the alert system. Most systems will alert you of leaks in two manners (visually and audibly). With visual alerts, the actual interface may emit specific lighting that indicates a gas leak has been detected. Yet, if you are not near the device, this will not help you. So, an audible alarm (look for one that is decently loud) can be of use to alert you from a different room. Look for both but if you could only choose one, choose an audible alert system.
Also, some models will come with included gooseneck probes. Typically, the probes will measure in-between 10 to 20 inches and will help to reach tougher locations. They will also come with a tip and they will be compact enough to slip into more compact areas.
Use
This is in reference to the interface and while it does not need to be overly impressive, having a digital display can have its benefits.
Okay, so given that most of the detectors you will look at will be technology devices, it means that you need to take the design of the interface into consideration. In specific, you need to ask yourself if you want your device to sport a digital display. One of the benefits of a digital display is it can sometimes actually display the readout of parts per million for a specific gas. This measurement is an ideal way to determine the severity of a leak. Essentially, this measurement is used to describe the amount of gas by volume in the air and is one of the two most common units to do so.
But, even without a digital display, the interface can be effective. As noted earlier, if there are certain visual alerts you can see on the interface if leaks are an issue where it is sensing. Then again, numerical readout systems are going to be preferred for precision purposes.
Power Source
Most of the time, gas leak detectors will be powered via batteries and this is probably the best option.
When investing in a product such as this, you can never forget the little things. And, in a way, the power source could be seen as a minuscule feature in the grand scheme of things. For the most part, most gas leak detectors will be battery-operated. Clearly, the most convenient aspect of battery operation is you are not limited in your mounting and installing options. Then again, you will need to replace the batteries when they deplete to ensure the unit actually runs. This tradeoff is definitely worth it, though, as you should place the device in an optimal location to improve its efficiency at detecting leaks.
OUR TOP PICKS FOR THE BEST GAS LEAK DETECTORS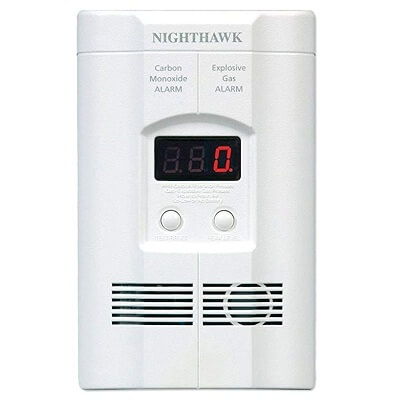 In regard to technology and functionality, this is one of the more versatile units on this list. Now, it does not detect as many gases as other models but it does nail the main ones.
Read more
Performance
The general consensus amongst most reviewers is that the Nighthawk works great when new. As it ages, though, the performance will worsen (but that is to be expected).
Functionality
Implemented into the Nighthawk is a metal oxide sensor that is designed to detect both propane and natural gas (or methane).
Features
There are many features built into this design. For example, it will sound off a piercing 85-decibel alarm when it detects issues and will also recall the highest carbon monoxide concentration detected.
The Interface
Not all models will sport a digital display but the Nighthawk certainly does. With this, it will display the level of gas it is sensing and will update itself every 15 seconds.
Power Source
As if this design was not impressive enough already, it also allows a lot of versatility. This is thanks to its dual-power system (with a nine-volt battery backup) and multiple mounting options.
Overall
At the end of the day, it is tough to go wrong with a Kidde product and you can see why with the design of their Nighthawk. It is designed with the sole purpose of making your home safer.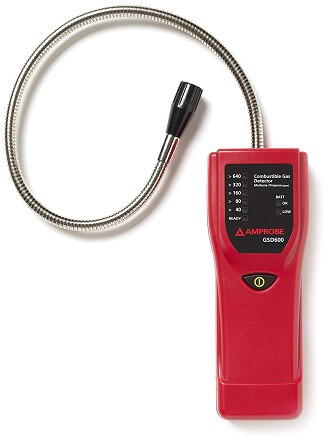 Though you are going to pay the price for this model, you can't overstate how impressive the performance is. In fact, the GSD600 lives and dies with its performance.
Read more
Performance
One of the best aspects of this model is the fact that when you start up, it automatically calibrates to ensure accuracy. Also, this has a response time of fewer than 10 seconds.
Functionality
The semiconductor sensor that is integrated here is able to detect both propane and methane. Also, this indicates the concentration level in parts per million.
Features
In addition to the dual-alarm system, which alerts you of a leak both audibly and visually, this also comes equipped with a flexible stainless steel probe to reach tougher locations.
The Interface
You will see the visual alerts on the interface. Basically, the digital panel has LED lights that will indicate when gas has been detected.
Power Source
This comes with four, 1.5-volt AA batteries installed and these are used to power this unit. What is nice, also, is a built-in automatic power-off feature is integrated to save battery life.
Overall
If you are serious about the health of you and your family, then you should be willing to pay this kind of price. Gee, that was a bit of a guilt trip, huh?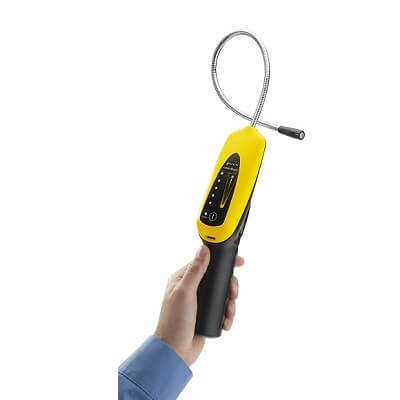 It really is no real surprise that the top two models on this list are arguably the two top-performing designs on the market. As you guessed, this is as effective as it gets at detecting gas leaks.
Read more
Performance
In addition to the fact that no calibration is required and that this warms up quickly, it outperforms other models with twice the sensitivity down to five parts per million.
Functionality
First off, this can detect leaks in combustion appliances such as propane-fired heating systems. As for the gases, this can alert you of combustible ones such as ethanol, ammonia, and propane.
Features
To assist in reaching tougher and more compact locations, this is outfitted with a flexible probe.
The Interface
The interface is far from bad but one user noted that a numerical readout system would have made things even better.
Power Source
All you need to power this bad boy is D batteries. Luckily, these can be bought from pretty much any local retailer in your current city or town.
Overall
Again, this brings with it a higher price tag but when your family's safety is on the line, you would rather have the reassurance of a great performing model than not.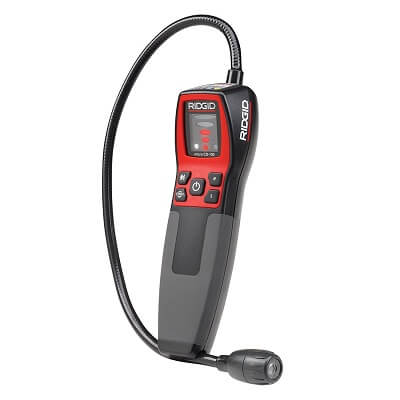 In spite of some minor issues that have been documented by reviewers, the CD-100 remains one of the most impressive gas leak detectors out there. It is perhaps headlined by its tri-mode detection function.
Read more
Performance
About the only caveat here is the long waiting time when you fire this up. Other than that, the CD-100 is equipped with automatic calibration, adjustable sensitivity settings, and an alarm sensitivity of 40 parts per million.
Functionality
The CD-100 is designed to detect combustible gases and this includes methane, ammonia, hydrogen, ethanol, butane and propane.
Features
The aforementioned tri-mode detection system allows you to select between vibration, audible and visual alerts. In addition, it comes with a flexible 16-inch probe. However, this system does shut off automatically after five minutes which seems a bit unnecessary.
The Interface
Though not being the most impressive interface out there, this does have a display and can be controlled via the buttons.
Power Source
Included with your purchase are four AA batteries and you guessed it, these are used to power the CD-100.
Overall
In spite of some really annoying limitations, such as the long waiting time and the short automatic shut-off, this excels (for the most part) when it comes to performance.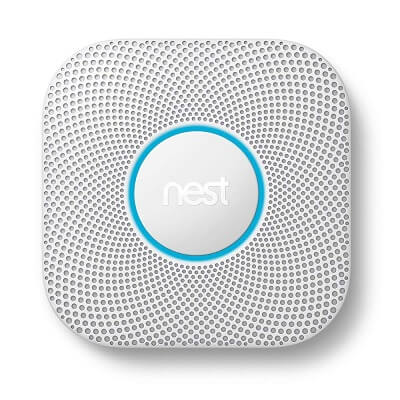 All right, let's just get this out of the way. This model from Nest is a smart device that can act as a smoke alarm and as a carbon monoxide detector (though it does not detect that many types of gases).
Read more
Performance
With both an industrial-grade smoke sensor and an electrochemical carbon monoxide sensor built in, you know that the Nest Protect is ready to perform.
Functionality
Now, on top of detecting carbon monoxide, this is also a smoke alarm. Though it is limited a bit in its functionality, these two substances are critical to detect.
Features
The most convenient feature of the Nest Protect is its wireless technology. You see, it can not only communicate with other Nest devices but it can also sync with your smartphone to provide you information that way.
The Interface
There actually is no interface on the device itself. But, if you sync this with your smartphone you will see the main interface there and it seems clean, for the most part.
Power Source
For your convenience, you can either go with the battery-operated model or the wired version. With the former, it requires six AA batteries (which is quite a lot).
Overall
For the sole purpose of detecting gas leaks, there are better options out there. But, some of you will be digging the smart features and this does efficiently seek out carbon monoxide.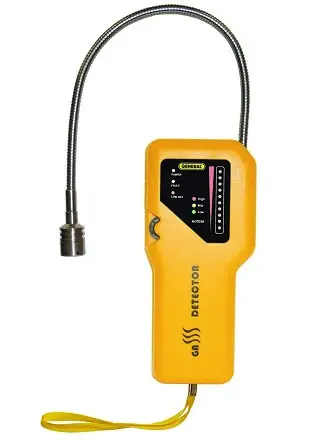 When it comes down to it, there is a lot to love about this next model. Then again, in regard to the performance, it is not the most efficient model out there so be aware of that.
Read more
Performance
There are two areas where this is hampered a bit. Firstly, it takes a long time to warm up (longer than the advertised time). Secondly, it takes a bit of time to register changes and to actually detect the leak.
Functionality
The laundry list size of gases that this picks up is quite impressive. This includes, but is not limited to, propane, butane, pentane, toluene, industrial solvents, lacquers, ammonia, and methanol.
Features
General Tools designed this to deliver both visual and audible indications of leaks. Also, this comes with a long and flexible gooseneck probe to reach tougher locations.
The Interface
While the interface is quite simple, it does have 30-level tricolor LED lights that will indicate potential leaking.
Power Source
For the record, an AC adaptor is included with your purchase. Also, though, this can be run via a NiMH 4.8-volt rechargeable battery.
Overall
Yes, this does have flaws in its performance. But, for sure, they are not enough to ruin this product but you do need to deal with the flaws.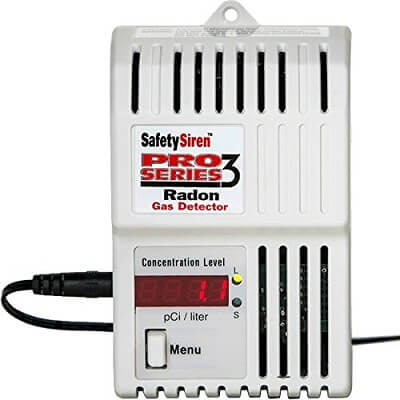 Now, this design is special here. This has been designed with the specific person of monitoring your home for radon gas. But, this is a continuous monitor so you always know your home will be safer.
Read more
Performance
One user pointed out that in the included manual, the specific accuracy claims are mentioned. But, they also mention the accuracy could be enhanced.
Functionality
Indeed, this is designed to detect radon gas. This is a gas that results from uranium breaking down in soil and it can be detrimental to your health. Also, this system provides continuous monitoring.
Features
This is designed with all sorts of features including a failsafe test every 24 hours, a display that updates hourly and an audible alarm if a radon is detected.
The Interface
The digital display itself is easy to view and also shows long-term radon level averages and also short-term radon levels.
Power Source
As some users have pointed out, use a surge protector with this as voltage spikes can ruin this product. Yes, this means it is powered via an AC power.
Overall
Though this is specially designed to only detect one type of gas, radon can be a health hazard and you really do not want to screw around with it.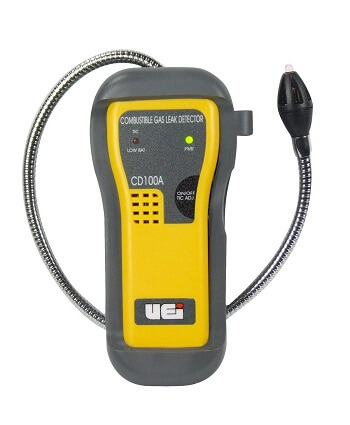 In a way, it is almost ironic that one of the issues with this model is one of its best attributes. This is alluding to the sheer amount of gases it can detect (as it can be oversensitive to non-toxic gases).
Read more
Performance
In spite of the fact that this does not have automatic calibration, it is designed with a semiconductor sensor and this ensures a rapid response.
Functionality
This can detect all sorts of combustible and non-combustible gases including butane, benzene, ammonia, acetone and ethylene oxide. But, this responds to more than UEI claims such as water vapor.
Features
To ensure this is ideal to reach tougher and more compact locations, it comes equipped with an 18-inch flexible hose that sports a tip-based work light.
The Interface
There is not much of an interface to speak about here. Indicator lights are present for low-battery and power but that is about it.
Power Source
Some units will require you to buy special batteries in order to operate them. But, one nice aspect about this design is that it uses a standard nine-volt battery to get the job done (and one is included with your purchase).
Overall
Without question, there is a lot to like about this design. For some of you, though, this will simply not be specific enough as it responds to too many non-toxic gases.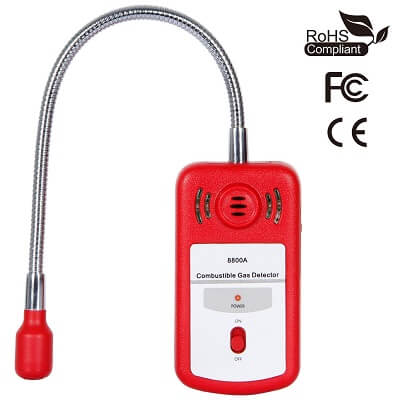 As with anything else, you may simply be seeking high-quality options that are also affordable. Well, feast your eyes on that very option right here.
Read more
Performance
Overall, the high-sensitivity sensor that is used in this model works pretty well. With an advertised warm-up time of 30 seconds, also, it does not take too long to get ready.
Functionality
Being specifically optimized to detect combustible gases, this is able to alert you if methane, propane, ethane, ketone, or toluene (among others) is leaking.
Features
What is nice is thanks to the audible and visual alarms, this will alert you in multiple ways. Also, a 12-inch flexible probe comes included to reach tougher locations.
The Interface
In the nicest way, the interface is severely limited. You simply have to dial in the sensitivity by feel as this will not tell you what levels are actually present.
Power Source
To power this unit, you will need three AAA batteries. For the record, you are not provided with these batteries with your purchase.
Overall
For the price of admission, it is tough to complain too much. This is able to perform quite admirably but some design limitations hurt its overall value.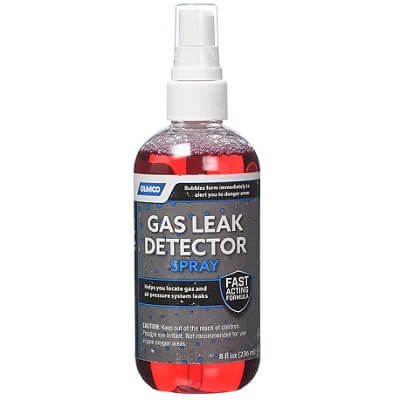 You may have heard of people checking gas leaks merely with soapy water. Well, this spray is similar to that but due to the specific formula, it is a slightly more effective option.
Read more
Performance
In general, most users agree that this works better than simply soapy water. Then again, you have your naysayers that claim this is a waste of money and no better than soapy water.
Functionality
Here is how this works; you physically spray on an area where you believe gas could be leaking. If you see bubbles then your hunch of a potential leak was right.
Features
This comes with a sprayer for application but for the most part, this is a simple design and is devoid of many features.
The Interface
Due to the fact that this is not a device, there is no interface.
Power Source
Once again, this is not a device. There is no power source that is needed. Once the eight ounces is up, you will need to purchase more solution.
Overall
No, this is not a long-term solution to your problems. But, it is an option that is really convenient as you can test any area that you desire (or can feasibly reach).

Subscribe to our Newsletter