Best Dehumidifiers
In a Hurry? Editors choice: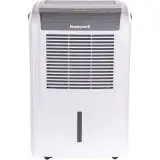 Test Winner: Honeywell DH70W

When the warmer weather hits, you may start to notice the humidity in your home starts to get more intense and this can make the air in your home stale and it is harder to breathe. A dehumidifier will solve this issue as it reduces the humidity in your home and cools down your home or room. It also helps control the water in the air so that you will not get mold starting to develop in your home. In addition to this, though, they can save on your energy costs as your
air conditioning unit
has to contend with less humidity in the air.
Standout Picks
Criteria Used for Evaluation
Capacity
When you are in the market for something such as a dehumidifier, the most important question you need to ask for answers beforehand is how you intend to use it. In other words, are you looking to utilize it in a large, medium, or small room? Or, what about multiple rooms every other day? The entire reason you need to answer this question is that not all models will be capable of covering the same square footage. See, the larger models can reach upward to 2500 to 3000 (sometimes even higher) square feet of coverage. If you are only using it in a smaller area under 1000 square feet, though, this size may be overkill.
In addition to this, dehumidifiers can also be based on the amount of moisture they can extract on a daily basis. Most of the time, these measurements are calculated in pints. As you noticed, most of the high-end models will reach upward of 70 pints of moisture extracted on a daily basis. Clearly, this is ideal for larger areas with much higher moisture content.
Features
At this point in time, alluding to the current era we live in, a technology device that does not sport some sort of digital display feels outdated. The same goes for dehumidifiers and what you will notice about the modern and top-end models is that they typically are designed with a digital interface with a few additional features to boot. First off, the digital interface is ideal as you can physically view analytics such as the humidity percentage in your home and even the current temperature; it just depends on the model.
But, there are also additional design features that some specific models integrate. For example, you may see an automatic shut-off feature to prevent the need to unplug the unit. Also, what about a built-in humidistat? This is a feature, to be honest, that some consumers will simply mandate to be there. With this integration, you can program the unit to operate until a certain humidity level has been achieved.
Size
For those who are curious and are wondering what the machine does with all the built-up moisture, it stores it. Standard models will simply feature a collection reservoir that is used to hold the water. But, eventually, this will reach max capacity and when this does (which will be noticeable when the machine stops running) you will need to empty the bucket. For the most part, this should be as simple as unlatching it and pouring the water down a drain. In this case, look for larger reservoirs that can hold more pints as the more it holds, the fewer times you will need to empty it.
But, what if there were a way to never have to physically remove the built-up water? Well, there is and it is called continuous operation. In order for this to be possible, the model must integrate a drainage port into its design. With this port, you can hook up a standard garden house and route the water to a logical drainage location and run the unit with no worries.
Portability
This just in, these machines can be pretty darn heavy. Okay, so you probably were already aware of that. Most of the larger models will range anywhere from 40 to 50 pounds (for the most part). Even though you could probably lift it up, do you really want that inconvenience whenever you want to move it to a different location? While moving from different stories is still going to be difficult, this is why it is essential for heavier models to sport caster wheels.
Durable rolling casters are pretty much the standard for anything like this and they allow you to roll the unit instead of picking it up. You can never fully appreciate this until you try both methods for yourself.
Top Ten Humidifiers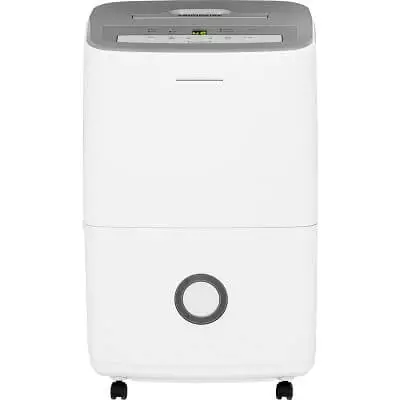 The top unit on this list has been universally hailed by many as the premier model in the world today. Due to its energy star rating and impeccable performance, you are about to see why.
Read more
Dehumidifying Capabilities
As with most of the other top models on this list, this is capable of extracting 70 pints of moisture per day. It can also do so in areas up to 2500 square feet.
Digital Controls
With the modern and sleek control panel that is equipped with electronic controls and a blue LED light, you can control the humidity readout, 24-hour timer, and also turn on control lock.
Removal System
The bucket itself is made up of high-quality materials. For your convenience, though, this is outfitted with the ability for continuous operation; granted you are next to a suitable drain.
Maintenance
To remove the filter, you first need to remove the water tank and then you are granted access to it. Even more so, there is an indicator light when your filter needs checked.
Size and Portability
It is hard to ask for a more portable unit with its integrated side handles, top handle, and caster wheels. Because of the SpaceWise design, you can easily move this from room to room.
Overall
First impressions tend to be everything and when you first use this machine, you will instantly fall in love. The design is nearly impeccable and if the water tank was a bit bigger, it would be.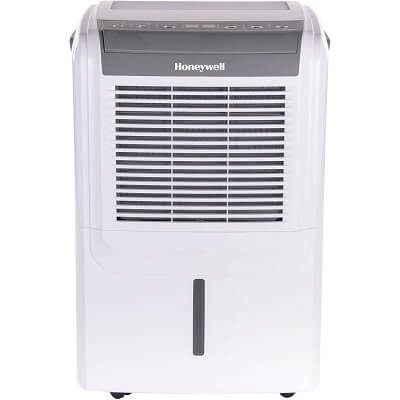 In most ways, the DH70W is as advanced and efficient as the top model on this list. About the only factor that brings it down a little bit is the noise. Let's just say you will know when it is running.
Read more
Dehumidifying Capabilities
Get used to this theme as this bad boy can eliminate 70 pints of moisture per day in medium to large rooms. The maximum square footage recommended is from 2500 to 3000.
Digital Controls
In addition to the dual speeds, there is a 24-hour programmable timer, low-temperature operation, and humidistat control with the use of the smart control system.
Removal System
For an easier disposal of water, the water tank (which holds 14.4 pints) comes equipped with an ergonomic handle. Also, there is a drainage option which makes this suitable for continuous operation.
Maintenance
The air filter that has been integrated will remove dust particles in the air and when it needs maintenance, it is fully washable for an easy clean.
Size and Portability
Honeywell designed their unit with handles on the side and smooth-gliding caster wheels. A result is a machine that can easily be moved throughout your home.
Overall
The DH70W is nearly as good as it gets for dehumidifiers. With the exclusion of the Frigidaire unit that was just documented, this model is the best in the world.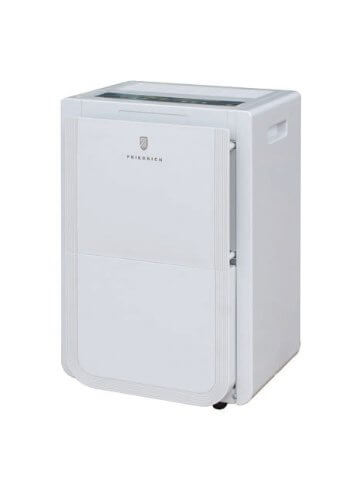 This is the third straight model that is loaded with features that you look for in top-end models. For example, this sports a built-in drain pump that can pump the condensation both horizontally and vertically.
Read more
Dehumidifying Capabilities
On top of the 70-pint removal rate, there is a built-in drain pump and this allows the condensation to be pumped both vertically and horizontally.
Digital Controls
There are digital touch controls mounted on the top of this unit and it allows you to view the humidity percentage, current temperature, and 24-hour timer.
Removal System
The D70BP model comes equipped with dual drainage options. Of course, you can merely remove the water from the condensate bucket or you can hook up a drainage hose for continuous operation.
Maintenance
What is convenient is the filter is both anti-microbial and washable. In addition, it slides out for easy removal.
Size and Portability
Thankfully, easy-roll caster wheels have been integrated on the bottom of the D70BP. Past this, the machine itself can easily be stored in most closets when it is not in use.
Overall
Clearly, this is one of the more popular models in the world. That makes the overall praise of the D70BP even more impressive as even hardcore enthusiasts of the technology recognize it.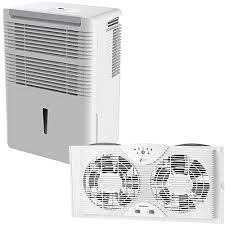 One of the better aspects of Keystone's model is that it provides you with a variety of draining options. On top of this, it has an auto-restart feature that will save your settings in case of a power outage.
Read more
Dehumidifying Capabilities
Even though this is yet another model that can remove up to 70 pints of moisture per day, it is rated to handle rooms up to 4500 square feet which are astounding.
Digital Controls
A full-blown LED display is integrated on the top. With access to it, you can turn on the 24-hour timer, change between normal and turbo, and view any information you need to.
Removal System
With an automatic shut-off feature, the option for continuous operation with its external draining option, and a water tank with a transparent water level indicator, the water removal system is superb.
Maintenance
Thanks to the dust filter that has been implemented, it can be easily removed and cleaned when maintenance needs to be performed on it.
Size and Portability
Keystone decided to design their unit with four caster wheels. Even though it can be heavy, these durable wheels help immensely when attempting to move this beast.
Overall
When looking to dehumidify larger rooms, this model may be the way to go. It is just too bad that Keystone did not take as much time when designing their rather cheap bucket.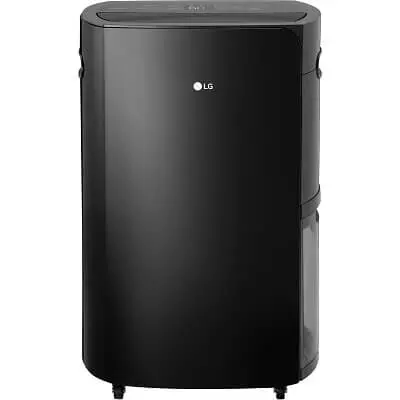 It is clear that LG emphasized safety with their unit. With the combination of the safety standby mode and the internal components that are made of thermally-resistant materials, overheating will almost never be a concern.
Read more
Dehumidifying Capabilities
The PuriCare can efficiently remove moisture in rooms up to 2000 square feet. Per day, it can extract a maximum of 70 pints of moisture.
Digital Controls
On top of the full-function electronic control system that allows you to monitor and control the current humidity levels, you can easily view the large and clear display.
Removal System
When this unit is near a suitable drain, you can hook up a standard garden hose and run the machine as long as you desire.
Maintenance
In conjunction with the convenient water bucket that sports a tray handle, the filter (which removed airborne particles and bacteria) is washable when need be.
Size and Portability
It is quite amazing how something as simple as adding caster wheels can drastically improve the portability of a unit. Clearly, LG understands this and hence, integrated caster wheels.
Overall
Respect has to be given to LG with its emphasis on safety. Of course, it also helps that their high-end model can extract up to 70 pints of moisture on a daily basis.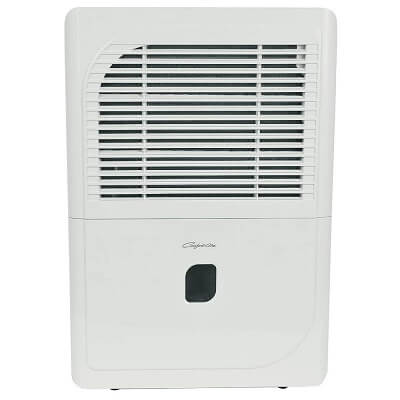 At this point, it is easy to begin to become confused about which models are which. They are very similar in design and such is the case with Comfort Aire's take on the technology.
Read more
Dehumidifying Capabilities
Would it surprise to know that this can capture up to 70 pints of moisture from the air? What about if you knew that it can cover square footages up to 2500? No? That is understandable.
Digital Controls
One of the nicer controllable features of this unit is the integrated automatic defrost feature. When the coil starts to freeze, the system will shut down to prevent any damage.
Removal System
On the plus side, the water that is gathered from this can be drained directly out of the unit with the included adapter. However, on the not-so-plus side, the water reservoir will only hold 12.7 pints.
Maintenance
If you did happen to have any issues with the included components, this is backed by a one-year warranty for the parts. Of course, you can also get a five-year warranty.
Size and Portability
No one will question that this is a beast but once again, what makes it portable are the caster wheels. For dehumidifiers of this size, this design feature is all-but mandatory.
Overall
If something is not broke, why fix it? While this specific entry is quite similar to the others, it follows a tried and true formula and there is nothing wrong with that.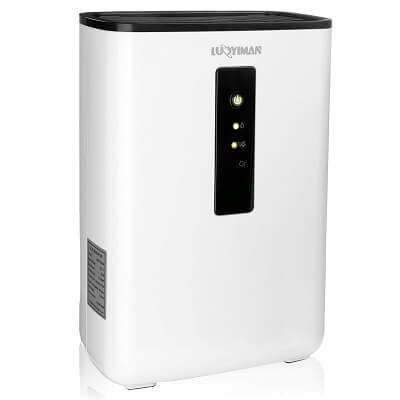 These last few models are better intended for smaller spaces and for those who only need to account for smaller square footage, they can be ideal. Topping them off is this unit from Luoyiman.
Read more
Dehumidifying Capabilities
This also has a UV light, for the record. At its core, though, it is applicable for spaces under 110 square feet. Overall, it can extract around 1080 milliliters (just over two pints) a day.
Digital Controls
As this is a straightforward and basic model, there is not too much to speak of in this department. About all there is, is a power indicator on the front.
Removal System
When the tank is full of water, the system will output a sound signal for you. Also, there is no drainage hose in this unit; which is to be expected at its price.
Maintenance
Maintenance should not be too much of an issue and as long as you stay up on the little things, you should be good to go here.
Size and Portability
All in all, this weighs less than five pounds and because of such, is a very portable machine. Given it is intended for smaller rooms, it makes sense.
Overall
Not everyone is looking for a unit to dehumidify the largest room in their house. Sometimes, you only require a smaller machine that will work more efficiently in tighter spaces.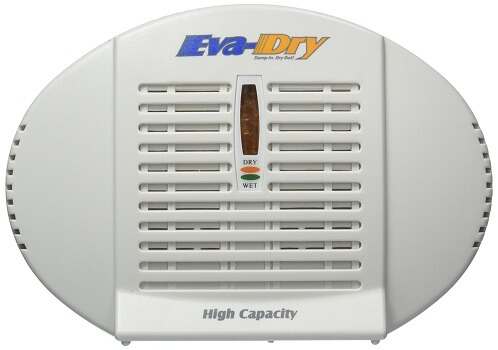 Without a doubt, the E-500 is the most unique model on this list. To be honest, it resembles the appearance of a smoke alarm more so than a dehumidifier. As such, it is only ideal for super condensed areas.
Read more
Dehumidifying Capabilities
The E-500 is not a normal unit and can only remove around six to eight ounces of moisture every four to eight weeks.
Digital Controls
Eva-Dry did not focus on a digital display or fancy features with their E-500. It is as simple as it gets in regard to this technology.
Removal System
No batteries or power sources are necessary for the operation and once it has reached maximum capacity, the pellets need to be allowed to dry. Of course, it will need to be plugged in to do so.
Maintenance
This ingenious design captures the moisture and keeps it contained within its beads. As such, there are no spills or messes to ever deal with.
Size and Portability
To give you an idea of this device's size, you could fit it inside the palm of your hand. Yeah, it is that darn tiny.
Overall
There is no way on earth that this is a long-term solution to your humidity issues. What it is, though, is a logical device for a closet or similar area.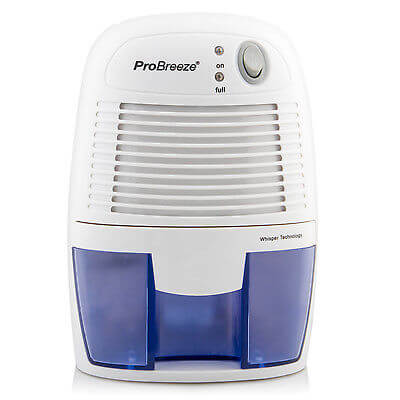 This dehumidifier is a great investment if you are finding that a room is maintaining quite a bit of humidity. It is also smaller and compact, which is great for smaller rooms or perhaps your office.
Read more
Dehumidifying Capabilities
This smaller unit can remove nine ounces of moisture from rooms up to 1200 cubic feet each day.
Digital Controls
The controls on this humidifier are quite basic with a standard ON/OFF switch, but this unit has an auto shut off when the unit is full of moisture captured from the air. This prevents unit overflow.
Removal System
To remove the excess moisture from the room, this dehumidifier has a pull out bin so you can dump the water it has collected throughout the day.
Size and Portability
This unit is quite small which makes it good to transport from room to room, or to another house, if you are going on a weekend vacation.
Overall
This is a great unit if you are looking for something affordable and will take the moisture out of a small room. If you are looking for a dehumidifier to take moisture from multiple rooms, you may want to look at a bigger unit or pick up a couple of these.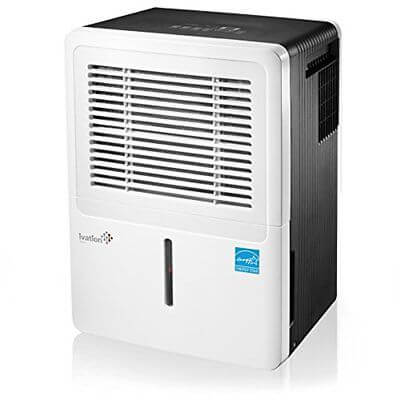 This unit is quite powerful and will take thirty pints of moisture out of the air in rooms up to 2000 square feet. If you are looking to invest in a single dehumidifier unit, and are OK with it taking up more space than smaller units, this is the humidifier for you.
Read more
Dehumidifying Capabilities
This unit can empty thirty pints of moisture from a 2000 square feet space. It is quite powerful and is made for bigger areas. If you live in an apartment or townhome, this is unit is likely suitable for you.
Digital Controls
This unit has a great control panel and is located on top of the unit. It displays the fan speed, timer, and even lets you know when the filter needs to be changed.
Removal System
This unit has a filter located on the back of the unit and a canister that holds all the moisture on the front. The canister has a convenient handle to help empty the water and prevent spills.
Size and Portability
This unit is bigger in size but only weighs 31 pounds for easy transport. It also has a set of caster wheels which makes movement a breeze.

Subscribe to our Newsletter