Best Bilge Pumps
In a
Hurry? Editors choice: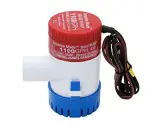 Test Winner: Amarine-Made

If you've ever seen the movie Titanic, you already know there's no better way to ruin a glorious boat ride than by sinking. The only thing keeping you from giving your beloved boat an unwanted and unexpected burial at sea is a functional bilge pump. Without it, you have no way of ridding your boat of
water
that has infiltrated in and putting it back into the body of
water
where it belongs.
Below we have listed the top ten best bilge pumps on the market and will be sure to protect your investment.
Standout Picks
Criteria Used for Evaluation
Value
When selecting the best bilge pumps, we appealed to one caveat: it is better to spend more money once, than a little money over and over again. If we were telling you what kind of steering wheel cover to buy for your new boat, then sure, we would probably lean towards the more inexpensive products. However, bilge pumps are something really important to have on your boat. It would be unwise to utilize a pump that is made from inferior components, or else you will find your beloved boat in the graveyard of other bilge pump-less boats.
Materials
If this is something that is going to be sitting on the bottom of your boat and swallowing up all of the things that lake and sea water contain, it better be made from some pretty strong stuff (especially when it contains electrical components). A superior unit is typically made from ABS plastic because it is incredibly durable and waterproof. Definitely make sure that the shell of your bilge pump is made from a strong and durable plastic.
Another thing we kept an eye out for was how well the unit was designed to keep moisture away from the wires. If you can imagine, a bilge pump is exposed to a lot of water, but it also has a few wires that send electrical currents to the motor. So you can imagine how important it is that the wires (and where they affix to the motor) stay dry. Units that have ignition and corrosion protection were considered superior because they went the extra mile to ensure that the motor stays dry.
Ease of Use
If you have a smaller boat, or just don't want to be bothered with wiring, you can always opt for a manual pump. Manual pumps work much like any type of manual pump, and they can only pump out as much water as your arms are able to provide. If you want to take the time to install an electric pump, it really isn't all that difficult. We tried to select pumps that had an easy installation that didn't require any unnecessary feats with the wires. We also tried to ensure that each pump came with detailed instructions so that you could spend less time preparing your boat for the water, and more time out on the lake.
Power Source
Pretty much all electric models that are currently on the market come with a 12v motor, which is quite standard across the board. Where various models differ is in how much water they can pump out per hour, which is measured in GPH (gallons per hour). A product that claims it handles 500 GPH means that it can remove approximately 500 gallons of water from the bottom of your boat per hour. 500 is generally the minimum for electric units, and anything under that will most likely be designed for ponds, bait tanks, or aquariums. A product that claims it has a GPH of 2,000 means that it can remove up to 2,000 gallons of water per hour, and this is pretty much the maximum amount a single bilge pump can do.