Best Water Leak Detectors
In a Hurry? Editors choice:
Test Winner: Honeywell Lyric

One of the greatest achievements anyone can accomplish is owning a
home
. It is a goal that everyone strives to achieve but the fun really begins after the fact. You see, owning a home brings with it several responsibilities. Where is this all leading to? It is simple; one of those responsibilities is determining if there are
water
leaks in your home. No matter the water system installed in your home or even via the piping, water leakage is a common issue in homes and this can lead to water damage. The logical means to avoid this is to invest in a water
leak
detector and that is exactly what we want to talk about today.
Standout Picks
Criteria Used for Evaluation
Features
All water leak detectors will come with the functionality of detecting leaks. But, some can even do more.
While some advanced features will be covered here in a bit, let's talk about the basics for a little bit, shall we? At their core, all water leak detectors will be able to do just that, detect when a leak is occurring. But, why should you (as the homeowner) care? Let's just say that water damage is something you do not want to mess around with. When exposed to materials such as wood and metal, it can cause rot and rust, respectively. However, what about your pipes? Water damage can cause pipes to leak and even burst and clearly, this is something you want to avoid. Yet, if you do not have a smartphone or do not want to rely on it, ensure that the sensor you purchase has a built-in audible alarm.
Of course, there are a few other sensors that you can look for. For example, you may see both temperature and humidity sensors. With the former, this can help to detect lower temperatures at which your pipes could end up freezing. As for the latter, humidity can cause mold to grow so that one is obvious.
Advanced Features
Some of these units will be able to connect to your home network and others will need an external hub. Then again, some will be as basic as it gets.
Let's talk about the advanced features. At the end of the day, this all comes down to Wi-Fi technology. However, it is not quite as simple as it sounds. Here is the deal; some sensors will be able to manually connect to your home network and others will require the use of an external hub. With these devices, you will need a compatible external hub in order for it to function. It does not end there, though, as the sensor needs to use a connection protocol that the external hub utilizes. Otherwise, they will not be able to communicate. Thankfully, most sellers will indicate the systems with which their device works.
One advantage of using a hub is some of them can connect to some of your smart devices. Not even just your smartphone but even Amazon Alexa. Then, you can trigger different types of alarms such as lights, cameras, or physical sounds. Then again, with a sensor that does not need a hub and one that can connect to your home network, you can get updates straight from your smartphone, which is nice.
Effectiveness
If the detector can't do its job, why buy it? Also, keep an eye on the sound (or an "ear" out).
In order to assess how effective water leak detectors are, you need to first understand how they function. They do not simply magically identify when an appliance or piping has begun leaking. Instead, the legs are typically made with electrical contacts. Then, when something conductive touches them (and in this case, it would be water) it will register as a short circuit. Through a series of events, this will then trigger the alarm. So, some water will need to hit the surface of the area in order for a detector to alert you.
But, some models will naturally be designed to do so more efficiently. Some consumers out there will conduct tests to see how quickly it takes the device to trigger the alarm when it detects water and this can be a good reference. Speaking of the alarm, it needs to be loud enough to hear if you are not relying on your smartphone. In this case, analyze the decibel level (with most being around 100 decibels).
Ease of Use
This is in regard to the installation and where you can place it and if you need to worry about pairing to your home network or an external hub.
Believe it or not, there are several factors you need to consider here. Firstly, some systems will be battery-operated and others will need AC power. For the most part, the former is more popular as it does not limit your mounting possibilities. With a battery design, you can simply place the device in any area that you need to be monitored. Speaking of which, if you need to fit the sensor into tight spaces, look for a compact design that can do so. With AC power, you will be limited to where you have access to a home outlet.
Another factor is if you need a hub and if the system utilizes Wi-Fi technology. If it does not, you will never need to worry about pairing devices together. If you do need to connect the sensor to your home network, you will need a router. Access the included manual and online tutorials if you are unsure of how to connect the device to your network. Also, pay attention to the included app and how intuitive it is.
Battery Life
Not all models will be run with a battery but most of them will. Thus, their battery life is important.
So, this actually goes back to the battery-powered versus AC power dilemma. One of the key advantages to the latter is that you will not need to worry about the batteries as much. Yes, this means that with battery-powered units you will need to replace the battery every so often. Depending on the battery that is included and the design itself, this can sometimes vary from six to 12 months (and sometimes even more than a year or two). It just depends on the batteries you use and the design itself.
OUR TOP PICKS FOR THE BEST WATER LEAK DETECTORS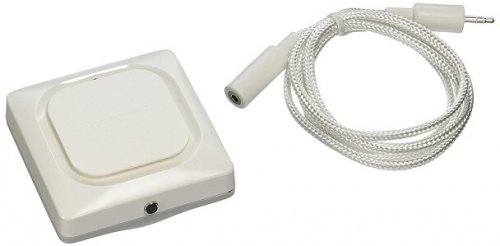 Not all of these devices will use Wi-Fi technology but this bad boy is one of them that do. Due to this, you can receive alerts straight from your smartphone.
Read more
Design Features
Even without a smartphone, this device can alert you audibly. In addition, this system can also detect lower temperatures that can lead to frozen pipes and also high humidity.
Advanced Features
Indeed, this can connect to your home Wi-Fi directly and does not require an external hub. When doing so, you can receive alerts straight from your smartphone.
Effectiveness
This is advertised with an industry-leading 100-decibel buzzer and this will go off when the system detects leaks. Also, there are status LED lights present.
Installation
The unit itself can be placed where you need it and as far as the included app goes, it is fairly intuitive and easy to set up.
Longevity
As with most designs, this is battery-operated. It is advertised that the included batteries will last up to three years before they lose their charge.
Overall
Most consumers and reviewers concur that this system is top-of-the-line. Now, it is not without its flaws but it certainly can be considered the pinnacle of this technology.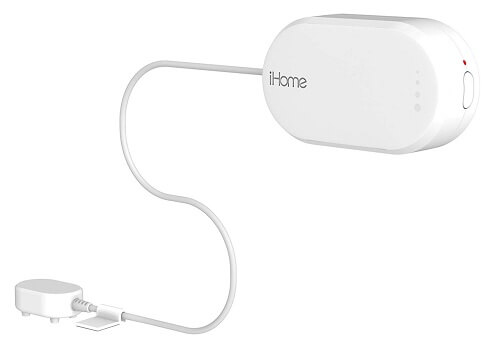 What is really nice about this model is the fact that it sports dual sensors. There is a leak probe on the bottom of the sensor and also an extra-long six-foot sensor probe attached.
Read more
Design Features
Past the fact that this device can obviously detect water leaks, it can also detect temperatures. Depending on your preference, you can have them displayed in either Celsius or Fahrenheit.
Advanced Features
Yep, this provides home monitoring and also 24/7 control with the global remote access. In fact, you can even set push notifications to your smart devices.
Effectiveness
First off, this is going to set off a loud alarm when it detects a water leak. But, it will also send you an email notification just in case you do not hear the alarm.
Installation
As some users have reported, connecting this to your home network can be very finicky. However, due to the compact design, the sensor can easily be placed anywhere.
Longevity
This is battery-powered and not too many consumers have gone out of their way to criticize its longevity, which is always a good thing.
Overall
As soon as you are able to get this device connected to your home network, the rest will be history. While that task can prove to be more strenuous than it needs to be, the end result is worth it.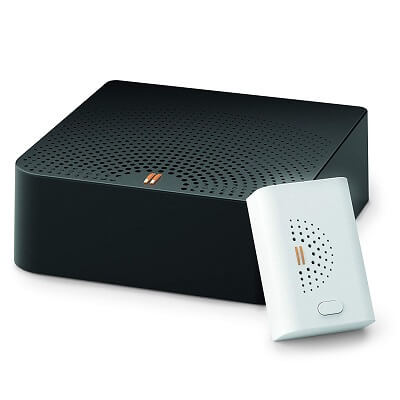 While this system is a bit more expensive, it comes with all the bells and whistles. It can detect water leaks, temperature and humidity, and can also connect to your wireless router.
Read more
Design Features
To reduce the risk of frozen pipes, mold growth, and water leaks, this has water, temperature, and humidity sensors built-in.
Advanced Features
On your smart device, you can access the free Wally app. With this device, you can receive text message, push notification, email, and phone call alerts when the system detects issues.
Effectiveness
Though this works when it is connected to your network, it does so with a limited signal. Some buyers have alluded to this and it seems a better wireless sensor could have been integrated.
Installation
To save you stress, come in expecting this to take some time to configure. Even technology-literate folks can struggle with the set up here.
Longevity
Two AA batteries are included with your purchase and they will probably last around two years. After that, they can easily be replaced, which is nice.
Overall
One nice aspect to this option is it is a complete package. But, you may want to ensure that you can place the sensor in an area that is not too covered (to enhance the wireless signal).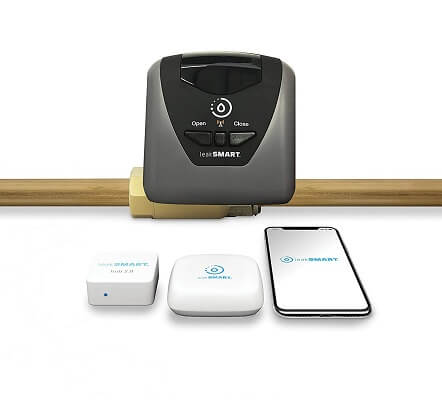 Okay, so, this right here is just the sensor. In order for this to be a complete package, this must be paired with a leakSMART, Wink, or IRIS system. Now, this is worth it as this sensor is terrific.
Read more
Design Features
In addition to the basics, here is something cool if you pair this with the Water Shut-Off Valve from leakSMART. The sensor will send a signal to the external hub and then, with the valve paired, your water will be shut off in five seconds.
Advanced Features
No matter if you have a Wink, IRIS, or leakSMART system, you need one of them for this to work wirelessly. These systems are sold separately, so be aware of that.
Effectiveness
Most of the consumer feedback is positive in regard to the actual performance of this sensor. It seems to be very efficient at detecting leaks.
Installation
Both pairing this with an aforementioned external hub and physically placing this in your desired location could not have been made any easier.
Longevity
The seller of this product indicates a typically battery sensor should last up to six months. Yet, as mentioned, this does depend greatly on the battery you are using.
Overall
If you are okay with spending more money on an external hub, then you can reap the benefits of one of the best sensors on this entire list.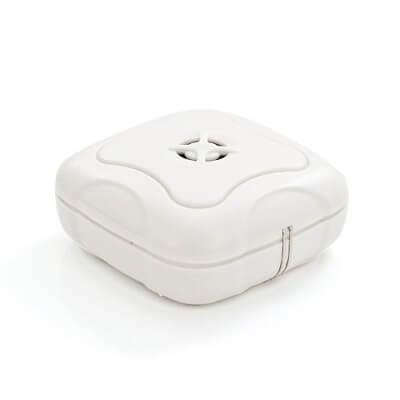 Now, as opposed to the other two units, this system lacks Wi-Fi technology. It is simply a basic device but you know, for lacking Wi-Fi this is an incredible design.
Read more
Design Features
At its core, this is a water detector through and through. But, also, when the battery becomes low, you will be warned.
Advanced Features
Yep, as mentioned, there is no Wi-Fi technology present here. For some buyers, this will not be too big of a deal, though.
Effectiveness
The alarm that sets off can do so for up to 72 hours. But, even though it screeches at 95 decibels, a few users have noted it can be hard to hear on a different level.
Installation
Due to the lack of wireless connectivity, you do not have to worry about it giving you any issues. And, thanks to the compact design, this can be placed discreetly in nearly any location.
Longevity
An included nine-volt battery is required to power this unit. As one reviewer reported, it only lasted them around six to seven months before needing to be replaced.
Overall
In spite of the lack of Wi-Fi, this unit gets the job done very well. It does lack the convenience and benefits of Wi-Fi, though.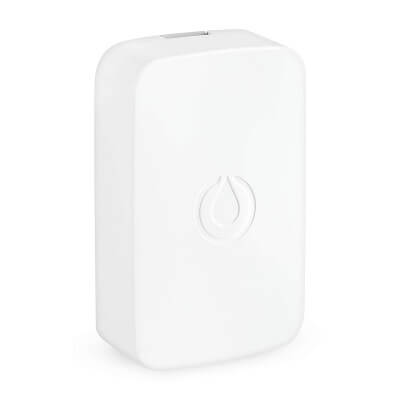 Yes, this is a wireless sensor that utilizes your home's Wi-Fi. But, it can't do it on its own. So, you will also need the SmartThings hub to pair it with this wonderful sensor.
Read more
Design Features
Though this device requires the hub, it also can detect temperature and alert you when issues possibly arise because of it.
Advanced Features
Here is how it works; the sensor will communicate with the hub which will then use your wireless router to deliver alerts on your connected smartphone.
Effectiveness
While this works extremely well, one buyer noted it malfunctioned when on concrete. So, in a concrete basement, this may not be the best.
Installation
This is compact enough to be placed flatly in most locations. In fact, you may even be able to get it completely out of sight.
Longevity
One specific reviewer commented that their system only lasted around a month before needing a battery charge. This will not be normal but note it can happen.
Overall
At the end of the day, it is hard to go wrong with Samsung. Then again, some key issues prevent this from being in the top five.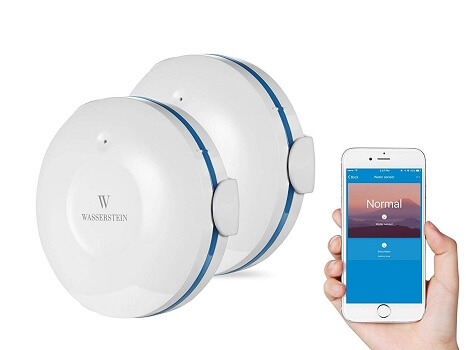 Unlike some of the other designs on this list, this right here does not require an external hub or a subscription service. Instead, with the plug and play app, all you need is your home network and a wireless router.
Read more
Design Features
This is a water leak detector through and through and will alert you the minute it detects leakage whether you are home or away.
Advanced Features
Yes, this has Wi-Fi functionality. Better yet, no external hub is required and you can connect to your home network. When doing so, download the Wstein App from the app store if you have a smartphone.
Effectiveness
This performs as advertised and even if you do not have a smartphone, you will be alerted via the loud audible alarm.
Installation
Little effort is going to be needed for you to both set this up and to place it.
Longevity
In standby mode, this integrated battery can last over six months. However, some users have alluded to the fact that the needed battery is expensive.
Overall
Though this is a Wi-Fi model, it has some limitations that are frustrating (such as no alerts via text or email). Still, it is a compelling design that is not too shabby.

8

. Fortress Security Store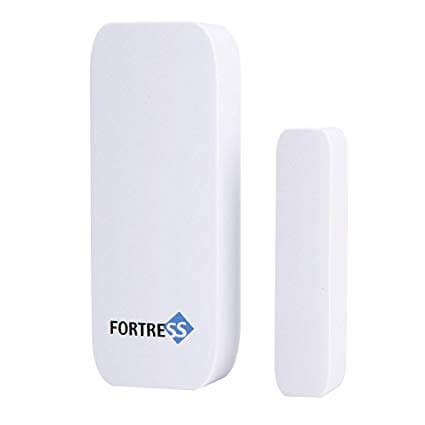 As great as this is, you need to know that it is a float sensor. For an area that collects water, this is going to work very well. But, if you are looking to detect the water before it puddles, this is not the option.
Read more
Design Features
Past its ability to detect water leaks, this device has a temperature sensor and can also alert you of a low battery.
Advanced Features
If you have a Fortress SO2 or GSM Security System, this can connect with them right out of the box. Also, all systems are fully customizable and you can add sensors as you see fit.
Effectiveness
While this is able to detect water up to 200 feet away from the base, it is a float sensor. This means it activates when there is water already in the area.
Installation
The mounting hardware and the necessary battery are included with your purchase. Also, the adapter can accept 110 volts to 240 volts of power.
Longevity
When the included battery is almost depleted, you will be alerted. The good news is the longevity has not been a complaint amongst user feedback.
Overall
To say this sensor is only for a select amount of consumers is an understatement. It simply will not suffice for some needs because it is a float sensor (but it is really good).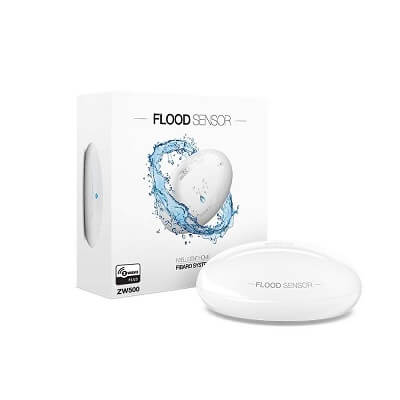 Despite some issues with sensitivity, this flood sensor is equipped with 24-karat gold-plated telescopic probes. These will ensure long-lasting durability and also precise readings.
Read more
Design Features
On top of the fact that this is a buoyant design and can float on top of the water, it has an integrated temperature sensor.
Advanced Features
When you pair this with an external hub (which is required), you can utilize Wi-Fi technology. Some of the systems you can use are Nexia, Home Center Life, and Homeseer.
Effectiveness
As mentioned, sensitivity has been reported as an issue. When paired with a hub, it can struggle to notify that hub that there is a leak.
Installation
In regard to placing this device, you really do not have much to worry about. Pairing it to the hub may be the only issue but even then it is better than most choices.
Longevity
If you did not want to rely on the battery, you could use an emergency back up and connect a 12-volt or 24-volt DC power supply. But, this is sold separately.
Overall
There is a lot to like about this design and even though it is expensive (with the external hub also required), it may be worth the price of admission.

10

. Flood Buzz Archetype LTD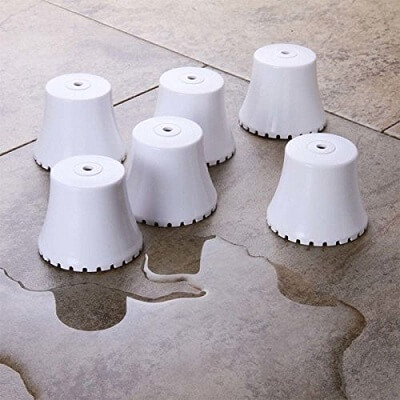 For those of you who admire simplicity, this is at in its purest form. Literally, this set of six detectors can be placed in your desired location and they will start performing.
Read more
Design Features
This device literally is as simple as it gets. While this set will not detect temperature, it will alert you of water leaks.
Advanced Features
All you need to do is place these in areas where leaks can happen and the rest is history. There is no programming or Wi-Fi technology to worry about.
Effectiveness
For up to 24 hours, these sensors can set off a very loud alarm (100 decibels) to alert you. But, despite this, some users have still felt the volume is too low.
Installation
It does not get any easier than this. Due to their compact design, simply place these sensors next to any major appliances or areas that can be prone to leaking.
Longevity
Once the internal batteries are dead, it is recommended by the seller that you replace the entire unit. Also, each one is made of durable plastic.
Overall
Is this a limited design? You better believe it is but let's say this; there are some of you out there who will love the simplicity of this model.

Subscribe to our Newsletter