Best Carbon Monoxide Detectors
In a
Hurry? Editors choice: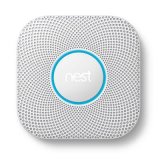 Test Winner: Nest Protect

We all need to be prepared for the possibility of carbon monoxide leaking in our
home
(or camper, RV, hotel room, etc.) as it is a very deadly gas and can be the cause of carbon monoxide poisoning if the exposure level is high enough. On top of this, it is both colorless and odorless and impossible for humans to detect with the naked eye. Every home that has any gas sources needs a detector but it can sometimes be challenging to determine which model is best suited to your environment. This is why we have reviewed the top ten carbon monoxide detectors of 2019, explained their features and why they are the best of the best. Read on to take a step in the right direction toward keeping your family safe.
Standout Picks
Criteria Used for Evaluation
Effectiveness
When it comes down to it, there are two different types of detectors that you can invest in. The first type is one that holds the primary function of a carbon monoxide detector and the other is a dual-detector. On top of being able to detect the odorless gas, these models can also detect smoke and alert you of a potential fire in your home. If you already own a suitable fire alarm system in your home, then you may not be interested in these types but it certainly never hurts to have double the protection.
But, nonetheless, you need to assess the sensor of the detector to ensure its quality and sensitivity. You will see ppm levels, which stands for parts per million, identified as this is how carbon monoxide concentrations are determined. The alarm programmed into the unit will sound when it reaches a certain level and most will do so once the level goes beyond 70 ppm. If you want to be more cautious, though, look for levels lower. Also, you may want to look for electrochemical sensors as these are very stable during temperature changes and will not display false readings due to a reaction with another household chemical.
Power Source
There is no doubt about it, this is one of the most vital design features of carbon monoxide detectors and one you need to spend a considerable amount of time assessing. The reason for this is there are several different power options that you can go with. For example, there are battery operated models, hardwired units, plug-in models, and also combination models. The question is what power source is best? Well, there is no surefire answer to this and it really depends on you.
One of the greatest benefits of a hardwired unit or one that you plug into a standard AC outlet is you never have to concern yourself about the battery life. If you have electricity on in your home, you will always have a functioning detector. However, with a battery operated model you are covered in the instance, there is a power outage. Guess what? This is why some models will sport a built-in backup battery with the ability to be plugged into an outlet. These are combination models and to be honest, may just be the best of both worlds.
Features
Outside of the main design, there are also some additional features that you can look for. For starters, you will see some models integrate smart technology. One of the primary features of smart models is a voice warning system. Basically, this system will warn you of the potential danger the system detects. This could be as simple as the battery level hitting critically low levels or the system detecting a high concentration of carbon monoxide gas. However, not all models have smart features and that is okay.
Even simple features such as the ability to silence the alarm in the case of a false alarm or a peak-level feature to record the highest level of carbon monoxide present can come in handy. And then, there are models that can interconnect. Clearly, the most notable aspect of these detectors is they can be used to create a wireless network around your home. As such, when one alarm sounds they all will sound and inform you of where the danger is coming from.
Visibility
To put it bluntly, there is one major question you need to ask yourself in regards to the interface. There are not too many features that will be present on the interface of carbon monoxide detectors but there is one key one. Basically, do you want a model that sports a digital display? Seems like an easy question to answer, right? Well, let's break down why you would and possibly would not want a digital display.
Probably the only reason you would not want a digital display is combination units will not sport one. That is if it also functions as a smoke detector. However, a digital display can be extremely useful as most will allow you to monitor the current carbon monoxide level of your room. Also, some will be equipped with the ability to see past readings and the maximum reading it has taken. They are not a necessity but certainly come in handy as you can better monitor your home.
Top Ten Carbon Monoxide Detectors
Subscribe to our Newsletter