Best Carbon Monoxide Detectors
In a Hurry? Editors choice: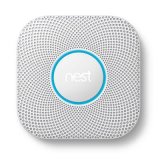 Test Winner: Nest Protect

We all need to be prepared for the possibility of carbon monoxide leaking in our
home
(or camper, RV, hotel room, etc.) as it is a very deadly gas and can be the cause of carbon monoxide poisoning if the exposure level is high enough. On top of this, it is both colorless and odorless and impossible for humans to detect with the naked eye. Every home that has any gas sources needs a detector but it can sometimes be challenging to determine which model is best suited to your environment. This is why we have reviewed the top ten carbon monoxide detectors of 2019, explained their features and why they are the best of the best. Read on to take a step in the right direction toward keeping your family safe.
Standout Picks
Criteria Used for Evaluation
Effectiveness
When it comes down to it, there are two different types of detectors that you can invest in. The first type is one that holds the primary function of a carbon monoxide detector and the other is a dual-detector. On top of being able to detect the odorless gas, these models can also detect smoke and alert you of a potential fire in your home. If you already own a suitable fire alarm system in your home, then you may not be interested in these types but it certainly never hurts to have double the protection.
But, nonetheless, you need to assess the sensor of the detector to ensure its quality and sensitivity. You will see ppm levels, which stands for parts per million, identified as this is how carbon monoxide concentrations are determined. The alarm programmed into the unit will sound when it reaches a certain level and most will do so once the level goes beyond 70 ppm. If you want to be more cautious, though, look for levels lower. Also, you may want to look for electrochemical sensors as these are very stable during temperature changes and will not display false readings due to a reaction with another household chemical.
Power Source
There is no doubt about it, this is one of the most vital design features of carbon monoxide detectors and one you need to spend a considerable amount of time assessing. The reason for this is there are several different power options that you can go with. For example, there are battery operated models, hardwired units, plug-in models, and also combination models. The question is what power source is best? Well, there is no surefire answer to this and it really depends on you.
One of the greatest benefits of a hardwired unit or one that you plug into a standard AC outlet is you never have to concern yourself about the battery life. If you have electricity on in your home, you will always have a functioning detector. However, with a battery operated model you are covered in the instance, there is a power outage. Guess what? This is why some models will sport a built-in backup battery with the ability to be plugged into an outlet. These are combination models and to be honest, may just be the best of both worlds.
Features
Outside of the main design, there are also some additional features that you can look for. For starters, you will see some models integrate smart technology. One of the primary features of smart models is a voice warning system. Basically, this system will warn you of the potential danger the system detects. This could be as simple as the battery level hitting critically low levels or the system detecting a high concentration of carbon monoxide gas. However, not all models have smart features and that is okay.
Even simple features such as the ability to silence the alarm in the case of a false alarm or a peak-level feature to record the highest level of carbon monoxide present can come in handy. And then, there are models that can interconnect. Clearly, the most notable aspect of these detectors is they can be used to create a wireless network around your home. As such, when one alarm sounds they all will sound and inform you of where the danger is coming from.
Visibility
To put it bluntly, there is one major question you need to ask yourself in regards to the interface. There are not too many features that will be present on the interface of carbon monoxide detectors but there is one key one. Basically, do you want a model that sports a digital display? Seems like an easy question to answer, right? Well, let's break down why you would and possibly would not want a digital display.
Probably the only reason you would not want a digital display is combination units will not sport one. That is if it also functions as a smoke detector. However, a digital display can be extremely useful as most will allow you to monitor the current carbon monoxide level of your room. Also, some will be equipped with the ability to see past readings and the maximum reading it has taken. They are not a necessity but certainly come in handy as you can better monitor your home.
Top Ten Carbon Monoxide Detectors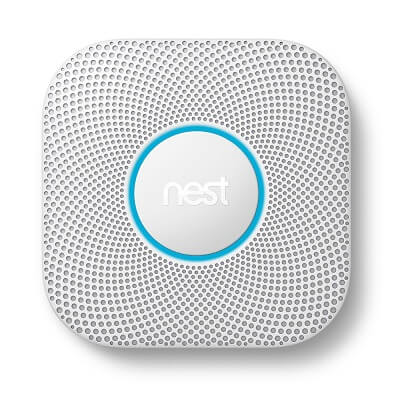 What immediately makes the Nest Protect stand out when compared to other carbon monoxide detectors is its integration of Wi-Fi functionality. Due to this, you can utilize your smartphone and the appropriate app to receive vital alerts and information.
Read more
Main Design
This is both a carbon monoxide detector and also a smoke detector. As a smoke detector, it uses two wavelengths to detect smoke and can also communicate with a Nest Thermostat to automatically turn the heat off.
Power Source
A nice bonus is that you can select the power source you prefer. You can either choose a battery operated model or a wired model. Either way, both can be synced with your smartphone.
Design Features
In conjunction with the corresponding app, you can receive phone alerts to ensure you know exactly what is going on, perform a safety checkup that will test all the alarms, and even hush all your alarms.
The Interface
While there is no digital display, the interface is very unique. When you turn off all the lights, you should see a green glow coming from the detector and that indicates it is performing like it should.
Lifespan
Nest improved their carbon monoxide sensing algorithm and the result is an improved sensor that is rated to last 10 years.
Overall
Probably the only reason one would not want this detector is if they do not have a smartphone. It will function without one, but without the app, you are missing out on all the great features.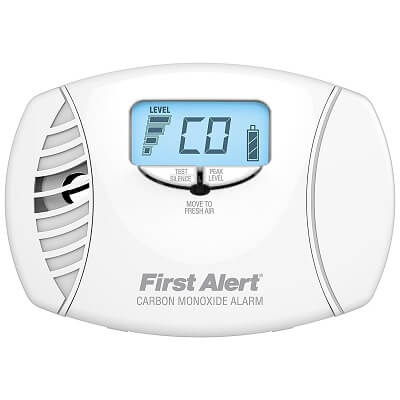 While some consumers will be disappointed to know that the digital display on the CO615 only shows the carbon monoxide levels when they exceed the safe zone, everyone can revel in the electrochemical sensor that is used to detect the carbon monoxide levels in the first place.
Read more
Main Design
The CO615 is not designed as a dual-detector and instead only utilizes an advanced electrochemical sensor to detect the lowest of carbon monoxide levels.
Power Source
While this is not a dual-detector design, it does feature multiple power sources. The first of which is with a standard outlet and if the power goes out, you can use the battery backup (which uses two AA batteries).
Design Features
Outside of its main design, you can utilize the silence/test button to both silence a false alarm and test the device to see if the alarm is working correctly.
The Interface
First Alert designed their CO615 with an excellent digital display; expect, there is one minor caveat. The carbon monoxide levels will only be shown if they exceed the safe amount.
Lifespan
Being both UL listed and backed by a seven-year limited warranty, you can take comfort when buying this model. Yet, a few users have seemed to have longevity issues with some of the alarms when they order them in packs.
Overall
The slight concerns and caveats aside, First Alert proves once again why they are one of the best in the business. They have become one of the most trusted designers out there and their CO615 proves why.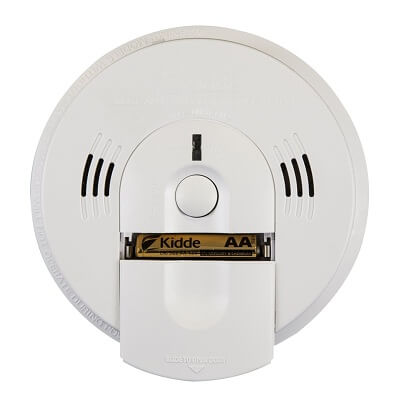 This is yet another dual-design in that it functions both as a carbon monoxide detector and smoke detector. In fact, the system is designed to alert you of four different announcements to ensure you know exactly what the danger is.
Read more
Main Design
While the two main functions of this device are to detect both carbon monoxide levels and smoke, the smoke detector only utilizes ionization-sensing alarms and not photoelectric alarms.
Power Source
AA batteries are required to power this device and you need three of them. While other brands will function adequately, it is recommended in the product description to use Polaroid.
Design Features
There are four different announcements that this device will make. It will alert you of low battery warnings, if it detects smoke or dangerous carbon monoxide levels, and if the hush mode is activated.
The Interface
No digital display is present and the hush button on the front has drawn negative feedback from users. Also, there is a label on the back that indicates the manufacture date.
Lifespan
To know this design is of the highest quality, it has been UL listed and is also backed by an impressive 10-year limited warranty.
Overall
The fact that this is the 4th best detector from Kidde says a lot about the company. It doubles as a smoke detector but per their recommendations, you still may need a separate device that utilizes photoelectric alarms.

4

. Sensorcon Tester & Meter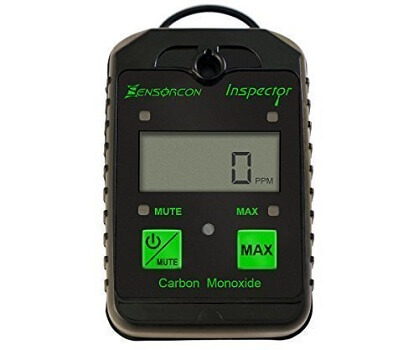 As previously alluded to, carbon monoxide can appear and attack you anywhere. Hence, it is not a bad idea to carry a portable detector with you when you travel. Well, this next model is 100 percent ideal for that thanks to its rugged design.
Read more
Main Design
Most of the units on this list have been ideal for home use. However, this is a portable detector with a waterproof and impact-resistant core that can be used to monitor carbon monoxide levels in locations such as a hotel room.
Power Source
This device utilizes a CR123a photo battery and it is only rated to last up to two years. Thankfully, the battery is replaceable and not terribly expensive.
Design Features
All you need to do to turn this on is to press the left button which is the power. But, you can use the Max mode and this allows you to display the maximum concentration the device has measured.
The Interface
As this is a handheld device, there is an LCD display present and it is quite large and highly visible. It will display for you the current carbon monoxide levels of wherever you are.
Lifespan
Unfortunately, the sensor in this detector has a limited lifespan. In fact, it is only rated to last around two years and needs to be calibrated every six months.
Overall
An improved sensor, in terms of its life and not its accuracy, could have taken this to another level. As it sits, though, it is an ideal portable carbon monoxide detector for those who will find use out of it.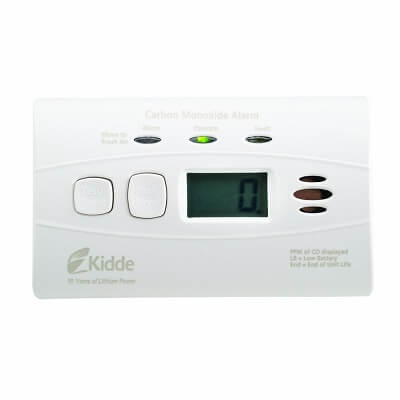 Kidde is one of the most consistent manufacturers when it comes to designing high-quality carbon monoxide detectors, right up there with First Alert. Their C3010D model is arguably the most advanced model in the world with an astounding 10-year battery and 10-year sensor life.
Read more
Main Design
Kidde claims that per the claims of major manufacturers, their Nighthawk electrochemical sensor is the most accurate sensor in the world (at the time of its release). Plus, it 85-decibel alarm will easily wake up the average sleeper.
Power Source
This is where this detector separates itself from the competition. There is an integrated lithium-ion battery that has been sealed inside. It is maintenance-free and is rated to provide 10 years of continuous power.
Design Features
As soon as this device is attached to the bracket, it will activate. Also, the test and reset button will both test the alarm and rest the memory. Finally, a tamper-resistant feature prevents a disabled alarm from being installed.
The Interface
The C3010D detector does sport a digital display and the carbon monoxide level of the current room will be updated every 15 seconds to ensure it is as accurate as possible.
Lifespan
Much like the battery, the integrated sensor is rated to last 10 years. Even better is that Kidde backs up this device with a 10-year warranty; which means it is covered to the extent of its lifespan.
Overall
About the only aspect this is missing is functionality as a smoke detector but as a standalone unit, it is hard to match what this brings to the table. Clearly, its longevity is its strongest asset.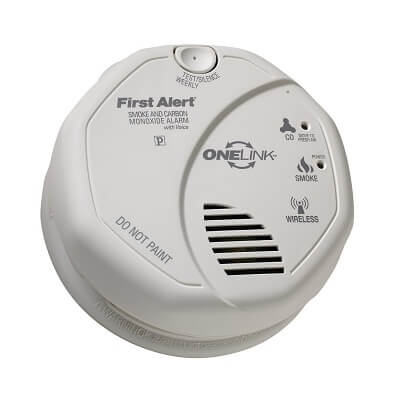 When it comes to carbon monoxide detectors, this next manufacturer knows a thing or two. First Alert's OneLink model is unique in the fact that it can interconnect to other OneLink-enabled alarms to provide your entire house with protection.
Read more
Main Design
First Alert designed their OneLink, Series SCO500, to be both a smoke detector and carbon monoxide detector. It uses an electrochemical sensor for carbon monoxide and a photoelectric sensor for smoke.
Power Source
There are no cords that you have to worry about and when the power goes out, you are still good to go as this is powered via batteries.
Design Features
Built into this system is a voice alarm to alert you to where your problem is located. But, the true genius in this design is its ability to interconnect with other First Alert OneLink alarms to create a wireless network of alarms.
The Interface
This is devoid of a digital display but does have clear indicator lights for power and if carbon monoxide is detected. But, linking other units together can be tricky with the one-button configuration.
Lifespan
When the end of its life draws closer, there is an end of life timer designed into this model. For seven years, though, First Alert has you covered with its warranty.
Overall
Even as a standalone unit, this is impressive with its dual functionality. However, when you start linking OneLink alarms together you can begin to protect your entire home from potential danger.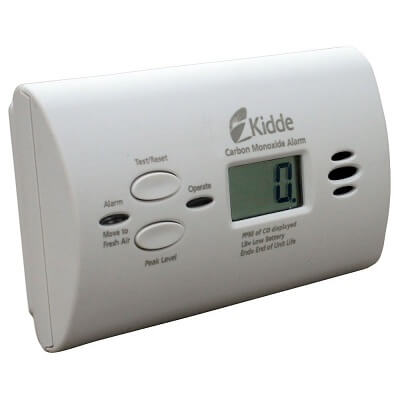 Kidde is showing off their dominance so far in this list but it is certainly more than deserved. Much like with their Nighthawk, this detector also sports a digital display and also a battery operation with a battery safeguard.
Read more
Main Design
The main design purpose of this detector is to warn you of dangerous levels of carbon monoxide that are present in your household. When the alarm goes off, it sounds at 85 decibels.
Power Source
This model is actually powered by batteries and batteries only. However, what is nice is there is a battery safeguard that makes it hard to close the cover if there are no batteries installed.
Design Features
At the heart of this design is an LED lighting system. Basically, a green LED will flash periodically (around once every 30 seconds) to inform you the alarm is operating. Then, a red LED will pulse to indicate unsafe carbon monoxide levels have been detected.
The Interface
Per the usual with Kidde detectors, the digital display on this model will indicate the current carbon monoxide level of the room and update itself every 15 seconds.
Lifespan
It is expected that this model will last seven years before the sensor becomes inadequate. To give up peace of mind, also, it is backed by a limited five-year warranty.
Overall
At this point, you almost already know what to expect from Kidde. If you want to nitpick a little, however, various users have explained it is difficult to gauge if this is properly working.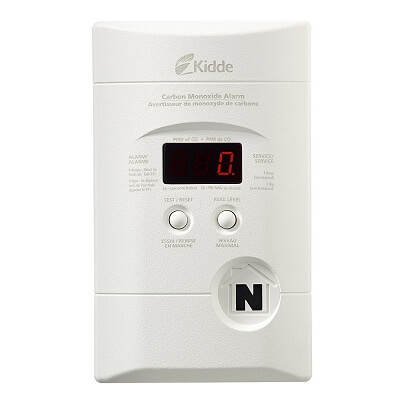 One of the most vital characteristics of a carbon monoxide detector is its power source and what it is nice about the Nighthawk is it has two power sources. While you still need the battery installed at all times for it to function, it can be powered via a standard AC outlet.
Read more
Main Design
Although this is a standalone carbon monoxide detector, it does so with the utmost efficiency. This is thanks to its intelligent electronic components and sensor technology.
Power Source
Included with the Nighthawk is a 9-volt battery that can be used as a backup in case of a power outage. Yet, this can also be plugged into a standard AC outlet. But, as previously mentioned, the battery still needs to be inside for it to function.
Design Features
To ensure the system is working properly, there will be a blinking dot in the lower right-hand corner. Additionally, when triggered, the alarm will set-off four audible beats every five seconds.
The Interface
This incorporates one of the better digital displays out there. It will not only show off the peak carbon monoxide level that has been recorded but it will also update the current level every 15 seconds.
Lifespan
The Nighthawk has been rated to last up to seven years and is UL listed. Also, it is backed up by a five-year warranty.
Overall
Whatever compelled Kidde to design their detector to only function with the battery installed is a bit confusing. Still, having the backup power source is ideal for power outages and everything else speaks for itself.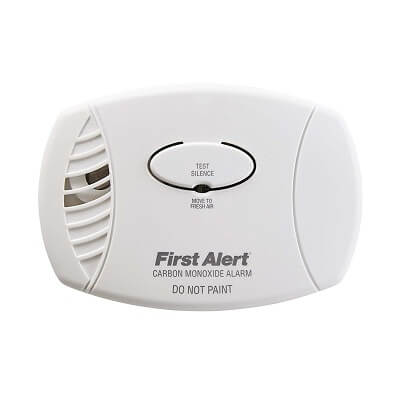 While the CO400 does not have multiple functions or power sources, it is notable because of its electrochemical sensor. With that being said, this is a rather basic model that is practically devoid of advanced features.
Read more
Main Design
First Alert integrated an advanced electrochemical sensor into their CO400 and it is able to detect elevated levels of carbon monoxide.
Power Source
One 9-volt battery is required to operate this device and it does not run off of AA batteries.
Design Features
When you need to, you can silence the alarm when it blares from this device. Also, you will be alerted when the battery is running low on power.
The Interface
Only a single button on the interface both silences the alarm and tests the detector and there is no digital display. However, there is a low-battery light and "move to fresh air" indicator.
Lifespan
First Alert rates the CO400 detector to last around five years and they protect your investment for the entirety of its lifespan with a five-year warranty.
Overall
If basic is all you crave, then basic is what you shall get with the CO400. There will be no boasting about its plethora of features but it gets the job done and does so efficiently.

10

. MTI Industries Safe T Alert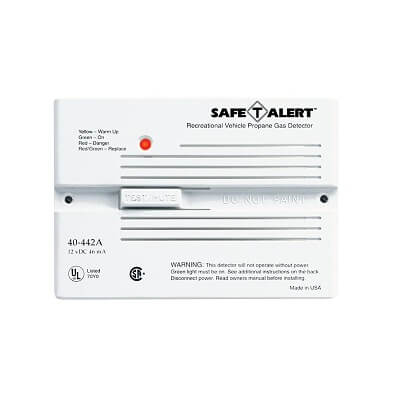 Unlike the other detectors on this list, this next model is intended for use in motorhomes and RVs. Carbon monoxide gas can become a detriment anywhere you travel; including in your camper or motorhome.
Read more
Main Design
Not only is this designed to be installed in rugged RV environments such as Class A motorhomes and Class B van campers, it is also a flush mount design.
Power Source
Instead of being battery powered, MTI Industries built their Safe T Alert with a circuitry system to conserve battery power. While electrical power is required, you never have to worry about dead batteries.
Design Features
While your RV or camper is being ventilated, you can silence the alarm to prevent it from sounding. Also, the rapid recovery sensor will reset after it has been silenced.
The Interface
The aforementioned silence button is on the interface as well as an indicator light (and proper labeling to indicate what each light color is designed for). But, there is no digital display.
Lifespan
MTI merely rates their sensor of having a long life and one nice thing about it is it cleans itself ensuring zero maintenance required on your end.
Overall
The Safe T Alert system is only going to be useful for those of you who need a carbon monoxide detector installed in your RV or motorhome. But, honestly, there is not a better model you will find for this purpose.

Subscribe to our Newsletter