Best Folding Step Stool
In a
Hurry? Editors choice: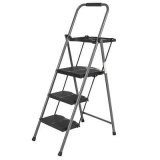 Test Winner: Best Choice Products

When it comes to household chores, safety should be given utmost importance. For example, you may need something to stand on when reaching some
utensils
in your kitchen cupboard. Likewise, cleaning your ceiling may also require a
comfortable
and safe means to do so. Otherwise, accidental falls or injuries may inevitably happen and if the proper tools are used this can be prevented. This is when step stools can come in handy. One of the most taken-for-granted household tools ever is the step stool. You won't have to stand on your tiptoes to reach that bottle of vinegar in your
kitchen
cupboard. Moreover, you also won't have to drag a random chair just to reach something even when you're dusting your ceiling fan during spring cleaning. There are many different types of step stools in the market nowadays. Below we have done the research and listed the top step stools to make your life easier.
Standout Picks
Criteria Used for Evaluation
Size
In choosing a step stool, you would have to know first the item's product specifications. One purpose is to determine how big or small the stool is. Another reason why you need to determine its specs is for you to buy the right stool for the right purpose.
Will you use simply to reach the cupboard? Will your child also use this to reach the sink? Will you also use it for other tasks – say, cleaning your roof gutter, painting walls, and other heavy-duty tasks? By considering these questions, you will know what kind of step stool you really need.
In the first place, this is one of the major reasons why you are purchasing a step stool. While a random dinner chair can do the job, using one is not appropriate – it's meant for sitting, after all
A step stool may be ideal for children's use, such as when reaching the sink or sitting on the toilet. Some step stools may have higher height reach, which is intended for reaching high places such as the top shelf, the roof, or the ceiling. Nonetheless, you should choose a step stool with a specific height reach, depending on where you are going to use it.
Weight
Some step stools can support only as much weight, while some can handle as much as 300 lbs of weight. As mentioned earlier, some step stools are made for heavy-duty household tasks while some are only used in the kitchen or bathroom. This is why considering the stool's weight capacity should matter as well.
Portability
This is another important factor when it comes to buying a step stool. For one, many of us hate dragging heavy tools around, which can be tiresome depending on its size. That is why a portable step stool is important so you can easily carry the item anywhere around your home or elsewhere when you need it.
Aside from being portable, easy storage and use also mmatteras well in choosing the best step stools. After all, who wants to waste a lot of time installing or assembling an item before using it? Moreover, most of us would want a household item that is easy to store and won't take up a large amount of space in your house.
Safety Hazards
This is another crucial factor in choosing a step stool, especially if you have kids at home. Of course, the last thing you want to happen is your little child accidentally falling off the step stool.
With that said, consider checking whether the step stools you are about to purchase have safety features such as safety handles or anti-slip /anti-skid pads for your feet. With these safety features, you will be assured that the step stool is not only kid-friendly but also for everyone's use as well.
Top Ten Folding Step Stools
Subscribe to our Newsletter