Best Fishing Chairs Reviewed and Tested
In a
Hurry? Editors choice: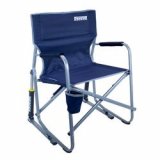 Test Winner: GCI Outdoor Freestyle

Every fisherman knows that fishing is a patient sport and while you are waiting for a fish to snag your line you want to be comfortable, this is why if you do not have a boat and are fishing from a shore, it is a good idea to invest in a
fishing
chair. Fishing chairs add extra comfort to your day of
fishing
as some prefer to stand but after an hour or so of standing, you usually want somewhere to sit and enjoy a snack or a beverage while you wait for your rod to wiggle to let you know you have a monster on the line. If you agree and are sick of your legs aching from standing all day while
fishing
this guide is for you, as below we have listed the top ten fishing chairs on the market.
Standout Picks
Criteria Used for Evaluation
Portability
Just about every fishing chair out there will fold up. Some deck chairs for boats may not. However, many folding fishing chairs are also used on fishing boats.
Folding chairs are an absolute must for fishing. A fishing chair needs to be portable, not take up too much space and be easy to fold and open. Look for a chair made out of durable material. Folding and opening the fishing chair puts a lot of stress on it. You want a material that is built to take some abuse.
You will find some chairs that fold like a tripod. They have a slim profile and often come with a bag to store and transport them in. Others just fold in half and can be slid into a car trunk and stacked on top of each other. Overall you want a fishing chair that will be reliable and offer comfort, but you also want a chair that is easy to transport as you will be moving locations throughout a day and do not want to add extra weight as most likely you will have other gear to transport as well.
Features
You may want a chair that can hold your rod freeing you up to do other things. Like nap!
With a good, solid rod holder, you can rest assured that if you hook up while sitting, the rod won't be taking a ride into the water. I wouldn't recommend walking away while you have your rod in the holder, as the weight of the chair won't prevent a fish from pulling the rod and chair together into the water.
They are perfect for if you need to warm your hands up, drink your coffee or adult beverage while you fish. You can just sit and daydream about the monster you are about to catch. Whatever you need to do, you are free when you can safely put your rod somewhere.
Having more storage available thanks to your fishing chair is a great benefit. When you want to have easy access to your fishing gear, lunch, or other stuff you need to bring with you, a fishing chair with storage will provide it.
Many of them have what looks like a backpack with pockets attached to the back of the chair. You only have so much room in your car, truck or boat. After you stuff all your fishing gear in, how much room is left for your fishing chair? The best fishing chairs are the ones that will actually make it on the trip because they don't take up too much space. You could have the best fishing chair on the planet, but if it doesn't fit and ends up staying in the garage then it is worthless.
Comfort
You will be sitting for long periods of time on your chair. That's the hope, anyway. This bit is all personal preference. Some like a nice deep cushion. Some like canvas that kind of envelops you when you sit on it. Other like a nice firm seat.
Do you need a backrest? Do you want it to adjust or lie back? Try to understand exactly what is comfortable to you and what isn't before settling on a chair. Overall the main purpose of a fishing chair is to keep you comfortable as you wait patiently for a fish to grab your line, so you want to be as comfortable as possible as the last thing you want is to be sitting in the sun, with no fish on your line, and being uncomfortable.
Materials
Your fishing chair is going to be exposed to some harsh elements. The material it is made from is crucial to the longevity of the chair. Whatever the material, it should be rust and rot proof. Easy to clean. Durable and able to withstand a lot of weight and pressure. If it's a folding chair, the hinges need to be able to open and close even after long periods of being wet. Consider carefully how long your fishing chair will last based on what it is made from. Overall make sure that the chair you all interested in is made from a tough material as when fishing you will be around sharp gear and you do not want anything to rip or damage your chair.