Best Fishing Chairs Reviewed and Tested
In a Hurry? Editors choice: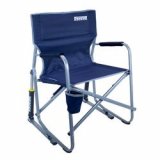 Test Winner: GCI Outdoor Freestyle

Every fisherman knows that fishing is a patient sport and while you are waiting for a fish to snag your line you want to be comfortable, this is why if you do not have a boat and are fishing from a shore, it is a good idea to invest in a
fishing
chair. Fishing chairs add extra comfort to your day of
fishing
as some prefer to stand but after an hour or so of standing, you usually want somewhere to sit and enjoy a snack or a beverage while you wait for your rod to wiggle to let you know you have a monster on the line. If you agree and are sick of your legs aching from standing all day while
fishing
this guide is for you, as below we have listed the top ten fishing chairs on the market.
Standout Picks
Criteria Used for Evaluation
Portability
Just about every fishing chair out there will fold up. Some deck chairs for boats may not. However, many folding fishing chairs are also used on fishing boats.
Folding chairs are an absolute must for fishing. A fishing chair needs to be portable, not take up too much space and be easy to fold and open. Look for a chair made out of durable material. Folding and opening the fishing chair puts a lot of stress on it. You want a material that is built to take some abuse.
You will find some chairs that fold like a tripod. They have a slim profile and often come with a bag to store and transport them in. Others just fold in half and can be slid into a car trunk and stacked on top of each other. Overall you want a fishing chair that will be reliable and offer comfort, but you also want a chair that is easy to transport as you will be moving locations throughout a day and do not want to add extra weight as most likely you will have other gear to transport as well.
Features
You may want a chair that can hold your rod freeing you up to do other things. Like nap!
With a good, solid rod holder, you can rest assured that if you hook up while sitting, the rod won't be taking a ride into the water. I wouldn't recommend walking away while you have your rod in the holder, as the weight of the chair won't prevent a fish from pulling the rod and chair together into the water.
They are perfect for if you need to warm your hands up, drink your coffee or adult beverage while you fish. You can just sit and daydream about the monster you are about to catch. Whatever you need to do, you are free when you can safely put your rod somewhere.
Having more storage available thanks to your fishing chair is a great benefit. When you want to have easy access to your fishing gear, lunch, or other stuff you need to bring with you, a fishing chair with storage will provide it.
Many of them have what looks like a backpack with pockets attached to the back of the chair. You only have so much room in your car, truck or boat. After you stuff all your fishing gear in, how much room is left for your fishing chair? The best fishing chairs are the ones that will actually make it on the trip because they don't take up too much space. You could have the best fishing chair on the planet, but if it doesn't fit and ends up staying in the garage then it is worthless.
Comfort
You will be sitting for long periods of time on your chair. That's the hope, anyway. This bit is all personal preference. Some like a nice deep cushion. Some like canvas that kind of envelops you when you sit on it. Other like a nice firm seat.
Do you need a backrest? Do you want it to adjust or lie back? Try to understand exactly what is comfortable to you and what isn't before settling on a chair. Overall the main purpose of a fishing chair is to keep you comfortable as you wait patiently for a fish to grab your line, so you want to be as comfortable as possible as the last thing you want is to be sitting in the sun, with no fish on your line, and being uncomfortable.
Materials
Your fishing chair is going to be exposed to some harsh elements. The material it is made from is crucial to the longevity of the chair. Whatever the material, it should be rust and rot proof. Easy to clean. Durable and able to withstand a lot of weight and pressure. If it's a folding chair, the hinges need to be able to open and close even after long periods of being wet. Consider carefully how long your fishing chair will last based on what it is made from. Overall make sure that the chair you all interested in is made from a tough material as when fishing you will be around sharp gear and you do not want anything to rip or damage your chair.
Top Ten Fishing Chairs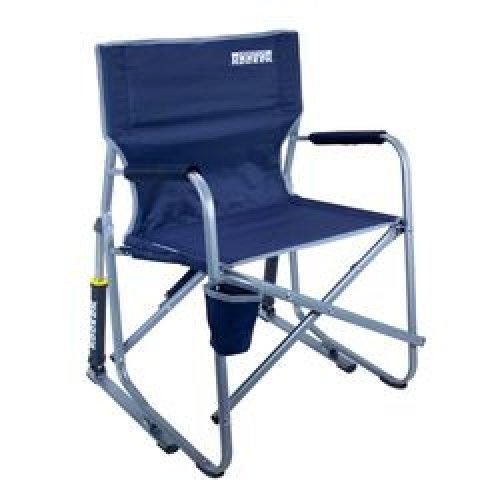 Though this isn't specifically a fishing chair, it is a very comfortable way to spend a day at the water fishing.
Read more
It's actually a rocking chair. When your idea of a great day fishing is quietly catching a few fish to pass a leisurely afternoon, then this is a great chair to help you achieve the ultimate in relaxing fishing.
Not everybody is looking for adrenaline pumping fishing action.
It may not have a lot of features that will help you with your fishing, but you need to be comfortable to fish then this is the chair for you. Sometimes just being comfortable will keep you at the water longer which will, in turn, put you into more fish.
This chair folds up nicely and has a convenient carry handle.

2

. SmarTech's Fishouflage Pro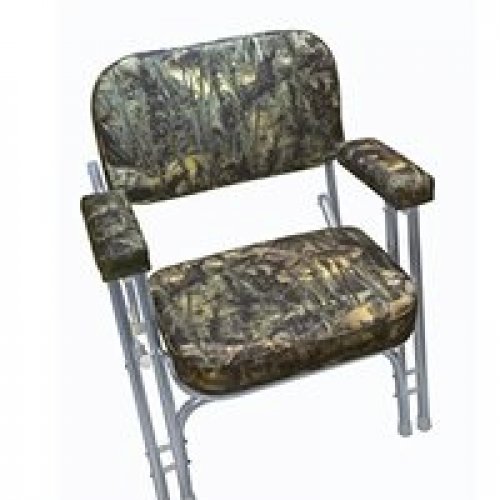 This fishing chair is considered a deck chair. It is really meant to be used on the deck of a boat. It folds up flat even though the cushion is deep. Perfect for storing on a boat.
The legs aren't adjustable, so it should be used on a flat surface. Either on the deck of a boat or a pier.
Read more
Eight legs provides a nice, sturdy platform with non-slip tips. If your deck gets wet you don't want to be sliding around in your chair. It's also helpful that the feet won't scratch or damage the deck of your boat.
The frame is made from lightweight, but durable aluminum. Guaranteed not to rust or rot. When you need to keep your load light on a boat, this is a great chair since it doesn't weigh much.
You can fish all day on this chair and not have a tired or sore butt afterward. The cushion is made of high-density foam for firm support, but still soft enough to be quite comfortable.
The camo design blends in great with the foliage around lakes and ponds. Perfect if you are doing some freshwater fishing.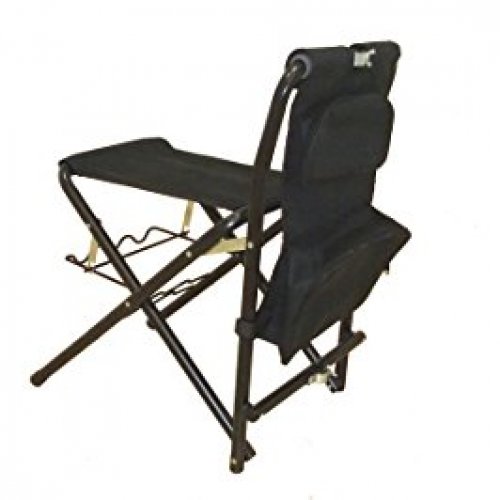 This is a very compact, easily portable fishing chair. The frame is a very solid stainless steel construction with a rustproof coating to ensure it lasts a long time.
Read more
At just about 6 pounds, it is a bit on the heavy side. Something to consider if weight is an issue on a boat. Or, if you have a lot of gear to carry. It does fold into a nice compact size, however, taking up little space in a trunk or boat compartment.
Three built-in rod holders are conveniently located in the front of the chair right between the legs for easy access. With two different tilt angles, they won't get wrapped up in each other.
The backrest is short, but, does provide relief to the lower back.
The fabric is waterproof and dries quickly. For the price, you get a handy little fishing chair that is durable and convenient with 3-rod holders. A bargain.

4

. Earth Ultimate 4-Position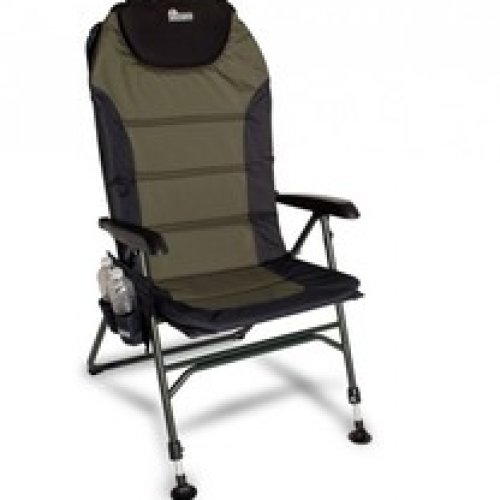 The first of our best fishing chair is the Earth Ultimate since it has so many features to make your fishing experience comfortable and convenient.
Read more
Fishing on the bank of a river or canal usually means being on a slope. The adjustable front legs of this chair will put you in position to fish in comfort even on a slope.
Need to take a nap at some point so you can stay on the water longer? Then just lean the chair back like a recliner and doze off in comfort!
The material of this carp fishing chair is cushioned for a comfortable sitting experience with a padded pillow for your head.
It folds up nicely and flatly into an easy to carry unit.
It's got 2 cup holders and a nice little storage bag for your keys or accessories.
Rated up to 325 pounds, it is sturdy and durable for just about any sized angler.
One knock against it is that it isn't very lightweight folding fishing chair. So, that durability for heavyweight comes at a bit of a price in being a bit heavy to carry or store on a boat.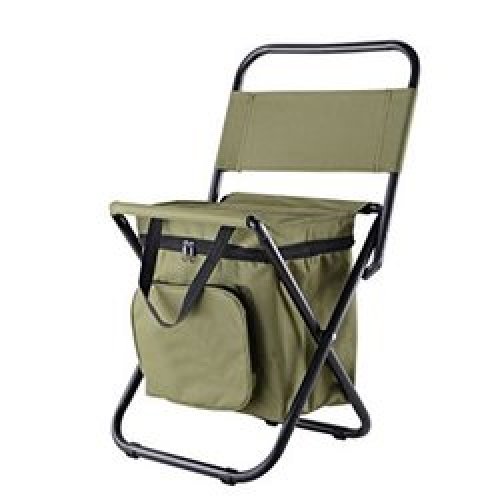 This chair is ideal for the minimalist that likes to pack light. Instead of bringing a folding fishing chair AND a cooler, you can bring the folding chair that has a cooler attached.
Read more
The chair itself is compact so it is easy to store and to carry. The fabric is a sturdy double layer Oxford fabric that is comfortable to sit on and lightweight. Its size makes it seem more like a fishing stool than a fishing chair, but it is much more comfortable than a stool.
The cooler bag is made from the same material and lined inside so you can fill it with ice or ice packs. Keep either your lunch and drinks cool or even your catch if you are going for smaller fish like mackerel or herring.
The front of the cooler has a storage pocket that is big enough to hold keys and a wallet as well as some other small items that you need to keep handy.
This little chair is extremely sturdy and can handle up to 400 pounds.

6

. Compaclite Swivel Steel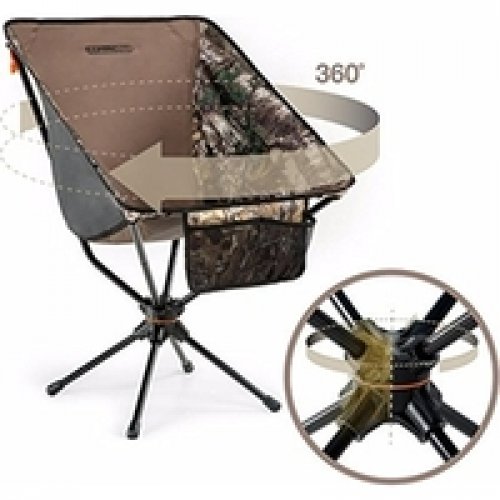 Great things come in small packages sometimes. Like this awesome folding fishing chair by Compactlite.
The rods fold down to a size of just 15 inches long and 5.5 inches high. When it's set up, you not only have a super comfortable bucket chair, but it also swivels completely around to 360 degrees.
Read more
It's almost like your fishing hole has now become your office desk!
It's so small it takes up hardly any space in your car trunk or boat. The carrying bag has a handy shoulder strap so portability is easy if you have to run from one spot to another or have to hike from the car to your fishing area.
The fabric is waterproof and has a nice camo effect. It folds up separately from the rods and has it's own attached bag. The bag it folds into is attached to the front of the chair so you can use it as a storage bag.
The only thing I can say that I don't like about it is the feet. They are great on the deck of a boat as they won't slip. They are not so great on soft ground. They can sink into the dirt a little unevenly.
If you are fishing off a dock then that won't be an issue.

7

. Stansport Deluxe Utility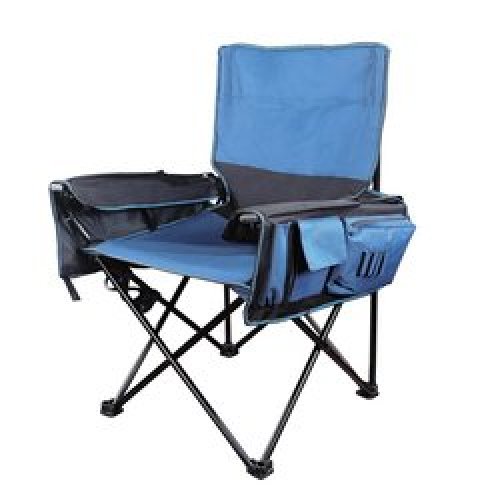 This neat little folding fishing chair packs a few impressive features into a compact package.
It's lightweight, folds up nicely for easy storage and has shoulder straps for great portability.
Read more
What's really nice about it is that it has a rod holder and a small cooler side bag. It can hold up to 5 bottles keeping them cool all day and right within reach under your armrest.
The frame is lightweight and durable aluminum that won't rust or rot. The fabric is a waterproof polyester that is also comfortable to sit on.
Though it won't win comfort awards if you plan to sit on it for hours at a time, it is comfortable enough for when you need to take a load off and have a drink while you are waiting for a bite.

8

. G4Free Portable Ultralight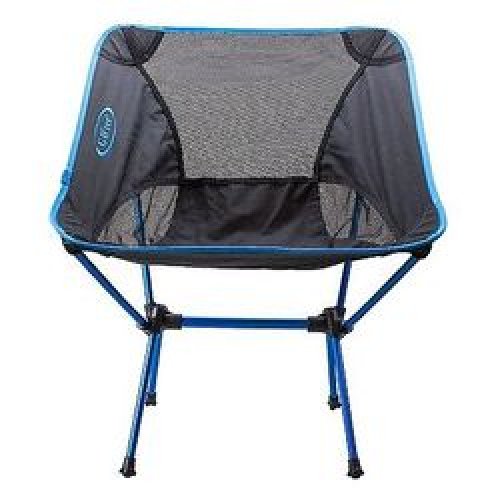 The G4Free folding chair for fishing folds up into a tiny package that is smaller than your average iPad. Thanks to the shock cord pole structure, similar to a camping tent, it folds down to take up a fraction of the space most chairs need. And weighing less than 2 pounds, it is easily transported or stored on a boat.
Read more
Breaking it down and setting it up is a snap. Though it does take a minute or two to get it set up as all the poles need to be slid into one another. Once you get the hang of it, it goes quickly. Moving from spot to spot won't be much of an issue once you get your set-up routine down to a science.
And, I love the fact that the bag it comes in can be hung by the side of the chair so you can use it as a water bottle or put your keys and things in there.
The seat is a super comfortable bucket design. It is really a relaxing chair to sit in for hours without feeling sore or stiff. The fabric is almost elastic like so it stretches. It's also waterproof and dries quickly when it gets wet.
The feet are tipped in the same way a hiking pole is. In other words, they have a sharp end that sinks into the ground a little adding to the stability.
For a good all-around fishing chair that you can use for other things like camping, then this is highly recommended.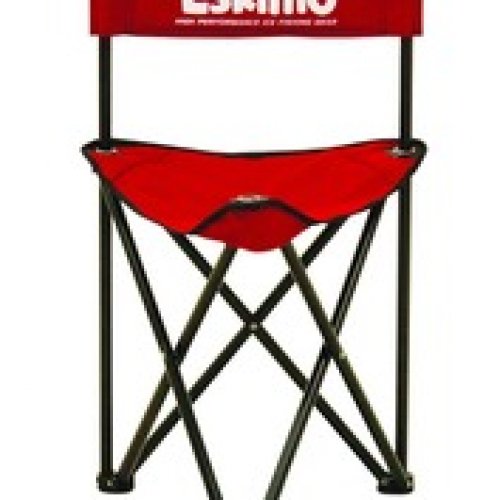 This is a great little fishing chair for when you are moving around a lot. Getting to another fishing hole is easy because of the tripod folding design. When you have multiple holes going out on the ice, then this is the best ice fishing chair for you.
Read more
It's also very comfortable. The three legs leave space on the side for your legs to be spread a bit. The seat sinks just enough to feel good on your backside. The backrest is right in the middle of the back for the guy of average height and gives just enough support needed when sitting back.
The frame is made from stainless steel tubing which is lightweight and won't rust or rot.
Transporting it is easy as it takes up a tiny amount of space due to the way it folds up tightly. It comes with a handy carrying back that it slides right into in a second.
It's great for jig fishing as there are no armrests to get in your way. Its low profile means you can bend over to get to water level easily without having to get up from the chair.
In all this is a great inexpensive way to add some comfort to your fishing experience.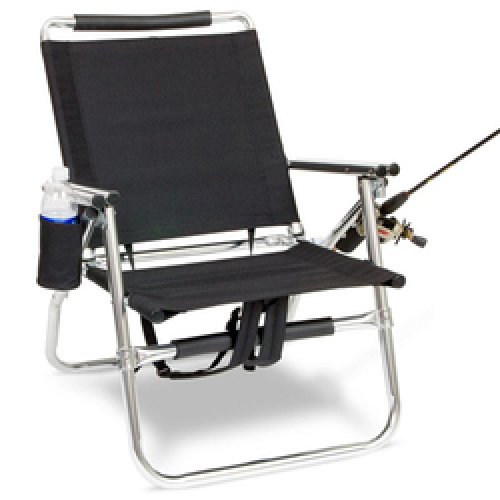 Getting to your fishing spot deep in the woods can be an issue. Carrying all your gear means sometimes the fishing chair has to stay home. Not anymore!
Read more
The Oasis fishing chair is a backpack. Not only does it have straps so you can load it onto your back for easy portability, but it also has a storage bag. That makes it much, much easier to bring more stuff with you when you have a distance to travel and only have 2 hands.
It also sports a cup holder and a sturdy rod holder, as well.
The chair frame is made from lightweight, yet strong aluminum. The fabric is a high test polyester material which is comfortable and fast drying.
The best part about this chair? It's also reclinable to three different positions. You might get so comfortable that you doze off! Don't worry, when you hook into the big one that will wake you right up.
The downside to this fishing chair is that it is very low to the ground. Men of a certain age like me have a little trouble getting up out of the chair. Think of it as a deluxe beach chair and you get the idea of the height.