Best Fishing Pliers
In a Hurry? Editors choice: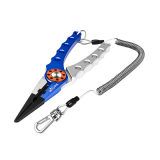 Test Winner: BOOMS FISHING X1

It is almost guaranteed that if you ask 100 fishermen around the globe if they find great use out of a pair of pliers that at least 95 percent of them would say yes. Although they are simple in nature, it literally is amazing how many uses they have out on the water. For example, a pair can be used to cut fishing lines, cut
bait
, remove barbs from hooks, and make reel and rod adjustments. However, it is wise to invest in a specialized pair that is made just for out in the
water
. As you will find out with the help of this guide, there are key features that make fishing pliers unique.
Standout Picks
Criteria Used for Evaluation
Water Resistance
This is one of the key areas of assessment as you will be using this tool during a water-based activity.
Right away, we are going to address one of the main reasons why you need to purchase a special pair of pliers for fishing. You see, when you are fishing, you are naturally surrounded by water. And, if you tend to go fishing at sea then you will be exposed to saltwater. Why is this important? It is simple; when you mix metal with water (and especially a corrosive element such as salt) you have to worry about rust and corrosion. That is why it is 100 percent mandatory to invest in a pair that is designed of materials that will resist corrosion. Aluminum and steel are two that immediately come to mind and both are extremely popular metals. With aluminum, in specific certain grades of aluminum such as aircraft-grade, its passivation layer allows it to have high oxidation and excellent resistance to corrosion.
As for steel, this is made up of iron and, therefore, it can rust. However, steel also uses chromium and this added as an agent to help resist corrosion. Of course, with either metal, it is never a bad thing to have protective coatings so look for models that implement just that.
Effectiveness
Not only does the tool need to be built to last but it also needs to perform well while it lasts. Pretty simple, right?
In so many instances in life, performance will come to the forefront. Proper performance can make or break any consumer product that you ever buy and a pair of fishing pliers is certainly no different. However, when you go to analyze the performance of any particular pair, you need to do so by breaking down some key areas. For example, let's start with the jaws. Without question, this is one of the important features of any pair of pliers. The jaws will offer different crimping sizes to be able to provide the right fit for a variety of different accessories (such as hooks and wires). But, they should be comprised of hard and durable material. High-end stainless steel immediately comes to mind, as an example.
It is not just the jaws, however, as the line cutters are also vitally important. When the time comes when you need to cut braid, high-quality line cutters will be a must. Much like with the jaws, they should be made up of a high-end material such as tungsten or high-carbon stainless steel. Also, if you work with smaller tackle components when you fish, you may want to look for a split rings section. You will be thanking yourself later, let's just say that.
Comfort
Do not overlook something as simple as the design of the handles as it can be crucial.
If you own a lot of basic tools then you know how important the handling is on each and every one of them. When it comes to a pair of fishing pliers, one that possesses high-quality handles is going to significantly enhance the experience. This is the case even if you use your pair mere seconds at a time. But, in order to ensure you invest in a model that does their handles justice, you need to pay attention to the details. Firstly, assess the physical design of the handles. You want to ensure that the handles are not ultra-slick and that you can achieve an optimal grip with them. Non-slip grips will oftentimes be integrated onto the handles for that sole reason.
Of course, you can also look at the ergonomics. With handles that are ergonomically designed, they will be shaped in a way that contours to your natural grip and will be more comfortable, as a result. Oh, and this is also where a really handy feature comes into play. Most handles will be spring-loaded and this amplifies the convenience as you can usually operate them with the use of one hand.
Size
The size is not of the utmost importance here but you do want a pair that will be long enough to use safely and comfortably
At the surface, it may not seem that the length would really play that large of a role in the buying process. But, it does and there is a reason why. Before we get into that, note that most models will be right around seven inches in length. Rarely will any model be significantly larger or shorter than seven inches. The length does encompass both the nose and the handle, though. No matter, if you tend to do a lot of saltwater fishing then you will probably want a longer pair. In saltwater, you may end up catching some really large fish. With a longer pair of pliers (and especially a longer nose), you minimize the risk of injury when you are trying to get the hook out of a fish with a monstrous mouth.
Accessories
Accessories are usually on the back burner but, in this case, there are a few that can influence your final decision.
With most products, the extra accessories are typically items that you could either live with or live without. However, in this case, there are a few really important accessories that could be seen as mandatory for some buyers. The first is a sheath. Much like with any sort of blade, sellers will typically include a sheath to provide an ideal means of transporting their model. With a sheath, you ensure that the pliers are safe and secure. But, you will ideally want to look for sheaths that come with attachments (such as a belt loop on the back) and ones that will not fray very easily (as they will usually be made of fabric).
Another extremely popular accessory is a lanyard. This is as necessary, and probably even more so, as a sheath. With a lanyard attached to your model, you lessen the likelihood of losing it. Because you can use a lanyard to attach your model to your clothes, as an example, even if you drop them they will not be allowed to go very far. This is almost mandatory if you invest in an expensive pair as you would hate to lose them foolishly out in the water.
OUR TOP PICKS FOR THE BEST FISHING PLIERS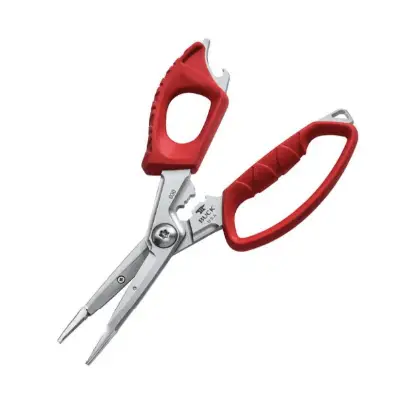 In this modern world, it only makes sense for a highly-versatile tool to top this list. These are literally known as Splizzors and combine well-designed pliers with a pair of high-quality scissors.
Read more
Water Protection
The main material utilized here is 420HC steel. This is known for its excellent edge retention, strength, and corrosion resistance. Also, the scissors are designed using Buck's Edge 2X technology.
Performance
Due to the edge to edge pressure that is utilized, these Splizzors can cut 10 times better than average scissors. Also, the micro serrations allow a braided line to be cut through with ease.
Handling
Thanks to the Dynaflex rubberized handle that has been implemented, it is much easier to achieve a secure and optimal grip.
Length
The added scissors make this feel a bit larger than the average pair of fishing pliers. That said, the length is about what you would expect here.
Accessories
Outside of the two-in-one design of the Splizzors, also included with your purchase is a heavy-duty polyester sheath (that sports multiple attachment options). Oh yeah, and the handle has an integrated bottle opener.
Overall
When you really stop to think about it, this design is incredibly ingenious. It essentially combines a pair of scissors with a pair of pliers to create the Splizzors. Despite the cheesy name, this product is excellent.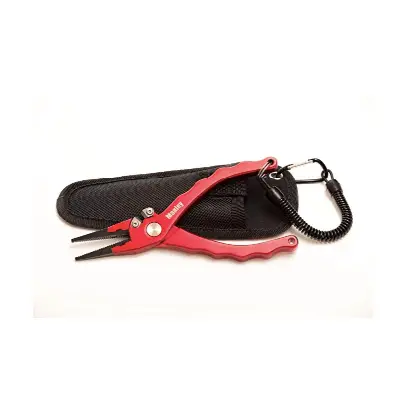 In regard to the performance and the durability of this model, both are incredible. Now, for smaller hands, they can be a bit uncomfortable due to the girth of the handles.
Read more
Water Protection
Manley designed this tool with both aluminum and stainless steel. Also, to protect it from corrosion that saltwater can cause, it is finished with an advanced surface coating.
Performance
Right out of the box, this tool is sharp and ready to go. Also, this comes equipped with tungsten carbide cutters that will allow you to cut braided fishing lines.
Handling
As mentioned, the handle itself is pretty large and this may not be ideal for smaller hands. The spring-loaded design, however, comes in handy often.
Length
Thanks to the 7.5-inch length of this tool, it is both easy to grip and efficient to use.
Accessories
With your purchase, you are provided with both a free sheath and a lanyard. What is also nice about the sheath, though, is that it comes with a belt loop on the back.
Overall
There is so much to love about this tool that it is hard to summarize it. To attempt to do so, though, it is a high-quality product that is built to last and designed to perform.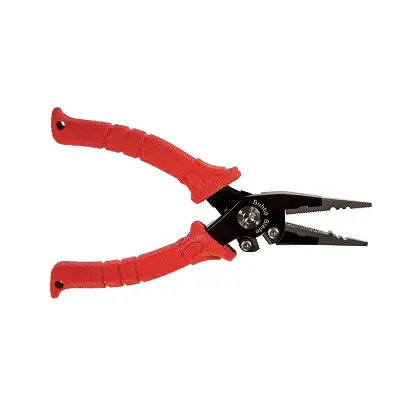 Bubba Blade designed their model with aerospace aluminum and this ensures a great combination of weight and water protection. Of course, the patented non-slip grip handle is also superb here.
Read more
Water Protection
To ensure that water would not be too much of an issue with their model, Bubba Blade designed it of aerospace aluminum for strength, lightweight usability, and durability.
Performance
Now, these are not the strongest pliers in the world but they are well-designed. They come coated with Ti-Nitride and will cut through scales fairly easily.
Handling
As mentioned, the handle here is tremendous. Bubba Blade utilizes their patented non-slip grip handle that so many consumers have loved and raved about for years.
Length
The jaws themselves are two inches and the overall length of the entire model is 7.5 inches (which is about what you would expect).
Accessories
Included with your purchase are a lanyard and a synthetic sheath. Although that said, the sheath could be a bit wider and deeper.
Overall
While the price of this tool may seem a bit egregious, the quality is about as high as it gets. If you are looking for the best then you need to keep Bubba Blade on your radar.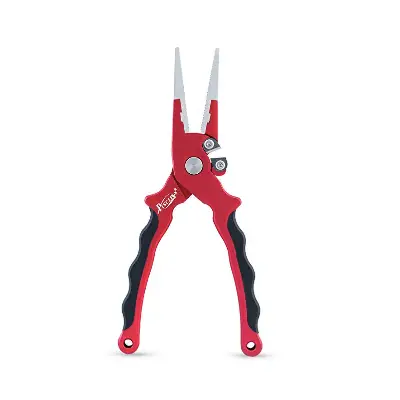 At a relatively affordable price and an astronomical amount of quality, it really is not a shock to see this model land on this list. It will not take long for you to be convinced of this tool's greatness.
Read more
Water Protection
The frame of this tool is made of aircraft-grade aluminum and is anodized, as well. This anodization process ensures it is significantly more resistant to corrosion. Also, the jaws are made of stainless steel.
Performance
Now, this is advertised with the sharpest tungsten carbide cutters on the market. However, one user pointed out that these struggle a little bit when trying to cut braided line.
Handling
What is nice about the handles is they are made of non-slip rubber and high-quality ABS plastic (and are also ergonomic). But, they are quite small and will not be comfortable for users with large hands.
Length
There are two lengths mentioned in the product description and this appears to be the saltwater version. This measure 7.75 inches in length.
Accessories
Included with your purchase are a belt loop, coiled tether, and woven nylon sheath. All of these accessories make this safer and more secure to transport around.
Overall
It is hard not to be enthralled with this design. Sure, the handles could have been larger but that is only going to be an issue for certain buyers.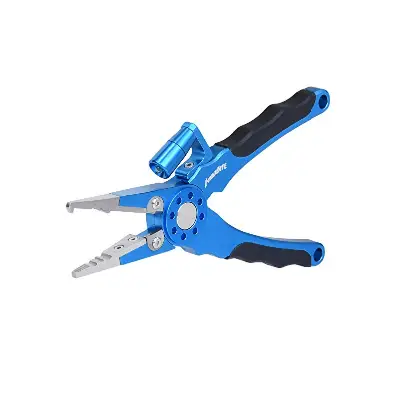 You want to talk about unique design, how about this one from MadBite? Implemented into the design of this tool is an ultra-bright LED bulb. This directs a beam of light right where you need it to enhance the lighting.
Read more
Water Protection
MadBite designed their tool with hard anodized aluminum to outlast other brands. In addition, other components are made of stainless steel that is designed to resist saltwater corrosion.
Performance
The tooth on the end can limit basic functionality but the sharp tungsten carbide cutters bite very well and the integrated LED bulb lights up the object you need to cut.
Handling
Unlike cheap plastic or rubber handles, the silicone grips that are outfitted here are tremendous. Also, this is spring-loaded for your convenience.
Length
The best models out there offer the size to enhance the leverage and cutting efficiency of the pliers themselves. Well, at 7.5 inches in length, it is safe to say that is the case here.
Accessories
Clearly, the main accessory here is the included light. Now, interestingly enough, the team behind the design concluded that a sheath was unnecessary due to the lighted attachment. So, because of this, no sheath is included.
Overall
MadBite should have probably foregone the tooth at the end of these pliers but if you take that aspect out of it, these perform very well and will make a great addition to your tackle box.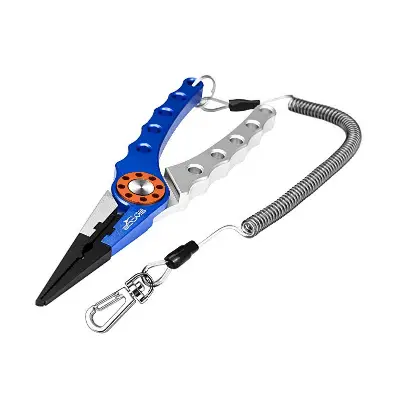 While there are a few improvements that could be made to the X1 pliers, they remain an excellent selection thanks to their aluminum and corrosion-resistant design.
Read more
Water Protection
In addition to the aluminum and corrosion-resistant design of the X1, they are also designed with carbon coated stainless steel inserts to enhance the protection and durability.
Performance
The combination of the tungsten carbide cutters and the stainless steel jaws (that have been carbon coated) ensure the X1 can remove hooks and cut braided line efficiently.
Handling
Besides sporting a spring-loaded design to ensure easy one-handed use, this is also generally easy to carry and use.
Length
As with the previous model, the total length here is a bit greater than usual. Booms Fishing notes that their pliers can nearly reach eight inches in total length (7.87 inches).
Accessories
In addition to the actual tool itself, Booms Fishing also includes both a wire coiled lanyard and a nylon holster with your purchase.
Overall
For some of you, what will set this apart is its high-quality design matched with its affordable price tag. There are superior options out there but this is solid, to say the least.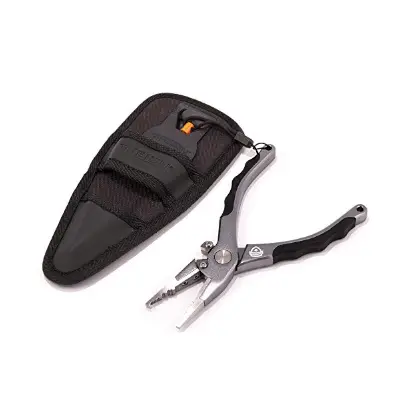 This is another model that does not get the recognition that it deserves. While some reviewers have reported issues with bending, it is a high-quality design that comes with the ProSheath.
Read more
Water Protection
The body is made of aluminum to offer an ideal combination of weight and durability. As for the jaws, they are made of stainless steel that is designed to resist corrosion.
Performance
Again, there have been users who have claimed that these can bend. However, they do cut through small diameter braid fairly well.
Handling
In addition to the ergonomic design and the integrated grip handles on each side, this tool is also spring-loaded design and light in weight.
Length
The length is about what you would expect from other models and should be ideal for most users.
Accessories
Arguably the best aspect of this model is the ProSheath. First off, it is made of 600-denier nylon but it also sports a 36-inch tether reel. Oh yeah, and there is also a stainless steel belt clip integrated into the back.
Overall
To be honest, a lot of what you are paying for here is the ProSheath itself. The pliers are designed very well but the ProSheath takes a bit of the spotlight away from them because of its masterful design.



If the handles on the Adaro were better designed this could have easily secured the top spot on this list. It does say a lot about the overall design, however, that it is able to overcome slight issues with the handle.
Read more
Water Protection
P-Line engineered their Adaro with high-quality aluminum, meaning it is naturally resistant to corrosion.
Performance
You will not get too many complaints from users about the performance here. The tungsten carbide line cutters will cut 500-pound nylon and braided line.
Handling
Here is where the design could have been improved. First off, the handles are very slick when you hold them. Secondly, they are large and not ideal for smaller hands.
Length
Part of the reason this is used by both amateur and professional anglers worldwide is the fact that it is 7.5 inches in total length.
Accessories
As with most other sellers, P-Line includes both a sheath and a lanyard with your purchase. Of course, the nylon sheath could have been designed with enhanced quality.
Overall
Without question, the highest quality components have been used to construct this incredible pair of pliers. Still, a textured grip or something similar would have helped with the slickness issue of the handles.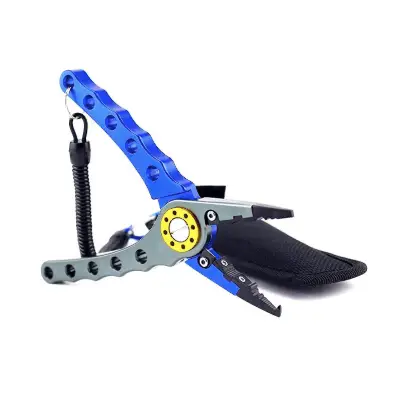 The feedback for this pair of pliers is about as good as it gets. Of course, with that being said, this may not be the best pair for saltwater use as salt has been known to affect this.
Read more
Water Protection
Okay, so even though this is made of aircraft aluminum that is corrosion-resistant, one user did note that they noticed saltwater deposits developing after a mere few weeks.
Performance
The combination of the stainless steel jaws and the super sharp carbide blades allow this to remove all types of hooks and to cut braided fishing lines.
Handling
Overall, this is light in weight and that makes it easier to wield. In addition to this, the handle is also skid-proof.
Length
At 7.1 inches in total length, Zitrades designed their tool to be a little bit smaller than the competition (shorter than some but not shorter than all).
Accessories
As expected, both a sheath and a lanyard are included. However, the sheath will probably need to be replaced if you use it regularly as it frays much too quickly.
Overall
Some buyers have used the word cheap to describe this tool but that is not necessarily 100 percent true. Sure, the sheath is not the best and the pliers do not handle saltwater very well but the overall quality is above-average.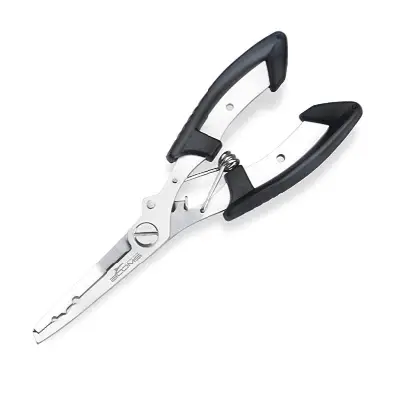 Do not get it twisted here; this model is not really ideal for hardcore users. Given the price of admission, this is a highly affordable option that will be suitable for casual use.
Read more
Water Protection
Being made of 420-grade stainless steel, it is advisable that you keep these out of saltwater. The stainless steel construction is good but the internal components can't handle salt water.
Performance
For smaller tasks, the sharp line cutter and small wire cutter will come in handy when you are fishing. But, too much force will probably damage these.
Handling
The included grips are nothing special but it is nice that they are implemented that way your hands do not have to grip pure metal. Also, one-handed operation is made easy thanks to the spring-loaded design.
Length
As opposed to most of the other models on this list, the H1 is actually a bit smaller and measures 6.5 inches in length.
Accessories
For your convenience, Booms Fishing includes a free sheath with your purchase. This allows you to store the tool safely and ensure it stays protected.
Overall
It is clear that Booms Fishing was not attempting to engineer the most impressive pair of pliers they could. Instead, they aimed at a demographic that wanted affordability and suitable quality mixed.