Best Marine Radios
In a Hurry? Editors choice: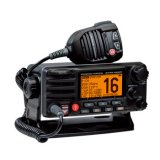 Test Winner: Standard Horizon GX1700W

Is everyone going to own a
marine
radio before they die? Probably not; as not everyone is going to find a need for them. However, if you spend considerable amounts of time out at
sea
or in large bodies of water, it is highly recommended you seriously consider investing in one. After all, what else are you going to do if a disaster strikes? When you are lost at sea, no one is going to pass by you to offer their assistance. A marine radio can provide you with the
tools
you need to ensure you have all your bases covered at sea. Plus, with their functionality, they can be useful in more ways than one. Take a deep breath as you begin this journey. Marine
radios
can be quite complicated to beginners but we list many good steps on deciding which one is best suited for you.
Standout Picks
Criteria Used for Evaluation
Advanced Features
Before you make your decision, there are also some other very important factors that you need to consider and it starts with Digital Selective Calling (DSC). What this provides for you are non-emergency functions that allow you to communicate with other boats. This can be ideal if you and your friends are looking for an ideal location to fish, for example. In addition, though, some marine radios will support multiple scanning options. With Dual-Watch functionality, you can check on VHF Channel 16 for traffic while monitoring a working channel. Given that continuous watch on this channel is necessary while at sea, you will virtually see all radios integrate it. Also, with TriWatch, you can then add VHF Channel 9 to the scan list.
Lastly, some handheld VHF radios may possess the capabilities to use AIS, GNSS, WAAS, and GPS positioning. With this, you will also see them sport a specific amount of waypoints which merely allow you to mark a specific placement on the screen.
Sound Quality
It really does not matter if you are discussing transmitting audio or receiving audio, the sound quality of both is very important to you and the individual receiving your audio. Much like in a high-quality pair of headphones, you are going to want to look for noise-cancelation. It really is exactly what it sounds as this technology will reduce the amount of background noise, such as moving water, howling winds, and other motor boats, you hear. Also, nothing is worse than attempting to listen to a radio channel only to have the audio be distorted to the point where you can barely make out anything; so ensure there are no distortion issues.
As a side note, nearly all radios will have a jack for an external speaker and this can also enhance the sound quality, clarity, and volume.
Durability
It goes without saying that an ideal marine radio will be encased in a durable housing that can withstand some abuse. But, what you may overlook is the size and the shape of the radio. If you have a smaller boat and are going with a fixed mount radio, you may want one that is more compact and flexible to mount. However, what really needs to be talked about in this section is the water protection of marine radios. If you were to make a list of the most important design features, this could easily be number one.
It is simply unwise to bring a radio out to sea that is not waterproof or at least water-resistant. In order to tell how waterproof one is, though, you need to analyze its rating. There are different systems that rate and classify waterproofness and The International Protection Marking is one of them. For waterproofness, you are only worried about the second number and the higher the number, the more resistant to water it is. For example, an IPX8 rating would make the radio suitable for continuous immersion in water.
Visibility
While marine radios will live and die by their functionality and performance, you can't overlook something as simple as the user interface. When it comes down to it, there are two major points of emphasis. Firstly, you want to assess the design of the button layout and ensure it is intuitive enough to not be a hassle. Not all marine radios will be the same as, for example, some will integrate rotary knobs to control the channels or volume and this is much easier than pushing a button. You may also see some designers go with a multiple-key structure and this means that certain keys actually have more than one function. This can get confusing and may take some time to get used to.
Secondly, what are you looking for in regards to the display? Not many are going to be built with OLED screens but you at least want a clear display to see all the necessary information you need at a glance. Also, ensure that the display can be seen in broad daylight (backlight intensity and anti-reflective coatings can help here).
Top 10 Picks
1

. Standard Horizon GX1700W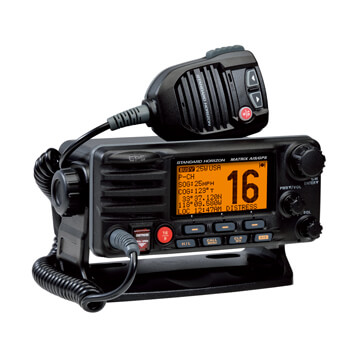 Standard Horizon has basically become the standard to which all marine radios are compared to. They have a lot of great models but their GX1700W VHF Radio tops them all. It sports everything you would expect from a top-notch VHF marine radio and then some.
Read more
Integrated Channels
Preprogrammed into this unit are 10 NOAA and Canadian weather channels and they can easily be selected via the dedicated WX key. Also, this has a separate Channel 70 receiver to allow DSC calls to be received.
User Interface
The interface is logically mapped and the display is big and bold. What this creates for you is a rather intuitive experience while also being able to easily see the information that is in front of you.
Overall Build
Due to the compact and ultra-thin rear case, this is a very easy radio to mount. The rear case design also ensures optimal flexibility when mounting the radio in tight places. Also, it is waterproof per JIS-8 standards.
Sound Quality
Standard Horizon integrated a noise-canceling microphone into this marine radio and in conjunction with the noise reduction technology, this eliminates unwanted background noise for improved audio quality.
Additional Features
Outside of the DSC calling, there is also a built-in GPS in this unit. It is capable of entering and saving up to 100 waypoints and is built into the front panel.
Overall
It just does not get much better than this for marine enthusiasts. No matter your reasoning for being out at sea, the GX1700W VHF Radio is almost a must-have.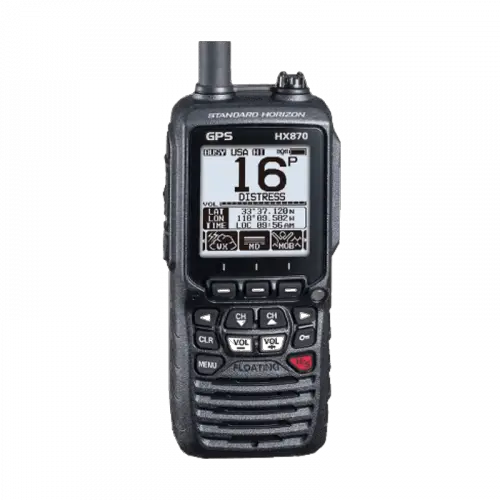 Right back at it again is Standard Horizon with their HX870 VHF Marine Radio which happens to be a handheld model. While it is a tad bulkier than other handheld radios out there, its functionality and performance speak for themselves.
Read more
Integrated Channels
With the integration of a highly-sensitivity 66 channel WAAS GPS receiver, this radio can lock on to a position with efficiency and accuracy. In addition, it does incorporate NOAA weather channels with weather alerts.
User Interface
With only a few simple steps, you can perform all the great features that are implemented into this radio. In terms of the display, it boasts an impressive screen size for a handheld with a dot matrix design.
Overall Build
As compared to other handheld VHF marine radios, the HX870 is a bit bulky and large. Yet, it does sport an impressive IPX8 waterproof rating making it suitable for 30-minute submersions.
Sound Quality
When audio is transmitted from your radio and when you receive the audio from another source, the noise-canceling function comes into play and vastly improves the clarity of the audio.
Additional Features
An advanced feature of this marine radio is the Group Monitor feature. While using the DSC Group Position Call, this is able to track and display the position information of nine vessels.
Overall
It is only fitting that Standard Horizon also makes the best handheld VHF marine radio on the market, is it not? Perhaps they could have designed it more compactly but hey, that is a minor gripe all things considered.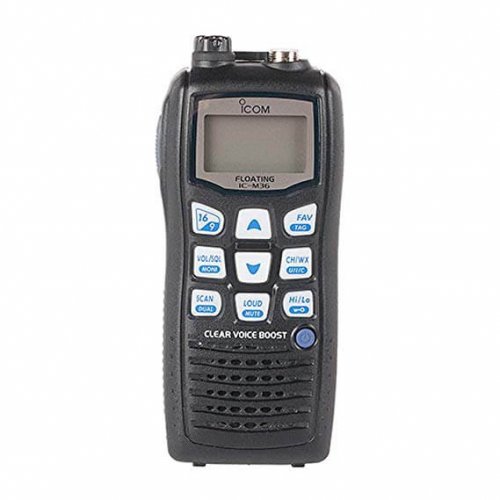 Getting off of the Standard Horizon sauce for a second, it is time to give Icom some love. One of the better aspects of this handheld radio is the sound quality. Because it reduces the effect of background noise, the sound you hear is vastly improved.
Read more
Integrated Channels
All VHF channels that come standard, such as United States, International, and Canadian, with VHF marine radios are present here. Plus, NOAA weather channels are also implemented.
User Interface
While this system is primarily controlled by the front panel's 10 push buttons, the real concern is with the screen size. It almost looks like an old-school cell phone and in a perfect world, the screen would have been larger.
Overall Build
Due to the structural foundation of this radio, you should be able to get away with dropping it. Additionally, it is waterproof with a JIS7 rating and also floats for your convenience.
Sound Quality
To automatically compensate for the ambient noise level, the M36 is smartly designed to adjust both the audio and the outgoing voice. Plus, with noise-canceling technology, you hear less background noise.
Additional Features
There are two noteworthy additional features of the M36 and the first is the ability to use either the Dual or Tri-Watch function. The other is the AquaQuake water draining function.
Overall
If you are immediately taken aback by the small display, that is fair. But, take pleasure in knowing that it about the only aspect "wrong" with the M36.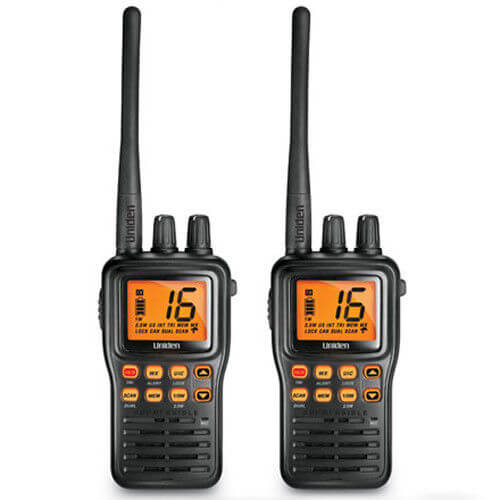 As soon as you begin assessing the quality of the MHS75 Marine Radio from Uniden, the build quality instantly pops out. Not only is the radio encased in a die-cast aluminum housing, it is also waterproof per IPX8 standards which is insanely high.
Read more
Integrated Channels
All the basics are covered for you to keep up-to-date with what is happening. This includes all USA, Canadian, and International marine channels and NOAA weather channels for important weather alerts.
User Interface
The large and bright display combined with the logically mapped interface makes this one of the best user interfaces on any marine radio. There are two knobs on top that control volume and squelch and the other eight buttons control the rest.
Overall Build
As mentioned earlier, this is built to withstand the outdoor elements. Besides the fact that it is housed in a die-cast aluminum, it features rubber gaskets around the battery which assist in giving it an IPX8 waterproof rating.
Sound Quality
It seems all great products have one or two issues that hold them back and the MHS75's would be its audio quality. It is certainly far from bad but one tester noted the dBA levels are only adequate.
Additional Features
Thanks to the dual, triple, or quad watch operation, you can monitor up to two Coast Guard Distress channels, a regular marine channel, and one weather channel all at the same time.
Overall
For such a relatively low price, it is quite remarkable how astounding this VHF marine radio truly is. A little louder volume levels could have given it the edge it needed to climb even higher, though.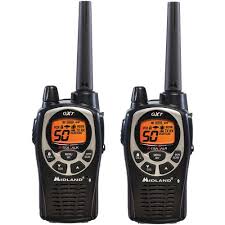 As opposed to the other marine radios on this list, this is not suitable for submersion. With water-resistant protection and incorporated NOAA Weather Radio functionality, though, it will serve its purpose as a marine radio.
Read more
Integrated Channels
What is really nice about the GXT1000 is it will lock on to your nearest weather channel to alert you of oncoming severe weather. This is possible with the NOAA Weather Alert Radio.
User Interface
According to the experience of one tester, they felt the interface was a bit confusing at times. It seems navigating through the menus takes some getting used to, which is understandable.
Overall Build
It would probably be best to avoid dropping this in water as it only sports a JIS4 waterproof protection rating. Thus, it is probably only suitable for splashing water and light rain.
Sound Quality
The clear standout feature of the GXT1000 is its Whisper feature. Due to this integration, you can speak quietly into the radio and still be heard clearly by others. The reception and quality are even enhanced with a headset.
Additional Features
To allow you to block other conversations, there are 142 privacy codes implemented. Plus, the SOS Siren feature allows you to send out a distress signal in emergency situations.
Overall
Not only is this a great marine radio for yourself, it is also a great investment if you have multiple members who want to go out to sea separately. Its 36-mile range, with little to no obstruction, provides you with the long-range communication you need.

6

. Standard Horizon HX300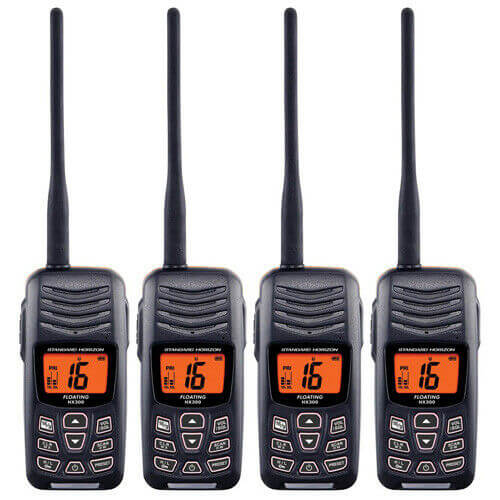 Well, who would have imagined that Standard Horizon would make another appearance? Thanks to the new intuitive menu system of their HX300 model and ergonomic design, it still stands up as one of the company's best.
Read more
Integrated Channels
While you do have a 10-channel preset key selection, there are also NOAA weather channels that will provide you with the information you need to stay safe out at sea.
User Interface
Right from the get-go, you will notice how small both the display and buttons are. While the menu system is rather intuitive in how it performs, it can be annoying to press the small buttons and stare at the smaller screen.
Overall Build
The plus side to the smaller buttons and screen is that this is a compact and lightweight radio. But, with its polycarbonate housing and IPX8 waterproof rating, it can also withstand a lot.
Sound Quality
There have not been too many users who have taken exception with the sound quality of the HX300. In fact, one particular reviewer went out of their way to praise the sound quality.
Additional Features
Outside of the plethora of scanning modes, including priority, programmable, and dual-watch, this is also built with a flashing red LED light that will activate when it goes overboard.
Overall
If Standard Horizon is manufacturing a marine radio, it is probably worth your investment. Even though this has aged a little bit because of its smaller interface, it still stands the test of time quite well.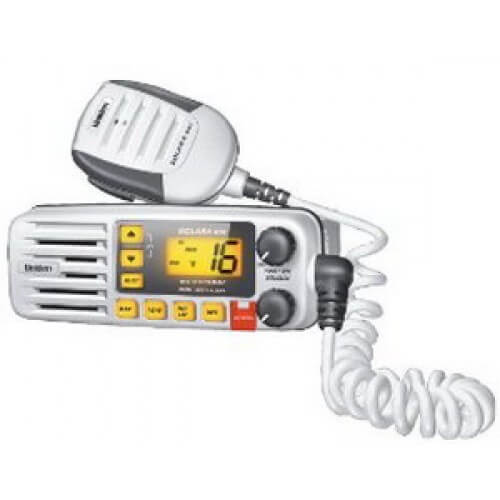 Probably the most noteworthy aspect of this next VHF marine radio is it sports a Class D rating. What this means is that outside of having DSC capabilities, it has two internal receivers for full-time digital calling reception and full-time voice reception.
Read more
Integrated Channels
All Canadian, International, and USA marine channels are covered with the UM380. While it is limited to all-channel scanning, it also does integrate S.A.M.E. Weather Alerts.
User Interface
All the buttons and knobs on the interface are clearly labeled and the backlighting and dot-matrix display make it easy to see and use. As a bonus, you can assign names to all marine channels for future reference.
Overall Build
This is yet another fixed mount marine radio and thanks to the short chassis design, you are offered a lot of flexibility when you are installing it. Also, it is graded with a JIS4 waterproof rating making it suitable for splashes and rain.
Sound Quality
Because unwanted interference is all but eliminated in the UM380, you receive clearer and crisper audio no matter what channel you are listening to.
Additional Features
Much like other VHF radios, Uniden designed theirs with Digital Selective Calling (DSC). Basically, with the press of a button, you can call for help in the case of an emergency.
Overall
The overall design of this radio is hampered a bit due to accuracy issues with the frequency at more extreme temperatures. Yet, when this is not the case, this performs as well as any marine fanatic could hope.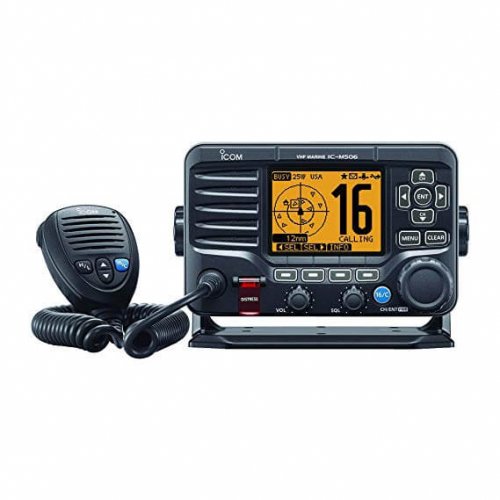 While the price tag may initially scare consumers off, this is one of the best marine radios you can get your hands on. With an integrated AIS receiver, active noise-canceling technology for enhanced audio quality and an advanced waterproof housing it is worth the price of admission.
Read more
Integrated Channels
You never know what is going to happen at sea and the weather and alert channels on this fixed mount radio will come in handy for you.
User Interface
First off, the integrated display deserves some recognition. It does not feature astounding quality but its high-resolution dot matrix display still ensures easy viewing. Even more so, Icom designed their software to be as intuitive as possible.
Overall Build
Good luck finding a marine radio that can outperform the housing on this model. It is one of the most advanced waterproof housings in the world and can endure 60 minutes of submersion up to one meter in depth.
Sound Quality
For both transmitting and receiving audio, the bi-directional noise-canceling technology that is designed into this model comes into play. The sound quality that results is vastly improved as it prevents ambient background noise from being an issue.
Additional Features
Not only does the incorporated AIS receiver allow you to set up a DSC call but the plug-and-play functionality of NMEA 2000 allows it to also connect to an NMEA 2000 network.
Overall
Look, you are going to have to shell out some money for this bad boy. However, it is more than worth it thanks to its superior waterproof housing and plethora of design features that will be of use at sea.

9

. Cobra Electronics MR F45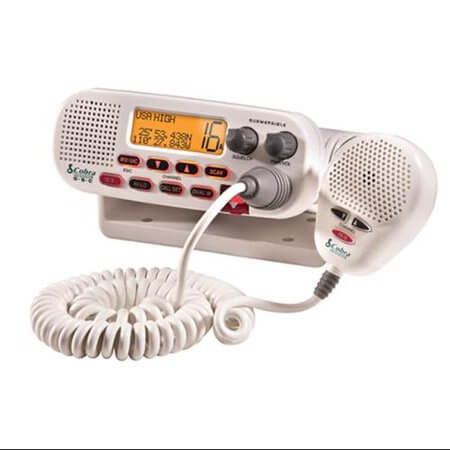 Truth be told, only the sound quality holds this next marine radio back. It is not as if the sound quality is so pathetic that you can't hear anything, but voices and sounds become distorted at certain temperatures and volumes.
Read more
Integrated Channels
At this point, you almost know what to expect in terms of the channels that are integrated. But, one additional note is this can scan in either all-channel mode or dual-watch mode.
User Interface
While navigating through the software may take some getting used to, the monochrome display does make information easy-to-read. Plus, as a bonus, you can alter the backlighting settings to adapt to your needs.
Overall Build
With a waterproof rating of JIS7, you can get away with submerging this unit for up to 30 minutes at depths no lower than one meter. Additionally, the radio sports a plastic housing with a die-cast metal chassis.
Sound Quality
Yep, this is the most obvious area that needs some improvement. When you begin to increase the volume to a certain point, a noticeable amount of distortion arises.
Additional Features
To ensure this is suitable for DSC operations, it does sport a Class D rating and features dual-receivers that can listen to DSC digital data and voice communications simultaneously.
Overall
Probably nine out of ten people will be able to tolerate the lone issue with this marine radio. However, if you are that one person that knows the distorted sound quality at higher volumes will drive you insane, you may want to pass on this one.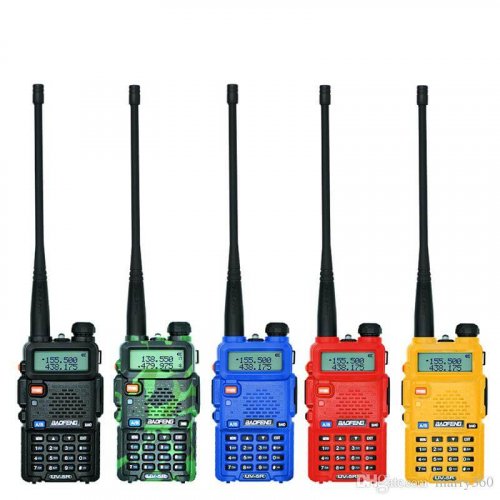 This is the only radio on this list that you need to be careful with if you take it out to sea. It still has exceptional functionality and integrated technology, but it is only water-resistant and not waterproof.
Read more
Integrated Channels
Thanks to the built-in receiver, you can listen to the FM Broadcast Station with this two-way radio. But, all in the meanwhile, you can monitor your radio frequencies.
User Interface
What is nice is you can program the BF-F8HP exactly how you want it with 128 programmable memory channels. The included in-depth manual will walk you through the process. Also, the LCD display can be changed to different colors.
Overall Build
There is no battery or antenna integrated on this radio but it may be a bit heavier than you expect. Unfortunately, while it can withstand moderate splashes of water, it is also not waterproof.
Sound Quality
BaoFeng decided to implement a 3rd generation chipset into their marine radio and the result is an audio quality that does not suffer from distortion or unnecessary noises.
Additional Features
This is a dual-watch receiver meaning it can watch two channels at the same time. In addition, it also supports CTCSS, DTMF, and DSC calling methods.
Overall
Granted you do not accidentally drop this radio in the water below you, it will perform admirably for you. It looks a bit outdated, in terms of its interface, but that is also indicative of the lower price.