Best Marine Radios
last updated:
Feb 07, 2020
Is everyone going to own a marine radio before they die? Probably not; as not everyone is going to find a need for them. However, if you spend considerable amounts of time out at sea or in large bodies of water, it is highly recommended you seriously consider investing in one. After all, what else are you going to do if a disaster strikes? When you are lost at sea, no one is going to pass by you to offer their assistance. A marine radio can provide you with the tools you need to ensure you have all your bases covered at sea. Plus, with their functionality, they can be useful in more ways than one. Take a deep breath as you begin this journey. Marine radios can be quite complicated to beginners but we list many good steps on deciding which one is best suited for you.
This is the best product on our list that is currently in stock: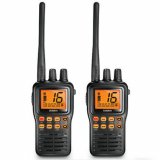 Uniden MHS75
Why is it better?
The radio is backed by a three-year warranty and the battery a one-year warranty
Features excellent sensitivity
It is waterproof per IPX8 standards
In a
Hurry? Editors choice: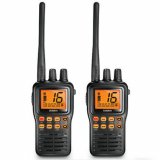 Test Winner: Uniden MHS75

11
Researched Sources
2.4k
Reviews Considered
14
Hours Researching
19
Products Evaluated
Advanced Features
Sound Quality
Durability
Visibility
By Default
Criteria Used for Evaluation


Advanced Features
Before you make your decision, there are also some other very important factors that you need to consider and it starts with Digital Selective Calling (DSC). What this provides for you are non-emergency functions that allow you to communicate with other boats. This can be ideal if you and your friends are looking for an ideal location to fish, for example. In addition, though, some marine radios will support multiple scanning options. With Dual-Watch functionality, you can check on VHF Channel 16 for traffic while monitoring a working channel. Given that continuous watch on this channel is necessary while at sea, you will virtually see all radios integrate it. Also, with TriWatch, you can then add VHF Channel 9 to the scan list.
Lastly, some handheld VHF radios may possess the capabilities to use AIS, GNSS, WAAS, and GPS positioning. With this, you will also see them sport a specific amount of waypoints which merely allow you to mark a specific placement on the screen.


Sound Quality
It really does not matter if you are discussing transmitting audio or receiving audio, the sound quality of both is very important to you and the individual receiving your audio. Much like in a high-quality pair of headphones, you are going to want to look for noise-cancelation. It really is exactly what it sounds as this technology will reduce the amount of background noise, such as moving water, howling winds, and other motor boats, you hear. Also, nothing is worse than attempting to listen to a radio channel only to have the audio be distorted to the point where you can barely make out anything; so ensure there are no distortion issues.
As a side note, nearly all radios will have a jack for an external speaker and this can also enhance the sound quality, clarity, and volume.


Durability
It goes without saying that an ideal marine radio will be encased in a durable housing that can withstand some abuse. But, what you may overlook is the size and the shape of the radio. If you have a smaller boat and are going with a fixed mount radio, you may want one that is more compact and flexible to mount. However, what really needs to be talked about in this section is the water protection of marine radios. If you were to make a list of the most important design features, this could easily be number one.
It is simply unwise to bring a radio out to sea that is not waterproof or at least water-resistant. In order to tell how waterproof one is, though, you need to analyze its rating. There are different systems that rate and classify waterproofness and The International Protection Marking is one of them. For waterproofness, you are only worried about the second number and the higher the number, the more resistant to water it is. For example, an IPX8 rating would make the radio suitable for continuous immersion in water.


Visibility
While marine radios will live and die by their functionality and performance, you can't overlook something as simple as the user interface. When it comes down to it, there are two major points of emphasis. Firstly, you want to assess the design of the button layout and ensure it is intuitive enough to not be a hassle. Not all marine radios will be the same as, for example, some will integrate rotary knobs to control the channels or volume and this is much easier than pushing a button. You may also see some designers go with a multiple-key structure and this means that certain keys actually have more than one function. This can get confusing and may take some time to get used to.
Secondly, what are you looking for in regards to the display? Not many are going to be built with OLED screens but you at least want a clear display to see all the necessary information you need at a glance. Also, ensure that the display can be seen in broad daylight (backlight intensity and anti-reflective coatings can help here).
Expert Interviews & Opinions
Most Important Criteria
(According to our experts opinion)
Experts Opinion
Editors Opinion
Users Opinion
By Default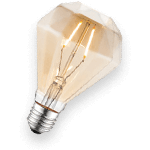 Weather Alerts
Even if you glanced at the weather before your trip, it can change at a moment's notice. It makes meteorologists look silly when it happens but the weather can truly change on the fly. Because of this, VHF radios will come with NOAA weather channels and these will alert you to potential storms that could be coming your way. Basically, the radio will detect a warning signal from NOAA and you will be alerted to the potential disaster on its way. Also, look out for S.A.M.E. as this will only alert you of inclement weather that is near your area.
Other Factors to Consider


Water Resistance
While many may believe we are beating a dead horse too many times, this is something you need to be 100 percent cognizant of. There is an astronomical difference between something being waterproof or simply water-resistant. While the rating systems will not be reiterated as you are already fully aware of them, this fact needs to be drilled into your cranium.
When a device is waterproof, it means it can withstand actual submersion in water (no matter for how long or deep). This is not the case for a device that is water-resistance as it typically will only be able to endure light rainfall and small splashes of water. For maximum safety, stick with marine radios that are waterproof.
Frequently Asked Questions
q:

Should You Use a VHF or UHF Radio?

a:

If you have been paying attention to the context of this guide, then you should already know the answer to this question. On the top of your head, do you remember how many UHF radios were outlined on this list? Keep scratching your head and remain thinking as there were none and there is a reason for that. Nothing against UHF radios but for the purposes of marine radios, VHF is the clear answer. The reason for this is because VHF radios are optimized to be used in areas with little to no obstructions.

While UHF radios will be better all-around radios for indoor use because of their ability to penetrate surfaces such as concrete and wood, VHF radios actually travel farther outdoors than UHF signals. The safe bet is with a VHF radio for marine use.
q:

How Do You Know Which Channels To Use?

a:

Let's be honest here for a second, there are a plethora of channels present on marine radios and it is okay and normal if you feel a bit overwhelmed by all of them. While it is not necessary for you to be familiar and comfortable with all of them, there are some key channels that you should be accustomed to. For example, let's start with VHF channel 16 and channel 9. The FCC actually requires boaters to maintain a watch on either of these channels because of their importance. Channel 9 and 16 are used to call non-commercial vessels and could be used for a boater to call another boater.

However, these two channels are only to be used to contact another vessel and once you have done so you need to switch the channel to a non-commercial channel (also known as a working channel). Also, channel 22A is of importance to you as the United States Coast Guard will relay information that could be of importance to you.
q:

Do You Need a License to Use a Marine Radio?

a:

Whenever you are buying a device that utilizes broadcast frequencies and communication, you should always double check with the Federal Communications Commission (FCC) to ensure that a license is either needed or not needed. The same goes for marine radios but do not worry, we have already done that step for you. According to the FCC, a license is not required to use marine VHF radios or any types of radar, GPS, or LORAN receivers. However, ships that use an MF/SF single side-band radio must be licensed by the FCC.

Now, it is important to note that some work is required on your part for radios with DSC capability. Before you transmit using the DSC function, you must obtain a nine-digit maritime mobile service identity number. This number must be programmed into your unit before you use it.
q:

Should You Get a Handheld or Fixed Mount Marine Radio?

a:

When it comes down to it, there are two types of marine radios you can invest in (not including the type of frequency). You can either go with a fixed mount model or a handheld model and both made numerous appearances on this list. What is the difference between the two of them, though, and which one should you get? As you would expect from a handheld device, the biggest advantage of these types of marine radios is they are free from the boat. In case of an emergency, they are very easy to access. Also, they can be used as two-way radios and could be used to communicate with another party within range.

However, for the most part, fixed mount marine radios have a higher range and this can be ideal if you plan to travel long distances away from land. Truth be told, though, it would behoove you to have one of each due to their specific advantages.
q:

Will Marine Radios Work on Land?

a:

Just because you own a marine radio does not necessarily mean you can't use it elsewhere; or does it? It seems that this question gets brought up time and time again and it is time to settle the uncertainty. Here is the reality of the situation; because marine radios operate in the same manner as a typical two-way radio they can be used on land. However, it is also important to note that VHF marine channels are different than channels that are used for land so they are specifically optimized for marine use.

Plus, their range will be much greater than land-based radios as the transmissions primarily occur over open water. In addition to that, marine radios offer specific advantages that land radios do not possess such as waterproof housings and emergency weather alerts.