Best Marine Radios
In a
Hurry? Editors choice: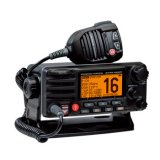 Test Winner: Standard Horizon GX1700W

Is everyone going to own a
marine
radio before they die? Probably not; as not everyone is going to find a need for them. However, if you spend considerable amounts of time out at
sea
or in large bodies of water, it is highly recommended you seriously consider investing in one. After all, what else are you going to do if a disaster strikes? When you are lost at sea, no one is going to pass by you to offer their assistance. A marine radio can provide you with the
tools
you need to ensure you have all your bases covered at sea. Plus, with their functionality, they can be useful in more ways than one. Take a deep breath as you begin this journey. Marine
radios
can be quite complicated to beginners but we list many good steps on deciding which one is best suited for you.
Standout Picks
Criteria Used for Evaluation
Advanced Features
Before you make your decision, there are also some other very important factors that you need to consider and it starts with Digital Selective Calling (DSC). What this provides for you are non-emergency functions that allow you to communicate with other boats. This can be ideal if you and your friends are looking for an ideal location to fish, for example. In addition, though, some marine radios will support multiple scanning options. With Dual-Watch functionality, you can check on VHF Channel 16 for traffic while monitoring a working channel. Given that continuous watch on this channel is necessary while at sea, you will virtually see all radios integrate it. Also, with TriWatch, you can then add VHF Channel 9 to the scan list.
Lastly, some handheld VHF radios may possess the capabilities to use AIS, GNSS, WAAS, and GPS positioning. With this, you will also see them sport a specific amount of waypoints which merely allow you to mark a specific placement on the screen.
Sound Quality
It really does not matter if you are discussing transmitting audio or receiving audio, the sound quality of both is very important to you and the individual receiving your audio. Much like in a high-quality pair of headphones, you are going to want to look for noise-cancelation. It really is exactly what it sounds as this technology will reduce the amount of background noise, such as moving water, howling winds, and other motor boats, you hear. Also, nothing is worse than attempting to listen to a radio channel only to have the audio be distorted to the point where you can barely make out anything; so ensure there are no distortion issues.
As a side note, nearly all radios will have a jack for an external speaker and this can also enhance the sound quality, clarity, and volume.
Durability
It goes without saying that an ideal marine radio will be encased in a durable housing that can withstand some abuse. But, what you may overlook is the size and the shape of the radio. If you have a smaller boat and are going with a fixed mount radio, you may want one that is more compact and flexible to mount. However, what really needs to be talked about in this section is the water protection of marine radios. If you were to make a list of the most important design features, this could easily be number one.
It is simply unwise to bring a radio out to sea that is not waterproof or at least water-resistant. In order to tell how waterproof one is, though, you need to analyze its rating. There are different systems that rate and classify waterproofness and The International Protection Marking is one of them. For waterproofness, you are only worried about the second number and the higher the number, the more resistant to water it is. For example, an IPX8 rating would make the radio suitable for continuous immersion in water.
Visibility
While marine radios will live and die by their functionality and performance, you can't overlook something as simple as the user interface. When it comes down to it, there are two major points of emphasis. Firstly, you want to assess the design of the button layout and ensure it is intuitive enough to not be a hassle. Not all marine radios will be the same as, for example, some will integrate rotary knobs to control the channels or volume and this is much easier than pushing a button. You may also see some designers go with a multiple-key structure and this means that certain keys actually have more than one function. This can get confusing and may take some time to get used to.
Secondly, what are you looking for in regards to the display? Not many are going to be built with OLED screens but you at least want a clear display to see all the necessary information you need at a glance. Also, ensure that the display can be seen in broad daylight (backlight intensity and anti-reflective coatings can help here).