Best Shower Radios
In a Hurry? Editors choice: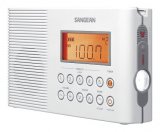 Test Winner: Sangean H201

Are you guilty of singing in the
shower
? For whatever reason, this is something that many people love to do. But, what if you do not want to hear your own voice and instead want to hear actual music? Well, this modern world has you covered with this little device known as a shower
radio
. While all sorts of devices are capable of playing music for you while you are cleansing yourself, not all of them will be protected against
water.
That is one of the key advantages of this technology because the internal components are protected with
waterproof
or water-resistant housing. But, as with anything else, you have your amazing models and also your duds. The guide below will help you narrow down your options to some of the
best speakers available
on the market today.
Standout Picks
Criteria Used for Evaluation
Battery Life
For the most part, there will be one of two types of models that you can invest, in regard to the power source. Firstly, there are units that are run off of their own integrated battery. With this type, you are required to recharge it when the battery is depleted. Typically, and this will vary based on the size of the battery and its type, you may get anywhere from six to 12 hours of battery life. However, you can play a role in enhancing the battery life. For example, if the unit has Bluetooth, this draws juice when it is enabled. While it may not be that noticeable, if you use Bluetooth constantly, the battery will drain quicker. The same goes for playing the speaker at its highest volume.
The other type is one that is run off of external batteries. These units will typically not have Bluetooth but when the juice runs out, you will simply need to replace the battery. Depending on the brand of batteries you get and your usage, they may last several months.
Features
Alright, now it is time to talk about the actual radio feature of these devices. There is a lot to cover here, so strap in. Okay, first off, let's discuss the two types of frequencies. As many of you are aware of, this is AM and FM. But, do you actually know the difference? Not all devices will have both frequencies so you may want to understand the difference. With AM, the bandwidth is a bit narrower and the coverage is wider than FM. The advantage lies in its reception as it is able to pick up signals even if they are not that strong. However, without question, FM has better sound quality than AM. Yet, FM frequency is much more local and it can't be transmitted over longer distances.
Speaking of reception, while various factors can affect it, you may want to look for models that can account for an external antenna. With an antenna, the reception can be improved to better pick up stations. Also, and this is the last point, radios will either have a digital tuner or an analog tuner. With the former, stations are picked up automatically and there is less chance of interference (which can be a big issue with analog tuners).
Water Capacity
Clearly, this is one of the most important design features for you to look for. Given that these radios are meant to be used in the shower, they need to have suitable water protection. However, you need to understand that there is an astronomical difference between a device being water-resistant and one being waterproof. The main distinction is that a waterproof device can be submerged in water while a water-resistant device can only handle splashes and rainfall. So, how do you, as the consumer, determine the difference?
You need to keep an eye out for the IP rating of any device, and, in this case, this would be the shower radio. The IP code is used to clarify any device's resistance to both solid objects and water and consists of two numbers. The second number refers to the water protection and that is the one you want to focus on here. Also, if you see an X (for example IPX7) that means it is not rated to handle that particular protection. As for the number, the higher it is the more resistant it is to water. For example, IPX7 would be suitable for immersion up to one meter while IPX4 is only suitable for splashing water. You can view the full chart online if you need to.
Durability
Whenever you are in the market for any type of device that emits sound, you need to pay attention to the quality. Have you ever listened to a speaker or a pair of headphones that distorts audio? If you have not, you are not missing anything as the experience is not pleasant. For sure, you want to look for a model that offers crystal clear sound. However, it does not end there. What also needs to be assessed is the tuning. While the specific materials that are used to design a speaker certainly pay dividends to its outputted sound quality, so is the manner in which the audio components are tuned.
For example, if you are a consumer who really enjoys deep bass, look for a system that implements this technology. On the contrary, if you prefer a more subtle sound and do not want to feel the bass, look accordingly. This is also really important with radios that do not have Bluetooth technology because you can't adjust the audio settings on another device.
Top 10 Picks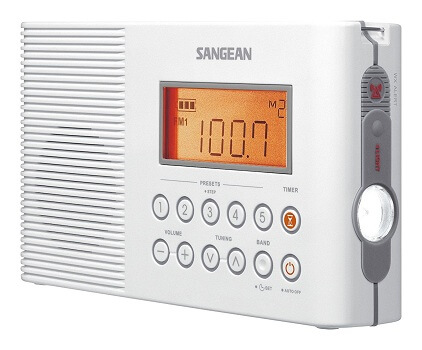 Some of the units on this list feature advanced technology and features and to be honest, the H201 does not. Yet, it remains the best shower radio in the world due to its build and reception.
Read more
Water Protection
Due to the fact that this complies with the JIS7 standards for waterproofness, it is safe to claim that the H201 is fully waterproof and not just water-resistant.
Sound Quality
When you compare the H201 to other units on the market, it is clear it sports one of the most impressive sounds around. Also, it can get pretty loud on its maximum setting.
Reception
This is where the H201 really shines. Firstly, it has a built-in antenna for both AM and FM reception. Secondly, it sports PLL digital tuning for precision and lastly, you can preset five stations.
Additional Technology
While Sangean does sell a version of this model with Bluetooth, this specific model does not support the wireless protocol. But, it does have a timer that can be set from one to 120 minutes.
Battery Life
Due to the fact that this is run via two D batteries, you can stockpile as many as you want. Of course, one pair is going to last you quite a long time.
Overall
Across the globe, this has received acclaim from nearly everyone who has used it. Now that you have seen the full details, it is not too much of a surprise to see why, is it?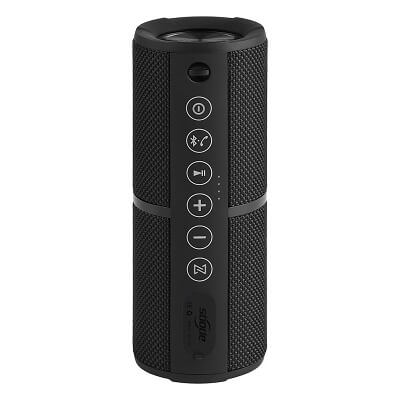 From the last model that did not sport much extra technology comes this Bluetooth speaker that has all the bells and whistles. If it could crank up the volume a little more, it may have even secured the top spot.
Read more
Water Protection
The combination of the rugged rubber housing and the durable fabric material ensure that this is rainproof and splashproof. However, it is advised to not submerge this model.
Sound Quality
Despite the maximum volume not being that loud, the audio itself is crisp and clear. This is thanks to the 360-degree HD stereo sound that this bad boy boasts.
Reception
Sbode designed their Bluetooth speaker with built-in FM reception. Integrated into this system is both automatic and manual search as well as the ability to store certain stations.
Additional Technology
Not only does this sport the Bluetooth wireless protocol but it also has what is known as the TWS function. With this, you can pair two of these speakers to completely immerse yourself in the music.
Battery Life
It is rated that on a full charge, this will last up to eight hours. This time will vary depending on how frequently you use the Bluetooth technology.
Overall
The sheer brilliance of this design can't be overstated enough. For some of you, though, and this is a fair criticism, it will simply not be loud enough to suffice for your needs.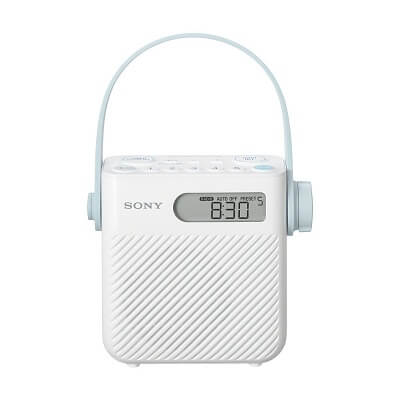 Sony is one of those brands that you really can't go wrong with. While their ICF-S80 model may not have the most impressive sound quality out there, it has fantastic radio reception.
Read more
Water Protection
Sony rates their ICF-S80 as being splashproof. Now, what this means is it will be ideal for showers but not for full submersion in water.
Sound Quality
It is Sony, so you know the sound quality is at least competent. However, as some buyers have noted, it does not sport the best sound quality on the market.
Reception
The ICF-S80 is a radio through and through. It has both FM and AM reception along with five preset channels and excellent overall reception.
Additional Technology
No, this does not have Bluetooth technology. In fact, it does not have an alarm clock either. Yet, what it does possess is a timer feature.
Battery Life
It is rated that this can last up to 100 hours on a full battery. In addition to this, to save battery in the long run, it is designed with an auto power-off function.
Overall
Some consumers out there may have expected slightly improved sound quality from Sony but all things considered, it is tough to complain about the results of their ICF-S80.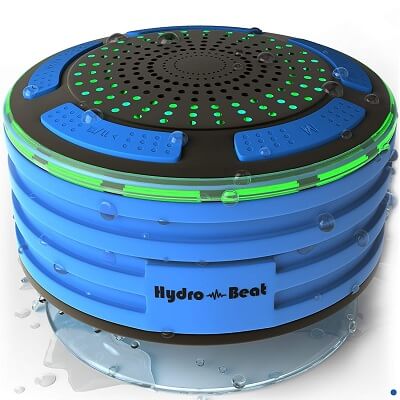 There is so much to love about this waterproof speaker. First off, it has an IPX7 waterproof rating but it also sports Bluetooth technology and LED lighting to enhance the mood.
Read more
Water Protection
As mentioned, this does sport an IPX7 waterproof rating and this makes it submergible in water. In fact, you could submerge this in one meter of water for 30 minutes and it would be fine.
Sound Quality
The general consensus is that this has incredible sound quality. Various users have lauded the quality and have claimed it can even pack a punch at the beach.
Reception
Yes, this does have FM radio reception built-in. However, as some buyers have reported, it can be very hard to operate and the instructions do not even cover it.
Additional Technology
With a range of 24 feet, this can connect to other Bluetooth devices. Of course, if you want to use your other device in the shower as well, ensure it is water-resistant.
Battery Life
It is rated that you can get up to six hours of playback on a full battery. When fully depleted, it is then claimed to take around three hours to fully charge when fast charging.
Overall
Hydro-Beat deserves a lot of accreditation and praise for their design. Though they could have designed it to be more intuitive, that is looking at the glass half-empty and not half-full.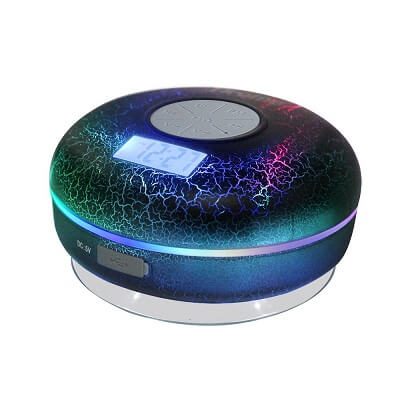 If you enjoyed the visuals of the last option, you have not seen anything yet. But, it is worth noting that you can't disable the lighting on this model and some users will not want to deal with them.
Read more
Water Protection
This is rated to be waterproof per IPX7 standards. So, if it can handle splashes of water as well as submersion in water.
Sound Quality
In addition to the clear audio that is outputted by this system, it is also designed with bass home audio technology and this enhances the bass and the overall kick.
Reception
More than 30 stations can be saved automatically, which is quite amazing. As for the radio itself, this has FM reception.
Additional Technology
Thanks to the equipped Bluetooth 4.0 technology, you can connect your smart devices to this speaker. This is compatible with nearly all modern smartphones and tablets.
Battery Life
A built-in rechargeable 2600 mAh battery delivers the juice here. On a full charge, depending on how frequently you use the Bluetooth technology, it can last six to eight hours.
Overall
This is a great example of a device some users will love and others will loathe. Primarily, it is due to the visual effects of the lighting and the fact that they can't be disabled. But, the performance is terrific regardless.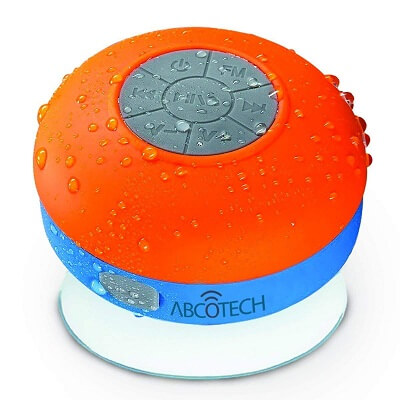 This is yet another model that sports Bluetooth technology but if Abco Tech had to do it again, they may have designed their model with an LCD display.
Read more
Water Protection
Provided that this is rated with an IPX4 waterproof rating, it should probably not be submerged in water. Keep this one in the shower and you will be fine, though.
Sound Quality
Thanks to the three-watt speakers, the sound delivered is crystal-clear. Plus, it can easily be adjusted via the interface on the top.
Reception
This can pick up any station from 8.0 to 108.0 MHZ. However, as one buyer mentioned who lives in a major city, the system can struggle to pick up stations at times.
Additional Technology
For such a small device, it is astounding that it is able to pack in as many features as it does. Two others include Bluetooth technology and a built-in speakerphone for answering phone calls.
Battery Life
Due to the new and improved battery, you can expect up to 15 hours of battery life on a full charge.
Overall
Sure, this little device is far from flawless. But, whenever a product's positives vastly outweigh its issues, you know you have a strong product.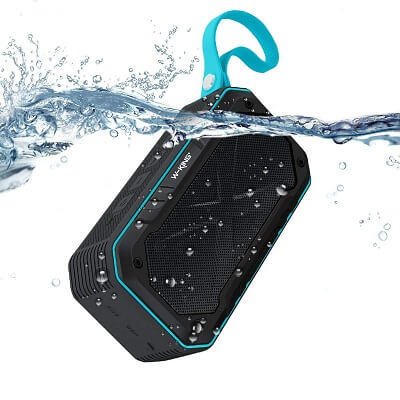 What is important to note, right from the get-go, with this model is it does require a smartphone. With a smartphone, it can act as a shower radio, however.
Read more
Water Protection
Thanks to the silicone casing and the sealing of this design, it sports an IPX7 waterproof rating and this makes it suitable for splashes and submersion in water.
Sound Quality
The crystal clear sound and the strong bass that are outputted from this system make it ideal for more than just morning showers.
Reception
Yes, you will need to use a smartphone with this model. With one connected, you can then access any radio app that your little heart desires.
Additional Technology
In order to sync this with your smartphone, it would need Bluetooth and that is exactly what it has. But, it also sports a 3.5-millimeter audio cable port for non-Bluetooth devices.
Battery Life
Even if you were to set the playback volume at 80 percent for the duration of the battery, it could still last up to 12 hours. Also, a micro USB cable is included for charging (which takes two to three hours).
Overall
If you do not want to rely on your smartphone, then this is probably not the model for you. It is a terrific Bluetooth speaker but a smart device is needed for it to function as a radio.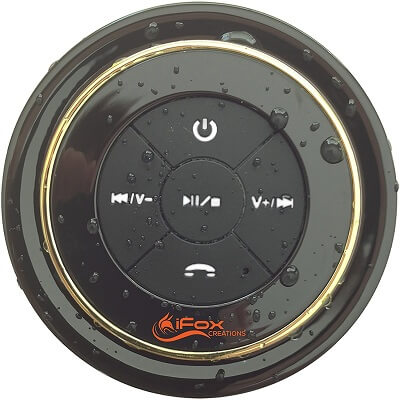 The iF012 is a lot like the last option in that you will need to access an app such as iHeartRadio for it to function as a radio. In the modern world, though, this should not be too big of a deal.
Read more
Water Protection
IFox claims that their iF012 model can be fully submerged in water. In fact, it is rated to withstand water depths down to three feet.
Sound Quality
For being such a small speaker, it is quite amazing how deep the bass is on this device. Then again, at times, the sound becomes distorted which is a bit of an annoyance.
Reception
Indeed, this is not a standalone shower radio. In order to use it in this sense, you will need to connect your smartphone to an appropriate app.
Additional Technology
Though this does sport the Bluetooth wireless protocol, the overall range has been questioned by some buyers. While still adequate, it does not have the best Bluetooth range.
Battery Life
In just under three hours, you can have the integrated battery recharged. Once fully charged, the battery can last up to 10 hours before needing to be recharged again.
Overall
Really, this is eerily similar to the last device that was documented on this list. If you can live with needing your smartphone to play all kinds of music, you will love this.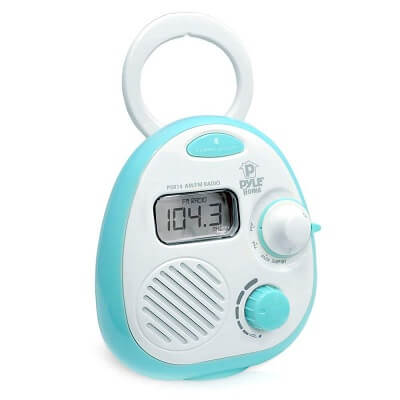 There are some instances where technology devices pack too many features into their design and it makes them unnecessarily complex. The PSR14, on the contrary, is an example of simplicity done right.
Read more
Water Protection
The water-resistant housing of the PSR14, with the whole device being rated to comply with IPX4 standards of waterproofness, makes it suitable for splashes but not submersion.
Sound Quality
Overall, it seems that the vast consumer base has enjoyed the sound quality of the PSR14. It is able to deliver loud volume without sounding too distorted.
Reception
One nice aspect of this model is it sports an AM and an FM tuner. However, the integrated dial does not give you the most precise control when you are turning through the channels.
Additional Technology
Even though this does not have Bluetooth technology, it does have a programmable alarm clock and also a built-in auxiliary input for MP3 players and other devices.
Battery Life
Some of the other devices on this list integrate rechargeable batteries but with this, you supply the batteries. The clock runs off of AAA batteries and the actual radio runs off of AA batteries.
Overall
This will appeal to the old-school crowd and not those seeking the most advanced technology device on the market. For what it does, it is designed very well but could use some improvements.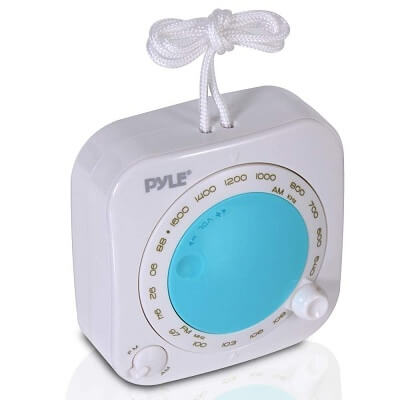 Back-to-back options from Pyle close this list out. This is actually their PSR71 model and it is as basic as basic can get. For some of you, that will be exactly what you are looking for.
Read more
Water Protection
Due to the marine-grade IP44 water-resistant design of the PSR71, you can use it in showers or even while you are doing the dishes with no worries of internal damage.
Sound Quality
For its price, the PSR71 does not have bad sound quality at all. However, to call it great or superb would be an exaggeration.
Reception
As with their last model on this list, Pyle decided to go with an old-school analog dial for tuning. While you can access both AM and FM frequencies, it can be hard to pinpoint certain stations.
Additional Technology
For sure, this is as basic as a device gets. It does not have built-in Bluetooth technology or really any other functionality other than a radio.
Battery Life
One benefit to the lack of technology and features is that the battery life, which is provided by two AA batteries, will be outstanding for this model.
Overall
The PSR71 is not a technology device that is going to wow your friends or anything like that. But, with AM and FM frequencies and a water-resistant core, it does its job.

Subscribe to our Newsletter