Best Shower Mats
last updated:
Feb 07, 2020
The 1950's: a point in time where if there was a place in the bathroom where homeowners could place fabric- they did it. Today, we know that the fabrics in the bathroom are a breeding ground for bacteria, so we keep surfaces as nonporous as possible. Unfortunately, that also meant handy shower mats have gone the way of the carpeted commode. These options have often gotten a bad rap from users that feel these products might hold on to bacteria, but that couldn't be farther from the truth. Many of the modern designs that are out there on the market are made from nonporous and anti-bacterial materials that will wash all of that dirt and grime and soap right down the drain. Plus, many models adhere to the base of your tub with a series of suction cups that can be popped off for a quick rinse when you are cleaning your tub. What you will find in this buyers guide are some of the best shower mats we could find that were considered to be comfortable, safe, easy to clean, and affordable.
In a Hurry? The test winner after 4 hrs of research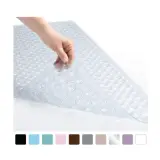 Gorilla Grip
Why is it better?
Affordable
Trusted brand
Hundreds of suction cups on base designed to keep it in place
Uses premium plastic
In a
Hurry? Editors choice: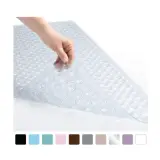 Test Winner: Gorilla Grip

Style
Size
Materials
Effectiveness
Value
By Default
Criteria Used for Evaluation


Style
The style is important because this is something that you are going to have to look at at least once a day!
The design was something important that we considered because a well-designed unit means that users will be more inclined to keep them in their bathroom because they won't detract from its style. Plus, a smartly designed model will also keep water from forming underneath the suction cups. Things that drew us to many brands was the option to select different color options. While most modern bathrooms have white fixtures, some users will want something that is clear or white to blend in with their tub, while others want something that will add a little bit color and flair to your space. The color might not be important to some, but it is a nice option to have when it comes to these products. Another thing that we liked about these products is when they offered unique design like pebbles or unique hole cutouts that often give it a more interesting look.


Effectiveness
If it isn't stable and doesn't provide traction, then it is basically just a bathtub surfboard- which is a bad thing.
This is the most important aspect that we looked at because if it can't keep you from slipping, it isn't a very effective product. One of the most important things that can turn one of these designs into an essential surfboard in your bathtub is the method in which it adheres to the surface. Most companies utilize suction cups on the base of their design to ensure that is will stay in place even with the water running. Generally, the more suction cups means the more chance it will have to stay put even is some of them slip off. It is important to note, however, that sometimes more suction cups means that it could affect the drainage of water which is a problem for some users. Plus, users often run into trouble when they attempt to fasten their suction cups to a surface that isn't entirely clean or dry. Some companies try to sidestep this issue by manufacturing design that has a sticky underside that will form to the base of your tub. While these designs will stay put, users will not be able to take these units off and toss them into the washing machine as easily as the suction cup options.


Materials
We wanted to make sure we selected safe and non-toxic materials for you and your family.
There are some options offered that are made from bamboo which is better for traction when conditions are wet, but these options are often a breeding ground for moisture and don't hold up for the long haul. In this case, you are going to want to stick with plastic that has a textured surface. We made sure to stick with plastics that were certified to be BPA free, non-toxic, and antibacterial. That doesn't mean that over time mold won't begin to grow between the product and your tub, it just means that the product itself will be impervious to mold and bacteria- which is important because that's what you are going to be standing upon.


Size
Finding the right fit for your tub is an important part of ensuring that is it safe and effective.
Not every bathroom is the same, and there are a few types of showers designs out there that won't work with every product. We tried to get a combination of both. For users that have a standard long tub, we selected the long rectangular designs that would run the entire length of the tub without blocking the main drain found by the spigot. For standing options, we selected square designs that have a hole in the middle for the drain. Generally, the hole in most of these designs measures to be about 3-3.5 inches, so be sure that you measure the size of your drain before making your decision. Covering your main drain- especially for standing models- can create quite a wet mess if the water begins to build up inside the unit, and in some cases can overflow out onto your bathroom floor. With the tub designs, blocking your drain isn't so much of an issue, but standing water is a quick way to accumulate thick soap scum, mold, and mildew much quicker than if you had an open drain.


Value
No one likes to spend more money than they need to.
As always, the price is something that we took into consideration for each option. While we want to make sure that you get the best quality of product out there on the market, we also don't want you to spend more that you need to. One way we determined if a product was considered to be overpriced was to look at the materials that they use to make their design. For the most part, companies all use the same types of materials- such as PVC, vinyl, and various types of plastics. These plastics all must meet the same requirements to be considered non-toxic and BPA free. With that in mind, we looked the materials that were used for the higher priced options and compared them to the more affordable options to find that they were essentially the same. Often, higher priced options were priced that way due to a distinct or experimental design feature that users typically didn't care for, or they came from a name brand that feels justified in selling their products at a higher price point. Since these products have such as simple design and have no additional components, higher price points are often arbitrary when comparing essentially the same ingredients of plastic.
Expert Interviews & Opinions
Most Important Criteria
(According to our experts opinion)
Experts Opinion
Editors Opinion
Users Opinion
By Default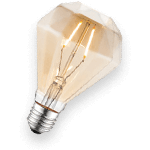 Materials
While some companies might make claims about how their products are non-slip, one easy way to tell if they are just blowing smoke is to check to see what types of materials that they use. For the most part, all of the options out there on the market are made from either a hard or soft plastic material.
Frequently Asked Questions
q:

What's the benefit of having one?

a:

Hosing down and soaping up after a long day of adventures can be a dangerous business for the young and old alike. Typically, when you fall into your bathtub, you won't have a whole lot of soft options around you to fall on. That's why it is really important that you have some sort of grip at the bottom to prevent your feet from slipping when you are climbing in and out. This is especially true for older folks because sometimes they don't bounce back from a fall as quickly as the younger can. Young or old- no one wants to take the risk of slipping and falling and potentially hurting themselves, so it is always better to err on the side of caution.
q:

How often do they need to be washed?

a:

It might seem a little strange that you will need to wash something that is always exposed to hot soapy water- but it is just a fact of life. Anything that is exposed to soap over long periods of will eventually fall victim to the dreaded soap scum. Many users often toss their designs into the washing machine about once a month, then the frequency of washings will also depend on how often your bathtub is used. Households with few people will often not need to wash theirs as often as households with more people. We feel that users will just be able to know by looking at their product when the times comes to throw it into the washing machine.
q:

Should I take them out after every use?

a:

This is all a matter of personal presence. Adding another task to your daily cleaning ritual might not sound all that appealing to you, or some of the members of your family. It has been suggested by many of these companies that users pick up their product off of the tub floor and drape it over the side to dry when they are done, but some users just opt not to do this. That's perfectly ok, and it will not harm your unit in the long run. The only problem with not taking your unit out of the bathtub after every use will just mean that you might have to wash it more frequently than those that hang their design up to dry after every use.
q:

What types of materials are they typically made from?

a:

What we have discovered is that companies typically stick to materials such as PVC, vinyl, and plastics. While these materials typically don't have a reputation for generating traction, the key is the pattern that is crafted on the top of the unit to create traction. If the plastics aren't hard, however, softer plastics are used to allow the foot to be able to sink and dig into the material the way it cannot with a glossy ceramic tub. Our research has uncovered that harder plastics typically have a lot more traction than softer plastics, but they can be a little uncomfortable for feet.
q:

Can I throw them into the washing machine?

a:

Yes, almost all of these products can simply be tossed into the washing machine when it comes times for them to be cleaned. It is important that you do not put them in the dryer because the high heat could risk warping the plastic. Also, if you opt for a design that has a hard plastic base, these units should not be placed in the washing machine.
q:

Are they safe to use?

a:

When it comes to plastics, some homeowners can become a little nervous when it comes to certain types of plastic, especially in the presence of children. Rest assured that all of the products that we selected on our list are made of plastics that are considered to be 100 percent non-toxic, and most of them are BPA free. In fact, many of them advertise that their products do not have that familiar plastic odor that often comes along with plastic products that just seems to permeate the air. Homeowners and parents can feel confident that these products are perfectly safe for everyday use.
q:

Can I use them for other things?

a:

Absolutely! In fact, if you find that it doesn't quite work for you in your tub, there are a few other places that users have benefited from one of these products. Some users like to place them right outside of their pool to make it a little easier and safer when it comes to climbing out of their pool, and the same thing can be said for hot tubs as well. Basically, anywhere that you notice accumulates quite a bit of water that can become slippery is a perfect place for one of these products.
q:

How can I ensure that they stick to the inside of my bathtub?

a:

This is one of the most problems that users run into. When placing their product into the base of their bathtub, they notice that many of the suction cups will not stay put, and a mat that isn't properly affixed can be dangerous. To ensure that your unit is secure, it is imperative that the surface that you are working with is both clean and dry. The base of your tub might have a layer of invisible soap scum that is going to interfere with the suction cups. Some users find that when the surface is warm they have a better chance of getting it to stick. To achieve this, after you clean the base, fill the tub with a thin layer of piping hot water, and let it sit for a few minutes. Then, drain the tub, wipe it down, and affix your design to the surface.