Best Pressure Washers
In a Hurry? Editors choice: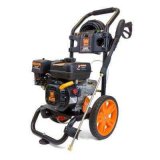 Test Winner: WEN PW31

For the toughest cleaning jobs, a quality pressure washer is an important addition to have in your home. Mud, mildew, grass clippings, grease, and blistered paint are common problems everywhere from your home to your workplace. With a pressure washer, you get things done faster, easier and clean more effectively. These
handy
tools also can be used with other accessories such as the car wash gun to give you a car
wash
experience in the comfort of your driveway. If you do not yet have a pressure washer it is definitely time to invest as it will make your life easier and keep your
home
cleaner. Below we have listed the top ten pressure washers of 2019 and explained why these pressure washers are better than the rest.
Standout Picks
Criteria Used for Evaluation
Style
These outdoor cleaners come in two types: electric-powered and gas-powered. Though they work the same way, there are some key differences and functions that will depend upon its cost, durability, portability, and convenience of use.
Electric pressure washers are usually the 'starter' type of pressure washer. These cost less, quieter and won't have oil spills compared to its gas counterpart. These types weigh less so it makes it convenient to bring around whether you're moving to a different apartment or cleaning your boat off in the dock. It's less powerful than gas-powered models making this an ideal for household use requiring light jobs.
As for the power cords, it's best to read into the manufacturers manual as may need different energy requirements. Some electric models needed to be plugged directly to the outlet while others may allow the use of extension wires. With this in mind, it is best to know that there may be some limitations as to its scope of cleaning area. As with any electric-powered models, always keep the power connections dry and never touch the plug if your hands are wet.
Gas pressure washers give you the mobility and power that electric-powered ones lack. It also does the heavier cleaning in hard to reach crevices like concrete sidewalks. These types usually need to a manual pull-start while some modern ones may have a push-start button to get it running. Fuel requirements may vary so it's best to look into the manufacturer's manual as to the amount you'll need.
Effectiveness
The pressure output or PSI determines the capacity of its performance. When looking into pressure washers, you need this to determine whether you're looking for light or heavy duty washers.
For light-duty pressure washers, it's usually pegged at 1,300 to 2,000 PSI. These are great entry pressure washers that can help you clean furniture patio, lawn machines, vehicles and even stairs. These types are fit for smaller jobs in residential spaces, easy to store, compact and lightweight machines. Light duty pressure washers may come off as 'fragile' equipment so it's best to handle these with care to prolong its use. These are generally electric-powered and can be stored easily in the garage.
Medium duty pressure washers have 2000 to 2800 PSI. These types are intended for intermediate cleaning jobs and shop use. It is usually built with sturdier materials compared to light duty washers. It delivers a higher water pressure that can clean large vehicles like SUVs and RVs, garage floors and decks. These may or may not be lightweight with some limitations as to the 'convenience' of transportation. These usually come in gas-powered pressure washers so cleaning after use is a must to keep it from rusting.
Heavy duty pressure washers are fit for commercial uses and may not be an excellent choice for a 'starter' washer. It can withstand prolong usage since it's usually made of professional-grade materials firing at 2900 to 3000 PSI. It delivers extra cleaning power needed in farm equipment, stripping paint and driveway cleaning. This is not fit for car cleaning as the high pressure can chip off the paint. However, if you're planning to get some paint removal off (such as on fences and walls), then having this equipment helps you work faster and easier.
Extra heavy duty pressure washers come with a 3300 PSI and above. These models are similar to a heavy-duty pressure washer but only with added power. For hard surfaces with stubborn dirt, grime and stain, then this equipment may help get the job done right.
For multi-duty models, these also come with a higher PSI at 3300 and above. However, the key feature would be the machine ability to adjust the water temperature and pressure flow. These all-in-one pressure washers can be used for delicate cleaning jobs as well as heavy duty ones.
Hot Water pressure washers are usually used in farms and industrial cleaning tasks. This model usually come at a higher price and requires more skill to operate. However, these clean faster and much better compared to other cold water machines and require less soap compared to its counterparts. Its PSI will depend on the manufacturer.
PSI and GPM are essential metrics to look into when looking into a pressure washer's performance. GPM is the key to know how long it will take to get the job done and will be metric you can use with similar ones in the market. Since parameters, application, operation, design,
and performance differ from one manufacturer to another, these metrics should help you gauge the kind of equipment you'll need for the job.
Light-duty models have around 2 GPM and usually, fit for basic household tasks such as cleaning cars and furniture. These models also work best with garage cleaning, siding and clearing grime and dirt off fences. However, don't expect this to clear off wall paint or second-floor cleaning due to its limited range and GPM.
As is with most gas-powered models, medium duty ones have around 2 to 3 GPM. It does a better performance in cleaning garage floors, furniture and driveways. Compared to its light-weight counterpart, these will work well with second-floor cleaning, stain removal, and car cleaning. It might still not work with clearing off wall paint.
Heavy-duty models have a 3 to 4 GPM. These work best for paint preparation, for walls and do a similar job to that of a medium-duty model. But these shouldn't be used for cleaning vehicles as the paint might chip off due to high pressure and water flow.
Extra heavy duty's professional-grade materials are meant for the 'extra' boost in cleaning action. These will work best to take off grime, stain, and dirt from hard to reach crevices. These will not work with delicate surfaces such as cars and patio furniture.
Ease of Use
Some pressure washers come as an easy to assemble model that connects the hose, electric wires and spray handles or wands. For some models (particularly gas pressure washers) with intermediate to heavy-duty use, it may take some skill and will require some physical capacity to move parts or the machine itself.
Durability
Some of the pressure washers, particularly entry-level electric washers, are made of plastic materials that can be easily damaged after some use. However, with proper care and maintenance, you can prolong the longevity of its use. As for intermediate to heavy-duty pressure washers, frames are usually made of sturdier professional metal materials such as brass or aluminum. But keep in mind that gas-powered models may require regular maintenance and check-up to prolong the duration of use.
Top Ten Pressure Washers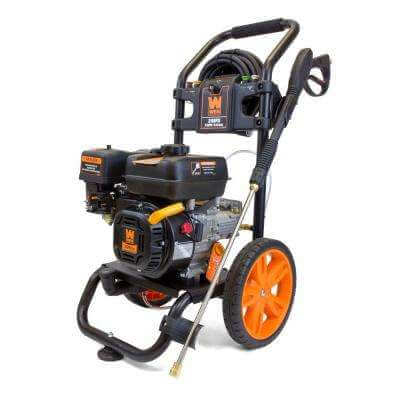 Gas Pressure Washer
Pounds per square inch (PSI): 2800 PSI and 3100 PSI
Gallons per minute (GPM): 2.5 GPM
Read more
Ease of use:
This machine is easy to assemble. It's cordless you won't have to worry about entanglements. It has a fuel shut-off valve that helps keep oil from the carburetor when not in use.
Durability:
Well-constructed with sturdy wheels fit for rough terrains and won't tip over easily unlike other similar models.
Product Specifications:
This product has five nozzles to choose from -- 0°, 15°, 25°, 40°. For the soap, it can be easily stored in the storage slots. It uses a 208cc 4-stroke OHV engine that pumps 2.5 gallons of water per minute with 3100 PSI pressure for optimum cleaning performance. This equipment has a reservoir for soap to clear grime, dirt, and debris better. It can reach larger and farther surfaces with its 30-foot flexible hose. With 2 never-flat 12 inch wheels, this equipment is easy to transport even on rough terrains. You can easily change the lances by simply pulling back the collar of the end of the wand.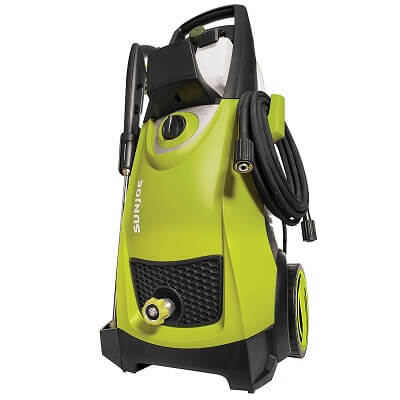 Electric Pressure Washer
Pounds per square inch (PSI): 2030 PSI
Gallons per minute (GPM): 1.76 GPM
Read more
Ease of use:
No need to pull any cord as it's a 'plug-and-use' type of machine. Extension spray makes it easier to reach difficult places without having to change hoses or moving the machine. Easy switch for different pressures makes it convenient instead of changing nozzles to get the desired result. Best used for delicate surfaces like cleaning decks and cars.
Durability:
Good value for your purchase. Compared to renting a pressure washer, this makes for household cleaning jobs especially if you're regularly cleaning decks, patio furniture or cages.
Product Specifications:
The SPX 3000 is fit for intermediate cleaning jobs around the house, patios, boats, cars, and decks. This equipment carries an 1800 Watt/ 14.5 amp motor to generate a maximum of 2030 PSI. It has a dual detergent tank with 0.9-liter capacity that is removable should you choose not to use it. This equipment has a detergent dial that you can switch according to your preference. A 34-inch spray wand can reach hard to access areas with rear wheels for easy portability. The user can choose from 5 nozzles: 0 º, 15 º, 25 º, 40 º and soap using a 20-foot pressure hose. This washer pressure can go as far as 35 feet from the source of the power outlet and automatically shuts off when not engaged.

3

. Generac Speedwash 7122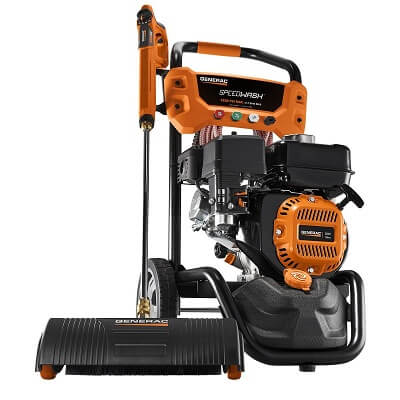 Gas Pressure Washer
Pounds per square inch (PSI): 2900 PSI and 3200 PSI
Gallons per minute (GPM): 196 cc GPM
Read more
Ease of use:
Easy to assemble and use. Hose connections are accessible that can be quickly attached and detached at will. Comfortable spray wand and high pressure wash gets any grime, dirt and debris.
Durability:
Compared with the usual aluminum pump, this washer has a brass axial cam pump that is more resistant to damages.
Product Specifications:
This pressure washer has user-friendly controls that turn the engine on/off, choke water and fuel shut off. It uses a powerful OHV engine for optimum cleaning jobs, 2 wheels for easy transport on rough terrains and stairs, kink resistant and non-marring flex hose. Engine and pump are balanced over an axle for easy mobility. This pressure washer also has an onboard detergent tank to use as needed. A 12" surface power broom can be used to clean wide surfaces such as patios and decks. Turbo nozzle cleans tough surfaces and crevices of grime, dirt, and debris. You can also utilize high-pressure soap blaster for extensive cleaning jobs.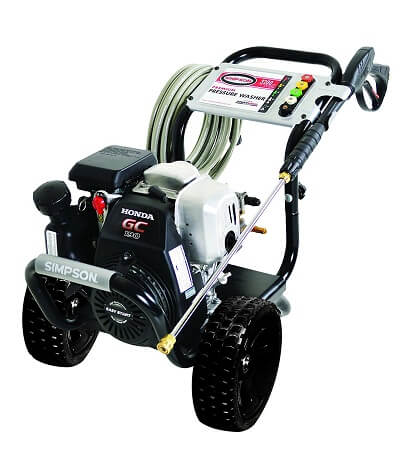 Gas Pressure Washer
Pounds per square inch (PSI): 3,200 PSI
Gallons per minute (GPM): 2.5 GPM
Read more
Ease of use:
The rip cord can be pulled without much physical strain on the shoulder muscles. By checking the manual, the procedure is easy to follow even for first-time users.
Durability:
The frame is made of welded steel so expect that this machine will last for a long time. However, the axial pump may fail to function after a few years as expected from a mid-range pressure washer. It's a quality low maintenance pressure washer just right for the price.
Product Specifications:
The MSH3125-S pressure washer is lightweight (65 lbs) and made of durable steel-frame tube and base plate coated with corrosion protection for long-lasting use. It measures 34" X 21" X 24" with 10" flat wheels, a portable size for easy mobility. It is powered by Honda GC190 engine for better cleaning performance. Soap nozzles have a 0, 15, 25 and 40-degree angle for faster and easier access to any nook and cranny. Spray gun delivers a 2.5 GPM to flush out tough stains, dirt, grime, and chemicals. This is a maintenance-free OEM technology axial cam pump with 5 spray tips to choose from.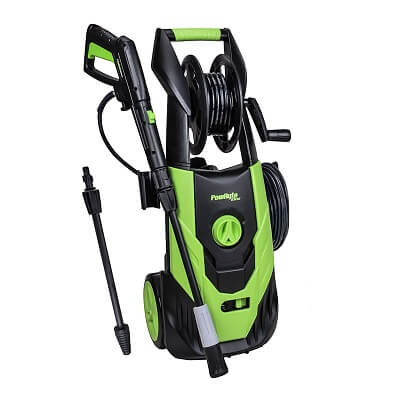 Gas Pressure Washer
Pounds per square inch (PSI): 2100 PSI
Gallons per minute (GPM): 1.80 GPM
Read more
Ease of use:
For intermediate residential use, this pressure washer is easy to use and a good price compared to others available in the market. It's lightweight and compact so portability won't be a problem. Its long handles make it convenient to move around with little to no help.
Durability:
Motor can burn in the long run. It may require regular maintenance to prolong its use. However, it does have a versatile cleaning capacity because of its quick-connect spray.
Product Specifications:
This pressure washer can generate up to 2100 PSI for optimum cleaning performance. The spray nozzle can be adjusted from 0 to 40 degrees that can rotate to 360 degrees with Hi / Lo setting. You can have the option to use a detergent dispenser as needed. This electric pressure washer has a 35 ft. cord, 20 ft. pressure hose weighs 22.9 lbs and measures 25X14X13 inches.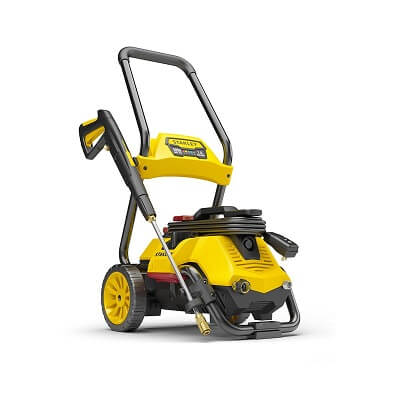 Electric Pressure Washer
Pounds per square inch (PSI): 2050 PSI
Gallons per minute (GPM): 1.4 GPM
Read more
Ease of use:
Despite its innovative design, it's a simple machine to operate and can be used with or without the cart fit for outdoor cleaning. Rugged wheels won't make it difficult for you to move across rocky terrains. To make this a portable item, you can remove it from the cart and use it with a garden hose and a power outlet. Push on/off makes this an easy item to use.
Durability:
It's a good household pressure washer that has the right price. It uses leak-proof connections made of brass garden hose connector.
Product Specifications:
This electric pressure washer can be used as a mobile cart or detached as a stand-alone pressure washer. It uses a tri-axial pressure washer pump that works on wood surfaces, concrete, stucco surfaces, and stone. It also works on vehicles and other outdoor equipment. Its pressure washer gun is made of zinc steel with brass garden hose adapter that is 25 foot long and a power cord is 35" in length. This pressure washer can switch to 5 pressure nozzles: 0, 15, 25, rotary and soap. Its detergent tank can carry up to 48 oz. of washer safe detergent. This mobile pressure washer weighs only 42 lbs with a measurement of 17X16X38 for easy storage.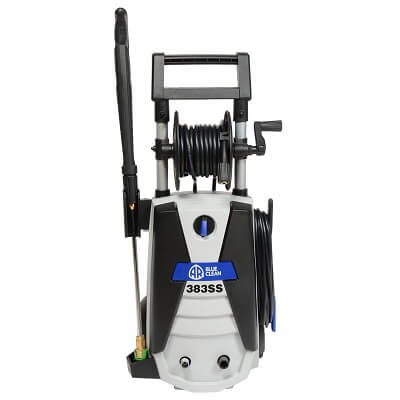 Electric Pressure Washer
Pounds per square inch (PSI): 1900 PSI
Gallons per minute (GPM): 1.3 GPM
Read more
Ease of use:
This pressure washer is easy to operate and assemble. Changing connections and pressure is simple enough for those who are not familiar operating this machine prior use.
Durability:
This electric pressure washer is good for residential use. However, the material used for the hose can be hard to coil.
Product Specifications:
This equipment runs on a 13 amp motor that shoots water at 1900 PSI with a 1.3 GPM for optimum cleaning. This item cleans any surfaces of dirt, moss, debris, and molds from cars, trucks, bicycles, patio furniture, pet cages and outdoor equipment. This pressure washer weighs only 33.6 pounds with a measurement of 15.4X34.3X14.2 inches. This washer uses 45% more pressure and 80% less water than standard garden hoses. A 48 oz. detergent tank is integrated into the equipment for easier access to soap use in cleaning vehicles and other surfaces. You can choose from 4 different quick connect nozzles: 0°, 25°, rotary, and soap.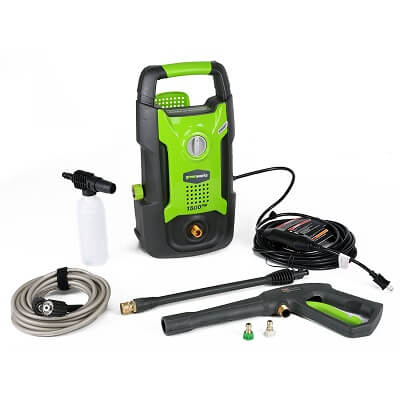 Electric Pressure Washer
Pounds per square inch (PSI): 1500 PSI
Gallons per minute (GPM): 1.2 GPM
Read more
Ease of use:
This pressure washer is easy to operate and assemble. Changing connections and pressure is simple enough for those who are not familiar operating this machine prior use.
Durability:
It uses high quality components that ensures long-lasting usage compared with other electric pressure washers in the market. However, you may opt to purchase a copper adapter to keep the hose adapter from leaking.
Product Specifications:
This equipment weighs only 16.95 lbs. with a measurement of 11.4X17.1X9.4 inches. Just plug it in a power outlet and it's already good to go. Compact in size, this pressure washer can be transported easily anywhere. You can also opt to purchase other accessories to boost the cleaning capacity, such as turbo nozzle, turbo nozzle with a hose, high-pressure soap applicator and surface cleaner (all sold separately). It can be used either horizontally or vertically to keep it stable during use. It has a 20 feet high-pressure hose with two quick-connect tips (25°, and 40°) and a 35 feet power cord with GCFI for accessibility and mobility.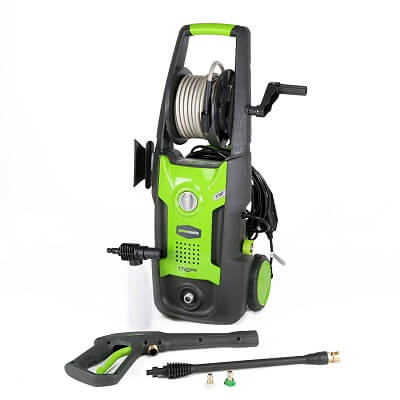 Electric Pressure Washer
Pounds per square inch (PSI): 1700 PSI
Gallons per minute (GPM): 1.2 GPM
Read more
Ease of use:
It uses an induction motor for more efficiency. Easy to use 'plug-and-use' model that's common for most entry type pressure washers.
Durability:
From simple to intermediate use, this model likely to last long given proper storage and care.
Product Specifications:
This electric pressure washer weighs 10.3 pounds and measures 13.2X24X11.12 inches for easy portability and storage. It uses a 13 Amp universal motor that is water resistant and long-lasting. It's less noisy compared with other pressure washers, making this an ideal cleaning equipment in homes other compact spaces. It can be used horizontally and vertically for better cleaning reach. This product includes connecting tips of 0°, 25° and 40°, 25 ft. high-pressure hose with hose reel and a soap applicator and 35 feet power cord with GFCI are included in this equipment.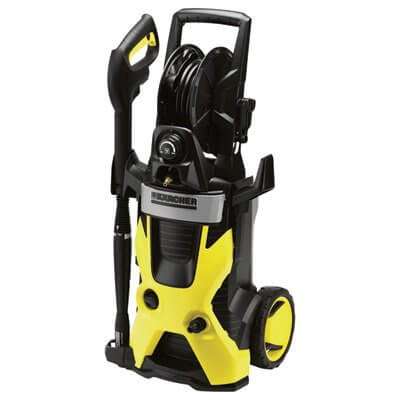 Electric Pressure Washer
Pounds per square inch (PSI): 2000 PSI
Gallons per minute (GPM): 1.4 GPM
Read more
Ease of use:
Pressure settings can easily be switched from fan-shaped pressure to narrow jet spray. It's also easy to assemble and operate even with using two wands.
Durability:
Though the motor and pumps perform efficiently, the design of the pressure washer can topple over on uneven surfaces. Replacement parts are only available from Karcher as well.
Product Specifications:
This electrically powered pressure washer weighs 32 pounds measuring 34.3X13.1X16.8 inches. This handy electric-powered pressure washer is handy around the home to get stubborn dirt, grime, and debris using 40 times the pressure from a standard garden hose. It has an onboard hose reel, 2000 high-pressure spray wand and a built-in detergent tank for additional cleaning agents.

Subscribe to our Newsletter