Best Car Camping Gear
In a
Hurry? Editors choice: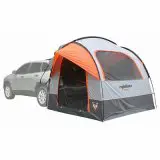 Test Winner: Rightline Gear SUV Tent

Car
camping is a great way to marry the adventure of camping with the comfort of home. With the proper gear, you can turn your car into the nicest and most luxurious
tent
that you have ever slept in. There are items out there that can help transform your backseat into a bed that rivals your bed from home, and awnings that affix to the back of your SUV to create a covered porch off of your makeshift bedroom. With the clever use of your front seat and power outlets, you can transform the front seat of your car into a
kitchen
.
These products can also save you a ton of time while
outdoor
adventuring because you aren't going to be spending as much time setting everything up. Check out our top picks for convenient camping gear below.
Standout Picks
Criteria Used for Evaluation
Features
The most important thing to us when conducting our search was looking at how the item will work for your specific needs. Many campers don't have the necessary equipment to make something like bacon and eggs over a campfire. Plus, that equipment typically takes up a lot of room in the car because it's composed of heavy metal racks and cast iron pots. Something like an electric pan that plugs into the cigarette lighter of your car is a great product because it doesn't take up a lot of room, and it's easy to use and to clean. When you are camping out of your car, you probably don't want to use a lot of your precious time setting things up- you want to get out there on the lake to fish or go mountain biking.
Value
No one likes to spend more money than they need to, and we took this into consideration when selecting items for this list. While trying to keep prices low, we also kept an eye on the durability of an item. You aren't saving any money if you have to keep buying the same product over and over whenever it breaks. For instance, the electric frying pan isn't the least expensive pan on the market, but it does have the best reviews when it comes to extended use. Many of the reviews for that product were from truck drivers that used the product every day. That was an indication that that brand of an electric pan was of better quality than many of the cheaper options.
Ease of Use
Camping gear has a troubled past of being notoriously difficult to assemble or use. It was important when compiling this list to select items that are easy to install as well as simple to use. If you are choosing to camp out of your car, you most likely don't want to be bothered with taking the time to go to the trouble to set up your camp. Less time spend putting together difficult camping gear means more time spent skiing on the lake or exploring all of the interesting trails in the woods. Additionally, tools such as pans and electric kettles need to be simple to use. All of the tech gadgets on this list are incredibly simple to use and often just require to be plugged in and turned on.
Overall Fit
Of course, when you are deciding on what items that you want to bring along with you on your next outdoor adventure, keep in mind what things you enjoy doing the most. If you are fine with eating cereal out of the box for breakfast and a couple of campfire s'mores for dinner- although that isn't the most healthy option- that is your prerogative, and some of the more kitchen-inspired gear may not be for you. Some campers don't like the idea of shutting out the great outdoors behind a metal door and glass for the evening, so they may benefit from the Rightline Gear SUV Tent. If you find that that tent is a little out of your price range, you can always compromise with the Overnighter Car Camping Tent- offered at a fraction of the cost of a full tent.
Subscribe to our Newsletter