Best Car Camping Gear
In a Hurry? Editors choice: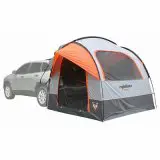 Test Winner: Rightline Gear SUV Tent

Car
camping is a great way to marry the adventure of camping with the comfort of home. With the proper gear, you can turn your car into the nicest and most luxurious
tent
that you have ever slept in. There are items out there that can help transform your backseat into a bed that rivals your bed from home, and awnings that affix to the back of your SUV to create a covered porch off of your makeshift bedroom. With the clever use of your front seat and power outlets, you can transform the front seat of your car into a
kitchen
.
These products can also save you a ton of time while
outdoor
adventuring because you aren't going to be spending as much time setting everything up. Check out our top picks for convenient camping gear below.
Standout Picks
Criteria Used for Evaluation
Features
The most important thing to us when conducting our search was looking at how the item will work for your specific needs. Many campers don't have the necessary equipment to make something like bacon and eggs over a campfire. Plus, that equipment typically takes up a lot of room in the car because it's composed of heavy metal racks and cast iron pots. Something like an electric pan that plugs into the cigarette lighter of your car is a great product because it doesn't take up a lot of room, and it's easy to use and to clean. When you are camping out of your car, you probably don't want to use a lot of your precious time setting things up- you want to get out there on the lake to fish or go mountain biking.
Value
No one likes to spend more money than they need to, and we took this into consideration when selecting items for this list. While trying to keep prices low, we also kept an eye on the durability of an item. You aren't saving any money if you have to keep buying the same product over and over whenever it breaks. For instance, the electric frying pan isn't the least expensive pan on the market, but it does have the best reviews when it comes to extended use. Many of the reviews for that product were from truck drivers that used the product every day. That was an indication that that brand of an electric pan was of better quality than many of the cheaper options.
Another great product we reviewed is the Thule Tepui Explorer Kukenam 3 Tent, so make sure to check it out as well.
Ease of Use
Camping gear has a troubled past of being notoriously difficult to assemble or use. It was important when compiling this list to select items that are easy to install as well as simple to use. If you are choosing to camp out of your car, you most likely don't want to be bothered with taking the time to go to the trouble to set up your camp. Less time spend putting together difficult camping gear means more time spent skiing on the lake or exploring all of the interesting trails in the woods. Additionally, tools such as pans and electric kettles need to be simple to use. All of the tech gadgets on this list are incredibly simple to use and often just require to be plugged in and turned on.
Overall Fit
Of course, when you are deciding on what items that you want to bring along with you on your next outdoor adventure, keep in mind what things you enjoy doing the most. If you are fine with eating cereal out of the box for breakfast and a couple of campfire s'mores for dinner- although that isn't the most healthy option- that is your prerogative, and some of the more kitchen-inspired gear may not be for you. Some campers don't like the idea of shutting out the great outdoors behind a metal door and glass for the evening, so they may benefit from the Rightline Gear SUV Tent. If you find that that tent is a little out of your price range, you can always compromise with the Overnighter Car Camping Tent- offered at a fraction of the cost of a full tent.
Top 10 Picks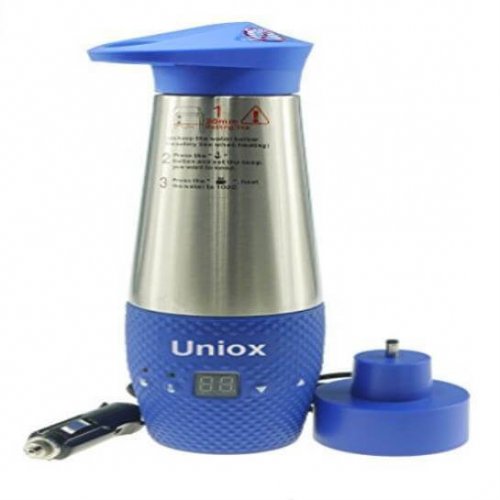 One of the most important ingredients to make a happy camper: hot coffee. The Uniox Electric Kettle is able to make that dream a reality. It doesn't brew the coffee, but it does warm it up and keep it hot very well. Unlike some of the other electric kettles, this one has a digital temperature setting.
Read more
Function:
Whether you are looking to boil water for a nice cup of tea at the end of a long day on the trails, or you want to heat up some coffee to give your day a kickstart, this electric kettle is able to provide hot liquids via the cigarette outlet in your car.
Additional Features:
What makes this kettle stand out from some of the other electric kettles out there is the ability to adjust the temperature via a digital display. It can boil water if that is what you prefer, but if you don't like the water for your tea boiling hot, you can adjust the temperature so that it isn't as hot.
Price:
The price of this electric car kettle is just a little but more expensive than some of the other car kettles on the market. Given it's easy design, it is a great deal for the price point.
Design:
This kettle has a tall and narrow design that makes it fit easily into most car cup holders, and the cord is long enough to be able to fit into the backseat of your car. It is available in three bright colors- blue, grey, and red.
Summary:
For those campers that need a hot cup of coffee to start their day, or if they need a nice cup of chamomile tea to wind down after a long day climbing mountains, this is a great product for you.

2

. Rightline Gear SUV Tent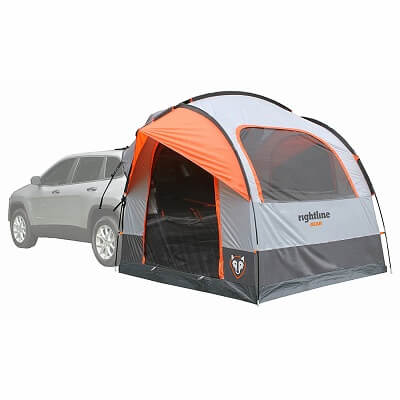 This tent has the power to transform your car into a luxury camping suite. It affixes to the back of your SUV, and has an opening so that you can open your hatch and use the heat/AC in your car to control the temperature of your tent. This is the perfect solution for those campers that are reluctant to head out for a weekend if the weather looks less than ideal
Read more
Function:
The idea behind this model of tent is that it provides all of the features of a normal tent, but it piggybacks off of your car so that you can still have all of the conveniences of your SUV such as the stereo, temperature control, and access to the cigarette lighter for small electric appliances and lights.
Additional Features:
The tent itself is a high-quality tent that can be used alone or in conjunction with your SUV. It sports a bathtub flooring to protect you from water that can collect from dew or a rain shower in the middle of the night. It's easy to install, and when you are done using it, it packs up and fits simply into an easy to carry duffel bag that comes with purchase.
Price:
This is one of the most expensive items to makes this list. If you look at it, however, you are playing the price for a full-fledged camping tent that has the ability to hook on to the back end of your car. With that in mind, this product is offered at an incredible value.
Design:
The Rightline SUV tent is only available in one color option: light grey with orange accents. It is big enough to sleep up to 4 adults, and measures 8 feet tall, 8 feet wide, and 7.2 feet tall. The guide to set up this tent is sewn into the product so that there is no risk of ever losing the setup instructions.
Summary:
If you are looking for a tent that hooks on to the end of your car to create an ultra-tent, then the Rightline Gear SUV Tent will be a big hit with you and your fellow campers, if you are willing to dish out the extra cash.

3

. Webetop Portable Generator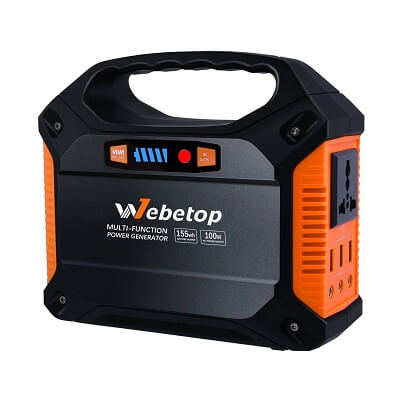 While your car does come equipped with its own battery that you can utilize while you're camping, it's important not to use it too much- because you run the risk of finding yourself with a dead battery when it's time to start up the car and head home. Supplementing the use of your car battery with this portable generator is a great alternative to your car battery so that you are not met with that dreaded 'click' when you try to start up your car and head home.
Read more
Function:
What makes this generator great is that it is small enough to fit securely between your front seat or on the dashboard of your vehicle. The front of the unit has convenient USB chargers that can charge anything from cell phones all the way up to car refrigerators. It can supply power to refrigerators and laptops for about 3 to 4 hours.
Additional Features:
In addition to providing power to all of the gadgets you want to bring along on your camping trip, the front of this unit also sports an incredibly bright light. It also has a wall unit adaptor, so that you can easily plug in your hair dryer, video game system, or blender to mix up some morning smoothies. For an additional cost (which is very low) you can buy a solar recharger so that while you are out swimming at the lake, your generator can be recharged by the power of the sun.
Price:
Generators are typically not cheap, but this unit is offered an affordable price point. It is one of the more expensive items to make this list, but if you are the type of person that is constantly worried about draining all of the life out of your car battery, this is a great item to bring along for peace of mind.
Design:
This unit comes in black with bright orange accents. It measures approximately 8 inches long, 6 inches tall, and 3.5 inches wide. It is designed with a handle that makes it easy to tote around from place to place and is able to be packed up into the trunk of your car easily.
Summary:
There are people out there that will not even consider using their car battery to charge devices because they are afraid of draining it completely and becoming stranded. This generator takes away those worries and is small enough that it won't take up that much room in your car.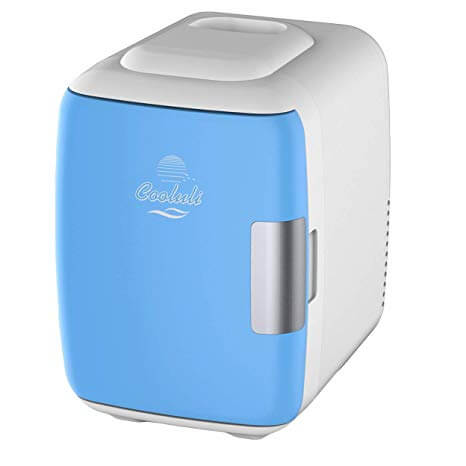 The Cooluli Mini Fridge is a great and stylish way to keep sodas cold while sitting comfortably between the seats of your car. It comes in various fun colors and designs and has various adaptors so that you have many options to keep sodas cold on hot summer days.
Read more
Function:
This mini fridge is capable of holding six 12 ounce cans by utilizing power provided by the powered provided from the cigarette outlet in your car, or via a USB plug that is plugged into a wall outlet or a generator. The thermoelectric cooling system takes about 30 minutes to cool down to ensure that your beverages stay nice and cold while you are out there on the trails working up a sweat.
Additional Features:
Not only is this fridge able to keep beverages cold, but it is able to keep foods warm. It doesn't necessarily keep foods piping hot, but if you happen to stop at a fast food restaurant on your drive into the campsite, and you pick up a couple of breakfast sandwiches, the warming feature of this unit will be able to keep those sandwiches warm for when you decide to eat them.
Price:
The price of this unit is not the most expensive model of mini fridge on the market, but it is not the least expensive, either. It runs about in the middle of the road, and the stylish designs really make it stand out from the other mini fridges on the market.
Design:
This fridge is offered in many fun colors such as blue, pink, fuschia, and solid white, and it is also available in fun dalmation spots. It has the design of an old retro fridge from the 1950's, making this fridge not only function but will also add some style to your campsite.
Summary:
For campers that need to end the day with an ice-cold soda, this is a great addition to your outdoor adventures. Simply plug it into the cigarette outlet of your car, or a backup generator, and head out for the day knowing that a cold beverage is waiting for you upon your return.

5

. RoadPro Portable Stove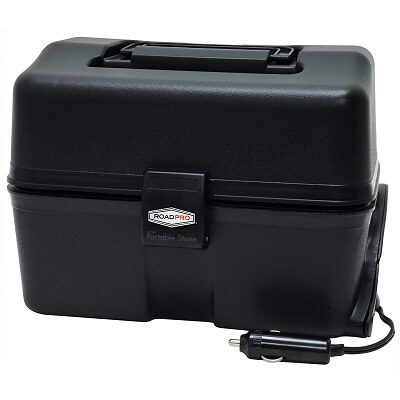 Gone are the days of heating soup in a pot over a campfire with the RoadPro Portable Stove. It is able to heat up most pre-cooked food to make it taste like it just came off of the stove or out of the oven. It's compact, simple, and easy to clean.
Read more
Function:
The RoadPro Portable Stove works by plugging it into the cigarette outlet and setting the unit on the dashboard or center console of your car. It has the look of a smaller sewing box- it has a hooked snap to close it. On the inside is a stainless steel pan that is able to reach temperatures of approximately 300 degrees. It's not made for food that are uncooked like raw meats, but it is great for precooked foods and canned soups.
Additional Features:
Not only is does it keep food warm, it also can be used to cook all sorts of different foods. Some past users have even used this unit to cook up a loaf of bread. It is great for chili, soup, stews, beans, hot sandwiches, melting cheese, and cooking up frozen foods.
Price:
The price of this item is very reasonably priced given the amount of food that it can prepare. It runs about the same price many of the other items found on this list, giving you the option of cooking many different types of food at an affordable cost.
Design:
As state before, this unit looks like a miniature sewing machine case. It comes in solid black, and plugs into the cigarette outlet in your car. The inside is easy to be cleaned and uses disposable aluminum pans.
Summary:
If you want to spend a weekend out in the woods and don't want to give up for comforts of a home cooked meal, this portable stove is an excellent way of making all of your favorite dishes from right inside of your vehicle.

6

. Roadpro Portable Frying Pan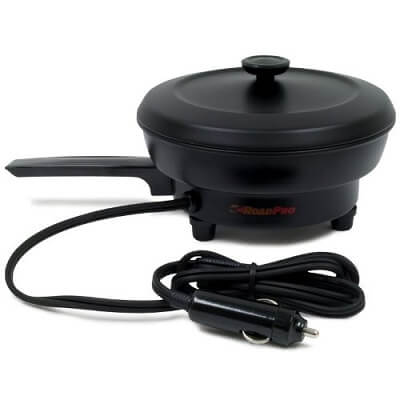 RoadPro does it again with this portable frying pan. It has a simple design and plugs right into the cigarette lighter of your car, turning your dashboard into a mini kitchen. It is able to get hot relatively fast, and can fry up anything you would fry up at home.
Read more
Function:
The cooktop surface of this frying pan is just like the surface of your frying pat at home. Simply add butter or oil to the pan (it is not a nonstick surface) and then add what you would like to fry up. Unlike the portable stove, this unit is able to cook up raw ingredients such as meat and eggs.
Additional Features:
If you are worried about getting oil splattered all over the inside of your car (because let's face it- you were worried), this unit comes with a heavy and secured lid the keeps splatter contained. It was also manufactured with the intention of being used inside of a car, so you can use it with the ease of knowing that it is safe.
Price:
The ability to something as wonderful as fry up bacon in your car comes at a cost. The price of this unit is a lot higher than the price of the RoadPro portable stove. However, the design of this unit makes it perfect for cooking in your car and warrants the slightly padded price tag.
Design:
This portable frying pan looks just like a pan that you would use at home. It has a thick base that houses the heating unit, and a small steel pan that is used to fry up steak, eggs, or pancakes. It only comes in one color- black- and weighs about a pound.
Summary:
If bacon and eggs in the morning after a night of sleeping under the stars sounds like heaven, than the RoadPro Portable Frying Pan is well worth the slightly padded price tag.

7

. FBSport Travel Inflatable Mattress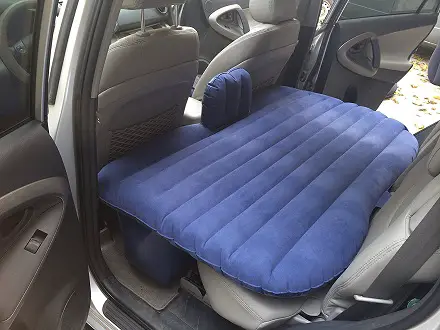 This is a great way to utilize the comforts of your car and get a great night sleep at the same time. Many of you have slept in the back seat of our car for one embarrassing reason or another, and it's usually not all that uncomfortable. With this Inflatable mattress, you can take comfort to the next level and get a great night's sleep in the warmth and comfort of your car.
Read more
Function:
Simply blow up this thick air mattress and placed it in the backseat of your car. There are thick posts that fit down where your feet go that provide a steady and flat surface to provide more space for you to spread out.
Additional Features:
When you are done sleeping on this bed and ready to head home for the week, all you have to do is deflate the mattress and store it in the compact carrying case the comes with the purchase of this product. This model also comes with inflatable pillows, making it an ideal bed if you didn't know that you were on an overnight trip.
Price:
For a comfortable place to sleep, this mattress comes at an incredibly low price point. IN fact, it is one of the least expensive items to make this list. If you are looking for a nice place to sleep and aren't willing to dish out a lot of money, transforming your car into a bedroom is a surprisingly affordable option.
Design:
If you have ever bought an air mattress in the past, this looks just like a tradition air mattress. It is made from a thick and durable material that prevents it from being punctured easily. This particular model is available in blue and grey.
Summary:
For those that want a comfortable and warm place to sleep in the evening where they know that they will have the exterior protection from bear attacks, and closed glass windows to keep you from swallowing moths in the middle of the night, this is a great choice to make sleeping in the woods a little more secure and comfortable.

8

. Roadie Overnighter Tent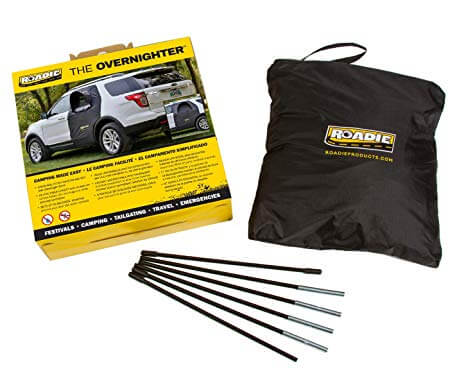 If you aren't concerned about accidentally swallowing moths in your sleep, and prefer the fresh mountain air instead of the stale road trip smell of your SUV, the Roadie Overnighter Car Camping Tent transforms your car into a luxury tent.
Read more
Function:
The way that this tent works is that it affixes to one of the side doors to your SUV. The flap hangs over the open window of your car, and can be zipped closed when it is lights out, and zipped opened in the morning to let the fresh morning air inside while you heat up a cup of coffee and listen to the birds.
Additional Features:
The window is what makes this tent so unique. It gives you the illusion that you are sleeping in a tent. The door has a screen in it so that when you unzip it you can let in all of the fresh mountain air, without being eaten up by mosquitos or running the risk of letting a gang of spiders set up camp in your car only to reveal themselves while you are driving home.
Price:
The price of this tent is a little bit more than one would expect, but it is still one of the more affordable accessories to make this list. It costs about the same price as the electric kettle or the inflatable mattress.
Design:
This car tent comes in just one color: black. It is made from a high-quality rip-stop nylon that makes is waterproof. If you wake up in the middle of the night to find that it is raining, there is no need to turn on the car to roll up your window. Simply zip up the door to the tent and the rip-stop nylon with wick away water.
Summary:
If you want the luxury of sleeping in your car, but miss the feeling of being in a tent, the Roadie Overnighter Car Camping Tent marries both of these ideas together so that you can earn a comfortable and warm night sleep and still have the feeling of sleeping in a tent.

9

. Stalwart Electric Blanket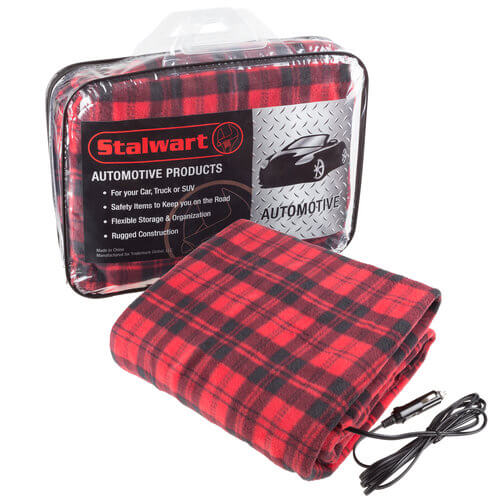 This is something that you need, you just didn't know it. Sometimes, late in the summer, the days can be really warm but the evenings can get pretty cold. This blanket plugs into the cigarette lighter in your car and will keep you warm all through the night.
Read more
Function:
To keep campers warm when the temperatures being to plunge, this blanket is made from a lightweight and warm material that plugs into the cigarette outlet in your car. The cord is about 96 inches long- meaning you can use it in the back seat without it becoming dislodged from the outlet.
Additional Features:
This blanket measures 59 inches long and 43 inches, making it a great blanket to comfortably share with a cold friend, or to just wrap around yourself twice. Plus, with such a long cord it can be used as a blanket for tailgating.
Price:
The price is the most handsome feature of this blanket. It is offered at a very reasonable price (about the same price as a regular throw blanket). The low price point gives you no reason not to add this blanket to your next camping trip late in the summer.
Design:
The plaid design on this product just screams 'camping blanket'. It is available in a variety of colors such as black and white, red and black, green and black, or solid navy blue. The fleece that is made from is composed of 100 percent polyester. Unfortunately, because of the heating element in this blanket, it is unable to be thrown into the wash and can only be spot cleaned.
Summary:
If you are someone that likes to camp even when the temperatures begin to drop, the addition of a heated blanket will ensure that you are always toasty and warm without the need of bringing an excess of blankets from home.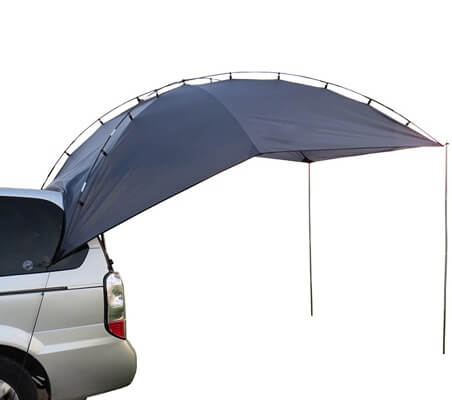 This trailer roof is able to turn the back end of your SUV into a large and open tent. Let's face it, you can't predict the weather and sometimes rain showers appear out of nowhere. With a large tent like this one, you can stay warm and dry in the even of a shower, or protected and cool from the hot afternoon sun.
Read more
Function:
To set up this product, simply affix the adjustable poles to the ground and to the awning itself. The fabric the then hooked via a rope to the back wheel well of your SUV. The shade provides a great space to gather under for a nice afternoon lunch, or to sit under with a glass of lemonade in hand.
Additional Features:
The design of this tent makes it so that it is more resistant to becoming wind blown than other tents on the market. There is a gap between the fabric and the poles that allows the wind to pass right through while keeping the tarp in place. It also has a clear skylight so that the shaded area isn't completely consumed in darkness.
Price:
The price of this tent is a little bit more expensive than most of the other items found on this list. However, given the amount of ground that it covers, and its ability to comfortably fit 6 people in the shade, it is well worth the slightly added price point.
Design:
The shade of this tent is made out of high-quality ripstop polyester that makes it breathable as well as waterproof. It sits higher up off the of the ground than most models that are similar to this one on the market, and it only comes in one color: black.
Summary:
If you are looking for a place to sit in the shade that isn't inside of your car, and you are willing to pay the additional cost, this is an excellent option to keep you cool and dry during the unstable weather in the summer.

Subscribe to our Newsletter